Experience the Power of OneView
Meet the all-in-one platform designed for hotels. Save time and manage your online content more effectively with OneView. This easy-to-use dashboard syncs all of your online reviews and social media posts and messages into one place so you can respond, interact, and engage online. Take control of your hotel's reputation and never miss a thing.
Hospitality's First User-Generated Content Management System
Respond to every hotel review

Engage with guests on social media

Schedule reminders and assign tasks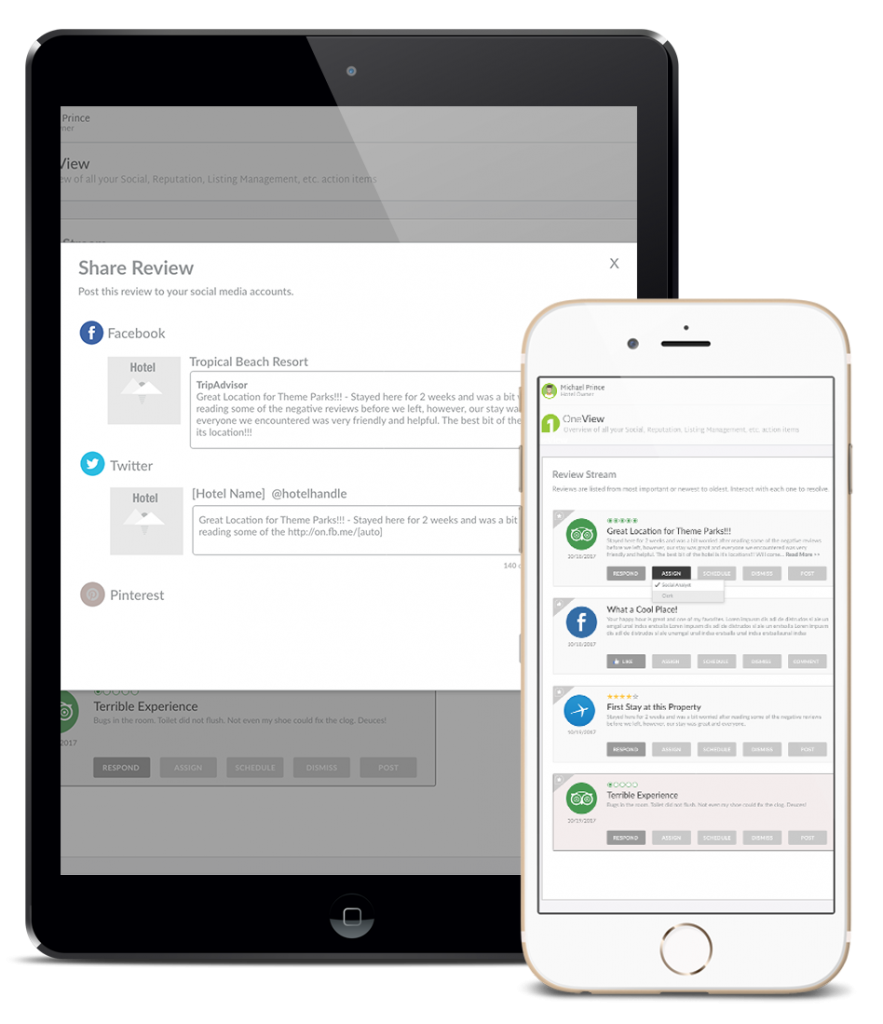 Stay Connected Wherever You Go
Get notifications and manage guest engagement from any device. Respond to reviews, schedule reminders, and assign tasks to your team all from your phone.
Sync live reviews from OTA websites & TripAdvisor
Connect to major social networks like Facebook & Twitter
Respond to reviews, social comments, and direct messages
Assign review responses and posts to employees
How long is the OneView free trial?
Your free trial will run for 60 days. In that time, you'll have access to all the features of the OneView platform.
Is a credit card required to sign up?
No. There is no credit card required for the risk-free OneView trial.
Do I have to be a hotelier to sign up?
Yes. All accounts must be associated with a hotel to use the platform.
How many users can I add?
Up to 5 users can be associated with each property. 
What if I have more than one hotel?
We're happy to help! Sign up with one property and contact us to connect your other properties.
How many review websites can I connect?
OneView provides unlimited connections for each account.
Can I submit feedback?
Please do! We're grateful to our early adopters for letting us know about your experience. We value your feedback. Contact us to let us know what you think.
When will more features be released?
Behind-the-scenes improvements and new features are being added every day. You'll receive a notification when big updates are made to the dashboard.
Get Started Today
Supercharge your guest engagement by taking control of your hotel reviews and other user-generated content online. Try OneView for free for 60 days – no credit card required.