106 – 2022 Year in Review with Dana Singer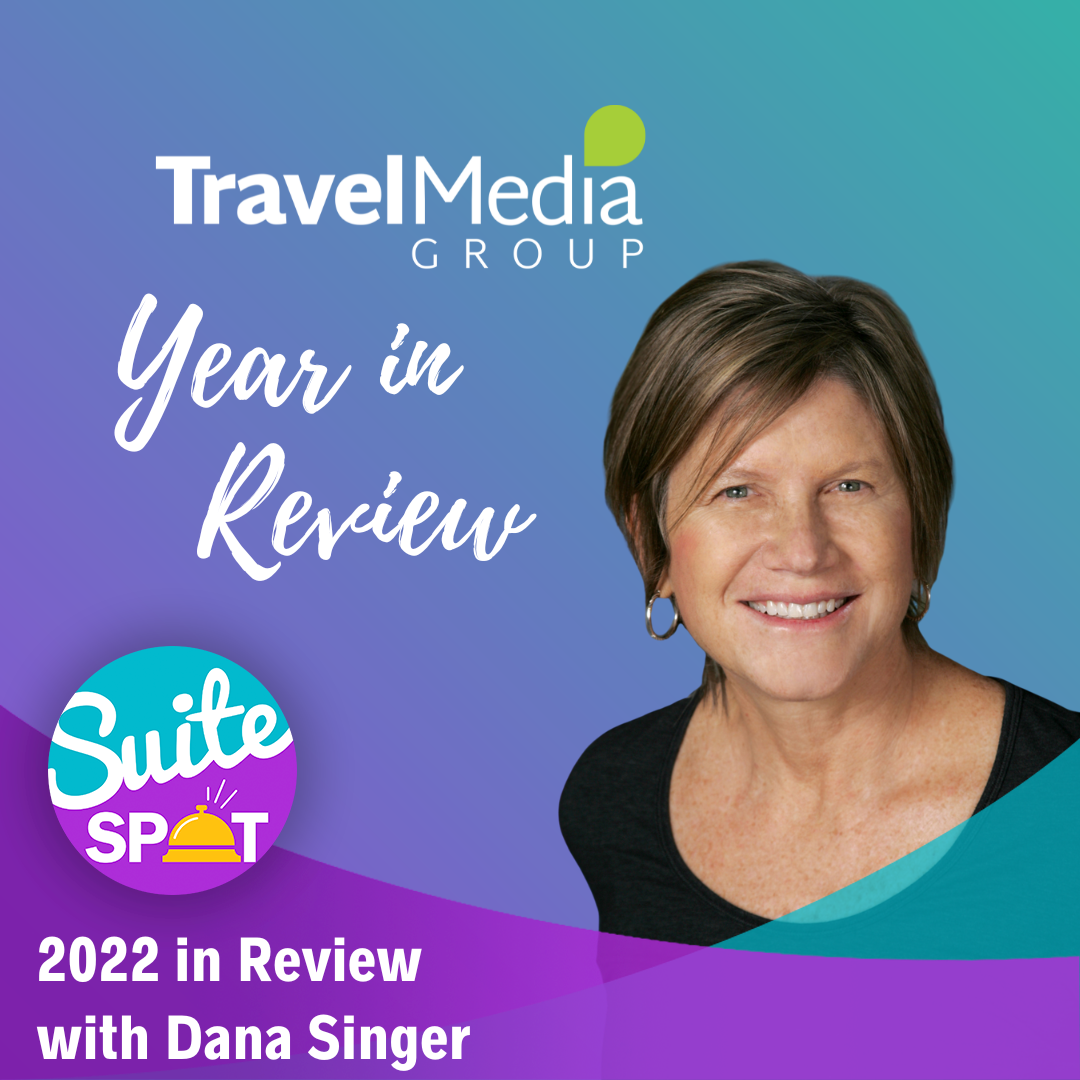 The final Suite Spot episode of 2022 is here!
Sit down with host Ryan Embree and Travel Media Group President Dana Singer as they reflect on the progress TMG has made over the past year and relish the amazing achievements it brought with it. 
From exciting innovations like Social 2.0 and TMG Translations, to the 1 million reviews responded to milestone, these two aficionados cover all the highlights of 2022. 
Listen now to bring in the new year with Ryan, Dana, and all of TMG.
Episode Transcript
Our podcast is produced as an audio resource. Transcripts are generated using speech recognition software and human editing and may contain errors. Before republishing quotes, we ask that you reference the audio.
Ryan Embree:
Welcome to Suite Spot, where hoteliers check in and we check out what's trending in hotel marketing. I'm your host, Ryan Embree. Hello everyone and welcome to another episode of The Suite Spot. This is your host, as always, Ryan Embree. I am super excited for this episode, our last episode of 2022, but this is an annual episode. This is kind of a Suite Spot tradition now. We've done this for about three years. We're taking a break. If you've been following with our TMG Hospitality Trailblazer series, we're taking a slight break, but we're gonna be back in 2023 with some great guests lined up. If you're just hearing about this for the first time, this is all about those hoteliers and hotel groups that are pushing our industry forward as we go into this new chapter. But I would almost consider today's episode somewhat of a trailblazer's topic. We've got Dana Singer with us. She is the President of Travel Media Group. Dana, welcome back to the Suite Spot.
Dana Singer:
Yeah, thank you Ryan. Good morning. Pleasure to be here.
Ryan Embree:
Yeah, and we're super excited to have you. And with Dana's voice, that can only mean one thing. We are here for our TMGs year in review, and as I mentioned at the top of this episode, this is one of my favorite episodes of the year. We do this once a year because it's, we are in an industry and we work in digital marketing, which is constantly evolving in 2020, 2021, 2022. Obviously our main topic of conversation, Dana, was all about the pandemic COVID 19 and moving through that, there was a lot of uncertainty. It feels like as we move into 2023, we finally have maybe a path, right? And, and things are getting back, I'm afraid to say it, but things are getting back to that new normal, and we're moving into this new chapter for our industry and TMG as a business. So reflecting back on 2022, I'd like to start with just talking about maybe some of the most significant technology development and maybe share the impact that they've had on our hotel partners.
Dana Singer:
It was definitely an exciting year, for the industry and for TMG overall. And we made important strides with our tech innovation. All of our new developments are focused on how we can provide our partners with tools and solutions that enable important competitive advantages. As I look back, the launch of Social 2.0, which is a part of our OneView platform, has been very well received. This update enables our partners to build their social media profiles more effectively through connected accounts, post scheduling, approval processes, and re-engineered media galleries, just to name a few. It's just so important to enhance our social solution because our hotel partners are connecting with their guests through these digital channels more than ever. And so with new digital platforms emerging and entering the space more frequently than ever, we're committed to staying ahead of that curve. Another exciting and significant innovation that came to fruition this year was TMG translations, and this is a part of our review response, respond and resolve solution. As we think about international travel being forecasted to continue to grow, we wanted to ensure that all reviews are consistently responded to with the depth of quality that we're already known for. And so with this addition, our partners can now connect with their international travelers like never before. By interpreting and responding to so many reviews, written in numerous languages, hoteliers can better understand this demographic and have more meaningful conversations with international guests in their native language.
Ryan Embree:
Yeah, that's so important. We talked about that on most recently on our TMG Trailblazers series about the importance of international travel. We really felt that sting when it disappeared in 2020. So as we see them come back, we wanna make sure that we're responding in their native language to make sure we're giving ourselves, the hoteliers the best opportunity to connect and hopefully capture their business and social 2.0. We did a great episode on that on the Suite Spot earlier this year. If you haven't heard it, it's fantastic. And in a space like social media, which is constantly evolving, we've gotta be at the forefront of this innovation and technology. So it was very cool to see that. And I, I don't want to have any spoiler alerts, but TikTok very, very important. We might be seeing a sneak peek of that for Travel Media Group in 2023. So keep your ears and eyes open. We know that that surpassed Google. Younger travelers are going there for search a lot more. Very important for hoteliers to be on that and be first in line rather than late to the party. So, but you did bring up respond and resolve that solution. Responding to reviews has really taken off for Travel Media Group and we reached such an important milestone in the summer. Hitting 1 million guest reviews responded to an incredible achievement. How do you believe that review responses really evolved since TMG first started responding 2018? That seems like a long time ago. And what does this achievement mean to you, Dana?
Dana Singer:
You know, this was definitely a significant accomplishment for the business and it speaks to TMGs commitment to providing this industry leading solution. It demonstrates our expertise, capabilities, and consistency. And these are things that our partners can count on, which enables them to focus on achieving operational excellence with their portfolio of hotels. Our in-house, US-based team of professional writers put the guest and hotelier at the center of their responses. And the quality of our work is it's truly industry leading. The importance of consistently responding to guest guest reviews has reached a new height. We've been alongside our partners every step of the way. Guest experience will continue to evolve and our solutions will keep pace with the dynamics in the market. We're really proud, to have achieved this milestone. But we're also eager to hit that 2 million mark and beyond.
Ryan Embree:
Hey, I'm with the pace that reviews are coming in from guests and feedback is being left. I'm sure that 2 million mark is just around the corner, but you're absolutely right. Travel Media Group really has positioned itself as the gold standard of review response in the hotel industry, responding to reviews from Independents to Waldorf Astoria, Hilton, Marriott's, IHG across all brands and across all major online review sites. So that's super, super exciting. We're exciting to see where those numbers are and I'm sure we'll be sharing some more of those. Respond and resolve achievements in 2023, no doubt. Let's get back to 2022 cause that really marked the first time in a few years that not only Travel media group, but the industry came together for a lot of these in-person events that we have so desperately missed, right? Not only on the occupancy side business and business travel to pick up on that sector, which is really lagging behind leisure, but to also come face-to-face with our hoteliers that we haven't seen. Right? We obviously have some great channels like the Suite Spot. We do our virtual event series that we connect with hoteliers, but there's really nothing that substitute meeting our hotel partners face-to-face. Can you speak a little bit more in depth about the importance of having these meaningful connections, whether it be face-to-face or even in the virtual space, which has really seen adoption since the pandemic?
Dana Singer:
You're right, Ryan. I mean, we wanna be sure to reach our customers in a variety of ways, and it's always valuable time spent when we can do that in person. As a part of the mix this year brought some insightful learnings, one of which is how we reach and interact with prospects and existing partners. Some hotels like to meet in traditional ways, others wanna meet in new ways, and we're prepared for it all. It was super energizing for Travel Media Group to return to the physical event scene this year and just have that opportunity to meet with management companies, brands, and hoteliers across the country. These opportunities allow us to build connections face-to-face and we love meeting brands from all over that share their stories with us at conventions and, and trade shows and, and other in-person events. But as you mentioned, you know, we also understand that, that we need to be accessible, in the digital realm as well. And so this year, we developed a very strong approach to, to growing our virtual events through webinars and masterclass workshops, boot camps, LinkedIn live sessions, the list goes on. And our most recent TMG Hospitality Trailblazers podcast series that you mentioned has created a whole new avenue for our partners to share their stories. It's an important balance to be out in front in a variety of ways as we continue to be the industry leader in managing guest feedback for brands, hotels and hotel management groups.
Ryan Embree:
Yeah, I've been lucky enough to be on the receiving end of both of those types of events, both the in-person events and, and you know, shaking hands and, and finally getting back to that event circuit. And then also conducting some of the virtual events and masterclass, boot camps, which has been so exciting for Travel Media Group because as an industry, again, we're constantly evolving into these new norms and being a hotel marketing company, we really need to be at the forefront and the edge of this stuff cause it changes so quickly and trends are here and then they're not here. So it's, it's been an absolute great ride in 2022 and we're actually gonna be moving to a new virtual event platform in 2023, which is gonna be able to give us the opportunity to interact with our registrants and attendees a lot more and have that digital conversation and, and spur that networking that we've been just so hungry for the past couple years. So we're really, really excited about that. Stay tuned cause I'm sure we'll share some more details. But let's talk to some of the listeners maybe that are hearing about Travel Media Group for the first time. You know, we had a lot of listeners come in, especially with this most recent series that we're doing, and just learned a little bit more about Travel Media Group. Maybe this is the first time they're hearing this kind of year end review with you, Dana. So how does Travel Media Group play a role in helping hoteliers refine, optimize, and grow their brand through digital channels to achieve strategic goals?
Dana Singer:
I mean, of course we know a hotel's reputation is the foundation and face of the brand, so it's critical to have a, a strong and, and firmly cemented reputation. So if a hotel is, is rebranding, social media reviews and review responses are all going to be instrumental in keeping guests informed of the change, but also letting their communities know, because some of the visual representations of, of, of a company may change, but the core values and level of service will remain intact. And so when we think about online social content that needs to be revamped to reflect these changes while continuing to be engaging and interactive. And Travel Media Group helps hotels in these specific areas on a number of fronts, but really starts by developing a plan, guiding hotels through the strategy or supporting them by managing their social media online reviews and responses, which enables the hotel leaders to focus on their other key performance activities. So these same principles apply to hotels that are not undergoing a rebrand or restructuring. A solid social media presence. And being active on guest review platforms is more important than ever. And so these components really determine reputation and the impact that they have, it's undeniable,
Ryan Embree:
It really is. And you know, we've seen our hotel partners go through some of these transitions that you mentioned, but also we've seen the needs of travelers change. And, and I think the best example is just what happened over the last couple years. We saw a lot of hotels suddenly have to make these changes based on outside factors, and they realized, I don't know if I have a really great medium to reach out to my consumers, to my travelers, to my guests social media, reputation, review response. These are all great channels that travelers are looking at closer than ever. Now, 2022 has definitely been a year of recovery, but we also know that inflation is a really hot topic right now. Guests are paying more than they ever have to stay at our hotels, meaning their expectations are higher than ever. So the margin for error is extremely slim. So doing things like setting guest expectations before the, the guest arrives on property through review response, continue to market to those travelers throughout the booking process, not just after they book with you, but that post book pre-stay phase, which is so important because the power is now back into the guest where they can make changes very quickly to their plans if you're not providing them value. So I think you're absolutely right there. We're gonna see more of that in 2023 and these things that we're talking about, social media review, response and reputation are only gonna grow in importance and it's gonna be the hotels that know how to leverage this that are really gonna see that occupancy growth and sustain success. One of my favorite pieces of this podcast episode is we get kind of a sneak peek into what Travel media group might be working on. Like I said, we, we've done a couple episodes in 2020, more than a couple episodes in 2022, talking about all the new and exciting developments that we do on our product and technology side. Any sneak peaks to our listeners about what we can look forward to for our hotel partners in 2023?
Dana Singer:
We have a lot to look forward to in the new year, and our partners can definitely expect a continued focus on excellence and innovation as we refine our hospitality specific solutions to meet the needs of the evolving dynamics around managing guest feedback and engagement. I mentioned OneView 2.0 a few minutes ago, and this is an important foundation, to our entire offering. You mentioned TikTok a few minutes ago, Ryan and, and TikTok and Instagram reels are right around the corner, likely in late Q1, which will add an effective guest engagement channel for properties, enhanced levels of client support will be experienced by our current and new enterprise partnerships. And we've also included additional virtual events that we've planned that I mentioned, to support our partners through industry leading education and tips to grow revenue and improve reputation.
Ryan Embree:
Yeah, certainly a lot to look forward to this new year. We are super excited. Dana, as we wrap up, you know, over the past couple years I mentioned this again at the top of the episode, you know, these last couple years have really been met with the new year of uncertainty, but a lot of hope. So as we wrap up today's episode, I guess I will ask you, you know, what would be your message to the listeners that have our sights set on the 2023 horizon?
Dana Singer:
I feel, very optimistic about the new year. The hospitality industry forecasts are positive and the fortitude and resilience that was demonstrated throughout the pandemic and the associated recovery over these past couple of years are very inspiring. So as challenging as it was when the pandemic did hit, I believe the industry is better positioned for the future on a number of fronts, including technological advancements and a commitment to a positive guest experience. And at Travel Media Group, our strategic position in the industry is more clear than ever. As a trusted and proven reputation solution provider, our services are truly brand changing. Our mission is to help our partners improve and transform their online reputation to drive revenue growth and, and strategic success. So, for all of our clients that are listening, I wanted to take this opportunity to thank you for the amazing partnerships and on on behalf of everyone at TMG. We look forward to a fantastic year ahead.
Ryan Embree:
Yes, thank you to all of our TMG partners and, and really all of our Suite Spot listeners that have really made this show what it is today. Over a hundred episodes. I will say that, you know, your message is definitely being felt throughout this Trailblazer series that we're currently in the, in the middle of every single industry leader or or hotel group that I've spoken to thus far has a real sense of optimism and forging ahead in this recovery. This is a time not to pull back, but to move forward. So if you're out there as a hotel listener and you're thinking about maybe dabbling in these digital marketing solutions, you know, you're not really active on social media personally, but you can understand the importance of it, I would encourage you to reach out, even if it's just for an educational conversation about how this can benefit your business because it's really the hotels that take advantage of these mediums and channels that are going to be continuing to thrive and recover at this pace. So definitely a different tone that we've had in past years. A lot of excitement on the horizon with these innovations and developments. The industry is looking stronger than ever. Obviously there's some headwinds there with economic uncertainty and inflation, but again, it's gonna be those hotels that really forge forward and drive forward with these things to capture the most market share that they can. And Travel Media Group certainly is here to assist for any of those hotels, hotel groups and brands that are looking to do that. So Dana, I want to thank you for joining the Suite Spot with me today.
Dana Singer:
Thank you for having me, Ryan. It was great as usual.
Ryan Embree:
Yes, we'll have to get you on more than just once, once a year, but if not, we'll see you in 2023 in the year in review and I'm sure we'll have a lot of exciting things to announce and talk about then. So thank you to all of our listeners out there and we will talk to you next time and next year on the Suite Spot. To join our loyalty program. Be sure to subscribe and give us a five star rating on iTunes. Suite Spot is produced by Travel Media Group. Our editor is Brandon Bell with Cover Art by Bary Gordon. I'm your host Ryan Embree, and we hope you enjoyed your stay.