112 – Responding to Guest Satisfaction Surveys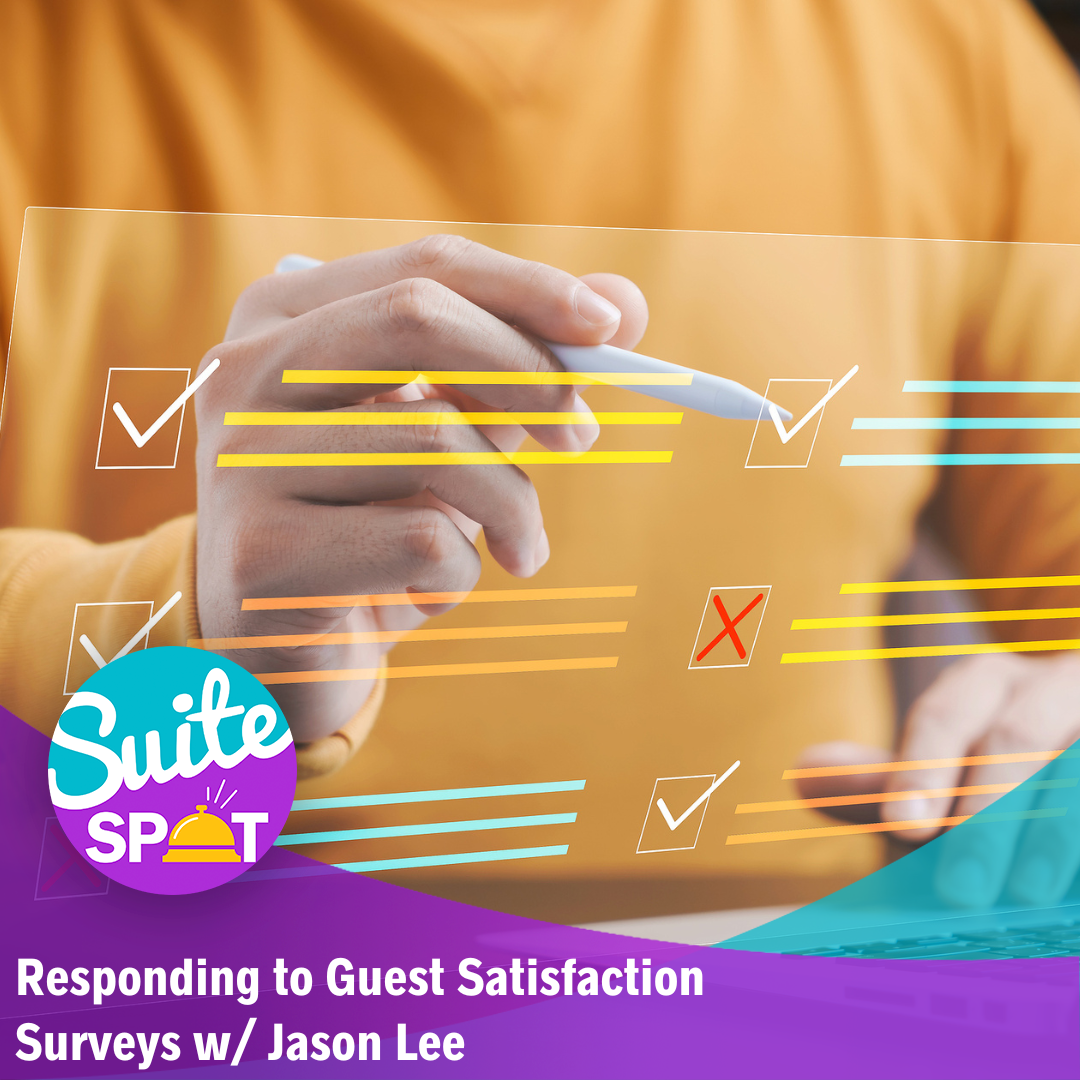 In this episode of the Suite Spot Podcast, host and TMG Marketing Director, Ryan Embree and Chief Technology Officer, Jason Lee, tackle how guest satisfaction surveys impact a hotel's operations and influence overall bookings. From topics such as what questions to ask in a guest satisfaction survey to how they shape your hotel's bottom line, listeners will gain unique insights on implementing a system at their properties that extract more guest feedback.
Episode Transcript
Our podcast is produced as an audio resource. Transcripts are generated using speech recognition software and human editing and may contain errors. Before republishing quotes, we ask that you reference the audio.
Ryan Embree:
Welcome to Suite Spot, where hoteliers check in and we check out what's trending in hotel marketing. I'm your host, Ryan Embree. Hello everyone, and welcome to another episode of the Suite Spot. This is your host, Ryan Embree. Thank you all for listening or watching us today. Remember, we are in the content creation studio, AKA the digital den, here at Travel Media Group's headquarters just north of Orlando. We're super excited to be on YouTube now, and we've got a frequent guest. This is your second time on video, but you've been on the Suite Spot quite a number of times. Jason, Chief Technology Officer here at Travel Media Group. Jason, welcome back to the Suite Spot.
Jason Lee:
Yeah, thanks for having me again in the digital den.
Ryan Embree:
The digital den. Yes, we love to call it that. We've already talked about some exciting topics here in 2023. This one is a little polarizing, I'm sure for some of our listeners. If you, if you caught the title, so it's talking about responding to guest satisfaction surveys. We probably have heard that a lot from our brands, from our management companies, from a lot of people, from our guests. You've heard me talk a lot about responding to reviews. Obviously that's something at Travel Media Group we take a lot of pride in. We reached the incredible feat of responding to 1 million plus guest reviews last summer. Very exciting achievement. We had you on for an episode to talk about that. I'm curious, it's a different animal with these guest satisfaction surveys. Let's kind of talk about the differences between responding to guest reviews online and maybe guest satisfaction surveys.
Jason Lee:
Yeah, I mean, I think the biggest difference is that you've solicited this feedback. Online, what you're getting is someone has chosen to give you a public review and they're motivated by anger or motivated by happiness or whatever that motivation is. But in this case, you may have caught them in a space where they could give you objective information. So you've solicited that information and now they're filling that out. And so depending on your brand, it could be a lengthy survey, but typically it's done in stages so you can get some of that information out. But going back to your original question, I think the biggest difference in terms of tone is that you've solicited this feedback, now they've given you this feedback. Now what do you say back to them? And this isn't public. This is you with this guest, and you might know everything about this guest. You know who they are, you know what room they stayed in. You, you might have further, insight from your front desk or from other staff members who've maybe encountered this guest. So you have way more information than a public review where you might not know what room they were in. You might not know the guest, you might not know the situation. So now your response could be extremely specific.
Ryan Embree:
And you have to be careful with that response. I mean, some of the, the tips and best practices that we share for online reviews might not translate very well to an internal guest satisfaction survey. You know, where you're coming off as inauthentic. I would challenge maybe the listeners to think about maybe when you're responding to a guest in a lobby full of people versus maybe a one-on-one conversation where you can just be a little bit more interactive and not so much worry about your surroundings there. Can you kind of give us an example maybe of a guest satisfaction survey and some of the feedback that you would receive there and how you would handle that differently than maybe a public forum online like TripAdvisor, Google or OTA's?
Jason Lee:
Yeah, so if we're looking at negative information, so somebody had a bad experience at your property, your ability to reach this, this guest directly, now you, you have that ability. You can email them, you could maybe even call them. But seeking service recovery in a space like this is really what you should be doing. This is really the, that that should be your primary motivation in a negative situation. So this is not public. So this is figuring out what exactly went wrong, figuring out if it was something that you could have prevented, and maybe whatever you need to do with your staff to make sure it doesn't happen in the future. But then getting with that guest directly and creating service recovery. That could be a free night or that could be just an apology. But, but this is something super direct, but also something that I think you're, you don't have to be, you don't have to walk that minefield of public, like you were saying that that analogy of being in the lobby, you don't have to walk that minefield. You can go directly with that guest and I think that's what they want. So the more vague you are in these situations, I think that's the worse it is. You compound the issue. The more vague you are, if you respond this way, the same way you would respond to a TripAdvisor, they're saying something really specific, you asked me, I'm telling you this is what happened, and now you're like, oh, thanks for your feedback. We'll try harder. You know? I don't think that flies there and I think it only compounds it. And in fact, my opinion is that could also drive them to TripAdvisor. That can drive them elsewhere.
Ryan Embree:
That's that's a great point. Because the way that you respond there, and we talk to hoteliers all the time, could determine the rating of that score on an online public review. Because we know that, and that space and forum that has direct impacts to future bookings. So if you can handle a resolve or service recovery a problem internally, that could turn into even some, some promotion for the property of how well you handled that situation. But you're right, you know, a lot of the times we teach on our master classes, our webinars, boot camps, we do for review response for hoteliers, and we always talk about educating the next guest, right? So if there's a pet fee that you have, you explain that policy very well for the next person to come in, so that they have a clear understanding of what's happening and setting expectations. That's really not the case within these internal guest satisfaction surveys. If you say, hey, next time, just know that our pet fee is $40 a night sort of thing, right? That doesn't solve anything. It's more about resolving those issues within the guest satisfaction surveys. It's not so much about marketing or promoting or even educating the next guest that walks in through the door.
Jason Lee:
Absolutely. And I mean, you think about today's rising ADRs, that guest can easily be worth $500-$600. And them coming back and staying with you. So I think sometimes we get into this space where we're like, oh, we, we already have their money. Maybe they won't come back. And that's okay. But I think that as a whole, that's a real flawed way of looking at it. You have to really take all this stuff, but I also feel like there's a lot of data. You have talked many times about sentiment analysis and other types of, of data, and I think with whatever brand you're with, mostly it's probably Medallia that you would be working with, but there's a lot of additional insights that come from that. But I think the information that you're getting and when we're looking at quantities, this is another really big interesting thing about surveys, is that you're looking at, you get as almost as much surveys or sometimes more surveys than all of your third party reviews combined. So, guest satisfaction surveys is the quantities are very high. So there's a lot of information there that, you could take to, to really refine your process, make the best experience for the guest possible.
Ryan Embree:
And you might have, as we talked about, you might have a more genuine example of what a guest is feeling, rather than just going to TripAdvisor and venting about a bad stay or ranting and raving about a hotel because they really like the front desk agent and they promised them behind the front desk that they'd lead that five star review. So I think behind the, those closed doors, you might get the most genuine feedback and, might wanna weigh that between, you know, obviously we wanna look at all the clues that our guests are leaving for us, but these guest satisfaction surveys, there's a reason that these brands really keep a close eye on this and, and they do a lot of their measuring for their, for their brands and standards when it comes to these. So at one point you were on the other side of the front desk. You know, you were in the operation side of a hotel and I think that gives you a unique experience. When you were running hotels or, working in them, did you have an internal survey strategy? Or if we put you back behind the front desk, you know, what would be the first kind of steps to putting in a strategy for responding to guest satisfaction surveys?
Jason Lee:
I think first and foremost, and this, and this goes to probably a lot of front desk training or any kind of customer service training, but it goes to not being emotional in the moment, not reading something and being emotional. And I think especially with surveys, we might lump all of this feedback together. So there's like additional embarrassment when you have something terrible on TripAdvisor, cause it's public. But when you have something from a survey, you might get something really negative and react emotionally like this guest, this guest was a jerk. And, I'm not, you know, they, they're not gonna get any more of my time. But I think the same thing happens direct face-to-face. At a front desk, a guest comes in and they, and there is a really issue and that is an issue for them. Whether you think it is or not, it is something that they're upset about. So getting in and sort of, deescalating that situation is really important. And the best way you can deescalate, I think any situation is to listen. So in the case of a survey, it would be to really read what they wrote and think about what it is that happened to this guest and think about how you would want to be responded to if this happened to you. And then further, what actions can I take now before I get back to this guest to make sure that this, this gets handled. So when I do that, when you do it live with a guest, it's about taking a maintenance ticket out and writing down what happened and showing them that you've listened to what they're gonna say and now you're taking action. So I think it's a very similar thing. We investigated this, we see what happened, we're so sorry, and then you seek whatever that recovery is. You know, that free night or maybe it's not, it's just like, we're so sorry this happened. We'll make sure this doesn't happen to any other guests. Thank you for bringing this to our attention.
Ryan Embree:
There certainly has to be a lot more follow through because we do have that extra information, right. If somebody says, my room was not up to the standards of what I thought it should be, as far as cleanliness goes, we have where that particular guest stayed. And if you're diligent enough in your research, you know, you might be able to uncover some trends, some patterns there. Right. Is it a particular housekeeper that's maybe missing some areas when it comes to, to cleaning the rooms. So we have all that information. So there definitely is more of that follow through because I know there's a lot of hoteliers out there that wish that they could identify some of that information, right? They hear about an incident that happened on site and they're saying, I wish I knew what, what room, but all we have is a username, or an anonymous name that we can't really identify which particular room that they were in. So service recovery makes that a little bit more difficult, whereas an internal guest satisfaction survey, you really can pinpoint and they might have those special requests, an invoice, right? That's something that you hear all the time. There has to be follow up there. Yeah, a lot more accountability. And I was gonna ask you this, why do you think brands put so much emphasis? I mean, you've already said the quantity is there about how many of them are coming in. But there's also that follow through that is required because that guest might be asking for an invoice or asking for some sort of service recovery free night or discounted night because of a certain situation. Why do you think that emphasis is there?
Jason Lee:
Because, you know, we may be on an island, we own this hotel, X brand hotel, and we're on this island because we've financed this hotel. We've got payroll, we've got all the things that are going on at this property that financially and emotionally and everything, trying to make a small business. But the brand has its name, so its name and the name. See the name of maybe your sub-brand and the name of the actual like full brand. That means a lot. And most of the time there's loyalty programs, there's other things around getting guests to stay at multiple locations and come back again and again because there's a certain expectation of quality or certain expectation and they wanna ensure that that's going on. And you want that. Like that's, that, that's why you pay franchise fees. That's why you have that name, you know, on, on your monument sign is so that you can get these guests coming in knowing that they're gonna have, you know, what they're expecting, they're gonna get. So surveys are a way for, for brands to get an idea of what properties are, the weak links, what properties are not delivering, what they should be delivering. And the more that you know, and this is also why hotels get large pips, why they get kicked out. You know, so, but ultimately what it should be for you as a business owner is that these, are, this is is all smart business. This is something that the brand is doing for you, giving you all of this feedback. You know, when I, when I ran hotels, there wasn't this amount of feedback. We got feedback and every piece of feedback we got, which wasn't even close to what it is today, we really value because it wasn't a lot. And now we have crazy analytics, we've got, you know, tons of guests giving us this feedback we have over time. So we have the ability to track trends, we have the ability to see all of this information and brands have the same thing. So brands, so getting back to your question, sorry, I ramble on. The main thing is so that they can, they can ensure the reputation of their brand is not being tarnished and that the guest that's staying with this location is having a similar experience as the other location.
Ryan Embree:
Well, like I said, I mean this is a polarizing topic. Because of what you just explained. We're getting more feedback than ever. So it's, it's overwhelming sometimes. So if you don't have a good system to sit down and say, hey listen, I need to analyze all this data. If you're just mindlessly responding or just kind of trying to check off a mark, you're gonna keep running into the same issues and you could be missing on a huge opportunity to market and advertise your competitive advantage in other spaces, like your social media, like we talk about all the time. Now, Travel Media Group, we do provide surveys for hotels, we do internal surveys. I wanna put you on the, on the hot seat here and ask kind of, you know, some of your favorite questions. What do you think are the most valuable questions and how would you phrase them in order to get some really good insights that you could use, at the property operationally?
Jason Lee:
I think any question that requires a lengthy answer, I think the yes/no or the 1-5's don't maybe fully tell the whole story. And it's a great way to collect analytics. So it could be like cleanliness one through five, service one through five, location one through five, right? Like that kind of similar deal when we get to, you know, what could we have done better? You know, what was your favorite part of, of your stay? There could be some really interesting things or what was the least. And I think people who are happy, somebody who has been giving you great answers, like, yes, everything's great, everything's great, everything's great. What could we have done better? Is a great question to ask, especially a guest like that because I bet there was something and, and that could be the difference between them, you know, staying with you another time or it could be the difference to another guest, even a bigger difference to another guest. Yeah. So any kind of information you can glean that way that's not just yes or no one through five or 0 through 10 mps. It's really important I think, to get really what, what happened, what was your experience and what could we have done better?
Ryan Embree:
What was something that you expected or didn't expect on property that happened during your experience, right? That could set us up for a really nice place to say, okay, listen, a lot of people are saying that they didn't expect there to be a hot breakfast. That's something positive. Or You can say, okay, we need to do a better job of going out there and talk about, you know, our gluten-free options and this hot breakfast that we've clearly made some investments to, or, you know, I, I expected more out of my housekeeping service or, or my turnover service. These are things that can be used in different ways. Kind of talk through us about using these insights and analytics that you get from these surveys. I know you've given us a couple examples so far, but how can we improve the guest experience through that?
Jason Lee:
I think when, whenever you see a trend, that's really the big thing. There are certain things that just happen, the variables inside of a hotel room, and I've talked about this a lot in other, episodes that we've done. But like literally you're, you're talking about hundreds of variables from light switches to the time you flush the toilet to circulating pump, not giving enough hot water. You know, the, that that's when the AC doesn't work. It's so many variables and there's so many things that can happen once in one room to one guest. It's fixed and doesn't happen again. But the stuff that's really important is the stuff that multiple guests talk about this trend of issue. And we have enough data either and, and surveys give us a ton of data. You combine that with third party, you probably have a real clear picture about what is going wrong. And the more you can drill into those things and fix them, I think the quantities would show you like how many guests might be experiencing this. And it could be a block of rooms are having an issue, or it could be the rooms that you know about and you sell last. Right? Because you know about 'em in all of those things. Those are still people who spent money at your establishment who had a bad experience. Those are all those things that, that can be improved and should be. And if they were, those guests could come back and stay with you again, their experience would lead them to have a great feeling about your brand and about your location. I think it's in general, taking that and looking at trends, especially trends that are going down and then tracking them backwards. You know, 30 days I had this many complaints about odor, so now going forward 30 days, I had half as many because I implemented this thing, you know? And that's the way to look at it.
Ryan Embree:
I think also looking at it seasonally, right? Some of the hotels that are listening to this have a huge swings in occupancy during the summer months. We're about to get into spring break as we record this episode. That kind of puts the tension on your operations at the property. And those issues start to bubble up a little bit more during those times. And even looking, okay, this was, this was the hot topic last summer, right? It was my AC wasn't performing as an easy example. Up to par. Now as you get into this summer, you know, continue to track that and see are these seasonal issues, you know, something that are uncovering some problems that are underlying that maybe during slow pieces of, occupancy I'm not seeing because, you know, obviously we all want to be at high occupancy. When we are, we also don't want to be, creating issues that are, are going to prevent future stays there as well. And one thing we didn't even get the chance to talk about on this is how quickly we should be responding to these guest satisfaction surveys.
Jason Lee:
Yeah. I would say as soon as possible, especially on the negative side, I would try to get back to them as soon as you get them.
Ryan Embree:
Well, it's the expectation right now too, right? Yeah. Because as I'm holding up my phone here, for those that are just listening to this, this has kind of changed the game. When we ask for a resolution to a problem or an issue or an invoice or points added to our account, our patience and attention span is certainly shrinking there. So as quickly as possible, you need to make these satisfaction surveys a priority. The brand certainly does, but that needs to be mission critical here at the property.
Jason Lee:
I would say too, there's a direct correlation to your ability to resolve that with that guest. I guess the ease of resolving that you get back to them right away and show them that you care, you get back to them a week later, it's probably festered by that time, or they may have forgotten about it. And then you just brought up the, you just brought up what just happened and the fact that you took seven days to get back to them.
Ryan Embree:
There's a sweet spot in there. You mentioned it at the top of the episode, it could be the difference between someone, you know, not getting a response and going to a public forum. And guess what, that internal survey might sound a lot nicer internally than what they're gonna want to put on external because they know the impact of a reputation of a hotel out there. So they know how impactful that can be on your booking. So you definitely don't want to get those guests in a position where they can punish you. Like I said, I mean, this is something new. Our, realm is the online review response. You know, like I mentioned before, a million plus these guest satisfaction surveys. We certainly have a lot of experience on the survey side of things. Any final thoughts on today?
Jason Lee:
Yeah, I mean, so with Travel Media Group, we have been doing, like you said, the third party review. So the, so the public reviews and that includes guest verified reviews for Choice, IHG and Marriott. We are now starting to do Medallia responses and we have really taken time to make sure that this process is correct and just like we talked about through this entire episode, that it's different and the differences are, are really important. The nuance there is extremely important. So making sure you have a partner that gets your voice and is able to respond in this different way. So the last thing you want to have happen is that you bring, you have a partner start helping you and it compounds your problems. So it's about taking these things and making sure that you have the right partner that could give the time to the response. So let's say 80% of your surveys could be responded very much like a third party. So it's more like acknowledgement and thanking and apologizing, like these kind of more normal things that happen that you could handle. But then you have this 20%, maybe less that they want a free night, they are upset there, there could be some very specific things that you just don't respond to. They have to be handled. So we have a program and, and we're gonna be rolling this out over the next few months as we add each individual brand into it, where we bring in your surveys, we create responses, and we can hold surveys and allow you the time to work with us, to articulate the resolution so we make sure that all of these things are handled properly and in time. So we have some really cool stuff coming and I'm very, very excited about it and I'm mostly excited because we have really taken time to understand the space and, and make sure that now that we're ready to do this, that we can do it appropriately.
Ryan Embree:
Well, there's so many intricacies, like we talked about, you know, examples that were given during this episode. So that's super exciting. And we talked about a million plus. I mean, 2 million should be probably right around the corner then if we're gonna be adding these Medallia and internal surveys. Super, super exciting news. Probably heard it here first on the Suite Spot, which is breaking. So very excited about that. Definitely look out for more information for everyone on that. Just to echo Jason and, and the excitement that we have over here about starting to respond. We took the time to really know what we're running into on these internal surveys and the commonalities and differences that we see in these reviews and surveys. So awesome to hear Jason. We'll have to keep an eye on those numbers like I mentioned before. But I want to thank you again for joining the Suite Spot and we'll talk to you next time. To join our loyalty program be sure to subscribe and give us a five star reading on iTunes. Suite Spot is produced by Travel Media Group. Our editor is Brandon Bell with Cover Art by Bary Gordon. I'm your host Ryan Embree, and we hope you enjoyed your stay.