27 – How to Market Your B&B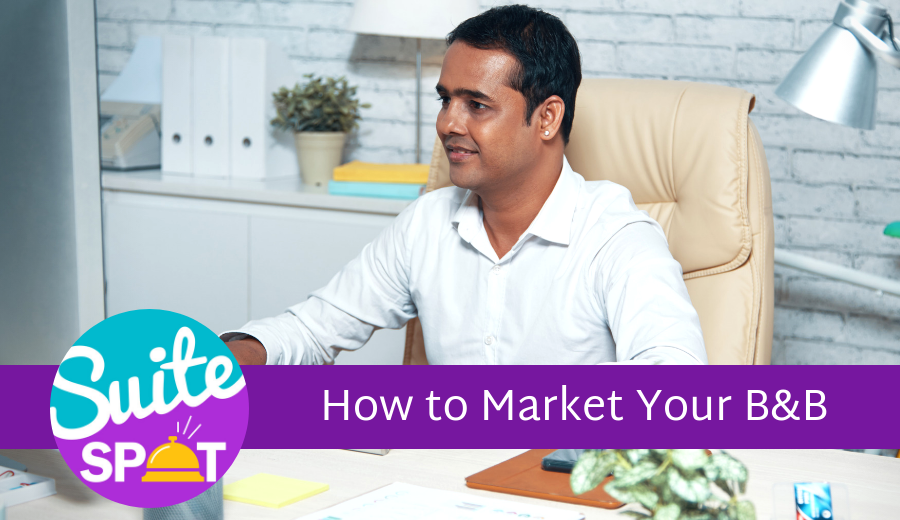 In this episode of Suite Spot, we focus our attention on the bed and breakfast segment of the hospitality industry. Host Ryan Embree is joined by Director of Marketing Anne Sandoval to talk about how your bed and breakfast property can stay competitive with the rising threats of Airbnb and vacation rentals.
Ryan and Anne give tips on how to modernize your B&B's marketing strategy and optimize your property's presence online. They share several examples of how to leverage websites, social media, and online reputation in order to gain market share and grow online revenue. They also speak to the importance of responding to reviews for bed and breakfast property owners and how critical it is to maintain positive reviews online.
If you are interested in receiving a consultation for your bed & breakfast property or to submit a topic request for future episodes, call or text 407-984-7455.

Episode Transcript
Our podcast is produced as an audio resource. Transcripts are generated using speech recognition software and human editing and may contain errors. Before republishing quotes, we ask that you reference the audio.
Ryan Embree: Welcome to Suite Spot where hoteliers check in and we check out what's trending in hotel marketing. I'm your host, Ryan Embree.
Ryan Embree: Hello everyone and welcome to another edition of the Suite Spot. I am your host, Ryan Embree. Got another great episode for you today, and one of the best things about working at Travel Media Group is the type and scales of hotels that we get to interact with on a daily basis. From those 500+ room resorts to those smaller hotels, maybe mid-sized hotels all the way down to properties that might be less than 10 rooms a bed and breakfast for example, which is a great transition into what our episode today is going to lead us and we felt like this was important to focus on, the bed and breakfast market, because they are in a situation that's competition with Airbnb and vacation rentals that are coming up along with the local hotels that are also pushing for market share. So in a competitive landscape like we are in 2019, we thought it fitting to talk about your bed and breakfast property and what you can do to market and grow your revenue.
Ryan Embree: So who better to speak with us about marketing for a property than our Director of Marketing Miss Ann Sandoval. Welcome to the show Anne.
Anne Sandoval: Thanks so much for having me again, Ryan.
Ryan Embree: Absolutely. I wanted to talk to you. Um, you know, right off the bat about kind of where a good starting point is, uh, for these bed and breakfasts owners, um, that might've had this property for years. They haven't had to deal with, again, the competitive landscape of, you know, vacation rentals, airbnb's maybe they condos close to them now are selling for Airbnb's. Where do they start when it comes to creating a marketing strategy?
Anne Sandoval: Yeah. So when we talk about a marketing strategy, a lot of these initial tips are going to be really just the foundation of understanding your property and your local area and really taking a look at what your current situation is so that you can then figure out what new strategies you can implement. So you may already be familiar with the answers to these questions about your property, but I think it's important to ask them and revisit them. First, taking a look at what the advantages and disadvantages are about your property and figuring out what guests love and how you can leverage those things. Next, analyzing the competition in your local area. As Ryan was just talking about, there are more and more lodging opportunities for travelers coming to your location, and so it's important to know if you want to get more market share, where is the market share going right now and what properties out there, maybe on Airbnb or maybe more traditional hotels are your biggest competition, and paying attention to what they're doing to market to guests. Next is to really figure out who your typical guest is. So you're already attracting guests to your property and as a, B&B, you get to know those guests really well. So it should be pretty easy for you to identify trends among those guests. What are the reasons why they're coming to your local area? What type of experience are they looking to get out of a stay with you? And then, how are those guests finding you? When your guests book with you now, do they book over the phone? Do they book online? How are they finding you? And what is it that they found along the way that made them choose to book with you?
Ryan Embree: And I think another great point to add to that is also knowing your inventory. When we talk about B&B's, you know, you could look at a hotel that has a hundred rooms and they could be at 50% occupancy. They're still going to have 50 rooms that are being stayed in for that night, and they're getting revenue from that. When you talk about a, B&B, they don't have that number, that size of rooms. So knowing your inventory, if you're at 50% occupancy for your 10 room B&B, that's five rooms that are going empty, you're not getting that revenue back. So it's absolutely critical that you have some sort of inventory management. You know when local events are going on in your area, when you're busy, when you're slow, when you need to push more marketing out to fill those empty rooms because again, those rooms, you only have a limited number of rooms and those are probably so important to your revenue at the end of the year.
Anne Sandoval: That's such a good point Ryan, and I think that's something that's going to resonate throughout this episode is that every single room counts when you're operating right a B&B.
Ryan Embree: Once you get, once you have all that information kind of written down. And again it's kind of like Anne said, you might know this just because you've been in the industry, you've owned this, this B&B or you've managed this B&B for so long, but you've never really sat down and kind of mapped this out and say, "alright, how can I leverage this data? How can I leverage this information to better my business?" So once you've done that, you really need to start looking online. In order for travelers to book with you, they first have to know that your property exists, right? And one of, one of the ways that we talked about that you should be building that foundation is asking yourself how are guests finding you and asking your guest how are they finding you, and how can you ensure that your property is not only listed online but it's also being found by travelers.
Anne Sandoval: So, for independent properties and B&B's alike, there is really nothing more important when it comes to online marketing than having a website where travelers can book a room with you, not just to call and book a room over the phone, but also to be able to view all of your room types and actually see what your availability is and make that purchase online through your website. You have to make sure that your website can be found by travelers who are searching for you. And that's why all TMG websites include listing management along with that service. So it'll help your property get listed on local important directories where travelers are searching. Whether or not you use a professional listing service, you need to get your property and your website listed on Google My Business. So that's my number one tip after you've got that vanity website. And Google is the foremost search engine, so being listed here is going to get you more exposure than anywhere else.
Anne Sandoval: Also by claiming your Google My Business listing, you're going to be boosting the overall SEO for your website to help that gain more exposure with travelers who are searching to book. And another thing that is critically important when it comes to B&B marketing is your location. And by claiming your Google listing, you'll make sure that when guests are traveling to your B&B, they can actually find it using GPS. The last thing you want is to have a traveler book with you and then they arrive at your property late and frustrated because they didn't even know where it was.
Ryan Embree: Right? And that's a trickle down effect or it goes into, you know, reputation that we're going to talk about a little bit later. The other thing that Google My Business gives you access to, especially when you have a website, is some great analytics and data. So you could see that maybe the conversion rate isn't where it's supposed to be or you're not getting as many clicks on your photos or your amenities as you would like. So it can give you some great insight on how to optimize that website for your property. And if you're out there, and again, if you've been a B&B owner, or bed-and-breakfast owner and historically you just have not, you know, used online tactics, a lot of your business is just coming from walk in and think about where your competition is. People are now booking using sites like VRBO, Airbnb, all of their booking platforms are found online. These are where your travelers are now searching and expect your property to be. So if you want to be competitive against these vacation rentals, you have to be playing in the same space that they're playing in. Otherwise you're not going to have the opportunity to compete with them. Let's shift gears a little bit because one of the channels that hotels use to funnel travelers to a booking site or their website is through social media. How can bed and breakfast use social media to market share and revenue?
Anne Sandoval: Well, overall, social media is an important strategy for B&Bs use. Research shows that travelers are more likely to plan a trip based on a friend liking a Facebook page, then based on traditional advertising. And that's just one stat to show the potential impact that social media can have. And if you're not using it, you're really missing out on potential revenue.
Ryan Embree: So if the owner of a B&B is listening to this podcast right now, what social media platforms should their property be active on?
Anne Sandoval: Well, I'm going to talk about three and the first one might be a surprise to you, but I think that Pinterest is a really great opportunity for bed and breakfast properties. So you can use Pinterest boards to show off your B&B. You could have a board for each room with photos that highlight the details of the accommodations and the decor. And each of these pinned photos can link directly back to a place on your website where a guests can book that specific room. So then as people are interested in travel and decor, share your pins, you'll gain exposure and more referral traffic that could potentially lead to a direct booking with your property. And, uh, you know, one thing that's so unique about B&Bs is that you are often making from-scratch breakfast for your guests. So if you're willing to share some of the recipes you cook for your guests, having a recipe board on Pinterest would also be a great way to increase exposure for your B&B. So Instagram is another place to leverage photos to show off your property. You can share a mix of images of your B&B, the beautiful meals you provide behind the scenes, photos of B&B operations, unique things to do in your local area, and more.
Anne Sandoval: It's really the sky's the limit when it comes to Instagram, and it's the perfect outlet for a B&B. Honestly, I think you can make an even bigger impact than a typical hotel if you use Instagram effectively, just like I was talking about on Pinterest, it's the little details of your B&B that will convey the experience of staying with you. Think about the beautiful moments that you've created across your property. Light streaming through a lace curtain, a perfectly laid place setting, or a fire in the hearth. These are little moments that can tell your story and make guests feel invited into your property. And finally, I would be remiss if I didn't mention Facebook. It's somewhere that every business should have a consistent presence. And that's especially true for hospitality businesses because this is a place where guests can leave reviews and send you direct messages, find information about contacting the property and see what their friends are saying about you. So you should be sure to post a few times a week and consider using ad spend on Facebook to expand your reach to new travelers.
Ryan Embree: And again, a great area for you to find out some analytics about your demographics that are following you, um, through Facebook analytics. Instagram also has some analytics for you as well, so you can really get a great idea of who your typical traveler is, who your typical guest is, and then you can start leveraging that for the marketing you're using on those platforms. And I loved the fact that you brought up, you know, I think it's lost some times that these bed and breakfasts and B&Bs, they have sometimes unique rooms for every single room in, in their property. That's an advantage over a typical hotel. So you have to leverage that. And potentially it could also show you, um, based on how people are reacting on social media, what people like about some rooms and what, what changes you might want to make to another room. So this is a, a really social media is a really great outlet to really distinguish yourself. But I wanted to talk about specifically how you can distinguish yourself using social media from Airbnb's because these are, these are the properties that these bed and breakfast are now going head to head against are Airbnbs and vacation rentals. So what can you do on social media, uh, to really separate yourself from Airbnb?
Anne Sandoval: I think that's a really great question. As you probably know, if you're a B&B owner or operator, one of the main differences between an airbnb and a traditional bed and breakfast is the level of interaction and hospitality that comes with a host. When you run a B&B, you're not just renting out a room or a property, you're selling an experience with you. So you should use social media to help show guests what that experience will be like. Let them get to know their B&B hosts as local area experts and hospitality specialists. You can share special touches that your guests can count on by having a host that's available and running the B&B operations daily. I've heard stories of people staying in Airbnbs and they need something and there's no one to contact. And that's really the very opposite of a typical experience with a B&B where your host is there to serve you. So while the industry is sometimes places B&B's and Airbnbs or other rentals in the same category of alternative lodging, bed and breakfasts', offer a level of service that is unmatched in that category. And that's the angle that you can leverage on social media to distinguish yourself.
Ryan Embree: I absolutely agree. And you know, we come across a lot of bed and breakfasts owners that are so passionate about their property. And I think that is what kind of makes the, that type of property unique is the passion behind their bed and breakfast. They want to give superior customer service that a hotel could provide and but, but they want that human interaction that an Airbnb just doesn't come with. So why not use social media to show your customers, to show your guests that you're getting that hospitality touch, um, as well as superior customer service and really show that passion through your social media profiles. I think that is a huge opportunity for bed and breakfast owners that sometimes gets lost. Once that guest arrives, they're encompassed in that customer service. They're encompassed in that passion. So you need to show potential travelers that may be weighing their options of a local hotel or an Airbnb or your property. You need to show that before they come in through those doors rather than just when they come in through those doors.
Ryan Embree: So I want to shift gears because I think a lot of what has a lot to do with customer service is obviously the reviews that come out of that. We work with a lot of bed and breakfast that have great reviews and it's due to the customer service. It's due to the attention to detail, um, that they provide their guests. And with today reviews being more important than ever, TripAdvisor has even separated bed and breakfasts' into its own category and ranking because it understands its unique and specialty lodging. So what is the first thing that you would suggest and that a bed and breakfast should do to start managing and kind of taking a hold of their online reputation?
Anne Sandoval: Like you mentioned, it's critically important to have your property listed on TripAdvisor and as Ryan has shared in previous Suite Spot episodes, TripAdvisor is the most trusted review source by travelers. So it's really important to have a presence there. And when you make sure that that property listing is claimed, you have an opportunity to also update your property information and your photos. Like we talked about with the website and with Pinterest or Instagram, being able to highlight these really unique rooms. Um, the accommodations and amenities is an important part of a traveler's booking decision when they're choosing a B&B, because they're selecting specifically which room that they want to stay in. So by including specific photos of each room type that you have with a caption that explains what room it is, it's going to make that path to booking so much easier for a traveler.
Anne Sandoval: And now more than ever, B&Bs should be listed on TripAdvisor because in many cases, um, TripAdvisor is also integrating those B&B listings with hotel listings when travelers are searching. So although it has this unique category and ranking for bed and breakfast, which is great if a guests already knows that's where they want to stay. But TripAdvisor can also mix your listing in with other hotel and lodging options when travelers are looking to book. So it's an important opportunity, and this means you have a better chance of being found on TripAdvisor than you used to. So success on TripAdvisor also comes from having many frequent and recent positive reviews. While bed and breakfast's don't have as many opportunities to receive a large quantity of reviews on TripAdvisor as hotels do, you do have a higher likelihood of having consistent positive reviews. And it's because of that hospitality and attention to detail that we were talking about. So the sooner you get started on TripAdvisor, the better chance you have of growing your volume of positive reviews for your property.
Ryan Embree: And you said it best, you know, fewer, fewer rooms means fewer guests than these bigger hotels, which translates into these reviews being even more impactful than ever. So how can you ensure, you talked about getting, you know, positive reviews and obviously that customer service goes a long way, um, the attention to detail, but how can you ensure you're getting the best reviews online?
Anne Sandoval: Well, after staying with you at a, B&B, your guests have developed a true connection with you. So the good news is that they're much more likely to leave a review for your property than a typical hotel guests. But this brings me to the really important part, which is you have to ask them for their review, whether it's at breakfast on their last day with you in a handwritten note that you left in their room or with a few kind words as they turn in their keys, you just have to ask for the review. Each review is vital to your success in attracting new guests to your property and to growing your revenue. So it's worth asking for.
Ryan Embree: Absolutely. And again, sometimes that's the difference between leaving a positive review and not leaving a positive review is just asking for it. Um, once you do ask for though, you know, we know in 2019 another part of the, a bigger part of that reputation management for hotels, bed and breakfast is responding to those reviews. Why is responding to reviews vital for a bed and breakfast specifically?
Anne Sandoval: Well, as we talked about before, when you're selling rooms at a B&B part of what you're selling is you, the host. And nine out of 10 travelers say that an appropriate response to a review shows that you care about your guests. So when you and your ability to care up for your guests and provide hospitality are a critical component of the service you're providing, that makes it even more important for you to respond to these reviews, to show off that you do care. Plus, travelers read your most recent 10 reviews most often, those ones that show up on the first page. As a B&B, when you may be getting less frequent reviews than a hotel, it could take maybe even months for those 10 reviews to get pushed onto page two of TripAdvisor or Google. And that means your response to every single review matters because it's going to be read by travelers for months who are booking and it could directly impact those booking decisions. So by having a professional and sincere response to every review, you can directly impact your occupancy.
Ryan Embree: Absolutely. And responding to reviews, honestly, can, can really turn a negative situation into a positive. And especially with being a bed and breakfast, travelers are looking more than ever on how you're responding. Um, and translating that to exactly what you said, uh, how they're going to be treated when they come to, to your property. So I think more than ever, uh, responding to reviews should be such a priority to a bed and breakfast owner. So, um, as we transition to the Q&A for today, you know, I thought it would be good to kind of talk about what type of approach, um, do we at Travel Media Group take when consulting with a bed and breakfast versus a regular hotel because we understand the uniqueness. Again, we work with all different types of hotels, resorts, bed and breakfasts. So I wanted to kind of walk through maybe what that looks like. You know, when we do have a bed and breakfast owner on the line and we, we talk to them about some of the things that we talked about today Anne.
Anne Sandoval: Yeah. So at Travel Media Group with every single potential client that we consult with, we're focused on understanding their specific goals for their property and with a, B&B, those goals are often unique from hotels. As a B&B, you're targeting a different traveler who's looking for a distinct type of travel experience and from our social media specialists and website creators to our review response writers, we tailor the content that we create specifically to tell your story and market to your target audience. And we recognize that B&Bs face, unique challenges in driving occupancy and revenue with fewer rooms to sell. It's about getting you a consistent flow of qualified guests year round. It's really not about making a big splashy ad campaign that will drive a lot of attention for a few days and fizzle out. Like what we're working toward is the long game to success and implementing consistent marketing strategies like the ones that we offer can really help you grow your revenue year over year. So we understand that every guest counts for a B&B. And so our commitment is to help you attract more guests, and the right guests to grow your business.
Ryan Embree: And the great part about our team is we have tools to really help you uncover some of the stuff. So if you sit, if you sit back and, uh, you know, listen to some of Anne's questions about, you know, your typical traveler or how involved are you in social media. Maybe you had someone a year and a half ago create some accounts, but you're not sure how to get into them anymore. Or you know, whether they were created or not. We have tools on our side that can uncover these things for you. We're going to sit with you, we're going to take a look at a calendar year, see when you're busy, when you need that help with occupancy. And it's exactly what Anne said. What we're looking for, especially with a bed and breakfast because we know the importance of every single room, every single day is trying to create consistency, target places where you can capture market share from your competitors to make sure that you are not being left behind in the fray. And, and that's what it comes down to at the end of the day, especially with some bed and breakfast owners that have maybe had these properties for 20, 25 years and hadn't had to deal with this thing of reputation, uh, responding to reviews. All of these new review sites that are coming up almost on a daily basis. New competitors like airbnb. So, um, any last thoughts before we kind of sign off here Anne?
Anne Sandoval: You know, in preparing for this episode and having this discussion with you and just really resonates with me how unique of an experience it is to stay at a bed and breakfast. And I was reflecting on this amazing stay I had at a bed and breakfast in Grand Junction during my honeymoon, and those are the kind of really special moments that you're creating as a B&B operator and owner. And those are the types of stories that you should be telling online. And so we would really love to help you tell your story.
Ryan Embree: Absolutely. And if you are interested in getting a consultation with someone from our sales team, please feel free to reach out to us or if you have any other questions, uh, that you might have about your property or maybe, um, some of the ways that we can improve your occupancy, your grow revenue, please feel free to reach out to us. Our number again, (407) 984-7455. And I thank you again for taking the time to join me. I think this was a great episode and, we will talk to you next time.
Ryan Embree: To join our loyalty program. Be sure to subscribe and give us a five-star rating on iTunes. Suite Spot is produced by Travel Media Group. Our editor is Anne Sandoval with cover art by Bary Gordon and content support by Priscilla Osorio. I'm your host, Ryan Embree, and we hope you enjoyed your stay.
Hotel Marketing Resources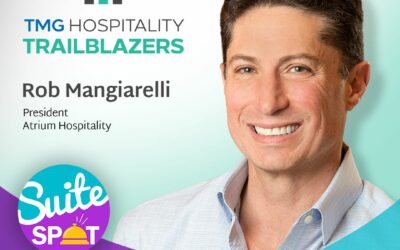 This episode features the one and only President of Atrium Hospitality, Rob Mangiarelli, as he sits down and talks with Suite Spot host, Ryan Embree on all things hospitality. These two experts share incredible knowledge and insights on various topics that give...