39 – Prepping Your TripAdvisor Listing for 2020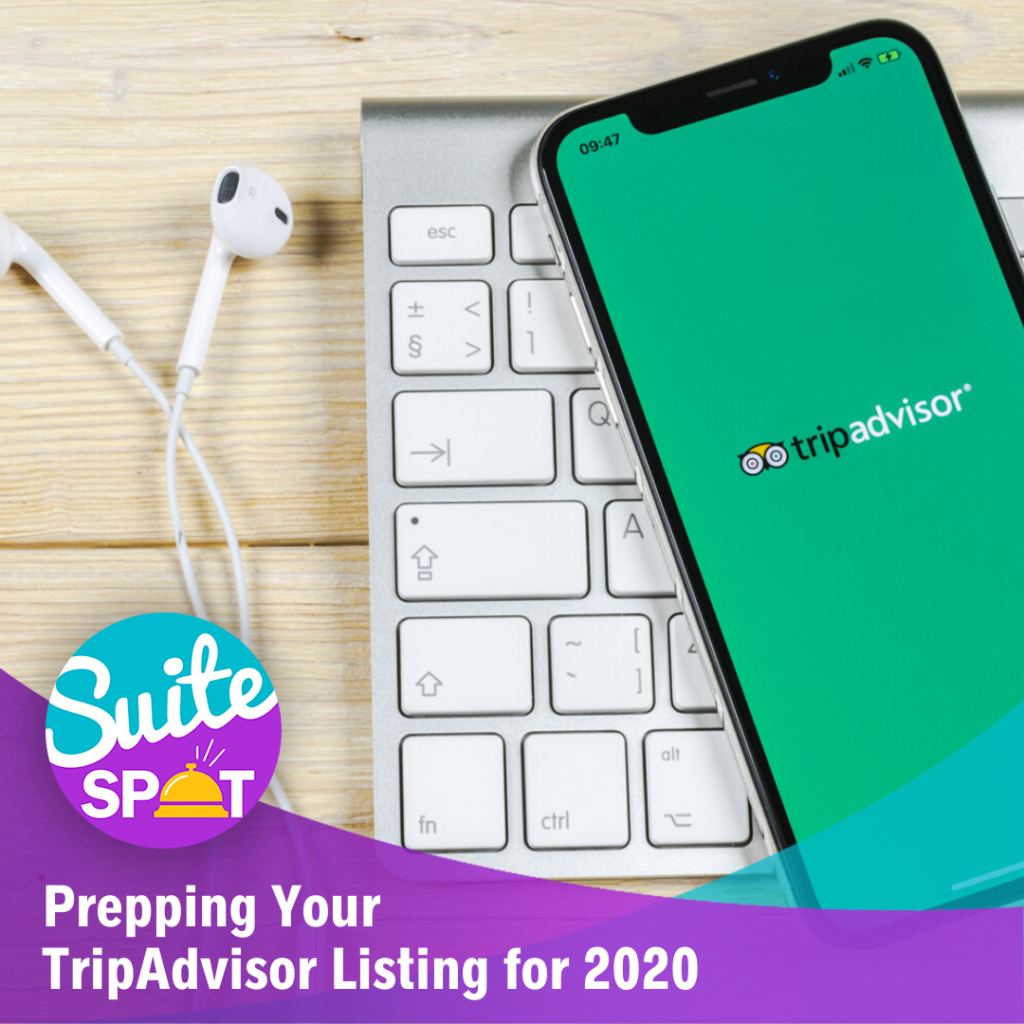 In this episode of the Suite Spot, we share how to get your hotel's TripAdvisor listing ready for the new year. Host, Ryan Embree, is joined by Respond & Resolve™ Product Manager, Kristeena Seckinger to walk through the process of claiming and optimizing your hotel's Tripadvisor profile.
Kristeena and Ryan tackle some frequently asked questions about TripAdvisor including: how to update your property's photos, how to remove TripAdvisor reviews, and can you wipe your TripAdvisor account. This episode gives important insight into what you need to do to make sure you are getting the most out of your hotel's TripAdvisor.
If you have a question about your hotel's TripAdvisor account or need help managing it, call or text 407-984-7455.
Resources
https://www.travelmediagroup.com/wp-content/uploads/2019/12/TMG-Travel-TripAdvisor-Trust.pdf
Episode Transcript
Our podcast is produced as an audio resource. Transcripts are generated using speech recognition software and human editing and may contain errors. Before republishing quotes, we ask that you reference the audio.
Ryan Embree: Welcome to Suite Spot where hoteliers check in and we check out what's trending in hotel marketing. I'm your host, Ryan Embree. Hello everyone, this is Ryan Embree, welcome to another episode of the Suite Spot. Today marks our 39th episode and last of 2019, very hard to believe. Thank you all for listening today. We've got a great episode for you today. This topic and subject was really brought up by a white paper that was recently published on travelmediagroup.com called "Travel, TripAdvisor, and Trust: How TripAdvisor Influences Traveler Booking Decisions" and now we've known over the last decade that TripAdvisor is one of the most influential places where travelers are looking when making their booking decisions. And with the end of 2019, going into the new year, we thought what we would do today is really prepare your hotel – make sure that you're getting everything out of TripAdvisor – so that when travelers are coming to your TripAdvisor account, they are seeing the most recent, up to date information. Because we know that these traveler's sites and review sites, they're ever-changing, they're ever evolving, just like our industry. So we need to make sure that all the new features that are out there, we're sharing with our hoteliers to make sure, again, you're in the best position to capture these travelers. So I would think of no better guest to invite on the Suite Spot than our own Kristeena Seckinger, who is our Respond and Resolve Product Manager. So Kristeena, you work a lot with TripAdvisor and really all online review sites, right?
Kristeena S.: Yes, every day.
Ryan Embree: Awesome. So you've got some great knowledge on – really from the basics of claiming your TripAdvisor, which we're going to talk about today, all the way down to making critical decisions about your account : potentially wiping your account, starting a new TripAdvisor, how you can remove reviews. These are all questions that we hear every single day about TripAdvisor that sometimes, you know, hoteliers might have a basic understanding of the site, but not those unique details. So I thought it'd be a really good episode to go ahead and get your TripAdvisor ready for the new year 2020. So let's start off with the basics, what's the first thing a hotelier should do if they've never managed their TripAdvisor before?
Kristeena S.: The first step for any hotelier should be to claim their TripAdvisor page. This is a really relatively easy process that doesn't take long at all. All you have to do is find your property page on TripAdvisor and you want to scroll all the way to the bottom of the page right before the frequently asked questions section and there's going to be a button there that says, "Claim your listing." From there, you'll be prompted to sign into your TripAdvisor account or create a new one if you don't have one, and after following that prompt, you will be required to verify your identity, either through a phone call through the property or by entering your credit card information.
Ryan Embree: So that's a really important detail – is you have to have a personal TripAdvisor account to manage your hotel's business listing. Is that correct?
Kristeena S.: Correct.
Kristeena S.: Okay, so you're going to go ahead and create that account, that TripAdvisor account. You're going to go ahead and walk through the stages of verifying. Now, does this cost the hotelier any money to do this?
Kristeena S.: No, it's completely free. Even if you choose to do the credit card route, TripAdvisor will not charge you anything.
Ryan Embree: That's just a claim essentially that you are part of the business. So, you know, a traveler couldn't get into your listing.
Kristeena S.: Correct.
Ryan Embree: So we know that online reviews are really at the heart and foundation of TripAdvisor – that's why travelers go there. But as time has passed, pictures and images have really start to become more and more vital to travelers and they're starting to look at those pictures as much as they're looking at the reviews, to really base their booking decisions on. How does a hotel update their pictures and can you share some best practices about updating your pictures?
Kristeena S.: So once you've claimed your listing, updating your property's information and pictures becomes accessible. There are a few different ways to get to the photo editing section, which is found in the media suite. The media suite gives you the ability to edit what photos your guest sees first when clicking on your listing up at the top. And we know first impressions are really important, so it's a great way to ensure your travelers see some of what your hotel has to offer from the get go. That primary photo will be the one that's displayed next to the property name during the searches on TripAdvisor, so you would want to make sure it's clear, professional looking picture that will captivate your traveler's interest. You'll also want to upload other pictures of the property, including photos of the rooms and any special amenities that the hotel might offer, such as a pool, complimentary breakfast, or photos of the fitness room. My advice is to upload at the very least 20 photos, and this may seem like a lot, but this ensures that the photos that are displayed on your listing under your primary photo are all professional photos. If you don't feel in these 20 spaces, then TripAdvisor will automatically pull traveler photos into these spaces and you never know what photos those might be and keep in mind, traveler photos unfortunately can't be removed by the hoteliers, so they'll always be there. Another suggestion I have is that while you want to portray your hotel in the best light possible, you want to make sure that you're accurately representing your property. This will help divert any feedback from guests saying that they felt misled.
Ryan Embree: I want to go back to the traveler photos that you were talking about because we get that question a lot from hoteliers that say, you know, how can I remove these traveler photos or how – and you can't really remove them necessarily as you mentioned – but you can push them down if you have those 20 professional photos. So if you're a listener out there and you have access – or even if you don't have access to your TripAdvisor account – go ahead and Google your property, pull up your TripAdvisor account, and you'll see exactly what she's talking about there when it says traveler photos. Now some of these can be some really great photos of your amenities, your breakfast, but again, these are travelers taking the photos. So they might not have high quality, they might be blurry. So if you have the opportunity, update those photos, because if not, we really don't know what type of visuals you're putting out there for other travelers to see. Now along with updating pictures, hoteliers also need to have accurate information for travelers. How can hoteliers make sure their hotel's information is correct and all questions are answered by travelers?
Kristeena S.: Yeah, I completely agree. It's really important to have accurate information online. In the listings management center, you can edit the hotel's information by clicking on manage listing. This allows you to edit things like your amenities, your contact information, and even update your property's name if it's showing differently than what you would like it to show. The more information that you include about your property, the easier it makes it for travelers to make a decision about staying at your hotel.
Ryan Embree: And another cool feature they have is actually answering traveler questions, right?
Kristeena S.: Yeah, so another option that hoteliers have access to, once they claim their page, is that they can go ahead and answer any traveler questions. By answering these questions, they can often promote aspects about the property and invite prospective travelers to come stay at the hotel.
Ryan Embree: That's super important, cause that's a time saver right there. You think about it, how many times are you answering questions like, "How late is the pool open? Do you have a shuttle to the airport?" These are all frequently asked questions that your staff probably gets once or twice a day. So if you have these questions readily available for travelers on a site like TripAdvisor, where most travelers are already looking and basing their booking decisions on, you can have very accurate information and maybe save a little bit of time, phone calls, messages to the property. Now are other travelers allowed to answer those questions as well? Or is it just the hoteliers?
Kristeena S.: Yes, so the traveler questions can be answered by anyone that has a TripAdvisor account. So other travelers can respond to those traveler questions as well. So you always want to make sure that the information on there is accurate. So I do encourage hoteliers to go in and check and make sure that the answers that are displayed online are accurate and if they're not, you can go ahead and post another response.
Ryan Embree: Right? So that makes it even more important to make sure those questions are answered because you don't want the wrong information out there, especially if somebody, a disgruntled guest, or something like that comes onto your TripAdvisor page and answers that question incorrectly. Another part of a hotel's reputation online that really has evolved over the last decade is the expectations to responding to reviews. That's obviously a huge part of your job as the product manager of Respond & Resolve, where you respond to reviews not just on TripAdvisor but all OTAs and other public sites. Can you give us a high level overview of how to gain access to responding to your reviews on TripAdvisor and maybe just one or two best practices when it comes to responding to those reviews, specifically?
Kristeena S.: if you've already claimed your page on TripAdvisor, you can start responding to your reviews. There are a few different ways that you can get to the responding feature. One way is by clicking on the "respond" button that will appear at the bottom of the corner of each review. The other option would be to go back through that management center and click on respond to reviews and this will actually pull up all of your reviews at once. It's really important to respond to all of your reviews, but I would suggest that if you don't have enough time to respond to them all, focus on responding to those negative reviews first. You also don't want to respond to anything too old. So try to get into the habit of responding to reviews consistently so you don't have to go back and respond to those old reviews at a later date.
Ryan Embree: And another way to respond to those reviews is obviously through Travel Media Group's OneView tool, which gives you access to all TripAdvisor reviews that are coming in and you can respond directly through there, as well as all the other online sites. So I know there's a couple of steps with, you know, going onto TripAdvisor and responding directly, but if you're looking for a fast, easy way to respond to that review, you can always use Travel Media Group's OneView platform and feed as well.
Kristeena S.: And as always, it's important to keep in mind that your review responses are being read by not only the specific guest that you're responding to, but also by potential travelers and guests. So keep your responses courteous and professional at all times.
Ryan Embree: Absolutely, we talk about that almost on a daily basis to hoteliers. You know, you think about when you write a review personally, you're really going to only read that response once, but how many travelers – how many dozens of travelers – are going to be reading that response. Yes, it's very important obviously, to address concerns and issues and even thank travelers for their feedback if it is positive feedback, but it's also important to show other travelers that you care and that you are monitoring these sites. You do care about your reputation because that translates to caring about your guests, that we've learned through a lot of statistics. So let's go a little bit more in depth into some of the nuances about TripAdvisor that hoteliers might not be as familiar with. I know a question that I get, our digital media consultants get all the time, is how to wipe your TripAdvisor page? And I think one of the questions to probably ask is, is it worth wiping your TripAdvisor page? Is it a good idea? And what does it take to actually wipe your TripAdvisor page?
Kristeena S.: Yeah, there are two routes available for getting your TripAdvisor reviews wiped and starting with a clean slate. One of those ways would be if your property is under new ownership. TripAdvisor does require official proof that ownership has been transferred, either in the form of an official lease with the minimum of three year, or an online press documenting the change of ownership that is searchable on Google, or you can provide a copy of the deeds or receipt of purchase. The other way to go about wiping your reviews on TripAdvisor is by reporting a major renovation. So if your property has gone through a major renovation, which is qualified by the updates being more than cosmetic, then you can request to wipe your TripAdvisor reviews. Now some examples of cosmetic changes that would not qualify as a major renovation are things like new carpets, paints, or new signage. So when applying to remove all of your reviews, you do have to provide proof of the renovations in the form of an online press release again, or a letter from the city officials of tourist board, or a building permit from local city government.
Ryan Embree: It's obviously a process to do that and in order to get your TripAdvisor page wiped and it's something that at first glance, you know, when you acquire a property or maybe do this renovation, you say, "Yeah, let's go ahead and wipe it. I want a clean slate." But why would a hotel maybe not want to do that versus when is it a good idea to do that?
Kristeena S.: Well, like with most things, there are some pros and cons to getting your TripAdvisor page wiped, by removing all the old reviews TripAdvisor's algorithm, which is used to determine the property's ranking is affected. This means if the hotel is ranked somewhere in the middle or in the upper level in its market, it may not be beneficial to wipe out your old reviews. Once the reviews are wiped, the hotels listing starts essentially from zero and it may be for your property to get back up to where it was previously because you have to generate so many more reviews. However, if the property is currently near the bottom of the ranking, then wiping it and starting a new would probably be a good idea as you can move up in rankings quicker as long as you keep receiving consistent positive reviews.
Ryan Embree: So I think the answer to that is really, it depends, right? Whether it's a good idea to wipe it or not, it's almost like as if you're in a race and you get this brand new engine for your car, it's determining whether you want to go ahead and continue that race in the position that you're in with this brand new engine, which could get you ahead of the pack a lot quicker. Or do you want to start all the way back from the starting line now with a faster car and try to catch up to everyone? So it really just depends. I think – does it depend on market? I mean that's probably another indicator as well, right?
Kristeena S.: Yeah, and that's a great way to look at it. The whole new engine thing, but one of the other big things to consider is the size of your market. So if your hotel is in an area where there aren't that many hotels to compete against, then you can probably move up in rankings a lot quicker than if you're in a market where say there's over 50 hotels to choose from on TripAdvisor.
Ryan Embree: Absolutely, and those larger markets are probably going to come with a lot more reviews, right? We know that one part of TripAdvisor's algorithm is the quantity of reviews. So if you have competitors out there that are 500 or more reviews, that's going to take a while to catch up to them. So that is one of the things we do here at Travel Media Group when we kind of partner with you with your reputation is we really sit down, take a hard look because some hotel partners of ours, we have consulted and say, "Hey listen, you know, it's the best route is to go ahead and wipe this TripAdvisor. Let's start a new." And then there's been other times where we say, "Hey listen, you are at this point in your market, you're right here near the top. This renovation or this change in ownership actually could really push you to get a lot further up." So that's one of the things that we'll do with our hotel owners and partners is we'll do a really in depth analysis to see what's going to be the best fit. So another question that we, that we get along those lines is removing reviews. I've even talked to hoteliers that, you know, have asked us before, just plainly, they go, "How can you guys remove reviews?" And I mean really there's a couple of ways which we're going to talk about here in a second to remove reviews, but if there's really any company out there telling you that they can take a verified review and remove it, that's not the case, right?
Kristeena S.: That's correct. There are a few reasons that you can remove reviews from TripAdvisor: specific reviews that do not comply with TripAdvisor's guidelines can be removed. In order to remove the reviews, hoteliers have to submit a report regarding that specific review and there are a few different options that TripAdvisor allows you to report. A review can be reported and successfully removed if it's posted, say for the wrong business or if it's inappropriate, or not family friendly. Reviews written by ex employees or competitors can also be removed. If the review describes an experience from more than a year ago, that review can also be removed and if the text of the review is not consistent with the rating given, those reviews can be removed also. Which we see a lot of those where everything in the review will be positive, but the rating will be a one-star, but you can get that removed. And if the reviewer did not experience the business, so if you can prove that the reviewer didn't stay at your hotel, you can also remove that review and anything duplicate or a copy-pasted content, those can be removed as well as emotional content.
Ryan Embree: Just like we said with wiping the TripAdvisor page, it's definitely possible to get a online review removed, but it's also very difficult to do so. That is one thing that our team – our Respond & Resolve team – does, is they'll, if you see, for example, something that doesn't comply with these guidelines, we can alert the hotel so that we can start that process of getting that removed is that correct?
Kristeena S.: That's correct. We will go in and go ahead and report any review that we see that doesn't comply with TripAdvisor's guidelines and we'll get that removed from them.
Ryan Embree: And with responding to hundreds of thousands of reviews a year, your team is expertly trained on kind of how to identify and look for those. That is, you know, the benefit of having so many hotel partners and going with so many reviews out there. So let's kind of talk about, you know, Travel Media Group, along with responding to reviews, we also help get travelers to your TripAdvisor page. We have a solution out there called reputation influence, which helps get you more positive reviews to your TripAdvisor page, which is what every hotelier is looking for now. But what are some other ways, creative ways that you can get people to TripAdvisor to leave you a review?
Kristeena S.: Well, TripAdvisor actually also provide some useful tools, marketing collateral. Some of it is free. So once you've claimed your page, you can order things like free stickers, free business cards, which include the hotel's name and TripAdvisor link or the TripAdvisor page. TripAdvisor also offers sort of a paid marketing where you can pay a little fee and your listing will appear first in a search on TripAdvisor.
Ryan Embree: Yeah, so you have some sponsored, you know, ad content available as well. If that is, you know, the route you are wanting to take. Again, we kind of consult hoteliers with how to do that and how we can get more people to your TripAdvisor. Ultimately more positive reviews. The last thing I wanted to kind of cover before we wrapped up is the TripAdvisor certificate of excellence. Any sort of award that we can showcase to our travelers is always going to go a long way when it comes to beating your competition. There are a lot of hotels out there that might be eligible for this TripAdvisor certificate of excellence that don't know that they are, what are some of the criteria in order to get that certificate?
Kristeena S.: Yeah, in order to get the TripAdvisor's certificate of excellence, all you need to do is keep an average of positive ratings and reviews over the past year, receive a minimum number of reviews again in that year, and just be active on TripAdvisor for the past year.
Ryan Embree: So that's what this whole episode has kinda been about: how to stay active on TripAdvisor and ultimately trying to get that certificate of excellence because that's just another way to market your property. So TripAdvisor, still very, very prevalent in the industry. Kristeena, any closing thoughts?
Kristeena S.: Yeah, along the lines of the TripAdvisor certificate of excellence, it not only can you display it at the property, but you can also add it on your websites and any other marketing collateral you have. And like Ryan has said many times TripAdvisor is so important for travelers and for your hotel because that's where travelers go to read about your hotel.
Ryan Embree: Awesome, excellent insight, Kristeena. As we talked about at the beginning of this episode, this is a great time to really focus in on our TripAdvisor account. Wrapping up here in 2019, go claim your TripAdvisor account, make sure all of your information is accurate, make sure you have those pictures, see if you're eligible for the certificate of excellence because this is what travelers are looking at and this is what's influencing travelers booking decisions. This is some really great information. Thank you again for, for being on the episode with us.
Kristeena S.: Thanks! It was really great being here.
Ryan Embree: And thank you to all the listeners. It's been a great 2019, appreciate all the support and we will see you next year on the Suite Spot. To join our loyalty program, be sure to subscribe and give us a five star rating on iTunes. Suite Spot is produced by Travel Media Group, our editor is Anne Sandoval, with cover art by Bary Gordon. I'm your host, Ryan Embree and we hope you enjoyed your stay.
Hotel Marketing Resources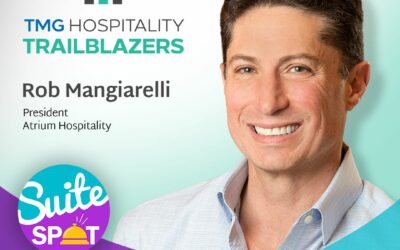 This episode features the one and only President of Atrium Hospitality, Rob Mangiarelli, as he sits down and talks with Suite Spot host, Ryan Embree on all things hospitality. These two experts share incredible knowledge and insights on various topics that give...