53 – Responding To COVID-19 Online Reviews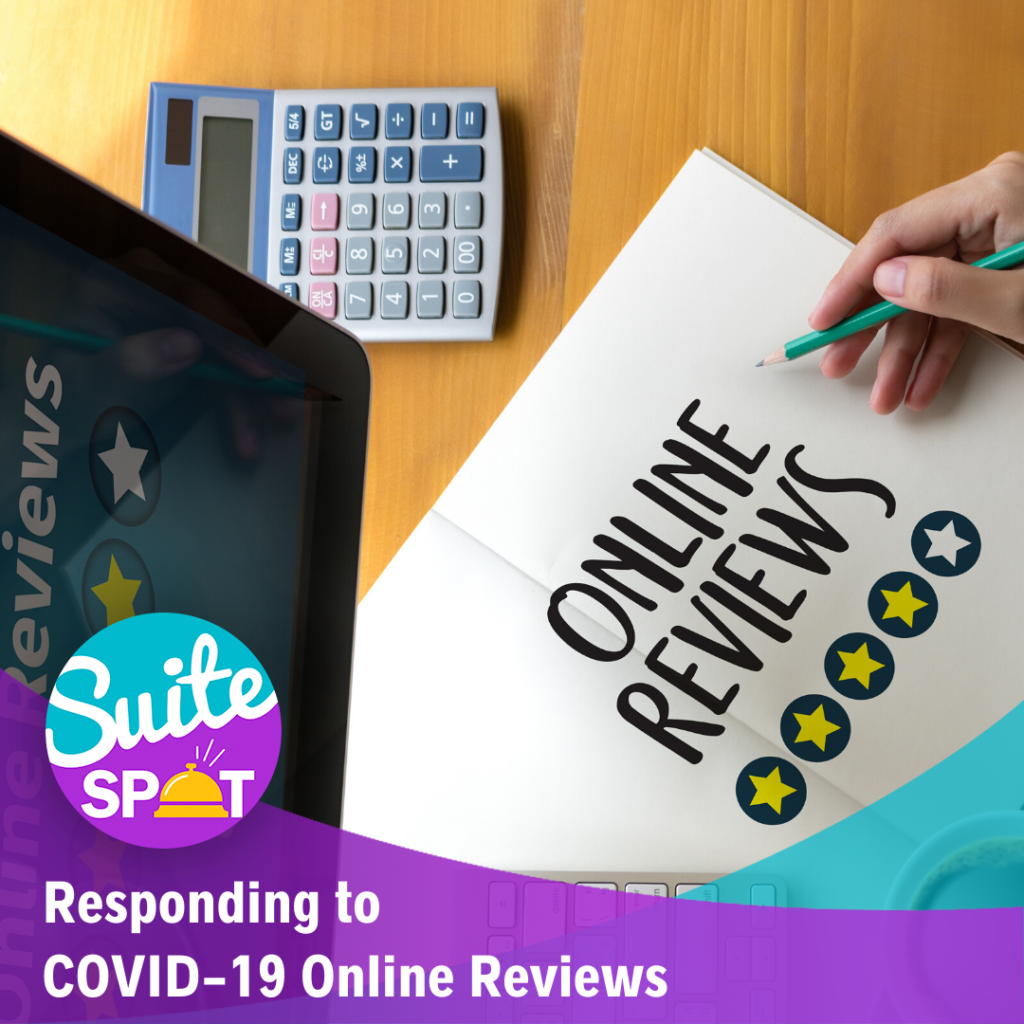 In this episode of the Suite Spot, we discuss what to do when your hotel receives an online review related to the COVID-19 pandemic. Host, Ryan Embree, is joined by review response expert and Respond & Resolve™ Product Manager, Kristeena Seckinger, who walks us through which COVID-19 red flags to watch out for in your hotel's online reviews and how to handle them effectively and appropriately.
Ryan and Kristeena describe how traveler sentiment and tone in online reviews have evolved since the beginning of the pandemic and the role that setting proper expectations plays in generating positive reviews online. They also share best practices on how to best prepare for the increase of online reviews as the industry begins its recovery.
If you have any additional questions about your responding COVID-19 reviews online or would like more information on Travel Media Group"s Respond & Resolve™ solution, call or text 407-984-7455.
Episode Transcript
Our podcast is produced as an audio resource. Transcripts are generated using speech recognition software and human editing and may contain errors. Before republishing quotes, we ask that you reference the audio.
Ryan Embree:
Welcome to Suite Spot where hoteliers check in and we check out what's trending in hotel marketing, I'm your host, Ryan Embree. Hello everyone, welcome to another episode of the Suite Spot, this is your host Ryan Embree here for Episode #53. Very excited about this episode, we are going to be talking about responding to online reviews. So I know we've kind of had some of these episodes in the past. We've talked about COVID-19 and the impact that it's had on some of our other digital marketing channels: online reputation, social media, but we really haven't got into responding to online reviews. It's one of those things that this pandemic has changed so many aspects of the hotel experience, that new normal, that we're always talking about and hearing about. But one of the things that has stayed consistent is the importance of responding to your reviews professionally and in a timely manner, because this is the type of information that travelers are looking at more than ever when they're determining whether they're going to book with your property, or another property, or even necessarily book in general and take a vacation. So with me today, I brought on the expert of review response, she's joined me before on the Suite Spot, but this is her first time joining me from her remote office, so I will welcome in Kristeena Seckinger, she is our Respond and Resolve™ Product Manager. Kristeena, thank you so much for joining the Suite Spot.
Kristeena Seckinger:
Hi Ryan and thanks for having me again.
Ryan Embree:
Absolutely. So let's start with how you and your review response team have adjusted since the beginning of the COVID-19 pandemic.
Kristeena Seckinger:
Well, there's definitely been a lot of adjusting for everyone since the beginning of the pandemic and my team is no exception to that. I would say back in March, when all of this started, the review flow really slowed down drastically, which was definitely an adjustment for the fast pace that we were used to before. But since then, as the states began opening and everything started returning to almost normal, we have seen a huge increase in review flow again. And with that increase of reviews and everything that's going on, our team has continued to craft those customized responses that really represent the hotel's voice and message that they want to deliver to their guests right now. And one of the great things about our program, the Respond & Resolve™, is that our team understands that now it's more important than ever to make sure our responses are meeting those client needs and delivering that specific information to all of our guests and travelers.
Ryan Embree:
Absolutely, your team was on a roll with responding to reviews. Our review response solution is so custom, we're talking in the same hotel voice as the business wants to be putting out there for guests and travelers. You know, we know how critical it is not to just respond to COVID-19 reviews, but respond professionally, accurately and timely. How are you and your team getting the hotel information and voice necessary to appropriately respond to these types of reviews?
Kristeena Seckinger:
Well, like you said, now more than ever, it's important to be responding to reviews with accurate information and luckily for us, we've largely been using the help of our client success representative team. They've been reaching out to clients and filling out answers to a questionnaire we designed to gather relevant information and all these answers are then input into our response guidelines section, which is available to each of our writers, as they write those specific responses for each property. Some of the information that we've been gathering include things like what kinds of amenities are still open or closed, if breakfast is still being offered, or if the hotel has switched over to some form of grab and go breakfast. We also talk a lot about housekeeping policies and if there's been any changes to those.
Ryan Embree:
And I'm sure there have been, especially in this time, you know, we've been seeing and hearing all about those cleaning procedures that have been implemented at the property since the beginning of this pandemic. I think this is one of the coolest and most creative tools that we have paired along with this solution, is being able to get exactly what the hotel is trying to relay to travelers and guests and give it to your team, who are professionals at review response writing, and they can create that and curate that response into a professional response that really reflects great on the hotel, especially during these critical times, during the COVID-19 pandemic. Now, you know, we've been talking a lot about you and your team and the responses on your end and on the hotelier's end, have you noticed a change in guest tone or sentiment since the beginning of this pandemic in March?
Kristeena Seckinger:
Yeah, for the most part, we are seeing one of two scenarios regarding guests and how they feel about their stay. In one scenario we have what I've come to call as the "thankful guests", where in their reviews, the guest talks about how grateful they are for the hotel's efforts to ensure their safety, whether that's because the hotel is providing a grab and go breakfast, that we talked about, or if they're providing a touchless check-in, or any similar aspects like that. Then we have the other guests that of course are not happy. So the tone shifts to being upset because their expectations aren't being met, so meaning they expected a breakfast, but they arrived and turns out breakfast isn't being served, or they arrived to have a family vacation and they've wanted to use the pool, but the pool is not available. So things like that. So for the most part, I would say we're seeing one of those two tones in all the reviews.
Ryan Embree:
That is such a great point you bring up Kristeena, you know, reviews around this time can be so polarizing. Travelers, as well as hoteliers know how important reviews are to their business right now and travelers want to help small businesses. We've seen those campaigns across social media, just all over the nation, trying to help small businesses recover from this pandemic. So I'm sure some travelers that are appreciating the changes that have been implemented at the property are willing to give that five star review that maybe six months ago they would have just said, "this is an average stay. This is a good stay." But because of all the work that our hoteliers have been doing, now all of a sudden that takes it to the next level, if they're feeling safe and they feel that the property has taken the time to really put in these precautions. But like you said, on the other end, if they're not seeing that or different expectations are being anticipated by the guests, this is when that one star review can critically critically injure your online reputation. I want to switch gears a little bit, because on this podcast, we talked about how hotels can specifically use social media to share some of the property changes that we were just talking about and some of those new procedures. Can you share with us an example of how review response can be just as effective as a strategy in sharing these changes to potential travelers?
Kristeena Seckinger:
Well, one of the many benefits of responding to reviews is that you can use your response to promote specific aspects of your hotel. So for example, under normal circumstances, if a guest stays at a hotel and leaves a review saying, "I really enjoyed all the amenities," the hotel can use their response to promote and advertise any specific amenities that might set them a part and they can go ahead and mention either a pool, or their awesome breakfast, or a newly renovated fitness center. And likewise, during this time, hotels can use their responses to inform future guests of any changes or limitations at the property. So here I actually have a good example of a response that lets the past and future guests know about their housekeeping policies during this time. So in this review example that I have, it says it's from Brittany, and she said that the positive was that it's easy to get to, the hotel, and the negative was that there was no housekeeping. So in our response, we were able to use some information that we already had from the property and we responded by saying, "Dear Brittany, it's great to hear from you. We're glad that you found our hotel easy to get to, and we hope our location was ideal for your plans in Orlando. At this time, housekeeping is not servicing rooms while they are occupied. However, our front desk team is always happy to supply anything you'd need, thanks for joining us during your travels and we hope to see you again soon."
Ryan Embree:
Love it. That's a perfect example right now of new procedures that have been implemented at the property that you've been able to share over a review response. So now upcoming travelers that are reading that review can start to anticipate and expect that this is going to be the case when they have this hotel experience. So that's a great example of how review response can set those right expectations, and that's what I want to talk about next. Can you expand on what you mean by hoteliers need to be setting the right expectations for upcoming travel?
Kristeena Seckinger:
Definitely, and this actually goes back to our discussion about the different tones we are seeing in reviews. We found that hotels that have set clear and accurate expectations of what a guests will experience during this time, they tend to receive more reviews that are thankful and appreciative of those hotel efforts and safety protocols versus those hotels that have not updated any of their information online. They tend to get reviews from guests that are disappointed because their expectations were not being met. So we recently saw a review from a guest that was upset because they had booked a room with a kitchenette and when they arrived to their room, they were upset because all of the dishes were in the dishwasher and the pullout couch was not made. So in the response to that review, we were able to explain that having the dishes in the dishwasher is a new protocol to ensure the dishes are sanitized between each guest and it helps the guests know that the dishes haven't been touched since being sanitized. Likewise, we were also able to explain that the pullout couch was purposefully not made as the sheets and linens are being placed in a drawer in a sealed bag, so they remain clean until used by a guest. It's very likely that had the guests been informed of these safety measures that were put in place at that hotel, that guest probably more than likely would have been appreciative of the hotel's efforts, rather than upset and not satisfied with their stay.
Ryan Embree:
Yeah, absolutely and think about how many travelers probably thought the same thing when they came into that room. Even from a personal standpoint, if I came into a hotel and didn't know that was the new protocol of keeping the dishes in there, I would have thought that, you know, that this was some sort of mistake. I can see how that could easily translate to a negative review there. So again, all the hoteliers out there that are responding to reviews, make sure you are setting the right expectations. Now in a post COVID world, sometimes a review does not specifically have to mention the word Coronavirus or COVID-19 to have that negative impact on a hotel's business. What types of terms and phrases should hoteliers be on the lookout for, to signal a red flag within the content of a review that they receive?
Kristeena Seckinger:
So I would say that I actually find that it's pretty rare to see the use of the actual words COVID-19 or corona or virus or anything like that in the actual review, but other key terms to definitely keep an eye out for would be safety, health, cleanliness, protocols, masks, along with any synonyms for those words, of course like security, wellbeing, sanitary, and so on.
Ryan Embree:
Definitely. So you want to be on the lookout for those types of terms, because those come back to the overall sense of, you know, what travelers are going to anticipate and expect in this "new normal." So definitely take a chance to read through your reviews just as if you were a traveler and look for those keywords, because it might not specifically mention COVID or coronavirus, but these are some terms that should definitely raise some eyebrows. Sentiment analysis, I want to kind of turn our attention to that, love when CSR, you know, signs on a new hotel and is talking through the hotel's voice and the messaging. The other cool part about our Respond & Resolve™ solution is it comes with sentiment analysis. First off, can you briefly explain what sentiment analysis is, how it works, and how it can be leveraged in a post COVID-19 world?
Kristeena Seckinger:
Well, sentiment analysis helps us provide hoteliers with specific, actionable insights into their hotel. We have 24 items that we are able to tag from and the way it works is basically as an analyst or writer reads a review, we will go in and tag any of the mentioned aspects with a positive, neutral, or negative rating. This data is then compiled into graphs and tables that are available to our clients in our OneView™ platform and they help show hoteliers what aspects of their property are getting mentioned the most in a positive light and which ones are getting mentioned the most in a negative light. The idea behind providing this data is that it can be used by hoteliers to find their promoters or aspects that they can advertise and highlight as well as pointing out aspects of the hotel that may need some work, especially in the current situation. And with that, in this situation that we're living in now, sentiment analysis could be really beneficial to hoteliers, as it helps outline where a hotel might be falling short in setting accurate expectations. So for example, if now a hotel is receiving a lot of negative ratings over and over about their breakfast, it would be worth then looking into and making sure that they are properly informing their guests of any limitations that they might currently have regarding that breakfast.
Ryan Embree:
So those red flags that we talked about, over the last question, those are identified by your team and then our CSR team essentially consults with the hotel to say, "Hey, these are some things that we need to take a look at because it could be costing you business, but also the positive things that are bringing people back." This could look completely different than it did six months ago. So if you're a current partner with us, I suggest to get into those reviews, get into that sentiment analysis, because we know, again, this is a new normal, and the travelers are looking at these reviews in a completely different light. If you're interested in getting some sentiment analysis about your hotel, of course, you can reach out to us. As restrictions ease and travelers return, as you mentioned at the beginning of this, review flow is going to start exponentially increasing for hotels across the country. How does your review response team ensure they're ready to handle that sort of volume of online reviews?
Kristeena Seckinger:
Well, like you said and we talked about already, review flow has been increasing already, though it's still not as high as it was this time last year, but we have been seeing month over month reviews. Our number of reviews that we're handling has almost been doubling each month. I'm still confident that our team of vetted writers are going to be able to efficiently respond to each incoming review regardless of the increasing amount of reviews that we're seeing. And not only do our writers write a personalized response to each specific review, but we also understand the importance of getting our drafted responses posted within guidelines that each brand has. Typically speaking, we are able to draft a response, send it to the hotelier for approval, and post the finalized response within 48 hours, which is well within all of the different brand standards that are out there. Our system is also designed to prioritize the oldest reviews first, so we make sure we're keeping our overall response times down and our team prioritizes posting responses to brand reviews first, since we understand how important those are.
Ryan Embree:
Yeah, we know with that increase of review flow means that more travelers are coming through, which means that hotels are busier and busier, which is great for our industry as a whole, but as hoteliers, we can't afford to let this sit by the wayside cause your travelers are depending on you to respond to those reviews out there. So if you're a hotelier out there, you're listening, and you're saying, you know, I've got a great handle on this. That's awesome, right now, but as we start to see that recovery, which we definitely will, those reviews are going to start increasing, those brand standards that might've disappeared for a couple of months, those are going to be coming back, and those fines for unresponsive reviews might be coming back. So very important to keep in mind, because again, we're on the path to recovery, but once we get there, you're going to start seeing a lot more online feedback. So as we do with all of our episodes, we end it just with any kind of final thoughts about the episode, where we are today, what do you think Kristeena?
Kristeena Seckinger:
I can't stress it enough, that not responding to reviews is a huge missed opportunity to generate that guest's loyalty, promote your hotel, and set expectations. And of course, countless other benefits. And it should always be apart of a hotel's marketing strategy.
Ryan Embree:
Absolutely, I think that's great advice, Kristeena. Thank you so much for being on with me today.
Kristeena Seckinger:
Thank you so much for having me and it was great talking to you.
Ryan Embree:
Great talking to you, and like Kristeena said, if this pandemic really has shown us anything, it's shown us how important it is to be communicating with our travelers and guests whenever we can to as many channels as we can. Review response over the past decade has just opened up as another channel that we can communicate with our travelers. So make sure you are not missing out that opportunity to communicate what you've been implementing at the property, setting that new expectation that we talked about. Kristeena and her team do a fantastic job at Travel Media Group with our Respond and Resolve™ solution, making sure that your message is not only put out there, but it's done so in a professional light that makes your hotel look very professional and ready to accept guests again. So if you're interested in learning a little bit more about our Respond and Resolve™ solution, it's one of our most popular solutions at Travel Media Group. Feel free to reach out to us (407) 984-7455. I want to thank everyone for taking the time to join me on the Suite Spot and we will talk to you next time. To join our loyalty program, be sure to subscribe and give us a five star rating on iTunes. Suite Spot is produced by Travel Media Group, our editor is Anne Sandoval with cover art by Bary Gordon. I'm your host, Ryan Embree and we hope you enjoyed your stay.
Hotel Marketing Resources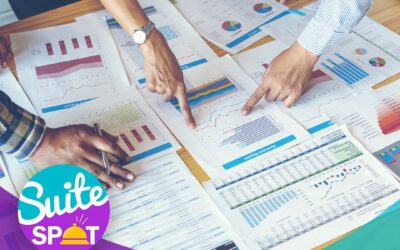 Join TMG Marketing Director Ryan Embree and Vice President of Product and Technology Patrick O'Brien on this episode as they analyze and give insight into the top 5 guest sentiment trends of 2022.  You will learn about the most talked about topics and how travelers...