55 – Adapting Your Hotels Website During COVID-19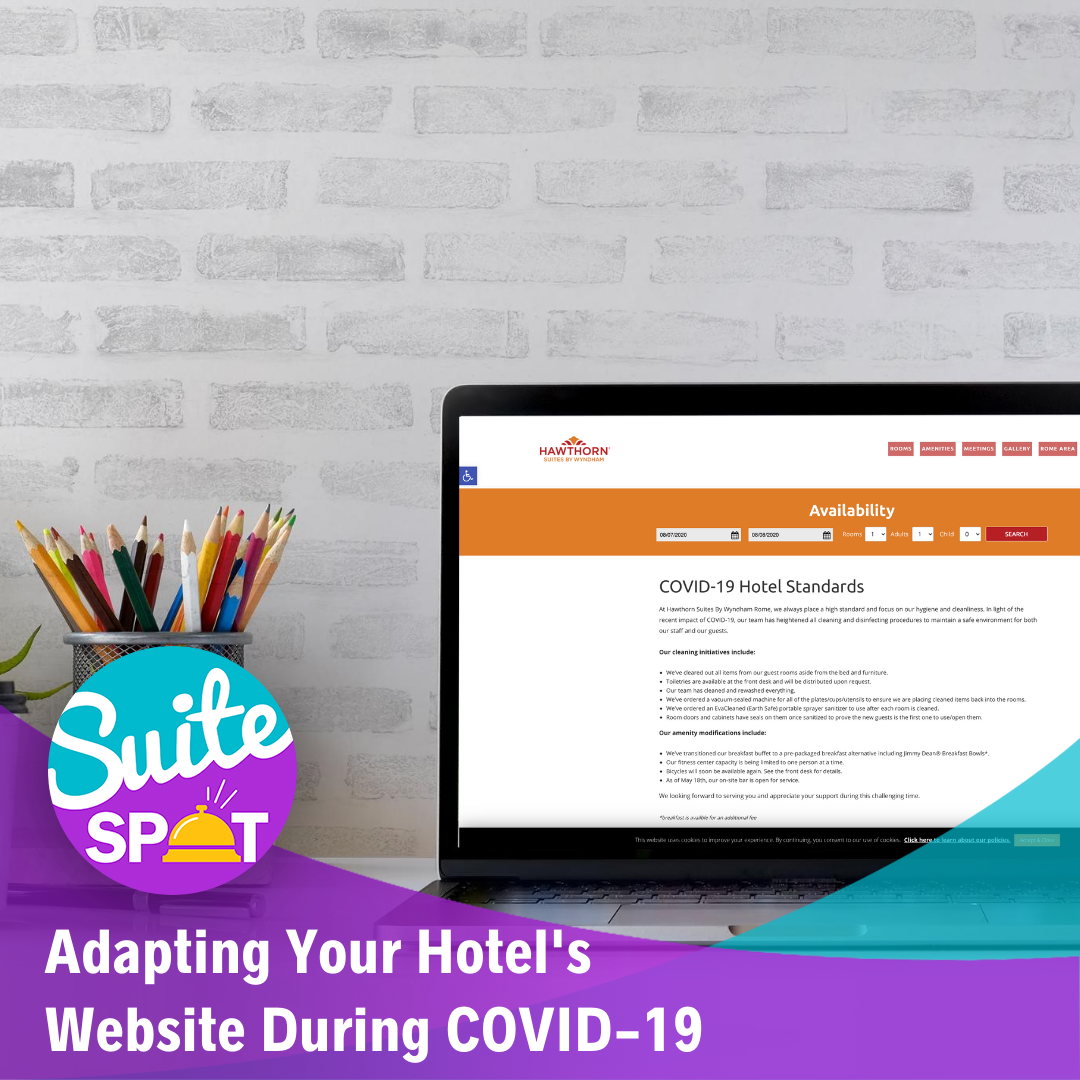 In this episode of Suite Spot, we talk about the adaptations hoteliers are making to their property websites in the midst of this pandemic. Travel Media Group Senior Website Product Analyst, Stephanie Courtois, joins host Ryan Embree to share how she, alongside the Travel Media Group product team, prepared our hotel partners' websites for COVID-19 and after.
Stephanie and Ryan discuss the different options hoteliers can utilize to communicate important information pertaining to COVID-19 through their hotel's vanity site. For franchised hotels, Stephanie stresses the importance of highlighting changes specific to the individual property while aligning with overall brand messaging. She also shares search results analytics about COVID-19 landing pages created by the Travel Media Group team and the high impact it has on a traveler's impression and expectations of a property.
To learn more information about upgrading and updating your hotel's vanity website or to submit a question for future episodes, call or text 407-984-7455.
Episode Transcript
Our podcast is produced as an audio resource. Transcripts are generated using speech recognition software and human editing and may contain errors. Before republishing quotes, we ask that you reference the audio.
Ryan Embree:
Welcome to Suite Spot where hoteliers check-in and we check out what's trending in hotel marketing. I'm your host, Ryan Embree. Hello everyone, welcome to another episode of the Suite Spot. This is episode #55 and we have another great episode for you today, packed with information on hotel marketing. Today, we are actually going to dive into a subject that at Travel Media Group we specialize in among other things, but something we probably haven't talked about in awhile, but it's super, super important, and that is your hotel's website. And we're going to talk about your hotel's website during this time of COVID-19, some of the adaptations that we've been seeing that hoteliers are making, and really how you can evolve your website to make it work best for you in this post COVID recovery stage that the hotel industry is going through right now. So with me today, I thought I'd bring on one of our Travel Media Group experts and senior product analyst, Stephanie Courtois. Stephanie, thank you so much for joining the Suite Spot today.
Stephanie Courtois:
Thank you for having me.
Ryan Embree:
And we're going to be talking all about websites and again, that is your specialty. So you've had a lot of conversations through every phase of this pandemic, from the very beginning, to the shutdown in April and May, and now as we get into the summer part of that recovery stages. So the way I'd like to look at it from a high level is this pandemic has really given hoteliers a unique opportunity and reason to evaluate the way that they're communicating to travelers and guests online. So almost the silver lining to reevaluate how you're using those communication tools. How has the COVID-19 crisis highlighted the importance of using a hotel vanity site as a communication tool?
Stephanie Courtois:
So with the ever evolving nature of the pandemic, it's super important that hoteliers communicate to guests the active measures they're taking for their safety, whether that be mask mandates, enhanced cleaning protocols, social distancing markers, amenity limitations, or even closures, guests need to be aware of the changes your making at the property. So for a franchised property, they have the brand initiatives for guidance, and those are usually displayed as travel advisories on the brand page. But generally they're pretty broad. They kind of go over their entire hotel suite and collections as a whole and don't really hone in to what you're doing specifically at the property. And that even goes for independent properties, they are just thrown into the thick of it and need to come up with a strategy to effectively communicate what they're doing to their guests. So in sum, they need to make sure that they are posting that information, guests won't feel comfortable booking with you if they think that you're tone deaf to the situation and that you're not taking it seriously, even if you are, they would just have no idea. So it's just so important.
Ryan Embree:
That's such a great point. You could be implementing all of these changes at the property: operational changes, mask mandates, you could have plexiglass at your front desk, cleaning protocols all changed, but at the end of the day, if you're not communicating that to your guest online, they have no idea that those changes are being made. So it's a very, very unique situation that we've been in. We've talked about using social media, using review response to market those changes out there to travelers, but at the end of the day, where are travelers coming to, they're coming to your website. So I want to turn our attention to changes, updates, and adaptations that you've seen from hoteliers during COVID-19. What options does a hotelier have for displaying COVID related information on their websites?
Stephanie Courtois:
So that can come in a variety of forms and it really just depends on the layout of your website. And our team would determine the best method based on the amount of information that you give us and the type of layout and some other code factors. So that can include a header banner, a pop up, an inline page banner, or a separate resource landing page. It just really depends. So generally speaking, the more information you can provide, the better, if we have enough content to work with, we will gladly create a coronavirus update page for you updated as needed. And even create a header banner with a link to view more information as you report updates, learn more here, something along those lines. And it can be visible on all pages or just the homepage. So whatever goals you have, we can make that happen. Based on the information you give us.
Ryan Embree:
This is one of those unique situations where you can never have too much information out there about this situation and travelers are looking for that. And it's exactly what you said earlier, if they see on your website, that you're not aware of the situation or are being tone deaf, that's going to impact revenue. And just to reiterate, when we talk about a hotel's website, we have our independent hotel websites that we know, where they see a majority of their traffic and bookings, but for our franchise partners, we've created a hotel vanity website where they can be separate from the brand. So of course you have your brand landing page, which has all of that general information that you talked about. They're all reacting to this with different cleaning initiatives, mottos, things of that nature. But this hotel vanity website is a place where you tell your story and you put in your hotel's protocols because we know that a property in Florida on the beach is much, much different from a property in, let's say in the Midwest. There are different protocols, there's different standards of operating there. These are the type of changes that we're talking about. Putting on your hotel vanity website. Now, one of the reasons that we have partners come to Travel Media Group and create a vanity website with us is obviously generating revenue, traffic, and ultimately conversion. Are you seeing, since we've made those changes to our hotelier's websites, are you seeing any impacts on those types of metrics like traffic or conversion?
Stephanie Courtois:
So with properties that have the landing page, those are pretty easy to track as opposed to a popup. There's not really a call to action, it's more informational based so we can see at least an uptick in conversion just over time, as people are becoming more aware and comfortable with the situation. But I can definitely think of one site off the bat that had an uptick of traffic from their COVID-19 resource page. Now it's the third, most clicked page, organically from Google when searching for the hotel. So their home page will come up, the rooms page, and then their COVID-19 resource page. So it's a very highly sought after page. And in addition to when a guests were to land on the homepage, the second most popular page that they've clicked on is the COVID-19 resource page. So people are hungry for this information. They want to make sure that they are getting the full scope of what they'd be entering into if they decide to book with the hotel. And it's really just helped overall, I think with providing that consumer confidence.
Ryan Embree:
Definitely that really gives you some insight into where traveler's minds are at right now, if a webpage or a resource page that you've added onto a site becomes the second or third most popular spot on a hotel's website that says something about where we are right now in the travel industry and what information travelers are seeking out before making purchasing and booking decisions.
Stephanie Courtois:
Absolutely, I would even just say, just to add something in real quick. If you do have that resource page, having keywords in there about your cleaning updates and coronavirus, you know, it becomes more searchable. So that's why it's coming up more in the search result as well, cause that is just the hot keyword topic right now.
Ryan Embree:
Yeah, there's other benefits that you don't consider, like you said, keywords and organic traffic, which always helps any sort of traffic to our website always helps, especially if those turn into conversions. So that's a great point. How do you think having accurate information on the website can help hoteliers in other areas? You know, some of the topics that we've talked about, like reviews and social media.
Stephanie Courtois:
So I'd say a large portion if there's ever negative feedback is due to poorly managed expectations. So by properly sharing protocols and practices in place, the guests knows what to expect upon arrival and there's less likely to be an issue. And with that said, customer can take to social media or review sites to air their grievances or praise a hotel for their efforts to handle a situation. So the glowing recommendations on these sites can further the perception that the hotel just knows what they're doing. And surprises, I'd say they can be fun in certain situations, but this is definitely not one of them. So you want to make sure you're setting those expectations clearly, so that can further permeate to your review sites and social media, which is more positive overall sentiment.
Ryan Embree:
You're right, that is not the case. Travelers are not expecting surprises during this time. You hit the nail on the head – setting expectations, you know, we've talked about that the past couple episodes – how important and vital that is right now and how that can set the tone for a traveler's experience right off the bat. We know that every individual brand: Choice, IHG Wyndham, etc. They have their different COVID messaging, cleanliness standards. I'm curious, you know, we work across all franchises, how do you balance that with an individual hotel property and what they want to communicate on their website?
Stephanie Courtois:
I would say brand guidelines are a fantastic starting point. They can offer a program logos and verbiage for which to provide professionally communicated sentiment. So also, as I mentioned earlier, brands are a first line of defense, but they offer big details on a lot of hotels initiatives. So guests want to know your breakfast policy, for example, or how they're handling the sanitation of your rooms. One example I found from the Best Western "We Care We Clean program" – this was a section from their temporary breakfast offerings. It says, "enhanced grab and go offerings will be implemented in most hotels, providing guests with prepackaged food and beverage options." So a guest could be thinking, is this hotel considered one of those most hotels and what comes in a prepackaged breakfast? Your brand won't get into the specifics, so a vanity site can really help tailor your messaging and get those answers the guests are really wanting to know. But I would say things like cancellation policies and booking flexibility are generally pretty standard across the board, so brand messaging could be great for those areas.
Ryan Embree:
This goes back to the uniqueness of your specific property. I think about those hoteliers out there that I've talked to or you've talked to Stephanie that have really put in a lot of effort, time, and capital into making COVID-19 changes for their property operationally. If they just stick to what brands are saying and apply that, it's not going to take into account all of these extra things that hoteliers have done to ensure the safety of their guests and their staff. We encourage our hotel partners, anything that you've done, we want to go ahead and display that and we want to make sure that that's being communicated to your travelers. Speaking of, you're a lot closer to it than I am, Stephanie, with talking to these hoteliers and making these updates on their websites, which you and your team do a fantastic job of. What are some examples of the most creative changes that you've seen hoteliers make to their website?
Stephanie Courtois:
On average, we have the, of course, the general resource pages on the popups, but there have been different ways that hoteliers have been reaching guests to try to bring in revenue. So I remember a couple months back, I had a client who wanted to target traveling nurses, so they created a promotional graphic offering discounted rates to medical professionals. And we turned that graphic into a popup to display on the homepage and provided even more information on some of the rooms pages about how they can contact the hotel to learn about more for those traveling nurses and even government employees. So just trying to target the people who at that point in time would still had to travel during a time of a shutdown. So another one that comes to mind is a boutique property who was trying to engage with customers while they couldn't book events. So this hotel is mainly an event driven property, so they were just trying to figure out a new way to bring in revenue. I designed a carry out page with menus and images and a call to action to place an order since they still had their catering kitchen. They kind of use it into a takeout-only restaurant since they only do weddings and such. In addition to that, the property took it upon themselves to create an e-newsletter, informing their customers of this new edition and posted about it on their social media channels to get out the word since that's not normally a service that they offer, it was just a new kind of innovative way to bring in more revenue.
Ryan Embree:
That's incredible. We hear all the time the industry is resilient and we've seen that in the ideas that hoteliers are coming up with to generate that revenue, to generate that interest, these creative ideas that you and your team are implementing on their websites is a perfect example of that. Now let's talk about kind of working with Travel Media Group, how quickly are you able to make these changes? Of all of Travel Media Group's hotel partners I'm sure you've had a lot of requests, a lot of changes, so how quickly are you able to make those changes and what does it cost to the hotelier?
Stephanie Courtois:
Of course, it depends on the nature of the change and how large scale it can be, so it can vary. But on average, I'd say for something as pressing as a COVID-19 statement, we try to get that done on the same day since that messaging needs to get out to your consumers as soon as possible. But in certain cases, changes can take up to three business days, but that's just generally speaking if it's a very large scale project and that just goes for any change request. But like I said, for coronavirus information, we want to get that up there as soon as possible. A huge perk of working with Travel Media Group on a vanity site is that most maintenance changes are included in your program, meaning there's no additional costs for creating a coronavirus statement banner or a page or a pop up. Those are all included, so whenever you need it and whenever you need it updated, we can take care of that for you. No additional charge.
Ryan Embree:
That's amazing. And our product team has done a fantastic job with building within TMG's OneView™ the opportunity to log in and actually notate those changes right then and there. So that's directly sent to you and your team. You reach out to them, you guys kind of consult with each other and match that hotelier's vision, as far as what they're thinking, for something like this. And obviously this is a global pandemic, but it also speaks to the value of having a partner like Travel Media Group that's able to do these changes so quickly, not at a high cost. So Stephanie, thank you so much, as we always do with our guests, we just open it up for any sort of final thoughts that you had on today's episode, where we're at right now in the industry, any final thoughts?
Stephanie Courtois:
I would say my one piece of advice for navigating all of these coronavirus updates to your website is just make sure you're consistently updating your website as new information becomes available. Your statement from April, most likely won't be applicable to your hotel in July. Aside from the SEO benefits of regularly updating content, keeping guests in the know about this hot topic can change the perception of your hotel and ultimately lead to consumer confidence to book. So make sure you're updating everything and even as your brand policies change, state and federal guidelines, as those become updated, make sure you're pushing those out to your website so guests can say confident.
Ryan Embree:
It's great advice, Stephanie. I want to go ahead and thank you for joining the Suite Spot.
Stephanie Courtois:
Thank you so much for having me.
Ryan Embree:
And you're so right. This pandemic, it feels almost like it's changing day by day. So you want to make sure if you are making those updates to your website, how quickly those can become out of date, because like a social media feed, where all of your information is kind of pushed down and all of your relevant information is at the top, you know, once you make that change to your website, that's going to stay there until you make another change. So food for thought out there, if you're interested in learning about Travel Media Group's vanity website solution, working with Stephanie and her amazing team, you can always reach out to us (407) 984-7455 or visit us at travelmediagroup.com. I want to thank Stephanie again for taking the time to join me. I want to thank all of you out there for listening, hoping you are saying safe and healthy, and we will talk to you next time on the Suite Spot, thanks everyone. To join our loyalty program be sure to subscribe and give us a five star rating on iTunes. Suite Spot is produced by Travel Media Group, our editor is Anne Sandoval with cover art by Bary Gordon. I'm your host, Ryan Embree, and we hope you enjoyed your stay.