57 – Multi Property Reporting & Capabilities with TMG OneView®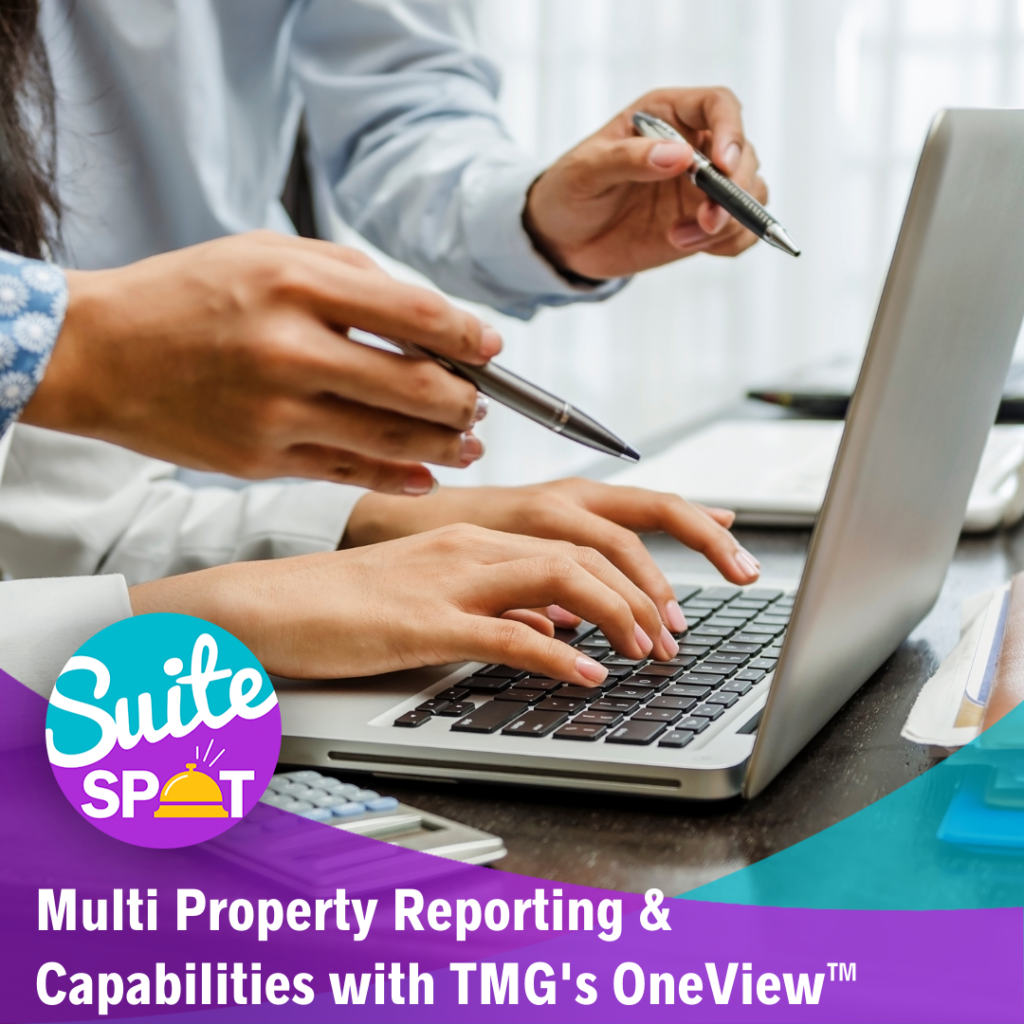 This episode of Suite Spot is all about the multi-property functionality of Travel Media Group's user-generated content management system: TMG OneView®. Host Ryan Embree is joined by VP of Product Development & Technology Jason Lee to review how management groups and multi-property owners are leveraging this tool to streamline and optimize hotel operations.
Jason shares why it was critical to incorporate multi-property reporting and capabilities within TMG's OneView® feed. He trades ideas with Ryan on how he would utilize OneView® as a multi-property content management tool. Since TMG's OneView® feed is a versatile tool for multi-property environments, Jason also showcases how different positions within a management group organization's hierarchy might use it uniquely.
If you are interested in learning more about accessing your management group's TMG OneView® feed or to submit a question for future episodes, call or text 407-984-7455.
Episode Transcript
Our podcast is produced as an audio resource. Transcripts are generated using speech recognition software and human editing and may contain errors. Before republishing quotes, we ask that you reference the audio.
Ryan Embree:
Welcome to Suite Spot, where hoteliers check in and we check what's trending in hotel marketing. I'm your host, Ryan Embree. Hello everyone, welcome to another episode of the Suite Spot. This is Ryan Embree coming to you live from my home office here in Orlando, Florida. With me today, we have another familiar guest and a familiar voice, Jason Lee. He is our Vice President of Product development and Technology. Jason, you probably have been with us the most in 2020, so far, so we'll have to come up with some sort of award, but I appreciate you being on with us, Jason.
Jason Lee:
Alright, thank you very much.
Ryan Embree:
You know, you've been on the Suite Spot before to talk about the awesomeness of TMG's OneView platform, but today we're going to focus on OneView's multi-property capabilities, reporting, and functionality. So before we dive too deep into the subject, let's start by briefly describing what OneView is and what the purpose behind it was?
Jason Lee:
Okay. Yeah, so OneView, the name kind of gives away some of it, but basically it's a place where you can interact with all of your user-generated content and that user-generated content could be content that is interacted by users. So a typical example, probably the biggest example of user-generated content in our industry or in the hotel industry is reviews. So that's not to say that people can't leave comments, right? They leave comments on social media, they could write on your wall. There's lots of places where feedback can be given or where comments can be given, but what OneView does is it actually combines all of these into a centralized place and it allows the hotel to be able to interact with that data. So you can not only interact with the individual pieces of data, like the individual reviews or the individual social comments, or even instant messages from social media, but you're also able then to look at like deeper sets of analytics, like what is the history of this type of review or what's the history of this site? Where do I stand in terms of how I look online? How does this affecting possibly my booking? And so all of these things play together, but that's where OneView brings it into one place. It makes it very easy for you to take a look at it. Also providing alerts and daily updates on what's been going on inside of the realm of feedback.
Ryan Embree:
Yeah, I think it's such an important tool for a hotelier, where over the past decade it feels like there have been opening up lines of communication between the hotel and the guests. So you can leave different reviews on OTAs, more and more social media places and actions where people are trying to reach you, as a hotelier. This OneView feed is essentially your one stop shop to see all of that in real time, which is super important and super cool that you and your product team came up with this. So let's shift our attention to multi-property, so if you're a hotelier out there – it doesn't matter if you're part of a management group and you've got a hundred plus hotels, if you've just got two hotels, or if you're a hotelier looking in the future to say, "Hey, I want to know what's out there when I do start expanding my portfolio, maybe getting another property here or there." Let's talk about multi-property functionality, why was it important to integrate that into this tool?
Jason Lee:
Well, you know, I think you get different types of ownership sets, right? So I could be that one owner that has two or three hotels and I might be doing a lot of the work. So in some cases I might be answering reviews or I might be looking at all of that data daily, so I need a way to succinctly be able to see that and then also interact with it. So that's one use case that's really on the user side of it, where you can kind of flip between hotels really easily. But then when you get into bigger multi-property, you know, even into enterprise, brand looks, you might look at it more along the lines of, "How do I create a standard." So inside of the industry, we have all sorts of standards, housekeeping standards, front desk standards. So is there a standard that you want to place around this type of content? So do I have a review time that I want to have stuff responded to by or do I want to be able to make sure that I'm getting a certain percentage of positive versus negative reviews? So understanding that flow, but then also having the means to give the same set of data. So that same set of analytics you're looking at in mass, so now I'm looking at it for, let's say 25-30 properties, my general manager that I'm holding accountable at the single property has access to their data really in the same way. They're able to interact with their data, so now I have this direct line of accountability to that general manager to say, "This is the standard I need to hold you to it, you need to keep it and this is my way of holding you accountable."
Ryan Embree:
And we've seen the amount of standards out there start to get more and more rigorous and part of our hotel world, as well as those standards, I think are starting to tighten. So as far as, you know, how long you should be getting a response to a review out there, that's starting to shorten, the amount of positive reviews or score that you get on a particular review site, that's starting to get more and more strict when it comes to these brands and I've seen management groups with their types of standards. So one of the things that makes TMG OneView so unique and a differentiator between maybe other platforms that are out there that your brand provides for you is its ability to pull in both the reputation, but also the social media component to the feed. How can a management group or group of hotels use OneView as a social media tool?
Jason Lee:
Well, you know, this is something that I think that is so important and to your point has become more important. As I think guests are starting to look for ways to confirm that this hotel is good or guests are looking for ways to find additional information beyond what's available on whatever booking site they're looking at. And I think social media is a natural extension of that. So what we have inside of OneView is you have sort of the push/pull. So the push would be that you have the ability to actually create social media. So you have the ability to actually create posts and push content into all of the sites that you're connected to. And the pull part of it would be that any time a comment is made or any time somebody writes on your wall or anytime somebody mentions your hotel or sends you a direct message, all of that shows up inside of the OneView console. So having that stuff together side by side is really important. And so, you know, to your point, there's a lot of brands that have Medallia, Review Pro, or Revinate, there's a bunch of different platforms that are out there that are sort of ingrained in whatever you're working with, but what's not there -and what you would have to do secondarily would be to bring on a social media system. So there would be two systems running completely apart. Whereas with this, they run together. And I think what's really become interesting, especially when it comes to Facebook, is that Facebook reviews werr on the rise and then they pulled back a little bit, but I actually see them on the rise again. I've seen more people like leaving feedback on social media or on Facebook, but what's crazy about that is that that feedback, the way you interact with that, is the way you would interact if somebody left a message on your wall. You can make a comment on that, you could like that, and they can actually comment on the stuff that you've written back. So the ability to have that additional layer of functionality that reacts more like social media than it does, like somebody leaves a review, I make a response, and it's done. Having all these things together becomes increasingly more important and if you had two different platforms you had to go into or you had to go into the individual sites one by one, to respond to a tweet, or to check out a comment that somebody made on an Instagram post, all of those things would cost you time and possibly you'd never even get to.
Ryan Embree:
Absolutely and you multiply that by the number of hotels in your portfolio, it can become extremely overwhelming, so having a tool like this that can show you exactly what you're getting from the review sites and the social media sites. And just as a side note, before we continue on, you're absolutely right, the combination of social media and reputation, they're really starting to just ingrain in each other. You're seeing the social media sites like Facebook, all of a sudden start to shift towards having those reviews and ratings that we've seen now over the past couple of years, but you've also seen reputation sites like TripAdvisor giving you the ability to almost use it as a social tool. They want you to create a profile, they want you to have a feed, so the integration between these two things, I think in the next three to five years, we could be talking about reputation and social media that right now we see as completely separate as almost a hybrid of both of them.
Jason Lee:
Definitely. I mean, Google my business is another one, I just want to bring up really quick because Google my business started offering additional messaging during COVID and they've actually made it official that you can start to actually push social media type posts into your Google my business page, with images, with text. So that's happened and it showed up first as a way for you to leave a message there and now it's actually morphed even further into an actual place where you can push content on your Google my business page in the same way you would do it on a social media page.
Ryan Embree:
That's interesting and you know, that that's one of many things that we see after all this, this innovation is going to come at a rapid pace. So I'll be very curious to see, you know, what sort of innovation comes out of both of these things. Obviously what makes your journey unique Jason, is you were on the other side of the front desk, you were in operations at the hotel, you used to manage multiple hotels, if you could go back, how would you have used TMG's OneView as a reputation management tool?
Jason Lee:
Well, first of all, a hundred percent, I would have used it to empower my individual hotels and to the individual hotel managers. So a lot of times the thing that is the most valuable thing that you have as a multiunit manager would be the leaders that you have in the individual locations, onsite leaders. And having those leaders doing the right things every day, the most important things, and that's product quality, that is guest satisfaction, those things are so important, and you want them to spend as much time as possible in those places. So the data that you receive from reputation management, it speaks to really both of those things. It speaks to product quality and it also speaks to guest satisfaction. And obviously those things kind of run hand in hand, but it's your ability to create a gap between those two things is service recovery. So I had something go wrong, I had a guest that was upset, and now I need to fix what went wrong and I need to create service recovery with the guest. Those things are vital to hospitality. That's really what makes a hotel, a great hotel or just a place with a bunch of rooms. It's one of these things that as a manager, it was ingrained in me by leaders that I knew in hospitality early on that push this notion of you have clean well-maintained guest rooms and an efficient, friendly front desk that is empowered to help guests you're going to have a successful hotel. So the data that you receive from this gives this really great insight – and sometimes it's the insight into your most disgruntled guests or your most deliriously happy guests, right? Where they're like, "Everything's great, nothing wrong" – but having that information gives you at least this sort of benchmark of like how well a hotel is doing or how will a manager is doing in those core places. So, to answer your question, I would use it to really maintain that structure, in however I could to maintain the structure of having clean, well-maintained guest rooms and an efficient friendly front desk that's empowered to help guests – and I would use that data to ensure that those things were happening, and obviously the service recovery that goes along with that. So it's really about using it as accountability tool.
Ryan Embree:
And one of those things that obviously, you know, we talked about earlier, is the review response and how quickly reviews are being responded to, how they're being responded to. There's a difference – obviously we know, being that one of our solutions is Respond and Resolve and that we respond to tens of thousands of reviews – there's a difference between just responding and the way that you respond. So this is also a great tool for holding, you know, your GMs, front desk managers, all different types of positions in that hotel hierarchy accountable. We've talked about on this podcast, Travel Media Group's new 1st Impression Score, it looks at a hotel as a traveler would in real time, looking at four different distinct reputation factors, is that included in the multi-property reporting in OneView?
Jason Lee:
Yes, so you have a way you can actually, you can go in, you can look at all of them together and then you can link out into the individual 1st Impression pages that it came from. So you have a way to actually look at all of this data beyond going into each individual hotel one by one and going into their tracking dashboards. You have roll-up reporting that is available for every hotel that's attached to your user and you have the ability to then look at every hotel you have attached to your user in that form. So 1st Impression Score is something that is available to 100% of our multi-property users that have the basic OneView platform. So you'll get that plus track, and it's cool because inside of those reports, you get not only the 1st Impression report, but you also get a weekly summary report, and in that weekly summary report, you can actually see all your hotels, all of the sites, the number of reviews you've gotten, and then the rating of those reviews. You can see it, all of those ratings versus the week before that or the month before that, however you have it set up. So it gives you a way to look at all this stuff right away, but I think on the 1st Impression reporting side, it gives you kind of the overview of each one of the main categories of 1st Impression, which is the first page reviews, the lifetime score, the review response, and the review flow. So you see all that stuff kind of at the top level and then as you click in, you can then see it by site, by location.
Ryan Embree:
That's what I love about this multi-property reporting, is that you really can get as in depth as your position might need to, you know. And I want you to kind of, for the listeners, I want you to kind of walk through the difference that that might look like in a management group hierarchy. So if I'm the GM of a five hotel portfolio and then I'm the director of sales at a corporate level, how are they using this tool differently?
Jason Lee:
Yeah, so it's sort of like what you said, so it's really about, it's like layers of accountability. So let's say I'm a regional manager and I've got three regions, right? And in those three regions, there's four hotels each. So I manage those four regions, but each region has a regional manager. So as the top level, I'm managing the regional manager and then the regional manager is managing their GMs. So my view is all of their hotels, the regional managers view would be just their region, and the GM would be just their hotel. But what's neat about that, is that really everybody's working off the same metric. So we're all working out the same metrics together. So if I see something, I notify my regional manager, my regional manager responds to it or sends it off to the general manager, and then it gets resolved. So it all kind of works together that way.
Ryan Embree:
Absolutely, it's a very collaborative tool and for management groups or even hoteliers that just own multiple properties, this is a tool where you can see everything, your entire portfolio, you know, at a bird's eye view, down to a granular level. So if you have access to OneView right now and you have multiple properties, definitely get into that reporting, start noticing trends, get with us on what we can do to help you and optimize, that's the reason we're giving you this data out there.
Jason Lee:
This is another great thing about working with Travel Media Group. We have this report called the "ranking report" and how that works is it looks at every hotel in a group and it ranks it, by score by time. So if I look at the last year, I can see everybody's rank by total score for that time period, you know, or for last week. And this was actually a suggestion from a large management company that said, "Hey, we would like to have something like this." We built it for them and it's a staple report inside of our report suite. So a thing about being a multi-property customer of ours is that if there's a metric that you see that you're like, "Hey, I'd like this duplicated, I like to have a rolled up version of what I'm seeing right here." We can create that for you. So we work a lot, so we know that the evolution of this kind of thing, it doesn't just stop once a report is made, you know, it's about usage and it's about what it is that you're trying to do or trying to accomplish with your group of hotels. And if we can help you accomplish that and we can do it in a way that saves you time, we can do that. And that is at no additional charge. So that's something else to talk about is that the roll up of our stuff comes with the multi properties, so if you have five properties or ten properties or three properties, this reporting suite comes with that at no additional charge.
Ryan Embree:
That's so awesome and you make a great point. You know, a lot of the ideas, upgrades, updates that we've made to our solutions over the years, they stem from conversations that we have with hoteliers. You know, I know both you and I travel to a lot of hospitality events all over the country, this was pre COVID, but it's stemming from a lot of these conversations where they're just looking for one place. They don't want to sign in to all of these different review sites, they don't want to sign in to all of their different social media sites to see if somebody asked them if they have a room available on Facebook at 2:00 AM in the morning and they missed it. They don't get back to them for a whole 24 hours and then that opportunity is lost. So that's where a lot of our ideas for these solutions come from and I'm sure you're a testament to that, when you know you're coming up with these ideas – and speaking of, you know, before we let you go, I always find it fun to kind of ask, being on the product side, can we expect any sort of exciting one view updates, upgrades coming up on the horizon,
Jason Lee:
The biggest update we have coming – we have two really big – but I would say the biggest update that we have coming is a complete reworking of the primary OneView feed. This will include a multi-property feed, which is available – we do have a version of the multi-property feed available now – meaning that, that single feed where you can see individual reviews, you could see it for three properties at a time or four properties at a time. But what we're looking at is a new way of interacting with your reputation, your social media, and then the managed services of Travel Media Group. So the one thing we didn't talk about in this, is that a lot of platforms have multi-property stuff, with Travel Media Group a lot of what we do is in managed services. So we respond to reviews, like you've talked about Ryan, we also do post stay emails, we also post, so we do all these like managed services in social media, in reputation, and in review response. So your ability to interact with that process on a multi-property level could be like us being an entire department of your hotel group, like new management company, I'm starting off, I'm going to grow really big, I need a PR firm to manage all of this information about my hotels. We could do all that, we do all of that individually for your hotel. So the fact that you can manage all that stuff and then manage the multi-property stuff, a lot of the multi-property reporting and function that we have speaks to the actual managed services that we do, beyond just the reputation analytics. So I think that's where, in talking about this new feed, that's where a lot of this is pushing, it's looking at when I look at my feed, understanding what it is that Travel Media Group doing for me or what I'm to do for myself. So that's a lot of the shift that we're doing, is really along those lines. We will also be launching a brand new piece of our social media suite, so right now we talked about earlier in this podcast, giving the ability to post yourself and then also to see comments and things like that, the posting side of what we're doing – so the do it yourself, you know, similar to a Hootsuite or Sprout Social, where you can come in and you can post to all of your accounts simultaneously – we're adding some really significant upgrades to that, including image galleries,and actual image editor, and meme creator, along with being able to manage the flow of the managed service. So if we're creating posts for you, you being able to interact with those posts in a very unique way in real time. And so those are just a couple of things that we have right on the horizon.
Ryan Embree:
That's super exciting for everyone, you know, those memes and gifs, those are the new things, for sure. So we're very excited to hear that Jason looking forward to it and all the new updates and upgrades. And one of the best things about partnering with Travel Media Group obviously is those things, once they're rolled out, they don't come at any extra costs, so the hoteliers that are partnering with us, they're going to go ahead and see those updates in their feed right then and there. So very exciting. I want to thank you for again, taking the opportunity and talking – I love talking OneView, but thank you Jason, for coming on.
Jason Lee:
Yeah, it was absolutely my pleasure.
Ryan Embree:
And if you are interested in learning a little bit more about the OneView feed, if you're a multi-property hotel owner or work in a management group, you can always reach out to us (407) 984-7455 or visit our website at travelmediagroup.com. This is Ryan Embree signing off, thanks again for listening. To join our loyalty program, be sure to subscribe and give us a five star rating on iTunes. Suite Spot is produced by Travel Media Group, our editor is Anne Sandoval with cover art by Bary Gordon. I'm your host, Ryan Embree, and we hope you enjoyed your stay.
Hotel Marketing Resources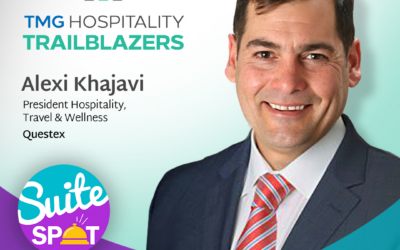 Join Suite Spot podcast host, Ryan Embree as he welcomes the President of Questex, Alexi Khajavi, as an official TMG Hospitality Trailblazer! These two hospitality-focused individuals discuss some incredible travel and tourism subjects in this episode, giving viewers...