66 – 5 Ways To Attract Groups Using LinkedIn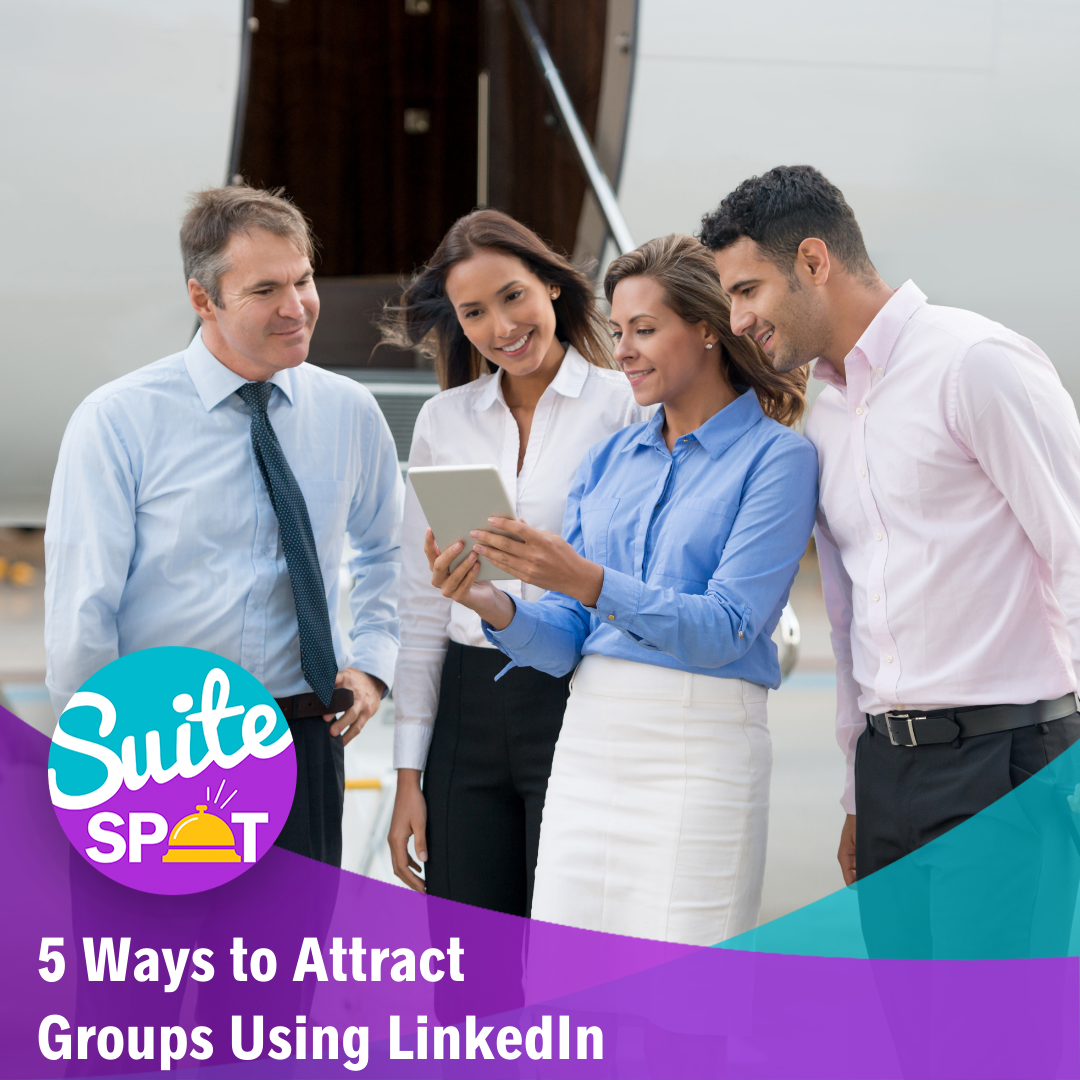 In the first Suite Spot episode of 2021, host Ryan Embree identifies five unique ways hotels can attract groups using LinkedIn. Ryan shares tips on how to optimize your hotel's LinkedIn and get your employees at the property involved. He talks about the importance of making the right connections on LinkedIn, including the best groups and associations to join to capture group business. This episode is a great guide on how to leverage LinkedIn post-COVID-19 to impact group occupancy and revenue at your hotel.
If you're looking to learn more information about how Travel Media Group can help with your hotel's Linkedin strategy or want to submit a question for future episodes, call or text 407-984-7455.
Episode Transcript
Our podcast is produced as an audio resource. Transcripts are generated using speech recognition software and human editing and may contain errors. Before republishing quotes, we ask that you reference the audio.
Ryan Embree:
Welcome to Suite Spot, where hoteliers check in and we check out what's trending in hotel marketing. I'm your host, Ryan Embree. Hello, welcome to another episode of the Suite Spot, the first Suite Spot episode of 2021. I want to thank all of our listeners out there – yes, we've made it and we're super excited – 2021, a year of hope and recovery hopefully for our industry. Today, we've got a great episode, we're going to continue talking about LinkedIn, and specifically what we're going to do today is review the five ways to attract groups using LinkedIn, because we know one of the biggest impacts that COVID-19 has had on the hotel industry is its effect on group business and occupancy. So some of the creative ways hoteliers are combating this occupancy loss is by leveraging social media sites, especially LinkedIn for groups. When we look at the demographics overall for LinkedIn, we're looking at professionals, tech savvy travelers. It's a place of positivity, so businesses are sharing updates, they're sharing exciting news that people can get positive around and excited around. And it's a really great way to attract and market groups. So let's go ahead and talk through five ways to attract groups using LinkedIn.
Ryan Embree:
And the first, is really one of the tips and best practices that we talk about for all of our social media, that's optimizing your profile. Now, for some of you out there that might not have a business or even a personal LinkedIn account, that might mean – optimizing your profile – just building it. But once you build that, there are a multitude of things that you can do to optimize that profile. Some of the things include: industry – obviously hospitality or hotel – your company size, your website URL – so you want to place that direct booking link in there so that we can funnel traffic to those booking sites – groups and individual travelers, descriptions – now, description is very important, we're going to kind of talk about that in a second – logo – that logo could be for your brand, if you're an independent property, a really nice shot of the property, or if you have a logo for the property itself – making sure you're updating things like your street address, and then LinkedIn actually has the opportunity for you to fill in a custom button – so for most hotels out there, that's going to be a "book now" button like we put on other social media sites, like Facebook. Now, going back to description, description is very important because you really want to highlight what makes your property unique and what could appeal to individuals that are responsible for booking groups. So when we're talking about group travel, you know, an example could be in your description, "upgraded four star hotel, with first-class amenities and spacious meeting space, great for groups, events, and weddings." When we're also talking about optimizing our profile, we're also want to get our employees involved at the property. So unlike other social media forums, maybe like Facebook or Instagram, for example, your employees should really feel comfortable and proud to connect with their business on LinkedIn. You can update your title and position, including your specific property and every employee that connects to your business really is going to be expanding the reach and audience of your hotel on LinkedIn and your posts. So again, this is something that your employees should feel a bit of pride in connecting to the business, since they are connected. Sometimes we might not feel as comfortable to put our personal Facebook and connect that with our business. This is a professional social media forum, where that is kind of the norm. So you want to ask your employees if they feel comfortable, of course, to maybe share and comment on the businesses's posts in order to maximize that exposure on other feeds.
Ryan Embree:
Because what that will do is put you in the best position for our next tip, which is connect and networking with the right contacts. Now, obviously with the impact of COVID-19, we haven't been able to do a lot of in-person networking events, meet and greets, even inviting group planners, wedding planners, corporate planners, and groups to our hotel to meet with us face-to-face. So we've had to adapt, like many things in our lives. LinkedIn has really stepped in as a meet and greet alternative. So you can leverage existing relationships that you've already had for years. So let's say there has been that corporate agreement that has been with the property for the past five years. Look to them during these times, they might be willing to help with even something like a referral or a recommendation that they can throw on your LinkedIn, that you can share on your LinkedIn. Get creative, maybe a short video testimonial of the property, some of the highlights of the events that were at your property. These can go a long ways in encouraging bookings snd having an impact on those group bookings. You know, when we think about LinkedIn, there's really two different paths to connection, so that contact could potentially find the property and then see that you're connected to that property and reach out to you directly. Or, and this is the reason we asked our employees to get involved, they can find you specifically and then lead you to the property. Again, we want to be leveraging both of those "highways" to drive as much traffic to the property, to our business page so we can get views, and hopefully that turns into some conversions. And really LinkedIn is the perfect place to do this. On Facebook, when we advertise or market our property, we kind of put posts out there not knowing who it's reaching. We could get a like here or a comment there, and not really know a lot about that individual or how it pertains to our business. Meanwhile, on LinkedIn, we can see key aspects and attributes of contacts like their title. So if they're a wedding planner, if they're a youth sports team league organizer, these are groups that we know could mean major, major revenue dollars for our hotels. So when we see contacts with those titles in place, this is the place where we want to reach out and connect with them. Obviously, when you're reaching out to try to connect with these contacts, make sure you're bringing some value there in your connection request so it doesn't just look like spam.
Ryan Embree:
Which leads us to our third tip, which is really getting involved in the community, following groups, and joining local associations. COVID-19 has really taught us a lot about the hospitality industry in general, how resilient we are, but also how closely tied together our businesses are. We've seen a lot of great stories out there about hotels partnering with restaurants that were shut down. I've even seen some really creative ideas up North, where some hotels are even acting as private dining rooms right now, for some restaurants that aren't able to have indoor dining. So following these groups and joining groups and associations, creating these partnerships, can have a long lasting positive impact on your business. So you want to look for things like CVBs, restaurant and lodging associations, connect and get involved with these groups, especially now where all of these businesses could potentially use the help. This is where your market expertise comes to play. Every hotelier that I've spoken to that has been in a specific market for more than five years is a market expert. They know the events, they know the groups and conferences that come to town and when they do, and they know the right places to follow. This online conversation here on LinkedIn is a key to that, so make sure that you're making those connections and following those groups and online associations, because that's where a lot of opportunity presents itself. Let's look at an example of being involved in, let's say our lodging association group and a contact planner, knowing that they need 20 rooms the week of Memorial Day, they put a post within that group and all of a sudden you put yourself in a place and an opportunity to capture that business. So deals are being done in those spaces, so make sure that you're taking advantage of that because that can lead to some major, major revenue opportunities, especially as we go into the spring and summertime where we might see some of those events and big group events start to come back a little bit.
Ryan Embree:
Number four is something that we've also talked about with other social media outlets and that is leveraging analytics. Just like any other social media forum, reputation data out there, any time we can get data and analytics on our travelers and our guests that are viewing that are interested in our property, we can fine tune our strategies. So LinkedIn gives a lot of information about visitor demographics: it's going to show you how many people have viewed your page, how many followers you're getting, and unique visitors to your page. It'll even go into depth to show you the location of those followers, which right now is huge, because we know that leisure travelers are only traveling around five to seven hours right now in the pandemic. We'll start to see that widen, but you can start to see, "alright how many followers are in these markets that maybe might be five to seven hours away that I can leverage or do a post around to try to get some engagement and some conversion." It'll also show you specific job titles and functions of your followers. So how many people are in marketing? How many people are in sales? This is going to be a great key indicator to know if the posts that you're putting out there are catching the attention of the right people. It'll show you how many people clicked on that custom button that we talked about, which again, most likely for hoteliers is going to be a book now button. And then it will show you some post engagement, so impressions, clicks, reactions. This will give us a blueprint moving forward for what travelers and followers of your page are responding to. So are they liking pictures of the guest rooms? Do they like pictures of your amenities? Is it more of something where you want to profile some of the employees, how many reaches is that particular post getting? Leveraging analytics, absolutely key.
Ryan Embree:
And the fifth and final tip is just to be creative. There are so many things on LinkedIn that makes it unique. One of the newer features that LinkedIn just launched is "LinkedIn Stories," so this is for the mobile application of LinkedIn, and it's really catering to other social media sites like Snapchat and Instagram, where you can get those short, 24-hour long messages. So this is really to ease the transition of Gen Z or Millennials, that might be used to seeing these stories in other social media forums, now you can use those LinkedIn Stories. So get creative on some ways that you can use those stories. LinkedIn Live is also very, very cool and another tool that they've really taken from YouTube Live and Facebook Live, but LinkedIn Live, you know, there are so many use cases for LinkedIn Live, if you're a Director of Sales out there, you could walk through a guest room, or a suite, or even a meeting space. You could walk through, potentially, if you get their permission, to walk through an event to how things are set up, amenities, this is really replacing somebody physically coming to the property, which people might not feel comfortable in doing right now with COVID-19. So showing LinkedIn Live videos to these wedding planners and group planners, that could be the difference between you and another hotel. Hashtags we know are incredibly important. Travelers are still doing their searches through hashtags and it will come up on other feeds, if you include those in your posts. LinkedIn events, you know, if you're doing an event for specifically wedding planners, you're showing, you know, what two different types of weddings could potentially look at at the property. This could be a really good opportunity – partner with a wedding planner and ask them to come to the property to set up almost like a mock set up, so then maybe potential brides could jump on that event, whether it's a LinkedIn Live or just a video and they can see what that might look like for your property there. And then lastly, Ad Spend, so like every social media channel out there, you can also use LinkedIn ad spend to target specific travelers or markets that you're looking to potentially capture. So ad spend is huge, you know, I've said it before on this podcast, my only advice for ad spend is if you are going to invest in social media ad spend make sure you are doing it with either a vendor or someone that really knows what they're doing. You have to have a really strategic, specific plan or that money really could just be kind of casting a wide net and not really get the return that you're looking for. So make sure that you are partnering with someone, if you do plan to do ad spend on LinkedIn.
Ryan Embree:
You know and as we wrap up today's episode, the best advice that I can give is just be active. LinkedIn is a free website, where there are millions and millions of users, millions of opportunities, deals, hands are being shaken virtually every single day for these revenue generating deals for properties. And it's going to be leveraging sites like LinkedIn that are going to be important as we start to recover. And that's why we've identified LinkedIn as a social media forum that we are going to start partnering with with hotels. So I've shared this before on the podcast, but again, just to remind hoteliers that are listening to this that are looking for a LinkedIn strategy in 2021, Travel Media Group's custom social media solution partners with Facebook, Instagram, Twitter, and now LinkedIn, because we know the importance of getting group occupancy back and this is one of the best ways in order to do that. If you're interested in partnering and starting LinkedIn and using LinkedIn as a way to attract groups for your hotel, reach out to us (407) 984-7455 or if you're looking for some maybe tips or best practices, visit us at our website. We have a ton of articles written on LinkedIn and the way that you can leverage that to further your business in 2021. So very excited about the potential that LinkedIn is unlocking for our hoteliers as we go down to recovery, I want to thank everyone for taking the time to join me on this episode, and we will talk to you next time on the Suite Spot.
Ryan Embree:
To join our loyalty program, be sure to subscribe and give us a five-star rating on iTunes. Suite Spot is produced by Travel Media Group. Our editor is Anne Sandoval, with cover art by Bary Gordon. I'm your host, Ryan Embree, and we hope you enjoyed your stay.