73 – Hotel Industry Q & A on TMG's Concierge Desk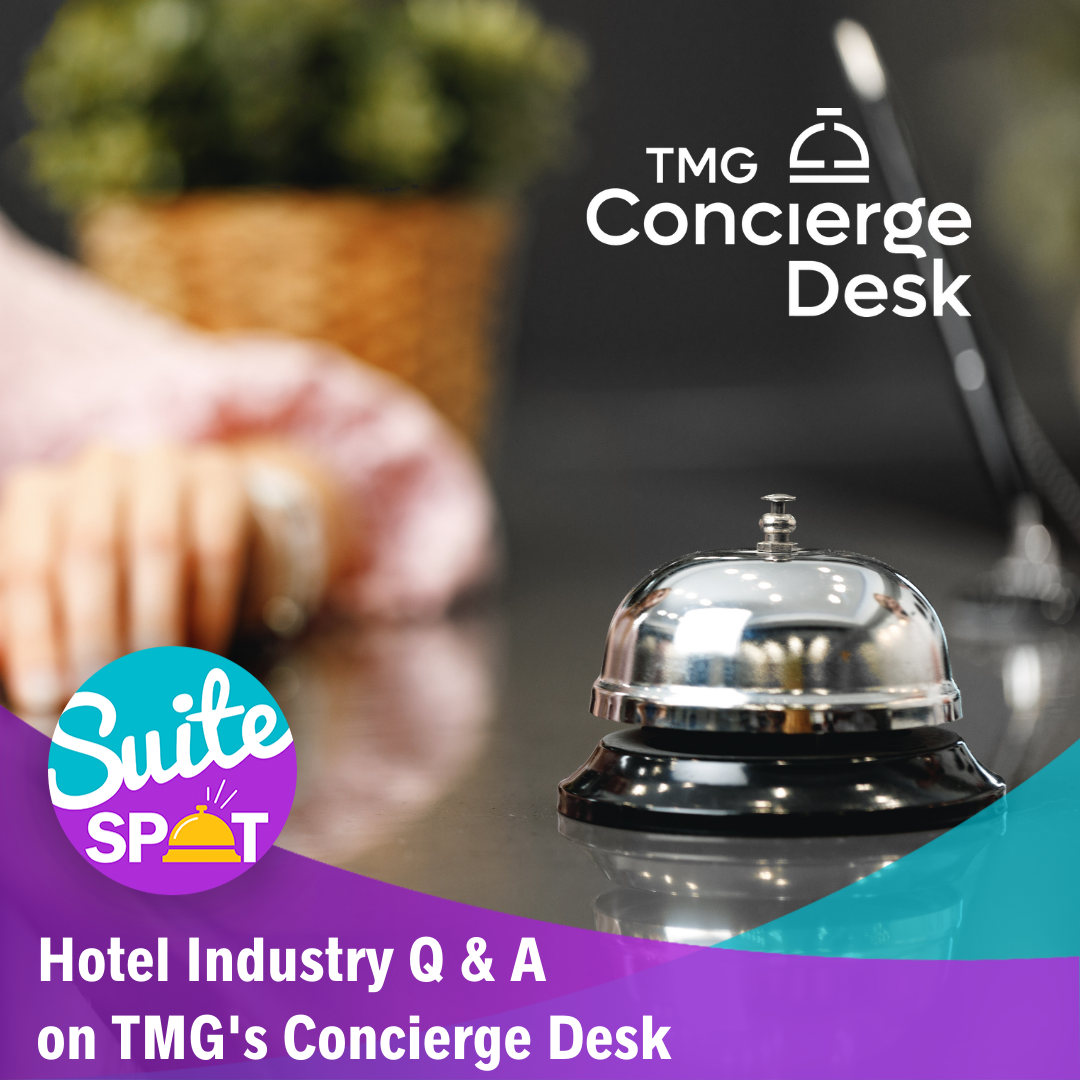 In this special edition of the Suite Spot, we announce the launch of a brand new YouTube segment – the TMG Concierge Desk. Host Ryan Embree introduces the new segment and explains how it will serve as a valuable resource for hoteliers.
Ryan shares some of the very first episodes of the TMG Concierge Desk, including topics such as improving a hotel's reputation, responding to reviews when COVID-19 is mentioned, and increasing occupancy and ADR. This episode is an exciting sneak peek into a new innovative initiative produced by the Travel Media Group team.
If you are interested in learning more about Travel Media Group's hotel digital marketing solutions, you can reach us by calling or texting us at 407-984-7455 or email us at info@travelmediagroup.com.
Episode Transcript
Our podcast is produced as an audio resource. Transcripts are generated using speech recognition software and human editing and may contain errors. Before republishing quotes, we ask that you reference the audio.
Ryan Embree:
Welcome to Suite Spot where hoteliers check-in and we check out what's trending in hotel marketing. I'm your host, Ryan Embree. Hello everyone, and welcome to another episode of the Suite Spot, this is your host, Ryan Embree. Thank you all for joining me today, we've got a very exciting episode for you. On this podcast, we are known to have some really exciting announcements when it comes to our solutions, updates, upgrades, and today is going to be one of those episodes. We have just recently launched a brand new YouTube segment called the TMG Concierge Desk. And it is a segment where we answer some of the industry top questions and discuss some of the current events. So what we thought we'd do today, to introduce you to this brand new segment is we are going to actually roll through some of the questions and videos from this new TMG Concierge Desk and discuss why we felt that this question was important and relevant to today's hotelier. We're going to start with our Product Director at Travel Media Group, Patrick O'Brien, who answers the question, what is the fastest way to improve your hotel's reputation? So let's hear from Patrick on his answer.
Patrick O'Brien:
The fastest way to improve your hotel's reputation is actually very easy. The first thing you want to do as a hotel is just actively engage in your online reputation. Now, the way that you go about that is going to be a little different, but I would say probably the best places to start, first and foremost, if you are taking every guest that checks in and checks out of your hotel and simply asking them to leave a review and making it very easy for them to do that, whether it be sending them links to your TripAdvisor page, Google, sending them surveys, giving them a number to contact the general manager of the property, somehow make it very easy for them to leave that feedback. The second thing that you want to do, to actively engage in your online reputation, is to really understand and analyze what each of those reviews is saying about your property. And when you're pulling in all of that information, I would start with looking at the areas where maybe there has been a miscommunication of expectations, and that's really why people will leave bad reviews. So if you can identify those, then you can approach that by updating your website, you know, using social media, using review response, to clear up those expectations and communicate that better. You can also work with your front desk to make sure when people are checking in, that they understand what to expect while they're on property. Now, the next step in there is to use all that information and understand really any operational improvements that you may need to make at your property. And some of those can be very minor, some of those may be, you know, major operational improvements, but you can then start to kind of prioritize those by timing impact to the overall guest experience obviously costs, but you start doing those things and you're going to organically improve your online reputation. You also get a lot of good information in your online reviews, so identifying those aspects and then making sure that you make those the cornerstone of your marketing efforts on your website and social media and any advertising you do out there, make sure that those are the things that you highlight to potential guests.
Ryan Embree:
So a really great answer there with some action items that hoteliers can follow when they're trying to improve their reputation. And I think it's funny the way that this question is phrased, because it's almost an oxymoron, what is the fastest way to improve your hotel's reputation? A hotel's reputation is something that is ever moving. And sometimes it's not just a quick fix. A lot of the hotels that we talk to reach out to us because they're having issues with their overall reputation and they want this sort of quick fix. So Patrick does a great job of giving, definitely some actions that hoteliers can follow to improve their reputation, but it's not something that's just a light switch that says, "Okay, I want to fix my reputation, like I want to fix a broken TV in a hotel room." It requires work. It requires dedication, effort, and most of all consistency, it's also interesting where Patrick started talking about getting involved in your reputation and one of the first actions that you really need to do to start improving is simply by asking your guests for reviews. Recently, I stayed at a property and had an incredible experience. I went to the front desk at checkout, told them about my hotel experience and stay, while I was there, how great it was. The front desk thanked me, and gave me my receipt, and kind of wished me well. They didn't have any sort of actions towards, "You know, we'd love to hear this feedback on a public forum where this can help inform other travelers that are considering our property." So I think one of the simplest and most powerful things you can do to improve your hotel's reputation is exactly what Patrick said, is simply by asking for that feedback online. So great first segment, let's stay in the reputation lane, but switch gears where Kristeena Seckinger, who you've heard on this podcast before, she is our Respond and Resolve Product Manager. And this is what this segment does, because not only are we talking about review responses, but we're also talking about questions that are relevant today. So Kristeena, in this episode of the TMG Concierge Desk answers the question, how do you respond to a review when COVID-19 is mentioned.
Kristeena Seckinger:
When responding to a review, it's always important to address a guest concerns and be as empathetic as possible. This becomes even more important when responding to a review that mentions COVID-19. As well as providing as much information as possible regarding any protocols or procedures that the hotel has put in place to ensure the guest's safety.
Ryan Embree:
COVID-19 has now become the new bedbugs for today's hotelier, right? Remember before this pandemic, the worst thing that you could hear or see on your online reviews was a guest talking about bedbugs. And when you saw that term used, it was all hands on deck, PR storm towards everything that you've done in order to prevent this from moving forward, your protocols, safety protocols, procedures, cleaning procedures. That's what needs to be expressed when travelers mention COVID-19. And they don't necessarily even have to use the term COVID-19 simply terms or themes that imply. So the phrase, "I didn't feel safe, the property was dirty. I didn't see many housekeepers." Although these phrases don't specifically say COVID-19 in a traveler's mind that are doing a lot of research and where COVID-19 is at the forefront of their booking decision making, this could have some major, major impacts here. So let's move on to our third TMG Concierge Desk segment. And this is done by our Client Success and Operations Manager, Edwin Pomales, who talks to hoteliers on a daily basis and in this episode he answers the question, how do you increase your hotel's occupancy?
Edwin Pomales:
Well, I think the answer is different for properties depending on their market, their area, their season. But I would say, first thing you want to start with is understanding who your clients are, who are your guests? Where are they coming from? Why are they coming? What things are impacting their booking decision with your property? We know that reputation is a huge player in regards to booking decisions, so make sure that your reputation is buttoned up: respond to reviews, encourage positive reviews from your current clients. And the second thing I would say to do is understand what your competitive advantages are in your market and make sure you're posting it on social media platforms, so that way you're communicating with potential travelers, the things that are special about your property and what your story is.
Ryan Embree:
So that was a great answer by Edwin again, in his role, he is talking to hoteliers every single day, and he was in the thick of it during the pandemic in 2020, where hoteliers were really fighting for occupancy. And this was the question on the forefront of every hotel's mind, how do I increase my hotel's occupancy? And it made a lot of hoteliers sit back and really take inventory of what Edwin was talking about in that answer, who are my guests, who are my typical travelers that are walking through my doors and maybe that's changed since the pandemic. We've been seeing a lot more local staycationers come by, a lot more leisure travel, less corporate, less group travel. So if you haven't already, this is a great time to sit back and take inventory and really figure out those questions that Edwin was talking about. You also want to think about your competitive advantage like Edwin mentioned, travelers have more choices than ever right now and any little competitive advantage that you have, you need to be communicating to your guests, otherwise you'll lose out on that booking. So incredibly timely message and answer right now, especially as hoteliers look to hopefully recover and are looking for the spring and summer to increase their occupancy. And finally, a voice that you've probably been very, very familiar with, Jason Lee, our Vice President of Product and Technology, Jason, in this episode of the TMG Concierge Desk talks about how do you increase your hotel's ADR?
Jason Lee:
This is a crazy loaded question, but ADR is really about your hotel's value. So value is kind of subjective by market and by segment. So let's say you align those things up and you have the given of market and the segment that you're in, then it has to do with the most recent, relevant information that confirms value. So that's reputation, that's social media, that's information that is put out, either by guests that have stayed at your hotel or by you. So it's new, relevant information that confirms value. So with that, if it's good information, if it's positive information, if it helps somebody buy, that's how you increase your ADR, because you're going to have more value or producing more value than your competitor.
Ryan Embree:
Yeah, Jason really nailed this answer here, especially in the age of COVID recovery right now. We've talked about it on this podcast, about how different this pandemic was in comparison to other recessions that the industry had gone through in the past. Hoteliers first instinct, when they start to see occupancy go down is decreasing their room rates and obviously having an impact on their ADR. So instead, what we're telling hoteliers right now, on the other ends of our consultations is prove your worth online. If you're charging a hundred dollars a night and your competitor's charging $80 show through things like reviews, review response, and social media, why you are the best option for them and why you are charging what you're charging. And if that traveler feels safe and they feel confident in the recent, relevant information that Jason was talking about, they're going to perceive that hundred dollars as value and they're going to be more willing to pay for your hotel, if they see five brand new perfect rated reviews on your TripAdvisor and that hotel down the road, that might be $20 cheaper has maybe some negative reviews or not even recent information. We're at such a unique time for hoteliers and I think it's some of these questions that we're putting out here on this new YouTube segment that are really going to help hoteliers through this time as we enter the spring and summer season, and really answer some of those burning questions that go on and keep hoteliers up at night.
Ryan Embree:
So super, super great episode today. I am very excited to announce this YouTube segment to really give some insights and some answers to some of those tough questions in our industry. We are going to be launching very soon, a brand new episode of the TMG Concierge Desk with our Sr. Website Product Analyst, Stephanie Courtois. Who's going to be talking about vanity websites for hotels and how they can increase bookings on there, and give some tips and tricks when it comes to your hotel's vanity website. So I hope you enjoyed today's episode. I really encourage you, if you haven't already, sign on to YouTube, check out our page Travel Media Group, we've got educational webinars, we've got a segment called 5 in Five, where we give five-star hotel marketing advice in five minutes or less, and then we have our newest segment TMG's Concierge Desk, which does have these bite-sized pieces of wisdom and nuggets for hoteliers listening. So I want to thank everyone for listening as always, if you have any questions or want to reach out to us, feel free to contact us at (407) 984-7455. Thanks for listening, and we'll talk to you next time on the Suite Spot. To join our loyalty program. Be sure to subscribe and give us a five-star rating on iTunes. Suite Spot is produced by Travel Media Group, our editor is Anne Sandoval with cover art by Bary Gordon. I'm your host, Ryan Embree, and we hope you enjoyed your stay.