76 – Moving Forward with AD1 Global's Jon McMillian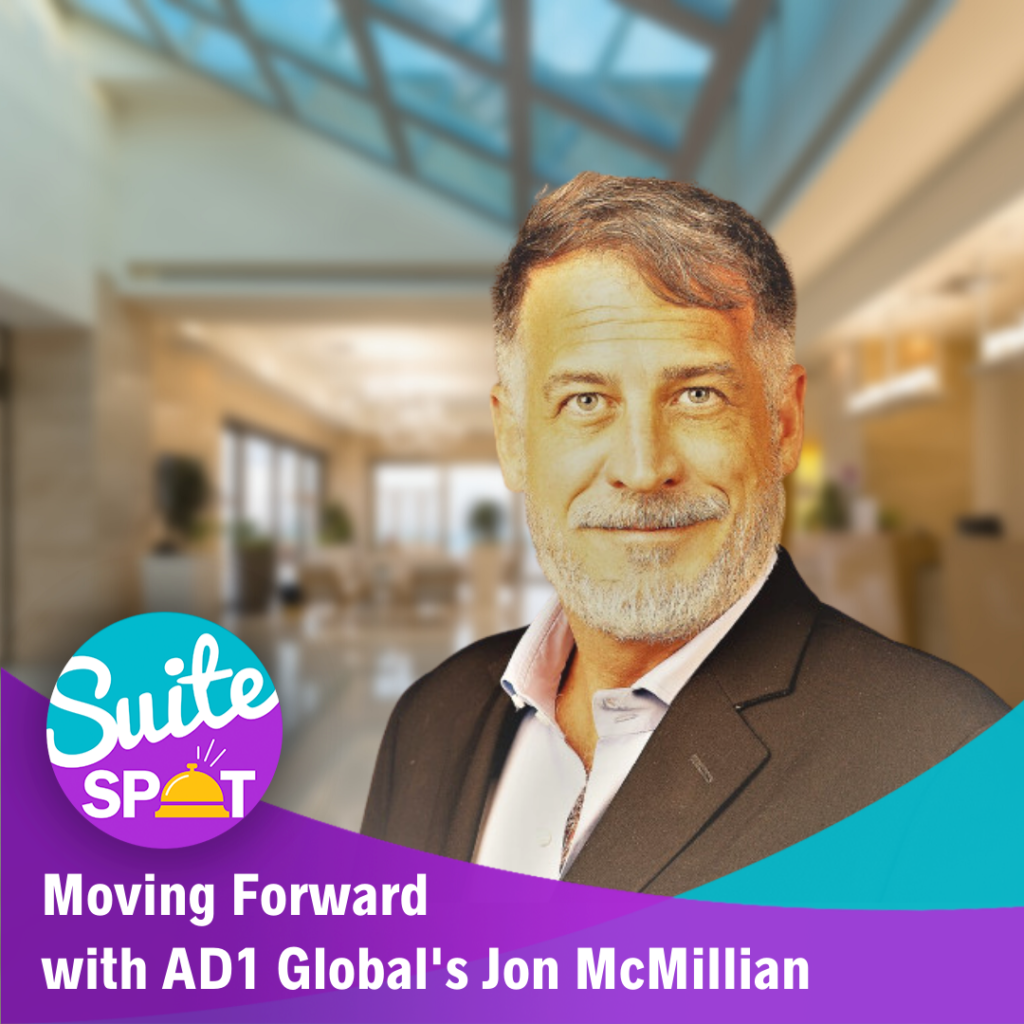 On this special edition of the Suite Spot, we are joined by AD1 Global's Director of Marketing and e-Commerce, Jon McMillian. Host Ryan Embree interviews Jon and gets his thoughts on the state of the hotel industry today and where we are headed.
Jon shares the start of his journey in hospitality and discusses his experience managing marketing and e-commerce through a global pandemic. He demonstrates how to distinguish properties in your hotel group portfolio from local competition and how to get buy-in from your hotel staff for new initiatives at the property level. Ryan and Jon wrap up the episode discussing the long-standing partnership between Travel Media Group and AD1 Global, showcasing how TMG's digital solutions perfectly suited the needs of his group.
To get more information about becoming a special guest on the Suite Spot or to submit a question or topic for future episodes, call or text 407-984-7455.
Episode Transcript
Our podcast is produced as an audio resource. Transcripts are generated using speech recognition software and human editing and may contain errors. Before republishing quotes, we ask that you reference the audio.
Ryan Embree:
Welcome to Suite Spot where hoteliers check-in and we check out what's trending in hotel marketing. I'm your host, Ryan Embree. Hello everyone and welcome to another episode of the Suite Spot. This is your host Ryan Embree, with me today, a very special guest, he is a first timer to the Suite Spot. That is Jon McMillian, Corporate Director of Marketing and E-commerce at AD1 Global. So John, welcome to the Suite Spot
Jon McMillian:
Thank you, Ryan. It's a pleasure to be here.
Ryan Embree:
Awesome, and just a little bit about you. You are the Global Director of E-commerce and Marketing. Jon oversees the digital marketing, public relations, social media, and promotional activities for each of the AD1 Global properties. He's responsible for developing and carrying out the company's digital marketing plans, as well as ensuring that hotels stay up to date with technology. A senior marketing executive with more than 17 years of experience, his range of expertise includes e-commerce, advertising, public relations, SEO, SEM, social, and email marketing, branding, mobile, and big data and analytics. So John got a lot of experience there, very excited to pick your brain and get some insights to our listeners. I want to just start out, like we do with a lot of our guests on the Suite Spot, just asking how you got your start in hospitality and the journey that led you to AD1 Global.
Jon McMillian:
Well, I think my journey, you know, was, was interesting, at least to me, in terms of that I started off in the Air Force, in public relations that in the sense is related to hospitality. Part of my job was to sell the Air Force to the general public, inviting visitors to the base and conducting tours from the school children, US Senators, Russian Generals in the like. So that's where I kind of got my start all be it into actual hospitality itself, happened many years later, after a stent in SEO industry, working for companies such as Tropicana, you may have heard of before and overwhelming resorts for them, and simply with email marketing, which quickly transitioned into corporate directors because it was at its infancy,SEO, SEM email marketing, things of that nature. You know, we're talking many moons ago, not to date myself, but I started off with an Odyssey computer way, way, way, way back in the hot tub time machine doing programming. And so I've always had a love for computers and a love for people. So you put the two together that kind of makes it e-commerce and marketing.
Ryan Embree:
Absolutely. It's a very perfect marriage there. And you know, we hear a lot of those stories. Hospitality is rooted in a bunch of industries. So, you know, sometimes its starting at the front desk or sometimes it's the path less traveled from the Air Force. So super interesting to get to know that background on this podcast, Jon, you know, we've been talking about obviously the hot topic of the industry over the last year, this pandemic and the impacts and effects that it's had on our industry. I'm sure even with all of the years of experience, you know, even the owners that we've had relationships with for 30 plus years at Travel Media Group, they've had maybe similar crises, somewhat parallel to it, but nothing like this. So I just want to get your perspective on what it was like to manage marketing and e-commerce for a portfolio of hotels through a global pandemic. What sort of adjustments did you and your teammates?
Jon McMillian:
Yes, well, you know, I'd like to say that we were prepared, but we certainly were not to the extent of what transpired, which is basically, you know, for lack of a better word, a disaster in many people's lives and the economy general, especially hospitality, there was no strategy except to survive. You know, some of the hotels, the decision was to shut them down. It doesn't make sense because it would cost more money sometimes to keep them open than to shut them down. So you know that each property, you know, different in terms of the analysis of whether or not to keep it open. Some markets were more COVID resistant than others. Unfortunately, a lot of our hotels were Orlando and was heavily relying upon vistorship and the theme parks in particular Disney, Universal, Seaworld. So when those parks are closed or attendance is very limited, hotels that support them tend to suffer. There were things that you can do to alleviate your suffering, so to speak. And that includes, you know, adopting best practices, move quickly trying to be on the cutting edge as it relates to COVID-19 prevention, whatever you had at your disposal, according to brand standards, CDC, best practices and targeting those groups that were still traveling, which there wasn't many. So I'm talking about first responders, medical personnel, traveling nurses, people now who could highway construction still went on, some things, for some people business continued, but it was a small segment, call them essential personnel. They needed a place to stay. So you, realigned to the demographic that is available to you. The smaller occupancies were: 7, 8, 9, 10% in some places, but weather them, know, you see the storm, of course you have to furlough people, you hope you can bring back most of them, fortunately for the hospitality industry, it wasn't like you could leave one hotel and go to another hotel company because we were all in the same boat. You either, you know, you played the waiting game until things got better and recovered or you transitioned out of hospitality. And for a lot of people, hospitality is not just a job, it's a passion, they do they this out of choice, you do this because you enjoy putting a on people's faces. You like the sunshine basically that you can share with your guests. So for a lot of people, it's not just a career, long story short, we are in a recovery stage, I believe right now, things are certainly looking rosier. Occupancy has increased, RevPar is slowly increasing. We have brought back many employees and we're actually in a hiring frenzy, believe it or not, it's actually proving challenging to get enough people to work in hotels right now, the challenge of the market is that because of stimulus monies, for some people, they prefer to stay home. Part of me doesn't blame them, especially if I was still back in college and I was, you know, a gamer at the time and I could get close to what I was making at my place of employment. I might choose the same thing 30 years ago. Maybe, maybe not. I don't know, but that's what we're facing now. Once stimulus goes away, then we feel that there will be less of a challenge to bring people back into the workforce, but where especially, it's proven difficult to hire for the front desk and housekeeping positions. So the first challenge was occupancy, now the second challenge is workforce.
Ryan Embree:
It's quite incredible to take a look at where we are now and where we were a year ago with just the polar opposites of what you're talking about there, Jon. You know, the hotel industry was doing everything to try to prevent for furloughs, try to keep people on staff doing as much as they can. And now, you know, we're on the other side of the coin here, but I'm happy to hear, you know, and we're seeing that in the data from STR and other analytic companies out there, that we are seeing, you know, a slight recovery, especially with those leisure markets, really, really leading the charge going into the spring and summer. But you're right. This was the ultimate stress test for the hospitality industry. And, you know, as you mentioned, being prepared, I heard someone mentioned the other day, we didn't have a blueprint for COVID-19 because there hadn't been a blueprint for something like this. This was something that hotels had never experienced before. So those hotels that were able to adapt on the fly, make those quick adjustments, and make those hard operational decisions. They're seeing what that led to. So you did mention having some of your hotels, you know, strategically positioned in some very competitive markets, Orlando, you have quite a number of properties in Kissimmee, South Florida. You know, I'm curious in such crowded competitive markets, that sometimes you could have 5, sometimes even 10 competitors, within even your same brand. What's your philosophy on distinguishing your properties from the competition within its own brand?
Jon McMillian:
Well, you know what? We are firm believers in guest service. So we look to our TripAdvisor scores to guide us in the right direction of what we're right and what we're doing wrong. Taking very seriously on CSS scores, around scores, and our public scores, which would be TripAdvisor, Google in particular, Facebook, Expedia, Booking.com, et cetera. So we feel if we are going to be able to separate ourselves from the competition, that is the best way to do so to be top of sort on TripAdvisor, to be named the number one hotel in the market, by your guests. The best form or method or system, whatever you want to call it, of marketing, is always word of mouth, people telling other people, "I had a great time at this hotel." Out of that we look for technology to augment the guest experience, to make things seamless, we're firm believers of enabling all of our properties for text messaging, between the guest and the front desk. And we believe in a quick response time. And we also believe that whatever we can do to make the guests at ease during their stay is paramount to not only the TripAdvisor rankings, but to win that guest loyalty. So when they come into the market again, they choose our hotel.
Ryan Embree:
Yeah, absolutely and that text message that you mentioned, you know, it's technology like that, that has been crucial during this pandemic, when those smiles that you mentioned earlier, that have really defined the hospitality, those were kind of taken away. People were trying to create some distance between your staff and themselves at the property. So, you know, not being able to have that personal touch or really transitioning that personal touch to maybe something like a Facebook message or a text message instead of that friendly greeting at the front desk, if they choose to maybe remotely check-in. And what you're talking about with reputation is exactly obviously what we preach at Travel Media Group, which is, just during the pandemic has really shown why a hotel's reputation is just absolutely paramount. And I've said before, I think one of the things that employees, people that are looking for prospective jobs, when they start to come back into the workforce, they're going to be looking at your reputation too. They don't want to work at a hotel that is getting one-star reviews, and those employees are going to get yelled at every single day. They want to be able to give five-star service, they want a friendly place to work. So your reputation can also impact that on the hiring front as well. You know, I want to talk about buy-in at the property. We know staffing has significantly changed. Last year, I mentioned we would have to furlough or lay off some staff. How do you get buy-in from the team when you implement a strategy and you say, "Let's implement a reputation management program or a social media strategy to get essential workers." How do you get that buy-in from a GM or director of sales?
Jon McMillian:
Well, number one, it's all based upon logic, common sense. You know, when you've got a solution, you know, the least amount of impact on operations, optimal, positive impact on revenue, it's pretty much a no brainer at that point. You can make things as complicated or as simple as you want, but that's what it comes down to me is the impact on operations and the potential for revenue. And if that makes sense, when we take those two variables into consideration, then you know, it's like the yawn, one person yawns, everyone yawns, they don't know exactly why, but they know it feels good.
Ryan Embree:
I like that analogy a lot. Now, Jon, I hear from your story and what I've heard from others, we have had a partnership with yourself and AD1 Global now for a number of years, but you know, you are known as someone that's kind of pushing the edge of technology, trying to implement new and exciting ideas. You know, obviously don't want you to give away any secrets, but, you know, could you share maybe some examples of how those marketing ideas or maybe technology that you have implemented, how you've maybe seen that in action and some of their results. Do you have any stories there?
Jon McMillian:
Well, sure. I mean, it's all about, you know, as you mentioned before, the new touchless environment, which is COVID-19 driven. So anything that you can do to better that experience, that touchless experience for your guests the better. So for example, using QR codes for menus, but then also tying that QR code into your POS system. So someone can be sitting at the pool and order some drinks and some food, and then it'd be delivered to the micros, the chef prepares it, and then it's delivered to the guest. And they never have to leave their chair or the pool area, so that's one example. One thing that I would say is, you know, never be afraid to think out of box and realize that you're probably gonna fail sometimes. And sometimes you'll fail many times before you succeed, but you know, those who innovate and push the envelope, so to speak, you can't be afraid to try new things. And sometimes things fail. For example, I tried to put the robot into sort of like a concierge role in the lobby of one of our hotels in the hopes of engaging, especially children, in games, such as trivia, what's the, you know, does a platypus lay eggs? And if they got the questions correct, they would receive a comic book. Unfortunately, the wifi at that hotel wasn't sufficient enough for the bot to perform up to standards. So basically it was just, you know, stumbling along in the corridor and getting itself into a corner. It was a terrible mess. Long story short probably should have done more diligence in terms of the technology needed for the robot to conduct itself in a highly efficient manner. So the lesson learned is, you know, we can all be in our fields, but it's hard to be masters of everything that goes into a project success. Because nowadays, when you're talking about getting buy-in from general managers, as you mentioned before, there's a lot of components to any solution. Sometimes it affects operations, sometimes it affects IT, sometimes affects accounting. So you rely on the expertise of all these departments in order to really execute on something new that you can roll out, not just to your properties, but perhaps your whole portfolio. It goes down to the bottom line. As I mentioned before, if it doesn't impact operations negatively, and it has a positive impact on your revenues, then you found the win-win win for yourself for your company, and for the team.
Ryan Embree:
Yeah, it's kind of a tight rope there because as you're explaining that story, you know, with the robot, I'm thinking through my head of a bunch of use cases and say, "Oh, that makes total sense. This could work in X, Y, and Z," but you're right, that the moral of that story was, you know, the technology really getting in the way of technology. And something like that, maybe that might not impact the guest experience as much as if you were to roll out something let's say a text message program, or even, I know one thing that's extremely frustrating is your mobile check-in. If that's not working now, all of a sudden you've got technology, that's getting in the way of the guest experience and potentially negatively impacting that. And that could – you could see that on your reputation online. And so definitely a cautionary tale there, but I think it is important to keep pushing the limit in an industry that sometimes feels reluctant to move ahead and commit to saying, let's implement this technology there, whether it be because some of our guests, aren't going to be able to understand it, get frustrated, and that impacts their experience. It's such a fascinating relationship there between the hospitality industry and technology. Now, as I mentioned before, Travel Media Group, we've been a proud partner with yourself and AD1 global, its entire portfolio. We've worked with you and your team for about five plus years now. Obviously this last year was definitely the most challenging cause of COVID-19, the pandemic. But, you know, I was hoping maybe just could speak a couple minutes on that partnership and how it has kind of evolved into what it is today.
Jon McMillian:
Well, you know, once upon a time, AD1 Global driven from the precedent was, you know, every guest is an ambassador for our company and they need to be heard, listened to, and responded. So we did an analysis of all the conversations that were taking place and realized that our general managers, no fault of their own, just weren't taking the time, probably because they were very, very busy to respond to all the guests. And it's not just one channel, it's not just the Medallia and it's not just TripAdvisor. You're talking about conversations across a multitude, vast multitude of channels in this digital age, everything from Facebook, Booking.com, Twitter, et cetera, et cetera, where a person voices their opinion about their stay at your hotel. And the philosophy that we embraced was that if a guest has taken the time to give us a review on any channel, then it beehooves us to take the time to respond to that guest. So that's how we started, we engaged in a relationship with Travel Media Group because we needed assistance in engaging guests at all these various channels and in various languages. As we all know, Orlando is a melting pot, so to speak, we have people from all around the world come through to experience what Orlando has to offer: theme parks, especially Disney. So, you know, we would often have reviews in one given day three, four, five different languages, but we can't expect our general managers to know three or five different languages. So that's when we engage the services of Travel Media Group because they have the resources to be able to respond to these guests from Brazil, from China, from Russia, from Latin America. And as I mentioned before, our corporate philosophy was every guest has a right to a response. So if people took the time to reach out to us, we're taking the time to reach out to them. And we believe that leads itself to better scores and more loyalty.
Ryan Embree:
Yeah, I love that philosophy. I wish more hoteliers would think of feedback like that. I think the hotel industry has really battled at times with guest feedback of saying whether it's positive, some hoteliers think of sites like TripAdvisor and Google and access to giving and voicing their opinions as a negative. So hearing that you and your portfolio stress that this is important, this needs to be analyzed. This is a blueprint for how we can move forward as a company and get a higher TripAdvisor ranking promote and increase the guest experience at our hotels. We love to hear that philosophy. And we love partners that have that same philosophy. Because you're, you're totally right, in 2021 with everyone's lives being as busy as it is for them to take some time out of their day and to leave that feedback, it must mean something to them. You know, whether that's a five-star or a one-star, it must've had a profound impact for them to take time out of their day to leave you some of that online content. So now let's talk a little bit about AD1 Global, you know, culture is super important. You mentioned every guest is an ambassador, love that saying. Tell us a little bit about the culture at AD1 Global and the role that it has played in the company's success.
Jon McMillian:
A lot of companies say that we're family, but here, I believe it to be absolutely true. We are large now, but when I started, it was five hotels. Now that we're 27, maybe everyone doesn't know everybody, but everybody's heard of everybody just about. And we have a newsletter to help with that, spread the word, to keep our employees appraised, and what's going on at their sister property to build that relationship. And we talk about our employees because we value them and we try to take care of them, we have different programs where we incentivize and reward them for behaviors such as being mentioned positively on TripAdvisor, because we realize we're only as strong as our frontline. Those are the people that worked at our hotels, the front desk, and clean the rooms, we are only going to be as great as they are. So that's our number one asset. That's our number one resource. We invest in them because we realize that to find a good employee is hard, especially these days. And when we do find them, you want to keep them, we want to keep them for a long time because you know, as I mentioned before your guests are your ambassadors, your employees are your ambassadors too. They're the ones that are making the guest experience memorable.
Ryan Embree:
I agree with you there, Jon. I think one of the things that we're going to reflect on after all this is over is the importance and how much closer companies that value their employees, like AD1 Global, how much closer and stronger that bond has become after something like this, you know, we've heard so many cool stories of employees just wearing so many different hats, running around, doing everything that they can't put that smile on a guest's face and to really give it their all during a time where, you know, it was just so challenging for employees even to come to work. So that's very cool that you guys have that type of culture there at AD1 Global. I want to just pick your brain on any advice you would give to listeners, you know, that manage marketing for multiple properties or even are aspiring to one day, say, "I want to be an e-commerce manager for a portfolio of hotels." What advice would you give them? Or maybe what advice would you give yourself as a younger version of yourself?
Jon McMillian:
To learn operations. You know, that's the one part that less marketing people to forget you know, we'd like to wave a magic wand and make things happen, but we do not necessarily cognizant of the impact that it has upon operations. That's the lesson took a while to learn. It's a very important message. You know, it's the people on the streets, so to speak, or in this case, you know, at the front desk of 900 people cleaning rooms that are decisions here at the corporate office really truly impact. So if you don't take them into consideration, you're doing yourself a great disservice. And that applies, you know, from a corporate marketing perspective as well, and e-commerce. Because most of these things that I talk about, like are meant to alleviate the burden on the property, but sometimes, you know, it creates a little bit more work, like collecting email addresses at the front desk or getting people to say, "Hey, you know, text us if you need anything," you know, and just going that extra mile to get information out there to the general public and also the informational piece to educate, every new corporate directive that comes down, there's an educational process. And that takes time, it takes energy, and it takes money. So, you know, we have to study the impact from all angles and come up with something, whether it's truly innovative or, you know, truly mundane. It doesn't matter. You're looking to achieve success and improve, not just your guest's lives, but your employees lives always take into consideration, you know, the impact operations and the revenue potential. I try to balance that out.
Ryan Embree:
Yeah, I'm sure there are a lot of marketing people out there that if they were still working during the pandemic at a hotel, maybe had their first dip into operations whether it be at the front desk, whether it be – I've heard stories of the housekeeping staff, maintenance staff. So I absolutely love that advice because a lot of people will come up in this industry from that front desk or bellmen or front level jobs, others like yourself take a different path. So ultimately, as you mentioned, you're looking for that win-win situation, something that's positive for the guests, as well as your employees. Now, as we wrap up here, I'm going to go ahead and test you as far as maybe giving us some predictions moving forward. So obviously no one could have predicted the next pandemic. So I'm not going to do that to you, but I did want to ask you, we've heard about this "new normal" everyone's kind of getting used to it. The hotel industry is obviously getting used to it. Guests that are entering back into the hotel world are now expecting it/getting used to it. What post COVID trends do you think are here to stay Jon?
Jon McMillian:
The whole touchless experience. The ability for people to conduct their business from their phones. We've all, you know, not just as it relates to hospitality, but any industry, we've all proven ourselves capable of working remotely. Some people have come to enjoy that, including myself, I'm more of a hybrid animal. I like to come into the office now, but I also enjoy the time that I work from home. A lot of people don't want to lose that experience, a lot of people are used to doing everything from the phone, for those that don't have desktop or laptop, where they can do all their banking transactions, where they basically can conduct their lives through their mobile device. So that's here to stay and, you know, COVID isn't gone, it's still here and there's no potential for other similar things to affect us as a nation. So the safety levels and the cognizant recognition that germs are around us, you know, the whole extra cleaning measures are probably permanent. The whole touchless menus are probably going to be a permanent option. You know, we'll probably bring back paper menus for those who want them, of course, but you know, some things aren't going away, some things are here to stay. So the hospitality industry is certainly has forever been affected, society at large as well. We're always going to be a little bit more aware of our surroundings and the environment and taking precautions to ensure the wellbeing and our personal safety.
Ryan Embree:
It will be interesting to see, you know, that work from home. As you said, a lot of people are used to that right now. We saw almost the complete disappearance of corporate and group travel in 2020. We're starting to see maybe some of that come back a little bit, but is there an opportunity there for the hotel industry to capture on those travelers that are now working from home, or if they have a hybrid system like you were talking about, you know, maybe they travel to a hotel on a Thursday rather than waiting til the weekend, you know, and working from the hotel those couple of days. So it'll be interesting to see where that goes, I'm interested to hear if you have, maybe got one of those ideas at AD1 Global to kind of capture that and target those type of travelers. As we wrap up here, you know, we just like to open it up, great episode today, just any sort of final thoughts that you have about kind of where we're at or where we're headed.
Jon McMillian:
The future is brighter. You know, people persevere, we're resilient, people in the hospitality industry in particular. I think it's because we have an optimistic nature inherently. So the good news is, you know, things are on the rebound, we'll keep moving forward, we will keep adopting and adapting and I believe things will certainly get better. Hopefully they'll stay better and we'll all get back to the occupancy and the RevPar levels, we enjoyed back in 2018 and 19. And so, you know, I just continue to encourage everybody to persevere.
Ryan Embree:
Yes, indeed love it. We absolutely have loved ending our episodes on a positive note. So yoy were able to do both that final thoughts and your positive note right there, Jon. So thank you so much for joining me on the Suit Spot. If you're looking for more information on AD1 Global Jon, do they visit your website? That's best place to find you?
Jon McMillian:
Yeah, they can visit our websites it's an easy URL www.AD1global.com.
Ryan Embree:
Awesome. Well, thank you so much, Jon, for being on the Suite Spot. We'll definitely have to have you back. I want to thank all of our listeners for taking the time today and we will talk to you next time on the Suite Spot. To join our loyalty program, be sure to subscribe and give us a five-star rating on iTunes. Suite Spot is produced by Travel Media Group. Our editor is Marissa Kinzel with cover art by Barry Gordon. I'm your host, Ryan Embree, and we hope you enjoyed your stay.
Hotel Marketing Resources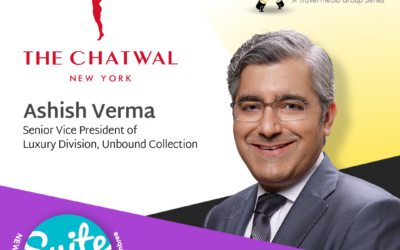 Join Suite Spot host and TMG Director of Marketing, Ryan Embree as he talks with the Senior Vice President, Luxury Division, The Unbound Collection by Hyatt, Ashish Verma in our new TMG Spotlight series to give listeners a lavish perspective on hospitality and how the...