78 – Attracting the New Bleisure Traveler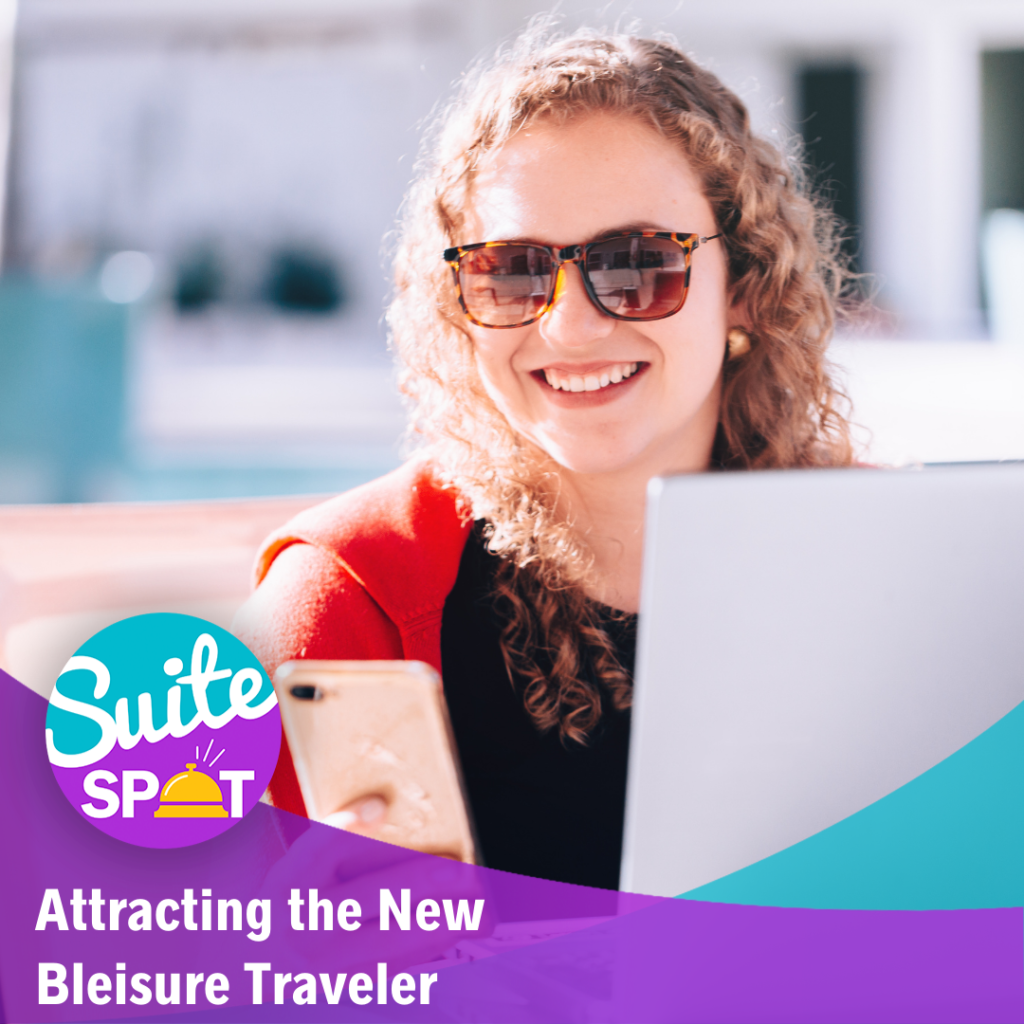 In this episode of the Suite Spot, host Ryan Embree is joined by Travel Media Group's Content Manager, Marissa Kinzel, to discuss the cross-section of business and leisure in the travel industry. They define what "bleisure" travelers are, and share ideas about how hotels can market their properties to attract this type of traveler post-COVID.
Marissa shares tips for posting to social media and deals hotels can offer that will catch a bleisure traveler's attention. Ryan shares specific ideas for using LinkedIn to showcase business spaces and how to talk about your amenities to appeal to both the business and leisure parts of a travelers' trip.
To get more information about becoming a special guest on the Suite Spot or to submit a question or topic for future episodes, call or text 407-984-7455.
Episode Transcript
Our podcast is produced as an audio resource. Transcripts are generated using speech recognition software and human editing and may contain errors. Before republishing quotes, we ask that you reference the audio.
Ryan Embree:
Welcome to Suite Spot, where hoteliers check in and we check out what's trending in hotel marketing. I'm your host, Ryan Embree.
Ryan Embree:
Hello everyone, and welcome. You are listening to the The Suite Spot a hospitality marketing podcast. Thank you for listening today. We have another amazing episode for you today. This one is centered all around a new traveler that we might not have known existed a couple years ago, but it is a trending topic in the industry. It's becoming more prevalent and hotels are actually filling their properties with these types of travelers. And it's actually a combination of two types of travelers that we've come to know and love. That's our business traveler and our leisure traveler. So before we get started, with me today, I'm going to introduce our guest with me. That is the Content Manager at Travel Media Group, Marissa Kinzel, Marissa, thank you so much for joining the Suite Spot.
Marissa Kinzel:
Thank you so much for having me, Ryan. I'm happy to be back.
Ryan Embree:
Yes. And very excited to get your insight and wealth of knowledge on this particular subject. We have spent over a year now talking about everything in the hotel industry that is being represented as a quote-unquote, "new normal," what hoteliers can do to adapt and change their hotel marketing strategies. And we've got this new traveler, this bleisure traveler, business, leisure combined. So what we're going to do today, Marissa, is we're going to go back and forth. We're going to do some brainstorming for listeners today and maybe share some ideas on how these hotels can attract this new bleisure traveler. What's important to them? Why are they traveling? And if we can put a strategy and target them appropriately, that's going to lead us to some more bookings and more business on that path to recovery. Let's go ahead and get started. One of the main ways that we know travelers are now getting their information is through social media messaging, communication, trying to figure out as much information before actually booking.
Ryan Embree:
Once they've booked, they're even going to places like Facebook, Instagram, LinkedIn, to get that comfort level and confidence up before their actual trip. So when we're talking about bleisure travel, one of the things that we want to keep in mind is: this is a dual-purpose trip. So promoting amenities like the pool, you know, if you have a beach or another onsite amenity, fitness center, that might be attractive to the leisure side of their trip, but they're also going to be interested in things like Wi-Fi, business centers, meeting spaces. This is the place that they're going to use for the business side of their trip and how they're going to be working from your hotel.
Marissa Kinzel:
I agree completely. I think that trying to advertise both things that are attractive in a leisure sense and things that are attractive in a business sense for these bleisure travelers is going to be very, very important. And I also think timing is everything with social media, and we know this and hotels will want to aim their posts during, you know, conference seasons. You're going to want to post frequently, but not too frequently. There's sort of a sweet spot, I guess you could say, with how frequently you are going to be posting online and you don't want to overlap other deals or campaigns that you want to run. Think about like your holiday seasons: spring break, Memorial day, weekend, labor day weekend, the 4th of July, all of those like hard-hitting tourist seasons. When you're going to be focusing mostly on families, college students, kids that are not in school at the moment, you don't want that to compete with the bleisure travelers. You want those business leisure travelers to have their own space to work during the week, and then enough time after they work to enjoy that leisure even more. So you don't want these two campaigns butting heads on social media because you'll overall end up losing reach.
Ryan Embree:
We know that scheduling social media is absolutely critical. That's why within our social media solution, we have a social scheduler that will show you the entire month's calendar: when, and what is being posted there. But yes, you want to keep that in mind cause this bleisure traveler might have some specific times that they're going to be traveling. I think a lot of offices and companies right now are going to use Mondays and Fridays as a time where the employees can potentially be working from home. So keep that in mind when you're using your posting schedule, that these might be the times that are going to be really popular times for your bleisure travel. Now, another site that we've mentioned multiple times and is becoming just ever more popular, especially obviously on the business side of things is LinkedIn. Using LinkedIn to market remote meetings. Instead of, instead of companies using offices now, they're using destinations as places to meet. So you can use LinkedIn to promote your hotel as a potential destination for companies and businesses to bring their employees in from out of town and to meet at the property.
Marissa Kinzel:
Yeah. And I think the best way for hotels to do that on LinkedIn is by sharing really gorgeous high resolution photos of your conference spaces, or by even doing like a video walkthrough on social media, on LinkedIn to promote those aspects of your property. And if you really wanted to, you could even do that as a LinkedIn live. You can talk about it beforehand, promote the time that you'll be live on LinkedIn. And once it's time to go live, you can expect lots of engagement. You can expect comments from these business travelers, these decision-makers who have a pent up need to get out of the normal that we've been experiencing for the last year and get to the destination of your hotel.
Ryan Embree:
I love that idea and really posts like that are putting the thought into these decision-makers' heads to do something like this. Employees are feeling very confined. They've had to work from home for over a year. They want to get out into the travel world. And this might be the thing that makes them feel comfortable about getting back out into the travel world is coming to a company retreat in a remote area at your hotel. So if you're not putting the idea and putting the thought in these bleisure travelers minds, you aren't going to see that conversion. You know, another thing that hotels can use to their benefit is their location, promoting local spots where your leisure travelers could enjoy to get outside of the property if they're working from the hotel, but also vice versa, finding local coffee shops or quiet spaces that if they wanted to get out of the hotel to do some work from, they certainly can.
Marissa Kinzel:
Yeah. I think that's something with bleisure travel that we have to keep in mind is that a lot of it is the whole benefit really for the employee is the chance to bring along like a family member or two. And you want to keep in mind things that will benefit not just the one sole worker. You have to think about it like a worker and their friend or a worker and their husband or wife or whoever. So if you're able to, if you have local businesses around you, a little partnership and a small discount coupon can go a long way with convincing these business employees to visit you over a competitor. It could be as little as like 5 or 10% off a purchase or advertising a free cup of coffee, depending on how you're able to collaborate with the local businesses around you. This idea is something that got popularized during the early stages of COVID recovery, where people would partner with these local businesses to really generate a sense of community. And I think we should continue this practice even as we move into an area of high demand, because it will help give you a really unique experience to offer to these business travelers and alternatively, and depending on your area, you might even be able to work with those mom and pop restaurants and offer to cover delivery or service fees, to services like DoorDash or UberEats, et cetera. And then you can offer it or advertise it as a sort of "lunch in" moment.
Ryan Embree:
Yeah, I absolutely love that idea. I think that is great. It's giving the traveler a personalized experience of their location while at the same time having to do work, this is the benefit, and this is the reason why bleisure travel is becoming so popular right now. And is such a hot topic. And then obviously social media, depending on your brand, or if you're an independent, use bleisure travel as a way to do promotions or social content. You know, we talked about extending weekends. People have a lot of PTO leftover from 2020. Create some campaigns around that. We've seen some really creative ideas on our hotel partners side. Hotels, really getting creative with encouraging workers to use some of that PTO, which would also fall under that bleisure category.
Marissa Kinzel:
Another thing that's been given rise over the course of the pandemic has been the concept of the digital nomad, which is someone who can work from anywhere. Their job has given them the freedom to work from home all the time, permanent remote status. And I think some people are able to take great advantage of this and basically anywhere with a Wi-Fi connection and a good cup of coffee and they can work. And I think why can't we advertise that that could be your hotel. It would be a great way to snag those types of people to fill up those gaps that you may have midweek, and you might be able to encourage them to start their weekend early.
Ryan Embree:
Yes, this is a whole segment that there's so much opportunity. We saw that corporate and business travel completely disappear in 2020. And it's going to be a minute before those travelers feel comfortable coming back out. But this is the first step to that: feeling like they're coming for a leisure traveler, but doing some business on the side. The other part of that for that comfort level and getting back out there comes down to your reputation online, how you're responding to reviews. This is going to give them the confidence to book at the hotel and actually get back out there. And I think one of the things that a hotelier should be doing because the guest is doing the same thing is carefully analyzing the sentiment of your reviews online, especially those that are aspects that affect the hotel experience important to business travel. You mentioned Wi-Fi, Marissa. That is huge. We do not want technology to get in the way of a hotel experience. A leisure traveler, if they saw that a hotel doesn't have good Wi-Fi or is having Wi-Fi issues that might not impact their hotel experience as much, but a bleisure traveler that plans on conducting work and business at your property, Wi-Fi is going to be at the forefront of their mind is a major purpose of their visit. So if that is having issues, that's an issue that needs to be resolved. And if they're seeing those on those online reviews, you're gonna miss out on bookings.
Marissa Kinzel:
100% agreed. And I think that it's important to remember that as you go through and analyze your reviews online, which is really easy on our TMG OneView® dashboard, we organize all of your sentiment data for you. But as you do go through all of your sentiment data from your reviews, it's super important to remember that bleisure is an extension of business into leisure. So if you focus your attention too heavily under one umbrella… Wi-Fi is eternally important. But if you are focusing on your meeting spaces, other important amenities to business travelers, but forgetting to also polish those parts of your stay that are good for leisure travel too, then, you know, you'll, you'll lose them. So achieving a balance I think is definitely best in that situation.
Ryan Embree:
You're absolutely correct there. That balance is critical to securing that bleisure travel. There's a combination of that word and business and leisure that needs to be reflected in your marketing and advertising for your hotel. And as you mentioned with the digital nomad, this could be the very first time for many people actually working from a hotel they've never done it before. So using your review response could be the perfect way to make them feel more comfortable about doing so. One example is if someone mentions maybe the desk or space inside of one of your rooms prior to the pandemic, you know, you might have really capitalized on that, on your review response, talking about your spacious rooms and relaxing rooms for comfort level. But here you could leverage this by educating that bleisure traveler, by saying, all of our rooms include a separate desk and workspace perfect for any work that needs to be done during your stay with us. Adding that little element there of a use case for working at your property is going to be super, super attractive to your bleisure travel. But like you mentioned, having that healthy mix of reviews from both the leisure perspective, as well as the business side is going to be absolutely critical.
Another thing that's going to start to come back as well as the business traveler is engagement with the front desk. You know, right now with cases dropping and vaccinations increasing, travelers are becoming more and more comfortable with returning back to quote unquote "normal." This includes checking in at the front desk, having face-to-face interaction with some of your staff, which maybe a couple of months ago, they might've preferred to do on their phone. But we know some guests are going to come back to the front desk and want that authentic hotel experience that they've come to love and know for decades that they've been doing this. So getting your front desk engaged again and retraining them on what information you can leverage from those conversations at the front desk, asking if they're here for business asking if they're here for leisure, but also including now, are you here for both? Are you going to be doing some business? Are you just here for fun? And then having a plan there about where to take that conversation, what amenities might be important to them? The locations that we talked about earlier, your front desk is at the front line of your reputation and the hotel experience. So make sure they're prepared for this new bleisure traveler.
Marissa Kinzel:
I do think that this even goes, if you have remote, check-ins still, if you ended up implementing some kind of text or call operation for your front desk to sort of check in with people as they're checking into rooms, then you can have them just send a quick text over to the guest and say, Hey, are you here for business, leisure? What can we do to make your stay more comfortable? Taking that extra time to ensure guests are comfortable right at the beginning of their stay is super important in all cases, but especially for these new bleisure travelers and doubly so if they're first timers with working from a hotel, like you mentioned earlier. They may have a lot of adjusting to do because yeah, they've been working from home, but now this isn't quite home and it's not quite an office. It's still like working out of a bedroom, but what can you do as a hotel to help them focus on their work, but still enjoy the leisure part of their stay as well? Like trying to get both at once.
Ryan Embree:
Absolutely. And if you do recognize if your front desk is able to determine that they are here for business, having a good reputation and experience, while on property can be an opportunity to extend their stay. That is the key to this bleisure traveler is their flexibility. So now all of a sudden, if a traveler doesn't need to be back into the physical office until Tuesday or Wednesday, but they're set to depart on Sunday. If you give them the proper experience, if they have a great weekend at your hotel and know that they don't have to be in the office till Tuesday, that hotel experience could lead to staying another night and working from the hotel on Monday, instead of departing on that day. And as hoteliers, we are always – we do promotions, we do deals. We're always looking for ways that we can expand the average night's stay of a guest. So this is a big opportunity with this bleisure travel. Lastly, keep in mind that a good hotel experience on a business trip could lead to a bleisure trip down the line, just because they're coming in as a leisure travel today or a business traveler tomorrow, they could come back and do kind of this hybrid model. So don't discount someone at your front desk if they just say, I'm just here for the weekend to relax and hang out by the pool. If you're able to give them that optimal hotel experience, they could be returning very, very soon as that bleisure traveler trying to get some work done, but also enjoying what they love most about the hotel.
Marissa Kinzel:
To add to that, too, I think that it's, the same way that a good business trip can turn into a bleisure trip down the line, I think that a really good bleisure trip can turn into a leisure trip down the line, especially with we saw the first travel to rise back to travel again, post-COVID were those drive-to destinations. And I think that's kind of what we'll see some of with some bleisure trips, especially those digital nomads. Maybe they're going to take their first foray into something kind of closer to them. And if you can give them a really good experience, that is a huge opportunity to build a loyalty. And I think that is what we're always looking for is loyal returning guests. And if you give them a really good experience on a bleisure trip, maybe they will come back for a staycation with their whole family.
Ryan Embree:
That is a great point. And again, all these new terms that we've heard about – bleisure, staycations, we see a revival, the road trip –this is why you need to be so flexible and easily adaptable in some of these strategies and at Travel Media Group, that's what we do for our hotel partners. We see these trends and we're at the forefront of them adjusting and adapting to meet the needs of whatever guests are coming in through those doors and are going to fill your hotel rooms and increase revenue. So as we wrap up today, I'm going to go ahead and give Marissa you the chance to give your final thoughts here. But I think the key to happy bleisure travel is giving them something to experience outside of their home and the office. These travelers can choose to work anywhere in the world. So really sit down and think of the reasons that they should leave the comfort of their home and work and travel to your location. Now, I know this might be easier for some hotels listening to this and harder for others. 2020, it was a tough year for everyone and bleisure travel gives guests an opportunity to blur the lines of vacation and work. So make sure you are creating a marketing strategy that does the same and promotes that hotel experience.
Marissa Kinzel:
Like you said, it will be more difficult for some hotels versus others, even as we speak, you know, there are changing pandemic restrictions in many areas in the U.S., so it may feel a bit difficult to imagine bleisure travel, picking back up to full speed right away, since we are still working through that global pandemic and things can change along with travelers' feelings about things. However, I do think that the implementation of touchless technology is what's really going to propel employees and travelers to feel even more comfortable with getting back to business travel. I think like the demand is totally there, right? And a lot of people are waiting for that green light. And I think in some cases that touchless tech we've seen so much rise of is going to be the catalyst for a lot of people to feel comfortable, which can be something as simple as a remote check-in option, or, you know, you can get more complicated with like smart thermostats. You can implement contactless delivery options like we were talking about earlier. Things like this, I think, are going to stick around for the long-term and they're going to become great strengths for hotels in the coming months. People want to get back to traveling, like you had said earlier, Ryan, they felt cooped up in their own homes. That was a very common feeling. Some people enjoy working from home, but a lot of people, even if they do enjoy it, still want a break every now and again. So hotels should do whatever you can now to prepare for when people want to travel more in the future. Sharpen up your marketing strategy, really refine your reputation, polish your website, because it's just as important as your social media. Get everything lined up so you don't miss a beat when businesses do start sending their employees on business trips again.
Ryan Embree:
Yes. And we are looking forward to that day, Marissa, what an opportunity for hotels right now to attract and capture these bleisure travelers. Want to thank you for all your insights. I thought it was a great episode and we'll definitely have you back on.
Marissa Kinzel:
Yes. Thank you so much again for having me. It was awesome to be back.
Ryan Embree:
And if you are interested in learning how to get some new ideas about attracting bleisure travelers. If maybe you've taken a look at your hotel marketing and had done the same thing for maybe five, three, or maybe even over the last year, and you're looking for a refresh, it's become stale, looking for a new direction on how to increase occupancy and really take advantage of these leisure travelers that are starting to come back out into our hotels and into our markets. If you're looking for some direction and some help with that, we are always here for you. You can reach out to us at 407-984-7455, or you can visit our website at travelmediagroup.com, Marissa, and the rest of our team do an amazing job of producing some content and some real quality work out there that should give some helpful insights on creating a strategy. I want to thank Merissa again for being on the Suite Spot, and we will talk to you next time.
Ryan Embree:
To join our loyalty program, be sure to subscribe and give us a 5-star rating on iTunes. Suite Spot is produced by Travel Media Group. Our editor is Marissa Kinzel with cover art by Bary Gordon. I'm your host, Ryan Embree, and we hope you enjoyed your stay.
Hotel Marketing Resources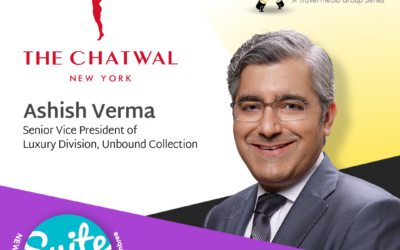 Join Suite Spot host and TMG Director of Marketing, Ryan Embree as he talks with the Senior Vice President, Luxury Division, The Unbound Collection by Hyatt, Ashish Verma in our new TMG Spotlight series to give listeners a lavish perspective on hospitality and how the...