81 – How Social Media and Online Reviews Impact Conversion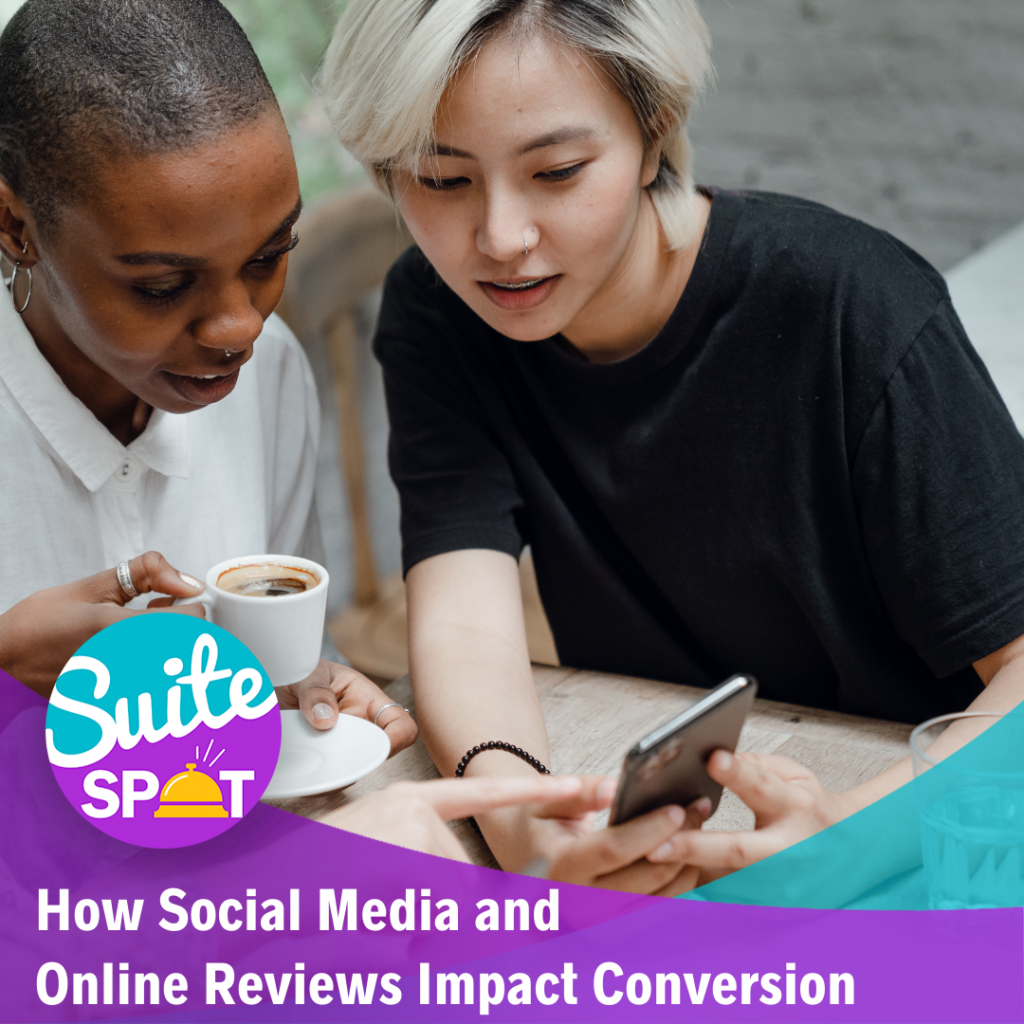 In this episode of the Suite Spot, we take a trip down the traveler's booking path and explore what role social media and reputation play in a guest's decision-making. Host Ryan Embree and VP of Product & Technology, Jason Lee share how to improve your hotel's chances of guest conversion.
Jason and Ryan start in the research stage, where they discuss what travelers are looking for on social media and online reputation sites. They continue to the booking phase, where travelers start to get excited and form an idea of what to expect on their trip. Finally, they discuss post-stay, where travelers determine if those expectations fell short, were met, or exceeded, sharing their feedback on review sites that impact other travelers in different stages of the booking process.
If you are interested in finding out how your hotel's online presence is impacting traveler conversion or to submit a question for future episodes, call or text 407-984-7455.
Episode Transcript
Our podcast is produced as an audio resource. Transcripts are generated using speech recognition software and human editing and may contain errors. Before republishing quotes, we ask that you reference the audio.
Ryan Embree:
Welcome to Suite Spot where hoteliers check-in and we check out what's trending in hotel marketing. I'm your host, Ryan Embree. Hello everyone, and welcome to another episode of the Suite Spot. This is your host Ryan Embree, Director of Marketing at Travel Media Group. Thank you for joining me today on this very exciting episode. And with me today, a familiar face, we haven't heard from him in a while, but he's back on the Suite Spot that is Mr. Jason Lee, Vice President of Product Development and Technology at Travel Media Group. Jason, it's great to hear from you.
Jason Lee:
All right. It's great to be back on, Ryan.
Ryan Embree:
Yeah. We've got a really exciting episode today, you know, as I was kind of looking at what is going on right now in the industry. You know, on the Suite Spot, we're always trying to be at the forefront of trends, patterns, and what's going on. You know, one of the topics that I just could not believe that we hadn't covered yet – the traveler's journey, but the way that social media reviews and review response are having an impact on booking conversion. And I think the interesting part was, is if we did this episode, when we started the Suite Spot years ago, I think this conversation today would be completely different because that social media and reputation side of things have really started to blend over the past couple years, but it's having some real big impacts on purchasing decisions. And obviously you throw COVID-19 and the pandemic, it just complicates things even more because travelers are now looking at this stuff closer than ever. So, Jason, I'm glad you're here with me on this episode. We'll kind of bounce some ideas, but I think the best way to kind of go through this traveler's booking journey is just to go step-by-step because most often than not as guests and as travelers do, we have one particular purchase path. Now that purchase path might be over the course of six months, or it could be over the course of six days, but typically it's going to follow this path. So you, the listener follow along, we're going to go through this purchasing path and figure out how social media and reviews impact booking conversion. Jason, let's start with research. So obviously this is a huge place for reputation.
Jason Lee:
Yeah, I think, you know, I think there is the, I mean, whether you call it research or consideration, I think this is past the point of where you are considering, should I take a vacation or should I travel now? You're in a spot where it's like, you're going to travel and now you're really trying to find the best accommodation. And I think that's where a lot of stuff starts to really take effect in terms of the value of your property, the value proposition in all of that available information. One thing that you see through all of that obviously is search. So search kind of dictates all of that stuff and it starts you off in terms of the consideration or research section you're in your destination or destinations. And you're looking through hotels at the price point or in the vicinity of that location that you want to be. And I think that's where all of the necessary data or all relevant data about your hotel is on display. And it does begin in search and how people search. And so people can search through social media, but people just catching you, potential guests catching you on various outlets directly through a search. So let's say they narrow it down to your property, searching for your property. They're going to see all of that information, TripAdvisor, all the OTAs, the information on there, your brand, your website, if you have one and then social media sites.
Ryan Embree:
This is the place where I think those parameters start to be set because like you said, price, location, those are the things that might be non-negotiable for some travelers. If I've got a budget of a hundred dollars and I'm staying in a location where there's a Ritz Carlton, I'm not going to do much research on the Ritz Carlton as much as I'd love to go there because it's just not a viable option and same with location. So this is where all of a sudden you start to see a traveler search to say, okay, this is where I'm comfortable price wise. This is where I want to be at location-wise. And then that's when we start to do the drill downs into things like social media or reputation, but I don't think you can understate the impact of somebody finding your Instagram or your Facebook before another competitor's, because that parameter set might not even apply at that point. If you're meeting all of their expectation and needs.
Jason Lee:
So there was a recent study that Google did about post pandemic, even though we're not fully post, but kind of in this time of travel and what travelers are looking for. And what's really interesting is that according to the research, they came up with, 54% of these travelers actually used a social media app to investigate hotels, meaning that they searched in Instagram and they searched in Facebook or Twitter. But you think about that. How prepared is your hotel for that kind of search? When was the last time you posted, what are they going to encounter? What are the images they're going to see? But, you know, you mentioned earlier where you start to see the intersection of reputation, like traditional reputation, like reviews and social media, which I guess you could say as posts and the intersection of these things are really a very narrow intersection because the guest perception of your hotel has a lot to do with the information found in these areas. So somebody leaving a derogatory post about your hotel or posting funky images or not having current information, all of that stuff affects the reputation and value proposition that you're trying to get for your property.
Ryan Embree:
Yeah. And I think right now, travelers just want to know what they can expect. And one of the best ways to do that for some reason, as we think, if we see it on social media, even though we know it has filters, it just feels a little bit more real than maybe finding it on a website. So this is a great way to impact booking conversion because travelers are – at the end of the day, they still have in the back of their minds, safety and cleanliness, we've been told to wash our hands for more than a year now. It's just something subconsciously that we're looking for. So having your social media prepared is a great point during this, because as closely as travelers are doing research right now, the wrong picture, the wrong information, or that derogatory comment, like you said, you don't have three strikes anymore with these guests.
Jason Lee:
Yeah and I think current information is also a reason why guests are kind of using social media more than traditional outlets. So if you think about a traditional outlet in OTA or your brand or your website, the information that you have on there, a lot of times is really hard to determine when that information was given and how current that is. On social media, you can see how current that information is. And guests, I think, are really flocking to that type of information, because information that was given out in 2019 about your property, even images and what's available and what's – what's open, right, is very different than it was pre pandemic. You might have just been like, well, I see some images and they have a fitness center, they've got a pool, they've got breakfast. I feel pretty good about this. Now you really don't know. And I think hotels are even in terms of housekeeping and stuff, there's a lot of things that are going on at hotels that definitely affect a guest decision to stay or not stay.
Ryan Embree:
Yeah. Absolutely. And one of the places that travelers are looking for that info is also review response. So making sure that all of your reviews are responded to in a very, very timely manner, super critical and impacts conversion. We're going to talk about that 'cause that post-stay advocacy blends into this research and it's kind of that cyclical shape there. So it blends in, but we'll move on to kind of the booking and purchase decision. That's obviously a big part and step in this process, but I want to focus on maybe that after purchase, but pre-stay stage because I think this was a piece of the traveler's journey that really got turned upside down with the pandemic. The power was all of a sudden shifted into the hands of travelers and guests, where at a moment's notice they could change their plans and cancel on the hotel penalty-free. And I think the industry is still flirting with that idea. But you think about the power of once they're booked, they're done, that has completely changed. If all of a sudden you get a slew of negative reviews. If you go on social media and you see that somebody had a really bad experience, maybe they felt in danger of their safety and health with COVID protocols not being followed or anything like that. Now all of a sudden that traveler has out and that impacts occupancy.
Jason Lee:
Yeah, absolutely. And I think there's a lot of no penalty cancellation stuff going on right now. And I think that's more than not still. And there is like a term that has been kind of batted around called romancing the sale, meaning that you've already made the sale. You've already made the booking. How do you keep this guest engaged during the post-booking process? Pre-stay? That's where social media can make a huge impact. Especially if you invite them to follow you on social media and you're posting positive things about your property, giving them information that gets them excited about their stay, that gets them excited about staying at your hotel, for sure. The most relevant current information that's going their way. And all of those things, I think start to get a traveler excited. You think about trips that you've been on or that you were about to take and any positive information that comes your way pre-trip really like solidifies your stay, but also gets you really excited and amped up for that trip.
Ryan Embree:
Yeah. Hotels have never had to deal with this to the degree that they're dealing with it right now. And I think on the other side of that, you know, when we talk about reviews or even if something does happen on social media, that's kind of that PR nightmare. Now, all of a sudden, instead of that excitement, you've got somebody coming in and saying, Hey, you know, we might've really gotten a good deal on this hotel, but I've been seeing online that their breakfast is just not up to par or they've implemented this new grab and go breakfast, but it's not great. So you're now setting an expectation. That's kind of got a negative connotation. It's up to you to build yourself out of that experience in sentiment analysis, something done through our Respond & Resolve™ program is where you can kind of uncover those patterns and trends before it kind of snowballs into a bigger problem.
Jason Lee:
Yeah, definitely. That's where I think any kind of vigilant look at that information in terms of whatever the guest experience is you have, the obvious, like I want to analyze that experience and learn from it, do better on the things that went well and the things that didn't go well, fix and make them not happen again. Right. And so I think those become a spot where that's, I have to really make this happen. The other part of that though, is the guest perception that is coming in that just encountered this negative information. So your ability to recover from that has so much to do with, like you said, Ryan, how quickly you can make that response. But also that that response is relevant to what happened, and also really shows a very competent and confident way that you have made good and created service recovery. Without that, I think the incoming guest is left to interpret that information however they want. And I think most guests understand that things happen. And that's the power of a really well-written response. The power of that is that it not only shows the guest. So you have that guest at themselves that you care about them and you want to create recovery with them, but it shows all the other guests that if something goes wrong during their stay, which is possible, that recovery will be quick, that you'll be there to make sure that this goes right for them. And I think that's really important, but you know, what's interesting is that in my opinion, like you were talking about creating advocacy and how do you have a guest that really becomes your champion? And I think guests that leave you positive reviews. We have this habit in our industry where we don't respond to positive reviews and it drives me crazy because I feel like this is just such an awesome opportunity to create an advocate out of this guest. This guest just said, how much they love staying with you? Why wouldn't you write them back? So in this case, it's probably not going to influence a traveler. It's not going to influence another traveler that you give a hearty thank you and a glowing, thank you to this guest that gave you this incredible review. It may not affect them because they're just like, okay, whatever. But the guests that wrote it, they really appreciate that. And that guest then goes on to become even more of a champion of your property. It could go on to follow you on social media. Like definitely would be a repeat booking. They could tell other people about you, you know, this is marketing 1 0 1, create happy customers that want to continue being your customer will come back again and again. But I feel like with reviews and these like small ways that we sometimes overlook that we're like, oh, this is a happy guest. So we can just ignore them. I say, go the other way with it.
Ryan Embree:
Absolutely. Yeah, it is funny. And how hoteliers want to do that and really only want to focus on those negative reviews, which we know have a huge impact, but you're right. Jason do not neglect those positive reviews and word of mouth. I mean, before reviews, that was the best way to get business. It was just people telling other people. So, you know, I don't see a situation where you wouldn't want to create all of these great stories and share them, but going back to a point that you mentioned about almost looking at, it's kind of a counterintuitive to say, but almost looking at negative reviews as an opportunity rather than a burden. If you ask a hotel right now, would you rather have all five-star reviews or would you have a couple of negative reviews sprinkled with a genuinely good to great reputation? A smart hotelier would say the latter because people do not trust all five-star perfect reviews. That is just not the way that – especially the hotel industry and world – works. You can't make everyone happy, things go wrong, but those guests that are reading these reviews, they care less about maybe that particular situation, as much as they want to see how you handle, how you problem solve and what your level of concern and customer service in response to that guest. So it's a very interesting, and I think this has really stemmed over the past decade of the true hotelier. I think really does think of that negative review as ana opportunity to showcase their hospitality and customer service.
Jason Lee:
Yeah. A hundred percent agree, you know, my experience in the hotel world, it's like you can't have a business that is always open, right? Not have issues. That doesn't matter what that business is. Like you were saying, Ritz Carlton or Four Seasons or extremely high service oriented, crazy high ADR. They still have very similar issues to a Hampton Inn, right?
Ryan Embree:
Yeah.
Jason Lee:
There's similar things because it's a game of variables where somebody uses their key and it doesn't work. You, somebody flushes the toilet and it doesn't work, you know, light bulbs burnt out and you know, whatever, whatever that is that happened, I think is, again, going back, you make a really good point. It's, it's almost like that is the opportunity because you know, the guests are looking at that. They're going to look at like, okay, so there are a 4.5 and they've got 1100 reviews. So what was their last one-star review? What happened there? And they might go back to that and take a look at it. And we'll take a look at a few of them. And that's where I think you have an opportunity to show recovery. But it's a real slippery slope because there was a lot of times where we get defensive in these situations or the situation itself. So this is a really, there's some really interesting situations that happen as we all know anybody, it's a hotelier listening to this knows that there are situations that happen. Somebody says, well, it could be, you were completely in the right. And this guest was out there, right? It's a funky stay situation –
Ryan Embree:
Yup.
Jason Lee:
– and I'm leaving you a terrible review and you see that review and everything inside you says, I'm going to blow this guy up and I'm going to say this guy's a liar. And that, that, you know, he's not allowed to stay at my property again. Right? But then you have to put on another hat in that moment, it's not about hotel justice, right? In that moment, it's about PR. And what do I do to make sure that the next guest that reads this will pass this by and be like, okay, this hotel cares about their guests. Even if you didn't care about that guest.
Ryan Embree:
You can bring all the facts to the table on that negative response. And from your perspective, it could look like you're making really good points and you're proving publicly why this person is wrong. And sometimes that might come across to that traveler that's doing research across the table as the right thing to do, but more often than not, guests are going to take the side of other guests.
Jason Lee:
Yes.
Ryan Embree:
They're not going to take the side of a hotelier or a business that's just plain and simple. So you have to start thinking about what your opportunity costs are going to be of saying, okay, I can prove to this guest that he's completely wrong, or is there a better way that I can educate future guests about this situation and make sure this doesn't happen in the future?
Jason Lee:
Yes.
Ryan Embree:
Reiterating a pet policy that might've been misunderstood or a fee. You know, the deposits that we hear all the time are quote, unquote, stolen from the hotelier, explaining that deposit and how that works. There's always just a PR way of kind of explaining things.
Jason Lee:
Yeah. That's the hard part about it because you're emotional. You have an emotional investment in your staff and your property and that emotional investment. It goes, you're like, wait a second. This is wrong. This guest was wrong, but it's in those moments yet to be really careful that you don't blow yourself up.
Ryan Embree:
Yeah.
Jason Lee:
But you know what's really interesting, Ryan? Just on this same subject. Cause we were talking about social media is that social media has a couple of different little places here and it can be kind of tricky. So on the reputation side. So we were talking about how social media and traditional reputation are really like that lines are blurred there, but where I think some of that really gets tricky and there's tricky responses, is in social mentions. So this is a place where guests has mentioned your property and it could be a potential guest, but it could be more often than not. It's a guest that's already stayed there and they've just mentioned you, but if they are mentioning you to their audience, so you showed up in maybe a positive or negative post to their audience. And so now you're in a situation where it's not a response, it's a conversation. So this is another place that you have to be very, very, very careful what you write there, especially in a negative situation, because you could have all of this person's followers come after you, if you go after that guest. So I think there's some really tricky spots there there's times you even leave it alone and just be aware of it or try to contact that guest offline. But there can be some real tricky moments on the social mention side as well.
Ryan Embree:
Even a one-on-one conversation sometimes can turn into a public conversation on social media. So you're right. You know, I feel like hoteliers now have just gotten the hang of how they're doing this review responses on sites like TripAdvisor now, OTAs, Google, but there's this whole different degree, this whole different arena, rather, of social media in responding, mentions tags and guests are savvy. They know how to use this to their advantage. They will call you out. And if you're not responding, it's almost as bad as a poorly worded response. So keep that in mind, educate yourself. We've got tons of resources for you on our blog about how to respond to those and actually know how you're notified and when you're tagged. Cause a lot of this can happen in the shadows. It's something, a conversation could be coming on a hotel's nightmare is when that conversation is going on without you involved.
Jason Lee:
Definitely.
Ryan Embree:
Well, I think that covers the post-stay area of the traveler's journey when it comes to social media and reputation. You know, I think a very insightful episode today kind of talking at every single different touch point of this traveler journey, you are either getting a guest closer to becoming an advocate and working for your property or the opposite way and costing you business. So if you can create a funnel and a constant stream of these advocates and champions for your property, you're going to be set up in good position to just keep growing your business and increasing occupancy. So before we shut it down for the day, I'll go ahead and ask if you just have any final thoughts as a wrap-up Jason.
Jason Lee:
I definitely do. I feel like this will be a lost moment if I didn't mention a report that we do at Travel Media Group that can really help with looking at this and that is called our 1st Impression report. And in this 1st Impression report, if you take a look at it gives you a really clear understanding around some of these things that we talked about today, and that has a lot to do with the guest perception of your property and that's lifetime score. It's current reviews about your property. So the most current reviews about your property by site, by outlet and how those might be affecting a guest's consideration of your hotel. That information is all rolled up into one report. You can see really clearly it gives you how many of these are new. Like how new and how fresh is this information that guests are seeing? Do you have the right kind of response on them and what is the lifetime score? How does that affect it? So seeing all those pieces together, it gives you like kind of a roll-up score to let you know, like, Hey, take a look at this or it could be something wrong or that you were in good standing.
Ryan Embree:
It's an incredible score. And it's not just for one particular site, either. It covers all of your sites. Hotels are very unique in the sense that we can have customers booking with us on multiple sites. So one score on Hotels.com could be completely different from another score on let's say Google or TripAdvisor, but all places where travelers are making impressions and they're making assumptions based on what they're seeing on these sites. So Jason you're right, absolutely incredible tool. You will be very surprised to see kind of the analytics and data that you pull for these hotels for their first impression score. So if you're interested in learning a little bit more about that or figuring out how Travel Media Group can help you at any stage of the traveler's journey and helping you improve guest conversion, please reach out to us 407-984-7455 or visit our website at travelmediagroup.com. Jason, thank you again for joining the sweet spot. We'll definitely have to have you on again to talk some more digital marketing, but for now we're signing off and thanks for listening. To join our loyalty program. Be sure to subscribe and give us a five-star rating on iTunes Suite Spot is produced by Travel Media Group. Our editor is Marissa Kinzel with cover art by Bary Gordon. I'm your host, Ryan Embree, and we hope you enjoyed your stay.
Hotel Marketing Resources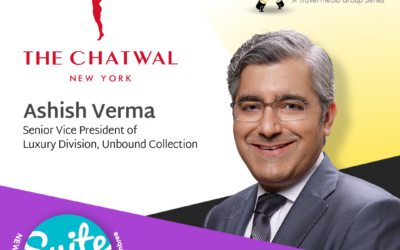 Join Suite Spot host and TMG Director of Marketing, Ryan Embree as he talks with the Senior Vice President, Luxury Division, The Unbound Collection by Hyatt, Ashish Verma in our new TMG Spotlight series to give listeners a lavish perspective on hospitality and how the...