86 – Planning Your Hotel's 2022 Social Media Calendar Part I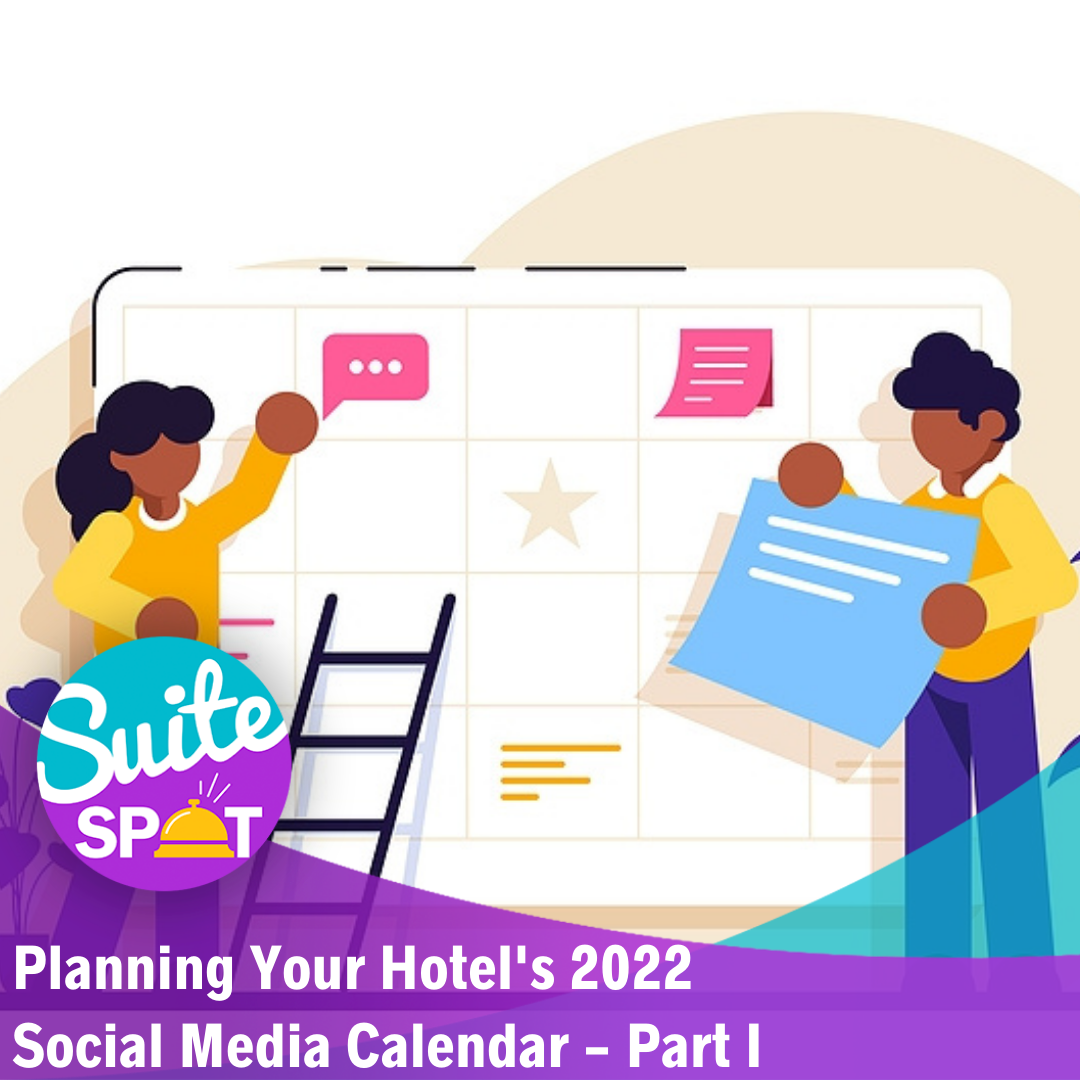 In part 1 of 2 of this special edition of the Suite Spot, we help hotels start to fill their 2022 calendars and strategize social campaigns. Host Ryan Embree is joined by Client Success Team Lead, Aislynn Roberts to cover the winter and spring seasons. Listen and learn as we discuss planning posts around: holidays, events, hotel amenities/features, and local stories. Check out part 2 when Ryan and Aislynn cover the summer and fall months. If you are interested in learning more about how Travel Media Group can help plan your hotel's social calendar, call or text 407-984-7455.
Episode Transcript
Our podcast is produced as an audio resource. Transcripts are generated using speech recognition software and human editing and may contain errors. Before republishing quotes, we ask that you reference the audio.
Ryan Embree:
Welcome to Suite Spot. Where hoteliers check-in and we check out what's trending in hotel marketing. I'm your host, Ryan Embree. Hello everyone. And welcome to another episode of the Suite Spot podcast. This is your host, Ryan Embree. Thank you for listening, wherever you are listening from. Got a great episode, as always, for you today. I cannot believe it, but it is October of 2021, which means we are headed into the last quarter of this year and headed into a brand new 2022. We've had a rough couple years, but we are looking with some optimism and looking forward to next year. So with me today to talk about 2022, because we can never start planning early enough for next year, is Client Success Team Lead, Aislynn Roberts. Aislynn, welcome back to the Suite Spot.
Aislynn Roberts:
Thanks, Ryan. Happy to be back.
Ryan Embree:
As I've mentioned before, we've got a great episode, but what we're going to be talking about today is helping our listeners plan their 2022 social calendar for their hotel. This is something that is extremely important to do at least at some point before going into the new year. Now we're not going to go over every single specific post that you need to be doing for an entire year's worth, but I thought it would be helpful to go ahead and roll through some of the seasons. We know how seasonal this industry is, and then we'll share some tips and best practices to help fill your calendar and give you some tips along the way. That sound like a plan, Aislynn?
Aislynn Roberts:
Yeah. Sounds great.
Ryan Embree:
Awesome. Well, let's start with the winter; somewhat of a slower month. Aislynn, where do we start when we're, when we're starting to plan that social calendar for winter 2022?
Aislynn Roberts:
Definitely, when you're getting started with content, I like to recommend to my partners to start with the big stuff, the stuff that's known, it's pretty easy to talk about. So when we look at that, it's always holidays, right? So what holidays are happening during the winter: New Year's Eve, New Year's Day, you got Christmas, Christmas Eve, Hanukkah is also during winter, and then you move into smaller holidays that are maybe like three-day weekends. You have President's Day, Columbus day. Occasionally some people, some regions observe that and some don't and then also Martin Luther King, Jr weekend. So when we're talking about social content, it's always great to post about those major holidays because it's something everyone pretty much knows about. They might be planning an extended weekend trip or thinking about it. They get an extra day off of work or during those times. So it's really easy to create content and plan for them. But you also want to think about some of the smaller days. There is a national day of calendar that you can just pull great inspiration from to always fill your social media content calendar up. So for instance, in January alone, you have National Trivia Day and Plan for Vacation Day is the last Tuesday in January. These are really great content ideas just to drive up activity, get people engaged with you, share information about the property, specifically Plan for a Vacation Day. You're literally telling guests and prospective travelers to plan a vacation to your property and you're showcasing and marketing all the great experiences that you have to offer. And then for like National Trivia Day, I've worked with a number of properties who are more of like a historical town or their property itself has been around for a while. There's a great history with that property. So they use National Trivia Day to just post trivia questions about the town or property and get people to try to answer them. And they will engage with the comments on the posts, which drives up not only your engagement specifically on social media, but that activity will also enable the social media algorithm to have your posts and property reach even more people.
Ryan Embree:
Yeah, holidays are great posts and content for engagement. And that's what we're looking for for our travelers. We can obviously do things like the trivia day with, with a poll asking for engagement there. One of the best things about holidays, when we're looking at our social calendar, unlike some of these other things like events, your holidays are, are mostly going to fall on a specific day. So it's easy to start planning for these well in advance because you know, they're coming. And like I said, these are the types of posts that we see most engagement for you. But speaking of events, let's talk about how we can start incorporating events into our social calendar for winter.
Aislynn Roberts:
Yeah, absolutely. Events are a big topic normally on social media, especially when you consider social sites like Facebook that have a specific events that you can create on your page and then you can share them to pages. So you definitely want to consider what your region has open right now, what are coming back, and those annual events. So if we're continuing the holiday talk, typically annually, you have holiday festivals, whether it's parades or down in your downtown area, that hosts little festivals and everything's decorated. So those are always really great to share. It's also a great way to connect with people who are planning that three-day weekend and to show them a local thing that's happening that they can do while they're in town and sightseeing and walking around and doing things. If you are near an event space, whether it's like a stadium for concerts, or if you're near a big theater, for instance, Broadway just came back. So those are all things that you definitely want to get online, share with, paint a picture of what travelers can experience while they're in the area.
Ryan Embree:
I think one thing to also keep in mind to our listeners is events can be just as major and minor as holidays out there. Aislynn mentioned some of the bigger events like holiday festivals and concerts, sporting events, but also, you know, minor events. Like you could do a little showing of Elf at the property with hot chocolate. These are the type of events that also get a lot of engagement and are really creative ideas around the winter time. But events, we're going to talk about this throughout this podcast, but they might be a little bit more difficult to pin down, especially in 2022 than in previous years. I would suggest going back, all the way back actually, to 2019 and maybe look at your social media, if you've had a consistent social media presence, and maybe look at those events that you were promoting and sharing on your, your accounts at that time. They could just be coming back for next year. Cause we know obviously with the pandemic, that's adjusted a lot of these events, so it's not something like a holiday that comes every single time at every, every single specific date. It's going to be something you're going to have to do a little bit more research on. And like Aislynn mentioned, there might be some changes to the event. So make sure you're communicating those as well. Now we've really been talking kind of outside the hotel, but at the same time on social media, this is a great place to market and advertise our specific hotel. So let's talk about amenities. What type of amenity posts can we focus on in the winter time at 2022, Aislynn?
Aislynn Roberts:
Well definitely for winter, especially if you're in a region that does actually get snow and your temperature drop during that timeframe, you want to promote things at your property that will highlight what travelers will be able to have access to while still enjoying their stay. So if you have fireplaces, whether it's in room or maybe even the lobby or maybe fire pits outside, so when they're chilling outside during the day, they can still be outside, but have that little warmth. Those are all really big during the winter months. Your fitness center, so when we talk about, we recently just talked about New Year's Eve. So a lot of times people are setting resolutions. One of the top resolutions is to get a fitness routine going, weight loss routine. So if you have a fitness center promote that. Let people know that you can still stick to your goals as you start the new year in the new year, when you stay with your property. If you have free coffee or hot chocolate, whether in guest room or in the lobby – promote it. That's going to be really big. They can get a steaming hot cup of coffee right before they leave the property for their day. Even a little extra, where you provide a list of the best places, local eateries or local coffee shops that have top-notch coffee or even hot chocolate, I think would be a really great little touch to promote, to let your guests know that you are thinking about them when they're coming in. They might not be used to the cold, or even if they are used to the cold, it's still a nice little touch to have.
Ryan Embree:
Yeah, I absolutely love that idea about the fitness center and the New Year's resolutions. I'm sure a lot of listeners are going to be putting something together around that first of January. So great idea there. I would also, you know, mention Aislynn, you know, some of the most engaged posts that I've seen have actually come on the opposite times that you would expect them. So a hotel sharing, maybe a picture of the pool in the summertime, in the dead of winter and saying, man, we can't wait until summertime. Sometimes those, you wouldn't think they get a lot of engagement, but sometimes those are the most shared, most engaged by people just wishing that it wasn't so cold out. Obviously if you have a heated pool, that's a huge amenity there, but also keep in mind those travelers, you're going to have people that are traveling from all over the country to your property. So if you're a hotel in Florida, you're going to be wanting to highlight those amenities that are outside because there could be people coming from colder parts of the country, snowbirds that are going to be interested in amenities like your pool and the outside, because they're not able to do that where they're from. So let's talk about local stories. That's a, that's another really great piece of content to kind of share for the wintertime.
Aislynn Roberts:
Yeah, absolutely. So local stories are beneficial to incorporate into your content because it gives the idea to travelers of what they have at their fingertips while they're there. Right? So what things can they do? What type of experiences they have, especially travelers of today. They're not so much tied to guest rooms and the properties directly as maybe they were 15, 20 years ago. They want to be out there. So it's really just a bed and a shower for them for, for a lot of travelers today, especially the younger generation. So local stories during winter months could definitely be centered around adventurous things like winter sports, skiing, snowshoeing, sledding, things that a lot of places don't necessarily have access to. And if a traveler's coming from a Southern state, for instance, they really don't have access to that, so it's probably a new experience for them. So highlighting that information. And on the flip side, like you were saying, Ryan, about Florida properties showcasing the outdoors and things that, you know, snowbirds would be interested in, but it could also do a little touch. So there's a lot of beach properties who will build a Sandman to showcase, like during the winter months we don't have snow, but we have sand. You can still have fun with your family while you're on the beach. We can circle back to local eateries that have some really great food, whether they're winter themed food or even in Florida. So in Orlando, for awhile, they had a Christmas themed bar. So that would be something that owner would want to promote during the winter months. You don't have snow here and you don't have cold weather in Florida, but you still get that, that feeling by entering their Christmas themed bar.
Ryan Embree:
Yeah. I love that. A lot of these ideas and types of posts that you're going to hear today, a lot of them overlap, like you talked about for that example of the Christmas themed bar. I mean that mixes in with holidays and local stories. So, you know, obviously highlighting in the winter time, if you're up north, there's going to be a lot more indoor activities that you're going to want to do. People aren't going to want to be outside as much, unless you're doing some sort of winter activity. So maybe promoting some of your business partners that do delivery for food. Also just common places like grocery stores and places where, where they can order in from is really great information for someone that's just not familiar with the area and coming into your hotel during the winter time. So let's wrap up with the room features. How can we post about our hotels room features in the winter?
Aislynn Roberts:
So some things that I've definitely worked with my partners on when planning social media content is, you know, you want to pick the features that make the most sense for travelers who are coming to you during the winter time. So we push more on their king bedrooms and their suites for couples or families traveling for the holidays. Also, if they have a central heating system, that's able to be controlled by the guest directly, that's a huge feature. You know, I've seen quite a number of comments in reviews, or even on social media, where people were upset they couldn't control the temperature in their own room. So in the winter, especially if you're in the region that gets heavy snow, or you have those colder temperatures, that could be really big because then they can choose their comfort level as far as heat or AC. And then on the flip side, again, if we go back to those Southern states, having an AC where they can control the temperature, they might not be used to 90 degree weather or, or 85 degree in the winter.
Aislynn Roberts:
So they might want to make it a little bit cooler. Hot water and showers are also big if they've been out all day and they come back, the quickest way to get warm, jump in that hot water and take a shower and just relax for a little bit. And then for those nights that they want to turn in early cause it's really cold outside. They just want to snuggle in the king bed, highlight your TV. So, you know, you're number of channels that you have, HD, different packages, things that they might have to offer, whether, there's like a streaming like Amazon fire stick. I have some properties who have that available on guestrooms as well. Let them know what you offer in the room, so that way they can enjoy their time after a day outside.
Ryan Embree:
Absolutely. And with room features come room packages as well. Obviously we know Valentine's day is huge in the winter. Could be a great opportunity to capture some business at a higher cost, with packages like chocolate covered strawberries, rose petals, you know, really in this season, we want to focus on comfort and warmth with your posts. So, awesome. I think we've about covered it with the winter. Let's warm things up here going into the spring of 2022. Let's start with holidays.
Aislynn Roberts:
Yeah. Great. So, I mean, you have some major holidays in the spring. First off you have spring break, which is a week long holiday and every state will have a different spring break for like their colleges. So it might be that it goes two or three weeks for you where you're getting travelers back to back, which is really great, right? So you want to think about a spring break, how you're going to promote your property. If you do have packages available, maybe you create a specific spring break package, whether it's you book multiple nights and save. You also have St. Patrick's day. So if you're in the downtown market, usually there's a St Patrick's day pub crawl, some type of festival that you can promote at the same time there, Memorial day. And then if you look at the smaller stuff again, with the first Wednesday in April is National Walking Day. So this is a great opportunity to showcase your town. Whether if you have hiking trails, biking trails, something that your travelers, your guests can just get out and do and celebrate the holiday, but also at the same time, seeing your area.
Ryan Embree:
Yeah, I think the spring and kind of the holidays that you mentioned, Aislynn, is a really, this is a really good point in the podcast to mention just your ideal customer and traveler that comes to the property. Understanding your guest portfolio is huge. If you're near a beach that spring break post might look a little bit different than whether you're downtown. You're getting more families than business travelers, same thing. St. Patrick's day is, is another good example, Memorial day. So when I capture these holidays, but also keep in mind who you're trying to attract to the property and what your, guests portfolio is. Let's go into events for the spring 2022.
Aislynn Roberts:
Yeah. Events are similar to other seasons. Spring definitely kicks off a lot of sports, especially professional sports. And you have spring training for some, but with baseball, hockey, basketball, there's definitely always content that you can put online, especially if you're close to the area where the home team plays and sports fans are some of the most passionate people on social media. So you will get engagement. Sports posts have always been a high engaging posts when I work with my partners on that. Local concerts, go back to festivals. Like we mentioned the St Patrick's day pub crawl. Usually there's some type of summer kickoff for Memorial day and a lot of places, whether it's a barbecue showdown or a cook-off, those are always really great to get on. It's different experiences that kind of highlight you, and will kind of showcase the area, what you have to offer and what sets you apart from maybe a town that's three hours away.
Ryan Embree:
Yeah. Sports are back. I mean, we know the importance of groups, whether it be on any scale, from colleges all the way down to just youth sports. Soccer tournament in the area, baseball. People are getting out from their cooped up winners. They're starting to get outside again. And that's where we can actually take advantage of the next thing. Hotel amenities, Aislynn.
Aislynn Roberts:
Yeah. So spring, your weather is warming up, right? So you want to highlight the things that people have been looking forward to the most, especially those have been stuck in their houses because it's been too cold and maybe they didn't travel in the winter because of that. So pool areas, if you have a courtyard, if you have an on-site restaurant or bar and grill and there's outside dining, so it's not too hot, the weather's usually pretty perfect. You can promote those. Fitness center, of course is still always a good thing to incorporate throughout the year, because there's always going to be people who are interested in that. And then same thing with breakfast. So, you know, I work with some partners who might change their breakfast menu based upon the season. So they might incorporate seasonal items. And if that is part of your menu, definitely highlight that within your breakfast and let travelers know, cause it could be something that they find interesting and want to experience it. And that could be what sets you apart from your competitor.
Ryan Embree:
Yeah, seasonal food, as well as seasonal drinks. If you have a bar or restaurant on property, introducing those seasonal drinks to kick off something like spring, you know, what, what comes to mind for me, obviously, Shamrock shakes that is, is huge, but you know, that really falls under any season. Right now, obviously we got the pumpkin spice craze going on. So these seasonal drinks and foods can really come across any season. Let's talk about local stories. Where do we focus on for the spring?
Aislynn Roberts:
Spring, that's definitely, when I think of spring in social media, I like to incorporate as much outside as possible. So fields of flowers, you know, just being able to see that scenery, I'll look at the beauty of it, hiking trails. If you have an area, maybe you're in a state with mountains and there's waterfalls and easy hiking trails for people to take to see those waterfalls. Those are always going to be really great, especially for like myself. I'm based in Florida. So when I travel, I want to look at those things, especially nature-wise that I don't get to see on a regular basis here. So, you know, just highlighting those areas of your market that will set you apart, especially from people coming from out of state, that's going to draw them to you at the same time, you get to highlight pieces of your property. So if you are near a hiking trail, you can highlight in the post. Maybe it's a photo of the trail, but you can always mention we're a quick drive away, just five minutes or five miles down the road.
Ryan Embree:
Yes. Parks. You're never too far from a park, state or national park. So keep those in mind. Your travelers don't know where those are located. So these are great posts to let people know what to do and give them inspiration to travel to your area. Let's talk about room features for the spring of 2022.
Aislynn Roberts:
Yeah, absolutely. So in contrast to focusing on your king bed rooms for the winter, for those couples that may be traveling for the holidays. When you move into spring, you get more group trips or families, or maybe friends traveling together for spring break. So you want to highlight your larger room, which has the double queen beds, or even your suites for those families to book. So another great thing to highlight is if you have in-room desks for those business travelers who are often, right now, extending their work trip, have to hit up some more of those leisure activities as well. So they can still get the work done. And at the end of the day, they can enjoy those local stories and experiences outside the property as well. Wifi is always a big thing. Those families that may be staying with you, or even the spring breakers, they're always going to be on their phone. So they want that wifi connected, so that way they're not using their data plan. So you definitely want to highlight that, especially if we have free wifi, which most properties do. It can be a huge selling point for travelers.
Ryan Embree:
I cannot stress enough, the importance of posting your rooms on your social media. And I say rooms because we can't just focus on one different room type because you don't have just one type of traveler. I talk with these hotels, I get on their social pages and sometimes I am scrolling months and months before I even see a picture of their room. I feel like sometimes hotels forget on their social strategy, what the foundation of their product that they're providing. There's a reason why rooms is one of the most heavily visited places on a hotel's websites. They want to see where they're going to be staying. So make sure you're highlighting, not just, just like Aislynn said, not just your king beds and one room style, but all types of rooms. That was part one of our two-part series planning your hotel's social calendar for 2022. We just reviewed the winter and spring seasons for your hotel. If you're looking for more information on our social media solutions, visit our website@travelmediagroup.com or you can reach out to us directly. We are going to be launching part two of this series in our next episode of the Suite Spot, where we'll be covering the summer and fall months. Want to thank everyone for listening and joining us today. We'll talk to you next time on the Suite Spot to join our loyalty program. Be sure to subscribe and give us a five-star rating on iTunes. Suite Spot is produced by Travel Media Group with cover art by Bary Gordon. I'm your host, Ryan Embree, and we hope you enjoyed your stay.