88 – Top 5 Sentiment Tags in 2021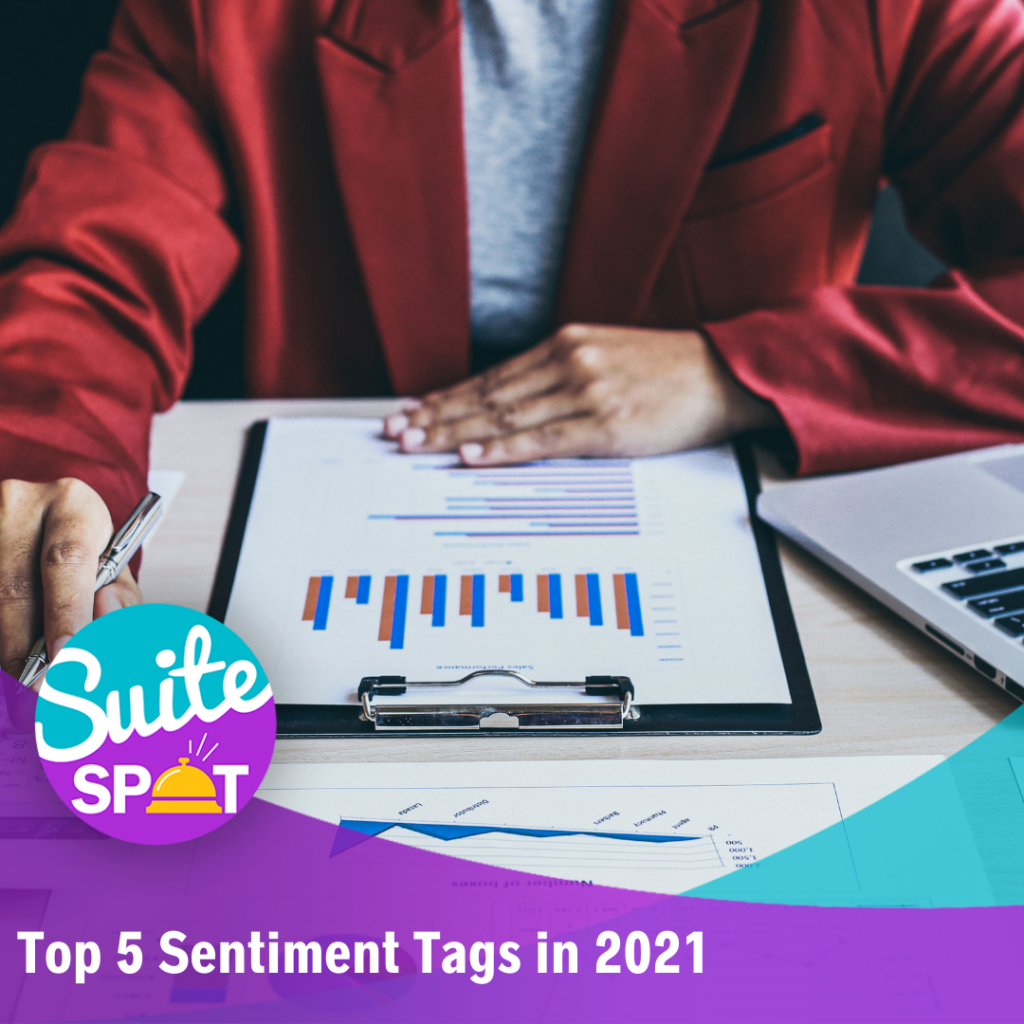 In this episode of the Suite Spot, host Ryan Embree and Product Director Patrick O'Brien discuss the top 5 sentiment tags of 2021. With the end of the year drawing near, now is a great time for hoteliers to look back at the data so they can make informed decisions about their hotels going into the new year. Listen and discover as Ryan and Patrick break down the numbers and provide valuable insights. If you are interested in learning how Travel Media Group's advanced sentiment reporting can help your hotel, call or text 407-984-7455.
Episode Transcript
Our podcast is produced as an audio resource. Transcripts are generated using speech recognition software and human editing and may contain errors. Before republishing quotes, we ask that you reference the audio.
Ryan Embree:
Welcome to Suite Spot, where hoteliers check-in and we check out what's trending in hotel marketing. I'm your host, Ryan Embree.
Ryan Embree:
Hello everyone, and welcome to another episode of the Suite Spot. This is one of my favorite episodes that we do every single year. I believe this is now the third year that we've done this with one of my favorite guests, as well. You've heard him on the Suite Spot before, but we're going to welcome him back today, Patrick O'Brien, our Product Director at Travel Media Group. Patrick, welcome back to the Suite Spot.
Patrick O'Brien:
Thanks so much, Ryan. I'm glad to be here.
Ryan Embree:
So let's talk a little bit about what we're going to be doing today. As you've heard on this podcast, Travel Media Group, we are one of the leaders in reputation management, as well as responding to reviews all over the hospitality industry. And with that comes a lot of data. We are just so focused on helping hotels with their reviews that we read quite a number of them throughout the course of an entire year. We actually go the extra mile and looking at specific sentiment tags. So what we do on this episode is we give you, the listener, a really great idea about over the course of 2021, what are guests talking about? What are the top five tags that guests are mentioning in their reviews? And we go even further and dive into how they're feeling. So to give you an idea of the sheer number of reviews that we're talking about, Patrick, I always love to ask because I just think it's so fascinating and pretty incredible to look over the course of a year. How many reviews is your team responding to just a month?
Patrick O'Brien:
So, yeah, so this year has been really interesting for our team as we have seen review flow pick back up as the year's progressed to be really more in line with 2019. We had our highest month in July and we responded to right around 22,000 reviews that month. And it's, it's stayed pretty steady throughout the year. You know, the first couple of months were a little bit slower, but starting around March, everything really started to pick back up. But to put that in perspective in July of 2019, our hotels in the Respond and Resolve program, averaged 59 reviews for the month and in July of 2021, they averaged 57 reviews. So we are definitely starting to see a return to the pre-pandemic review flow.
Ryan Embree:
You know, it was so interesting as, obviously, the pandemic started to come across the country, to see all these different metrics engages to see how the industry was doing. Obviously, the important ones that hoteliers were looking for was occupancy and ADR and how that was impacting their just overall bottom line. But you also start to see that in review flow. So it's a very, very comforting fact to know that not only are our guests coming back in this recovery, but they're starting to leave more feedback. And we've talked about on this podcast before the importance of feedback and how that can lead to a blueprint and perfecting that guest experience. So part of perfecting that guest experience is to actually not just see the review and star rating of that review, but to really dig in to the sentiment and the tags. So you mentioned 22,000 reviews in July alone. How many total sentiment tags are you and your professional review response team running into in these reviews?
Patrick O'Brien:
Yeah, so it is, you know, we've definitely seen a big uptick, in the total sentiment tags and my product managers and I have spent, you know, several years now working with our analysts, really, to hand tag reviews for sentiment, which allows us to really continually refine and train our AI. And with all of that data and understanding over the years, this year, we were able to launch a major upgrade to our sentiment analysis system, which has allowed us to dive even deeper into guest sentiment and provide our hotel partners with a lot more data. But it's also allowed us to extend our analysis to a larger market. So I believe last year when we were having this discussion we had analyzed around 260,000 reviews. This year, we were able to take the same analysis, but we're looking at around 3 million reviews. So really gives a much clearer picture of what the guest experience is in 2021.
Ryan Embree:
Wow. That's just absolutely incredible. Again, 3 million reviews that we're going to be taking a look at. And in this top five, that we're about to review, we're going to talk through a couple things. First, obviously, that what that tag is, but how your review response team approaches a response when that tag is mentioned. Maybe why that tag is so popular. There could be some obvious things like cleanliness, obviously, last year was huge and maybe some not so obvious things that we've run across in the past. And then secondly, what you can do as a hotelier listening to this, what can you do from an operation standpoint, if you're seeing this tag continually start to kind of bubble up in these reviews, what you can do to either positively impact it, or if it's on the negative side, to fix it. So I feel like we've set it up great. Let's go ahead and get rolling, Patrick, with tag number one.
Patrick O'Brien:
Sure. So the highest tag that we saw this year and kind of in looking at sort of the higher level tags was room. And, you know, last year we saw that tag kind of start as our 10th most popular tag. And then as the year progressed, it moved up to our third. This year, it was our most mentioned tag appearing in over 880,000 reviews. Overall, the sentiment was positive, but when it was sitting right around 61.3% positive. We've found that users on Booking, Expedia, Google are hovering right around 56 to 57% positive when speaking about their rooms. However, the sentiment is significantly more positive with TripAdvisor users at 73%. Again, I think you find this area of the stay being so important to travelers because we are still seeing, although we're in 2021, we're still seeing that a large part of the hotel experience this year continues to be more confined to the room
Patrick O'Brien:
versus engaging in the hotel's amenity offerings. There are still, you know, many hotels where the amenities have been modified or they may be completely paused. And one of the biggest complaints with rooms that we see in regards to this area is, is cleanliness of the room. And two common themes with cleanliness that we're seeing really center around guests not understanding or being informed about potential COVID related daily housekeeping changes, where they may not be servicing, stay over guests rooms every day. The other issue is guests arriving to rooms that haven't been properly turned-over prior to their arrival. And this sounds like something that wouldn't happen, but we're seeing this complaint specifically increase as a result of current staffing issues. For my team, when we come across these issues, we try to use these complaints as an opportunity to set the expectation for future guests on new cleaning policies. So we'll work with the hotel, really to fully understand their existing policies, and to get notified when those policies may change. Again, one thing that COVID has taught us is that the day-to-day experience is changing every day. So we really try and stay on top of that with all of our hotel partners. And this way, though, we can use the review response, again, to help people understand what to expect and properly set those expectations. And by doing this, you know, we should be able to help improve future review ratings.
Ryan Embree:
Yeah, it's going to be a learning curve for some of these, these travelers that maybe haven't gotten out of the house and into a hotel room. In, you know, we're talking for some months, others for maybe over a year. So they're going to be looking at your hotel room with a different eye. And if you have new protocols in place, you better make sure that they understand them. Because if you don't, you're going to hear about it on your reviews, which I think is a testament to why this tag is number one. And seeing a review where a room hasn't been properly turned over back pre pandemic, I think that's more of a smaller mistake and might not make its way onto a review site, but post pandemic with the stress and importance of cleanliness right now, you better believe that that's going to be mentioned by your guests and not in a positive light. It could be a major detractor in their hotel experience. So what can we do, Patrick, from a hotel operation standpoint, when we see this tag either mentioned positively or negatively?
Patrick O'Brien:
Again, this, this tag is, is kind of a broad tag. And so there could be a lot of things that make this up, cleanliness being one, the room amenities, maybe another issue with that kind of fall under this tag, but it's really about listening and paying attention to the specific areas of concerns that the guests mention in the reviews and, and hopefully a program like ours, where we're providing you that data in insights, so you can break that down real quickly. But in regards to cleanliness concerns, you know, I would make sure that your front desk is really skilled and prepared at discussing this during check-in. So, you know, if a guest is going to be saying for four days, and during that four day period, you may only be doing a full service one time, let them know in advance so they can be prepared for that.
Patrick O'Brien:
And then let them know what procedures they may need to do to contact the front desk if they need something outside of that. But, you know, if you're having trouble hiring or retaining housekeeping staff, maybe you need to look at creating bonus incentives around positive reviews. As things continue to open up, the room may decrease slightly in prevalence in terms of how often it's mentioned in reviews, but it is still really one of the foundations to the services that you offer and you need to ensure that you're paying a lot of attention to the data available so that you can be proactive versus reactive to emerging trends in your guest experience.
Ryan Embree:
Yeah, I agree. And really creative idea there with the bonus incentive. I think we've heard that in the past with the front desk, obviously, but transitioning that to a housekeeping bonus as well is a very creative way to potentially gain and retain staff. So, which I think is a nice transition into tag number two. So what is tag number two top sentiment tag for 2021?
Patrick O'Brien:
That actually, again, that revolves around the staff at the hotel. And so for 2021, the hotel staff is still an active part of your online reputation, appearing in over 588,000 reviews that we sampled. And overall, the sentiment here was about 80.5% positive. TripAdvisor's still trended more positive at 87% and Google, Hotels.com, and Expedia were around 80%, and Booking.com skewed a little bit more negative in regards to staff. So this one surprised me a little bit on how positive it was. Cause I think that you tend to focus heavily on guests' negative experiences with your staff and those comments always seem to carry more weight. However, I think most people are really, once again, excited about traveling and they're happy to have people working with them. It is also a departure from what we saw last year, which was really those combative scenes where you had front desk staff being asked to enforce safety guidelines that guests may not like, and they were lashing out at them,
Patrick O'Brien:
so there was this really kind of contentious relationship between guests and the staff and why we see people talking positively about how hard team members are working. Also see people talking negatively about underemployed hotels. And we usually see this in terms of, you know, there weren't enough employees to service, or we couldn't find people around when we were walking around the hotel. They also, then will kind of frame this because those overworked employees in, in understaffed hotels can tend to be maybe a little less friendly, a little more rude. So, obviously, when it's a positive experience, responding is easy, and, you know, we typically try to reinforce the message that the hotel's team is working hard and use it as an opportunity to highlight the staff. And that's not only good for potential guests coming, but it's also really good for your staff.
Patrick O'Brien:
When it's negative, we continue to approach these reviews with care, and we take the opportunity to identify the lapse in service and apologize for not meeting the guest's expectations. But with crafting a negative review response, while we will apologize, it is necessary and important to reframe the image of your team and let guests know that they are working hard to deliver a safe and comfortable experience for every guest. So there really is a balance there, but it's always important to make sure that, you know, you're identifying these lapses in guest-staff interaction, but also making sure that you stand behind your staff and you lift them up and let people know that they really are working double time to make sure that every guest has a great experience at your property.
Ryan Embree:
Yeah. I was interested to hear about this tag in comparison to 2020, because obviously the staffing shortages that is, that is just so apparent in our industry right now. We had to furlough a lot of our employees in 2020 and with less occupancy meant more time for the staff to actually try to make those that were traveling, their stay really, really memorable. So now we've got those factors reverse, where there's more people coming in, but less staff. So I'm surprised to see that that percentage of, of positive reviews, but not surprised because it really goes back to the root of this industry, people serving people. So I think you're right, guests are just excited to interact with hotel staff again and, and be traveling. It's sometimes very difficult to be grumpy or mad on vacation, especially if you've been cooped up in a house for, for over a year. So what, what can we do from an operation standpoint? I know you mentioned it about the approach of a response, but is there anything we can really do from an operation standpoint when we're seeing staff tags in our reviews?
Patrick O'Brien:
Sure. I mean, and again, and you mentioned, you know, how a lot of hotel staff had been furloughed. Some of them are coming back. Sometimes you may have completely new staff and you're retraining people. One of the hardest things for a hotel operator to manage is employee turnover, because not only does turnover cause discontent among current employees, it also creates variation in service, which can ultimately be detrimental to your business. So as mentioned earlier, you can look at bonus programs, maybe you don't have the budget to increase salaries, and that doesn't make sense for your business, but you can look at bonusing employees based on what is going to help with positive interactions with the guests. And ultimately you should make that money back in more room nights, better reviews, hopefully a higher ADR. But you can also look at highlighting your best employees on social media.
Patrick O'Brien:
This goes a long way cause this, this goes to help increase their satisfaction with working for your hotel, but it also helps your future guests and your potential guests create that relationship in advance of arriving at your hotel. You can also create alerts for negative reviews and place a priority on investigating all employee complaints, you know, to sort out the credible issues. You know, sometimes it's just a guest is upset about that they think that maybe they were paying too much. And so they're just immediately going to go to "the front desk staff was rude" and maybe that's not really what happened, but investigate those complaints, sort out the credible issues and then really work on training and empowering your staff in those situations. You know, was it a negative experience because the guest was trying to get something or trying to have a need met and your staff just wasn't able to do that. How can you train them to better handle those situations and empower them to be able to handle those situations on the spot versus, you know, maybe having to follow up with you or, or, you know, contact a manager, but really be able to take care of the guest experience right at that moment. And that will help ultimately increase and make those staff experiences better for both your staff and the guest.
Ryan Embree:
Yeah, such as critical touch point for your guests is interaction with staff. So really can't put enough time investment ,and obviously hoteliers now having to do a little bit more capital investment to try to find the right people to provide the level of experience that they're looking for for their property. So let's move on to tag number three.
Patrick O'Brien:
Yeah. Tag number three this year in the sample was cleanliness. And again, this kind of covers multiple aspects of the hotel experience and of your property. So it can be related to the room. It could be related just to the facility in general, but it's, it's really no surprise that it is still a top contender for 2021. It was mentioned in approximately 445,000 of our review sample. The good news is that once again, the sentiment is mostly positive, scoring overall at about 83.5%. TripAdvisor and Google are skewing higher around 86% positive and Booking, again, is slightly lower at 77%. In responding to cleanliness issues, although pandemic fears have lessened a bit, it is still just as important because it will continue to prevent people from staying with you. In addition, we find that many guests with negative experiences in cleanliness will automatically go to link it to COVID concerns.
Patrick O'Brien:
You know, they'll say like, this hotel was disgusting and they had, you know, X, Y, Z issues. And I can't believe that the hotel would allow guests to stay here during COVID and have these issues. And so you really don't want to have your hotel being linked to cleanliness and COVID concerns. And you know, you really don't want to rank high in Google searches for hotels and COVID. So we try to veer away from associating any cleanliness procedures to COVID. However, we still mentioned these procedures to reinforce the hotel's commitment to cleanliness, because there may have been some changes to room access and cleaning frequency. We also can use the response to reinforce those policies and link them to the safety and comfort of the guests. This really helps to reframe the conversation towards safety versus what some guests may feel is really just a way for the hotel to save money. Again, this type of response also goes a long way in helping to set those expectations for future guests prior to arrival.
Ryan Embree:
Yeah, no surprise here that cleanliness is in the top three. I think this tag is going to stay here for quite a number of years, and really COVID-19 has set a new level of priority and expectation for the guests when it comes to cleanliness. It's not only a red flag anymore like it was in the past. It is a, a complete stop sign. If there is any question of your rooms not being clean, you're absolutely right, Patrick. It is not a, well, maybe this won't happen to me. It's now your, your mind goes to, this could be endangering to my health and safety. I'm not going to be staying here and there's no price or discount or voucher that's going to fix that. So cleanliness, such a high priority right now. I've said it before. I think this is the new bedbugs in reviews. When you hear even words like dirty, not clean, anything like that, it's almost as devastating as it was pre-COVID to see that bedbugs on your review. So what can you do from an operation standpoint if this keeps coming up, either in a positive or a negative light?
Patrick O'Brien:
Well, I mean, and again, cleanliness is when, when you're looking at how to effectively run your business, cleanliness can become critically expensive for you not only in lost revenue, but we see a lot of times where guests will, you know, and as I talked about rooms, not being properly turned-over before a guest arrives. We're seeing in a lot of reviews where people will say, like I checked into my room, it was dirty and then I had to go back down and talk to the front desk. I got checked into a second room or a third room. And so there are costs associated to having those guests kind of walk in and enter and potentially stay for a few minutes in multiple rooms on your property. This tag is so critical to dive into and use it as a chance to reinforce your hotel's cleaning and procedures, and use the feedback to determine if there's opportunities for improvement.
Patrick O'Brien:
You know, when the pandemic started, we went to sort of these blanket cleaning policies and you know, maybe now it's an opportunity to revisit those and see what is working for your guests and maybe what's not. And can you adapt to policies and procedures that are more in line with your guests' expectations, but ultimately it really is work hard to excel in this area. I love the idea that a hotel can find and can perfect their cleaning procedures to the point that it's almost unnoticeable. So that, especially now, when, if you're walking around the hotel, you're not even thinking about like, wow, this hotel is really clean or this hotel is not clean. It just becomes something that you don't notice until you notice that it's not right. But if you can get to that point where cleanliness isn't even something that the guest has to think about, I think that you will see overall every aspect of the experience increase and be better. I think that if you set that expectation again, it's just going to improve all other aspects of the guest experience. And I think a little bit of an investment in this area and a bit of focus in this area is going to allow you to be able to charge premium rates for your room and ultimately be more profitable and just in run a more effective hotel.
Ryan Embree:
Yeah it will certainly pay dividends, any sort of investment, both time and capital when it comes to ensuring cleanliness at your property. That's for sure. So let's move on to tag number four.
Patrick O'Brien:
Yeah. Tag number four this year was breakfast and we saw this in approximately 12 -13% of our reviews. Right about 380,000 reviews that we looked at. Overall, it was once again positive. It was about a 76.1% positivity rate. We saw almost a 10% variance on Booking.com, which leads me to believe that hotels aren't necessarily updating or highlighting their information as actively on that platform because their guests tend to score lower in sentiment. This presents, you know, possibly an opportunity for hotels who may take more of an active role in their Booking.com listing. They may have potential to set better guest expectations, thus increasing their Booking.com ratings and then ultimately sharing more reservations from that site. But most of the negative reviews for breakfast right now really are still centered around the changes in the breakfast options and the guests not understanding those changes either during the booking process or at check-in.
Patrick O'Brien:
However, we are seeing the impact of this change taper over time, as some hotels have started reinstating their breakfast options. Right now, my team is still really working closely with the hotel to understand what their current breakfast options are and what's going on at the location. And again, we really use this as an opportunity to use the responses, set those expectations for future guests. And if there is a plan to start updating the breakfast option in the near future, you know, if they say, "Hey, starting in January of 2022, this is what breakfast is going to be like." We can kind of use these responses now to almost run like a soft promotion for that new breakfast option in the review response.
Ryan Embree:
Breakfast is interesting because I think when you look at these other tags, just let's say cleanliness, for example, that is a standard across the industry that every single hotel is trying to meet. And the expectation from the guest is the same. I expect my hotel room to be clean. Breakfast is really all over the spectrum right now. There are still hotels out there that are providing grab-and-go and have fully switched to that. And then you have hotels that are back to pre pandemic breakfast initiatives with breakfast buffets. So the spectrum of expectations are wildly all over the place. So if a guest is traveling to one part of the country and then another, that, that breakfast that they are encountering could be two different things. So what you're talking about, Patrick, of setting the right expectations at the booking and on-site, on-property is absolutely critical.
Ryan Embree:
So I, I, it's not a surprise to me that this tag is here. I think a lot of people are talking about breakfast because they're encountering it in different ways. And some people are loving the fact that it's still grab-and-go. Others expect that and want that warm, hot breakfast in front of them every single morning. So very, very interesting tag here. I definitely want to watch this as we go into 2022 to see if that standard starts to normalize across the industry, but what can we do from a hotel operations standpoint when breakfast is mentioned in our reviews?
Patrick O'Brien:
Yeah. And just, just as you mentioned that it does vary so vastly, I mean, it can vary even within a brand, but from hotel to hotel, it varies. You've got hotels that don't have any breakfast options. You've got hotels that have the grab-and-go, and then you've got hotels that are like, "Hey, we're, we're fully open in a kind of buffet style." So once again, it really comes down to making sure that your hotel is actively keeping up with your amenity information on your site. And as you mentioned, because it does vary so much, this is one of those amenities that probably isn't being done justice by just saying "offers complimentary breakfast." Really take a moment to describe what that breakfast is. And you need to make sure that all of that information is up to date on your site and on the OTAs.
Patrick O'Brien:
And if you don't have an easy way to manage those listings in bulk, and time is an issue, I would really suggest identifying and placing in order of the outlets that you're getting the most bookings from. Then look at your review scores in terms of the breakfast amenity, or really any amenity, I guess, but, and starting with the worst ones and then honing in and redefining how you highlight that amenity on that site. And then, and then moving on kind of in that order. But in addition, why you really don't want to make your breakfast sound like something more than it is. I always suggest taking a moment to think about why your current offering is a great value to the guests and framing it in that light on your website and partner websites. For example, you know, you mentioned some hotels are still going with a grab-and-go breakfast and they may have found now that that works even better for them, and that's going to be what they're doing for the foreseeable future.
Patrick O'Brien:
So some guests kind of think that this is just a way for the hotel to save costs, but if you framed that, as we realize that our guests not only value their time, but they also value and great start to their morning, that's why we've made it easy to get a balanced start to your day, you know, quick, easy grab-and-go option that allows you to enjoy breakfast on your own terms. That makes the guests feel good about that experience. And if your hotel simply isn't doing breakfast, isn't offering breakfast, then use the opportunity to highlight some, maybe really unique nearby breakfast options. And that can go again to enhancing the experience at the hotel. So this really is one of those important amenities to really take a little bit of extra time and focus on and look at how you are highlighting that over all of your marketing platforms.
Ryan Embree:
Yeah, it's, it's really been the only amenity over the past two years that has stayed on this list, on this top five list. And I'll remind everyone on this podcast, too, you know, a lot of these tags have a lot of overlap to them, even though it might not be the most obvious. Breakfast right now could be changed not only due to the pandemic, but because of staff shortages. So if you don't have enough breakfast staff to start cleaning tables, and now all of a sudden cleanliness is coming into play, staff is coming into play, and that's impacting your breakfast scores as well. So a lot of these have strong correlations to one another, but it's about digging into that sentiment, digging into that data and actually finding where those correlations, those parallels are. So, let's transition to the fifth and final top tag of 2021.
Patrick O'Brien:
Yeah. So the fifth tag that we found here was location. And this one to me is really interesting because there's really not a whole lot that a hotel can do to impact their location. You can't just pick up your hotel and move it somewhere else. And hopefully before you took over the hotel or you built the hotel, you did really take time to understand and investigate the location. But I think seeing this now in 2021 being a prevailing sentiment tag, because location has been a key component on where and when people can travel. In our sample, we had, you know, just under 280,000 mentions of location, most of them were positive, again, sitting right at about that 80% level. TripAdvisor ranking was again, still more favorably, and Google and Booking were a little below the average and Google may be skewing different here because so much of their platform and review collection is location-based, not only because they're ingrained on, on your phone and when you're walking around a hotel, they may pop up a notification to you and just say like, "Hey, are you staying at this hotel?
Patrick O'Brien:
Let us know about your experience." And so they're collecting a lot of reviews just based on the location. So that's why you may see this one trending a little bit differently on Google. When addressing location concerns, again, there's not much a hotel can do to physically change their location. So it really is about addressing any concerns or highlighting some of the many things that the location of the hotel is convenient for. Many times when this aspect is negative, it probably really falls on the guest. They should have done their research when booking the hotel. But if you are noticing higher than normal negative sentiment from a specific outlet, again, it may be helpful to review your listing on that outlet and try to figure out really what is confusing the guest to think that you are located somewhere that you're not. For example, we've had some hotels just right, right around our office here,
Patrick O'Brien:
and they list themselves as airport hotels. In reality, they're still 35 to 40 minutes away from the airport. So really depending on what the guests' expectation of an airport hotel is, that could be an issue that they face and they may need to revisit that strategy. Then instead of saying, we're an airport hotel, it's like easy access to the airport. When location is positive, really in the review response, again, it's just, it's about highlighting what they liked, you know, was it convenient because they were close to a beach and it offered this, or was there this great activities to do around the hotel? You know, see a lot of people who are traveling and having to stay in hotels for medical needs. So it's close to a hospital and, you know, maybe they've got a loved one that's in the hospital, and this really provided the convenience for them to, to be able to manage that situation.
Patrick O'Brien:
And so, you know, taking a moment to sympathize with the reason that that kind of guest is staying at your hotel, but also take that time to reinforce that, you know, the hotel and the hotel staff, as you mentioned, kind of the overlap there really go that extra step and making sure that the stay is not something that that type of guests actually has to worry about and they can concentrate on really what's important. So, you know, there's a lot of nuances to location, but it's a different one because there's not much you can do to physically change that. But it is a very important one to really dive into, again, as all these tags are, but to dive into and understand why it is a critical component of the guest experience at your property.
Ryan Embree:
This is a great time to really reevaluate your location and what's around you. I think pre-pandemic things like parks, hiking trails, you know, really outdoor activities, they may have been a little bit of a draw, but over the past couple of years, more and more people are seeing that as a destination. So another thing is not only the restaurants in your area, but what restaurants are providing takeout, which ones will deliver directly to your hotel? This was not something that guests were maybe interested in in 2019, but now with the way people are traveling and post-pandemic, this could be extremely important to them. So you're right. I think, obviously, you do not want to mislead anyone in any sort of way. So it's a great time to also just see that's a big risk if you're putting yourself as an airport hotel, 30 minutes away, but some of the things that you might not have felt were that important could be a huge benefit to your hotel now, just with the new age traveler and what they're looking for. So very, very interesting tag. A lot of these, we might not have been able to predict last year, what this list looked like. In 2022, when we do this again in a year, Patrick, we probably might have some different tags on here. So it'll be interesting to see, but I absolutely loved going through this list. Always want to give our guests an opportunity, any just final thoughts about these tags and what you and your review response team are seeing?
Patrick O'Brien:
Yeah, again, I mean, I think that in this list, these are really the high level tags and there's so much nuance and intricacy to each of these. We're obviously kind of painting a broad stroke with these, but there really is as any type of business owner, you don't know what you don't know. And the more data that you can have, the more efficient you can, can run your business. And I think the thing to me that has always been so intriguing and exciting about review response and in handling reviews is there is no better indicator of the current success and the potential success of your business, then what your customers are saying and what they're willing to tell other people. And I think that it really is a missed opportunity when you're not only engaged in that process and kind of engage in that discussion with, with your customers and your guests.
Patrick O'Brien:
But also when you're really taking a moment to dive deep into all of the information and insights that those conversations and those reviews really are providing your business. And it really should be, if it's not, it really does need to be, you know, at the forefront of your playbook in how you're running your business and guiding what decisions you make as a business. So again, these are kind of scratching the surface, but within each of these tags and aspects, there's hundreds of tags that kind of fall underneath those. And so again, we help to provide sort of numbers and analytics around that to help you quickly decipher what's important within that. And maybe what's just a little bit more noise, but whatever you're doing with your business, I think you definitely need to be paying attention to your online reviews and using it as an opportunity to engage with your guests and your customers and using it as an opportunity to really guide your strategy today, in the next year, in the next five years. So I always enjoy this product in particular and kind of diving deep into the numbers here. So I appreciate the time today.
Ryan Embree:
Yeah, absolutely. And great advice, Patrick, you know, and with our Advanced Sentiment Reporting that we've upgraded for our Reputation partners and Review Response partners, our hotels have more transparency than ever to get as granular as they want, which are going to uncover that blueprint that we've been talking about today. So if you're already partnering with review response, this advanced sentiment is not only available for your hotel, but your competitors as well. And if you're not partnering with us yet, reach out to us. We'd love to have a conversation. We can show you your sentiment reporting, what people are saying, and get a good look at your top five and see where there might be some opportunity there to perfect that guest experience. That's why we do what we do to help our hotel partners. So if you're interested in learning more about that, getting with Patrick and his team of professional review response writers to show some of those insights, reach out to us, travelmediagroup.com, and you can find more on all the information that we have. Patrick. I want to thank you again for coming on. Love, love the episode today. Thanks for coming on the Suite Spot.
Patrick O'Brien:
Thank you so much for having me.
Ryan Embree:
And thank you all for listening, and we will talk to you next time on the Suite Spot.
Ryan Embree:
To join our loyalty program, be sure to subscribe and give us a 5-star rating on iTunes. Suite Spot is produced by Travel Media Group, with cover art by Bary Gordon. I'm your host, Ryan Embree, and we hope you enjoyed your stay.
Hotel Marketing Resources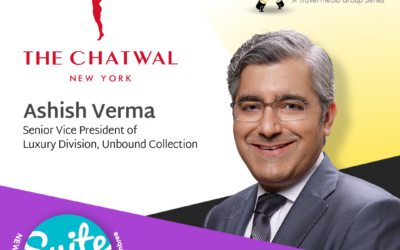 Join Suite Spot host and TMG Director of Marketing, Ryan Embree as he talks with the Senior Vice President, Luxury Division, The Unbound Collection by Hyatt, Ashish Verma in our new TMG Spotlight series to give listeners a lavish perspective on hospitality and how the...