89 – 12 Days of Social Tips for Hotels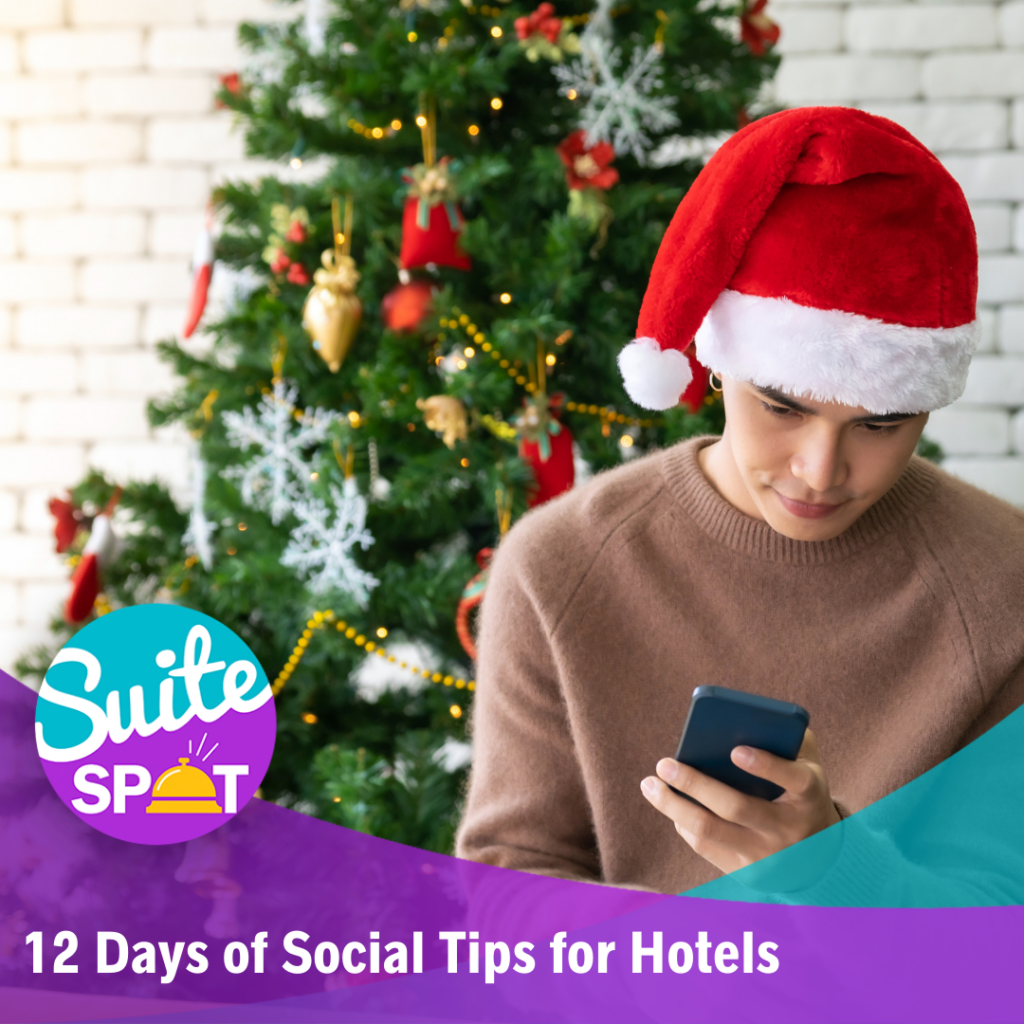 In this episode, host Ryan Embree takes a look at the types of compelling posts that you can create around the winter season in order to engage travelers who are traveling for the holidays. These valuable tips can help grow your hotel's social media account and secure more bookings. If you're interested in learning how Travel Media Group can help your hotel's social media, click here: https://www.travelmediagroup.com/services/social-media/
Episode Transcript
Our podcast is produced as an audio resource. Transcripts are generated using speech recognition software and human editing and may contain errors. Before republishing quotes, we ask that you reference the audio.
Ryan Embree:
Welcome to Suite Spot, where hoteliers check-in and we check out what's trending in hotel marketing. I'm your host, Ryan Embree.
Ryan Embree:
Hello, everyone. Welcome to another episode of the Suite Spot. This is your host, Ryan Embree. Thank you for joining and listening wherever you are out there. We've got a really fun episode for you. I love this time of year. It is dubbed the most wonderful time of the year. For some hotels, this is actually where occupancy picks up a little bit. Obviously, winter is not our favorite season. That's when that occupancy slows down, but around the holidays, you might be seeing a spike in occupancy and people traveling now, especially in comparison to last year, more and more people getting out there. So what we thought we'd do today, I'm sure a lot of people, if not everyone, has heard of the 12 days of Christmas, well, this episode, we're going to be talking about the 12 ways to engage travelers on social media. So that was kind of the idea behind this.
Ryan Embree:
We're going to give our listeners some social tips and ideas for this holiday season, and maybe some ways to kind of spice up your social media feed for your hotel, and hopefully get some new travelers to follow you during this time. It's such a great time for hotels, especially to market and advertise themselves on social media. I tell hotels this all the time: it only takes that one second for someone to follow your page in order to really connect with them in perpetuity. So if you can just put one post together, that's engaging, that they like, maybe even one of these ideas that we talked through today, when they click that follow button, every single time you post, whether it's in the winter, the summer, the weekday, the weekend, they are going to be seeing that content. So it's just so important to be creative, but also consistent because that's when you'll lose followers as well. If you have too little consistency and they don't find your page interesting anymore.
Ryan Embree:
So let's jump into it. We've got 12 to cover today. So the first one is really about posting about local community holiday events. Now, last year, we might've not been able to post about these events. They've been postponed. We had a spike in COVID cases around this time, but a lot of the time, what we're seeing is these community holiday events are coming back. So tree lighting ceremonies, ice skating rinks, local Christmas light hotspots. So even if you are in a place where the restrictions might be a little tighter, you know there's always those houses in the local area that really go big for this holiday season. So trying to figure where those are and sharing it on your social media. One of the things I would suggest, we've talked about it a couple of times on this podcast, is maybe going back a couple of years and looking at some of the events that you posted in the past. 2020 might not be the best base for you because, again, a lot of these events were canceled.
Ryan Embree:
So going back and figuring out which ones are returning and making a big deal of it. This could be the way that a traveler or follower finds out information about this, this type of event is via your social feed. If you bring them that value, that's where you earn a follow, a like, a share, reposts, all that good stuff. What we love to see, that social engagement, which is at the core of our social media strategy. So number two, share an event your hotel recently hosted, or is going to host. So I've seen a lot of creative ideas. What we talk about in the summer about doing our dive in movies during the summer, I think the same can be said during the winter time and hosting a movie night, whether it's the Grinch or the Polar Express, Elf, one of those classic movies out there. It doesn't have to be in a movie, necessarily. If you're a more upscale property and don't have a lot of leisure or family travelers, providing hot cocoa or fresh baked cookies for the holiday season, this is this type of stuff that goes a long way.
Ryan Embree:
Posting on your social media is great, but you could also see that in your online public reviews, if that really makes somebody stay. If you are looking more towards the family friendly stuff, there's a lot more events outside of a movie, gingerbread house-making. Sharing events at your hotel, you really could use different platforms for different reasons, right? So on LinkedIn, for example, we've talked about and stress the importance of having a presence on LinkedIn. There could be a lot of businesses, local businesses, that are looking for places to do their office holiday party. Why not do a LinkedIn live or promote some of the space that you have at the hotel to potentially have, have their office party there? Weddings, obviously a winter wedding is going to look different from a summer wedding. So if you see a lot of wedding business, again, maybe targeting wedding planners on LinkedIn and doing some sort of LinkedIn live or forum and chat so you can talk through that.
Ryan Embree:
So a lot of big decision-makers on LinkedIn, you're going to want to make sure that you tailor that content to reach and obviously capture them, hopefully. So tip number three, share a video of your lobby or somewhere else on property that you've really decorated for the holiday season. Hoteliers spend so much time and investment decorating, sometimes their lobby or the outside of their hotel. There's only a finite time that you're going to be able to capture those pictures, make sure that you're doing that and posting them to social media. We've seen a lot of creative ideas with obviously the Elf on the Shelf and doing something like that at the hotel to get people involved, kind of a series to keep people coming back. Also seasonal countdowns, very, very popular right now, as we count down to the new year, or we count down to the holiday, these are really, really popular and get a lot of engagement and spark a lot of excitement as well on your social feed. Shout out to a local business or restaurant.
Ryan Embree:
So this is a great social media tip for any time of the year. If you have a particular restaurant nearby or even on-site that is doing some sort of seasonal drink or a holiday menu, make sure that you're promoting that in your social feed. Another great idea is potentially partnering with that business and doing some sort of holiday package. When they stay, they get a gift card or discount at these local restaurants or businesses or attractions. So another really great opportunity to, to create awareness on your social feed. Number five: travel tips during the holiday season. So we might have some unique opportunities to share some travel tips that we haven't in other times of the year, for example, how to pack presents if they're traveling over the holiday, the best way to do that. This is the type of content that gets shared a lot and maybe tagged to other users on Facebook or Instagram or some of these other places, because they're just trying to get this useful information in front of somebody else's eyes, which presents an opportunity to gain followers there.
Ryan Embree:
Another idea for travel tips is potentially sharing what to pack to prepare for the weather in your area. Obviously, someone from Florida, that's where our headquarters are at Travel Media Group in Orlando, going up to the Northeast is going to need kind of a guide on, on, you know, what to expect, what to bring, how cold is it going to actually be? And vice versa, people coming from up north, give them an idea of what the winter might feel like down here and what people are typically packing. So moving on to tip number six, this is a great opportunity to learn about your audience with questions. So asking about travel plans, if they're traveling air or by car, where are you traveling from? These types of questions on the surface are low impact, but they give you a lot of insights and analytics into your following.
Ryan Embree:
If you're noticing that a lot of people are traveling from a specific area to you, you can start doing social ad spend and target those people in other times of the year. So these questions again, very low impact, but they could give you some really good insights there. So moving on to seven, along the same line of asking questions, potentially putting a fun holiday poll or trivia up, having some facts about your area and what goes on in the holiday season. This is the type of stuff that gets people interested. It creates inspiration for travel, but just also fun things on favorite holiday movies, songs. Again, if you're seeing some really high engagement on these polls around a particular movie, that could be a great transition to what our second tip was and hosting a event at the hotel and using that movie moving forward.
Ryan Embree:
So we're always trying to dig for information and even those surface level questions, polls, and trivia, any type of engagement there can really tell you and give you clues moving forward for a successful social strategy. Moving on to number eight, share photos of your winter friendly features and amenities. So if you have fireplaces, obviously a great place to start, some hotels might not, but they have a heated pool. It seems we get a lot of engagement on our social partners posts. People seem to be interested in kind of what the opposite is going on right now. So when we're in the thick of summer, and we're talking about Christmas in July, those posts, they really stand out because in a feed full you're trying to figure out a way to grab a traveler's attention. So if you're talking about your pool and cooling off in the winter time, that might actually spark some engagement and some interest, especially if it's a heated pool and talking about that. And then obviously seasonal drinks, hot coffee, hot cocoa, all that good stuff.
Ryan Embree:
If you have that for your guests, great way to share on social media. Tip number nine, and this is really specific, I think, to where we are in the industry. Record a video interviewing staff, maybe asking them some of the questions you're putting on your social media: favorite traditions for the holiday season, favorite part of the holiday season. This is going to be two-fold. It, one, humanizes your business. It gives your business a personality, and, two, it's going to give recognition and spotlight to your employees. This is huge right now. We are trying to figure out how to get people back working in the hospitality industry. So being able to show this on your social media, when potential candidates are researching your property goes a long way because a lot of hotels might not be doing that. The hotel industry is so unique because it is a 365, 24/7, you're going to be open during the holidays.
Ryan Embree:
So you can't necessarily do holiday parties like other businesses can. So this sort of recognition and spotlight really goes a long way in the, in the eyes of your employees. And then just also kind of building on that idea of giving your business a personality, talk about your hotel's year in review. As we go towards the end of this year, there's just that bit of finality that people are looking for. So putting together a year in review, if maybe if you've done a renovation that was completed or did some updates to the hotel, this is a great time to remind people and make a social post about it, could get a lot of engagement and remind people what makes your hotel special and unique. Moving on to tip number 10, we can encourage followers to share pics of their holiday setup using a hashtag, a unique hashtag.
Ryan Embree:
Obviously that could turn into some sort of contest. For hotels and social media, sometimes it is very difficult to think about a new piece of content to post four times, five times a week. So this tip here gives a great example of how you can let your guests provide you with the content and content that everyone's going to like. If I post a picture of my pet dressed in a holiday outfit, for example, and we have some sort of hotel competition, you can bet that not only am I going to like that photo, if this gets posted by the hotel, but my wife, my family, extended family, friends, everyone that sees that. So it's a really great opportunity to create some awareness there and really get your travelers engaged in the content. And also just get some more ideas out there. Number 11, as the new year approaches, we talk about the holidays, but we know the new year's right around the corner as well.
Ryan Embree:
As the new year approaches, you can share engagement posts, asking followers what their resolutions are. Typically a lot of resolutions have to do with staying fit. So, obviously, a really good transition for that for the hotel industry is talking about fitness rooms. And if you have any potential classes that you're going to be doing moving forward, this is the type of stuff that gets people excited and engaged in your posts. And finally, number 12. And I think this is a really great tip for everyone listening out here is feature any fundraiser or charity events you may be participating in and promote those that might be going on in the area. So around this time of year, we always have coat drives, Toys for Tots, holiday bake sale that you could do at the hotel to potentially give to charity. This is a season for giving and we talk about giving your hotel a personality, humanizing it. I think just in general, over the past couple of years what this industry has been through, these are the type of posts that we see that get the most engagement.
Ryan Embree:
It's just very humanizing and followers and users really engage with it. So it's all about connection and showing gratitude. I would encourage you also to just put a gratitude post out there, thanking your guests that traveled with you and your future guests that will be staying with you. That's going to create a connection. That's going to give a personality. Like we've talked about a theme throughout this, but this is just such a wonderful time of year. I thought this was a really fun episode to do, especially for not only our hotel partners that we partner with their social media strategy, but for everyone out there that are looking for some ideas. This type of season might be a little bit lower in occupancy, but it's a great way to get a big following so that when you do start to speed up in the spring and summer, and when you start to see more and more people come through those lobby doors, now, all of a sudden you've got a social following to do some promotion, some call to action posts out there.
Ryan Embree:
So as we wrap up today, you know, I always like to do kind of a closing, and I'll close today's episode with this: at Travel Media Group and the Suite Spot, we are just so thankful for all of our listeners out there, all the support that we've got. These past couple of years have been very, very difficult for this industry. So we appreciate all your support and thank you for listening. Happy holidays to you and yours. And we'll talk to you next time on the Suite Spot.
Ryan Embree:
To join our loyalty program, be sure to subscribe and give us a five-star rating on iTunes. Suite Spot is produced by Travel Media Group with cover art by Bary Gordon. I'm your host, Ryan Embree, and we hope you enjoyed your stay.
Hotel Marketing Resources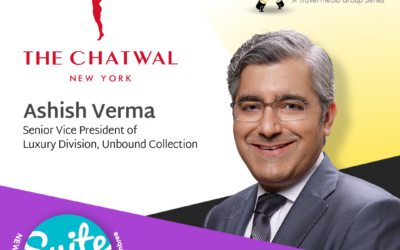 Join Suite Spot host and TMG Director of Marketing, Ryan Embree as he talks with the Senior Vice President, Luxury Division, The Unbound Collection by Hyatt, Ashish Verma in our new TMG Spotlight series to give listeners a lavish perspective on hospitality and how the...