91 – Year in Review with Dana Singer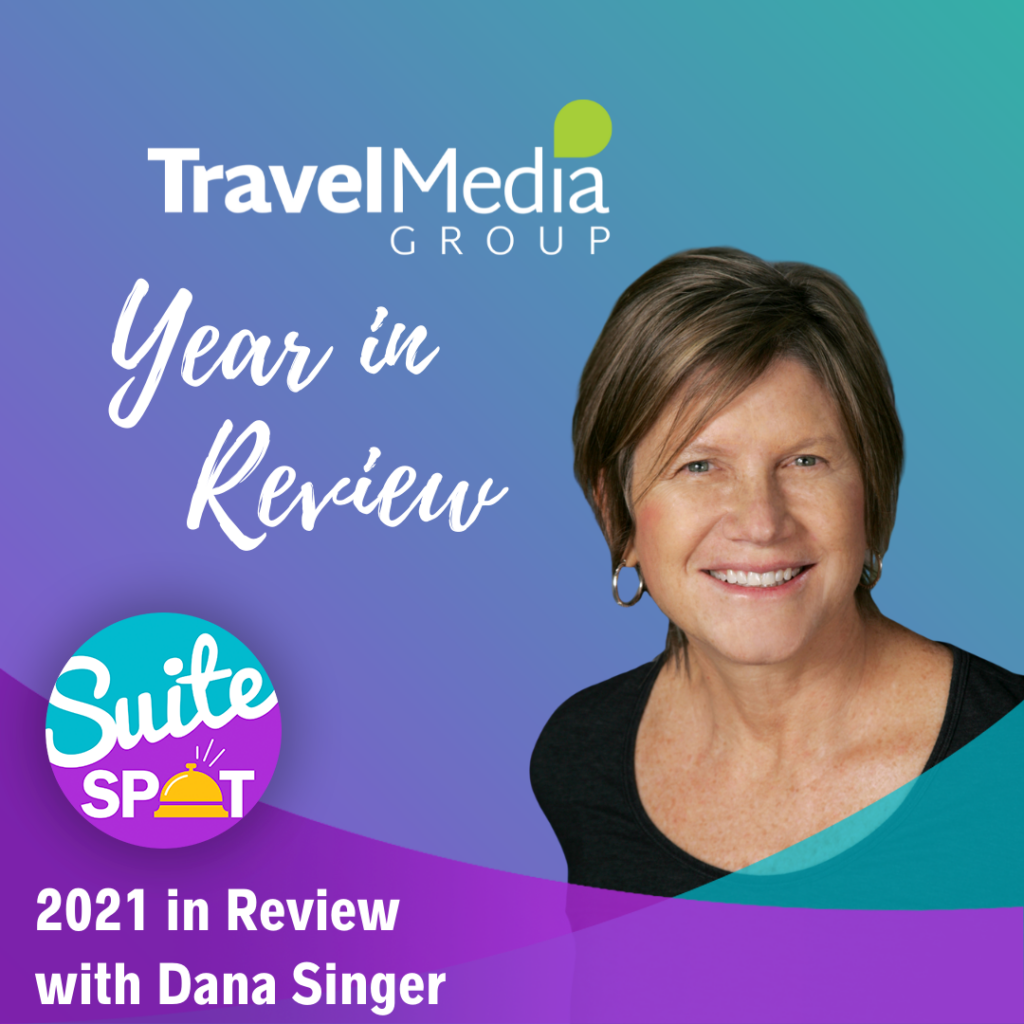 In 2021's edition of the Suite Spot, we welcome Travel Media Group's President, Dana Singer, to the podcast. Host Ryan Embree reflects with Dana on the challenges and successes of this past year.
Dana reviews some of the adjustments that Travel Media Group has continued to make in response to the changing landscape of the COVID-19 pandemic and its impact on the digital marketing landscape for hotels. Ryan and Dana discuss innovations launched by the Travel Media Group product development team and the role TMG played in hotel recovery. Dana also shares what she is most excited about and hopeful for in 2022 as the hotel industry continues to bounce back.
Episode Transcript
Our podcast is produced as an audio resource. Transcripts are generated using speech recognition software and human editing and may contain errors. Before republishing quotes, we ask that you reference the audio.
Ryan Embree:
Welcome to Suite Spot where hoteliers check-in and we check out what's trending in hotel marketing. I'm your host, Ryan Embree. Hello everyone, and welcome to the Suite Spot. This is Ryan Embree, your host, and happy new year. We've got a great first episode of 2022 for you. We've done this on an annual basis, and it's one of my favorite episodes that we do every single year. As we enter a new year, we're closing out 2021, but we're excited for the prospects of what 2022 has to offer. We've seen a lot of great momentum going in after a busy, busy holiday, according to some of the STR data out there. And with me today, I wanna bring in the president of Travel Media Group, Dana Singer. Dana, welcome to the Suite Spot.
Dana Singer:
Thanks Ryan. It's fantastic to be back with you.
Ryan Embree:
Yeah, and we're bringing you on again because we did this last year, and we got such a great response from it. And I think it's just so important as we move into this new year to not only, obviously, look towards the future in 2022 and, and what's on the horizon for the, the hotel industry and Travel Media Group, but also reflect back on 2021 and look at everything that we've been able to overcome and accomplish. So that's exactly what this episode is about. So I'm gonna kind of start us off in, in a very similar situation where we were last year, Dana, just to reset. You know, we started this, this episode last year, talking about adjustments that Travel Media Group made in response to the pandemic. Can you talk about how those adjustments kind of evolved in 2021?
Dana Singer:
You know, while 2020 was all about pivoting to respond to the pandemic, 2021 shifted to how we could best support our clients and partners in the recovery. We all know the pandemic hit the hospitality industry hard. Stay at home orders and the fear of the virus kept so many from, from traveling and it negatively impacted so many businesses that rely on travel, especially hotels. So in 2021, with the rollout of vaccines, optimism began to prevail. We began thinking in terms of both the recovery and innovation mindset and how we could help hoteliers transition and effectively capture the renewed travel demand that was building throughout the year. And one of the ways that we adjusted during this time was by hosting seasonal digital workshops. And our goal was to connect with hoteliers through these one-on-one sessions and provide insights on, on how they could capture market share faster than their competition by leveraging digital marketing tools to really put their best foot forward with their online reputation and social media.
Ryan Embree:
Yeah, I think that's well said. I mean, any hotelier that's listening to this podcast right now can probably agree with me in saying that from Travel Media Group to the hotel, this is not the same business or hotel that came into 2020. We've had to adapt and shift and really be versatile. And the industry has, has had to do that as well. And you see just how important hotels are stressing things like their online reputation and social media, because it is the key to capturing more market share. We've talked about it on this podcast before, the hotels that make the guests feel the most comfortable about traveling and coming to their property and providing them with a good and safe guest experience are the ones that really won the recovery and are continuing to win market share. So speaking of, Travel Media Group also took the time to recognize hoteliers that really went above and beyond during the midst of the COVID 19 pandemic, right in the thick of it. Can you tell us a little bit more about that recognition?
Dana Singer:
We wanted to recognize all of the hard work that hoteliers had been putting in really into effectively managing their properties during these really challenging times. And so we decided to launch the hospitality hero award. And so we opened up nominations to our hotel partners, so they could have a hand in selecting who they felt were prime examples of resilience and excellence throughout the pandemic, and we were just thrilled with the big response. Our top 25 winners went on to be featured on episodes of this very podcast. And it was just so inspiring to see how many hotelers found ways to go above and beyond in such challenging times. So it was just very exciting and inspiring to be able to recognize their efforts on a national level.
Ryan Embree:
Yeah, I completely agree with you, Dana. I've been with the company for many years and, and this initiative, this hospitality hero award, was one of my favorite things that we've ever done at Travel Media Group. It was so cool to recognize these hoteliers and hear these stories of people's hospitality spirit shining at a time that was just so dark for the industry, but you really saw the best come out from GMs working the, you know, front desk or overnights to front desk agents going above and beyond for people that not necessarily wanted to travel, but had to travel during the pandemic. So it was so cool in recognizing those hoteliers. If you're listening to this, and you haven't seen before, I really encourage you to go through and, and read through some of those stories, really, really inspiring stuff. So as we shift towards post pandemic in, in 2021, the COVID crisis kinda lessened in 2021 with, obviously, the rise of vaccines and, you know, more and more people feeling comfortable traveling, but the industry battled through really another headwind. And that was an unprecedented staffing shortage that we've seen and, and are really still battling with today. So how have hoteliers used Travel Media Group to help fill the gaps left by some open positions at their property?
Dana Singer:
Yeah. You know, hotels partner with Travel Media Group to fill the gaps in a variety of ways. The staffing shortage led to many open positions at properties, which meant that there was work not consistently and effectively getting done relative to managing guest feedback and ensuring active engagement online with prospective travelers. You know, guests still had to be the main focus and, and more than ever, they needed reassurance about their hotel selections and, and safety was a top priority. So social media engagement and consistent review responses were negatively impacted at a time when the effective management of these outlets were more important than ever. So recognizing the importance of these two areas, many hoteliers turned to Travel Media Group for professional support. Our social media team was there to help hoteliers create and post custom content that attracted and engaged guests and helped them maintain their digital presence.
Dana Singer:
We helped our hotel partners manage their social calendars with actionable posts in order to encourage more bookings. And then many hoteliers were also in need of assistance with review responses. So, you know, without enough employees, reviews were going unanswered and hoteliers needed a partner who they could count on and who was up for the challenge and, and Travel Media Group's Respond and Resolve team of writers stepped in and ensured that every single review received a timely, thoughtful, and professional response. Our services enabled our clients to focus on the other critical work that was required to effectively run their properties while having the peace of mind that their reputation management strategies were being managed for them with a very high level of service.
Ryan Embree:
Yeah, that's one thing I, I really notice coming out of this pandemic and, and staffing shortage really was just a hotelier's willingness now to maybe look into places that they haven't before, maybe third parties like Travel Media Group to help them with some of this stuff. And, and when they reached out to us, they realized the level of service that they were getting was, you know, something that they really had never seen before. As you mentioned, a couple things: social content was put together on a organized calendar throughout the year. It wasn't something that was just done last minute by a front desk manager who, if you had to replace someone during the pandemic, now you've gotta train someone and, and try to find the voice of the hotel. They were reaching out to us, and we were getting some really great feedback from these hoteliers.
Ryan Embree:
And when it comes to review responses, the same exact way. Having someone that's completely objective and that can look at this feedback through a clear lens and try to figure out the best way to either promote or handle the situation to either repair or enhance the reputation of a hotel online. There's a lot of value in that. And hoteliers really started to see that as their teams got smaller and smaller, they had to turn to sources like Travel Media Group. So, you know, I kind of spoke a little bit to it, but Dana, I'd love to hear kind of what role you think digital marketing like social media and review response play in hotel recovery.
Dana Singer:
Sure, digital marketing, like, like social media and review response play a bigger role than ever. Travelers are increasingly looking at a hotel's digital presence during the booking process, you know, from online reviews and, and posts and engagement on social media. Travelers are rewarding hotels that cultivate their online presence and they're steering away from, from those that don't. And hoteliers that recognize this are the ones that have a greater chance of success in the industry going forward. And in 2021, we saw how powerful these online tools can be in hotel recovery, as well as what we see as the new normal in the industry. There, there are a line of communication with guests that allows hoteliers to, to not only receive feedback, but share important information with travelers such as safety measures and, and cleaning protocols and being responsive online is a huge factor that travelers take into consideration when making travel plans. So the hotels that were consistent with their review response and, and responding to social media messaging were so much better equipped to gain the interest of more perspective guests as the industry progressed in, in its recovery and continues to do so.
Ryan Embree:
In 2021, it was all about those lines of communications that you mentioned, Dana, you know, we, we went through a surge of different variants and it was hotels that were effectively able to communicate the safety and, and cleaning protocols that they were implementing that really were able to give guests immediate reassurance. We're seeing the same thing right now with Omicron as well; hotels that are making adjustments on the fly, but not only, you know, investing in those adjustments and changes of the property, but communicating them effectively, setting the right expectations, which we we've talked about so many times on this, in order to, to give the best guest experience to those who are traveling right now. Now for Travel Media Group, 2021 was also a huge year for innovation, with major launches and extensive solution upgrades. I'd love for you to talk a little bit about those and what they mean for TMG hotel partners.
Dana Singer:
Sure. Travel Media Group is always innovating to stay out in front of industry trends so that our hotel partners can be assured of the best possible tools and 2021 was no different. Our entire suite of solutions at Travel Media Group have been developed with the specific needs of hoteliers in mind. And in early 2021, we released a major upgrade to our OneView platform. Our multi-property suite helps hotel management groups and brands monitor and stay connected with every property in their portfolio and provides the insights and transparency they need to make decisions about individual properties or the portfolio as a whole. For TMG's multi-property partners, this update was a game changer. And then in addition, we launched advanced sentiment analysis in September, as we kicked off the fourth quarter of the year. This enhanced feature provides hoteliers with actionable insights that put the power in their hands to focus on the right things to ensure a positive guest experience. So for example, instead of receiving data that simply states that guests feel that the property is dirty, the specific area of concern will also be reported, whether it's the restrooms or the halls, the hotelier will be better equipped to address and manage the issue and improve the guest experience going forward.
Ryan Embree:
I love this because this really gives hoteliers a clear idea of what to focus on to improve the guest experience. These two launches were absolutely instrumental in improving our solutions and really came from a lot of the feedback that we were seeing from, from hoteliers and that they were hearing from guests. So being able to have a development team to kind of implement that feedback into solutions that were gonna be helpful is so cool to see and are being used on a daily basis by our hotel partners today. So with that, you know, like we talked about, Dana, hotels are gonna get a lot of data and insights from these upgrades. Could you give some, some specific ways that they could improve the guest experience at their hotel or for multi-property groups, groups of hotels, using these data and insights?
Dana Singer:
Sure. Hotel groups now have a new, clear view of their portfolio, which, which allows them to better serve their guests. C-suite and regional managers can easily access the portfolio's reputation with a transparent view of each hotel's performance. They can see which hotels are performing at, below, or above standards and increase accountability at a property level. The ability to have both transparency and accountability make it easier than ever to improve the guest experience by allowing hotel groups to quickly get ahead of issues that may arise. And when it comes to advanced sentiment analysis, there are a variety of ways that hoteliers can utilize the data and insights that they receive to improve the guest experience. When analyzing both positive and negative feedback, hoteliers can see what's trending in guest reviews. If a number of reviews have an issue with breakfast, for example, then it could be clear to the hotelier that the issue needs to be addressed and solved. Depending on the issue that the guests are voicing, the solution could range from simply setting better guest expectations about what breakfast includes at a property to changing some of the breakfast offerings to accommodate different dietary needs.
Ryan Embree:
Yeah, you'd be surprised how many clues guests are leaving you on a daily basis in order to improve that guest experience. And these two upgrades make it so easy from the multi-property level down to the individual property to make adjustments and, and make changes on property that are gonna improve that guest experience. So if you haven't already, I would encourage you, we have a couple Suite Spot episodes based on these launches and upgrades. Anytime that we do a new rollout at Travel Media Group, we always have a Suite Spot episode paired with that as well as our educational webinars found on YouTube and our blog posts at travelmediagroup.com. So if you haven't already, please check that out. But speaking of solution updates and, and our website, there was also a, a really big educational initiative. You know, we saw a lot of hoteliers in 2020 looking for ways to just improve their careers and, and learn more about what was going on, especially in digital marketing, trying to get creative and to get into traveler's minds so that they can secure booking. So in 2021 TMG also launched its hotel digital marketing learning paths. Tell us a little bit about these learning paths and, and what they mean for hotel partners.
Dana Singer:
TMG is committed to being a leader in digital marketing and education for hoteliers. So we're really excited about our learning path initiative and this program covers social media, review response, and reputation management. And it's an educational resource that was designed to give hoteliers better footing in the, in this changing digital marketing landscape. And each course is organized into different modules that cover a range of topics within the subject. The modules start off at an introductory level and gradually get more advanced so that anyone from a digital marketing novice to an expert can, can benefit from the information. And as Travel Media Group continues to innovate, the learning paths are updated with new information as developments are made. And these courses and learning path certifications are just one of the many useful resources that TMG provides. We also have blogs, white papers webinars, and of course, this podcast.
Ryan Embree:
Yeah, in such a fast moving industry, like digital marketing, for hotels, especially, you can never have enough information out there. The trends, the patterns, what's happening online, and especially in things like social media and online reputation, it changes. You know, you see things go viral all the time. Hoteliers need to be at the forefront of these trends and patterns, know what's new in this area so that they can be at the forefront and put themselves in the best position to be competitive in 2022. So as we wrap up, we've already heard such positive messages from you this entire podcast, but I'd like to, to maybe leave us on a little message of hope for the future. So Dana, tell us a little bit about what you're most excited for, for Travel Media Group and the hotel industry as a whole in 2022.
Dana Singer:
I think everyone in the hospitality industry has so much to feel good about as we kick off the new year. And I'm so inspired about Travel Media Group's momentum coming out of 2021 and how well positioned we are to help our partners in the new year. 2021 brought unprecedented challenges for the hospitality industry, but the fortitude and perseverance of hoteliers was evident through their ability to overcome these obstacles. And as more and more businesses recover and travelers feel safer, the hard work put in by many hoteliers over these past two years will absolutely pay dividends. And I mean, hoteliers are resilient. And, and so is the industry. We see leisure travel in full swing, and I believe that we will see momentum in the return of business and corporate travel build through 2022. And these business travelers count for an important segment of guests and welcoming them back to hotels through consistent guest feedback management will play an important role in, in being chosen, but I'm really optimistic that our teams at TMG will be able to resume attending in-person industry events and trade shows.
Dana Singer:
And we're very excited at the prospect of connecting with everyone face to face, but in the meantime, hotels should make the most of their reputations and continue to make their online presence a priority. Travel Media Group is always ready and willing to provide expert advice, strategies, and immediate support to all hoteliers, management companies, and brands. And I'm just so proud of the work that our entire TMG team does every single day. And our passion for the hospitality industry is front and center with the service and support that we provide to all of our clients and partners. So we look forward to what 2022 has in store for TMG and the hospitality industry, and are very optimistic that there's a bright, bright future ahead.
Ryan Embree:
Absolutely, Dana. So exciting to hear, and I, I think you're right, and I'm sure a lot of listeners to this podcast share that sentiment and that they are just ready to get back meeting people face to face. But as I mentioned on this, the, the industry has changed. The way travelers perceive your online reputation and presence has changed. They're looking closer than ever, and it's gonna be the hotels that really prioritize things like social media communication, online reputation, and review response that are gonna be put in the best position to take advantage of what you talked about this 2022, and what's this bright future on the horizon. So, Dana, I again love this episode. I want to thank you so much for joining the Suite Spot with us.
Dana Singer:
Oh, it was my pleasure, Ryan. It was, it was great to spend this time together.
Ryan Embree:
Really excited to have you back next year to talk about the amazing 2022. In the meantime, I want to thank everyone for listening. If you are interested in learning more about some of the updates and launches or even the key initiatives that we talked about today, reach out to us travelmediagroup.com. You can find our information there, check out our YouTube channel, our LinkedIn, and follow us on this podcast as well. So I wanna thank everyone for taking the time. I wanna wish everyone a happy new year and looking forward to sharing this podcast with everyone in the new year. So thank you, and we'll talk to you next time on the Suite Spot.
Ryan Embree:
To join our loyalty program, be sure to subscribe and give us a five star rating on iTunes. Suite Spot is produced by Travel Media Group, with cover art by Bary Gordon. I'm your host, Ryan Embree and we hope you enjoyed your stay.
Hotel Marketing Resources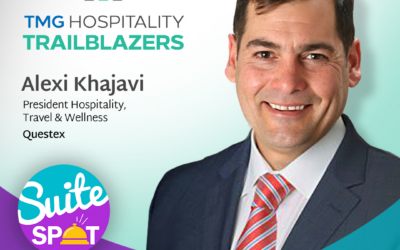 Join Suite Spot podcast host, Ryan Embree as he welcomes the President of Questex, Alexi Khajavi, as an official TMG Hospitality Trailblazer! These two hospitality-focused individuals discuss some incredible travel and tourism subjects in this episode, giving viewers...