93 – Introducing Social 2.0 For Hotels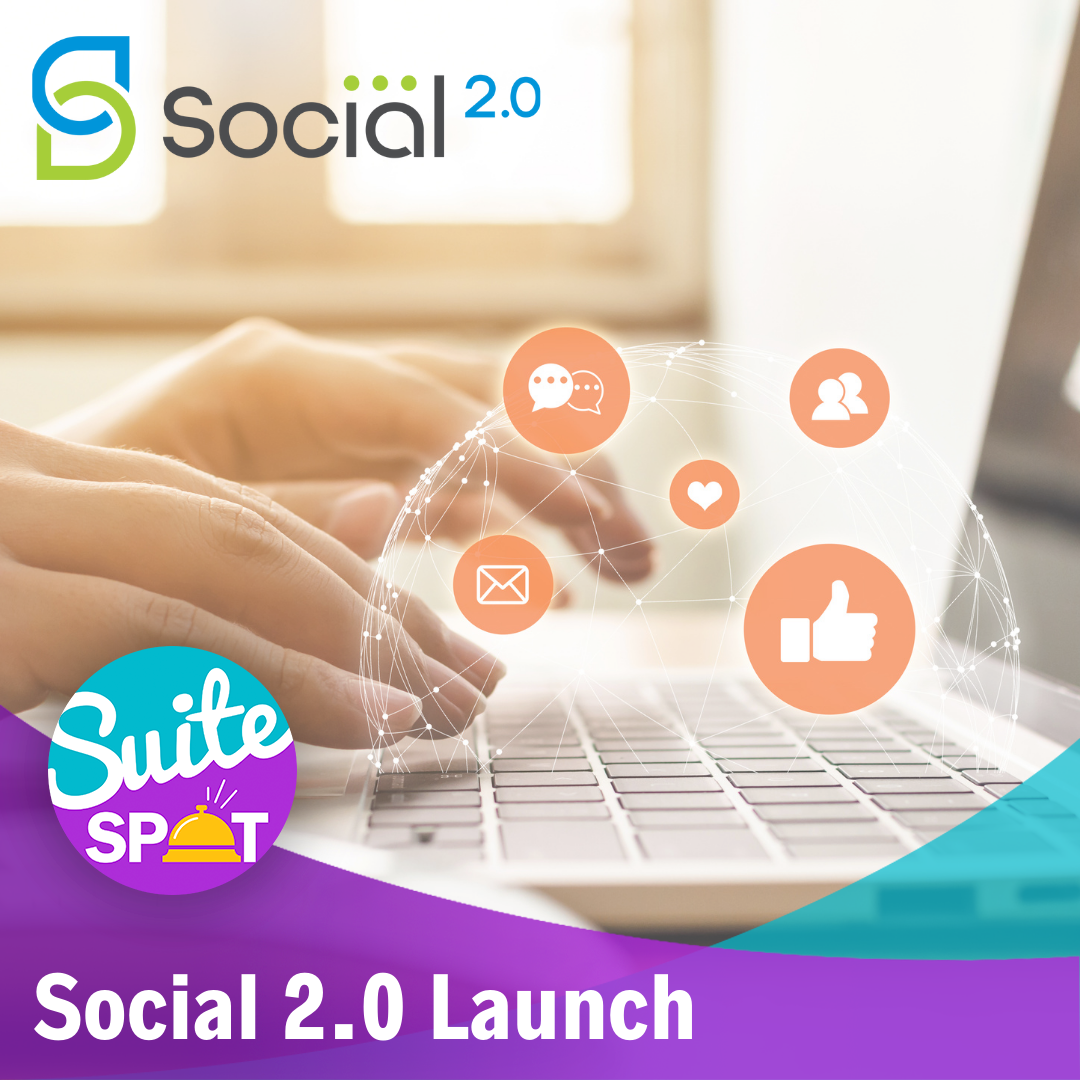 Host Ryan Embree and Jason Lee, VP of Product and Development unveil TMG's Social 2.0 platform for hoteliers. This re-designed, intuitive platform has new features that make creating and posting content, as well as analyzing engagement and reach, easier than ever before. Discover how you can leverage Social 2.0 to improve your hotel's social media strategy. Listen now!
Episode Transcript

Our podcast is produced as an audio resource. Transcripts are generated using speech recognition software and human editing and may contain errors. Before republishing quotes, we ask that you reference the audio.
Ryan Embree:
Welcome to Suite Spot where hoteliers check-in and we check out what's trending in hotel marketing. I'm your host, Ryan Embree.
Ryan Embree:
Hello, everyone. Welcome to another episode of the Suite Spot. This is your host Ryan Embree. We have a very frequent guest and this typically means one thing when he is on. And that means another Travel Media Group upgrade and innovation, but I will let Jason, our vice president of product development and technology, announce this super exciting new launch that Travel Media Group, I know, has been working so hard on. So, Jason, what have you got up your sleeve for us?
Jason Lee:
Well, thank you, Ryan. It's always awesome to be on these podcasts and to talk about our solutions and social media is really what we're talking about today. And we have relaunched our social media solution and suite and done it in a way that takes a lot of the items that have been discussed with hoteliers, like hopefully the people that are listening to this, and management companies, things that are missing from the suite, things that could make the solution more effective and we've added them into our brand new launch of social 2.0. So if you have our current social solution and you come back into OneView and access it, you're gonna see some very different pages, some very different looks and, and a lot more functionality and transparency inside of our social process. So that's, what's here.
Ryan Embree:
Awesome. Awesome. And, and before we jump into all these really cool updates and innovation that we put into this, just to reiterate something that I think is super important is a lot of the things that you do on that development side is based upon feedback that we're hearing from both hotel partners and large hotel groups out there. We know that that has become an insanely hard space to kind of manage, and groups are always looking for this type of consistency across their portfolio. Yet they have to juggle different sort of brands within a portfolio, maybe to different scales. So they've got so many variables, they're looking for places of consistency. So when, when you and your team went about doing this, that's exactly what you set out to do is create some consistency there. Can you speak a little bit more to that feedback that you're hearing and maybe how you're able to streamline it for those hotel groups specifically?
Jason Lee:
Yeah, I think what really, what it comes down to, I mean, we get feedback all along, you know, when, whenever we launch something or whenever we add a new group into our company and we're able to kind of get their ideas, they see it for the first time and they're like, oh, it'd be cool if it did this. Or I'd like it if it did that. And so a lot of things, I definitely, in those situations, I've got a notebook filled with stuff and it still actually has quite a few things that didn't even make it into this release, but in this case, it was really about how can I take more control or how can I get my property, so if I'm at a management company and I want my individual hotels to take part in social media, what is it that they can do in a way where it's like, they're not spending their days posting all day long, but yet they can still be involved in the process.
Jason Lee:
They still can have visibility into things as they happen to make sure that it is on brand, to make sure that it's speaking to the things that drive occupancy and the things that really make social media effective. So really the pieces of the suite that have really become more transparent and brought to the front are all of those things. It's where the hotel can interact and on various levels to give us information so that our content creators create content that's really super on point and, and on brand to, to their location. And then from that, have them be able to interact with that information. So after it's been created, be able to see what's been created and then interact with that, and we've done this. So this is the first time we've kind of, we've gone from single post. So I create a post.
Jason Lee:
You approve a post, I create a post, you approve post, to now this weekly thing, because we're not in a bubble, right? Things in occupancy, if you think about all things occupancy, right? It's like midweek, weekend, right? It's Sunday through Thursday and weekend. So what are the things driving occupancy and what are the things that, and so we look at it weeks at a time. So that's exactly how we're looking at social media. So that's how we're creating social media as full weeks at a time. And so hotels will be able to approve an entire week at a time. So we're not only creating a lot of interaction, and places where they can interact, but we're also creating this space where we're economizing the hotel's time. So they're approving a whole week in one shot, not a bunch of individual posts. And then they're in the same spot in terms of the creation of that, giving us feedback, giving us information ahead of time. It all feeds into creating what I would consider will be the closest to them doing it themselves.
Ryan Embree:
Yeah. And I would argue as social partners, we crave that feedback because to your point, Jason, you know, right now, when we think about when this podcast was launched in mid February, we've got Valentine's day right on the horizon. We've got spring break that a lot of people are looking at on social media. They're looking at that hotel at a completely different window and vision than somebody potentially looking for a romantic getaway this weekend, right? Even people that might be looking for the summer. So we have to cater to all of those different people. And that's where the trickiness of this industry comes into social media. Cause you have to tell a story that's gonna cater to every single one of those guests along the way, because you're just inch by inch filling up that occupancy at different points of the year.
Jason Lee:
Definitely.
Ryan Embree:
And I wanna talk to you a little bit about, obviously, with social media, it's more than just checking a box, right? I think we did a webinar last year that said that 98 percent of the hotels that were on that webinar had a social media presence, had a Facebook page. It's more than that. I think now travelers look at your Facebook page or your Instagram page and if they don't see information, it's almost like that's telling them a story. It's almost like a negative review saying, okay, so what's, what's up with this that they haven't posted in a month? It, it's almost kind of a red flag as they're in that buying process. So talk to me a little bit about kind of the evolution that social media has gone through in this traveler's journey where it started maybe a decade ago of just where maybe a traveler would stumble upon a social media now where these guests are actually seeking out information.
Jason Lee:
Yeah. You're, you're absolutely right. I think other things that have evolved in the traveler's journey, and I think COVID has actually done a lot. This pandemic has done a lot to reshape that. One of the things that we're seeing in social media, just like you said, I think inspiration to travel has kind of been there, people doing research and things like that, that I think is always there, but I think now just to your point, seeking additional confirmation. So I read some information about this hotel. I see this stuff that they're saying about themselves on their website or an OTA's saying about them. I look at the review sites and then as I narrow that search down, I start to look at what is going on at this hotel. One of the interesting things that I think that's also happened.
Jason Lee:
So, so then to your point, they search that out. They seek that confirmation and hopefully they get that confirmation. And if there's nothing there, they don't get that additional confirmation. But I think one thing that's very interesting that's happened that we're seeing more and more of is pre-stay, post-booking. And this is the spot that has happened. And this is where, as probably everybody knows who's listening to this, we've all relaxed our cancellation stuff. We've done things in a way where we make it very easy for travelers to cancel if something happens, there's a lockdown or whatever, but travelers are also seeking out like what's happening at this hotel. So they're excited for maybe their first vacation in two years or, or maybe they're like, I wanna share some information about this hotel with people that I'm traveling with.
Jason Lee:
I go to your Facebook page, I go to your Instagram and I'm not getting what I'm looking for, or I'm getting, I'm getting nothing or I'm getting negative information. Those kinds of things can actually really mess things up. If I'm not getting information, the last time you posted was like, you know, 2015 St Patrick's day celebration or something, right? It was like probably after the last podcast you listened to about social media, there's that sitting there, they might just be like, "Hmm". You know, then maybe they check the social media at your neighbor's property. They see there's stuff going on. They see updated information, they see pictures of guests, all of those things then turn into a different type of buying confirmation. They cancel with you and go there. That stuff's really happening. So that post-booking, pre-stay is, I think, a really delicate time right now.
Jason Lee:
But I also feel like there's also a great opportunity to acquire social community from your current guests and then communicate with those guests in post-stay and then that kind of continues on where they're liking your stuff. You're creating that kind of social family with people that you've served well and are liking. And then that stuff is then like translating out into their friend groups. And you're starting to get you get traction in those ways as well, but that stuff doesn't happen without content and doesn't happen without content that's relevant to travelers and relevant to people who've stayed at your hotel.
Ryan Embree:
Yeah. We've talked about on this podcast, it is about building guest comfort and confidence up to the point of stay, cause you're right. That flexibility now, you could see major occupancy percentage pointsdip or increase based upon real time feedback because these guests are in a state of mind where anything can change at any point. So if they see something on your Facebook, a negative comment about the cleanliness of the property, that's gonna have a huge impact on bookings tonight, tomorrow, because now they have the flexibility to cancel. So it's keeping this consistency in a time where there's a huge industry staffing shortage. We've talked about it multiple times. So finding consistency in a really inconsistent space, that's how you get ahead of competition, and that's how you build consumer confidence and traveler trust as the date approaches.
Jason Lee:
One other aspect of social media that I think is critical right now, as well, is that when you think about overall guest satisfaction, guest satisfaction, the breakdown of guest satisfaction, there's obviously the big things like something terrible happens, but in overall guest satisfaction, the thing that's most typical is a blown expectation. I had this expectation. It did not happen. And now I'm upset. So what social media does, especially with what you're talking about, staffing shortages. So one, one clear part or clear thing to talk about would be if there's housekeeping, if there's breakfast interruption, if there's service interruption, like my fitness center's closed, my pool's closed. Those kinds of things. Knowing that in advance, the fact that they knew about it in advance, they would still come and stay with you and still have a great stay, but because they expected it, it's not a problem.
Jason Lee:
It doesn't lead to guest dissatisfaction. So this is where I think that there's a place of communication and where an interaction point, an easy interaction point would be like they book with you. You send an email right afterwards that says, "Hey, follow us on social media. Here's all of our social media links, follow us for latest updated information." But then you have the responsibility, you know, to give updated information. But what's great about that is that it's a great place to have that communication, but the fact that you're making that communication also as an indicator to unbooked guests, that you've got it organized, you've got it going on, that they're going to have a stay that is gonna be more predictable.
Ryan Embree:
We spent the last two years, guests and travelers have, trying to avoid the front desk, trying to avoid that face to face contact. So the quickest way for them to find out quick, relevant information it's to go like places on your social media. And I would argue that it might be easier for the hotels out there that are listening to this for, for a guest or a traveler, wanting to know about your experience for breakfast, for example, the hoteliers that make that easier to find that inform and via their social media, rather than Googling or going to your website, those are the hotels that are winning because they're setting that expectation like you talked about, and they're making that place online a source of information and giving value to the traveler that will want to come back for more. And when they do, then you catch them a couple months down the road and that inspiration, where should I go? Let's go back to this hotel. And that's how you create that loyalty in a day like today, where it's harder than ever to create loyalty with a property in a brand. So let's, let's talk about social 2.0, that that's the reason for this episode. I want to give you the floor here and just kind of talk about what some of the biggest and most notable differences that current partners or even future partners are gonna see.
Jason Lee:
I think one of the coolest things that we've done, and this, this actually translates into a lot of different spaces in social media, is the media gallery. So our media center, this is a place where you can upload videos. You can upload images, but we have, because hopefully all of you know that we are hospitality first, we are a hospitality centric company. It's all about hotels and, and some restaurants, but mostly hotels. And so all of our images have categories and tags that have to do with your hotel. So you can set up categories for room, for facility, for additional media, for your local area, for attractions, any kind of media that you wanna upload, you can upload and categorize. And what's awesome about that is that you can use all of that in posts in our social publishing area, but it is also available for our social content creators.
Jason Lee:
So if we are creating social for you, we have your latest images, we have the stuff that you want to use. Then we also have inside that gallery, we also have a way for you to set feature images. So this is my favorite one-bed, my favorite two-bed image, my favorite pool image, my favorite lobby image. So it's, it's kind of telling us which of all of these, you like the best, but the interaction of that goes crazy. So when you go in and you're like a week from now or two weeks from now or a month from now, you're like, "Oh, I wanna make sure we talk about this one thing," right? You can go into a post that's already preset, you can click on that. You can add any of the images that you've already uploaded to that.
Jason Lee:
So it's, our creator comes, the image is already added and we just add the text and we make sure that we, you know, get some good creative writing behind it to make it as enticing, as possible to take your idea and really run with it and put it through social media. So the media of social media is really important. And, and this, this is a place where we now have it all the way on the front end, and we're able really bring that out and you can interact with it really easily. And that's pretty much in every place where you can either create content or you can work with different types of content.
Ryan Embree:
We're able to tell a hotel story and what they're trying to say, but we do it with the expertise that all of our solutions come with. The knowhow and the knowledge behind, of the tedious tasks of having to sit back behind your front desk, after an 8 to 12 hour shift and say, "Okay, what am I gonna write here on this post? How am I gonna get creative enough to try to convince people to stay with me?" That's all taken off your plate. That's taken off your plate. And our writers come in and will speak to the voice of the property and tell your story, which I think in this day and age cannot be understated.
Jason Lee:
No, I totally agree. And so then we couple that with just what you're saying. So how do we get your voice? How do we get, how do we get what you wanna say about your location, about your surrounding area, about the attractions around you, about the occupancy drivers that, that, you know, what are the things that you wanna say, how do you wanna portray your hotel? So we have a layered notes system. So we have this kind of base note, which really talks about here's all the things at my hotel: here are my amenities, here are the attractions around me, here is the kind of general voice that I want to use. Right? And then I have a next layer up where I can say, when you talk about my property, I'd like you to talk like this. When you talk about my rooms, right?
Jason Lee:
I want you to talk about this, right? When you talk about local events, I would like you to use these things to source events, or I'd like these events to be mentioned, their could be events that happen every week. There could be events that you wanna have that happen monthly or whatever. So you, so you kind of source those. Then on top of that, we have a monthly note and in the same way, so a property feature, local event, local story, a general note. So, so then it's like in the month of May, I want you to talk about this, this, this, this, and this, right? And then we have an, another note on top of that, which goes right to the post, which I talked about a second ago, which is where you go right to the post that's prescheduled, and you say, I want this image, and I'd like you to talk about this.
Jason Lee:
You save that. So these are micro interactions. Like once you have that first note base done after onboard, you can kind of go back. You can come back to that whenever you need to, but that doesn't have to be updated regularly. Monthly notes, obviously, you want to do those monthly or you would like to get out ahead of 'em, but you can, you can do them ahead of time. We all know the occupancy drivers in our town. So we could go into the, into the months they're proceeding, those occupancy drivers, knowing that we're, we want to get ahead of it and say, I want to talk about these things, but you can do a whole year in a, in a matter of minutes, right? Of, of just saying, I want this event, or I want this and just knock those out.
Jason Lee:
But then, then you know that we're gonna be talking about it. You know, we're gonna be using that content. So when our content creator, when it comes up, they see the image you want to use, or they see the note that you want to use, or they see the voice that you wanna, how you wanna portray your property. So that information becomes like we're right there with you. And this stuff is right at the front end of our program. You can come in and customize it and continue to refine it till we're producing posts that are right on cue with what you feel will reach a guest. And then we take the analytics and go, is it reaching a guest? And if it is, then we keep doing it, keep refining it, getting it better and better.
Ryan Embree:
And that's what I wanna talk about next is because I think another just unbelievable upgrade to this social 2.0 is the transparency and analytics and data, especially that we have through our ad spend, where every single one of our social packages include. And it's super important to expand your reach. If social ad spend is used the right way and, and targets your ideal customer, and you have a good grasp on your occupancy and, know who is staying with you and who you want to attract moving forward, social ad spend can do wonders, but speak to the analytics and tracking on that side. And what goes into that.
Jason Lee:
So when you get into Social 2.0, you're gonna see a lot of week views. So it's one week, seven day, you know, Sunday through Saturday view. And so you're gonna see that over and over again. You're gonna see that in post creation, you're gonna see calendars like that when you're creating posts, but you're also gonna see that when you get to analytics. So again, it's like, I remember approving all of these posts two weeks ago. Now I see what actually happened with those posts. I see the reach that it had, the number of impressions that it had, and then engagement. And we take engagement with likes, shares, and comments. So we look at the engagement portion of it actually as kind of the real deal. I got in front of a lot of people, but how many people actually interacted with it?
Jason Lee:
And so we have that in a week view, you can switch that up to a 30 day view, last month or whatever, even to a year view and see all of this stuff together. But what's really neat about it is that it's a bar graph with line overlay. So the bars represent the posts and the line graph represents the reach, impressions, and engagement. But if I click on a bar, it actually will show the post to the right, with all of its data attached to it. So you can click on any of the bars in the bar graph and actually see the actual posts that went out and all of the analytics that were associated with that post. So you can get a real clear view if something happened, if this, if this post resonated or not. And then right below that is ads.
Jason Lee:
And so this is where we boost posts and where we do on your behalf. And so now you can see the correlation between boosted posts and engagement from above, but you're seeing the same engagement numbers, but what's interesting about it is that the ad engagement is just from the ad, just from the boosted post. So if you look at the same post, the difference between what the ad engagement and reach and impressions versus the organic, you can see what the ad did to really carry that. So you can see if we're spending the ads, right. If we're spending on the right post, but it's also for us, we take this information en masse and make sure that we're really optimizing every single dollar. You know, we're talking about $100, $75 a month in spend. So we economize that, try to make the most out of every single post, every single ad spend.
Ryan Embree:
And, and that can go a long way. And again, it, it requires that kind of expertise because I've kind of sent this as a cautious warning out there for people trying to do it themselves. It sometimes can also be a bottomless pit of, of ad spend if you don't have an objective or a goal, or kind of know what you're doing in that sense. So, and social 2.0, absolutely incredible innovation. But I think to that, there also needs to be the people side of it, right? And I think that's a huge differentiator as well. Can you talk a little bit about the relationship between a hotel's client success representative that would be onboarding and, and kind of talking through, you know, some of these things that you talked about, like the hotel's voice, the image gallery, things of that nature and the relationship with social 2.0?
Jason Lee:
Yeah. So all of these things that I talked about, these little interaction points now become conversations in your monthly meeting with your client success representative. So obviously the analytics should be part of that conversation too, but then it's like, so how do I continually improve or how do I help my content creator create better and better media for me? And so those conversations can be broken wide open because you can see right at right in front of you, what hasn't been done, what needs to be done. Maybe you're really good with giving event information, right? But not so great at giving property information. And so you're like, man, I really wish you guys would focus on something else besides my pool, or like, you know, talk about, I have these really cool suites. Why don't you ever talk about my suites?
Jason Lee:
So those are the things that can create that refinement. So you start to fill in this notes and then you should see the next time you have that conversation. You'll see the difference in the content. You'll see the difference in what you're getting. And that's really what it's about. It's about having all these interaction points where you can take something where you can give a lot of effort up front and actually have this thing really sail for you and do great. But if you get a lot of effort upfront and a little effort each month inside of that meeting with your client success representative, my gosh, this is gonna be like all of our solutions. It's, it's about little pieces of interaction from you that, that really bring this alive and make it really unique to your hotel.
Jason Lee:
It starts where we become that, that extra employee, that extended employee out of Florida, working hard for you. But, but if we don't know what your expectations are, if we don't know exactly what it is that really resonates with you and with your guests, then it's hard for us to get there, but the way that we've set it up right now, it should make it very easy to create that interaction and, and work with your client success representative. And believe me, they're gonna be talking to you about, "Hey, let's add this note. Let's, let's do this. Let's make sure this, that this part's on."
Ryan Embree:
And I think the social 2.0 difference there, Jason, in that conversation that you might have said about, "Hey, why, why are you guys always highlighting my pool?" It, it could be a conversation of saying, showing the analytics and being like, we get so much engagement from all of these posts about your pool, you know, in the wintertime that's, that was that's funny example, but some of the best posts we get is typically in the dead of winter, talking about someone's pool in the summertime, right? And showing them and kind of being like, oh, wishful thinking sort of thing. But that's, that's the difference there. And I think that's the social 2.0 difference of being able to come in with a plan and say, how well does that plan work? Do we need to tweak it? And how can we optimize that? And that's the difference between just being a software company and a people company like Travel Media Group is.
Jason Lee:
One thing I would also say is that in the approval, in the new approval process, you're gonna be looking at a week at a time and we create post two weeks in advance. So you're gonna be seeing these two weeks in advance, but what's cool about all the stuff that we're doing is that you can interact with, with those posts, meaning that you can change images, you can change the text. The things that we've already created, you can interact with those all the way up until the time that they post through our planners and as a planner on every page except for analytics. So there's a planner on these pages where you can go in, you can see the week that you're in or the week that you're approving, you hit the month view, or you can slide back and forth between weeks. You hit the month view, you can see all your content, you click on any piece of content that hasn't been posted, and you have full interaction with that content all the way up to the date and time that it posts. So I just wanna put that in there.
Ryan Embree:
I'm glad you did, cause that planner is one of the coolest things. If you have not seen that, jump on it. And when you see that planner, you will truly know the effort that it takes to run a successful social campaign in 2022 and the amount of events and things that are going on. We think about March in a two week span that you were just talking about: March madness, spring break, St. Patrick's day. That's three different events in the span of two weeks that probably should be on your social media right now, or a couple months ago. So there's so much, and that planner just keeps you so organized on everything. Sometimes I'll jump onto a feed and I'll see maybe six, six or seven posts in a row about exactly what you said, just events, it's super event heavy. At the end of the day, those travelers wanna know where they're staying, you know, the amenities, the room. So this planner gives you a really clear look of what you're posting and making sure that you're social selling. So not storytelling, but you're social selling, and you're walking them through all the different things that your hotel experience has to offer because we are an industry that people come from all over and have different preferences.
Jason Lee:
But you know what though, Ryan, when I talk about us being an extended employee, I do believe that. I mean, we're communicating with your guests and we take that really seriously and we wanna do the best job of making sure that communication is as clear as on point. And, and to your point, you know, is as marketable, you know, is marketing your property in the right kind of way. You know, we do all kinds of things, I've said this on this podcast, before, we do all kinds of things to the exterior of our property, we don't even think about it. We pay monthly for landscaping. We make sure we're pressure washed. We make sure that windows are clean. We do all of these things to make sure that when somebody shows up, they feel good about where they're at, but this is the same thing. Digital curb appeal – your presence in each one of these little portals, the preference of that guest, they maybe like Twitter. They maybe like Instagram the most, but it's wherever they decide that they're gonna interact with you. You know, is it ready? Is it ready for them? Is it, is it what you want? Is it how you want to be displayed?
Ryan Embree:
Yeah. And, for those who are listening, I don't want you to think that this is actually the first time that we've been using this hotel voice, cause we have a very similar solution with review response where we're taking, you know, the, this same feedback that hoteliers are giving us about how they want to communicate with their travelers. And we're using that input to communicate that, you know, some of the most important aspects of their properties, messages, responding to reviews and marketing on, on social media. And when those two things align, it gives a very consistent brand voice kind of full circle to what we talked about at the beginning of this episode, gives consistency in a very inconsistent space right now. I could talk about this all day, excited for the launch. If you're looking for more information on Travel Media Group, Social 2.0 and becoming a social partner, or if you're already partnering with us and you're listening to this podcast and wanna know what this upgrade means for your property, reach out to us, visit our website. We would love to hear from you. Jason, thank you as always for joining the Suite Spot.
Jason Lee:
Thanks Ryan.
Ryan Embree:
And we will talk to you next time. To join our loyalty program, be sure to subscribe and give us a five star rating on iTunes. Suite Spot is produced by Travel Media Group with cover art by Bary Gordon. I'm your host, Ryan Embree, and we hope you enjoyed your stay.