94 – Instagram Reels for Hotels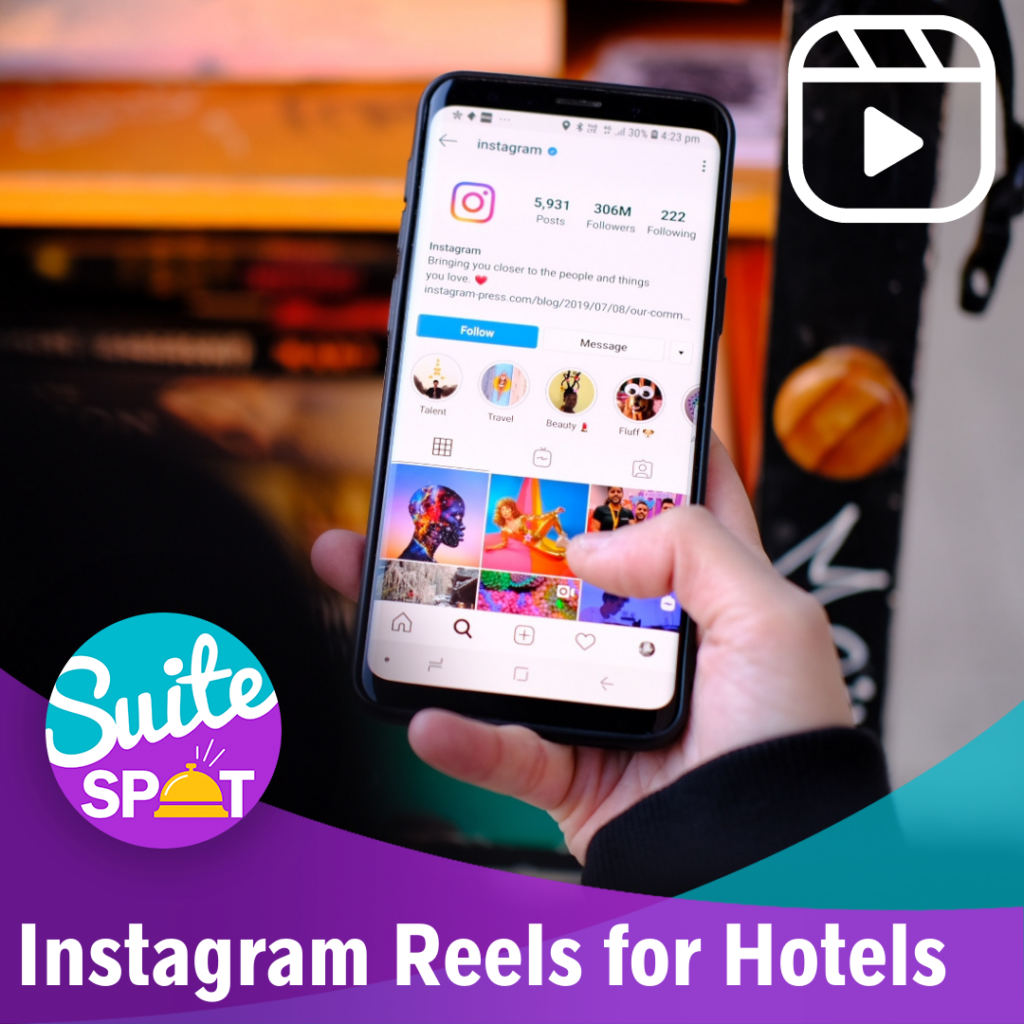 Join host Ryan Embree and first-time Suite Spot guest Sammie Snapp, a social expert here at Travel Media Group, as they dive into the world of Instagram reels. Learn how hotels can leverage reels to expand their reach and boost engagement, as well as what kind of content hotels should be posting in order to stand out. Discover actionable ways to elevate your hotel's social media strategy today!
Episode Transcript
Our podcast is produced as an audio resource. Transcripts are generated using speech recognition software and human editing and may contain errors. Before republishing quotes, we ask that you reference the audio.
Ryan Embree:
Welcome to Suite Spot where hoteliers check-in and we check-out what's trending in hotel marketing. I'm your host, Ryan Embree.
Ryan Embree:
Hello everyone, and welcome to another episode of the Suite Spot. This is your host, Ryan Embree. Thank you all for listening and joining me today, wherever you are listening to us from. Now, usually on the Suite Spot, we are talking about all the exciting updates and advancements that we have at Travel Media Group, but as social media experts, we are also in the know when it comes to new updates and features that happen across digital marketing platforms. And that's exactly what this episode is all about. We are talking about Instagram reels today. So with me today to talk about this really exciting new feature from Instagram, I wanna welcome for the first time, Sammie Snapp. Now, Sammie is a social expert on our social media team. She's a social media content analyst that works directly with our hotels, creating content and really helping our hotels effectively run their social media campaign. So Sammie, without further ado, let me welcome you to the Suite Spot.
Sammie Snapp:
Hi, I'm so excited to be here with you guys today and I'm excited to dive into it.
Ryan Embree:
Yeah. And so again, we're talking about Instagram reels. Before we get off and running, because there's a lot to this update, let's first just answer the basic question, right? What are Instagram reels?
Sammie Snapp:
So Instagram reels are a new feature that has just been added to the platform pretty recently within the last year or so. And it's basically a tool to utilize up to 60 second video content. Very, very similar to the TikTok app that has blown up in the past, I guess, two years since 2019-2020.
Ryan Embree:
Yeah, I think the stat on that, the incredible stat that we heard at the end of 2021, was almost that, I believe this is correct, where there were more people searching on TikTok or using TikTok than they were on Google. It surpassed Google as the most used site, which is just absolutely incredible to think. So it's no wonder that Instagram kind of reached in and created this because of the popularity that TikTok has over the years.
Sammie Snapp:
Absolutely.
Ryan Embree:
Yeah. So what we're here, obviously Suite Spot is a hotel, digital marketing podcast, all about hotels, for hotels. So let's talk about how Instagram reels fit inside of our industry.
Sammie Snapp:
So reels have a ton of benefits. The biggest benefit for the hotel industry is gonna come from the explore page and the explore page, if you wanna equate it to TikTok, it's very similar to the For You page. It's gonna show just any random user on Instagram, things that they might like, things suggested to them. And for, for the hotel industry, they're gonna show up on these explore pages for people that might not necessarily be following them. So the biggest thing for the hotel industry is that this is gonna bring in a lot more engagement and a lot more views. They might not otherwise have gotten to their hotel page from outside of just their following.
Ryan Embree:
Yeah, that's absolutely critical. I, I don't think we can stress that enough, right? Because right now we work with hotels to kind of build their following, their social following and anything that they post on Instagram, on Facebook, on LinkedIn, and on Twitter, typically that's only going to reach your direct followers unless they share it or interact and engage with that post. But with an Instagram reel that little 60 second, 30 to 60 second video that you were talking about, now, all of a sudden it could fall on, not necessarily a stranger, but somebody else's feed and they could become interested and maybe give you the opportunity for a follow or a mention or something like that, a comment. So this is a really cool opportunity for hotels to really expand their audience. So we're always talking about with social media is what is our goal? What are our objectives, whether it be for a post or our strategy in general. So what goals or objectives should hoteliers keep in mind when they're creating reels for their property?
Sammie Snapp:
So the biggest objectives, there's gonna be a couple that hotels are gonna wanna keep in mind. The most important is going to be, first and foremost, showing off their property and their features. So, you know, this is things like showing the bedrooms, the pool, all of those parts of their property that make it unique. They're gonna wanna share tips. Sharing tips is really important as well. This could be travel tips, tips for the property itself. Authentically engaging with the clients is gonna be one of the most essential things here as well, because this is going to drive that engagement like we talked about. The authentic engagement, it's not just necessarily liking, but it's liking and also commenting, like you said, sharing, like you said, furthering the conversation. I think that's very important for hoteliers as well. And lastly, inspiring travel. So we're coming to this period of time where we're in a somewhat post-COVID world where people are starting to want to travel again and travel safely. And we wanna inspire that travel and show them something that, that they look at and say, Hey, I would love to go there. It's that kind of feeling that I think is really essential.
Ryan Embree:
Yeah. And really when we're talking about that algorithm that Instagram's putting together to see what people are interested in and what they're gonna put on this Explore page, right now at the forefront of a lot of people's mind is getting back out there and traveling again and, and having those vacations that they haven't been able to do for several years. So creating content beyond just a static picture, you think about hotels, how many moving parts do we have in a hotel experience, right? Even from walking into the door to the rooms, to the attractions that are around us, our amenities, there's so much opportunity. So what kind of content ideas could you share with some of our hotel listeners that you would suggest posting for reels?
Sammie Snapp:
There's a lot hoteliers can do for reels. And I think that's one of the coolest things about reels and video content in general, is that it's such a creative thing. But some of the suggestions that I have are user-generated content things coming from their guests, you know, like anything that a guest might share with you, they had an amazing trip and they wanna show it off. Getting permission and consent to share that, that's such an easy way to show right off the bat, look how amazing our property is. Look how people are loving it, those kind of ideas, as well as you had kind of touched on this, the scenic views of the area and those local attractions, those things that make people wanna travel there. So for us in Orlando, that could be Disney and theme parks, or perhaps you're at the beach.
Sammie Snapp:
People love, love going to the beach. That's a huge destination. Nature, wildlife, all of those kinds of things. So that's a huge one as well. Short videos showcasing the property features as well. I know we talked about that a little bit. Another big thing that that hoteliers can use for reels is reformatting content. So say that a hotelier has a commercial or an old ad or something on YouTube, a different platform. You can reformat that on reels very, very easily and it's kind of like an easy way to get more content. And it looks amazing too. You add some text or some audio or music and you have your content right there. A couple more ideas are behind the scene videos. People love behind the scene videos, getting like a taste of the hotel before it's ready in the morning. Say for example, maybe the breakfast spread at 6:00 AM before everyone's come to claim all the biscuits and everything.
Sammie Snapp:
Little things like that I think go a long way with reels. Working with influencers is another one, that one's a little bit, not necessarily harder, but not as touched on. I think right now, I think it's something hotelers are just now starting to dive into, but that sharing content goes a long way as well. And lastly, I think one tip is just sharing tips and how-tos. There's so many people that love getting those tips and it just, those life hacks in general, people wanna be able to do things and do things easily and feel safe about it. And I think those tips will go a long way as well on reels. I think hotelers can really utilize any kinds of tips from check-in to check-out and will really benefit their property.
Ryan Embree:
Yeah, absolutely. I mean, I hope if you're listening to this, you are writing some of those down, because Sammie just pretty much gave you a, probably a quarter's worth of social content there, but you're, you're totally right. You know, those life hacks, the one that sticks out to me is one of those where you get the clothes hanger from the hotel, you make sure the curtains are, are fully closed so that little bit of light that always seems to be a problem doesn't come in. But that's how easily something can go viral. And speaking of going viral, another idea for content would maybe just be looking at what's trending right now, right? On TikTok or on reels, those seem to have kind of a, somewhat of a connection highway for trends and, and things that are going viral.
Ryan Embree:
So whether it be, you know, it doesn't necessarily have to be any sort of dances, but trends with, with music or, you know, different setups at the property that that can be easily translatable to your hotel. This is all stuff that catches the eye. It catches attention. And with videos, you're just doing a better job of doing that. One tip I would tell hoteliers on this call to maybe take a look at, to see if video is taking off is the next time you're on social media, scroll through your feed and start to count how many videos there are versus just static images or even just text, right? Maybe a decade ago that feed was full of text and now it's evolved into picture. And now that evolution is moving even further into video and music. So speaking of videos and music, these are all ways to get your hotel to stand out on a customer's feed. So let's talk about how can hoteliers make their reels content unique and stand out to travelers.
Sammie Snapp:
All of these were amazing ideas, as you said, especially with the music and everything. That's those viral trends, like you said, are a huge part of that. Combining them with those parts of their property, genuinely in the question, you kind of almost answer it yourself. It's showing off those unique parts of their property that I think are really gonna make the property stand out. For example, we have a property in Costa Rica and of course they've got the tropical jungle and these amazing animals and waterfalls, and we've reformatted some of their content as well that looks amazing on social platforms. And it's something as simple as adding some music to it. And especially like you said, those trending songs and maybe showing the walk from the breakfast area down to the waterfall area, things like that, that make you wanna travel and are special to your hotel. And those things that make you stand out in general will make you stand out on social media as well.
Ryan Embree:
Yeah, for every single hotelier on this call, they know what makes their hotel special. Whether it's the people, whether it's the views, you don't necessarily have to be that resort property in Costa Rica. It helps to be, obviously, for content ideas, but hotels are looking for a voice. They're looking for a personality and travelers wanna see that in your social media to distinguish yourself from just another property or a property down the road. We're seeing that sometimes a social personality is becoming maybe the difference between a traveler picking one place versus another. So this is extremely important. You know, we talk about uniqueness of posts, but we also look at trends for content ideas as well. So what are some examples of how hoteliers are using reels in their social strategy today?
Sammie Snapp:
So if you go onto different major hotel brands, you can kind of take a peek at what they're doing. And when you are looking through their accounts, you can see all of these amazing ideas that we've talked about that can really inspire creativity. One favorites, personally, is Marriott Bonvoy, and I believe their user is @Marriot Bonvoy on Instagram. And if you go to their reels page, it's these gorgeous, gorgeous videos of all over the world, just different parts of their property. And it goes back to that idea of inspiring travel. And I think something that they utilize really well is asking questions on their videos. So putting a little bit of text and maybe adding a question in there too, to drive engagement and to pull up that engagement. And that has been one of my favorite accounts that makes me really wanna travel as well.
Ryan Embree:
Oh, I bet. Is there anything, Sammie, that hoteliers should be avoiding posting using reels?
Sammie Snapp:
I would say as far as avoiding, it's not so much as avoiding other than following, you know, community guidelines on social media, but more so about the length of your videos. People in general tend to tune out after about 7 to 15 seconds. So it's almost better to have those shorter videos. It is possible to have videos up to 60 seconds now on, on reels, but those shorter videos will keep their attention longer and will give you better results in the long run.
Ryan Embree:
Yeah, I think again, if you're a hotelier listening to this and you want to see how long a traveler attention span is, especially a younger one, think and look at how quickly people are now scrolling on their phones, how much time they're giving a post before swiping up. So you definitely do not want to have a long video with a lot of copy, needs to be very, kind of short and to the point, but entertaining. So how can hotels maintain a balanced social strategy with reels?
Sammie Snapp:
It really does depend on the scale of the property and how much time and resources they can put into it. But my biggest suggestion in order to maintain a balanced social media strategy is to start small, maybe trying out one video per week, or maybe even biweekly in the beginning. Just spending a few minutes on something that's nearby, something that they can do right from the office, adding a couple hashtags and just seeing how it does from there. And each target market and demographic and area is gonna respond to reels a bit differently. So one thing that might be funny to one area might not to another area or one thing that might do really well in certain places might not in others. So just kind of playing around with it and seeing what their audience likes and what does well for them. And the most important thing to do is to keep up these strategies alongside with what you're doing, but using those reformatted older content and producing alongside without losing that balance and maintaining an equal strategy so you're not putting all of your eggs into one basket all at once.
Ryan Embree:
Yeah, absolutely. We don't want to only focus on this incredible new feature, reels. We actually wanna have quite a balance of those types of posts, but you're right. It's about getting creative and we've shared this multiple times, whether it's myself or Jason, it's all about leveraging data, right? Your guests and travelers are gonna tell you whether they like your content or not based on engagement. So it's about tracking that to give you clues and a blueprint of what you're doing right, and what you sometimes need to tweak. So I'm excited for this. This has kind of been already rolled out for quite a while, but I'm excited to see more hotels get in the Instagram reels game. I'm sure TikTok will be on the minds of a lot of hoteliers, too, about whether I should dive into creating that for my hotel, but with the possibility of new eyes and new travelers seeing your content, this should be very, very exciting. And I know sometimes new is scary, but it should be exciting for a lot of hoteliers listening to this today. So Sammie, as we wrap up, as we like to do always on the Suite Spot, any final thoughts on today's episode?
Sammie Snapp:
I think at the end of the day, it's kind of just what you said, just having fun with it and really just putting some creativity from it, but not stressing out too much about it. You know, just trying stuff and seeing if it works. My biggest tip though, is to just keep trying and just stay creative, have fun. The algorithm these days, all over social media, can be so tricky and you really don't know what's gonna take off or what people will enjoy, so really my biggest tip is just don't give up and just have fun with it.
Ryan Embree:
Yeah. Who knows? We could have one of the hotels listening to this go viral and blow up on social media thanks to some of your tips, Sammie. So thank you so much for joining me on the Suite Spot. We'll definitely have to have you back on.
Sammie Snapp:
Absolutely. I'll be looking forward to it.
Ryan Embree:
Awesome. And for the hoteliers out there that are just overwhelmed, by not only just new features, but new platforms almost coming out. I mean, a couple years ago, TikTok wasn't even on our wavelength. And now it's one of the biggest social media platforms out there. That's why hoteliers come to us and Sammie and the social media team here at Travel Media Group to help them monitor and come up with a social strategy that will be effective and get content that's promoting their hotel all the way from inspiration to conversion. So if you're interested in learning more about Travel Media Group's custom social solutions for hotels, which we just launched social 2.0. If you have been listening to this podcast, you've heard about before, but we're super excited about that feature. Reach out to us, go to our website, to travelmediagroup.com.
Ryan Embree:
Email us, give us a call. We love talking about this. Like I said, we've got departments dedicated to social media, reputation management and review response for hotels. So that's it for me. I want to thank everyone for listening. Thanks, Sammie for coming on. And we'll talk to you next time on the Suite Spot.
Ryan Embree:
To join our loyalty program, be sure to subscribe and give us a five star rating on iTunes. Suite Spot is produced by Travel Media Group with cover art by Bary Gordon. I'm your host, Ryan Embree and we hope you enjoyed your stay.
Hotel Marketing Resources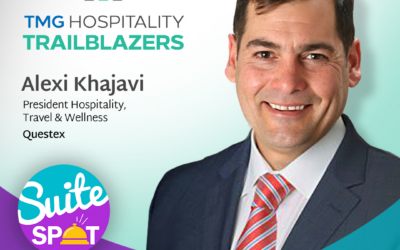 Join Suite Spot podcast host, Ryan Embree as he welcomes the President of Questex, Alexi Khajavi, as an official TMG Hospitality Trailblazer! These two hospitality-focused individuals discuss some incredible travel and tourism subjects in this episode, giving viewers...