101 – Introducing TMG Translations: Multi-Language Review Response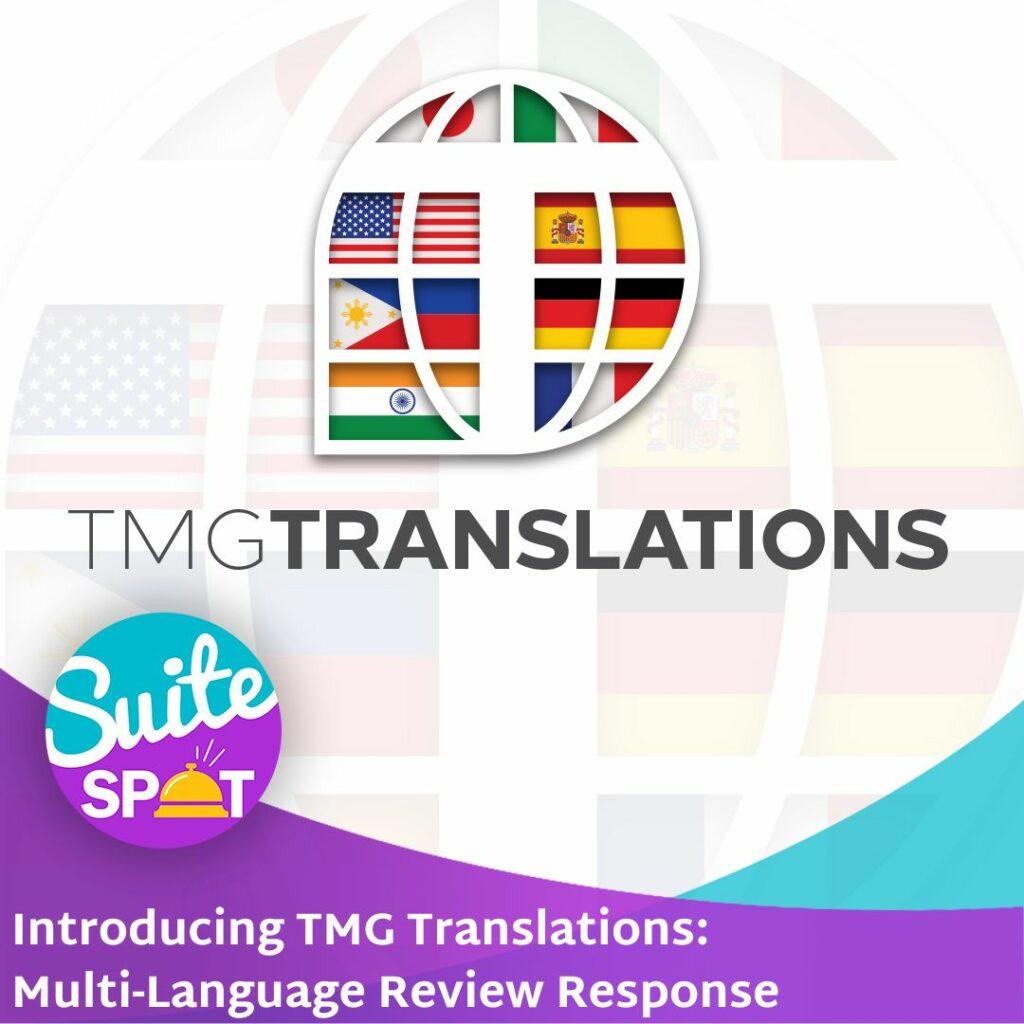 Join Suite Spot host Ryan Embree and Chief Technology Officer Jason Lee, as they announce the official launch of TMG OneView multi-language translation! 
With this new function, hoteliers who partner with Travel Media Group will have instant access to its brand-new capabilities such as translating online guest reviews into various languages, responding to reviews in native languages, and delivering your hotel voice and tone for international travelers.
Episode Transcript
Our podcast is produced as an audio resource. Transcripts are generated using speech recognition software and human editing and may contain errors. Before republishing quotes, we ask that you reference the audio.
Ryan Embree:
Welcome to Suite Spot where hoteliers check-in and we check out what's trending in hotel marketing. I'm your host, Ryan Embree. Hello everyone. And welcome to another episode of the Suite Spot. Hello, Bueno Dias, Bonjour, I think that is very, very telling for what we are about to talk about in this exciting episode with me today. Very familiar voice and face Jason Lee, our TMG Chief Technology Officer Jason, welcome back to the Suite Spot.
Jason Lee:
All right. Thanks for having me back, Ryan.
Ryan Embree:
Typically, when we hear Jason, this means that we've got an exciting new feature to announce and talk about, and that's exactly what we're doing today. We are introducing for the first time ever TMG translations multi-language function within our review response platform respond and resolve. Jason, this is so exciting. This is probably one of the most exciting features we've ever launched with this, this solution. But usually when you come on here, there's some sort of story, right? A lot of the feedback and updates that we do in development that you and your team do Jason, is based on feedback that we receive from hoteliers in real time. So I have to ask, is there some sort of story or reason why this upgrade was necessary and why your team decided to launch this now?
Jason Lee:
Yeah, so what's interesting about language and language translation is that there's a lot of dependencies and those dependencies are on the property itself, right? The language that they speak, the person who wrote the review and the language that they speak, the person who is reading the review and the responses on the live site. So there's all of those elements that are out there. And on a lot of the live sites like TripAdvisor and Google, you can actually select language and only see reviews in your language. So you could just read if you were from France and you just wanted to see French reviews about a property, you could actually see that. So being able to credibly translate reviews, create responses and make it all end to end was really important. And so we had elements of that already done, but to make it truly end to end where I pick up the review in the foreign language, I know the properties preference of language to be translated into. I know their preference for the actual review response. So I know that they want it to be either native or I know that they want to have it responded to maybe in English, if that's what their preference was. So let's say it's a scenario like this. The property is an English speaking property. We get a Spanish speaking review. Their response preference is review native meaning respond in the language that the review is written in. Now we respond to that review. Part of our review response process is that the hotel also picks up that response and can approve it and edit it. So we also needed a way for the hotel to be able to edit in the language of the review. So that is what I'm talking about. End to end. We pick up the review, we respond to it in the language preference that the property has. And then we allow the property also to edit that response in that same preference. And then we publish it.
Ryan Embree:
Yeah. And, that's so critical. I mean, you think about the last couple years we had the international traveler all but disappeared here in the United States. And finally, I think, believe it was late last year when the international travel really opened back up, because you think people were looking for a level of comfort before they were making such a big trip, right. Even to another country. So if you start to see reviews written in your own language, even responded in your own language, that's going to give you a sense of comfort that was not there and could encourage you could be that tipping point to actually make that trip. And when we talk about review response, it's so critical to make that connection to your guests. So I think that real world situation that you just gave us of a Spanish speaking guest, leaving that review in their own language. And then if they were to see that response in, in another language, that connection is missed there. It's not just missed for the guests, which we know is so important with review response, but it's also missed for the potential traveler that is reading those responses that we've known over the past couple years have been so important, making those connections and communicating with guests. So, you know, I know you kind of walked through kind of a real world situation there as we talked about. Why do you think it's so critical for guests to see these reviews and review responses in their own language?
Jason Lee:
You know, I think it comes down to whether, someone from another country feels welcome at your property and you know, will they feel welcome? Will they be, will they have a good experience? You know? And sometimes there is a level of insecurity with certain guests that may feel like, hey, maybe this property is not gonna, you know, accommodate me. You don't know why a guest will choose a property over another property. Sometimes, you know, there is all of those factors, but you add to that native review responses in the language that they speak. And I think you have a better shot at grabbing those guests. And, and like you said, not to mention the actual guests who wrote the review, like giving them back, you know, that validation, you know, through writing back in their own language is such an important place to be. I think as a property is showing hospitality, you know, where I think sometimes we get into these and this is where I feel like Travel Media Group really stands out is that we don't view these things as just simple transaction. I think sometimes you can get, get into this mode of like, well, I've gotta respond to all my reviews. I've gotta respond to all my surveys and I have this just big list of transactions I have to make. So I'm gonna quickly knock these things out, get it off my plate and get back to doing other things. And where we really shine is in digging into these areas and making sure these responses are meaningful to the guests who wrote them. They're meaningful to the guest who is possibly reading them, who was making a choice to stay at your property. So all of those things come together and that's why we didn't kind of rush this part of translation. We could easily have just like translated the review, given the translation back to the hotel and, and just kind of left it at that. But we wanted to make sure that the experience for the hotel was as meaningful so that they could actually, they can also read it, translate the review, translate the response that we wrote and then also put their own input in.
Ryan Embree:
Well, I think it also you'd be surprised how many of these multi-language reviews these hotels are actually receiving. We get a lot of requests from hotels all the time asking, do you respond in this language? Because we have a lot of international travelers that leave us reviews there. So that was, I think another bit of insight that we came across was the need out there for this function, which really I would say is a huge gap right now. So being able to provide this, that's why it is such a huge, huge feature and launch for us at Travel Media Group. I wanna shift gears a little bit. I know we've talked about this before on the podcast, but I wanna talk about the difference between language and voice. And I think this is something where you mentioned it before, there's a, the TMG difference, the respond and resolve difference between maybe this review response solution and others out there. This is where respond and resolve really separates itself. Could you talk about the difference there between language and hotel voice?
Jason Lee:
Yeah, so obviously language is, is language. Language is a mode of communication between people, right? But the voice of the hotel is really the intention behind that language. So it's the intention of each response. So how I want to respond to an issue and I might not want to apologize for everything. I might wanna explain the situation at the property, you know, so understanding that voice is a big part of what Travel Media Group does. So it's about helping the hotel kind of craft those things. And if you don't know your voice, if you're like listening to this at a property and you're like, yeah, that's a good question. I don't even know. like what? Like maybe, maybe you can't articulate it, but it, it has been a part of what you've been writing. We have this like really great way of getting this information along the road. So as you start with us, we ask you a lot of questions to kind of get that ball rolling. But as we respond to reviews, you have this opportunity to weigh in on these responses. And we take a look at that. So as you start to like modify the responses, we start to modify the note and make sure that we hit your voice so that it sounds like you. And so that, it's a way, way that you would explain something and we can also help you kind of craft some of these things as well, because it's not just all about like thanking and apologizing. And I think that's the, the mode we get into thanking and apologizing thanking and apologizing. Whereas there, this is a great opportunity to inform the guest who has, who has written the, this review and also for future guests, setting expectations and helping them understand what type of experience they might have with you.
Ryan Embree:
Yeah. And I think there's language within voice. That's also very important too. And the example that I always give is in English would be, Hey versus hello, right? That is the a greeting, but those two things are very different if you're coming to the front desk, and you're teaching your front desk people to always address, good afternoon, hello, how are you? or it's just, hey, you know, we're more of a laid back hotel. You know, we, we've got more leisure guests coming in. You know, we wanna create a memorable experience. We want to connect with our guests from the very beginning. That might be a little bit more laid back. So that's also built in this translation is what, because there's that language inside of voice too. And a lot of times hotels organically will find their voice when working with respond and resolve, because they'll start to create and give us edits to say, you know, you guys framed it this way. And you know, let's, let's maybe look at it through this lens. You're apologizing versus not apologizing great example there. So a lot of the times our hoteliers end up finding their own voice and what they're trying to put out the message, because one of the biggest things, that mistakes that a hotelier can make is if you are sounding inauthentic online and they come to the property and they're getting a whole other experience or voice that doesn't match up expectations, and you're really making yourself vulnerable there for negative reviews. So I think that is a super, super important piece to all of this. So looking forward with TMG translations, when you, when you first explain it, it might just sound all this is multi-language function, but there's so much that goes into it. What kind of possibilities does this open up for hotels that could be using TMG translations?
Jason Lee:
Yeah, I mean, so today inside of our platform, we're using, you know, an, a natural language processor to process language for sentiment, and also for translation, kind of using that to like detect language and so forth. So that language detection part of it, the thing that that's sort of a key that opens things up to more organic and more original type of responses from native speaking writers. So this also, this opens up the opportunity for us to bring in actual native speaking writers in these different languages, instead of having a translation of a response, we're writing it natively, but what's neat about something like that again, is that I might be picking that up and writing it natively, but you still may want to read it in English. Right. So having all those pieces together, and that's why we built it this way, we built it really for this expansion and really, because you think about, and we already service, properties internationally, you know, we're looking to expand that and grow outside of where we're at and language is really the only barrier. Again, I kind of go back to that thing where I do feel like it's a task vital space because in, if you're at a hotel, this is one of mini tasks that you have, and it could be your least favorite one of these tasks, but it is a vital piece of it. And so we wanna pick that up and we wanna be the best possible partner for you on that piece. So being able to help you and then being able to sharpen that help, it's like, I start with this piece and then we just make it better and better and better.
Ryan Embree:
Yeah, absolutely. And anything that's gonna again, make you more welcoming, to international travelers give you that competitive edge right now that we know cuz international travel is only going to pick up. These reviews that are coming in, that's only going one way. People are leaving more and more feedback online. We just live in a global world. I mean, even some of the hotel listeners, that was one of the coolest insights that we found when doing a little bit more research on hitting a hundred episodes was how many hoteliers internationally that we have listening to this podcast. So it's, it's really, really great to hear. This is such a cool innovation. I'm so happy to have you share it with us. Any final thoughts, on today's episode, Jason?
Jason Lee:
The one final thought that I'd have is that what we try to do? And I think I've said this, you know, maybe I'm repeating myself on this, but what we try to do at Travel Media Group and especially on the technology side is we try to create these very simple interfaces that, that do complex things. And whether it's review response or its social media creation or it's website stuff, or it's reputation, straight reputation management, all of the things that we try to do in every aspect of those things is to help a hotel to take these like vital tasks that could slow you down, could way down one member of your team. It could be your DOS who could be out selling or your AGM who could be inspecting rooms. It could be one of these people who are like stuck doing data entry, right? And so we're that's, that is really our commitment. Our commitment on the technology side is to continue making this easier and more accessible to properties out there all over.
Ryan Embree:
Well, time is so precious for the hotel industry. I'm sure our listeners are aware of that. So even just things that give you even an hour back or a couple hours back a week, that makes a big difference. You know, getting that face time in front of your guests. These are some of the things that we're hearing from hoteliers. You've allowed me now to get behind my computer in my front lobby, talking to guests about the experience. These are the type of time saving and cost saving benefits that we're hearing from from hoteliers. And this piece of feedback about multi-language reviews was one that was heard and your team, Jason, your product development team did a fantastic job of answering the bell there. So thank you so much, Jason, for jumping on the Suite Spot. A absolutely incredible episode. Thank you all for listening. And we will talk to you next time on the Suite Spot. To join our loyalty program. Be sure to subscribe and give us a five star rating on iTunes. Suite Spot is produced by Travel Media Group. Our editor is Brandon Bell with cover art by Bary Gordon. I'm your host, Ryan Embree and we hope you enjoyed your stay.
Hotel Marketing Resources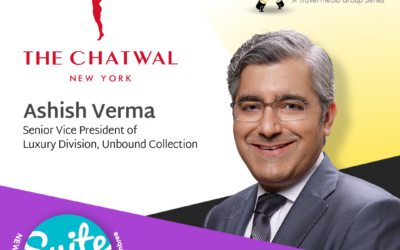 Join Suite Spot host and TMG Director of Marketing, Ryan Embree as he talks with the Senior Vice President, Luxury Division, The Unbound Collection by Hyatt, Ashish Verma in our new TMG Spotlight series to give listeners a lavish perspective on hospitality and how the...