103 – TMG Hospitality Trailblazers: Pete Sams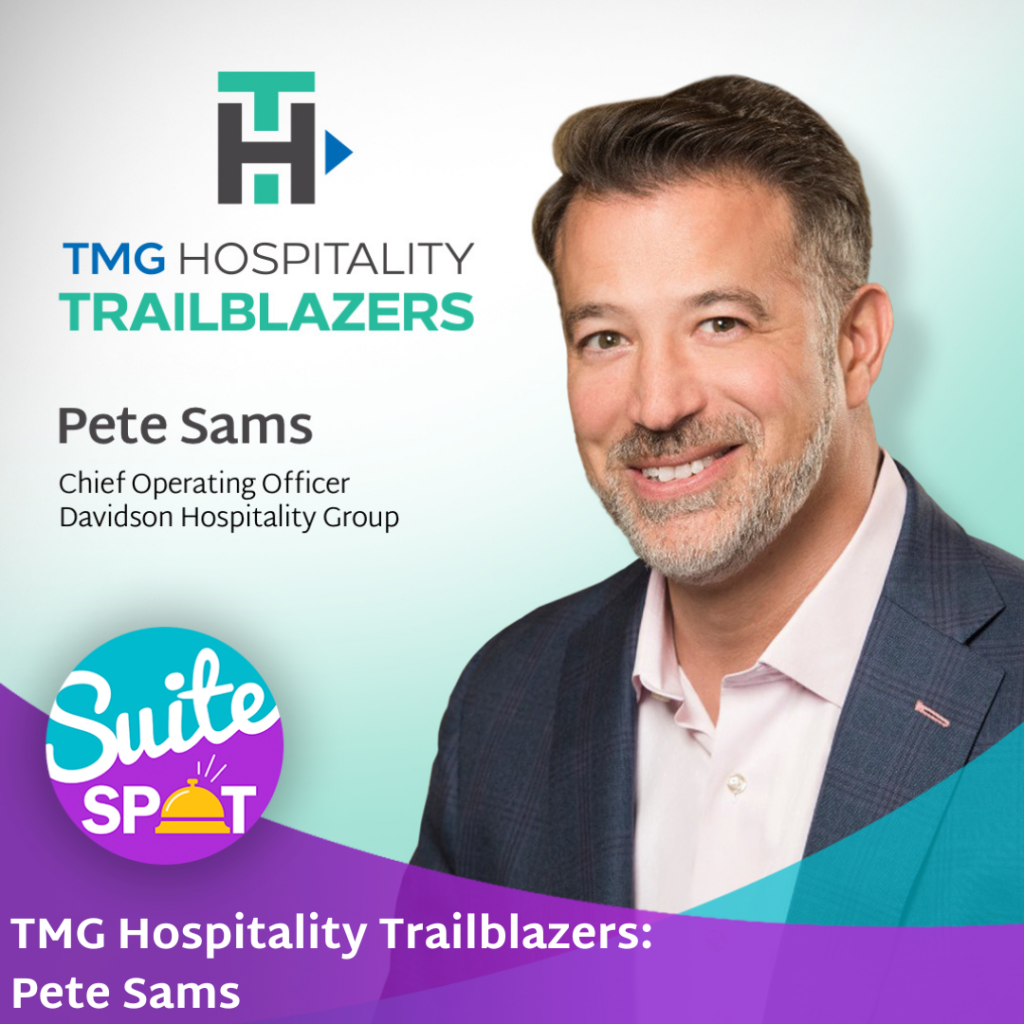 Travel Media Group's Hospitality Trailblazers podcast series is going full speed ahead! 
Marketing Director and Host of the Suite Spot Ryan Embree sits down with a very special guest, Chief Operating Officer of Davidson Hospitality Group, Pete Sams!
In this episode, Pete really gives a breath of fresh air to the hospitality industry and provides a behind-the-curtains look at everything going on at Davidson Hospitality Group and what these initiatives mean for their business partners and guests.

Episode Transcript
Our podcast is produced as an audio resource. Transcripts are generated using speech recognition software and human editing and may contain errors. Before republishing quotes, we ask that you reference the audio.
Ryan Embree:
Welcome to Suite Spot, where hoteliers check in and we check out what's trending in hotel marketing. I'm your host, Ryan Embree. Hello everyone, and welcome to another episode of the Suite Spot podcast. This is your host, as always, Ryan Embree. Got a great episode continuing our Hospitality Trailblazers series. This is the second episode of this series. For those listeners that might not know what this is, we are highlighting and showcasing some of the industry's best and brightest and people and the groups that we're gonna talk about today that are pushing our industry forward. Right? We did a similar series last year where we talked about some of those hospitality heroes, those going above and beyond during the pandemic. Now, as we have a little bit better news and outlook on the future for our industry, we're bringing some of those key members. And with me today, I've got a great guest. He's Chief Operating Officer at Davidson Hospitality Group, Pete Sams. Pete, this is your first time to the Suite Spot. Welcome in.
Pete Sams:
Yes. Yes. It's comfortable. Thanks for having me.
Ryan Embree:
Awesome. Well, let's jump right into it. And it's the first question. Sometimes my favorite, especially with our new guests, you know, we're such in a unique industry where people's stories, you know, really can come from anywhere, right? With hospitality backgrounds. So give us a little bit about your journey and how you ended up here at Davidson Hospitality Group.
Pete Sams:
Well, first and foremost, again, great to spend time with you, Ryan, and thanks for including me with such esteemed company. I don't know if Trailblazer is code for vintage or nice way of saying old, but, apparently, as you could see by the white in my beard, I've been around a little while. It's been an amazing journey to be sincere with you, Ryan. I wake up sometimes and just wonder how, how it all came together. But to give you a little bit of color on, on my background, my history, I've surpassed quarter century in the space, probably a little closer to almost 30 years at this point, which is, again, hard to fathom. Like many of my colleagues in our industry, I did not initially anticipate working in, in the hospitality space full-time. And, and as a career, my first role in hotels was I'd gone into the military out of school, served in the, in the US Army overseas, did a tour, drove an M1A1 tank, which I always say prepared me well for a life and hospitality, but getting aside, it's, you know, a spirit to serve. And I do believe in servant leadership and putting others above yourselves, being part of amazing teams. And I think it translates in, in a lot of ways. So, when I exited the military, I had gotten the GI Bill College Fund monies to put myself through school, and I was working as a server waiting tables. I was waiting tables as I was finishing my degree in finance at Corpus Christi, Texas. The first leg of my, my career kind of goes in thirds, first 10 years of my career were in the finance discipline. I got my degree in finance. And while I was finishing school, I actually became a part of the Leader in Development program at Omni Hotels. So when I joined that company, it was pre-purchased before Bob Rolling acquired Omni Hotels, which took place in 1996. And in 96, as I was getting my degree, I'm finishing up my senior year of college. That's when Bob purchased Omni. So I was a leader in development for Omni Hotels in the, in the finance area. Came up through hotel accounting. So I did a lot of roles in that arena. Grew to a regional and had above property responsibilities for a number of, of hotels for Omni and then eventually made the transition into operations. So I cross trained through a self-directed development program, went into operations, became a director of operations, and ultimately a GM. Second act, I guess was operations and general manager. And I was general manager at the Omni Hotel in Richmond, Virginia. We had an amazing team there. And, and eventually was selected as general manager of the year for Omni Hotels. There was able to parlay that into an opportunity to lead our hotel at the Shoreham in Washington D.C. Which is, again, a, a historic asset, a flagship for Omni Hotels, substantial size, scope, scale, and again, had wonderful experience of leading that team for a number of years. So, in the end, I spent 20 years with Omni Hotels, and the opportunity came around to join White Lodging. White Lodging had reached out to me a few times over my career about opportunities. And when I hit the, the 20 year mark, I said, you know what, I'm, I'm gonna take a listen. And it was an incredible opportunity. I had only known and had great success, but had known one way of, of operating through one company, Omni's a bit of a unicorn in the space, as you might know, singularly held, owned, and managed. So it was a chance to kind of spread my wings in my horizons. One of my mentors in my career was Mike DeMeyer, who you might be familiar with from Aimbridge. Mike hired me or promoted me to a leader in development, was instrumental in a lot of my career. When I went to him and had this kind of angst about, am I gonna make this move, to his credit. While he did not wanna lose me at Omni, he encouraged me to take the move and said, Look, you're gonna learn a lot, You're gonna grow, You're amazing at what you do. I wanna see you succeed. And so he was very supportive in that meant a lot to me in my career. And so I went and had a lot of success at White Lodging, met another one of my great mentors in my career. Keith Dobb was our Chief Operating Officer, longstanding career at, at Winegar in Hammonds. Committed to process, committed to people and talent and, and learned a lot at White Lodging. And then Mike DeMeyer took the opportunity at interstate, and at least what he told me was, I was his first call. That might not be true, but as soon as he accepted that role, he gave me a call and said, Pete, you know, I'd love to reunite and, and let's take the hill at Interstate. Asked me to oversee his full service operations, which I did. We had a ton of success, you know, leading that historic company to, to new heights. That obviously led to the acquisition of Advent and the merger, if you will, or acquisition of Interstate into Aimbridge. So when that transaction happened, I, I helped bring that to its conclusion and then had the option of staying the course. And I, I, to me, it was an opportunity to think about, is this what I want to do next? And I had met Tom Gache, our President and CEO about a year prior to that transaction at a Kimpton meeting where Kimpton had made the decision to begin to allow third parties to manage, get into the franchise space, their brand. We were one of the few selected Interstate and Davidson. So I met Tom there. He made an amazing impression. They had a, what he claims to be a exhaustive 9 to 10 month search for a Chief Operating Officer. At the time of our transition, he reached out to me, we had a conversation. He introduced me to John Bevin, I don't know if you've ever met John Bevin gracious, humble, but driven gentleman in this space. He sold me in tandem with Tom on the vision of what Davidson Hospitality was about to become. Again, at that point, this is 2019 q4. So none of us knew what was about to happen. There was a, there was a growth trajectory. We were about to launch our vertical strategy deploying. We had already launched Pivot, which is our lifestyle division, which had had great success. We were about to introduce our third vertical in the hotel space, which was resorts. We had a, again, an aggressive growth strategy. I saw it as a perfect opportunity with the incredible culture that Davidson is famous for, to parlay that into the ability to create a game plan that would leverage that culture and create scalability, accountability, and consistency across our platform so we could achieve our, our aspirations, you know, as it relates to growth. So I'm approaching rapidly three years here at Davidson. And in this capacity, we've doubled in size over that tenure, and we've done that over the course of, as everyone knows, the most unprecedented challenging window in the history of our industry. And I, I attribute that to the amazing culture that had been forged here and continues the strategy, the commitment that our ownership made to our company. While everyone, if anything, it was a bit of, I say lemonade out of lemons. I think what the pandemic did in a lot of ways was separate the best from the not not so great. I think in a lot of ways the cream rises to the top right. And I think value sometimes in our industry, Ryan, when there's a tendency to commoditize third party management and it's strictly about fee structure. And when an owner's making a decision, it became really evident to our owners and to the owners that that made the decision to, to bring us on board over the course of the pandemic. What a difference the right management company can make in terms of performance and ultimately ROI. So, in a lot of ways it, it elevated and escalated our trajectory. It's just been an honor and a pleasure to be a part of this amazing organization. And again, while other companies contracted during the pandemic, we did not do any riffs, no reductions in force. In fact, you know, while we made collective decisions around things like pay to keep the team together, it was more important than ever for us to, to, and, and our vision was always about, we had to help our owners and we did at, at a, an extreme level survive, if you will. Yeah. Cause we had to tear everything down, but our eye was always on the prize. And the team was always focused on the real win is gonna come in recovery, and how are we gonna be better prepared than everyone else to recover? And so being able to work with this team on that initiative and to see it come to fruition and reel itself through all the metrics to which we hold dear, has been a great ride. And we're really, really excited.
Ryan Embree:
Pete, thats such a unique perspective. Cause I, I think you're right, the pandemic really forced the hospitality industry to really look at itself in the mirror. I mean, you think before what was going on, we were all time highs. We were hitting almost every single month, right? Industry was a little fat and happy, and then all of a sudden this came outta nowhere. We, we gotta sit back and reflect. And, and I, I think you're right, as hard as it was to keep your eye on this recovery, you know, I feel like those that stayed focused on it, you, you're right that that cream really rose to the top. So, and, and what unique timing with the start of your, your role and your position over there at Davidson Hospitality Group. I love stories like that because it, it really does follow that path you see in both the, the front side and the back side of the front desk and operations and, and all that good stuff. So, and a lot of those lessons probably served you very, very well during that time, right? Where we had a lot of, probably a lot of your GMs, your, your AGMs who hadn't cleaned a room and quite a while where were out there doing that. And, you know, that speaks back to those hospitality heroes stories that we've been hearing throughout the pandemic.
Pete Sams:
It was humbling and it was amazing to see our teammates in the field and they're embracing what was necessary in order to basically we're in survival mode. But when you get back to your roots, I think it's, it's very eye opening when you walk in those shoes. It helps you as you're building your operation back. One, we're identifying, you know, opportunities for efficiencies and things that, that can be done better and differently. But it's also, you know, it gets you back to your core and reminds you what this business is about. And whether we liked it or not, we were forced into that circumstance. And I think it was interesting, Ryan, in our GM's conference last year, we typically, we would do an award ceremony, right? Where we would recognize things like RevPAR index achievement and guest scores and all of the, lagging indicators that you might expect are pretty consistent across our industry. And instead we used that, that meeting to, to celebrate the champions out in the field that were just, as you described, hospitality heroes. They came from different roles. Every general manager wrote a letter to their team to say thank you that we memorialize. And then in turn we selected one champion from every asset that represented the fabric of what makes a Davidson associate special and how they stepped up. And that could have been a housekeeping supervisor, a director of finance that was out cutting the grass, one of our assets or whatever it meant. It was just a, a whole different lens through which we had to view the business and life lessons that I think none of us will ever forget.
Ryan Embree:
That's absolutely fantastic. And turning it into something like you said, that probably is something that those, those associates will never forget. And definitely some lessons learned there. I wanna keep on the conversation of the pandemic. I feel like we've talked about it enough, but I do wanna talk about some of the things that, that came from it. And that was adoption of technology, right? I think the hotel industry is known to adopt technology a little bit slower, but we almost were forced to during the pandemic. We just kept hearing less face to face interaction. Here's a mobile check-in, mobile checkout, all of this stuff where it's, it's almost going against what a hospitality customer service face to face. How do you guys find that balance? Because I know David's an hospitality, we're gonna recognize it in a minute. You guys just won a huge award for your reputation overall satisfaction with a group that prioritizes guest satisfaction. How do you find that balance between tech, you know, and someone that does appreciate maybe doing the mobile check in checkout and the customer service side of just being there? The people side of things.
Pete Sams:
I would say the optionality, there are different guests with different approach to, you know, how much interaction they do or don't want to have. So for those that want to get straight to their guest room and are looking to have limited interaction, having that technology in place so they can do that is certainly something that, that we're committed to across all the brands in which we manage and are independent. That aside, what I would say is you're still looking for interactions and touchpoints. The analogy I would draw is if you've been to the airport, right, and they've got the mobile check in, but those that do it well, you've got still a person available to you to assist you, whether you're having technical problems with it and or an opportunity just to interact and still have that traditional FaceTime to make sure you know that you're welcome. This is something, and I, I don't want to get ahead of myself here, but I do believe that as we go forward, one of the most important lessons I think of the last few years, and I think it bodes well for the hospitality industry to be honest with you, is that people truly want, most people truly want human interaction. And I think there's a paradigm shift generational that those of us throughout the world, let alone the United States, that we're in a state where we were unable to visit loved ones, we were unable to travel, we were unable to have that face to face interaction and touch and feel have prioritized that coming out of the pandemic at a level that I don't think is going to go away. I mean, I think when you think about your, your total spend and how you prioritize your life and what you prioritize in terms of how you're going to use your resources and your most valuable resource, your time, I think it's been proven that travel is at the top and is elevated in your hierarchy of needs, if you will. Right? Not to go Maslow on you, but I think it's elevated in your hierarchy of needs. And I think that's a game changer. And I think what we're seeing is the recovery has come in leisure, it's come in waves of leisure and now we're seeing it in the meetings environment, right? There's no question we can all hear gas prices, inflation, all these types of things are happening. But at the same time, we continue to see that we have not scaled back in occupancy and what the premium that people will place on a great experience if you're willing and able to deliver it. So I think you're never gonna lose that human touch and people want that. You need to make it available. There's a lot of studies out there that will tell you the more touchpoints you have with a guest over the course of their stay, the higher the likelihood you're gonna exceed or meet their expectations and that they're gonna return. We still are committed to that. We find other ways to do it within the new ways that people utilize technology to order their food or check in or checkout.
Ryan Embree:
Well, to support your theory. I mean they, they even came up with a term for how important travel is to people, right? Revenge travel. I don't think they even had anything like that for any of the other industries that where we're coming out of this pandemic. I mean, that pent up demand has really pushed ADRs to a place where, you know, in some markets it's all time highs, which is absolutely fantastic. But you're right, it gets back to the core there. I think a lot of the time as, as hoteliers we focus on, rightly so. Cause we've got so much going on at a, at an individual property. But to look on the other side, to see that guest and see their behaviors of, hey, listen, I, I got all this pent up demand, I'm ready to go on trips here and there. And for you to have the opportunity to make that even more special pays off dividends, especially on your online reputation, you kind of waited into these waters. So I'll go ahead and, and touch on this next. So we talked about how leisure push this, that's how we started that recovery, the beating of business side. I'm sure me and you subscribe, but we're on LinkedIn groups and all that stuff to, to very similar publications. But one thing that I still see people have conflicting opinions on right now is business travel and where we're headed with it. I wanna get your opinion, Pete, where do you think business travel is headed in 2023? How are you guys going about reaching out to business travel maybe differently than you had in the past?
Pete Sams:
Great question. So I guess I'm gonna step back a little bit and just give you some anecdotal kind of roll up information within our portfolio, which today is 80 hotels and we operate in the multiple vertical. We're exclusively full service in our space. Our three hotel verticals are our traditional hotel assets, which are your suburban and urban hotels branded assets. Think Marriott, Hilton, Hyatt, that we operate in that space just to name a few. Then we have our lifestyle division comprised of, think of it as soft branded, autograph, curio, those types of assets and, and substantial number of independent in that lifestyle boost boutique space. And then finally resorts, I would tell you that of our portfolio, we have three quarters of that portfolio that we can isolate and look at same store performance versus 2019, which has been the benchmark for quite some time, right? It's amazing because call it 35% of our portfolio is made up of hotels that we leisure destinations and those hotels are up 25% to 2019. Wow. Across that portfolio. Then you take the remaining hotels that are more business oriented, suburban, urban, downtown, could be lifestyle boutique, but depending on destination and and location, those hotels collectively are back about 15% to 2019. They're gonna aggregate it up about 5%. So our portfolio as a whole will be up 5% to 2019 with substantial improvement in margins because of some of the lessons we've learned through the pandemic, as you've alluded to earlier. And another reason, the reason I bring that all up is it's been driven by leisure. Even within every hotel, the leisure segment's been strong, we've seen a great recovery in group. And again, I think that's the next bastion, right? That's the next tier that's returned. And we're gonna finish this year somewhere in the 85 to 90% result of 2019 in terms of group and our initial budgets for 2023 show that we're going to approach 2019 in group. And I think that speaks to, again, that desire to be face to face, right? That understanding that like, as much as I enjoy being on this meeting with you through this online or video, there's nothing that replaces being together face to face. And I think that's part of the message we need to deliver on the business travel side for one. And that's what we're marketing to some degree. To answer that question, what I will tell you about business travel is business travel we projected would be about 50% of 19. We're hitting closer to 55, 60% this year. Now, one thing everyone should be mindful of is that business travelers are not booking through the means in which they traditionally book. And I think as a lot of companies reduced their scale and their workforce dedicated to business travel, those travel manager roles and things of that nature, by necessity, a lot of people began booking on their own through alternative channels as opposed to the GDS. And I do believe that some of what we call consider our transient cell outside of the traditional business travel is falling in those segments. And so it's hard to put a finger on where we really are. I think it's better than what we report because there are a lot of hidden business travelers that are booking through non-traditional channels because the GDS and the compliance is not being driven by those businesses, corporations that would traditionally focus on, on utilizing those channels and means. But to your, ultimate question, reminding them politely and helping them and market to the fact that there's corporations out there that are already out there traveling and getting in front of their customer, they will have a competitive advantage over those that are not.The nature of, capitalist society. People will understand and we've gotta get back out in front of our people. It's the third tier to return, but I think it will return and more bullish than most we were in our budget and exceeded those budgets. I think you're gonna see more of the same next year.
Ryan Embree:
I completely agree with you. It's gonna be tougher and tougher to identify those travelers specifically as, Hey, I'm here for business because I also brought my family. I'm also extending a couple days afterwards. I can see it. And, and especially with the, the work from home and all of that work from anywhere. You know, I'd love to see those ads. I think it's smart. I think people take advantage of it. I've had the opportunity to travel multiple times in, in 2022 for business. All it took was that first time back out there. It's exactly what you said. The learning curve of a lot of things that we did coming out of this pandemic might have took a couple times to get used to, but that business trip, after you've done a couple leisure trips, you jump right back into it and, and those benefits of meeting face to face, they're very apparent and with some potential rocky waters up ahead, You're right. I think it's the companies that come back to this and say, Hey, I know we've been doing the Zoom thing, but we gotta get in front of our customers, our team members, all that stuff.
Pete Sams:
Here's the other thing, I know you're interested in ADR and ADR lift and how well we can retain that. Yeah. I think one of the things that's bouying our ADR lift are historically considered, especially in your leisure markets shoulder nights, right? So whether it's the Thursday or the Monday or extending the, you know, through the Sunday, Monday stay and because people are doing business and mixing business and leisure, those rates that are traditionally a lower rate. I think we've got an incredible thought leadership on our team. When you start talking about folks like from a marketing perspective, Patricia Davis, right? RSVP of marketing and communications. You've got Kathy Hood, the matriarch in our industry that knows Davidson, knows Kathy Hood, right? Who leads our sales and revenue for our hotels division. Patrick Broderick. We've added on the resorts side, Harry Car, Vanessa Classical, these folks, they have been instrumental in helping us lead the charge in creating a new level of expectation as it relates to top line dates and, and how we sell. So yeah, I'm really, really proud of that group and we plan to hold onto it. We, we, we have no interest in giving it back.
Ryan Embree:
You're right. I think that those days that we really dreaded looking at our occupancy report, right? How much are we gonna drop? We're just crossing our fingers until Friday. You know, maybe that's bleeding over into those days like you alluded to. And I do think that is is definitely impacting ADR and hopefully figures cross that continues there. So I promise we get back to it. So let's talk about it. Davidson hospitality, I wanna make sure I get this right. Recognized by JD Power as the number one hotel management group in overall guest satisfaction. That's fantastic. Congratulations, Pete to you and your team as a reputation solution provider, Travel Media Group, and a proud technology partner at Davidson. We were so thrilled to hear you guys achieve this. I wanna know what this means for you and Davidson and your team and how you guys prioritize. I mean don't give any secrets away, but how do you guys prioritize guest satisfaction over there at Davidson?
Pete Sams:
Personally, I feel like the coach of the winning Super Bowl team, I'm so proud because at the end of the day, every class of hotel that someone could operate up and down the scale, our core principles and business practice and what we're charged with is to meet and exceed guest expectations, right? So in a lot of ways it's validation. It's validation for the approach that we've taken. And this window, obviously, as we know, guest experience rates are at an all time high. Staffing levels have been a challenge, service not commensurate with price point. Even in historical staffing levels, you would have a challenge with the rate growth saying that I'm delivering along that expectation. One, I'm very proud that it wasn't just that we generated this result, it was also that we did so because you can buy results. We did so while still achieving all of our objectives in terms of balance around exceeding expectations for our owners. We didn't buy those scores with, you know, inordinate over the top spend in the area of guest experience, very much in alignment with the industry, still with superior margins and flow. Our RevPAR index again is positive for the year we're growing market share, which, you know, you believe if you're providing experience superior to your competitor, then you can get a premium and outperform in market share, which we've been able to do. And again, our team members, we've asked them to do more with less, right? Some of that by necessity, some job redefinitions, some job combinations, things that had to happen. And our engagement scores internally are better than industry from a team member, which we was probably the most important metric. So I can't not let that go and, and not plug that. I think not only were the guest scores great, but in addition to, but because of our approach to things like culture. So I would say one, it's a tribute to our unparalleled core values and culture, which is what Davidson has historically for decades been synonymous with. And then we parlayed that into our approach to the business, how to simplify, how we get things done, get back to core basics. The interesting thing to me, Ryan, and again, one of our core values is to stay hungry and stay humble. So it's hard to talk about this with humility but I would say that what I really impressed me was the score of based on size, the 875 on a scale of a thousand, and this was our first year of eligibility and the volume of surveys needed to be qualifying. And you know, the reality is that score 875 is better than any brand in the upper upscale segment as a brand. So every brand that we manage, that score is superior to that score. And ours is an aggregate of all the brands we manage. I'm excited about it. It's, it's a great source of pride for our team. It's a tribute to our leadership, to be honest with you in the field. Again, everything we do at, at our corporate office is in support of our general managers and their teams. We have the best general managers in the industry, hands down, I'm confident of that. And it's proven out. The proof is in the pudding and every metric in which we measure, and then our corporate team is devoted and dedicated to supporting those folks in the field with platforms standards that help support our ability to pull that through. So we are really proud of that results and we hope to retain it and maintain it for years to come. But it's a tribute to, to our leaders, hands down.
Ryan Embree:
It's a fantastic story because listen, I've done a hundred plus episodes of this podcast and a lot of it stems from trying to educate hoteliers on a very simple premise of reputation. You do things the right way, treat your customers, your guests the right way, and exceed expectations. You gotta set them properly first, right? Set those expectation, deliver on it, and sometimes even exceed those expectations. You're gonna capture more market share. You just said it. So I love recognizing these things first. It's, it's a great achievement that you and your group have been able to do, but it tells that story that we try to preach over here, which is if you focus on your reputation and really do a great way of connecting with your guest, whether that be social media channels, review response, reputation management, it's gonna pay off for you in the long run. And you, you'll see that in your market share. So congratulations on that again, and in a time where, as you mentioned, I mean this is a historical staffing shortage we're going through right now. I did do a little background on Davidson. You guys use this Davidson hospitality DNA, You've mentioned the word culture multiple times on this episode. Talk to me a little bit about that and how you've been able to, to do this while we're having alongside the staffing shortage right now.
Pete Sams:
I think if anything, those foundational principles are more critical than ever when you're in times of duress, stress, what's my do north, what's the lens through which I view my responsibility at every level of our organization. Again, none of us is any more important than the other. I I don't care if you're a pot washer, you're a room attendant, you're a front desk agent, all of our folks, right? They understand that we look at our decision making process through these lenses, right? So one is our core values and the things that we hold near and dear to our hearts in terms of who we are, how we want to be viewed, and that our actions can be filtered through these commitments. And then secondarily, we've used the time over the pandemic to capture and memorialize and simplify, right? How we do business. So I mentioned one of my mentors, a gentleman named Keith Dobb, used to talk to me a lot about Parados Principle. And my team has heard about Parados Principle ad nauseum for for the many years since. It's one thing to say it, it's another thing that creates systems that execute against it, but it's the belief that the 20 that gets us the eight, there's a lot of expectations. There's a lot of standards. We can all pull out a standard operating procedure manual that has 78, you know, standards as it relates to the front office. But what we've done is we've said one, two parts and a lot of this work was led by Rachel Hickbe on my team. She is our Senior Vice president of strategic operations and helps tremendously on all things as it relates to process. So we worked in tandem with our operators, folks like Steve Contos, Paul Eckert, Rick Anglo, you named some of our senior operational leadership and then folks out in the field as well. And one, we identified our operational objectives in a single page, right? Keep it simple. Here's my due north, who's important to us, what are our objectives? We try to live in the leading indicators, Ryan, as opposed to lagging. So lagging indicators are an after the fact results, your P and L your star report. Those things are things you're looking at retroactively that have already happened. What are the metrics we can measure and the activities and the work streams that are going to allow us to achieve those results by focusing in your activity and the habits, the good habits that it takes to be successful in every arena, then that will drive the ultimate end game. And it's proven itself right through this challenging period for us with every metric publicly and privately that you can measure. So there was a commitment to those objectives. And then I've got an incredible team here. We have in the area of talent and culture, Carl Myers for one on our team that that really leads our organizational development, has done our Davidson Academy, how we train was a partner for, for me on this Davidson DNA and capturing how we do business. So in short, we have incredible platform services that no one in the industry can match. I mean, we have a, a marketing group led by Patricia aforementioned, right? A team of 10 for 80 hotels that leads our efforts around marketing. Davidson Restaurant Group is our, our fourth vertical Greg Griffy team of 10 for 80 hotels. We over club, right? And these areas that we think are differentiators. And then we've asked all of our department heads in all these different areas to isolate what are the three things that are most important. If our folks in the field don't do anything else, what are the most important standard? Not that there aren't others, let's isolate those. Then we've captured them in a manner, digitize them, train on them every day, talk about them all the time. And those are the basics. And they're, and they're vertical agnostic. So we talked about the nuance of a resort versus a lifestyle asset versus a hotel, but beneath all of that 80% of what we need to do to execute against responsible financial performance, exceeding guest expectations and having the best in class culture, those things are foundational and should be consistent across all of our verticals. And that's what that Davidson DNA really speaks to. It's all digital with each, there's links to the, to the ultimate source document. We can train on it at any time. Whenever we update it, we make a change. Standard number four might elevate next year into the top three and we might bump one down. It doesn't mean it went away, but we want to put a greater emphasis on that standard easily flipped and everybody's instantaneously up to speed on what the expectation is. It's how we work, it's how we communicate, it's how we set expectations, it's how we in many ways keep it simple. And when you're doing more with less, the more simple it is. Don't get me wrong, we have to execute against a lot of standards. Really, we believe that if we did these things in each arena, that that would create differentiation for us and consistency across the board.
Ryan Embree:
That's super interesting because you guys are in such a mode of growth right now, right? You just, you talked about this rapid growth of your portfolio. So to see that you're preaching, let's keep this simple, even though you might be adding a different brand, a different market, something with completely different needs, you still got that compass due North. I love that analogy there. And I, I heard you guys also do some a a lot of charitable work with the Give Kids the World, which is dear to Travel Media Groups, heart. In the central Florida area. So we, we appreciate all the charitable work you do with that as well.
Pete Sams:
This precedes me and my arrival. This has been in place for many, many years. Really important to our senior leadership from the very top, John Beldon aforementioned is on the board of, of Give Kids the World for those that aren't familiar with, it's a make-a-wish type environment that helps bring these young folks dreams to reality. And the thing that I, I would share with you about it that I think is most powerful is that it is a, across the entirety of our portfolio, the dedication, the efforts, the project from a company perspective is led by one of our GM's, Joy Boyd, who's GM extraordinaire at Baker's K for us down in the Keys. So it's, it's field driven. She's the one that that leads the communication out to the field. And you know, it's interesting, I was out recently visited one of our hotels, one of our great GMs, Christine Menzel, who's at the Camby out in Arizona. I was at their hotel, for example, for an event. They were recognized by host, one of our great partners host hotels as the hotel of the year. And they did an event, and again, with this event, they did all kinds of fundraising and they did a dump tank and just everything they do, those dollars are constantly filtered and accumulated and shared with Give Kids the World. So it's literally in the hundreds of thousands of dollars every year. And then most importantly, the folks that volunteer their time to go to again, the village and spend time face to face with some of these families. And it's always a grim reminder in many ways, but it, it's impactful when you can make a difference for someone. And it's also a reminder of our blessings and the things that we need to be thankful for. So it's part of our fabric. Give kids the world. They're amazing folks. It's amazing. And I appreciate you knowing that and asking that question.
Ryan Embree:
Yeah, no, absolutely. It's such an important cause like you said, and, and you know, this, this is the type of stuff that's the hospitality spirit, right? So when it's embodied in a group like your own, it's absolutely important to, to bring up and, and necessary to do so. So congratulations with that work and, and just amazing work you guys are doing over there. With that. Before we wrap up, Travel Media Group, our specialty is really helping hotels tell stories, right? Whether it's through social media channels, review response, reputation management, Davidson Hospitality group, you mentioned it before, it's got such a diverse portfolio. How do you tell properties to really be able to tell that unique story that each of your properties have within the portfolio, but stay true to that Davidson culture DNA that you spoke to from a marketing front.
Pete Sams:
Yeah, so one, let me tell you this, I think one of our competitive advantages is that we do recognize as a company that top line success is a three-legged stool, especially in full service, right? You've got group sales and group sales is incredibly important to your mix of business. You know, revenue management, absolutely over the years is elevated in terms of recognition, elevation to the steering team. Traditionally, 20 years ago, your revenue manager reported to maybe the director of group sales and they understand their, their role in our strategy and marketing at the end of the day is about your brand understanding, your brand, communicating through all the channels to which you have available to you, who you are, deliver your message. And again, the personalized experience that everybody wants to understand. So again, you could think of our next vertical being our marketing group because it's like an in-house agency and we have social media, et cetera. And so your reputation, your brand at the end of the day is your most important asset. And so we, we speak to that all the time. And then within our Davidson DNA, one of our requirements from a front office perspective is that every front office team is familiar with what we call the guest journey. So we have an incredible talent on our team. A gentleman by the name of Seth McDaniels, who leads our transitions and openings, came to us from two roads, back in his past was instrumental with the launch of the Thompson brand. A great creative, he works in tandem with my strategic ops group. We've got some great regional directors of ops, which is a layer that we offer that many of our competitors don't. Most of our competitors will have a VP of operations that oversees a region. We have a team of two in operations with a regional, with those regionals, you know, again, Hugo, and Luke, I don't wanna forget names. I mean, we, we've got this, Bernadette, Kenny, I'm forgetting someone. I don't want to, they're all very well versed in guest journey and understand. So we define the guest journey and then we feature those elements of the guest journey through our media opportunities, whether it's pr, social media, et cetera. Any marketer will tell you, I, I need material. What am I selling here? What am I telling? What's the story I'm telling? So we, we storytellers and we, we understand that and we focus on it. We create it for each of our assets regardless of brand type or vertical. And then we have an incredible team that is exceptional at telling those stories. Those metrics are as important to us and as any others. We look at leading indicators that I referenced, right? Mm-hmm. We're very responsive. So I know it's something that your company focuses on, but we think one of those things, the core messages, this was a Cornell study long ago that proved out, respond to your guests when they speak to you online. That's one of our commitments through our dna is that, you know, we track our, are we compliant? Are we responding to our guests online? And we still think that those things, sometimes it's hard because you can't draw a direct line from that response to a future reservation. But we all know intrinsically we look at those things and we read those things and they have an impact on our decision making process when it comes to booking a room.
Ryan Embree:
Yeah, certainly part of that customer journey that you're talking about. And I, I love to hear that cause I think sometimes hoteliers will, they'll feel a little trepidation about selling their story. They maybe rely too much on the brand or they just rely too much on one person. Or you gotta have a voice, you gotta have a strong voice, you gotta know what you're about. Most hoteliers I talk to, they know exactly what their competitive advantage is in their market. And when we translate that to their social media or their reputation or review responses, I'll come to those pages and I'll say, You just sold me on, on your hotel, yet this is telling me a completely different story in that customer journey. So it's so, so key to make sure that you're telling that story the right way and, and it's the message you wanna put out there.
Pete Sams:
I'll close with this on that topic, Ryan. Online reputation index for us is a key metric on our scorecard. And just like you look at your star set and you look at your competitors and what they're scoring in terms of RevPAR, we do the same thing utilizing our tools, revenue and the like to understand what is our reputation, what is our score online versus the folks that we believe we're selling against most directly, particularly in the transient segments. And then we index that and set goals. We wanna make your decision easier when you're going online, which hotel to book. And that's an amazing lever available to us if you're focused on it and drive those results.
Ryan Embree:
Absolutely. And we've heard that before, hoteliers concentrating on their reputation. As important as those STR reports in the, like those other reports that we're looking at constantly on a daily basis. we've talked a lot about Davidson Hospitality Group. You're welcome to give any sort of secrets away, but what do, what do we got to look out for, for you guys and beyond? I know you guys are in growth mode right now. What's next for Davidson Hospitality Group?
Pete Sams:
Well, in a word, greatness. We never rest on our laurels. We we're proud of where we are, but we've got some amazing owners that have entrusted us through this unprecedented window. We've put up results and I think they're proud of, but, you know, no rest for the, for the weary, right? We are pushing forward, we reinvent ourselves constantly. We have growth on the trajectory. It's, it's been the plan. But what I love about Davidson from an industry perspective is that we're very selective about who we work with and who we do business with and who we want to partner with. It impacts the team and its entirety, right? I love that we're selective about it. It's about growing with the right partners and the right assets and not every asset and every partner. The future's bright and we've got incredible talent. We continue to grow. We've taken up a lot of time here. I think I'm gonna leave it at that.
Ryan Embree:
Awesome. Well fantastic, great episode, Pete, you know, I wanna thank all of our, our listeners for, for taking the time. I wanna thank Pete for joining me. Congratulations on all the successes for Davidson Hospitality Group. We will talk to you next time on the Suite Spot. To join our loyalty program, be sure to subscribe and give us a five star reading on iTunes. Suite Spot is produced by Travel Media Group. Our editor is Brandon Bell with cover art by Bary Gordon. I'm your host Ryan Emre, and we hope you enjoyed your stay.
Hotel Marketing Resources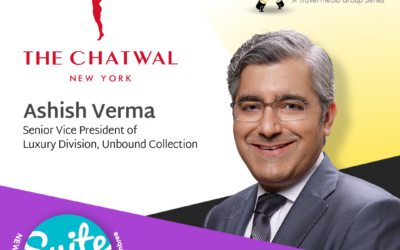 Join Suite Spot host and TMG Director of Marketing, Ryan Embree as he talks with the Senior Vice President, Luxury Division, The Unbound Collection by Hyatt, Ashish Verma in our new TMG Spotlight series to give listeners a lavish perspective on hospitality and how the...