108 – TMG Hospitality Trailblazers: Linda Saron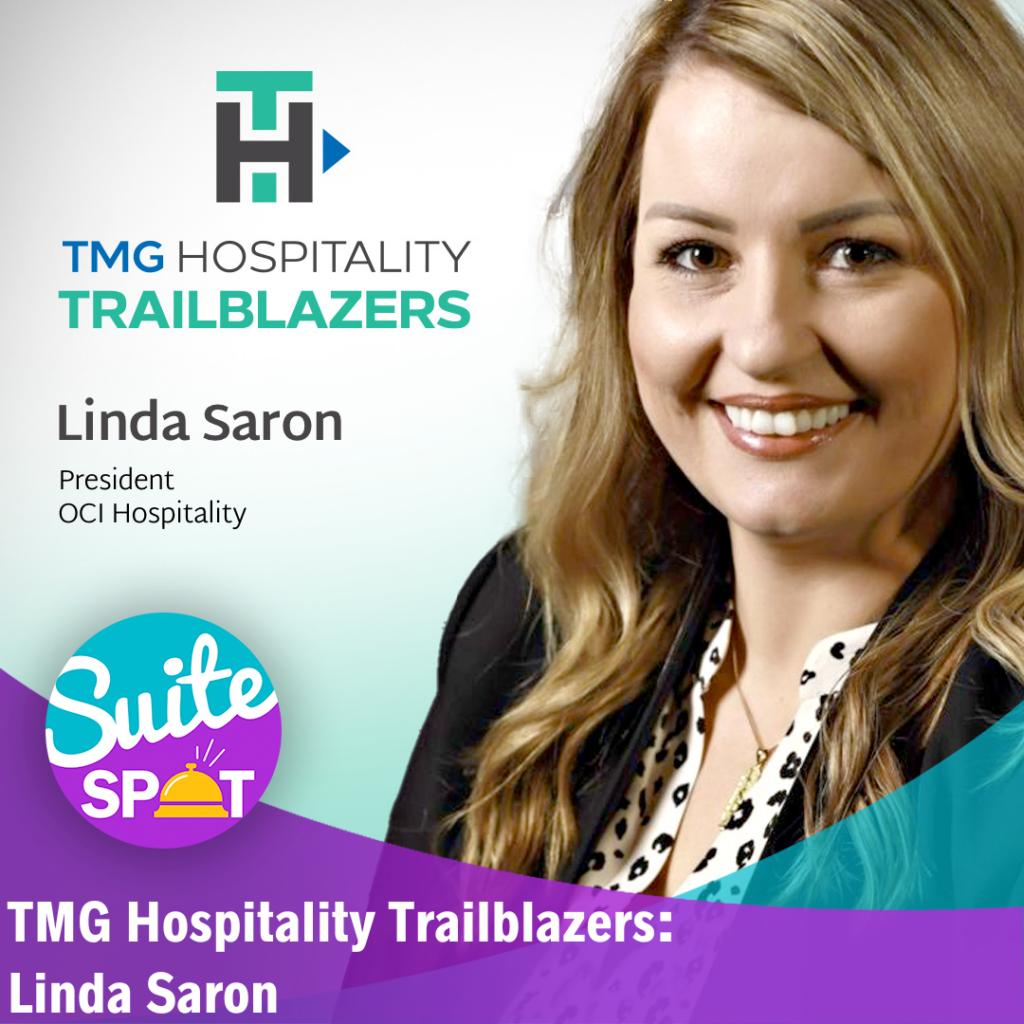 Tune in to this insightful episode and join host Ryan Embree as he and Linda give you the 411 on everything OCI Hospitality.
This podcast episode includes amazing information and expertise for hoteliers looking to connect with their travelers, increase bookings, and increase revenue. 
Episode Transcript
Our podcast is produced as an audio resource. Transcripts are generated using speech recognition software and human editing and may contain errors. Before republishing quotes, we ask that you reference the audio.
Ryan Embree:
Welcome to Suite Spot, where hoteliers check-in and we check out what's trending in hotel marketing. I'm your host, Ryan Embree. Hello everybody and welcome to another episode of The Suite Spot. This is your host, as always, Ryan Embree. I mentioned it before in past episodes, but we are getting rolling right along with our TMG Hospitality Trailblazers series. This is the first time you're hearing this. This is something we started right at the end of 2022, where we're interviewing and bringing on the Suite Spot some of those individuals and groups that are pushing our industry forward as we go into 2023. Beyond such an exciting chapter for our industry, I've got an amazing guest, another first-timer here with me, Linda Saron, President and COO of OCI Hospitality. Linda, welcome to the Suite Spot.
Linda Saron:
Thanks, Ryan. I appreciate it.
Ryan Embree:
And I hear you are right up the road from our, Travel Media Group headquarters in Tampa. You have some exciting things in the works over there in Tampa?
Linda Saron:
Yeah, we're so excited. Yesterday we officially closed on a new OCI Hospitality property, the Double Tree, Rocky Point Waterfront. It is a beautiful location and an awesome team, and we're so excited to welcome them into our portfolio.
Ryan Embree:
Well, that is absolutely exciting news and we're certainly gonna talk about all the things that you've got rollin' here with OCI Hospitality in 2023, but off to a very, very, hot start. And next time we'll have to have you in our podcast studio over here. You just right up the road in Tampa. So. Awesome. Well, before we get talking about OCI Hospitality, I wanna talk about your journey. You know, every single guest that I have here on the Suite Spot, we always like to say, you know, what led you to hospitality? Sometimes it's starting in the industry, sometimes it's just by fate. So, tell us a little bit about your background. What led you to OCI Hospitality?
Linda Saron:
Absolutely. You know, Ryan, I think for me it was fate. It was meant to be. I started out not to age myself, but I started working in the hospitality industry about 24 years ago. I popped into a hotel thinking, gosh, maybe I could work the front desk and help in housekeeping and do my homework while I was in college. I started working for a small owner operator, a gentleman named John Willie, who still remains close to my heart. He was an engineer by trade and decided to use his money, because he was tired of some of the bureaucracy in General Electric. So he took his money and he bought a hotel and he was truly an engineer. So I joined him and he was the owner and operator. So, I was in college and had a very interesting experience with him. He didn't necessarily interact with guests the best. After working with him for a little bit, he really gave me the opportunity to take on some of the guest challenges we were experiencing and housekeeping challenges. And before I knew it, he was asking me to pay the real estate taxes and come up with a sales and marketing plan. So I worked with him all through college and had a great experience with John. He actually spoke to me and convinced me that I needed to stay in hospitality. I had intended to go on and pursue law school, and he had created a chart. I'll never forget, I went into the back office of the hotel and he had created a chart that showed in the state of Iowa, which is where I grew up, what a female attorney would make the first five years, and what my debt was gonna be getting out of college and how that would work out for me. And he even had the president of the brand that we worked for at that time have a personal phone call with me to talk to me about hospitality as a career path. So I think it was fate that I walked into that hotel and got to meet John Willie and I was a great compliment to his strengths and decided to pursue my career in hospitality. So I worked with John all through college and then after college I took on a job in sales with a small Iowa ownership and management group that was independent. I don't know if you've ever heard of Heartland Hotels, they no longer exists, but I work with them in sales. And then after a couple of years, took on an opportunity as a general manager for them, and when they decided to get rid of the business or, or move on and retire from the business, I joined a company called the North Central Group and worked with them as a general manager, dual general manager, a regional manager, and worked my way up through for 10 plus years and then moved on to Southwest Hospitality to continue to grow my career as a director of operations. And while I was there, I got a call from a old friend who I had worked with at the North Central Group and he said, hey, we need you at Oliver Companies. We need you at OCI Hospitality. And I said, I'm good thanks. And he said, you know, do me a favor, just come for the interview. So I did and I had the opportunity to learn a little bit about Oliver Companies and OCI Hospitality and what they were about. And I joined them in late 2018. So it's been a great journey and a great experience. I shifted into my existing role in June of 2019, so not too far ahead of the pandemic coming into the chief officer role. So it's been an interesting journey, but I wouldn't change it.
Ryan Embree:
Yeah, we're gonna get back to that in a minute, but what is such a unique story? You know, and that is one thing that is really a common thread. I mean, I even remember starting my career in hospitality, those few individuals that really take the time to kind of show you the industry, especially if you're new to it, that's such a cool kind of mentorship that led you to where you are today. And something we've heard very common on this podcast, the kind of bouncing around, but I also think that it ends up being the DNA or the makeup of who you are as a hospitality professional, where you bring in traits from other organizations brands, for example, and kind of makes you who you are today. So that's such a very cool and unique story. But you did bring up the Pandemic, obviously not a place that us hoteliers like to revisit that often, but this honestly is becoming one of my favorite questions on this TMG Hospitality Trailblazer Series is kind of the lessons we've learned personally and the industry has learned and how you've incorporated that in your case in OCI Hospitality. Everyone has such a unique perspective. Can you kind of walk us through, you know, those lessons that you've learned and how you've applied it to today?
Linda Saron:
Yeah. You know, my team and I, we've talked a lot about, you know, that time and that period and what it was like to go through that. And it was not easy. You know, March of 2000 I was preparing for my first child to graduate from high school and go off to college. And I was sharing with my team how I was nervous that she didn't have grit. Some of the things that I experienced that helped me have grit growing up and, and through my career path. You know, she just hadn't experienced that yet. And so, we talked about a lot about that the beginning of the year of 2020. And I think hospitality, you know, we've really developed some grit we've learned, to be flexible. And I think specifically at OCI Hospitality, we really learned to embrace technology through that period. We had to create new efficiencies. We had to do things different in a way to protect our general manager's time because they were performing in a very different capacity than they were pre covid. So they were cleaning rooms and checking in guests and, you know, doing some of those more hands on tasks that our hourly associates had previously done in the pandemic. So we were in the process in, our covid year of implementing some new technology platforms. And really we stayed the course Ryan because they were intended to provide some efficiencies and we needed them more than ever during that time. So, we learned a lot about why it's important to embrace technology and efficiencies and how important it is to be flexible. And I think many of us, we also gained some grit, right? We learned to work harder, work smarter, be tenacious, and really cross-training our positions. And getting back to some of those basics were crucial for us because you may have one team member that, you know, is trying to gain full-time hours, but in order to do that, through that period they were working three different positions to do so. It was definitely a challenging and interesting time and we learned a lot and I think in many ways it made us better.
Ryan Embree:
Yeah. And that's a common trend that I continue to hear. I mean, that experience certainly opened up the opportunity for maybe GMs who haven't done, you know, some of the tasks that maybe they haven't done in a decade. Right. You know, we had a whole series in 2021, highlighting those, TMG Hospitality heroes that, you know, went above and beyond during that time cuz it was such a tough time. But now reflecting back on that, like you said, it could have opened up some efficiencies there, certainly some opportunities. But I wanna really lean into technology element that you brought in because I think that's something that obviously is constantly changing, right? We could have you back on Linda in six months and there's gonna be something new with technology that's happening or the new fad or phase, you know, technology adoption really picked up for guests as a necessity. You know, we went from kind of filling out those cards and, and put it as a door hanger for breakfast to, you know, QR codes and Uber Eats to the room and deliveries that impacts the guest experience. You know, even frictionless check in checkout where your guest could walk right by the front desk, walk right out of the hotel without even having one point of contact with an associate, which for some hotels is scary. So how do you integrate that balance of technology, customer service in the guest experience?
Linda Saron:
I think for us, we looked at it as an opportunity to enhance guest experience. You know, it was shocking to me that, the way that digital check-in exploded through that timeframe and how people started to embrace those tools. And I saw my parents who, you know, maybe never knew what a QR code was, go into a restaurant and scan a QR code and see an updated restaurant, menu. Wow. That really gave hospitality and, the restaurant industry a lot more flexibility to change and modify. You know, you think about what it would've required to do a menu change previous to covid and what it requires now with some of those technology enhancements. So in many ways we're grateful for our guests embracing those technologies and having to learn really to use some of those tools. But I think ultimately Ryan, guests want to connect. We're human beings. We need to find ways to create a personal connection. It's important for all of us. And I think through COVID, some of the experiences we all had, we realized more than ever, you know, we need people and we need connections and we need those experiences. And so we've tried to couple technology with guest connection and look for opportunities to connect with our guests through technology. So, you know, a digital check-in guest, maybe we didn't get to see them at the front desk, but we can check in with them through a chat method from a technology perspective and be inside their guest room in a way that we couldn't before COVID. So really embracing those tools and being grateful that kind of, we ripped the bandaid off, if you will, in people's ability to utilize those tools or be open-minded to those tools. And I think that was a win for our industry.
Ryan Embree:
Yeah, I think it's the hotels and hotel groups like your own that really embrace technology and don't really kind of see it as an enemy, but see it as an opportunity to become more flexible and adaptable. Cause you know, whether we like it or not, like you said, you know, I think that chat, we've talked about social listening before, right? Somebody might feel more comfortable sitting behind their phone and Facebook messaging the front desk than they would just coming to the front desk and talking to you, or even picking up that phone. We've talked about that multiple times. But you have to be listening because they're gonna expect a response just as quickly as if they were talking to you face-to-face. So you have to be open to that. I've told our listeners so that social listening tools keep your ears and eyes open because guests are adopting this, this technology. And like Linda said, the way that they communicate could be very different than it was pre pandemic. So let's talk a little bit more about some recent trends, right? Inflation, economic uncertainty. Travelers are paying more for things like their grocery bills, their gas, and in our case Linda, sometimes their hotel room, right? And this makes for very thin margins for hoteliers to create the perfect experience because guests are very quick to, if they see anything wrong, to say, well this is just way overpriced or way too expensive. So one thing we talk about on this marketing podcast all the time is setting expectations prior to a guest arrival. Whether that be the things that are great about your hotel are maybe some of the things that you can't necessarily change, like if you have, you know, a noisy street outside. But being able to set those expectations through things like social media review, response, online reviews. So how do you kind of ensure proper expectations are being set to ensure that narrative of this place is way too expensive, is not being written?
Linda Saron:
I think we're lucky for the world that we're in today. Guests really have the opportunity to check out our hotels and their destinations now much before they get into the building. I think with guest reviews and TripAdvisor, most times, you know, guests may know the opportunity areas for a property before they get there and maybe they've decided, hey, it's a nice clean hotel with friendly service and I'm willing to tolerate the street noise to stay at this hotel. The review platform has changed and it's really enhanced guests ability to know what they're getting before they make the choice to buy. And I think that's a good thing for hospitality. I think for us, interfacing with our guests and listening to them and hearing that feedback they provide us, and, using it as an opportunity to drive improvement when it's necessary. But also from a stay experience standpoint, more than ever, it's important for us to be consistent in our execution and our delivery. So we don't want our guests to have any surprises. So if they're expecting to find a clean, friendly hotel, it's our intention to provide that when they arrive. So ensuring consistency of operations and guest experience, I think is more important than ever because the dollar it goes not as far. So it's really important that guests can feel the value and they understand the amenities that are available to them, and we do everything we can to ensure a consistent guest experience.
Ryan Embree:
Yeah. In our industry, we like those good surprises for our guests, right? The maybe the cake or the extra card. Not those bad surprises when you come on property. But I think you make a great point, Linda. The way that guests now and travelers are researching hotels is very different. I mean, you think about in the midst of the pandemic, right? What we were doing is we were constantly going back to those online review platforms. We were going to social media platforms to say, okay, what does cleanliness look like? Because it had to do with everything, it had to do with safety. During that time, we were encouraging our hotel partners to talk about some of the cleaning protocols, share that on your social media. But I think that trend is sticking. People are still going back after they book to make sure that they made the right decision because they know that they have options. Now, the flexibility of being able to change your booking prior to the pandemic seemed very scary for a traveler. Now it's like you can go back to social media, you get excited about your stay. Some of the guests are knowing exactly how the lobbies laid out based on pictures that they're seeing on places like review sites and social sites. So that's the type of expectations that we wanna set for our guests. To ensure that they're not running into those surprises like, unwelcome surprises, like Linda was mentioning. You know, one thing our entire industry is hoping for, and the good news is based on STR data that that was just released recently. We had a fantastic holiday season, even with the airlines trying to do everything that they could to maybe disrupt that. We even had some things this morning with the FAA, but it looks like that revenge travel is still pushing into 2023. People miss travel a lot, but one sector that really hasn't picked up as quickly as we would've liked is business travel. So I want to get your opinion on this. What are your predictions for business travel as we go into 2023? And then second question with this is, how should we adapt our marketing to reach those business travelers? And are you guys doing anything with a different approach in that sense?
Linda Saron:
I can tell you OCI Hospitality had a great fourth quarter of 2022 business travel, really bolstered that and, and we weren't certain that was gonna happen. But what we've seen is that our business travelers are camouflaged, if you will today. You know, maybe before they were a little bit more easy to identify when you saw them in the hotel or you saw them in the lobby. But that is not the case today. You know, business travelers may be coming with their family. They may have more casual attire, they may be working from a guest room. It's, it's a different climate for business travel. I think some of the, the ways that business travelers used to book, have changed and we're continuing to evolve with that in 2023. Some of those rates that maybe they have a had a travel manager set previously, maybe the travel manager isn't there or they've not had an interface with travel manager for a long time. So I think our business travelers, I think it's, it's going to continue to grow and expand, but I don't believe it will ever be the same as it was Pre-COVID. I think leisure travel is going to continue and that's been great for our industry. You know, people are staying on shoulder nights now differently than they ever have. You don't have that typical Tuesday/Wednesday business travel pattern that we have in our industry. So we've really seen that change and, and drive performance in our industry. You asked me a follow up question to that as well.
Ryan Embree:
Actually. You did a great job of answering it and it was really the prediction for 2023. And I think you're right. I think you might have just named a new sector here on the podcast with that camouflage business traveler. I like that and I, I think you're absolutely right and I would say from a marketing standpoint that traveler might be camouflage, but they're still looking at your hotel, maybe in the eyes of a business traveler and a leisure traveler. So one of the things that we, you know, told our hotel partners, specifically our social hotel partners, you know, in early 2021 when leisure was really, really going, you know, maybe let's go less on the conference side, less on the business center, you know, and focus more on the attractions events that were coming back at that time. Now we're definitely gearing more towards saying that leisure is still leading the pack, but there still needs to be some inclusion there for those business travelers throw in every once in a while, what that business center looks like. You did a great point, Linda, of sharing, you know, a lot of people might be working from the room talk about how spacious the rooms are and how it is perfect for kind of a work from remote type of atmosphere at your hotel. So love that camouflage, business traveler. I'm right there with you and hopefully, you know, we continue to see those trends make its way in 2023 as well.
Linda Saron:
Yeah. With that, Ryan, we've seen a, a great ramp up in our meeting and events bookings and the food and beverage associated with that. Most of our hotels in our portfolio, were behind the first half of, of 2022, but travel was so strong the second half, in bookings were so strong, the second half of 2022 with pent up demand and people really wanting to do things safely in person that we made some great recovery the second half of 2022 with our conference center bookings and our meeting and event bookings. And we've seen that trend continue into 2023 and we anticipate that's going to continue to remain strong in 2023.
Ryan Embree:
That's absolutely great point there. And LinkedIn is a fantastic place on social media to reach some of those event planners. You know, we talk about it all the time. Wedding planners go to your event space. If you're a hotel, do a LinkedIn live, do an open house on LinkedIn and use it as an event. Some really great ideas to try to get people there because as Linda was pointing out, people are just looking to get together for one reason or another. A lot of planned celebration. I'm finally caught up on my end, but certainly went to a lot of weddings that were postponed over the last couple of years, but they were just looking for somewhere to get together with family and friends. So a lot of opportunity out there for occupancy for sure. So I wanna talk about kind of the landscape right now and over the last few years. I think with all of these troubling times in the economy in general, you know, you get a lot of, and consolidation, mergers, acquisitions, we see some brands, certainly some hotel management group. Where is OCI Hospitality fit in there because it is a competitive landscape. What makes OCI Hospitality unique?
Linda Saron:
I would tell you that we have the best people in the industry, and I think you would probably hear that from everybody in my position, probably on your podcast. But we're very grateful and fortunate to have a talented cast of leaders in OCI Hospitality. You know, our mission is to enrich the lives of others through hospitality. And our team takes that very seriously. Whether you're speaking about enriching the life of an owner, a guest, a team member, or the community that we reside in, in our hotels reside in, we all take that mission and that task very personally. So I think we're unique. We're a smaller management company. The Doubletree that we just added is our 26th hotel. We have a very hands-on approach to operations. We have a very hands-on approach to interfacing with our ownership groups. And I think that makes us unique. You know, it's not uncommon for me to pick up the phone and have a conversation, with an owner related to something that happened, specific to a property that I think is important for them to know about. Or, you know, additionally for us to reach out to an owner and say, you know, hey, we have this opportunity area here and we can't seem to overcome it. We've done X, Y, and Z. Let's brainstorm. You know, let's brainstorm together and work through some ideas. What ideas do you have about how we could overcome this challenge? So I think our size definitely makes us unique for a small management company. We're pretty tech savvy and we have a lot of great systems and process in place. So I think the combination of our, our people, our size and our technology really makes us unique in the industry.
Ryan Embree:
Well let's talk a little bit about the culture, right? I mean, the whole industry has kind of been hit with this industry staffing shortage over the last couple years, but culture has really been at the foundation of this and a lot of hotel management companies such as OCI Hospitality probably use that to your benefit for recruiting. So tell us a little bit about that culture you're trying to instill over there.
Linda Saron:
Yeah, so we believe our culture at OCI Hospitality is friendly, flexible, hardworking and fun. And even, before the pandemic happened, right in late 2019, we had just, reached out and surveyed all of our team members to help identify what did they perceive our core values to be as a company and who did they feel like we are. And that's how we came up with friendly, flexible, hardworking and fun. We've rolled out a great toolkit called the Art of Hospitality in all of our hotels. We've been doing that since 2021. I mean, it gives us really the opportunity to talk to our team members and help them understand that each of them have a great purpose every day in our hotels. So whether you are cleaning someone's room or preparing a meal, it's an opportunity to enrich the life of a guest. Maybe somebody is coming in for business travel, or god forbid they're coming in for a funeral, but we all get to play a role in helping make sure that they have a great stay experience. Everyone's role is crucially important, you know, from housekeeping to food and beverage to front office. And so we really talk a lot within our company about how everyone's role makes a difference for guest experience and how it truly gives us the opportunity to enrich the life of someone else.
Ryan Embree:
Yeah. You know, we talked at the top of this episode, Linda, about, you know, connecting with our guests, but I also think there's something to exactly what you're saying, connecting with our employees. You know, typically the happy employees create happy guests. We've heard that before. So definitely at the forefront of a lot of hotel management companies that are looking to kind of push forward in 2023 and beyond. Now, I'd be remiss if I didn't say, you know, this is a digital marketing podcast here at the Suite Spot. Travel media Group's realm is really in the reputation and social media space. So I wanna get OCIs strategy with reaching traveler's digitally. You spoke to how you guys really at OCI lean into technology. How do you reach travelers digitally and make sure you're in the best position to capture more market share?
Linda Saron:
So thank you guys. You guys have been a really great partner for OCI Hospitality Ryan. You've really helped us showcase what's available to our customers and to help them see digitally what type of experience they can have inside the walls of our hotel or our conference center or our resort. We aspire to continue to grow those platforms. We've seen great success where we have implemented that digital marketing strategy and those digital connect opportunities. And, in 2023 that will be a platform that we continue to work with and grow within our portfolio of hotels. So it's been huge for us. And we cannot thank you guys enough for the partnership. We've really seen where we're able to connect with our guest and create those experiences. It really drives guest experience, which drives customer satisfaction. And you know, our best performing hotels are the ones that have the best customer satisfaction because that helps them drive market share and gain repeat guests.
Ryan Embree:
Yeah, we've talked about it before about how that guest experience really starts before a guest even steps foot on our property. So being able to, you know, we're honored to be partnered with OCI Hospitality, a company that really embraces, you know, the social media and digital nuances and technology that's ever changing, making sure that we're staying on top of that and setting those right expectations to hopefully further that market share. And so proud to be a part of this journey. So let's lean right into that, right? We just celebrated the end of 2022, obviously a time for New Year's resolutions. So I'll kind of spin this last question to ask maybe some resolutions for OCI Hospitality or just maybe what's new and goals for 2023 and beyond?
Linda Saron:
Yeah, I would say our two biggest goals for 2023, our growth, is big for us in 2023. We wanted to continue to grow our portfolio of hotels, both in owned and managed platforms for OCI Hospitality. But also as we think about growth Ryan, we wanna make sure we're providing great growth opportunities for our team members. Covid really wiped out a lot of our bench strength in the hotel industry. So 2023 is a year where we're trying to do personalized development plans for all of our team members, really to help them grow. Just like John Willie did for me. He gave me the opportunity to learn and grow and now we wanna make sure we're paying that forward to our team members. In addition to growth, we're working to drive consistency. So we've rolled out some new platforms for, deep cleaning and preventative maintenance that we're excited for in 2023. And for the first time we're doing some substantial audits. You know, in addition to our brand audits, we're gonna be inside all of our hotels in 2023 working to drive consistency of operations in order to drive strong guest experience, in 2023. You know, like we said, that guest experience is truly crucial to market share.
Ryan Embree:
Yeah, and you've mentioned the importance and criticalness of consistency throughout the portfolio. So, you know, we are super excited to see what's ahead with OCI Hospitality as you guys embark on this new chapter. We're headed to the end of this episode. Any final thoughts today, Linda, on the conversation?
Linda Saron:
No, great conversation today, Ryan, and great discussion on hospitality. And I'm excited, you know, not just for OCI Hospitality, but for our industry. I think we have an exciting 2023 ahead.
Ryan Embree:
I agree. So thank you so much, Linda, for joining on the Suite Spot. As I mentioned, next time we'll have to have you inside of our podcast studio. Congratulations on the new property. I'm sure first of many achievements to come in 2023. Thank you for joining the SuiteSpot.
Linda Saron:
Thanks Ryan. My pleasure.
Ryan Embree:
And thank you all for listening, we will talk to you next time. To join our loyalty program, be sure to subscribe and give us a five-star reading on iTunes. Suite Spot is produced by Travel Media Group. Our editor is Brandon Bell with Cover Art by Bary Gordon. I'm your host Ryan Embree, and we hope you enjoyed your stay.
Hotel Marketing Resources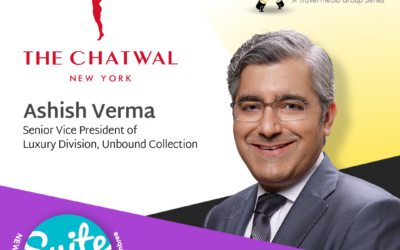 Join Suite Spot host and TMG Director of Marketing, Ryan Embree as he talks with the Senior Vice President, Luxury Division, The Unbound Collection by Hyatt, Ashish Verma in our new TMG Spotlight series to give listeners a lavish perspective on hospitality and how the...