110 – TMG Hospitality Trailblazers: Rob Mangiarelli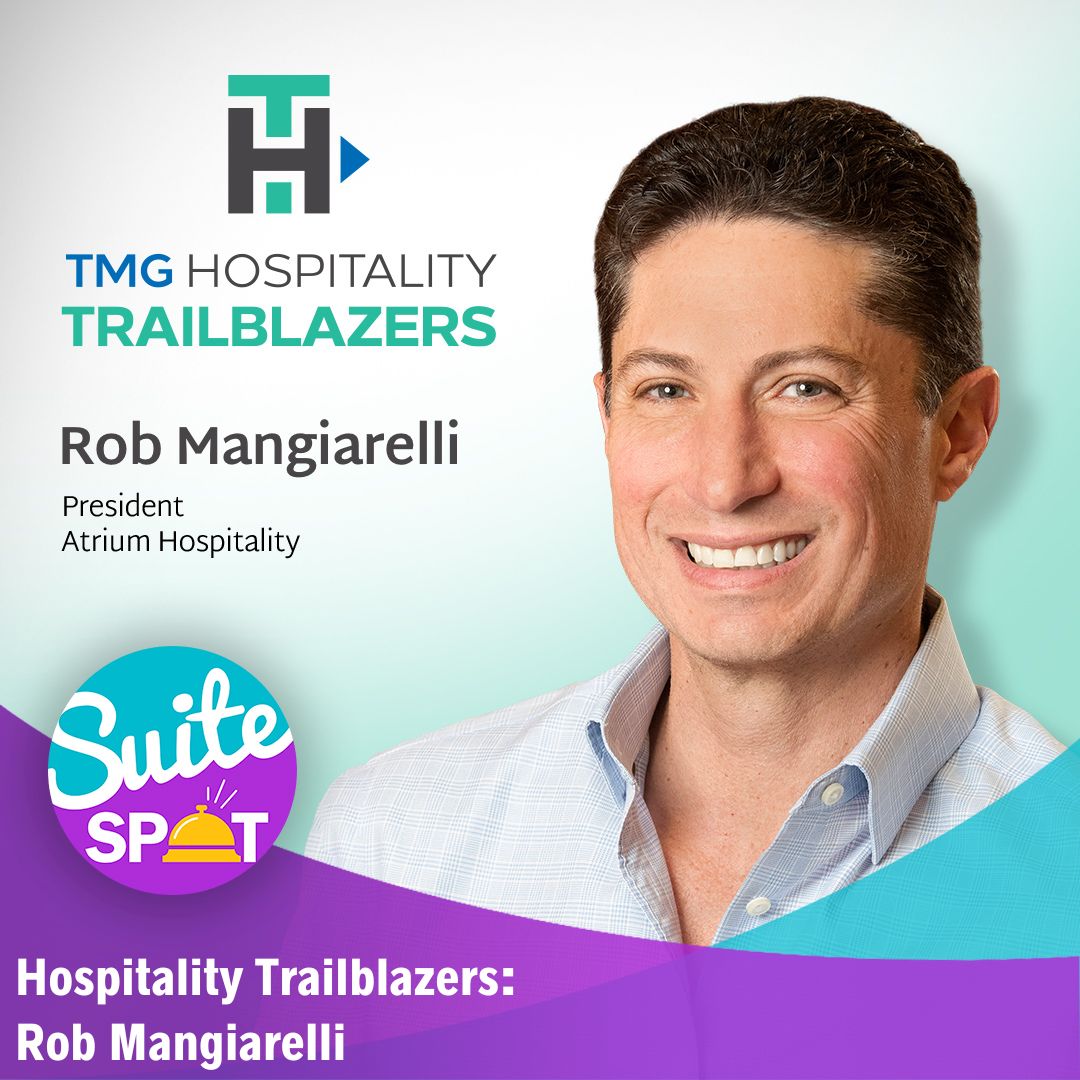 This episode features the one and only President of Atrium Hospitality, Rob Mangiarelli, as he sits down and talks with Suite Spot host, Ryan Embree on all things hospitality. These two experts share incredible knowledge and insights on various topics that give hoteliers valuable information on how to make their mark in the industry.
If you've been following the series thus far, you should know that these industry leaders provide listeners with knowledge and insights you can only get on the Suite Spot podcast.
Episode Transcript
Our podcast is produced as an audio resource. Transcripts are generated using speech recognition software and human editing and may contain errors. Before republishing quotes, we ask that you reference the audio.
Ryan Embree:
Welcome to Suite Spot, where hoteliers check-in and we check-out what's trending in hotel marketing. I'm your host, Ryan Embree. Hello everyone, and welcome to another episode of The Suite Spot. This is your host, Ryan Embree. Thank you so much for joining me. I am coming to you again from the Content Creation Studio here at Travel Media Group Headquarters, and we are continuing our TMG Hospitality Trailblazers series. We are very excited, about our next guest who I'll introduce just in a second, but for those that might be listening to this for the first time, this series we started back at the end of 2022. It is all about the people and groups in our industry that are pushing us forward. We know over the past couple years, and we'll even get into it with our guests, how much our industry has changed and what to look forward to towards the future in those trailblazers that are pushing us there. So with that being said, I am very excited to bring in a first time guest to the Suite Spot, Rob Mangiarelli, President at Atrium Hospitality. Rob, welcome to the Suite Spot.
Rob Mangiarelli :
Ryan, thanks for having me. It's great to be on with you.
Ryan Embree:
Yeah, absolutely. We're gonna have a little bit of fun today talking about, Atrium Hospitality. We'll talk a little bit about the industry, get some predictions out of you. We won't hold you to them, but as I like to do with all of our first timers on the Suite Spot, we work in an industry where people really can come from all places, degrees, backgrounds and end up to where they are. So I love starting with this, especially in this Trailblazer series. Tell us a little bit about your background and the journey that led you to Atrium Hospitality.
Rob Mangiarelli :
Yeah, this is a great question and it's something I talk about, every week when I'm traveling and I'm talking to our teams. I fell into this industry, by accident like a lot of people who have come into it. I never thought that you could have a career in the hotel business. I was an economics major at Stanford and my goal coming out of college was either to go to law school or to become a math teacher. And I didn't wanna work in a big city. And I went back home to Colorado Springs where I grew up and while I was trying to figure out what I was going to do, I started working night audit at a Holiday Inn and I was working night audit because I loved playing golf in the morning after I got off work. And I thought, how cool I'll do this. And, you know, every morning the general manager would come down and he'd read the PNL cause I do the daily report overnight. He'd ask how business was, and we started talking about this as a business and I thought, wow, this is pretty cool. And six months after that I got promoted and six months after that I got promoted again. And then I started, I saw this job opportunity for Hyatt Hotels pop up, up in Denver. I drove up there and I had six interviews in back to back to back. They just said, wait here, let me talk to somebody else. And, they offered me the job and, you know, 25 years with Hyatt Hotels. And I moved around a lot, in the first few years I was in Denver, in Atlanta, in Charlotte and Greenwich. And then ended up at the corporate office in Chicago, where I spent 21 years in various roles. I built our planning and analysis function. I ran hotel accounting for North America. There was a scary six month period of time where I was in charge of IT. While we were hiring a chief technology officer, I worked in our global operations center where I really got to travel the world. And then I finished up my career leading our asset management function where I was responsible for all of the owned and joint venture properties that we had around the world. And then I hit 50 and like most people, right, instead of buying a Corvette, I thought this was a good opportunity to reevaluate my life and what I wanted to do for the last 10 years, 12 years, whatever, many years of my career there are left. And I thought, you know, I've spent so much time at Hyatt, but what I really wanna do is get on the operation side of things. So I, I left Hyatt to work, with a partner of ours who owned and managed hotels based in Rhode Island and great experience. But six months into that gig, an old friend of mine gave me a call and Craig Mason's president of Atrium Holdings, and I've known Craig since the early 2000's when I was at Hyatt and he was at Host Hotels and he said, look, we have this great opportunity, fantastic team and a great portfolio, 80 hotels around the country, and we'd love for you to come join us as the chief operating officer. Ultimately, you know, there's growth potential into the president's role. So I came in, Greg convinced me to come in last February, and by May he had moved me into the president's position. So been a lot of moves and we're now based in Atlanta. My wife and I moved down here in September. It's been a wild ride, but great to be here.
Ryan Embree:
Yeah. You know, and as I listen to that story and I get my hospitality bingo card out, wasn't meant to be in the hospitality industry, right? We always hear that. What I haven't heard though is night audit, right? I hear front desk agent, bellman all the time, but starting your career as a night auditor that's unique. That probably puts you, in that small percentage there but's so cool that you got to experience that because that's obviously a position that some people, GMs and other people in leadership maybe not have to get those exposure. So I'm sure that was very eye opening to you, the industry and lead you to where you are today.
Rob Mangiarelli :
Yeah, absolutely. I think that having that perspective of working on property is super helpful when you come to a corporate office because you understand it. But for me, what really helped was, this was back in the old days when night auditors actually did night audit, you really did get to understand the business and how everything flows from the PMS all the way to the PNL, which went on to help me for years when I was doing hotel accounting or planning and analysis.
Ryan Embree:
On that subject of maybe going into some roles that you're not necessarily used to. Our industry had to do a lot of that over the past couple years, right? Some of GMs and operations people may be taking some of those roles that they hadn't done in, in a decade or, or years or ever before. so I wanna kind of start there with our episode before we move too much into the present and the future. Let's talk about the past couple years. Obviously very, very tough on the hotel industry, still having some, residual effects with obviously staffing ADR seem to be getting back to, to where we want them. But let's talk about maybe the lessons that the industry as a whole learned and then maybe Rob, how you've applied some of those lessons to your own portfolio.
Rob Mangiarelli :
Yeah, no, that's a fantastic question. I think, you know, first and foremost we're reminded of the value of having great leadership on property and how important it is to have a general manager who can get down and do work, who can communicate properly and who can keep things running. And the way our teams responded during the pandemic was incredible. The work that they did was really amazing. I think that's the first lesson and one that, I try to remind myself of, every day. Second, having, you know, written a million proformas in my life, we really learned what zero-based budgeting really looks like. And the way we were able to operate was completely unlike anything we anticipated. I never thought you could have that few people in a hotel and still be successful. And we figured it out. Third, we learned agility. We learned that we were bad at projecting the future. How long was this downturn gonna last? How deep was it going to get? And then how quickly was it going to rebound? And at every turn, I'd say we got it wrong as an industry of what was going to happen, but as operators, we had to learn how to react to that. We had to learn how we were going to respond to what's right in front of us. How are we gonna turn 200 rooms on a Sunday and make that work with two housekeepers? And that was a really great learning for us. But, you know, finally, and I'll quote my, my former boss at Hyatt, who was actually quoting Winston Churchill, who's probably a little more famous than Chuck Floyd but he always used to to say, don't let a good crisis go to waste. And I think that's what we learned. That's what we took from this pandemic. As horrible as it was, it allowed us to make changes that we probably never would've been able to make or would've taken us forever to make. How do we centralize roles and pull positions above property that, you know, managers thought I need to have my finance person on property, I need my HR person on property, I need my salesperson on property. And the pandemic taught us that you don't, and we can be more efficient as an organization if we take those above property. And we also learned the value of technology. How do we use technology not only to communicate with our team members, our associates, but also to communicate with our guests in a way that simply makes us more efficient? And I, I think those are the types of things that we were forced to learn during the pandemic, but you know, we'll never go back to.
Ryan Embree:
Oh, 100%. And you know, the, the way that you said, how we talked to our guests, one of the things obviously at Travel Media Group that, that we work with is social media. And when that pandemic happened and these changes were happening so quickly, the outlets that hoteliers turn to was social media saying, I need a quick way to let everyone know what's going on in my market at my hotel and what the situation is. And some hotels that really didn't embrace that technology, social media at that time, they were kind of left there going, realizing I don't have those outlets. And you know, in an industry that I would argue really it takes some time for change to happen. I mean, some hotels are still putting the breakfast card outside of the doors and manually putting your dry cleaning out there as well. You're right Rob. Like we had to make those pivots very, very quickly. And you know, one of the places that you mentioned was technology, a lot of adoption of keyless entry, mobile check-in, which is great obviously, but also some present, some problems I would say for a GM that might be used to having those face-to-face conversations every day, greeting the guests and saying, hey, how was your stay? You might not be able to get that same feedback that you once did. So as we talk about technology, Rob, how do you feel like there's a balance between implementing technology into the guest experience and that service that really is at the core of foundation of hospitality?
Rob Mangiarelli :
it's a interesting balance, that we need to face. And you mentioned mobile key and remote check-in. And I, I think there's a balance there of people who want to do that. They want to use that technology. And frankly, we should be embracing that because for those customers, great, they can now go straight to their room. That actually frees up time for us to take care of the customers that don't want to use that technology. That's probably one of the things that we need to remember, that we can't force our technology on the customer. We need to use that as an enabler. The other thing we need to realize from technology is, you know, well we're not necessarily cutting edge and we don't wanna be, and we can't afford to be, we do need to have basic technology that our customers get at home. So I think about wifi and having great wifi. I think today is more important than having hot water and a good bed. And it's a basic expectation that your customers really want you to have. And the other thing we're using technology to communicate with our customers. So we use a technology at Atrium for a lot of our hotels. That's a AI bot where a guest can call down or text and you know, the computer will pick it up and it'll take all of their keywords and their questions and it'll respond to it even faster than a guest or a, an agent at the desk would be able to. And we've found that our AI bot can handle 60% of the guest requests without human intervention. I need more towels, I need a late checkout. All of those things that take work off of our plate, but make life easier for our customers. That's where technology's an enabler to provide that better service. Not a replacement, but something that really just allows that experience to be a little bit better for our customers.
Ryan Embree:
Yeah, and it's certainly in line with the expectations, like you said, because most of our guests now are feeling more comfortable behind this phone screen than they might be coming to the front desk just to have a normal conversation with someone, which is so hard to think, you know, maybe a decade ago. But as hoteliers, we have to pivot. We have to be have open lines of communication. So that's absolutely correct there. Now, I wanna shift gears and talk about guest expectations a little bit. And before we sat down for this interview, I listened to a few others you gave, and you had this great example of visiting Shanghai. And I'm not sure if you remember this one where you said there were two employees that were hired just to push the elevator button. But your point was that was the expectation where you were visiting. We speak a lot on this series about guest expectations cause they've changed, no matter what we say they've changed and they're higher than ever, right? Nobody's gonna come back down and expect less clean rooms than what we're providing right now. The pandemic had shifted that. So how do you feel guest expectations have changed over the past couple years and how do you implement things to, to not only meet them but hopefully exceed them?
Rob Mangiarelli :
Great question. And I remember my first visit there and I was just shocked. I was blown away by the level of service and I hadn't traveled a lot internationally, so it was a great experience for me and one that I miss. But to your question on expectations, what I think is happening is that that expectation gap is widening and it's, it's one of the problems that we have today. You have some customers, to your point on your phone who simply wanna be left alone, mobile check in, knock and drop room service, don't clean my room. And then you have other customers who are craving service. They don't get it with the airlines, they don't get it in their restaurants anymore. They don't know where to have that experience of somebody taking care of them. And they want that when they come to your hotel. And as hoteliers, it's our job to understand what bucket you fall in. So the simple answer is be friendly. Even people who wanna be left alone want you to smile at them. But second, we need to find a way to say yes more. One of my coworkers loves to say, covid taught us a hundred ways to say no to the customer. Alright, no, we can't clean your room. No, you can't check in early. I mean, heck, we built physical barriers between us and them. You know, now we just need to come back, right? How do we say yes more and figure out, okay, here's what you're asking, now how are we going to deliver it? But to your point, how do we meet it and then exceed it? I think first we need to understand what those expectations are. And that's really all comes down to communication. Asking our customers what they want, understanding what it is that we can do, and then finding a way to deliver on it.
Ryan Embree:
And one of the best places to look for that is online feedback that guests are leaving us, right? You know, review sites across the board. I say it all the time on this podcast, our guests are leaving us blueprints of how to make the perfect stay every single day. And if we listen and we implement some changes here and there can really refine that, that guest experience there. so I, I completely understand it and agree with you there, Rob. Not to go hone back on the, you know, we got everything wrong during the pandemic, but I am gonna ask you here for a prediction. Okay. And, and it's just a, a trend, you know, I'm very curious about this cause this is the segment that's been lagging behind. We've been missing business, we've been missing the group travel, starting to come back a little bit more, but it's really been led by leisure at the end of the day, where do you see business travel going into 2023? A lot of economic uncertainty, a lot of dark storm clouds, maybe. Where do you see that headed? And then I guess the second part of my question is, is Atrium hospitality targeting these travelers differently? Because, you know, we've heard the hot terms of bleisure travel and everyone's working from home, so they're gonna change the ways that they travel. So are you targeting those travelers differently?
Rob Mangiarelli :
Yeah, a lot to unpack there and I'll preface it by saying we've, demonstrated our inability to forecast but what I, what I would say, let's start with group, cause you mentioned group. We're a very group heavy company. The makeup of our hotels. So we have 81 hotels and 20,000 guest rooms. But in addition to those 20,000 guest rooms, we have 3 million square feet of meeting space that we support. So we do a lot of group business and we expect group to be back to pre pandemic levels this year. Now it's a different kind of group. It's a lot more smurf. So you're getting the sports teams, you're getting the dance groups. So I was in a hotel last week and they said, you know, we've figured out a hundred different ways to pick up glitter out of our carpet because of the customer. And we don't have those corporate customers in that association business that we necessarily had pre pandemic. I think they're coming back. Now, I think what'll happen is the major markets will see them first. So if you're an association, if you're a state association group and you are in Illinois, I'll take my old hometown, you weren't able to afford to go to Chicago pre pandemic because the corporate and the pharma and all of that priced you out. Well right now you can afford to do that. So they're going to those markets. When the prices start increasing there, then it'll start pushing down to those secondary and tertiary markets. And that's when I expect to see that group business come back to us. On the corporate travel side, I don't know that we will ever see that fully recover. I don't know that Tuesday and Wednesday will become those peak nights. I think Friday and Saturday have turned into the Tuesday Wednesday of pre pandemic. You know, when we talk about bleisure, you ask, you know, how do we think about it? Well, the beautiful thing about our business, we're the largest, owners of Embassy Suites in the world. And that brand in particular, I think is so well suited to that business leisure component. I have two rooms. The kids can be sleeping in one room while I'm on my laptop, doing a podcast in the other or on a Zoom call with my team. Or I can send them down to breakfast and do work in the room. And that's going to allow us to kind of get those shoulder nights when you're, when you're there with your kids, you know, soccer team, I can add on an extra day and get a little bit of work done. So it's going to be different. We need to think about it differently. I think I was listening to one of the podcasts that, you did recently and the person you had on said, it was camouflage business travel. And I thought that was a brilliant way of, of saying that because you don't necessarily see that booking coming in through your negotiated account. So you don't quite understand who that customer is. And we just need to be more mindful of that, that OTA customer who's coming in or that person who's coming in for the weekend is also coming in to work and we need to target them that way in our marketing efforts.
Ryan Embree:
Yeah, I I love that term as well. And yeah, I mean, we're gonna see different travelers come to our properties in different ways and we have to be open to reaching out to them differently. I love what you said about, you're right, maybe that association wouldn't be able to afford Chicago. Now they're taking a closer look at that. But that's something on the hotel that they also need to be open to those conversations as well. LinkedIn, great place for those, B2B and connecting with those associations, because the business is out there. It's coming back slower than leisure, but it's out there. But you're right, whenever you book, you usually have that business or leisure button there. There definitely needs to be some sort of combo and hybrid because that's where I see the majority of these bookings coming from. So over the course of this series, which I love, you know, we've been able to kind of integrate some hotel brands, some small management companies, some large management companies like Atrium, which is a well-known name throughout the industry. You guys, as you were mentioning, a dozen brands over 80 properties in almost 30 different states. You just got done visiting one of those states. I'm curious, with such an impressive sprawling portfolio throughout the country, consistency is key in this, right? And I I'm sure you would agree. How do you guys ensure service consistency across a portfolio that big?
Rob Mangiarelli :
That's a real challenge. It's something that we talk about every week and what we've talked about this year more than ever, is our virtuous circle of business. And it starts with our people. And how do we minimize turnover so that we can improve our service levels? Cause we know if we have good people in place, they provide good service and then that good service just translates into revenue and profit, more opportunities for that growth. So, you know, I'd say as we think about consistency, it really starts with those staffing levels. Now, last year, turnover was at an all-time high. Contract labor was at an all-time high. It's getting better slowly, but those are gonna continue to be problems for us. And we're gonna have to learn not to wait for those to fix themselves, but to manage around them. You know, that is all about training and for us, putting a regional structure in place. So last year we built up a regional structure that has an ops person, an HR person, finance, sales, revenue, facilities to support 15 or 20 hotels because we're gonna see that turnover on property. And the only way we can maintain that consistent service is to have an oversight function to be able to support that. Now the brands have not helped us in this effort. As we've come out of the pandemic, they were great partners to us as owners in terms of brand standards and what to expect. But right now, each of the brands has different expectations out there. Am I gonna clean every day? Is it gonna be a full clean or a tidy? Is it different between a full service hotel and a select service hotel, and the customer is confused. So that puts the onus back on us to be able to tell the customer what they should expect when they're staying with us. And if we can tell them that, then we can provide that consistent service for them. So it's an ongoing challenge.
Ryan Embree:
And it muddies the water of those expectations that these guests are having. You know, even traveling, you think about during the pandemic it was different from state to state. Now we're talking about different from brand to brand. So it's very difficult. So one of the most powerful things that we've talked about, we do review response for hotels and, and I've mentioned this before on some of the webinars and virtual events that we've provided for hoteliers, the number one reason that we're seeing negative and responding to these negative reviews is due to proper expectations not being set. It's not, it, it's not that they didn't, didn't have a good experience. It's, Hey, I came into the property and I was expecting a hot breakfast, and they still have grab and go and where does that blame kind of sit on the hotel versus the guest of, you should know this, or we should be putting this out there via social media, review response on your online so that they understand this when they come on the property, what exactly they're getting. So I absolutely agree with you Rob. These expectations are continuing to change, but it's gonna be the hotels that really have a strong online presence and can set those expectations prior to a guest arrival that are, that are gonna see success. And one of the things you mentioned was the staffing shortage obviously impacting our entire industry. The management companies that are gonna do the best are the ones with a strong culture. I went on Atrium's website, there's a lot of talk about the Atrium Spirit, so I wanted to give you the opportunity to kind of talk about what that means and how you've been able to use that in the midst of this, you know, really unprecedented staffing shortage that we haven't seen in decades.
Rob Mangiarelli :
It's a great question. And what I love talking about, because I think the culture at Atrium really is one of those differentiators in our business. My head of revenue management here, he also was a 20 year, 20 plus year Hyatt employee and he said, you know, I was afraid when I left Hyatt that I'd never find that culture again and I found it here at Atrium and he couldn't be more right. And when we talk about the Atrium spirit, those are our six core values, spell spirit, service, perseverance, inclusion, respect, innovation and teamwork. And we talk about it in every one of our calls in every one of our meetings. But more than that, we make sure as a leadership team that we are demonstrating those values and all of the actions we take. So I'll give you a a great example of something that we do that I think is fabulous and terrifying all at the same time. So once a quarter we will have what we call our state of the union call and we'll invite every employee in the company to dial in and we'll spend 30 minutes telling them how we're doing from a business standpoint and what's going on, and then we'll open it up for the last 30 minutes and take Q&A. And you've been on enough calls that when you open it up for Q&A, you usually get nothing cause nobody wants to speak out. Well, we have an anonymous texting app that anybody can text whatever question they want. We're not screening it, we're not curating it, we're not monitoring it. It pops up on the screen for the world to see and we're answering. And that level of transparency between our leadership team and our hotels, I think builds that culture that we really want. And when I travel from property to property, people are always just so grateful to talk about our company and how we listen to them and how we're honest with them, even when we're telling them things that they don't, don't necessarily want to hear. But that's the difference as we want to build a great team that can provide that level of service, we need to live that from the top.
Ryan Embree:
Yeah, I'm sure that buys you a lot of buy-in from your employees and trust being that transparent and open because, you know, over the, over the past couple years it, it's been tough. So to be able to kind of sit behind and say, oh, everything's fine, everything's fine. That might not have been the case. And you know, now the staffing conversation is so interesting because, you know, when we were doing this podcast mid 2020, it was all about furloughs and trying to keep the employees and now we're trying to find them and bring them back. So we've done this completely 90 degree turn here, so I'm sure it's things like that, that transparency just buys you trust and buy-in within your, your associates over there at Atrium Hospitality. Very cool to hear. Now, as you know, Rob, this is a digital marketing podcast at Travel Media Group, and we're always trying to educate our hoteliers and listeners on a strong social media presence, online reputation, right? If you have those two things online, you're gonna be in a better chance to, to book a guest than not. Tell us a little bit about how you feel about having a strong online presence, especially today in 2023. We've already talked about technology, wifi. How critical is this for a hotel right now?
Rob Mangiarelli :
Oh, it's, it's absolutely vital, especially when we talk about the type of customer that's now booking into our hotel. It's not that negotiated business where they're showing up wherever their company happened to, to book them. It's people doing research and understanding what's going on on a property and, and where to book. So historically, we would track all of our service scores by looking at the brand averages and how you're doing relative to the brand metrics. Here at Atrium, we don't look at that. We look at our online reputation management. So we have an index, we look at our ratings on all of the big guys, Google, Facebook, TripAdvisor, Expedia, Booking, and then we create an index of that versus our peers. So we've done a great job as an industry of using Smith Travel to benchmark our revenue performance. Well, we do the same thing by benchmarking our service reviews because we know that when a customer is looking, that's what they're using to make their booking decisions. So it's something that is part of our bonus plans. So every single person who's bonus eligible in our company is bonused on our online reputation management and how we're stacking up relative to our competitors because it really is a huge factor in, in the buying decision.
Ryan Embree:
Absolutely. And there's strong correlation between those two numbers, right? Between the online management index or KPI that you've provided for Atrium and those revenue results that you're seeing at the end of the year. You know, we're always trying to tie that back here in this podcast. We understand that as our own travel. When, when we sit back and go through Google and try to figure out going on a vacation, a lot of people are looking at spring break destinations right now. Think about the way that you're, you're going out there doing that research. It's not just a one hit, here's the website. You know, you're looking at competitors, you're looking at different review sites, different booking sites, and then you're trying to get excited for the trip, right? You're going to their Instagram, you're seeing what sort of events are in the area, and if you could provide that better than your hotel down the road, it's gonna put you in the best position to capture that market share. So absolutely agree with you as, as well there, Rob. So let's talk about Atrium Hospitality in 2023. Just turn to the new year. What do you hope to achieve this year and beyond for your portfolio?
Rob Mangiarelli :
That's probably the number one question we get in our anonymous text messages when we have our associates every quarter, right? When are we growing, where are we growing, what's coming next? And the answer I gave then, and I'll give now is I don't know, you know, one of the great things about being privately owned is that we're not forced to make decisions on somebody else's timetable. So we want to grow. We think that there's going to be an opportunity to grow. And I think that with this business environment the way it is right now, there's gonna be opportunities. Things are going to pop up, whether it's interest rates going one way, whether it's certain markets moving in the right direction. So we are as a, as a management company, simply making sure that we are prepared for whatever that next step happens to be. And perseverance is one of our core values. And what we talk about is how can we just be a little bit better every day? And that's what our focus is, is making sure we're a little better than we were yesterday and making sure that we're prepared for whatever tomorrow brings us.
Ryan Embree:
All right, well we'll keep a close eye on Atrium Hospitality and what you guys have shaping up for the future, but certainly is exciting. Love the conversation today, Rob. We covered a lot of ground. Any final thoughts on today's episode or anything to say to the listeners?
Rob Mangiarelli :
No, you know, Ryan, I wanna thank you for, starting this podcast. I had a chance to listen to a number of them that you've done. And what it reminds me is how small our industry is and how we are all going through these same things. And when you hear that there's other people who are dealing with the same challenges you are, it makes you feel a little bit better and it gives me an opportunity, to listen and learn about what other people are doing and where we can improve. So, you know, I talked about earlier that we learned agility through Covid and I don't think that was a one time learning. I think our industry's going to continue to evolve at a, a rapid pace and whoever figures out how to adapt faster i going to win. So it's an exciting time in our business and I'm just happy to be part of it.
Ryan Embree:
Awesome. Well, I appreciate all the insights and, you got a couple memorable quotes within this podcast as well. You are certainly that embodiment of a TMG trailblazer and like I said, we're excited to see what your Atrium Hospitality team have on the horizon here in 2023 and beyond. So Rob, thank you for joining the Suite Spot. I guess the best way they can find out about Atrium Hospitality is check out the website, also follow you on LinkedIn.
Rob Mangiarelli :
Absolutely. I'm always looking for, followers and our social media team does a great job of making sure that we have good content post.
Ryan Embree:
Well, it was a pleasure speaking with you. Thank you all for listening and we will talk to you next time on the Suite Spot. To join our loyalty program, be sure to subscribe and give us a five-star rating on iTunes. Suite Spot is produced by Travel Media Group. Our editor is Brandon Bell with Cover Art by Barry Gordon. I'm your host Ryan Embree, and we hope you enjoyed your stay.