119 – Suite Spot: Spotlight Series – The Chatwal, New York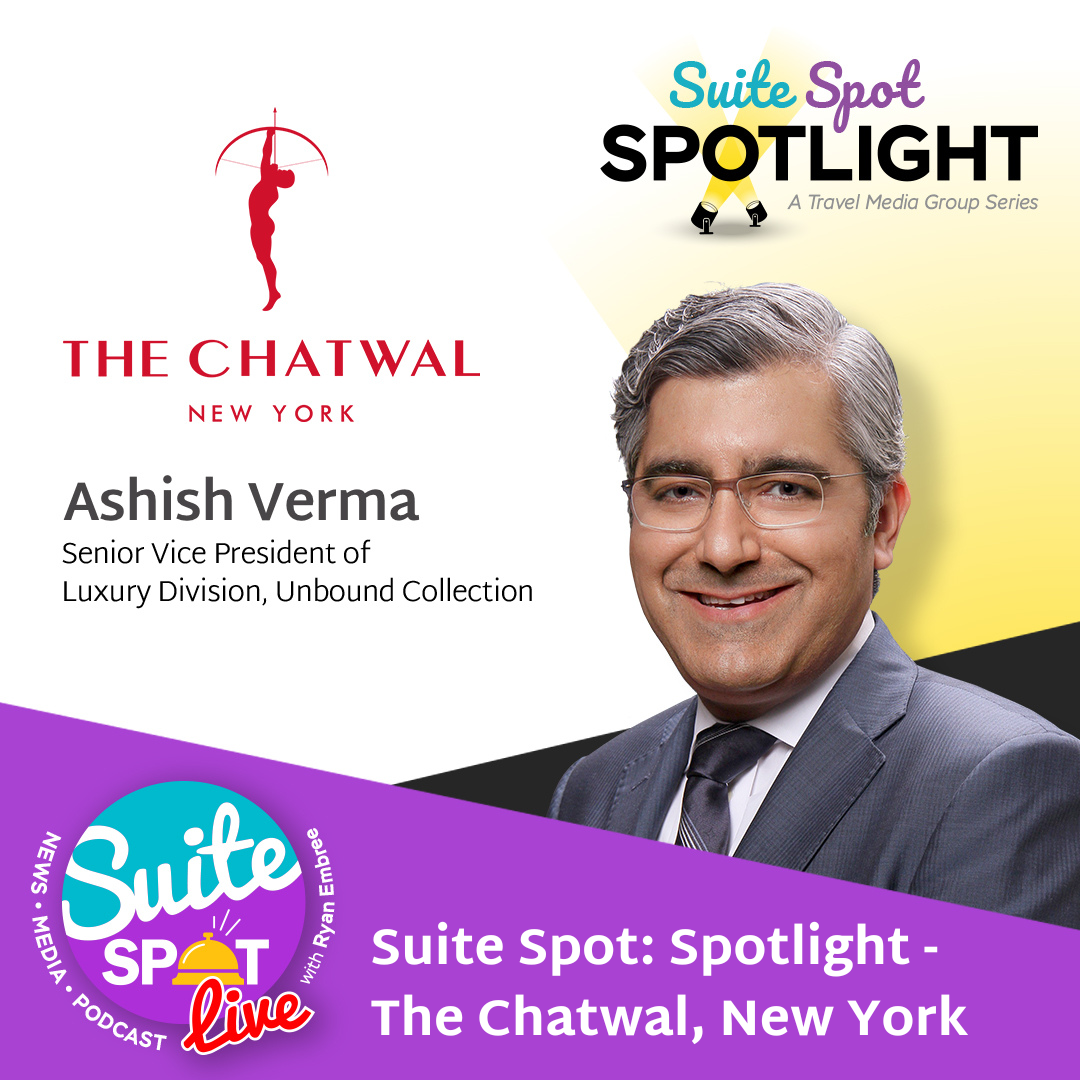 Join Suite Spot host and TMG Director of Marketing, Ryan Embree as he talks with the Senior Vice President, Luxury Division, The Unbound Collection by Hyatt, Ashish Verma in our new TMG Spotlight series to give listeners a lavish perspective on hospitality and how the rich history of The Chatwal, New York sets the gold standard for luxury in the hospitality industry.
Episode Transcript
Our podcast is produced as an audio resource. Transcripts are generated using speech recognition software and human editing and may contain errors. Before republishing quotes, we ask that you reference the audio.
Ryan Embree:
Welcome to Suite Spot, where hoteliers check in and we check out what's trending in hotel marketing. I'm your host, Ryan Embree. Hello everyone, my name is Ryan Embree, host of The Suite Spot. Thank you so much for joining us. We are having a brand new series here. I am so excited about this. So if you've been following the Suite Spot before, we've been doing our TMG Hospitality Trailblazers series, that's all about the people and hospitality management companies that are pushing our industry forward into the future, 2024 and beyond. But I am very excited about our new series that we just launched, and I think we have just the perfect guest and hotel part of this Suite Spot: Spotlight series. So to give you a little bit of background, this Suite Spot: Spotlight series are showcasing and highlight some of our industry's most unique and iconic hotels across the nation, across the globe. And I think we have such a fitting guest for our first ever edition of the Suite Spot: Spotlight series. Ashish Verma, Senior Vice President of the Luxury Division, Unbound Collection. Ashish, welcome to the Suite Spot.
Ashish Verma:
Thank you so much, Ryan. What an exciting introduction and, to be the first guest for the Suite Spot, which definitely hits a Sweet spot with me.
Ryan Embree:
Excellent. Yeah, we might steal that catch phrase, from you there, Ashish, but tell us where you're coming from because we know that the people make this industry, but this Suite Spot Spotlight series is all about, again, the most iconic hotels that we have. Where are you joining us from?
Ashish Verma:
I'm based in New York. It's my hometown and I'm in the heart of Manhattan. I was born and raised in India, so a great culture of hospitality. I drove my career with hotels, one of the finest in luxury hospitality. And then I moved to Hyatt International the very best, and I worked with them in India, in France, where I did my highest studies, my MBA in Paris and I worked with Hyatt again there and I moved to Phai, the original UN Plaza here in New York. Went on to work with a great hotel company Orient Express, as a GM down in New Orleans through hurricane Katrina and beyond. Returned to New York, my hometown, and it was a GM at the Luell and I've been in charge of the Chatwel, New York Luxury Division for a little over eight years.
Ryan Embree:
Your story is the true embodiment of hospitality is worldwide, right? And I'm sure you've seen just some incredible places, incredible hotels. So tell us a little bit about this iconic and historic hotel, The Chatwal. This fits the bill of being just a timeless property. Can you give us, you know, we shared your, hospitality experience, share a little bit of history of, of this specific property.
Ashish Verma:
Yes. global hospitality, hospitality being global goes hand in hand. There are some great hotels around the world and we all have a bucket list to experience and travel around the world. And the world has become a little microcosm of our own aspirations and luxury at the very finest embodies that, expresses that, offers that. And I'm fortunate between Asia, Europe and the US here in New York, having experienced some of the best. Where we are now in the heart of Manhattan, there's a lot of history where the Chatwal New York is, first this was called the Great White Way. Electricity first came to New York here, Great White Way near the Broadway, near the theaters. It was also called the Club Row. This is where the most iconic clubs are. Our building is an iconic building built by Stanford White, one of the most famous American architects. He built it in 1905, found by Mr. Charles Lamb, a British gentleman who had a club for the thespians in London, and he wanted to found one here in New York. So this is actually the first test in Club of America, found as Lambs Club named after Charles Lamb and the iconic Stanford White, who's in Madison Square Garden, some of the most well-recognized landmark buildings across the US. The club room element is so amazing because we have the most iconic clubs here on the street on 44th. Yale Club, Princeton Club, Harvard Club, Cornell Club. So all the Ivy Clubs are here. The Lance Club is here. So between the White Way, the club row, the historic stand fight, the Sanford White Lance Club next to the theater district, which I call the original art form of New York. What jazz is to New Orleans, what movies are to Hollywood, Broadway theaters is to New York. So we're already in the heart of Manhattan.
Ryan Embree:
Wow. It's a fantastic story. And honestly, I'm sure there's so much more just things that have happened at the property that's contributed to its historic nature and what makes it so timeless. You know, I'm, I'm curious at the core of, of the Suite Spot. This really is a hospitality marketing podcast, I'm sure each room in that property, you can tell me a story about Ashish and and there being some sort of culture and history there. How do you make sure that that's conveyed to your guests when they step on property? Just know how special, even the little that you just shared with me about its history, how that's conveyed to your guests when before they step into the lobby.
Ashish Verma:
Well, it starts with marketing. Obviously we have, you know, great product, great location, great service and reputation. we have a very good marketing team between our public relations and marketing, our website, our company, we make sure our travelers know about The Chatwal. Ultimately, I think it's the experience. Once somebody experiences The Chatwal, they invariably will return and they're the right elements too. We're fortunate between the location, the history, the designer architect, when the Lambs Club was changed to be a Chatwal Hotel, Thierry Despont was engaged as interior decorative designer who's one of the best in the world. He did the 45 Park Lane in London, the Brits in Paris, the Chatwal of New York. So we are in the best league of luxury hotels. On the suites, what he created an opportunity for us to highlight luxury, because luxury is more than just the product or the experience per se, it's also what you offer in terms of various elements to experience and suites accentuate that very much in theory afforded us that sort of hardware for us to work and embellish The Chatwal with the suites.
Ryan Embree:
One of the things we talk about on this podcast is the implementation of technology Ashish and with such a historic feel to your property, right, it might feel weird having an iPad in a room, right? you were just talking about the, the design of the architecture of this building and then all of a sudden, you know, there's this modern piece of technology there, but some guests might want that a part of the hotel experience. So how do you find that balance there of implementing technology but also staying true to your roots as a historic and iconic hotel?
Ashish Verma:
A very good question, Ryan, because the timelessness aspect on design and decor and history applies, but we must evolve with times in context with technology and the convenience and the expectations of our guests and travelers. Towards that, our design is actually Art Deco, which is timeless to begin with. A bit older demographics, find it nostalgic, find classic and elegant, a bit middle age or even younger, find it more retro, more chic, more cool, more stylish. So in that sense, we are timeless. Particularly on technology. We have a facility that from your iPads, we have iPads in every accommodation we have controls for heat, light and power. Even for drapes, we do as much as possible towards being paperless. So on the iPads we have press readers. So you can, you know, choose in various languages or travel from around the world. So we incorporate controls, we incorporate the dimmers, we incorporate the technology to even open the drapes automatically. In context of technology, we don't miss the personalization, but absolutely the most convenient, most modern aspect technology go hand in hand. Not substituting personalization, but only complimenting it.
Ryan Embree:
Absolutely. Yeah. You don't want to do anything to take too much away from that guest experience but enhance it. But I think you're right, it's, it's about the guest experience and the expectation, which I'm gonna ask you about here in a minute. But you, you mentioned reputation and property, a luxury hotel, like The Chatwal, New York it, it's, it has its reputation. You just hear the name and you know, but you also have to stay in tune with the traveler of today, right? And you have to keep that reputation 'cause there's a lot of other older hotels that might have the reputation but don't have the reputation today. So what are the types of things that you and your team Ashish are doing day in and day out at The Chatwal, New York to keep that reputation relevant and fresh with new feedback online, on like review sites that talk about what that experience is today?
Ashish Verma:
Reputation is first hard earned. So I give credit to my team, which has been working so diligently and passionately. We select very carefully and, and we train and encourage and have a culture of excellence and never being complacent in the context of what we've achieved. That's history that's behind us. So each year, the glories, the awards, the recognition, the repetition which we have is ultimately with all acknowledgement and pride a little bit in the past. So just as of yesterday. So we start off fresh and reinventing ourselves, remaining relevant to the guests is so important. We want to learn as much as possible about our guests. So a guest relations manager pre-arrival, doing a lot of research on the guest with 76 keys outta which 33 are suites we can really bespoke, I know that word is almost a cliche. Our words can be luxury hospitality in you know, our size boutique luxury even more so. But we really understand the guests their needs, their purpose, whether it's business, whether it's vacation, whether it's special vacation, family members, any likes and dislikes. So towards that we're constantly reinventing and making sure. Vis-a-vis the competition, we have our strengths, we have a uniqueness, we highlight that consistently. Our location, our suites, some of the key elements which we have as a butler service that's, you know, almost a dying art. We actually thrive on it. We do a lot of details with our butler services and anticipating. So classic hospitality with all the modern amenities and we hope that you would keep the competition on their toes.
Ryan Embree:
Yeah, that's fantastic. And I love what you said at the very beginning. It almost is kind of like a sports analogy in a sense of last season was last season, let's keep looking ahead and that's what you need at a property like this where you're just kind of pushing yourself because you don't wanna get too complacent 'cause the historical reputation's there, but it's what you can do right now. And I think that is a lost art right now and something we definitely need to take away from this. And what we try to share with our listeners of really taking a look at your guests and the feedback that they're leaving you. Any sort of research that you can do to make a guest stay memorable, right? And, and figuring out what likes, dislikes. It seems like you guys are, are checking off all the boxes over there at The Chatwal, New York. I wanna talk about setting expectations. You mentioned it before, the guest experience has evolved. We've talked about it, you know, something that was as simple as expectations for breakfast now has completely changed. Some hotels are even saying you gotta call down if you want daily service. I'm wondering, you know, from what I see you guys are really doubling down on that guest experience and, and personalizing it. You use that word personalization. Can you speak a little bit more about what you and your team are doing over there to evolve the guest experience to even greater heights right now?
Ashish Verma:
Yes. Without giving any trade secrets, right?
Ryan Embree:
Right, that's true.
Ashish Verma:
The essence of hospitality is not the business per se, right? We are maximizing the guest experience and the results take care of themselves, so to speak. So each morning we have a morning meeting. Each arrival we go over what accommodations are assigned to them, who's traveling, whether they're first time guests, or the repeat guests. What are their likes? What are their dislikes? And we make sure that to the detail we are obsessive about. We say we are OCP, obsessive compulsive perfectionists. So here we want to get every accommodation, every guest without exaggeration, gets a handwritten note. They get amenities at a certain rate level, which we will adjust, but we make sure that what we know historically and as much as we can learn is carried out by a guest business manager, is carried out by our butlers and each and every team member. While they're here, we are not just saying, you checked in, you got the amenities. There is sort of a consistent interaction with our team during their stay, we'll make sure we'll check with them how their stay is. And we have certain elements where between the restaurant and our spa, the wellness center, we can interact with them a fair bit. So the concierge, the guest stations manager, the team and the front office, our sales team, myself, we have this constant interaction to keep learning and making sure, they're, being catered to and we're exceeding their expectations.
Ryan Embree:
And those guest touchpoint are so important, right? You might not be The Chatwal, New York listening to this podcast, but to be able to go to a guest at, at different points of their stay. Because there are so many places where things could either improve the guest experience or they come across something that kind of challenges them in their, their guest experience from having that perfect stay checking on them at different places, whether it's the F&B, restaurant, whether obviously we always try to get someone at checkout, but becomes a lot more difficult now with mobile check-in and checkout with some hotels. But trying to find those personalization, those interactions definitely. And, and using that feedback, right, that you're hearing, looking for patterns and trends can definitely set you on a path to improve that guest experience and elevate it as we were talking about there. Now Ashish, I keep wanting to get back to this because again, Chatwal, New York sounds less like a stay and more like an experience, right? And that's what you and your team are striving to put on for a guest that comes in. And I'm sure when someone books with you, it's not one of those last minute bookings. No, they're getting excited, they're getting excited for this stay and they, they wanna experience everything that you have to offer, but you also wanna make sure that you're showing them that you get the butler that will come with your room. How do you do that in that pre-booking phase, right? When people are getting excited about their trip to The Chatwal, New York, how are you making sure that you're showcasing to them everything that your hotel has to offer?
Ashish Verma:
The purpose of our traveler, broadly speaking in hospitality is business or leisure. There are certain needs a business traveler has and certain needs a leisure has. So let's start with leisure. Our location affords them the proximity to the theaters. We invariably have a partnership with some Broadway shows. Right now we have a partnership, an exclusive partnership with Neil Diamonds and Beautiful Noise. So when you stay with us, you have access to number of amenities and aspects to be able to enjoy that particular show, which comes with certain added amenities on that package, a theater package. Second is wellness. Very few hotels have a proper spa, especially in the heart of Manhattan. And we do, we even have a swimming pool, we have a hot jacuzzi, we have private steam showers and separate treatment room, a state of the art fitness center and we have a wellness butler. We understand we can make appointments with a yoga teacher for meditation, for any physical fitness personal trainer. So those bespoke elements are taken by our wellness butler. So we understand that if you have a fitness, if you go wellness, if you relaxation, we will guide you towards those assets. The third is culinary. New York is known for that and we have a beautiful restaurant, Lamb's club at The Chatwal. So we work with the dietary guidelines and make sure that we can create that experience for the guests. So constantly understanding the leisure needs, whether it's anniversaries, you know, we'll make sure that's recognized. With the business travelers, there's a lot of efficiency, which they expect. So how efficient we are with the check-in, we dont wanna spend too much of their time. We provide them certain packages of breakfast and certain conveniences, transportation so they can conduct their business efficiently. So understanding, preparing at the arrival stage, a lot of things are implemented. Your question on the pre-arrival, we reach out via emails, reach out on phones and learn as much as we can. And then the guests are, wowed, sometimes they are booking their stay for their loved ones. So we will execute on their behalf and then once we learn a little bit more about them, the magic is when they come and see that it's implemented for their stay.
Ryan Embree:
Yeah, that's what I was gonna follow up question there, like what type of reaction do you get when, 'cause that that's not the typical experience, right? Is when you book at a property, someone's reaching out to you pre-arrival and, and trying to learn more to make your just stay even more memorable. What, type of reaction do you get from guests when you do that?
Ashish Verma:
So I've personally done that when I have had some executives, some celebrities will reach out to the right people who are making the reservation if you will. And I'll say, can you tell me a little about your boss? Can you tell me a little about, you know, who you're making the reservation for? So if I have, you know, the daffodils in their rooms or the peonies, which are their favorite flowers. And it's not just champagne, it's the brand which they like. The best of all is when I'm playing Pink Floyd in the background because that's, you know, the music that's they like, so between music, the senses and those choices, implementing that gives me personal joy. Our team is excited and committed towards that. And the guests you can, you know, sense it when you look at their smile and their eyes widen up. The best feeling Ryan is when they say, this is home, this is where I belong and I'm gonna keep returning. That's the most, satisfying compliment we can receive as a team.
Ryan Embree:
That is awesome. Yeah, you want, you really want to be that mind reader before they even step on property. Anticipating the needs prior to a guest even, you know, even saying it, it's absolutely fantastic and I find it fascinating that micro-segmentation that you do between why they're coming here on leisure. 'cause you're right, you know, we have business and leisure, maybe talk about the bleisure after the pandemic, but you guys at The Chatwal, New York are really putting under a microscope of what those two segments are because there are several different leisure aspects to it. Because you have so much to offer in your location, you wanna make sure that that person understands everything that they have when they arrive on property, all the experiences that they can get in the time that, that you'll be hosting them. Absolutely fascinating. So before we wrap up, seeing if this is gonna catch on with this Spotlight series, just some rapid fire questions to get to know you Ashish and, and the property a little bit better. So I worked for several resorts before and I had that one spot, that favorite view on property. It might've been during a time of day, you know, either sundown or sunup. What's that favorite view for you on property at The Chatwal, New York?
Ashish Verma:
From the Sanctuary Suite, we have 14 suites with terraces. Some of the largest suites in, New York. The sanctuary suite has views of the Manhattan skyline, the north and the east. I think it's a stunning view. They can be our guests who might prefer the views from Zen Suite, also the rooftop producer suite, The Chatwal suite, and the garden suite. Great views of the Manhattan skyline. My personal view, the sanctuary suite.
Ryan Embree:
I don't have this, this question on here, but what's your favorite suite?
Ashish Verma:
Sanctuary suite is my favorite and I suppose it has something to do with the view as well.
Ryan Embree:
Well, what about a fun fact on the property? I'm sure you've just got a head full of facts as far as everything there is its history. What's that one fun fact that kind of moves the needle for you?
Ashish Verma:
We have, get ready for this. We have 37 nationalities at The Chatwal from the ethnic background. If you will of course, we're all Americans. So we have 39, you know, national backgrounds and we have 46 languages spoken amongst the team. So their history, their background, the great country that we are, the melting pot of New York. So that's a fun fact for me because we are so diverse and so committed as a team. We celebrate a great nation and a great city. With all that diversity coming together towards excellence and integrity,
Ryan Embree:
Have we had to use all of those languages so far?
Ashish Verma:
I don't believe all of them would've been used but I'm curious now that you asked. But yes, some are used more regularly of course, within the, guest arrival, some perhaps much less.
Ryan Embree:
We'll have to do a follow up on that on the next episode there. You, you talked about the cuisine, right? How New York people might even travel there, just, there's that microcosm of a segment of leisure travel, cuisine and dining. What's the favorite signature dish at The Chatwal, New York for Ashish?
Ashish Verma:
For Ashish going through the appetizers, the main courses, the best part of the meal personally for me is the dessert. So my signature favorite dish is the chocolate mousse. However, if guests do wanna know a good favorite sodder of mine, then I'd say the tuna tartar for the main courses. For lunchtime, I like salmon a lot, grilled salmon, that's excellent. Some nice,vegetables, seasonal vegetables. And then also halibut at dinnertime is excellent. The chef's very talented, JJ Vasquez and Sarah, for the lunch, and the overall team has at a fantastic, but when it comes to desserts, and I wanna emphasize on that being a sweet to me as well, chocolate is one, but some other great options. So you can really have a great meal over at The Chatwel.
Ryan Embree:
Fantastic. I don't, I've never put that correlation together. I might have to throw that in there for a new segment there. What about favorite piece of art? This is the last one, but I just, well I worked at a property that just had these really, really great pieces of art and I know each one has a story there. What's your favorite piece of art on property?
Ashish Verma:
We're a historically preserved building. Our facade is a landmark itself. We have many elements, a historic fireplace from 18th century in the restaurant. We have a firemantle in the foyer area. We have a war mural, which is historically preserved. It's dedicated to war heroes who served our country in World War I and World War II, we have a beautiful library, the original library restored now called the Stanford White Room. My personal favorite artwork historically is the fire mantle in the foyer area of the hotel. So when you arrive at the foyer area before you go up the elevators, it's amazing woodwork with some nice ram heads and a beautiful place for the fire and the mantle where we have a beautiful, clock, which works efficiently. And it's a classic, masterpiece. In addition to that, in the modern era, if you will. After we repositioned the product quite a bit, we created lots of different suites and the Hollywood suite has my favorite actress of all time, Ingrid Bergman, an artwork I picked up myself of her. And we have many other stars in the Hollywood suite. So I'd say Ingrid Bergman in the Hollywood suite, and of course the firemantle in the foyer area.
Ryan Embree:
Absolutely fabulous. We, we spent almost half an hour now talking about this one property and, and we've gone through, you know, so many suites, so many pieces of the, the guest experience. And just taking a look at this wealth of knowledge of rich history behind The Chatwal, New York, what's your vision here as, as we hit the halfway mark in 2023? What's your vision for the property in 2024 and beyond?
Ashish Verma:
We are very excited as part of Unbound Collection By Hyatt company, which is so well respected and recognized internationally. The Chatwal, New York is poised for greatness. Past is history. The team is very committed, team is very passionate. We are actually, as we speak, creating two new wellness suites. So I'm really excited about that. We have 14 suites with terraces. We celebrate the gems, which is Ruby, Topaz, and Emerald. We celebrate the iconic elements of the Chatwal Suite, Zen Suite, Garden Suite. We have, three iconic in the front facing north, and then the southern exposure with the garden suite and the rooftop is producer and director suite. Wellness is an increasing need of the guest and that's, you know, more and more welcome. And we position ourselves as the only resort in Manhattan. So these two wellness suites are called the Shanti Suite and the Prima Suite, which is Sanskrit means peace and love, shanti's peace and prima's love. So really excited on focusing a lot on wellness in the near future, continue to post line and spoke the guests and make sure across our demographics, we remain the most referred hotel in the heart of Manhattan. So I'm really looking forward to 2024 to be a record year for us as we have done in the past. Keep up positioning at the very highest with one guest at a time.
Ryan Embree:
Absolutely. Well, excited to see and not a detail missed from the theme of the rooms to anticipating the needs of the guests, which we talked a lot about on this, this episode as well. Being that you have that wellness butler, maybe me and you Ashish need to, get a consultation from him after we share, the Chocolate Mousse, at The Chatwal, New York. So, Ashish, thank you so much for joining me here on this podcast. Absolutely love spending some time with you and learning about this property that you can clearly hear the passion and love in your voice when you talk it. Thank you so much. To join our loyalty program, be sure to subscribe and give us a five star rating on iTunes. Thank you so much. Suite Spot is produced by Travel Media Group. Our editor is Brandon Bell with Cover Art by Bary Gordon. I'm your host, Ryan Embree, and we hope you enjoyed your stay.