120 – TMG Announces the Launch of Social Video for Hotels: Instagram Reels & TikTok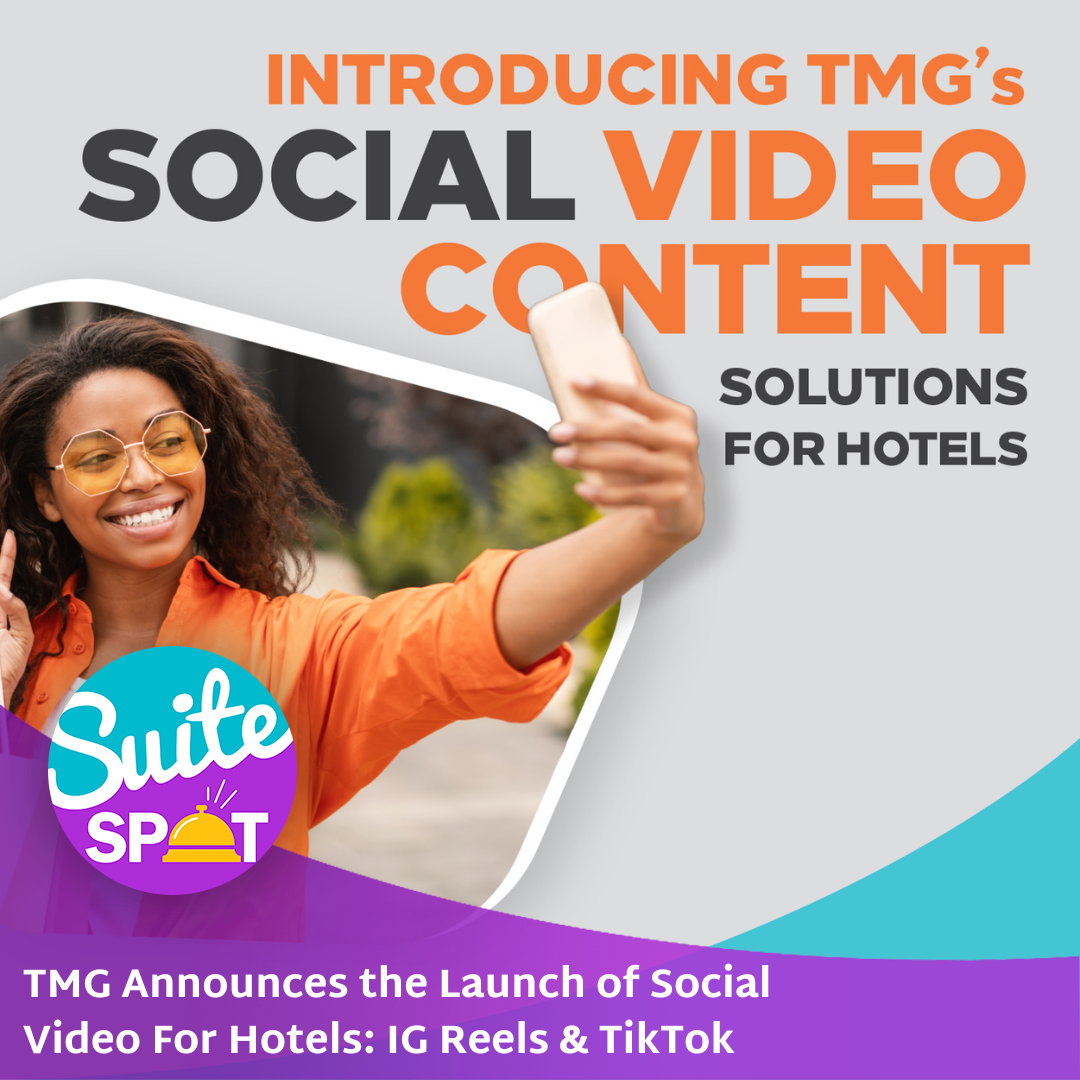 Travel Media Group just launched its latest product innovation to its social media digital solution, Social Video for Hotels: TikTok & Instagram Reels!
Tune in to this Suite Spot podcast episode to join TMG Marketing Director & Suite Spot host, Ryan Embree, and Social Media Product Manager, Brian Ross as these two digital marketing specialists share the capabilities of this exciting addition to the social media solution and the best video-making insights that will optimize your hotel's unique social media strategy. 
Episode Transcript

Our podcast is produced as an audio resource. Transcripts are generated using speech recognition software and human editing and may contain errors. Before republishing quotes, we ask that you reference the audio.
Ryan Embree:
Welcome to Suite Spot, where hoteliers check-in, and we check out what's trending in hotel marketing. I'm your host, Ryan Embree. Hello everyone, and welcome to another episode of The Suite Spot. This is your host, Ryan Embree. Thank you for joining, thank you for listening. If you're hearing us on any of the podcast streaming platforms that you can find the Suite Spot on, or thank you for seeing us on Travel Media Group's YouTube page where you can find all of our Suite Spot episodes, and we have a fantastic episode today. A first timer, a newbie to the podcast of the Suite Spot, Brian Ross, our Social Media Product Manager at Travel Media Group. Brian, welcome to the Suite Spot.
Brian Ross:
Thank you so much for having me.
Ryan Embree:
Yes, and we're, super excited today. We've got a great episode and we're here for another launch. I feel like we do these episodes, every other episode, Travel Media Group, continuing to innovate. We have launched an exciting social media innovation and addition to our already incredible solution, due in part to you and what your team has been doing over there on the social media side. But we are launching social video for hotels, Instagram Reels, and TikTok. I'm excited. How are you feeling?
Brian Ross:
It's been fantastic. It really is the next natural step to what we've been doing with custom posts for hoteliers.
Ryan Embree:
Yeah. And I wanna talk about that because I feel like I know, I joked about it, you know, this being, an episode we do all the time with the, all these innovations. But we were a couple months ago, a couple episodes ago, talking about video content creation, TMG giving you the ability to build social videos via OneView®. So, what's the difference between that announcement and what we're talking about today?
Brian Ross:
So internally, what we refer to the other launch as is our DIY product. And that is essentially a product where you can go in and use our system to create content that goes out across all of your platforms, and you can track your insights and the performance of all those posts. But what this is, is this is a product that we offer where we create the custom posts for you. When we onboard somebody, we get some property notes and even in the individual posts, they can give us some notes on what they like and, you know, they know their occupancy drivers and things like that. So if they just give us a little note, then we go in and we actually create the content.
Ryan Embree:
So this is now us doing that with the video which is just so powerful and it's the natural evolution. We were talking off screen, off mic about this, but you know, one of the things that I'm gonna continue to reference during this episode is the social hotel social media survey that we just conducted, went out to our entire database of over 40,000 hoteliers. And one of the questions we asked them, what was your biggest challenge? And we saw 62% of the time, not enough time. That is a hotelier's life, 365, 24/7. We wish there were more hours in the day, but even if there were, we'd be open for them, right? Because we're hoteliers, not enough time, unsure of what to post 60% and staffing someone to do it 50%. So this is that natural evolution because you're right, so many hoteliers understand the importance of social media, but it's sitting down and the ability to strategize and actually produce a video. It's a little bit more complicated than just clicking a button or two.
Brian Ross:
And what's important is that things are consistent. A lot of times a challenge for hoteliers is that they'll have the bandwidth for a little while to get something done and it will get started. It will feel good, but inevitably things come up and it drops off. And That will happen with even just trying to do regular social media posts. When you start to try to integrate video, it can be gung-ho when you first launched that kind of idea, but can easily fall off. And it's so important with social media to be consistent because when people are checking out your social media And there hasn't been a post for months, they're wondering if you're, what you're doing, if you're even open still. So the consistency is so important.
Ryan Embree:
Yeah, I call that the holiday effect. And what I do is I go to social media a lot of the time and I see the last post be some major holiday. And you can tell at that point that hotel was like, alright, everyone, we need to go full force onto our social media. And it was around July 4th, and now all of a sudden it's December and we still have the last post being in July. So it happens. Or the other thing is, is credentials, right? You lose someone to another property, you lose someone in this historic staffing shortage that we're having that was managing your social media. And all of a sudden you can see, Hey, I know when this person left because this was the last time that they ever posted on this page. And that's something that having a third party, like travel media group, we never take a vacation day, never take a sick day. We will be the most consistent partner for you and make sure that you always have your credentials. Because again, we're never taking that promotion across the street, like some hoteliers and employees can do from time to time as we know. You know, without giving away any secrets. I think it's important because one of the main things to this innovation is process, right? So walk me through you and your team's process. It's tough enough as we talked about, to even just have a consistent social feed, let alone building videos. So kind of talk to us through that.
Brian Ross:
Sure. So it, it really does work hand in hand with having social media posts in general. So the video can either sort of supplement what you're saying in your regular posts or it can reinforce what you're saying. And when I say that as we're creating a week's worth of content for a hotel, we're sort of thinking of four different people along the traveler's journey. We're thinking of the folks who are looking to go to a location or an area or a particular property sort of investigating, looking for inspiration on where to travel. Then we've got the folks who have booked at a place but haven't stayed there yet. For me personally, that's where I really get into somebody's like social media and website when I know where I'm gonna stay. And I know where my dates are, then I start checking things out. And that's where there's another opportunity to engage folks. And then we've got the folks who are in stay. So, you're staying at the property, what is relevant to you, you wanna know when the pool is closed, you wanna know what time breakfast is, you wanna know what time checkout is, you wanna know what's going around town right now. And then we have the folks who are post stay, and that's sort of passive marketing, but it's keeping that relationship going. So video sort of works the same way. We take a look at the week's worth of content that we've created for our property, and then we ask how do we supplement that? Is there a gap? Is there something missing? Is there one of those folks along the journey who isn't being addressed more in those posts? You know, have we not posted about what's happening right now? Or have we not posted about what's happening next month for folks who are looking further down the road? And we can sort of supplement, or sometimes we'll look at it and we'll say, hey, these posts all really tie together really nicely. Let's put them together in a package in the video form and sort of like combine those into almost like a highlight of your week's posts.
Ryan Embree:
I love that. And I've seen a couple, amazing examples that we've already done for some of our TMG social partners. And you think about it, think about how many events, if you're in a large market, right, let's say Orlando, right, Nashville, Dallas, these major markets like this, the event schedule could be almost an entire calendar. So it's hard to put in just a single image post, like so many hotels are using right now. The power of video is you're able to highlight multiple events over the course of a week over the course of a month. And it almost feels like if you get that person interested in watching that video and capture their interest, it almost feels like maybe you're doing four or five posts right there in front of them. You do a weekly recap of about the amenities that you talked about during the week, you know, your room features, the rooms, and what they look like. That's multiple, what would be still images inside of a video and giving a lot of information. Like you said, another statistic from that hotel social media survey is we found that 50% of the hotels that we surveyed only say that they post either once a week or rarely. 50%. So if you're posting multiple times per week, where our social solutions start at four to five times per week. And that's typically the Suite Spot, no pun intended, of where you want to be on social, on posting social. You're already doing better than half of the hotels out there. So when you're looking for a competitive edge, especially as we get into this fall and winter season, consistent social posting, adding and supplementing video could be the key to extra occupancy during this time.
Brian Ross:
Could I add something to that?
Ryan Embree:
Absolutely, please.
Brian Ross:
One thing that's really cool is as we're creating a week's worth of posts for a property, we're looking into events and we are researching and we'll find 10 or 12 events and we'll only have two posts that are earmarked to be event posts. So the video makes perfect sense. We're already doing all the work. We've done it already. So we know the events that are happening. And as we work with a property over a long period of time, we get to know the market, we get to know what all the attractions are, we get to know what the drivers are for the property. We get to understand the key amenities. So when we go to create video that that supplements things, we've already kind of, we're already there with the knowledge.
Ryan Embree:
And that's a great point and a great segue into the next question because that's a question we get a lot from our hotels, right? They say, you know, I'm a little concerned about handing over my social media account and profiles to someone that's not working at the property. Same question we get asked with review response as well, right? How are you going to answer my specific guests when you don't work at the property? You don't know what's going on around me. But we have fixes and we've been around the block, so to speak, when it comes to social media. So, walk me through that. When a hotelier kind of has that question of how do you really get to know my property?
Brian Ross:
All of our properties get onboarded by our customer success team. And part of that process is giving us an idea of what your voice is, giving us an idea of what your market is, who your typical guests are, and we very quickly find your voice and we find the key drivers, we watch the results of the posts as well, we see what gets the most engagement. For example, we have a client who, they're in a, in a market where for whatever reason it doesn't feel like there are a ton of events, it doesn't sound like a big market, but for some reason these events posts get the most engagement from their followers. So rather than say, oh, well what do we gotta do about getting the amenities posts to get more engagement? We lean into the fact that the events posts get more engagement. And what we do, we'll take posts about an event and we'll tie them into the amenities. We'll talk about, here's an event coming up and here's why having a free breakfast before you head out for the day is great. We can tie the amenity or something about the property into why it fits with that event. And then again, we're talking about the traveler's journey. So each event sort of has a lifespan where even if it doesn't have to be a Taylor Swift concert or something huge. But it's got sort of the pre-stay. It's got, are you coming to town for this event? Here's why you might wanna stay with us. We've got the, are you in town for this event? Here's what's going on. Here's some relevant information. Did you stay with us for this event? Thank you so much. Hope you had a great time. If it's a concert, how about that encore? How was that? What was that? Not the greatest Almond Brothers reunion you've ever seen. Whatever it is, there's all these opportunities along the traveler's journey to be connected.
Ryan Embree:
Yeah, Brian makes a great point there. And something I preach to hoteliers is that I have consultations with them about that lifecycle of an event because we are so prone to thinking about in the future and occupancy and what event is next, but we really neglect when the event is happening where you could get the most engagement from the people that are attending those events and then advocacy afterwards. Because you know that they're going to be sharing pics, they're gonna be sharing photos from the events, their comments from the events. And they also might have a like-minded audience that could be interested if it's an annual event in that event next year. And guess who they're gonna think of top of mind if you're engaging with that. But Brian's absolutely right with this as a marketing person at our hotel, we are always looking for signals on what we're doing right. And what we're doing wrong. Same thing with reputation data, right? So social media giving us analytics and insights. Just imagine now having, thousands of hotels to look at and see what's performing. And I guarantee you, if we are not working in your market, we are working in a market that is similar to yours. So Brian and his team do a fantastic job of being market experts, brand experts. We know the hashtags, we know the cleaning protocols that go into each sort of brand we know segment. And you know, if you are a beach hotel versus a high off the highway hotel, what type of audience do you cater to? So this is all things that initially we know but then you and your team do a fantastic job along with CSR of just refining that and finding that frequency there and kind of just getting feedback from the customer of is this in tune with what you're looking for? And you make the changes as necessary, which is what you need in a social strategy. It has to be ever evolving. You try the same thing over and over again. You're not gonna see the results you're looking for. So as we talk about this, this exciting new innovation, I know I mentioned it in the title, but talk to us about the platform that these social videos are gonna be on and the type of audience associated with these platforms. And I think, you know where I'm going with this.
Brian Ross:
Part of why this is so exciting and so important is that these videos are being published on TikTok, on Instagram Reels and on Facebook Reels. And the reason that's important is because you are reaching a demographic of folks who are using different apps and using these apps differently. There's a younger generation who is not scrolling through their Facebook feed. They're scrolling through their Facebook feed so they can get to the next set of reels to watch. The way reels work is it's extremely responsive to the things you are currently interested in and currently searching. So if somebody is right now searching for travel in a certain area or what an area has for attractions or amenities or properties to stay at, they are going to be fed this content for a while. It's gonna be very effective at reaching them. So being out there and in that space is really an opportunity to meet people where they are and take advantage, use that sort of algorithm that the system has to your benefit and get in those feeds.
Ryan Embree:
Yeah, absolutely. And one of the cool things too is, that algorithm is so good that it will actually base your next piece of content off of what you're looking at and how long you've looked at something. So one of the brilliant things I think you and your team do are countdown videos or lists, events that are happening during a week. Because what does that actually elicit more views and longer time spent on that video, which would mean the next video is going to be something very similar. And we work in hotel, we work in travel. This is something that those searches that you were talking about are very common searches that we would even do on a day-to-day basis of being like, planning your next trip or places I want to go see or travel, you know, so it's so important to be on these and this social media survey, we found 55% of hotels, which I will say is a fantastic jump from what we did when we did this last, 55% of hotels did say they have an Instagram account. The gap was, only 24% said they were using Reels. And I would love to spend an entire episode, I think we actually did on Instagram Reels and why and how important Instagram reels is to that app. So it's not enough just to be on Instagram anymore. It's about trying to grow your audience and Reels is the perfect way to do that. The gap is even bigger for TikTok. 89% of hotels are not on TikTok. So again, going back to how can we gain a competitive advantage, this is a platform that is very, very young. It's very new, and hotels are jumping in at a slower pace. If you go in with a consistent strategy, you could get a lot of views there and a lot of traction very, very quickly.
Brian Ross:
I know you could, you could probably hear, this is gonna sound like preaching, but it doesn't have to be intimidating when you are a hotelier, and this is true with any social media, but I feel like with TikTok, there is a different perception or an a heightened perception of this concept where people feel like social media is about going viral and striking it rich or something with some kind of guerilla marketing concept or something like that. That is not what this is about. All of our social media strategy is about brand building. It's about taking the guest experience that they have with your property, their experience with you includes their online experience. And a big part of that is reviews and reading the reviews and what your responses are. So that's one side of it, but that's the sort of reactionary side. That's reacting to something somebody's already posted. The social media side is your chance to proactively get your message out in advance, in real time. The same thing goes with the videos with a TikTok account. You don't need to be trying to do something crazy that's gonna go viral. Just take the stuff you're already doing. You know your drivers, think about it this way with TikTok and Facebook and Reels. Think about what video can do that a still photo can't. And you can kind of be on the right track. So something like hitting record on the camera with the room door closed, opening it up, revealing the room, and taking a nice 360 panoramic view of the room. So you can see where the bed is, you can see where the little kitchenette area is and you can get all in one shot. Sort of a nice perspective on what the room is. It's hard to convey that on a photograph. We know that anybody who's in the hotel industry knows how difficult it is to convey what a room looks like with a photograph. It's always gonna be not quite, it's not gonna quite tell the story. So video can really do that. The other thing is, if your place has a great view out the balcony, do the same thing with the curtain. Start the video with the curtain closed and open that curtain up and show us the beach and walk out on that balcony and let us hear the, the seagulls and the surf. You know, you can't get sound across on a photograph either, so take advantage of the things that a video can do that a photo can't. And you kind of start, you almost start to have a video strategy already.
Ryan Embree:
Yeah, and you add some music to that and all of a sudden you've got a really cool video that expresses so much more than a still image could. And I love the fact that you mentioned the traveler's journey starts prior to them even stepping foot on property. We've talked about it before, calling it your digital lobby, right? You could go to the front desk and recognize Mark at the front desk because you read his name on a review talking about how great he is. Gone are the days that where travelers want to figure out everything when they get on property. I wanna walk in and know exactly, Oh hey, check this out, this is the way to the pool, instead of waiting for the front desk agent to tell me, oh, you know, we don't have to bring towels, we've got towels down there. I saw it on social media, on Instagram. This is the type of information that guests are starving for now. It's not something where they're gonna proactively reach out. It's gonna become an expectation and if you're not showing them what that experience is like, then there's no better way to do that than video, I think is a great way of putting it.
Brian Ross:
One thing I really like that you said there was when you brought up team members. I think that one of the best things that a property can do with their social media is highlight some team members. Again, thinking about the traveler's journey. If people feel a connection to your staff before they even get on site, that is gonna be priceless for them as a guest of the property. And you can take sort of whatever amenities you have that are pertinent to your property and your team and you can do something like this. For example, if you have an onsite bar, you can highlight your bartender, give them a drink of the month to highlight on your social media. When they get to the property, they'll be like, oh, that's Devin. He's got the Mai Thai this month, I saw that recipe. If you have a restaurant, you could highlight the chef and you could have a seasonal dish on the social media. If you don't have food and beverage, maybe you have a fitness center. Maybe there's somebody on staff who is into fitness. You could have Jeff's fitness tip of the month. And you could have a shot of him doing a rep in the gym. And you could do this whether you have video or you just have photos, you know, highlight a team member and use that person to highlight your amenity because a lot of places have fitness centers. But this is really gonna distinguish your property and your fitness center from theirs because you've got this personal social media. It's about people. So we should be seeing people.
Ryan Embree:
Love it. I hope everyone is taking notes at home. Some great ideas coming from Brian. So let's talk about tracking the effectiveness of video and your social media strategy. We talked about tweaks, we talked about how social media is ever changing and evolving. What are you looking for? What should a hotel or listener look for when they're tracking am I doing this right?
Brian Ross:
I would say reach and engagement. Look at what is being engaged with. And that can be simple as just looking at how many likes are on your posts, looking at how far it reaches, looking at impressions and things like that. I think the mistake a lot of folks make is thinking about social media like it's a billboard advertisement that you're gonna be able to draw a straight line from that to a booking. And it's not usually gonna be the case. It's almost never gonna be the case. But again, it goes back to it's part of the guest experience. Just like having clean pool as part of the guest experience or you know, a nice lobby fresh look is as part of the guest experience. It's less about tying specific bookings to a specific social media post. And it's more about, is this being engaged with online? Is my follower count going up?
Ryan Embree:
And I think this might be the moment of this episode here, because you are so right for hoteliers. We tend to think in return of bookings, everything has to see a return of booking. But I worked at a hotel for a couple years where every single day, one of my daily duties was to take this pillow and chop it right down the middle so it looked nice on a couch inside of the lobby. And there was no way that I could say that there was a return on investment doing that one thing, but I was told I needed to do it every single day. And it made pictures that people posted on Instagram look a little bit better, made people feel a little bit nicer when they walked in through the lobby. But there wasn't that direct correlation. Like you said, the same thing can be true with social media. You already gave some great examples about fitness tips, your drink of the month. Maybe it's a pumpkin spice because we're in the autumn this month. Those are not supposed to drive five bookings for you per night and change your occupancy percentage, but it's gonna help with the guest experience. And I think if you just make that tiny little tweak in mindset about social media marketing, you'll get a lot farther and be able to track that effectiveness and not drive yourself crazy thinking, how many many bookings am I getting based on this post alone.
Brian Ross:
I also think it makes your strategy easier and more obvious. It makes it a lot clearer and simpler about what to post when you're not thinking about it in terms of being an advertising platform.
Ryan Embree:
Because this generation is inundated with ads and commercials. You think about it, every single time we watch a YouTube video, now we have to watch at least 5 to 15 seconds of an ad. They are learning how to block out these ads. So if your social strategy just looks like a giant book now button, they will tune you out and that will be an unfollow. So you have to think of more creative ways to get in front of these travelers' eyes and engage them. So Brian, as we wrap up, what would you say to a hotelier that's just, again, they're a little bit nervous about jumping in on video. What would you tell them?
Brian Ross:
I would say, you know, I'll reiterate what I said about thinking about what you can get across with a video that you can't get across with a photo and jump in and turn those into videos. Maybe get a few templates use like Canva or some other free site that has templates that specifically say TikTok video or Instagram reel. And you'll have everything figured out. You'll have a size, you might even have some little animations or a logo bug that you can swap out for your own logo. And just get a couple of those going and post them and see what happens with them.
Ryan Embree:
Baby steps, we've said it before on this podcast, and not just social media, but reputation as well. You know, hotels understand this. They know the hotel social media survey that we conducted. Again, it says this, you know, when we asked what type of impact do you feel a social media presence has on a guest impression of the hotel and chances of securing their booking, 81% said it has a positive impact and it's actually gonna improve the chance of booking with that guest. So hoteliers get it. I think it's about jumping in if you're afraid to do it. That's why we're here at Travel Media Group. Outsource this stuff. But you need to do it correctly because if you have that inconsistency, it could end up hurting you in the end. So we just spoke to the hoteliers that haven't jumped in yet. Let's talk about some of the hoteliers that have and some of the feedback that you're getting so far about this new solution and innovation.
Brian Ross:
Yeah, I think what is surprising to folks who have jumped on board with us is how seamlessly this does integrate. It really just makes logical sense. It's filling out their week, it's giving them access to a new demographic. And so far so good. I mean, with the posts we've been posting and have been boosted, they've been getting great reach and we've got a variety, you know, we've got some of our videos are pulling in guest reviews and highlighting those, there's another opportunity. Especially with a company like TMG, we've got the reviews built into the system, five-star review and we can pull them in when a property suggests, hey, again, you know, your occupancy drivers better than we do. If you give us the two words "Pool Posts", we can search five star reviews that mention a pool and we can grab the photo of the pool or a video of the pool and we can start layering in guest reviews. So that's, that's been really successful. Again, events are great to post about area attractions, like you said, a list of attractions. Five places to visit in Orlando, boom, boom, boom, boom, boom. It makes great content. So everyone's been really happy with what we've been doing so far.
Ryan Embree:
That sentiment was certainly echoed in that survey that we did. We actually asked at the very end of the survey, if you were to be interested, if Travel Media Group were to launch a social media video content solution for hotels and 60% of those people said yes, they understand. It's just about the capacity and bandwidth to do it right now. Whether it's I just don't have the time. I don't have the know-how, I don't have the tools. But that's certainly where you and your team can come in and help. So, fantastic episodes, so many ideas. I love episodes like this where we're just bouncing ideas back and forth. Final thoughts before we wrap up?
Brian Ross:
You know, one thing that just didn't work into the conversation that I think is worth noting is that this demographic that we're reaching with the videos, one of the things that they're actively looking for in a destination or a property to stay at is, whether or not it will make good social media content for them to post. They want to know if they can get a good selfie when they are staying in an area or at a property. As somebody of my age, that blows my mind because it never would've crossed my mind. But it is, it is something they're actively looking for. So if you've got content that can show them that they'll get a good selfie at your property. There's another thing to sort of keep in mind when you're looking for what to post.
Ryan Embree:
Absolutely. We've talked about it before, placing a hashtag or something for a selfie in your lobby that could be great content. And it's also helping telling your brand and story out there. It's a win-win.
Brian Ross:
A place for people to take selfies or some photos specifically staged is a really smart idea. I stayed at a place recently that had one of those backdrops behind 'em with the property logo and every time I walked by there, there were people taking their photos in front of it, it gets your brand out there. It's crazy. But this is what people are doing.
Ryan Embree:
Absolutely. It's great. Brian, thank you so much. First time, certainly not the last being on the Suite Spot. I appreciate you being here. Thank you all for listening and we will talk to you next time on the Suite Spot. To join our loyalty program, be sure to subscribe and give us a five star rating on iTunes. Suite Spot is produced by Travel Media Group. Our editor is Brandon Bell with Cover Art by Bary Gordon. I'm your host Ryan Embree, and we hope you enjoyed your stay.