121 – Suite Spot: Spotlight – SLS South Beach Hotel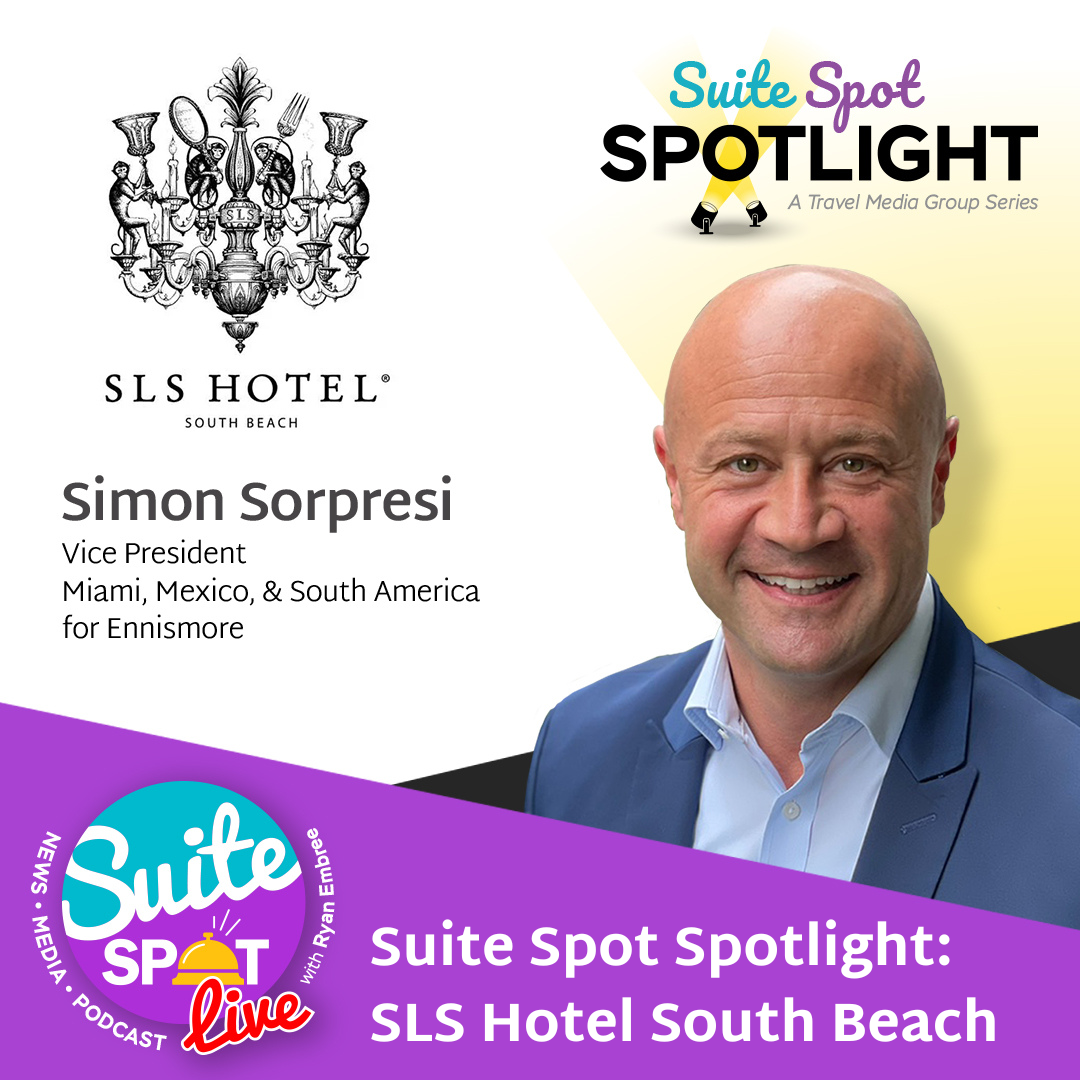 The Suite Spot visits Miami Beach in this episode to talk with Simon Sorpresi of the SLS South Beach Hotel to discuss its addition to the Suite Spot: Spotlight series and how the iconic property stands out from the competition with a unique guest experience, art style, and digital marketing strategy. 
Tune in to discover why the SLS South Beach is a one-of-a-kind hospitality experience that every type of traveler should mark as their next destination.
Episode Transcript
Our podcast is produced as an audio resource. Transcripts are generated using speech recognition software and human editing and may contain errors. Before republishing quotes, we ask that you reference the audio.
Ryan Embree:
Welcome to Suite Spot, where hoteliers check in, and we check out what's trending in hotel marketing. I'm your host, Ryan Embree. Hello everyone, and welcome to another episode of The Suite Spot. I am so excited for this episode. If you are watching us on Travel Media Group's, YouTube channel, you know that we are here live on location. This is the first time ever we've been live on location. We're very excited. We've got this brand new Suite Spot: Spotlight series. We just had our first episode, but the first time that we're doing it live on location, and we have such a great guest and property that we're gonna be showcasing on this Spotlight series. Without further ado, let me bring him in. Simon Sopresi of the SLS South Beach, Vice President of Ennismore – Miami, Mexico, and South America. Simon, welcome to the Suite Spot for the first time.
Simon Sorpresi :
Thank you so much for having me. It's a pleasure and it's great to host you and your team here at SLS South Beach.
Ryan Embree:
My breath was taken away when we came in through these doors. You have a beautiful property here at the SLS South Beach. It really truly embodies the spirit of this series. We are going around the country trying to find and showcase the hotel's most unique and historic in the nation. Yeah, and I think that SLS certainly fits the bill, but before we start talking about the property, it's always interesting to talk to another person in hospitality because, we know everyone's story's different, right? You could start as a Bellman at a hotel like myself. Some people are literally born into the industry. Some people just fall into it just by choice. So tell us a little bit about your story, and what led you to Ennismore?
Simon Sorpresi :
Whoa. Okay. Uh, let me try to keep it short. So first of all, it's a pleasure to have you here. As you can hear, I'm not originally from the States. I still have a very thick accent. I tried to get rid of it, which I'm clearly not mastering it, but was very interesting. I studied national construction architecture back in Europe and fell through an excursion from that architectural school in hotels, fell kind of in love with hotels. And I was like, oh my God, that's really kind of unique. There was a gentleman called Uli Prager. He was the founder of Mervin Pick, the brand. And he did the tour and he was very charismatic. He could speak about the thread counts of the linen to how to wash pots and pans. I mean, he knew it all. And as a young person, young professional, I was really, really, I think wowed by him. And said, I wanna become him. And so that's where, how it came about. Did the hotel management school in Switzerland, worked all different disciplines of the hotel. Worked very heavy in food and beverage, specialized myself in food and beverage, had my own company in Europe and said, I wanna learn English and ultimately move to New York City after a saltic business. Moved to New York City, had my own business in New York, mostly in nightlife and art galleries. And then did that for seven years and went back to the roots of hospitality in luxury segmentation in Los Angeles. And I came here at SLS South Beach is the reason why it was such a tempting thing for me, because I have the discipline. I worked in the rooms, I worked in the food and beverage, I had nightlife. The SLS South Beach has all those verticals and Ennismore with the SLS brand, we pride ourself to have those stiffened verticals. So we say we not only hoteliers, but we're also restauranteurs and so forth. So that's really what enticed me to come to this property.
Ryan Embree:
You have certainly spanned the entire gamut of, of hospitality, and major markets, not only across the nation, across the world. So it's, such a luxury to be sitting here with you. And I'm sure, you know, as someone who really started in the architecture and construction, a property like the SLS South Beach, has such a rich history. So we've learned a little bit about yourself. You know, this series is all about showcasing the property. Tell us a little bit about its rich history, because that's something that when you walk in through these doors, you're amazed by the art and decor. But even on the outside, you know, there's those pieces of history and time that just draws you and alerts you in.
Simon Sorpresi :
So I think what is important, and thank you for the compliments, I mean, what is important to kind of start off maybe with the surrounding of SLS South Beach, because we are here in Miami Beach, which is very known for the historic district. So art deco during the time of art deco, basically Miami Beach blossomed, and we have a lot of art deco, beautiful architecture, and we are in the epicenter of that art deco. It's also art deco preserved. So the outside needs to remain this way. And the idea of that is obviously to maintain that charming characteristic of the, of the city. So SLS is in that art district has a lot of art deco features, as you noticed, probably already. And now we kind of overlaid when the hotel was designed in 2012 was with a very well known designer, Philip Stark and Lenny Kravitz. So those are the two designers that ultimately created the hotel, the public areas when you come in that grand arrival with the carpet and quite theatrical coming in. And that's very intentional. Built this way is by Philip Stark. And then we have a couple of luxury suites that were designed by Lenny Kravitz, by the Kravitz Design, which was one of his first designs actually. So we are quite a bit of a trailblazer approach if I may say that.
Ryan Embree:
So, that's what I want to get to next is like that type of history. When you look at a building, you obviously can see the historical nature, but you don't get that story like you just told.. So how do you, with a building full of rich history and stories like that, how are you doing that storytelling at the SLS South Beach?
Simon Sorpresi :
You know, it's a very, very good question. And, and to be quite frank, we tried different angles to do such. We are under belief that little bits, snapshots and pieces of educational things are very welcome by the guest. But it depends. Each guest, each customer is very individual. Some people are like, I wanna know more. And some people are like, you know, I just wanna have fun, don't tell me anything about history. So, little bits and pieces, we tease them and of course, a well educated team that can speak educated about it can open that door. And if they wanna know more, absolutely. If they say, you know what, I'm fine. I just want to go and have a cocktail at the bar, fine as well.
Ryan Embree:
That's a great point too, because, you know, the personalization is so key in these types of properties too. But you have an advantage there that it's not just, you know, a box and, you know, four walls and a bed is what the old saying is. You have some history that you can speak to market and I'm sure you take full advantage of that. I wanna switch to the guest experience at SLS and talk about technology a little bit. This is just fascinating for me, especially with these historic hotels with such rich history. You mentioned that there's preservation side of the building. But yet some people, as we talked about, wanna come in and they want all the modern amenities of technology implemented without the guest experience. So how do you find that balance there of history and implementing new technology?
Simon Sorpresi :
Yeah, that's a good question. And I think first and foremost, we have to say that the only consistency in life is change. And I really sincerely mean that, because ultimately the better we are in tune what the guest want, and to your point, some guests want to have the technology, the better we are in tune with what the guest wants, or in other words how more channels we open that they can voice their needs, the better we are off. So how do we balance that? We balance it in multitude of ways we have with the AI, which is a hot topic, most of the time in the media is currently not necessarily in a positive way but there are some positive sides about it. But we are experimenting with that. We are, again, opening the channels with the guests or communication channels with the guests to let us know what they want. And truly having the ears open. I think that's the key. And then customizing as we go. By the way, it also depends which region you're in. So I'm overseeing a couple of different hotels, different areas, different countries. And, and so it depends what your demographic is. Generally speaking, our demographic here is the South beach is usually quite progressive. It is quite savvy in regards to technology. So here's much bigger demand than maybe other hotels.
Ryan Embree:
Yeah, that's a fascinating point. I didn't think about that because, you know, hospitality, we've always been an industry, I feel sometimes lagging behind in the technology. But you're right. You could have some properties there with a very tech savvy, customer profile, guest profile. And keeping those lines of communication open, I think is absolutely key too. One of those lines being online reputation and listening to reviews and guest feedback in all of those places. I wanna ask you, the SLS South Beach, you know, you told me the stories, the historical nature, that that has a reputation that kind of precedes itself, you and your team. What are you guys doing to kind of keep that feedback, information fresh online and making sure that you keep that experience alive and what you want it to be?
Simon Sorpresi :
Yeah, absolutely. I think you're a hundred percent right, Ryan. It precedes, but it sets also expectations. So, the thing is, it's a little bit of a double-edged sword. That point in my opinion, because yes, you have an image, but then the expectations are high. And as you know, as a hotelier yourself, we want to exceed those expectations. And if they're already high, make them something higher. So the thing is we do in-house, where the guest is able to directly give us feedback that is fed through the wifi. So they actually, there's a chat that you can immediately say, Hey, I love it. I would like to have more of this. Or maybe took too long the water to become warm in a shower. So we can correct those type of things. But also we have external companies that we take and in particular with the online reputation so the world Travel Media is a part of it where we strongly believe that we have the responsibility to answer every single comment that is made. Is it good, bad, fantastic, whatever it is. So that's where we also from external, ultimately get some help.
Ryan Embree:
Absolutely. It's a well-rounded strategy right now because there are so many open lines of communication. You just talked about a couple, some with SMS, some with a chat bot. Some with, you know, historical places where things are left online, like TripAdvisor, OTAs, things of that nature. So it's very important to obviously be vigilant, be listening to your guests, and you know, I'm sure you're no stranger to that being years in the hospitality. That has certainly evolved though during this past decade. Absolutely, the type of response time that is required from the guests or anticipated to exceed those expectations. So I wanna get to know you and the property a little bit better. So we're gonna do some rapid fire questions here. I'll bring some fastballs right out of the gate. Favorite view on the property, you still got that one place that you look out and you're like, man, this is good?
Simon Sorpresi :
Can I give two?
Ryan Embree:
Yeah. All right. We'll give you two.
Simon Sorpresi :
Alright. View number one is, look, Lenny Kravis designed Penthouse Tower, 12th floor, ocean View. It's spectacular. You cannot argue with me. You feel the, like the king or the queen. Right. So that is fantastic. Now, unfortunately, that is quite exclusive to a selected few. So that's definitely number one. Number two is being in the middle of our restaurants when it's buzzing, when everybody's eating and having a good time. There is, I would actually say that even tops than the ocean view. Being in the middle of it where you feel it's a well orchestrated theater with the food, the food comes out, the people enjoy it, have a smile on their face when they bite in it, they get the good service. And you're kind of like in that buzzing zone. You are in your zone. I think that I would probably prefer that than actually ocean view. So that is something magical that if you haven't experienced it, hopefully you can experience it as a guest, but also as a professional where if you're in it, that is something magical to me.
Ryan Embree:
That is a fantastic answer. You know when I wrote this question down, and I plan to ask it in a few more of these episodes, but I've never thought about, an answer like that. And you're totally right, because there is something magical about that. Whether it's the restaurant or the lobby, or the pool bar or something like that, where everyone is just experiencing what you intend. You know, and there's just that energy there. That is a great answer. That's awesome. This one might be a just as difficult, fun fact about the property that you like to share. I know you already did the Lenny Kravitz design one, but fun fact about the property.
Simon Sorpresi :
Alright. Fun fact about the property is we have a beautiful beach. The beach officially by the way, belongs to the city, but the city allows us to have a permit to fully service the beach. So that means if you're a hotel guest, you get your chair, you get your shade, you get your umbrella, you can order drinks, you can have food, you can get the sunscreen, you get foot rubs if you want to do so, so you can enjoy it. The fun fact about that is we calculated in 2022 how much weight has been schlepped. Pardon my French here, but I'm gonna say carried by our beach attendance, because the thing gets built out every morning, it needs to be broken down, stacked properly, locked up. Every morning like 365 days. So it's 821 tons metric tons. That's ultimately our staff is building up and breaking down. So a little bit of a fun fact.
Ryan Embree:
Oh my goodness. That is a fun fact. It really puts in perspective, you know, the type of work that these beach hotels, you know? Yeah. Not only I'm sure places that you're, have some other properties. You know, that is an incredible fact. Signature dish. You have a background in restaurants, signature dish at the property. What's your go-to here at the SLS South Beach?
Simon Sorpresi :
Now you're talking to a half Italian that is really deep in the food roots. Now you really asking which child is your favorite child, right. Um, what should I say? The thing is at Katsuya, which is our Japanese influence restaurant, is we recently redesigned the menu, which is very exciting. We believe we have something very unique for all the foodies and people that have more of a middle of the road food. But I think the Wagyu beef that we have there is the utmost best now Wagyu beef, I don't want to get into a lecture about Wagyu beef. It's one of the very most misperceived food items. A lot of people call Wagyu that is actually not Wagyu. So we are talking about value where you have the family tree of the cows, who is the father, who's the mother, and goes back several generations. So that's the level of A10, by the way, it's, it's rated in regards to, that is fantastic. It's actually gets grilled in front of you right at the table. So it's tableside you can say, okay a little bit more, a little bit less. And the cook is actually cooking right in front of you. So that's definitely something for the carnivores at least. But that would be probably my favorite.
Ryan Embree:
That's our fun fact, food and beverage fact of the day. That was great history lesson there. I did not know that. So that's very cool.
Simon Sorpresi :
It's, it's one of those items that gets quite often no, it's a Wagyu. But it isn't Kobe. Nothing against Kobe. It's a very good quality. It's just not the same quality. So yeah.
Ryan Embree:
Very interesting. Favorite piece of art at the property?
Simon Sorpresi :
You're really challenging me. I would say a little bit of a hidden, it's not visible for everybody. It is a mural by Bisco Smith. Bisco Smith is a quite a famous artist from New York City. He's a true, a friend of mine, if I may say that. And we did a collaboration in 2018 during Art Basil for the people that are not from Miami in December, beginning of December is Art Basil. A huge buzz about art, contemporary art. And we did a collaboration in 2012. The mural is on the annex building of the hotel. So if you are in the tower in the historical tower and you have ocean view, actually look, instead of down on a plain, simple roof, you actually look at a Bisco mural. So that would be probably my favorite.
Ryan Embree:
All of our hoteliers and listeners and audience out there, they need to call in and say, Hey, let's make sure we get that room so we can see the mural. Fantastic. Well, as we wrap up today, you know, we enter in the fall season. What are you most excited about SLS South Beach right now and what do you see as the vision of this property?
Simon Sorpresi :
The vision of the property? It's a lively, energetic property, so I gotta be honest, if you come here and you say, I want to have a serene, quiet experience that I don't hear, see anybody, we are probably not right for you. If you want to be in the middle of where things happen, where people have food, we have nightlife component with High Beach as well. If you want to be in the middle of it, then that's really, what the SLS is about. Energetic, lively, we try to be, as I mentioned, early on, a little bit trailblazer in many different ways. But that's really what, SLS South Beach is about. What I'm mostly excited, and maybe because it's a new and shiny toy in our tool belt, is the collaboration with, Juan Manuel Barientos, he goes by Juanmar, he's a Michelin star chef with *unaudible* that he has in Miami at the river. He has one in Washington DC, both of them received Michelin stars. He's also has been accepted by the Black Jacket Society, very prestigious for the culinary team. So he's a new collaborator, and we created El Cielo at SLS South Beach, which is basically the restaurant, as you come into the hotel, you basically walk into that restaurant. Phenomenal, phenomenal menu. The team of his and our team created, I think a very unique experience from a food and beverage, perspective. So that's probably what I'm most excited.
Ryan Embree:
Well, we're looking forward to that and having more of those memories that we talked about earlier in that restaurant. And it's just another exciting chapter you know, in this property's history. Simon, I want to thank you for being such a gracious host and hosting the Suite Spot for the first time ever on site. We'll certainly have to get to maybe some of your other properties that you're working with. So, great conversation. Thank you so much, Simon. Thank you for listening to The Suite Spot, and we'll talk to you next time. To join our loyalty program. Be sure to subscribe and give us a five star rating on iTunes. Suite Spot is produced by Travel Media Group. Our editor is Brandon Bell with Cover Art by Bary Gordon. I'm your host Ryan Embree, and we hope you enjoyed your stay.