122 – TMG Hospitality Trailblazers: Oliver Winter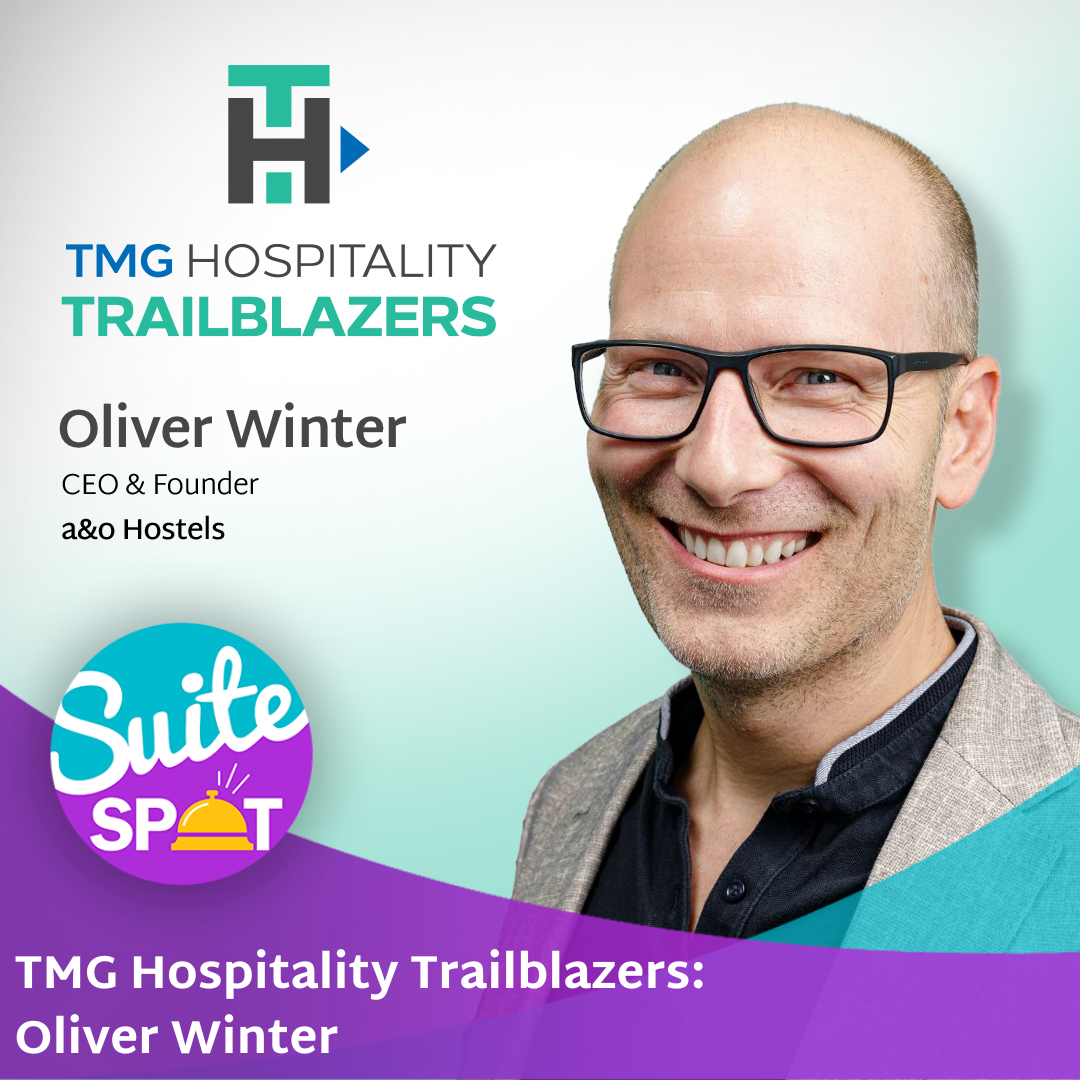 Join Suite Spot host, Ryan Embree as he welcomes TMG Hospitality Traiblazer, Oliver Winter, to the podcast. Oliver is the founder and CEO of a&o Hostels which is the largest independent hostel chain in Europe! 
These two discuss the hostel experience, a&o's commitment to green initiatives and sustainability, and the resurgence of the solo traveler. Tune in now to see how Oliver and a&o are making a big difference in hospitality across the globe.
Episode Transcript
Our podcast is produced as an audio resource. Transcripts are generated using speech recognition software and human editing and may contain errors. Before republishing quotes, we ask that you reference the audio.
Ryan Embree:
Welcome to Suite Spot, where hoteliers check-in, and we check out what's trending in hotel marketing. I'm your host, Ryan Embree. All right. Hello everyone, and welcome to another episode of The Suite Spot. This is your host, Ryan Embree, thank you so much for joining us, for listening to us, to watching us wherever you are, finding us here. We are here at the Content Creation Studio for another episode of TMG Hospitality Trailblazers. I am so excited to bring in my next guest, certainly a trailblazer, and what Oliver and his group are doing right now. Certainly, fantastic. We're gonna get a lot to it. So, let me go ahead and bring him in. Oliver Winter, founder and CEO of a&o Hostels. Oliver, thank you so much for jumping on the Suite Spot with me.
Oliver Winter:
Yeah, thanks Ryan, for having me here. Thank you very much.
Ryan Embree:
Absolutely. And we're gonna have some fun today. We're gonna talk about a&o all the initiatives that you guys are doing and this incredible growth that you're seeing. I think you bring a really unique perspective, but for those that have not listened to this series before, this is our TMG Hospitality Trailblazers, where we spotlight those individuals and management companies, uh, groups like a&o that are really trailblazing the path forward. So we have the pleasure of speaking with Oliver today, but Oliver, before we get into everything that we're doing right now, or even what's in the future, I wanna start with the past because this is one of my favorite questions we've been doing this series, which is almost a year old now, is tell us a little bit about your hospitality background, because we have such unique stories in our industry that I feel like rarely get told. We all talk about the, the exciting things that are happening right now, and maybe in the future, but a lot of us in hospitality, you had some very unique backgrounds before we got to the place that we were. So tell us a little bit about your background and what led you to ultimately founding a&o.
Oliver Winter:
Yeah, thanks. Yeah, happy to do this. Uh, so yeah, as a, as a young man between school and university, I, I had time to travel around the world and, um, came in touch with this hostel concept in many different countries. And what I saw, I liked really much so affordable stay, uh, you have with a warm shower, safe bed, a kitchen to share, a place to hang around and, and, uh, a place even very easy to come in touch with other travelers. So back to Berlin. Then, in these days, I started to study to become a teacher so far away from hospitality background parallel. During my studies, I investigated the Berlin Hostel market, and there've been in this time just non-commercial providers, like Y-M-C-A-Y-J, et cetera. So no private independent hostel. So with, with a lot of patients. And, and little luck of course, as well. So, 23 years ago, then I founded, um, AO in Berlin, opened a a 164 beds hostel. That was the very beginning, 164 beds. And it was, uh, it was from the first moment, it was great success. And, um, so then I stopped my studies and, and focused to grow this company and, and adding more bets first in Berlin later than in other cities in Germany, and then in other European countries. So today we are running 28,000, uh, bets in nine European countries.
Ryan Embree:
That's absolutely incredible. And your story resonates with a lot of the trailblazers that I've had on this series where, you know, they're in school or in college university, and all of a sudden they find this passion in hospitality and, and customer service and hosting people. And that certainly resonates with your story and, and that incredible growth, which we're gonna talk about here. But love to hear that background. I'm gonna stay kind of in the past before we look more towards the future, because up to this point, you know, one of my favorite questions on this series has been about the lessons learned over the past couple years, right? I think it's important to talk about what happened, even though sometimes we shy away from it, because it is something so unique that hasn't happened in our lifetime very often, and the lessons that we learn from it really shift our entire industry. So up to this point, we've really had kind of a domestic US view of, you know, those lessons learned from the pandemic. I think you have a really unique perspective that you can share from a global view and a&o, you know, so what were maybe some of those lessons and have those lessons kinda shaped your vision for a&o in the future?
Oliver Winter:
So yeah, I can, I can, uh, let you know from from European perspective Yeah. With the European glasses. So, um, we see as well as the, the world has changed, um, and what we see that, uh, we travel much more consciously and, um, for shorter distances, more domestic than before the pandemic and, um, yeah. On more sustainable ways than than few years, I think at, at least in Europe, that this trend will continue. Yeah. This behavior also shapes our mission. We, yeah, we will continue to offer environmental friendly travel in the future by becoming net zero, um, as early as 2025. Maybe we speak later about this a little bit. And, and on the other hand, um, of course we, we working every day on our cost leadership. Yeah. Because that's really important, that's key for our product to continue to offer the best value for money as, as a price leader. And, um, yeah. Since inflation kicked in, I think all over the globe Yeah. Um, into everybody's pocket, what we see, what we are observing is that, that people are becoming much, much more price sensitive again in this days.
Ryan Embree:
Yeah, absolutely. You know, we heard these terms, right? In 2021, revenge travel, you know, everyone cooped up trying to have experiences, but we might be getting to that point now where, you know, travelers have had that really big trip or they've maybe done a couple of these small domestic trips, like you've said, that and kind of stacked one on top of the other. So they almost feel now like, okay, I've, I've had these experiences and now they're just being a little bit more cost conscious of their trips. Now it's all not like the yolo, you know, it, it's, it's more like, let me go ahead and figure out what's the best value. They're looking at things like sustainability initiatives, I think, and determining their trips based off of those practices, which we're gonna certainly get into a lot because you guys are a leader in that, but they're being a lot more cost conscious and value driven as far as saying, this is where I wanna spend my money. This is what type of experience I want to have. So let's fast forward to today, because this is where travelers are, are at right now. Kids are back in school. We're, we're in the midst of the fall going into what historically has been a slower season for our industry winter. How does your marketing and messaging change for your, uh, group of hostels and trying to attract demand and capture travels?
Oliver Winter:
Um, sure. So, so yeah, after really fantastic high season, yeah. We, we had, um, you're right, we are now turning into, yeah, more challenging off season. Same for AO years that from let's say November to February, that's, that's our off season in, in winter, of course, city hotels fight harder for their guests. Um, that's why we have currently launched a low price campaign. So from November to February, we offer our dorm beds for 40 euros flat. So really, really affordable. Um, we playing this campaign multi-channel, we, what we, what we do as well is we are also working on promotions around all these Christmas and these famous Christmas markets we have in, in many destinations we are in, yeah. Especially in Austria and, and Germany. What is, uh, um, really liked from our international guests to visit all these Christmas markets. And in the group segment we are, um, during winter period tradition, we are very successful with a 4, 4, 3, uh, special. So means you, you, you book four nights and you just pay for three. Really never before. We, uh, we have had so many groups with us in the low season. So, um, and for example, for next January, February, so January Feb, 24, we are already 30% in plus by group bookings versus same time last year with revenues on the book. Yeah. So that's what we see, that that seems like even tr was a very nice trend and, and quite remarkable that groups travel more in off season now.
Ryan Embree:
That's fantastic. You know, maybe they're able to look for that deal. I feel like, you know, one of the things, what we talked about revenge travel, we always talk about it from the leisure segment of individuals or, you know, families and leisure and saying like, I didn't get that family vacation that I wanted, or that getaway vacation that I wanted. But I think there's an element of revenge travel when it comes to groups as well. And you're seeing that, you know, with businesses and, and groups that have said, you know, I've done my individual traveling. I wanna travel with like-minded people in, in a group, in a, in a business setting and, and go somewhere unique. So I think there's that element of revenge travel as well. I think that speaks to those bookings that you're seeing and, and fantastic to see. Let's focus on that solo traveler though, because I am seeing kind of the rise in trend and trends of the solo traveler, different publications, uh, LinkedIn articles that I'm seeing 2024 really is kind of dubbing it as the return of the solo traveler. Kind of talk about how at a&o, you know, you cater to this segment and how you guys are really good fit there.
Oliver Winter:
Ryan, that's, that's absolutely correct. So we, we see this this big trend as well. Yeah. So we see this and, and course we are happy about this because we think for solo travelers, uh, that these hostels ideas is, is so to say ma made for them. Yeah. Because what means host that's easy to meet. And so especially for single backpackers, they can easily meet in the hostel kitchen, in the lobby bar, uh, at our coworking tables. Um, um, and it's, it's easy to be, become in touch, come in touch with, with others, exchange ideas, et cetera. So that's how new travel friendships are formed. Yeah. And in numbers, so 12% of our bookings, or, um, this year, 750,000 overnights are done by, uh, solo travelers that they know to support this, um, this trend this year, we have improved our female dorms. This is a product for single woman travelers, and we improved this, this rooms, for example, with, with better hair dryers, uh, more light, bigger mirrors. And, um, of course the, this issue of safety is very important for senior travelers as we know. And yeah. And we, we ensure a safe environment that's really, really important.
Ryan Embree:
Yeah, absolutely. Certainly at the forefront of the last couple years when we're talking about health conscious, but also just, you know, safe travels in general. I mean, that's the first thing, uh, that you certainly want to feel when you're traveling is being in a safe environment there. So seeing that you're catering to that absolutely critical. And, and it's great to hear that you are putting that at the forefront, but it's not just for solo travels. Uh, though we talked about already the group business, I think my solo with two kids now. I think my solo travel days might be behind me. You guys do a great job on the a&o website of catering to, you know, things like groups you've talked about. Um, I've seen colleges on there, families, you know, talk to a about this segment as well, because I think sometimes when people think hostiles, they think solo travelers, but you can have a group also travel and, uh, you know, have a, have a really great experience there as well.
Oliver Winter:
Yeah. That's, that's, that's right. Um, and I think this, this compliments each other very well. And, uh, because price and safety is also important for groups and families. So in, in marketing, um, views, uh, different channels for groups. Um, so, uh, in, in this group segment, still a lot happened via, uh, traditional tour operators because group travel is a bit more complex. Um, yeah. As quite often it involves transfers, uh, catering of, of, of entrance, uh, tickets for 2240 people, et cetera. But here also, half of our groups already book direct, um, with a&o direct here means via phone or live on the web and, um, to come to the families. Um, here, I think price is a special focus at AO um, this is where we score with the, with the AO family room, every a&o, about half of the rooms on this category, the, the, there's always a twin bed in and at least one bunk bed. Yeah. One or two or or three bunk beds. So, and children and families love this Yeah. Because they just have to book and to pay, uh, for one room, and they have the kids under control. Yeah. You have the, your own kids in, in the same room like, like the parents or the grandparents are. And, um, by, by the way, of course, in, in, in these days, today, every, every a&o room always has, has their own shower and toilet in the room.
Ryan Embree:
That type of experience certainly caters to a family. And I wanna get back to the point of, uh, booking directly. And I think that's really unique because you think with groups with how many logistics are involved in a trip that size for them to be booking direct means that you're really, really creating a type of seamless experience for the group, making them feel like all those logistics and things are taken care of. So that's fantastic that you're able to do that, and you're seeing that because that, that is any hostile or hotel operator's dream is to get those direct bookings rather than coming through third parties. Now, as you know, Oliver, this series is called TMG Hospitality Trailblazers, and a&o certainly has been trailblazing a path when it comes to sustainability and green initiatives. Can you share a little bit more about the mission that you spoke to earlier and the goal you're trying to hit?
Oliver Winter:
Very happy to do this because it's, it's really one of our most ambitious tasks. Yeah. We are on it. Yeah. Maybe let me start with, with, uh, looking short back. So at a&o we started quite early to, to understand or recognize, um, that, that our f uh, footprint per overnight is, is much lower than in a traditional hotel. If you think about it for a moment, it, it's quite obvious. Yeah. Because our guests need much less space per bed. We don't have any, any amenities like sauna or pool or minibar, or even aircon. When we started to track and to understand our footprint, that was first time in 2015. We had already, uh, little 10 kilograms or 9.8 kilogram carbon emission per guest, uh, per guest night. And, uh, to compare this with scale hotel overnight, it's 25 kilogram Yeah. To give your own benchmark. So a little, little 10 a day. No. And then thanks to our employees, um, we, we collected from the employees, uh, uh, 200 points action list to minimize our carbon footprint. And about 100 points or half of this are done. So this has brought the, uh, the footprint down to 3.8 kilogram today from 9.8 to 3.8, so less than the half. And then during pandemic, we had a, I would say a wow moment. So remember, uh, yeah. In the early beginning of this pandemic, when we all been asked to stay home, say, stay home, to flatten the curve, and what happened, we stayed home. Yeah. And the, the entire world. So all, all societies, and when you travel during this time, I remember Yeah. That you did it hidden and silent. This one moment for me was that in, in a few weeks time as society developed something I would call travel shame. I just thought, imagine Yeah, this will happen again to, to climate concerns. So maybe then, not in weeks, but maybe over years. Yeah. So, so we need an answer Yeah. To avoid this travel chain and affordable, sustainable accommodation offer. And for us it was then clear not by 2040 or 2030, and we need it now. Yeah. And then, then we, we discussed this internally and decided really all hands on deck, let's get it done until 2025. So we, um, what we are doing now is we will melt down our footprint below three kilogram per overnight un until 2025. And then from 2025 ongoing, the rest will be off. We, we will offset with gold standard certified climate projects.
Ryan Embree:
That's an incredible feat. I love the background of that story as well. You make a fascinating point about that. We're actually seeing more and more of that in the whole industry of travel. I mean, even when you're booking a plane flight, it will show you your emissions and it'll show you your green costs. And corporate companies now are looking into that when they're looking into the, they're actually having a green budget and a sustainability budget for the years to come. Uh, so that's a fascinating point that you make. And with this podcast, we've had entire episodes Oliver, talking about how to market these green initiatives. 'cause a lot of the operators, hotel, hotel management companies, uh, property operators that we talked to, they've either had to implement green initiatives or they're starting to do it. And they might think of it now as, this is something I have to do, but it should be embraced. Like what a&o is doing and being like, this is something I should do, gonna benefit the traveler as well as myself. So how do you make sure that you market these green sustainable initiatives to your travelers?
Oliver Winter:
I think we communicate this topic quite clearly and, and transparently as of course, we are even proud of pioneering here. Yeah. And we, um, as I explained, we want to be net zero in, in less than two years from now. Yeah. And we have a clear road to zero strategy to, to achieve this. So, and, and this strategy, for example, is explained on, on the web and even physically in the hotels we have, we have a lot of explanations at the walls, uh, with wallpapers, et cetera, and, and signs, um, to, to show how how we try to achieve it. We have this fantastic footprint value of, of this 3.8 kilogram per overnight today. Yeah. This is absolutely top value. And for example, we, we show this on each offer. Yeah. On each invoice, on, on, uh, each offer we are sending out, we show the guest, uh, footprint, uh, at a&o. And, um, since four months, um, we, we have also been start, uh, we started, yeah. We've been offering our guests the option of, um, uh, volunteer compensation to offset the entire overnight stay and fund into a great, uh, climate projects. Yeah. When booking on our, on our website and what we also started, so since, since this year, we are publishing a, a sustainable report. So first one was published summer this year, and here you, you really can find in, in, in very deep details, uh, what we did, what, what is pending, what is next on our list to achieve this goals by acting be better. And, and, and this covers all three columns then of esu. So environmental, social, and governance.
Ryan Embree:
That is so cool to hear. Oliver, I, I would love to, uh, get a hotel invoice and actually see this is the sustainability impact that I've made during this stay. I think that's something that a lot of travelers value. I think that's something that they would almost gamify and try to be like, I'm gonna try to get this number as low as I can. And, and it makes you feel good. It makes the operators, it probably makes your culture and your employees feel good that they're a part of something bigger than just running a property or a hostel. I think it's just absolutely fantastic what you guys are doing over there. And it's certainly paid dividends. You know, I follow a&o on LinkedIn and seen on other digital channels. You guys are having a record breaking year in 2023. Congratulations to you and your team on that with such remarkable growth. You know, and this is always what interests me about these companies that are doing it right. Clearly because they're seeing a lot of growth. How do you stay true to why travelers love a&o, but still prioritize growth and scalability at a corporate level?
Oliver Winter:
A good question. So, of course, very thankful and, and happy about this strong bounce back. Yeah. After pandemic. And even this year, I, I think as a budget provider and cost leader, we take benefit, uh, uh, from our strategy first, grow occupancy and, and then second grow the rate. And if demand struggles, like for example, early this in beginning of this year, Jan/Feb, I remember, or or August this year was even not so pushy, like, uh, because this pent up demand from last year was, was over. And so if we, if we have moments where we see demand struggles, we can, and what we, even what we do is lower as the price. And this, this always pays off. And 2022, we hit the 2019 revenue. Don't forget, in 22, we had still 90 days less in, in, in full operation because it was still some, the first months with, with some operational bans. 2023, we are growing now again, 7% versus 22. And, and, um, regarding your, your question about brand consistencies. So 2018, 2019, just before the pandemic then kicked in, we, um, started and finished to refurb and rebranded a&o in total, we invested in this two years, 40 million. Yeah. In, into total new and consistent, uh, look and feel and into the brand. The good side of this pandemic, if there's a good side, this two years, we, we used to adjust and, and really simplify our, our staff training. So for example, what we did, we created more than 40 trainings, videos. Yeah. Lot, lot of tutorials, et cetera. And, and what we are doing since pandemic is over, uh, compared to before, it's much more frequently trainings. Yeah. And I would say these, these frequently trainings with the staff, ongoing maintenance and really good communication inhouse, that's, that's key for us.
Ryan Embree:
That certainly goes back to those lessons learned that we talked about at the top of the episode about saying, the common thread that I'm seeing between a lot of these companies that really rebounded very quickly after the pandemic was these were the companies that were not sitting on their hands during that time. They were actively doing something. You know, they're some hotel companies that we spoke to. They were on the purchase, they were going and, and trying to, you know, acquire as much as they could. I think a great use of your time instead of the capital investment, time investment into your, your training so that you kind of saw the other side of this, knew what was on the other side and said, how can I be the most prepared for when this is over? Because I know there's gonna be an end to this. How could I be most prepared? And I think it's, it was those companies that really were able to rebound and certainly a&o has been able to do that and, and seen that and the results that they saw for this year, and hopefully as we go into 2024. But I wanna talk about the culture because that, that's the other side of it, is, you know, the companies that didn't sit on their hands that were really active during the pandemic, but also companies with really strong cultures. And we're going through, uh, industry staffing shortage right now where we are trying to figure out how can we get more people into our business. And there might be a ton of Olivers and Ryans that, that are in college that didn't even know hospitality existed. And we've gotta kind of shake 'em and be like, we've got this great career for you over here. And a lot of that hinges on culture and, and actually wanting people, I would imagine that people would love to work for a sustainable company that's making an impact like a&o when it comes to green initiatives. But tell us a little bit about a&o's culture and how you guys are leveraging that, you know, during this time where it is tougher right now to find hospitality workers.
Oliver Winter:
That's true. It is much more tough and about the a&o culture that's, that's maybe it's not so easy to answer in one sentence of course, because there's not the one and only thing. Yeah. But I get, yeah, I I would say it's, it's a mix of, of respect. Yeah. Low her, she's, um, attitude before skills. Um, and um, I would say maybe most important for a&o, it's, uh, no vanities. So this was even to give you an example, during, during pandemic when we did a lot of other task, everyone did what had to be done during that time. Yeah. No matter if this role was defined in the employment contract. Yeah. And so I would say each, for each really. Yeah. And, and even what, what a&o is standing for as a company. So we, we really love to act quick and resolute. Yeah. We love quick, fast decisions. We allow errors. That's, I think that's even very important, um, to do this. Yeah. We are solution orientated, so not problem orientated. And sometimes to be quite frank, we prefer quick and dirty instead of nice and never.
Ryan Embree:
Yeah. Definitely. And you know, you're right that we had a lot of, on this series alone, you know, we had a lot of corporate people that were saying, Hey, during the pandemic I had to get down and dirty. I was cleaning rooms, you know, GMs were cleaning rooms and everybody was kind of all hands on deck. The employees that kind of stuck through that and the companies that had that vision that we talked about to say that when this is over, they feel more connected during that time. I, I know I certainly do with our organization here, having to experience that because we talked about it once in a lifetime moment for us, that we felt connections to a lot of people during that time that were all feeling that same exact thing. So strong cultures and active vision for the future. Certainly a strong asset for a&o as we come to 2023, look into 2024 now. What's your vision? We've got that goal set for 2025, but what's that vision for the future for a&o?
Oliver Winter:
For 2024 now? So the most focus will be really to affordable travel price. Yeah. Because yeah, Europe's travel budgets are, are all strained by, by this recession we have here and, and this really high energy costs and cost of living in general. What raised up? Yeah. So we really want to counter this with, with low prices. So we, I, I think that's, that's most important strategy for 2024. And we also want to continue our growth in Europe. We are also adding more hostels to our chain. So to achieve this, we, we are looking for a lot of existing projects. We have on, on, on our table in the future. We, we will focus much more on takeovers of existing hotels because it's quicker even of course going this, this road of conversion of office buildings as well. And as it looks like we expect 2024 will be a great year for travel. Yeah. So, um, especially for budget travel for us, our group bookings I mentioned before, that's far, it's very important segment. And here we have a long view in advance because groups starting to book now already for 2024, and we already have for 2024, we are 30% and plus, uh, and plus compared to same time last year. By group bookings.
Ryan Embree:
I think those group bookings are gonna continue to get further and further out. You know, over the last couple years, groups were very hesitant about saying, Hey, let's do something a year from now, because they didn't know what a year from now looked like. Right. And it's a lot to plan those trips and then to tell everyone, Hey, we're not doing this, or we're changing last minute. So I, that travel window was very, very short. With groups, now we're getting more into a, uh, normalized pattern where you, you'll continue to see those groups book further and further out. So it's important from a marketing side to certainly be prepared for that. Uh, but it sounds like a lot of exciting things that a&o you guys are, are still positioned for growth, adapting to the environment around us with inflation, certainly keeping those factors. So adaptation, I'm hearing a lot of, but certainly position yourself for growth. So congratulations again, Oliver, to you and your team. Any final thoughts before we wrap up today?
Oliver Winter:
If you allow, I would coming back once more to the environmental sustainability. Yeah. So maybe to, to use this in this, this podcast here to, to make a call to the peers. Yeah. So start with acting more sustainable. Yeah. Don't be afraid. Yeah. It'll pay off multiple times. So the, the low hanging fruits really saving costs. Yeah. The employees will, in the future, they will demand actions like this. And they will, what you pointed out before is they, they appreciate companies acting more climate friendly, and, um, of course in the end, the guests will demand more and more climate friendly or climate neutral projects. So we need the entire industry need, uh, green travel offers. So let's, let's all start with this journey.
Ryan Embree:
I agree. I'm right there with you, Oliver. And we, we talk about it all the time. You know, I make, I make a parallel to, um, social media and reputation. And I tell, I tell hotels, just start small. And I think it has a very easy parallel to what you're talking about there, adding recycling, initiative, things of that nature. The small things add up and you can get your employees caught up in it. You can get your guests caught up in it. And it's a great way to, obviously if we want to talk dollars, marketing this stuff also cost efficiencies. But really at the end of the day, it's gotta take care of the environment and, and there's a greater purpose to that. So I think it's a win. It's a win win win for everyone there. So really happy we landed on that last note to wrap up the episode. But Oliver, I want to thank you for joining the Suite Spot with us and being part of this TMG Hospitality Trailblazer series.
Oliver Winter:
Thanks Ryan to give, uh, to give me this opportunity. It was a great pleasure. Thank you very much.
Ryan Embree:
Thank you so much. And thank you to listening for us. We will talk to you next time on the Suite Spot. To join our loyalty program, be sure to subscribe and give us a five star rating on iTunes. Suite Spot is produced by Travel Media Group. Our editor is Brandon Bell with Cover Art by Bary Gordon. I'm your host Ryan Embree, and we hope you enjoyed your stay.