16 – Advice From a Hotel Review Response Writer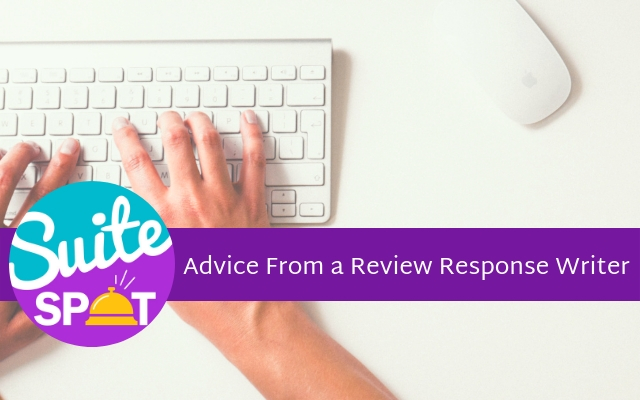 In this episode of Suite Spot, we pick the brain of a true hotel review response expert. Kristeena Seckinger, who has responded to over 100,000 hotel reviews in her career, joins host Ryan Embree to talk about what it takes to be a successful hotel review response writer and shares some best practices for online review response. From the proper length of a review response to which sites are the most important to respond to, Kristeena covers it all regarding review response. Ryan and Kristeena also talk about how to manage brand expectations and standards when it comes to review response and the emotional toll responding to reviews can have on a hotelier.
In the Q&A segment, Kristeena delivers some insightful do and don'ts to a hotelier who is looking to make review response a priority in 2019. To submit a question for future episodes, call or text 407-984-7455.
Episode Transcript

Our podcast is produced as an audio resource. Transcripts are generated using speech recognition software and human editing and may contain errors. Before republishing quotes, we ask that you reference the audio.
Ryan Embree: Welcome to Suite Spot where hoteliers check in and we check out what's trending in hotel marketing. I'm your host, Ryan Embree.
Ryan Embree: Hello and thanks for listening. This is Ryan Embree, your host of the Suite Spot. Happy 2019 to all of our listeners. It's a new year, and we've got a new episode here of Suite Spot. Very excited about the episode we have today. It is going to be circled all around responding to reviews. So today in our What's News, we're going to be looking at a white paper on travelmediagroup.com, which is what makes a good review response writer. And in this white paper you're going to get some best practices, some tools and resources on how to respond to reviews. If you're delegating that to someone at your property, how to make sure that you're getting the most out of them. Or, if you're responding to reviews yourself, making sure you are doing everything you need to do in order to get those great responses out there. We know how the brains have really raised their expectations of hoteliers when it comes to review response. We know how important this is and the standards are getting stricter and stricter when it comes to review response. So with that being said, we've got a really special guest with us. She has actually been with us since the conception of our solution Respond & Resolve where we actually partner with hotels to respond to reviews, our Senior Reputation Analyst Kristeena Seckinger. So without further ado, let's go ahead and welcome in Kristeena. Good Morning Kristeena. How are you?
Kristeena S.: Good morning, Ryan. I'm doing great. How are you doing?
Ryan Embree: I'm excellent. I'm super excited that you had the opportunity to be with us live here on the Suite Spot, and I want to first start off with with kind of an easy question. You, you have, like I mentioned before, you were here at the very beginning of this solution, Respond & Resolve. So since that time, how many reviews have you personally responded to?
Kristeena S.: Well, I have been here over three years now and so within that time I've probably responded to about 117,000 reviews.
Ryan Embree: Wow. That is, that is an incredible number. I have to ask, you know, with so many review sites online today, and you know you being a expert in review response, what would you say your personal opinion is of which is the most important site to make sure your reviews are responded to?
Kristeena S.: Well, there are a lot of factors to look at when thinking about the answer to that question. Previously, I would have said with confidence that maybe TripAdvisor might have been the most important just because they have that brand recognition and travelers are always going to TripAdvisor to look for reviews about the hotel. More and more now, we are seeing more content in Google. Especially with mobile devices and searching for a hotel, Google reviews are the first thing that could pop up. But again, the most important thing would be always to respond to as many review sites as possible. And that would of course ensure that you're reaching as many guests as possible.
Ryan Embree: Yeah. No matter where potential travelers are looking, because we know with, there's so many OTAs out there, there's so many of these online listings which are adding the ability to leave reviews and feedback with customer engagement. No matter where your travelers are coming from, you are assured that there's a response there by the hotel. As I talked about at the intro, you know, we're starting to see a trend of brands getting stricter and stricter when it comes to their standards for responding to reviews. How long do you, should you wait before responding to a review?
Kristeena S.: Well, you always want your response to be the quicker, the better. So you want to respond to each review as quickly as possible, but within brand standards best practice indicates you should respond within 48 to 72 hours.
Ryan Embree: So I've seen some reviews that are written almost like novels and are multiple paragraphs, and then I've seen some reviews on OTAs that really just have a star rating, uh, with very little feedback. So how do you pick an appropriate response link to an online review for each of those?
Kristeena S.: It really depends on the voice of the hotel as well as the content in the review. Sometimes brevity is valuable in a lot of cases, but oftentimes, you can't get all the information across in a short response. And also brevity can sometimes be misinterpreted as curt or uninterested. So basically what I'm saying is the length isn't really what matters but rather the content that you're delivering and making sure you're responding to each point in the review.
Ryan Embree: Gotcha. And you mentioned before, I mean, we talk about lengths, you talked about 48 to 72 hours. I mean, how do you and your team make sure with all of those reviews and review sites, review response brand standards are being met in a timely and really professional manner?
Kristeena S.: Our program is constantly scraping each review site for new reviews posted, and our goal with that is to get the review into our writing queue and then tag it for guest-sentiment analysis and write a unique response to that review as quickly as possible. We have a team of vetted writers, and they work really hard on generating new and unique responses to each review and they work around the clock, including on the weekends. And this all allows us to get the majority of our responses posted online within the 48 window.
Ryan Embree: You mentioned something in there tagged for a guest-sentiment analysis. Can you go a little bit more in depth about what that is?
Kristeena S.: Yeah, definitely. So our tags-sentiment analysis is based off about 31 tags and they all indicate a different topic that's mentioned in the review. So we use the tags to help hoteliers analyze the data they're receiving from the guest. So let's say it'll be a tag about the rooms, so we'll indicate whether the guest mentioned the room, was it positive or negative and so on and so forth.
Ryan Embree: Gotcha. Okay. And then you can give hoteliers some reporting with those sentiment tags to maybe identify some problem areas of the property or maybe some training that might be some extra training that might be needed or even I think opportunities to, you know, if you're hearing a lot of positive sentiment about a particular staff member or, you know, location for your property. Those are, those are opportunities to market the hotel as well, right?
Kristeena S.: Yeah, definitely. So the tags helps hoteliers determine what their issues might be and those opportunities to improve on, and also it determines those promoters so those aspects that they can, you know, continue working on as well, but also just promote them more and market them like you said.
Ryan Embree: Gotcha. Honestly, I'm still blown away by that number that you mentioned, 117,000 reviews that you've responded to. How do you make sure that you and your team when they're responding to these reviews because you have so many reviews coming in, they're always creative, they're always unique and not sound repetitive?
Kristeena S.: Well it's definitely a challenge to not fall into a pattern and sound repetitive and use a lot of the same words, but we have a lot of tools and resources that help us keep each response unique. We also have our team of the heavily vetted writers and each response at the end of the day is it's written by one person and it's still reviewed by another analyst to ensure everything is appropriate.
Ryan Embree: How do you comment on that hotelier that says, how can you respond to my reviews if you're not on property? If you're not physically on property, if you don't work for me, if you're not interacting with the guests, how can you respond to my reviews?
Kristeena S.: Well, our team all has a basic knowledge of the hotel industry and standard pack. This is such as their policies and whatnot at hotels. Along with that, if, if we do have a question about a certain review or the content in a review that is hotel specific, we typically, will first, we look for the answer online on their websites, so if it's something about cancellation, you can usually find that online. If we're not able to find something, then we will reach out to the hotel and find out a little more detail about what happened in a specific event. And then again, in addition to that, there is a second screening by the hotelier themselves. They receive our drafted response and we wait for their approval so they have a chance to make any edits needed.
Ryan Embree: Okay. So they're, essentially getting that response before it's being posted online so they have the opportunity to make any sort of edits or, or anything like that. Is that correct?
Kristeena S.: Correct.
Ryan Embree: Okay. And I'm wondering, you know, because obviously in the hospitality and hotel industry, you know, things change at a moment's notice. Let's say, you know, a pool goes out of order or something like that. How do you, how do you and your team communicate that with a hotel? Like how would you know to write that in a review response? Because that, some of that, that stuff you can't find on the website.
Kristeena S.: Yeah, that is true. And we have had cases like that, um, over the years and a lot of the times the hotel can reach out to us the hotelier and they'll send us a quick email or a message or even within the same response, they'll respond to our review response and let us know like, "Hey, our pool's going to be out of order for the next month or so. Um, if you see any reviews about that, please let them know."
Ryan Embree: Okay. So you're in pretty, pretty close communication with contacts at the hotel throughout the process?
Kristeena S.: Yeah, always. So they, they can always reach out to us via email and we can reach them via email. And if we really need to speak with them quickly, we always give them a call.
Ryan Embree: Awesome. So as so many notes from these hoteliers, you know, and standards and policies across all of these hotels, how do you keep track of all that information?
Kristeena S.: Our program also has a notes section, actually. So whenever a hotelier gives us a new note, like, such as the pool closure that we were talking about, we write it into our notes and all of our vetted writers have access to these notes. While we're responding to a review, we can go ahead and look at the notes which will indicate not only any notes that the hotel gave us but also what kind of voice they want to present and if they have any signatures or if they have certain wording that they prefer using in their review responses.
Ryan Embree: Now I've seen some kind of jaw-dropping reviews when it comes to negative reviews. I mean some of these travelers are really no holds barred when they're leaving the type of content on these sites. Some of them are honestly, they're a little personal. So, how do you keep your emotions in check when responding to those type of reviews?
Kristeena S.: Well, we talked about the difficulty of responding to a review while not being on property, but it can also be a huge benefit. Because we're removed from the property, it allows us to respond in a professional and informative manner without getting too personal. You want responses to be relatable, but you want to keep any negative emotions in check and keep in mind that every response is an opportunity to show all the travelers what type of hotel you are and not just the, the guests that you're responding to.
Ryan Embree: Awesome. That's, that's a really good point. So we talked a little bit about the most important review sites, uh, to respond to, and I think you kind of answered that question by saying, really, it's any place where a review or feedback is left for a hotel. Uh, I'm curious, you know, what, what review sites does you and your team cover in the Respond & Resolve?
Kristeena S.: We have the ability to respond to reviews on the TripAdvisor, Google. We do the OTA sites for Booking, Expedia, which includes Hotels.com, Orbitz, Travelocity. We also respond to Yelp and Facebook, and now we also have the ability to respond to the brand sites for IHG, Choice, and Marriott.
Ryan Embree: That is incredibly extensive. I can definitely see how you guys were able to get up to that number so quickly. That's a lot of review sites to be managing. If you have time, Kristeena, I would love to share a question that we had come in about review response. I think that your insight will be incredibly valuable.
Kristeena S.: Yeah, definitely.
Ryan Embree: Okay, so for today's Q&A, we have a question from a hotelier and he asks, "I'm a hotelier that is not currently responding to my reviews, but I am looking to make it a point for 2019. What are kind of the Do's and Don'ts to someone just starting to respond to reviews online?"
Kristeena S.: I think some of the Do's would be to stay positive. Whether you're responding to a negative review or a positive one, it's important to portray an optimistic attitude at all times. And you have to keep in mind that all feedback, good and bad, is an opportunity for improvement. Another Do would be to always highlight the positive comments mentioned. You want to keep in mind that every response is a way for other travelers to learn about your hotel, not just the person that wrote the review. So whenever possible, you can always mention other positive aspects about your hotel that you think that that that guest might have liked for a future visit. Of course, you want to apologize when necessary. You want to thank the guests, good or bad, you know that guests took time to share their experience with you and you want to show that you're grateful. And lastly, I would say you definitely want to invite them back and ask them to come back as another opportunity to improve or just another opportunity to show them another good time.
Ryan Embree: I think that's a great point. And a lot of responses that I read, I think they miss that. You know, if you have a good review, you know, they like your product, right? They liked the experience they have, why not ask for them to come back the next time. And a lot of hoteliers, maybe they do what you talked about, they're positive, they thank them for their feedback but they miss out on asking again for that business. So I think that's super important. And the other thing is, you know, on the same end of that, when you get a negative review, asking them again, making those travelers that are reading that review think, "okay, this was a one off," right? Inviting them back saying if you come back, you're going to have a better experience than you had the last time. So I think those are some really good best practices when it comes to the things that you should do. Now, what are the things you shouldn't do?
Kristeena S.: You want to avoid making false promises or setting unrealistic expectations. If someone maybe complains about the pool being too small, you obviously wouldn't want to imply that you'll work on making the pool bigger. You want to avoid responding in anger. A lot of times the hoteliers may feel personally attacked by a comment or have a different perspective on an event that might have happened at the hotel. So in cases like this, like these, it's best to keep a neutral, informative tone and explain what happened rather than attacking the reviewer. And also, you don't want to copy and paste the same response over and over. As a traveler, I think a hotel is better off not responding to reviews rather than copying and pasting the same response.
Ryan Embree: I agree. I think that travelers see right through that now. It might've been something that you've been able, you were able to get away with maybe five to 10 years ago, but now travelers like that unique creative response. They want to know that the feedback that is being put out there is being responded to. They want the comfort of knowing if they come to your hotel and they give you comments about their stay during their stay, that you're going to do something about it. That you're going to hear them and you're going to be able to respond to them. So I think that again, um, all of those are really good points. And you know, I would just mention if you are in a situation where you're not seeing brand standards yet, just think about how the sentiment of responding to reviews has changed over the past couple of years.
Ryan Embree: And, and ask yourself where do you think this is headed in the next few? Because what we're seeing on our side of, of these hotel partners is that these brand standards are just becoming stricter. The timeframes are coming smaller and smaller and you're having more to do on your plate, but you still have the same amount of time that you did 10 years ago, so it's getting more and more difficult. So we've had, you know, with Kristeena and her team, some really great success stories of being able to give some of that time back to hoteliers. Taking that emotional toll that responding to reviews takes on a hotelier, and we can do it at a level that they feel very comfortable knowing that their voice is still being written through those responses. So I want to go ahead and thank Kristeena for taking the time to join me today.
Ryan Embree: It was a pleasure having you. I hope our listeners got a lot out of it. Of course we take questions and answers every week. If you have one, you can reach out to us at 407-984-7455, and we'd love to hear your questions or feedback. If you're looking for some help from Kristeena and her team, I'm sure she would be more than happy to get that number up higher and higher. And add some more hotel partners to our portfolio. So if you are looking for, again, some help with review response, you can contact that number as well. It's 407-984-7455. I want to thank everyone for listening to the Suite Spot, and we'll see you next time. To join our loyalty program. Be sure to subscribe and give us a 5-star rating on iTunes. Suite Spot is produced by Travel Media Group. Our editor is Anne Sandoval with cover art by Bary Gordon and content support by Priscilla Osorio. I'm your host, Ryan Embree, and we hope you enjoyed your stay.
Hotel Marketing Resources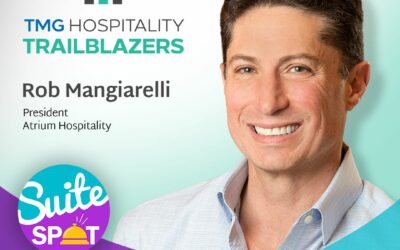 This episode features the one and only President of Atrium Hospitality, Rob Mangiarelli, as he sits down and talks with Suite Spot host, Ryan Embree on all things hospitality. These two experts share incredible knowledge and insights on various topics that give...