5 Tips for Managing Your Hotel's Communication Strategy for COVID-19 [Webinar]
Part 1 of our COVID-19 educational series focuses on updating your property's communication strategy to clearly inform your hotel's guests and travelers. We will share 5 tips to ensure that your hotels' messaging is purposeful and effective during these unprecedented times. We'll also be demonstrating how to use creative communication channels like your hotel's social media platforms and review responses to connect with your target audience.
These strategies will help you prepare for the eventual market recovery that the hospitality industry will experience as the impact of the virus diminishes. Travel Media Group put these tips together to help hoteliers navigate the challenges through this global pandemic and create a blueprint for planning and implementing your hotel's COVID-19 communication plan.
1. Connect with Guests/Travelers through Social Media
We have heard a lot about the resiliency of our industry and have even cited examples of past crises, like 9/11 or the 2008 Financial Crisis, but one of the key differences that where we are today in comparison to 2001 or 2008 is the way we all use social media in our everyday lives. Leverage social media as a way to connect with your guests and future travelers.
People, now more than ever, are scrolling through their timelines looking for information and news. This is your opportunity to share business updates such as closures, policy information, or changes implemented at the property. Give future travelers peace of mind by communicating the deep clean practices that are taking place at the property currently. Your social media can also be utilized as a local resource for your followers, sharing helpful posts like local grocery store hours, pharmacies, and food delivery options. These types of posts are all examples of practical information that your followers, guests, and travelers will appreciate.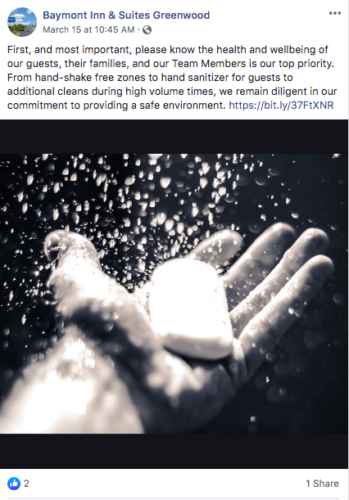 This is also the time to get creative with your social messaging. Record a Facebook LIVE or Instagram LIVE sharing how your staff is cleaning or what precautions your hotel is taking to ensure the safety of your guests. It's also a good idea to post and share inspirational messages. During these times, we are always looking for a distraction – not all of your content has to be about this crisis. You can post content like Top 10 Netflix series to binge or at-home exercise routines. Your followers will appreciate this break in news and headlines. Another welcomed break in this time of crisis could be a post featuring an employee spotlight. People are publicly recognizing and appreciating those on the front lines housing our healthcare workers. These types of appreciation and gratitude posts are generating a lot of positive engagement and traction online right now.
Social media today is also utilized as a communication tool. At this time, where we are asked to practice "social distancing" guests might not feel comfortable coming to the front desk for requests or questions that they might have. Instead, encourage them to message you on Facebook or other social media channels to limit face to face interaction.
Lastly, do what you can to assist your local community. The entire hospitality world is hurting right now. If you are able, reach out to those restaurants that might need a helping hand. Maybe there is an opportunity for a partnership, where you can provide menus for guests that are occupying your hotel for room delivery. It's these types of gestures that resonate far beyond the effects of the virus.
2. Generate Reviews Today to Reassure the Travelers of Tomorrow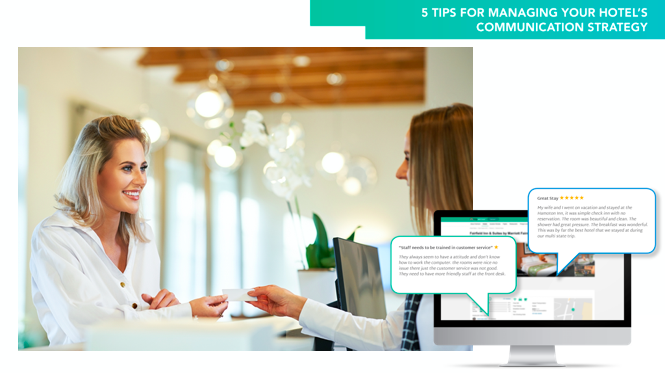 The next place that travelers are going to look for relevant and timely information about your hotel online is review sites. At this critical time in the industry every rise or fall in occupancy percentage counts. The difference between 5 and 10 reservations could be a hotel's make or break and at a time of peak consumer fear and anxiety, travelers are looking for any signal for peace of mind. Online reviews represent that opportunity, a chance for other travelers to share their experience to help encourage future stays.
If you are experiencing a dip in occupancy, it might be an opportunity to enhance your guest's stay, whether it is offering a free upgrade or implementing policy changes to make guests feel more comfortable during this stressful time. I have heard some great ideas that hotels are practicing, like complimentary breakfast delivery or hotels offering grocery store runs for their guests. It's these types of creative changes that travelers will hopefully be writing about in their future reviews, but it's also the type of service that a guest will never forget.
Also, now more than ever, you want to be asking your travelers why they are staying with you. These travelers are staying at your hotel for a reason and at this stage of the crisis it's an important reason. Find out what that reason is. You could uncover patterns or trends that could help you identify ways to grow occupancy during a time of low demand.
If you are serving your guests at an extraordinary level, ask them to share their story via an online review for your business. These are the times where the hotel industry can show that we are not just four walls and a bed, but we are people serving people. Which brings us to the next tip.
3. Be Transparent, Honest, and Flexible
At these uncertain times the best thing we can do as hosts to our guests is to be transparent, honest, and flexible. It's vital to communicate and connect with all of our guests and travelers, but not all communication has to be done through social media or other messaging channels. Simply cleaning visibly in front of your guests can communicate a lot and demonstrate that you are taking the necessary precautions to protect your guests. This type of transparency goes a long way in a time of fear and uncertainty.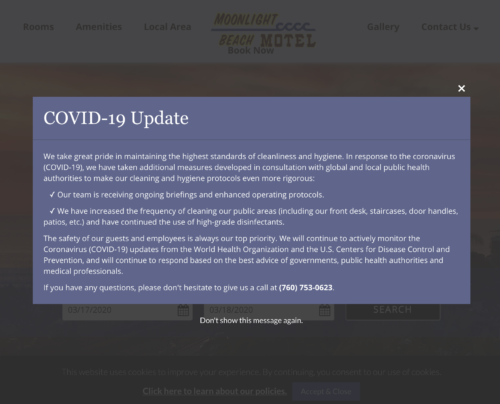 Be honest with your guests. Travelers might not know to what extent your business is hurting. People are much more willing to help in these darker times than you think. Maybe the most they can do for your business is leave you a positive review, but some might be willing to buy a gift card for a future stay or refer your hotel to their friends or colleagues. We are at a point now where anything helps, but it's this honesty and humility that will get your business through these difficult times.
Also, be honest with your employees: do not forget one of the biggest hurdles the industry was facing before this virus was finding employees to work at our hotels. You will need these loyal employees as your property starts to ramp back up again. So be a leader to your team by being upfront and honest with them about the hotel's situation.
And lastly, be flexible. Luckily, from the start of this crisis brands and business owners alike have taken a flexible approach with booking changes or cancellations. This is not the time to hold someone's feet to the fire. Anxious travelers will truly appreciate your flexibility and willingness to work with them and could even lead to future business with you and advocacy for your hotel. Do not save a dollar today that will cost you a customer for a lifetime.
4. Utilize Review Response to Communicate to Future Travelers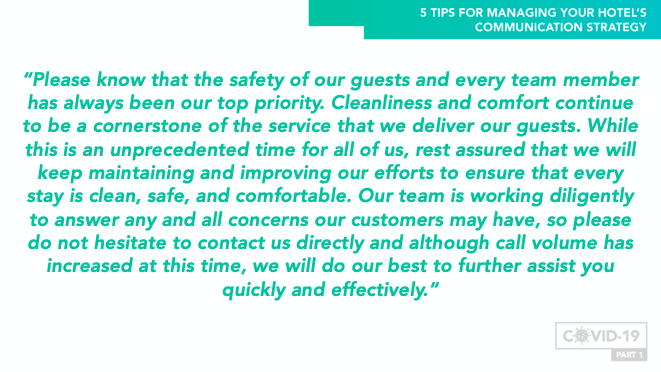 There is boundless opportunity to connect and communicate with future travelers utilizing review response. As we have mentioned several times, what future customers are looking for is peace of mind about their upcoming stay. Personally calling every one of your guests and reassuring them over the phone might not be an option, or effective. Get creative on how to connect and comfort these concerned travelers. One outlet that has opened as a line of communication to future travelers is online review response.
A well crafted, thoughtful response to a review could be the one thing that helps ease the fears of potential travelers. Whether you are reinforcing cleaning procedures or explaining policy updates, these review responses are being read by your future travelers and are playing a role in their decision-making process.
This is also the time to either start creating or strengthening your hotel's voice online. Consistent and efficient messaging during this time is absolutely vital to your business. Make sure your entire team is aware of how to handle questions, concerns, or comments shared by travelers. This is not the time to be using templates or copy/paste in your online review responses.
And lastly, be timely and extremely accurate in your online review response. Travelers are being especially cautious right now about each and every decision they are making in their own lives, gathering as much information as possible and weighing the risks. They are using this type of decision making when determining whether to even go to the grocery store. So when they are looking at your hotel online, ensure they are not finding unresponded traveler reviews or responses with grammatical errors or typos. This just cannot be the case if we want to continue to see travelers book with your hotel. Hoteliers need to know that these reviews and responses will be the first thing travelers see when the industry starts to pick up and they start planning their vacation and trips. Which is the perfect transition to our fifth and final tip.
5. Be Prepared for Success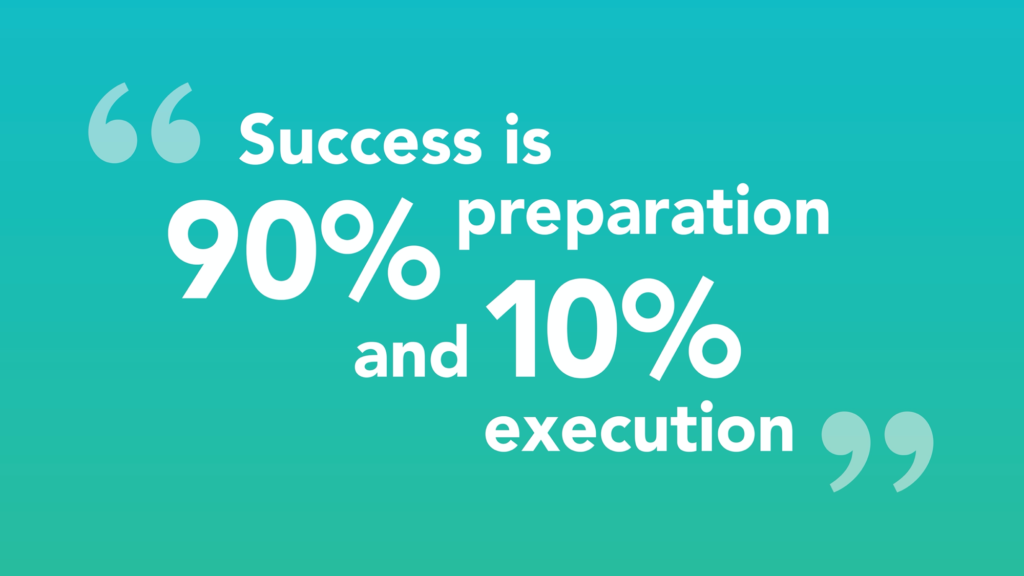 Start preparing and planning for success now. The old adage is: "Success is 90% preparation and 10% execution." Although the future for how long this crisis will last remains unknown, what is unanimously agreed on is that things will get better. And when it does, there are actions we can do today to get ready for that inevitable ramp up.
The first is to repurpose your energy. That could mean your physical energy like conducting preventative maintenance for the property or performing deep cleaning in unoccupied rooms. Or it means repurposing mental energy by listening to hospitality podcasts, joining educational webinars, or online networking with industry experts. You cannot afford to stay idle during this time.
This is also a good time to start analyzing the past to better prepare for the future. If you have been too busy to sit down and take a look at some of your hotel's hard data, now might be the perfect time. Comb through some of your hotel's past online reviews and take notes on any patterns or trends that you are noticing. This could signal a clue on where to repurpose that energy towards. Maybe it's taking a look at your SOPs for the front desk to combat low customer service scores or maybe its something that requires a capital investment in the future, like tweaking your breakfast items. Your reviews represent a blueprint for your hotel's future success.
You can also take a look at other data, like your hotel's social media analytics. From there, you can identify important information like who is following you, where are those people from, and what type of posts your followers are engaging with. This type of information can be extremely beneficial when you and your team are preparing for the fast ramp-up of occupancy and ADR.
#HospitalityStrong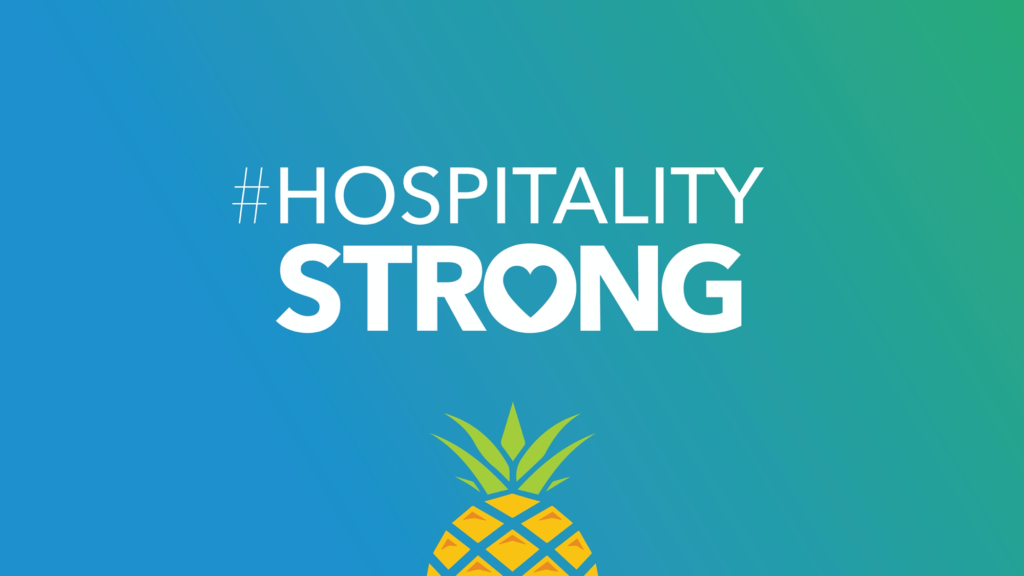 This ramp-up of occupancy and ADR will happen. You have heard it before and you will hear it again many times over. This industry is resilient and we will overcome. We will be there to welcome those on front lines today and we will be there after, to invite all back with the same hospitality and service that is at the foundation of the hotel industry.
With that being said, Travel Media Group is here to help. If you are a hotel out there that is having difficulty knowing what to do, how to reach and communicate to your travelers, or simply just want to have a conversation with someone to bounce ideas off of, we are here for you. We understand that we are all in this together as an industry and that is the only way we are going to come out of this crisis – together. We can help you put together an action plan for your hotel to support you through these challenging times.