56 – COVID Hotel Industry Trends With Jan Freitag Pt. II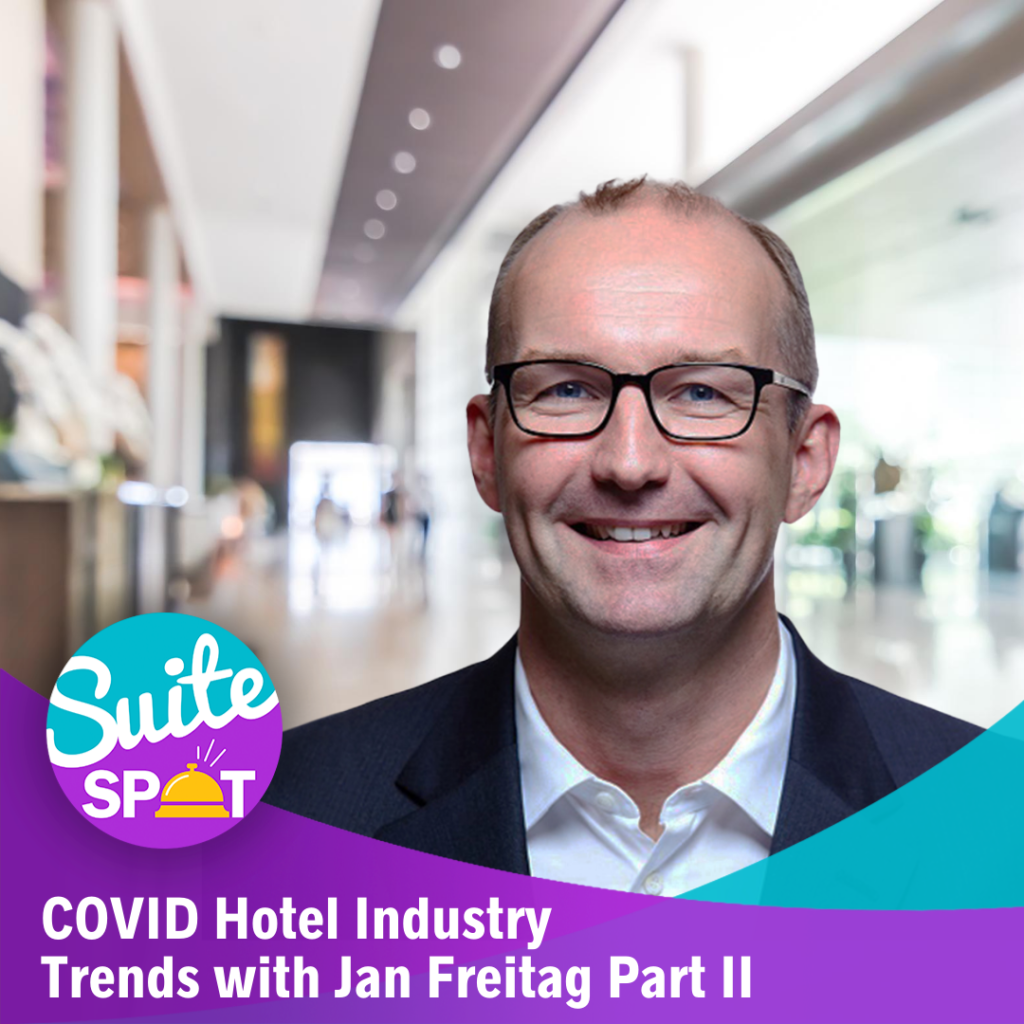 In another special edition of the Suite Spot, Senior Vice President of Lodging Insights at STR, Jan Freitag returns to the podcast for an insightful conversation. Jan and his team at STR are continuing to closely monitor industry data and trends post-COVID-19.
Jan and Ryan discuss changes in the industry since they last spoke in June (You can hear that conversation by listening to Episode 51). In this episode, Jan talks about the health of the US hotel pipeline and predicts what we can expect to see in new build growth moving forward. Jan shares which markets are experiencing an increase in occupancy and which types of travelers are filling rooms right now. Ryan and Jan also talk about the impact that back-to-school will have on travel, and they speculate about what the rest of 2020 could look like for hoteliers.
For more information and insights from the STR team, visit their COVID-19 resource center at STR.com. To submit a question for future episodes, call or text 407-984-7455.
Episode Transcript
Our podcast is produced as an audio resource. Transcripts are generated using speech recognition software and human editing and may contain errors. Before republishing quotes, we ask that you reference the audio.
Ryan Embree:
Welcome to Suite Spot where hoteliers check in and we check out what's trending in hotel marketing. I'm your host, Ryan Embree. Hello everyone, welcome to another episode of the Suite Spot. This is your host Ryan Embree, but you are in for quite a treat. We have once again, a special guest that joined us a couple episodes ago. He has been the calming presence in these turbulent times that we're going through right now and that is Senior Vice President of Lodging Insights at STR, Jan Freitag. So Jan welcome back to the Suite Spot.
Jan Freitag:
Thank you, Ryan. I appreciate the opportunity to be with you, to be back with you. I'm not sure that I'm such a calming influence. The data that we're putting out, is getting better, I guess, you know, it's not that great, but yeah, it's been quite a ride since the beginning, quite a ride since we last talked. So I'm happy to chat more about what we're seeing in the industry today.
Ryan Embree:
Absolutely and that's what this episode is completely about. I felt like the last episode was just a couple of days ago, but it also feels like it's been months in between – kind of like our lives are feeling right now in this pandemic. So, you know, speaking of that last time, we were starting to see those early signs of recovery. We were seeing some encouraging signs out there. You and your team were sharing some great information, then all of a sudden, not so fast, the rises in cases in the United States came in the month of July. How has that impacted the industry's recovery and STR future projections?
Jan Freitag:
Yeah, so it is nice to see that the U S occupancy for the week ending August the 15th actually hit 50%, 50.2%. Now it's true, that that is only for the hotels that are open, you know, and so just under 5% of rooms are still temporarily closed. That is totally skewed towards the upper end, right? Full service, luxury, ana upper upscale hotels are more likely closed than economy properties, where we are basically completely open again. But so occupancy, 50%, half the rooms are occupied, great. Leisure travel continues to dominate, weekend travel, weekend occupancies, you know, 57% continue to be very, very healthy, and extended stay continues to outperform, lower end continues to outperform. All of that, all of those are good signs. And I think we've seen that through July and I think we're probably gonna see that little bit more through August. The big question, the hundred billion dollar question is, "What happens after Labor Day, right?" When kids are back in school virtual or real, whatever, but we're not as eager to get back out on the road, we were just on vacation, so you're just going to stay home a lot more often. And then is there corporate transient demand? We expect to be either none or very little corporate group demand. And so are their corporate transient travelers where their travel department says, "Yes, you may travel. We feel comfortable with you being on the road, and yes you have the budget to do so." That's really the question. Can the corporate transient demand pick up what the corporate leisure demand is leaving behind? And I'm not sure. So stay tuned. I guess we have to meet again, you know, call me in October.
Ryan Embree:
Yeah, there's a lot of "what ifs" right now. I feel like as we spoke at the beginning of that summer season, you know, we were at a fork in the road there and that 50% milestone that you mentioned, that is an awesome, awesome sign. I know that's something that we haven't hit in the industry, if I believe since mid March. It's absolutely awesome to hear that. One of the topics we didn't really get into last time, because I think it was a little too early to take a look at it, but I wanted to talk about today, you know, and this is a gauge we use for the health of our industry is the hotel pipeline, the U S hotel pipeline. What trends, I know you've been following this closely, what trends have you and your team seen in new build hotel constructions around this time?
Jan Freitag:
Yeah, so when it comes to the pipeline, I used to joke and then it was sort of misquoted. So I don't make the joke anymore, but I used to joke that it looks like the peak in pipeline perfectly predicts recessions because that's what happened in 2007, in December of 2007, the pipeline peaked and then obviously things fell apart. And so this time around, in April of 2020, the U S in construction pipelines to the 220,000 rooms, and that was the highest number we'd ever recorded and since then it's declined every month, you know? So in July, the data just came out, you know, it was a 208,000 rooms and we fully expect that the number of rooms in construction will continue to decline. Why am I saying that, it's because projects that are in construction today that are half-baked, they will get finished. It is very rare for properties to sort of get halfway up, you know, and you sort of have half a structure, and then somebody puts a tarp over it. You know, that normally doesn't happen. The banker hate it, the developers hate it, the construction guys hate it, you know, they'd rather get it finished. And then the owner has to say, "Oops, now I have to sell it." But it's really hard to sell half finished product. So fully expect that those rooms that are in construction today will actually open, but then the projects that I are in what we call final planning or planning. So you have a piece of land and a architectural drawing, and you're talking to the banks and you're talking to the brands, and you sort of, kind of on your way. Will those projects actually break ground? And the answer is yes, some of them will, but certainly not in the magnitude that we saw in 2018 and 19, when there was "no bad idea." You know, we were in the longest RevPAR up cycle ever recorded, you know, occupancies, room demand, all of those numbers were at all time highs. Yeah, it was easy to go to your local banker and say, "Hey, I want to build a hotel." They were like, "Yeah, looking at the STR data, that sort of makes sense." We can justify that loan, looking at the STR data today, you know, that's probably a little bit harder sell, so it would not be surprised if we see a sharp decline in projects that move from planning and final planning into in construction. What that means is that the in construction number will decline just because rooms open and there's nothing coming back behind it. Now your mileage may vary. It's a street corner business. There certainly are projects that are going to break ground tomorrow. You know, maybe one or two. On some street corner somewhere, some owner says, "Look, this is exactly the right time because construction costs are so, so low, so much lower. I have availability of construction crews that are begging me to use them and yeah, this hotel makes sense In good times and in bad times." So there'll be some, but I absolutely think the pipeline is going to slow rapidly. Last time – we look at 2008 and 2009 – it took us basically like three and a half years or so from peak to trough from 200,000 rooms in December of 2007, to call it 50,000 rooms or so in the middle of 2011. I would not be surprised if we're seeing the same cadence this time around, that our pipeline number in construction is going to decrease over the next three years or so.
Ryan Embree:
That's super interesting and I wonder what that variance in supply, that's now going to happen in these bigger markets that were growing so rapidly. I know Nashville, where you're located, is one of those that was getting a lot of hotel rooms. You know, now some if those projects, the ones that are in pipeline right now are finishing, but the ones further back aren't, what that's going to do as far as demand goes. So that will be another thing we'll need to keep an eye on during this time.
Jan Freitag:
Yeah and if I can add to that. What was true in 2007, and what is more true now, is that the rooms that are in construction are skew towards limited service. I used to have a slide that said, we're not building ballrooms anymore. Seven out of 10 rooms in construction are limited service. So there are very few luxury and upper upscale hotels and I would think that the ones that are under construction, as I said, they will probably happen, but to build an upper upscale hotel with large ballroom space in today's environment, just seems really like a hard sell. So what that means is, the developers and the bankers need conviction that group travel is coming back. The problem is by the time group travel comes back, you know, in 2022, 2023 in full force, if you start thinking about it, then you're not going to open your doors until I don't know, three years later or so, right? So you're now talking 2026. So it's going to be very, very interesting to see if the full service hotels that are open, that are making it through the COVID-19 pandemic, and that are coming out on the other end and that are open, if they're going to be doing really well, because there's so limited new supply on the full service side coming.
Ryan Embree:
You're absolutely right, there's going to be a lot of meeting space, convention space that is going to go empty the rest of the year – which we're going to talk about a little bit later with Las Vegas. I do want to switch gears to talking about different markets and their performance. This episode is really just a continuation of what we talked about and when we spoke at the end of June, you know, we saw the highest performing markets, mainly in the South and near the coast. Are you and your team still finding that that's the case?
Jan Freitag:
So the West has certainly done very, very well. We've seen that states like Wyoming or South Dakota or Idaho or Montana have had the highest weekly occupancy, if you sorted by state. Sort of areas that have the reputation of not having a lot of people, just a lot of natural beauty, plus you can be outside most of the time, those areas continue to do well, those states continue to do well. It's true at beach destinations and mountain destinations are also outperforming, but it was just interesting to see that there seems to be this, not migration, but there's really, really strong interest of being out West. You know, the counter of that of course, are the top 25 markets, you know, where the occupancy – in the data that I have in front of me is July that just came out, you know, for the top 25 markets – the occupancies were 40%, for the total United States was 47%, which implies then that for markets that are non top 25, it was 50%, right? So half the rooms are occupied outside the larger metro areas. And unfortunately with the lack of group travel, we will continue to see that divergence in the data that the non top 25 markets will outperform.
Ryan Embree:
Yeah and I want to get back to that group travel because I think that is where a lot of hoteliers right now are nervous and are looking for some business to replace that. Obviously there's just so much leisure travel and now potentially going into the fall and winter, when kids are back in school, maybe that leisure travel is going to take a step back. I saw the incredible stat. June was the third consecutive month that Las Vegas had a convention attendance of zero, which is absolutely unfathomable. Do you see this trend continuing?
Jan Freitag:
Yeah, that zero number and that was very, very disconcerting. I give Las Vegas CVA a ton of credit for being out there saying, look, here's the reality zero. You know, I mean, that takes conviction. Obviously they know it's going to get a lot better, but I think these reports will be framed in their offices as a low point. So where is group demand coming from today? I don't see it. There's one shining example, you know, but that is the exception, which are the bubbles in Orlando, right? The group occupancy in the top 25 markets for July was like 2.4% or something like that. Orlando was 9% because they had the MLS bubble and then they got ready for the NBA bubble, where the NBA spent $170 million to make that bubble happen. So that's maybe not feasible for a lot of corporate event organizers, you know, but that said, you know, it is my sense talking to some people that are working in those areas, that it could be interesting, you know, to understand how do you build your own bubble? You know, not obviously for $70 million, but you know, how do you get groups and group meetings back, you know, is there a way to sort of self quarantine a group, you know, let them all come in towards the same time, do a rapid test and then they can't leave the campus. Is that even feasible? Is that possible? Do people want that, you know, but would that allow people to get together in a ballroom and be close and feel safe? Obviously the NBA players are very close on the court, you know? And so obviously they must feel very, very comfortable.
Ryan Embree:
Yeah, you're right. We can't necessarily create an NBA bubble at every single hotel convention or trade show that we go to, but hoteliers are doing things on their side to try to make attendees and groups feel safe as they come in, but there's also those outside forces, the testing, the advancements that we're going to have. So if we can somehow meet in the middle there, you know, there might be a good landing spot for group travel to come back because I know the industry is absolutely starving for that right now. One of the things I love about what you and your team put out there at STR and one of the interesting data sets I saw recently was the school break shifts for this year. Can you talk us through that and what hoteliers can take away from the data that you pulled?
Jan Freitag:
Yeah, so every year our market insights team is busy and goes to the websites of – I think we're covering like 60% of the school children or something K through 12 and then a larger percentage than that in colleges – and goes through their calendars and just says, "Look, when are you open for school? And when are you closed for vacation?" And a lot of our DMO partners find that super helpful, you know, because you can sort by neighboring states and you can say, "Oh, when do schools in the neighboring states are closed? Hey, let me target them with my advertising company." So that's what the school break report does. And it's a lot of effort, as you can tell, as you can probably imagine. And this year what's hard is that a lot of school calendars, school break calendars were actually not updated or updated very, very rapidly. What we found after all was said and done,` is that it was very interesting that the breaks didn't really move. So yeah, of course they move around the specific holidays, Easter, Thanksgiving, Christmas, but there was not this complete shift in the school break calendar where there was a large majority of schools that said our school year is shorter or our school year is longer, our school year is broken up, that doesn't seem to have taken place. Now we didn't track – and we're in the process of going back and looking at – are you in person? Are you virtual? Because that's is obviously what schools are saying, is they're saying we are in session, but what session means we decide, you know, and that allowed them the ability to be open basically the same, roughly the same amount of time, than they were last year. So what I said in one of my videos is that to me, the story was that there wasn't a story. You know, that the school break report kind of behaved the way we had expected, even though it was hard to get the data, but ultimately school administrators just said, "Look, we are in session." Now you may be at home, but we're holding class.
Ryan Embree:
Yeah, that's absolutely amazing work and to show that consistency – in to give some hope of this is when we can expect to be busy in a time where nothing really feels like there's consistency to it. So that is again, very calming to know that at least for now, you know, and I say that because we know how quick things change, but for now everything's kind of going on that consistent path that we've seen last year. One thing we do take into account during these downturns, I know we did after the great recession was we saw hoteliers significantly drop their rates and pricing to drive demand. Are you seeing that this is the case during this pandemic?
Jan Freitag:
Yeah, so we're watching the ADR performance of course, very, very closely. And we just had our Hotel Data Conference last week and Carter Wilson who runs our analytics and consulting division – well it was all virtual, I was doing a zoom call, basically with some revenue managers talking about exactly that. And it seems to us that the ADR declines that we're currently observing – so for July, for example, U S ADR was down 24.8%, call that 25%, so rooms were were less expensive than they were were a year ago – and that is actually has very little to do with yield managers actively discounting and has everything to do with mix shift There is no higher rated corporate transient demand, there is very little higher rated corporate transient demand. And while there is no higher rated corporate group demand. And without those two factors, what you're left with then is just transient, leisure demand. And those traditionally, you know, they're not paying as much and you're not pricing, you know, for a corporate person who is not paying, who's paying with a corporate credit card, you're pricing it differently. So it's not really discounting per se. My sense from that session was that the leisure rates are basically what they were, you know, and if you're in a leisure driven environment over the summer, you're going to get your demand right now. So there's no really no need to discount on the leisure side. Mid week, after labor day is a very, very different story. So the 25%, roughly ADR decline is not so much a function of active discounting, but just shifting the mix in the people who are staying in the hotel,
Ryan Embree:
I think that's super critical to note there, Jan because again, past crises, it was done by hoteliers to try to drive some demand. This is not the time to drop your pricing, be confident in the hotel experience that you're giving the travelers that are out there on the road. And right now they are, they're going to be willing to pay a premium for their safety. So if there's one thing you want to focus on, it's going to be that customer experience and being able to host your traveler with precautions and safety in mind.
Jan Freitag:
Yeah, we don't make pricing recommendations, so I can't be on the record of saying, you know, don't drop your rate. We never say that. We're just saying, look are people discounting well, we're not sure that they are, you know, you can say don't discount. I can't say that on the record or off the record. The other interesting piece of data that I found super interesting here is that over the last, you know, eight weeks or so, what we've seen is that a room in a top 25 market is actually cheaper than a room outside. So in July, top 25 market ADR was $98, all other markets was $103. That has never happened. That should never, you know, it just shows again, this complete lack of group and corporate transient.
Ryan Embree:
That's an incredible stat there. At the beginning of this pandemic, we saw major decreases and increases in demand sometimes over 10% week over week. So there was that huge variance there. Now I've noticed lately kind of listening and following the data that STR and yourself is putting out that those fluctuations are starting to shrink. Is this worrisome that the industry could be leveling out right now?
Jan Freitag:
Yeah, so it's true that we are now selling, call it 18 million rooms or so a week, in the week of April the 11th, which was the lowest demand week with the sharpest demand declines, it was roughly 7 million room nights. So we are growing room demand, week over week over week, but you are right that for the time through – and this is now we're talking week over week, not the same week, last year, but just, you know, week of April the 11th to the week of April, the 18th and so forth going forward – that those growth rates were sometimes double digit and then after July 4th or so they have been low single digits, sometimes even negative last week was 0.6%. So that growth has slowed. So the question is that worrisome? Well, it is purely, but basically leisure driven because there's no corporate trends in demand. And what we're afraid of is that post labor day, you know, that demand growth may stall or even go negative.
Ryan Embree:
Yeah, that's that kind of fork in the road that, that we're going to hold our breaths coming up in the next couple of months to see kind of how it reacts. Because again, we don't really know we haven't been in this type of situation before. So, you know, one of my favorite parts of the last episode and interesting points you made was about the SpaceX launch. And there was actually, that Cape Canaveral market, that performed better in 2020 that week than it did in 2019. I'm curious, you know, just again, to always end with some good news, have you seen any more of these kinds of anomalies and what do you contribute those to, if you have seen them,?
Jan Freitag:
It turns out Phoenix last week had a really good week, so ADR was actually up year over year. So I think high end resorts continue to do well, their occupancies aren't great, but luxury ADRs on the transient side last month were $290. So it shows that there is indeed a certain strata of income and a certain demand characteristic that is willing to pay that higher end rate for hopefully a higher end experience, whatever that looks like post COVID. And then the other side, as I said, I mentioned this before, is that just the states out West. You know, obviously you had Sturgis in South Dakota, the motorcycle rally, which was a little bit scary because there were not a lot of masks in those pictures that I saw, but nonetheless, there was certainly an influx of people and hotel occupancies were pretty healthy. And then in room rates, certainly we're also pretty healthy and we're going up year over year, and then other markets in those wide open spaces out West have done really, really well.
Ryan Embree:
That's always, always awesome to hear, happy to hear, you know, we hit that 50% milestone this week, which is great news. Let's keep up the momentum out there and hopefully, you know, we don't see that drop off in the fall and winter, but if anything, it's going to be an interesting next couple of months, that's for sure. So, you know, before we wrap up, I do want to give you the opportunity to share where our listeners can go to find some of these impressive insights and amazing work that you and your team at STR do.
Jan Freitag:
Yeah, certainly. So your first option will always be STR.com, we have a COVID-19 landing page right off the homepage. You click on it and you can have access to the articles that we write, the white papers that we write, the videos that Tommy Manual out of London, Yespes Poncurtis out of Singapore, and myself produce UK and the U S basically every week and Asia-PAC every other week. So there's a lot of content there. Then of course, our friends from Hotel News Now they've been reporting, they're busier than ever talking to everybody under the sun: owners, developers, lenders, hotel asset managers, operators on what their experience has been with COVID-19, the pandemic. So Hotels News Now is also a great source for you.
Ryan Embree:
Well, thank you so much, Jan. Again, a lot of question marks in the air, so we might have to have you back on, but I appreciate you coming on today and spending some time with us.
Jan Freitag:
Yeah, that'd be my pleasure. Talk to you soon. Stay healthy.
Ryan Embree:
To join our loyalty program be sure to subscribe and give us a five star rating on iTunes. Suite Spot is produced by Travel Media Group, our editor is Anne Sandoval with cover art by Bary Gordon. I'm your host, Ryan Embree and we hope you enjoyed your stay.
Hotel Marketing Resources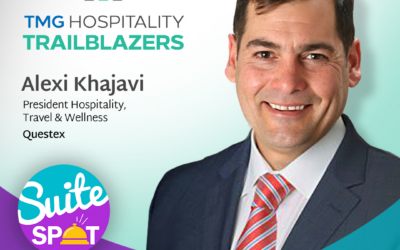 Join Suite Spot podcast host, Ryan Embree as he welcomes the President of Questex, Alexi Khajavi, as an official TMG Hospitality Trailblazer! These two hospitality-focused individuals discuss some incredible travel and tourism subjects in this episode, giving viewers...