58 – Social Media Tips And Tricks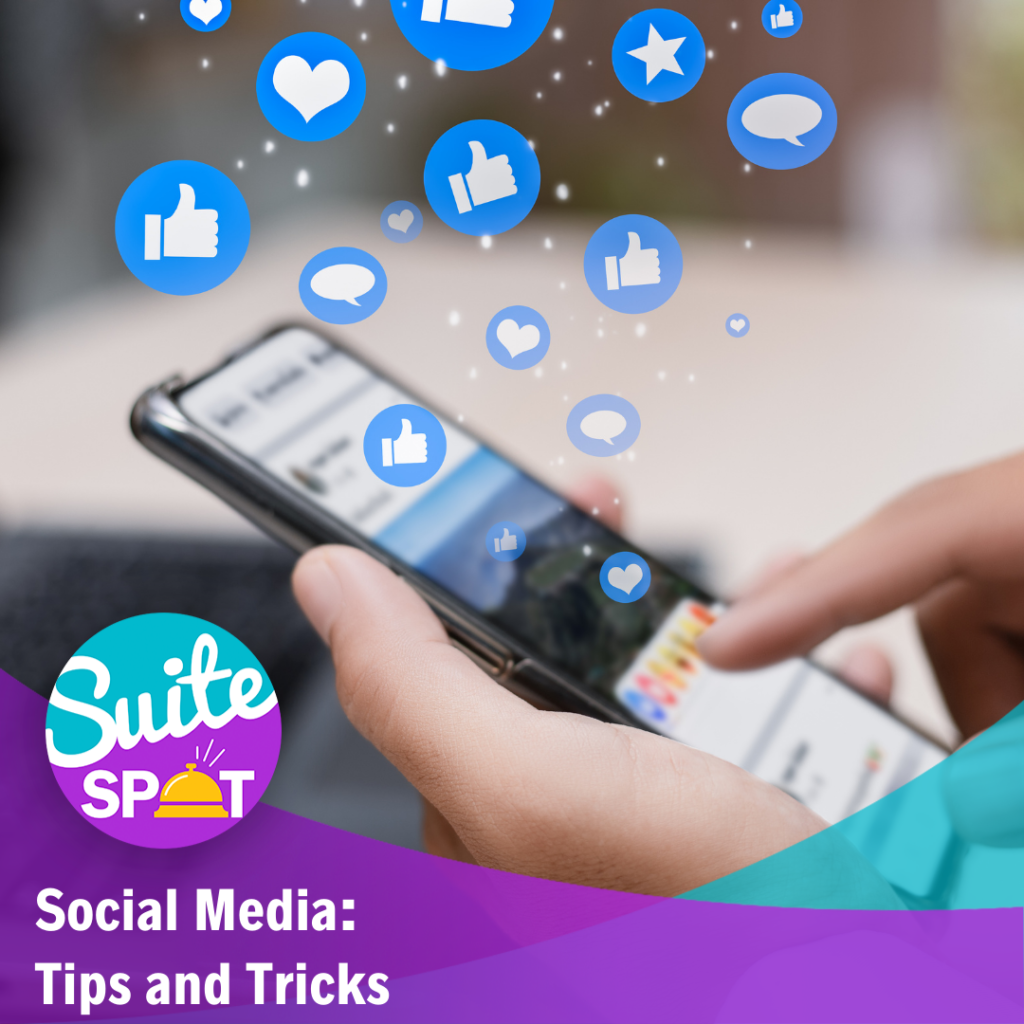 In this episode of the Suite Spot, we talk to Client Success Representative and social media enthusiast Jessica Pickering. Jessica joins host Ryan Embree to share inventive ways to spark creativity and engagement on your hotel's social media.
Ryan and Jessica cover how different social platforms can be leveraged uniquely to achieve property objectives and goals. Jessica shares what a typical call sounds like with a hotel partnered with Travel Media Group's social solutions, and her strategic planning efforts for every client. Jessica also touches on influencer marketing and shares a few examples of successful social campaigns and posts.
If you are looking for more information about Travel Media Group's social media solutions or want to submit a question for future episodes, call or text 407-984-7455.
Episode Transcript
Our podcast is produced as an audio resource. Transcripts are generated using speech recognition software and human editing and may contain errors. Before republishing quotes, we ask that you reference the audio.
Ryan Embree:
Welcome to Suite Spot where hoteliers check in and we check out what's trending in hotel marketing. I'm your host, Ryan Embree. Hello, everyone welcome to another episode of the Suite Spot. Thank you all for listening and joining me today. Got a great episode. It's been a while since we've kind of touched on this subject, but we are going to be talking about Social Media. It seems to – when we get feedback from our listeners, even from our current partners, and prospects that we talk to at Travel Media Group – this seems to just be such a hot topic right now with the pandemic. So with me today we've got a first time guest, but I'm super excited to have her on the Suite Spot with me today, that is Client Success Representative Jessica Pickering. Jessica, thank you so much for joining the Suite Spot.
Jessica Pickering:
Thanks Ryan. Thank you so much for having me.
Ryan Embree:
Yeah, and we're excited to have you, like I said, this is a hot topic right now. I think hoteliers have really stepped back since the beginning of this pandemic and taken a look at their Social Media, the way that they're communicating, and connecting with guests. And one of the most apparent ways that they can do that is by using platforms like Facebook, Instagram, and Pinterest. So that is what we're going to focus on today. I wanted to start since you are a new guest, let's go ahead and start by explaining your role at Travel Media Group with us, Jessica.
Jessica Pickering:
Yeah, so I am a Client Success Representative with Travel Media Group and my team's daily focus is on our client's experience and really making sure that we're available to support them in any way that we can. We take a proactive approach in reaching out to our clients regularly to train, educate, and provide them with tips on how to reach their goals. But we also provide reporting and help track results and performance so that our hoteliers have a good understanding of areas they are performing well in, as well as areas that may have an opportunity for improvement.
Ryan Embree:
So when a hotel or group of hotels, partners with Travel Media Group Jessica and the Client Success team are the ones that are reaching out on a monthly, sometimes bimonthly basis, depending on the partner and really talking through them like solutions like Social Media, coming up with some innovative ideas. I brought you on specifically because I know Social Media is a passion of yours, we've talked off air about this, can you kind of explain why?
Jessica Pickering:
Yeah, so for me personally, Social Media has always been an outlet for my photography and just my favorite way to stay connected with the people that I care about. It's also a really awesome way to get emmersed into things that I'm interested in. So I love art and travel content. And I found that by following people and accounts who are interested in the same type of things, it just really helps fuel my creativity. And I also just find Social Media extremely interesting. Like if you think about it, Social Media has literally connected the entire world and this is the first time in history that humans have ever had this type of instant access to other cultures, art, and information, just really anything. And I don't know, I just think it's really cool.
Ryan Embree:
It absolutely is and that's why Social Media is so popular and that's why businesses like hotels are using it and leveraging it as a way to get guests through their doors. So let's talk about – I brought it up at the beginning of this episode – but talk about the pandemic and how hoteliers are now thinking about and looking at Social Media completely different. Why do you think it's important for hoteliers to have a strong Social Media presence, especially in today's climate?
Jessica Pickering:
I think it's so important for hotels to have a strong Social Media presence, because like I was saying, people are on Social Media now more than ever because of this pandemic, this is a huge opportunity for hotels to connect with guests on a whole other level. And what I mean by that is, it's human nature to want to connect with likeminded people and Social Media makes it really easy to do that. And hoteliers can literally give their properties a personality through their Social Media platforms in a way that their websites and OTAs can't. Social Media is live and in the moment and hoteliers are able to engage with their guests while they're at the property or even persuade potential guests to stay with them over their competitors. And you know, this is huge before Social Media, only companies with huge marketing budgets could afford to reach the amount of people that Social Media allows for practically free. And I just feel like anybody who doesn't take advantage of that is just really doing their business an injustice. Think of Social Media, like a megaphone. You can talk in a normal voice and only those who are close to you will hear what you have to say, but say it in a megaphone and your message is going to reach more people, but if you put ad spend behind that, then you're basically yelling, making it hard, not to hear. So hotels need to be on Social Media if they want to stay competitive for the future.
Ryan Embree:
Yeah and you can turn that megaphone's volume up and loud to get traveler's attention. And you're right, a Social Media presence for a business in a hotel right now can really give you a distinct voice. It can really humanize your business so that when travelers are looking, they're doing more research than ever as we know now ,they can start to see your business as more than four walls and a bed. Obviously there's different ways to use Social Media, I think maybe a decade ago, the big objective was just to have a presence, right? Just to have a Facebook, just be active. But today there's so many different strategies that businesses are implementing. How can hotels use different Social Media platforms to achieve different objectives?
Jessica Pickering:
Yeah, that's a great question. So each Social Media platform can really be used effectively together and separate. So it's important to understand how each platform works and to figure out how to use each to your advantage. So Facebook seems to be the mother of all Social Media. You can just about bet that 90% of the people that you know will have a Facebook and this platform is the best landing place for everything from property updates, special rates, curated photos of the property, funny, relevant memes, anything having to do with travel. This is actually something that our Social Media team at Travel Media Group helps our clients out with in just creating that kind of content. Next, we have Instagram, which is my personal favorite, it's a really great place for those looking for visuals. So this is the best place to share photos that represent your brand and showcase the kind of experience that your guests will have while they stay with you. Pinterest is very similar to that, as it is a visual platform, but the cool thing about Pinterest is there is a link for each post that's posted. So this can really help with your SEO for your website, but it's also gives users the ability to save posts for later. So they can literally go on there, plan their dream vacation, all in one place, and then have it to come back to for reference later, Twitter is a great place for posting live updates and promoting events. But it's also a really great way to chat with your followers and really create a personality for the property. I always think about Wendy's Social Media team, when I think of Twitter, on the business side, they have a really witty and sassy voice and they really use it to their advantage by responding to tweets about them or just anything relevant happening in their industry. For example, one time I saw that McDonald's tried to tweet a link on their feed and they pasted something else by accident, but Wendy's was so quick to retweet it. And they wrote something like, "when the tweets are as broken as the ice cream machine." So I thought that was pretty funny, but they are known for their lighthearted roasts and they've grown their Social Media presence because of it. And obviously this is one example, but yeah, Twitter is great for those wanting to take one step further and engage with their followers.
Ryan Embree:
Yeah, you know, I never understand when I talk to hoteliers, when they say they have a strategy for one of these social platforms, but not all of them, you know, this is something that businesses should be jumping on because it's free. There's no cost to be on these sites. The only thing that's going to cost you is time. So you have to go in there, you have to have an active strategy, and leverage each Social Media platform to what your objectives are. So just like a ship with a course to it or a map, you've got to have some sort of direction when you're posting and what your strategy and objectives are. And that's where we at Travel Media Group and your team helps with. So for those that maybe aren't familiar with what that call sounds like, when you call one of our hotel partners to talk about Social Media, what does that typically sound like?
Jessica Pickering:
So a typical call with a Social Media client would basically start with me doing a little research before I call. I always check out their Social Media sites to see if any of their posts had a lot of engagement and it also really helps me get a good refresh of the property. I'll also read comments and get a good feel of what their followers are saying. And when I get them on the phone, I'll normally ask them if they've been on their pages, you know, checked out their Social Media sites, if they had anything that they needed posted, and then I'll also give them any important updates or bring any concerning comments up to them. And then through OneView our clients, they have easy access to all of their Social Media pages, as well as the ability to suggest posts and send in promotional ideas. So I like to talk through those ideas about content and posts, and I regularly provide them with some ideas of things that maybe my other clients have been trying. And then obviously I'll be available to them if they have questions or need to go over anything, we can hop on a screen share or anything and my whole team we' are all readily available to help out in any way.
Ryan Embree:
Yeah, I just think it's such an asset for when we give a call, most of the hoteliers, if not, all of them have an idea of the events in the area when they're busy, what's coming to town, you know, and then it's taking it to that next level of asking, "Okay, so how can we leverage that? How can we take advantage of this on Social Media?" And that's what our Social Media team can do for you. We have some hoteliers that we know are just at the beginning stages, they say, "Hey, I might have a Social Media page, but I'm not really familiar on how it works or Instagram or Pinterest. I don't know what that is." When consulting with a hotel about their strategy, how do you help a hotelier that might identify as this kind of Social Media beginner, and doesn't have a lot of knowledge about it?
Jessica Pickering:
So for my Social Media newbies, I always try to be more hands on and educational with them at first. I'll talk less about hardcore analytics and focus more on ideas of things that they can promote and just really trying to get them thinking about what they're wanting to achieve. I also focus on getting them engaged with their social platforms, especially if they've never been on Twitter before. The more hands on that they can be with their accounts, the more confident they're going to feel about it down the road and my team's job is to really make sure that our clients feel comfortable using Social Media and just make sure that they're set up for success for the long term.
Ryan Embree:
And that can really help a hotelier that's just starting, you know, even in 2020 to get a Social Media strategy up and running. Now on the other end of the spectrum, we do work with hoteliers that might even have a whole Social Media team for their hotel resort or group of hotels. How do you elevate the conversation from there with a hotelier that has a lot more experience with Social Media?
Jessica Pickering:
So for my more experienced clients, a lot of them, like you said, they already have a vision about the kind of content that they're wanting posted and they normally have a general understanding of the analytics part of everything. So for these clients, I will mostly try to focus on strategy with them, like say a property relies heavily on the income that they get from a huge tournament or an event that happens every year. I will work with them to make sure that we have posts go out with enough time to capture people's attention, who may like to plan in advance and have a strategy in place to reach those who like to book at the last minute. So I also try to encourage these types of clients to think outside the box and get more creative with the type of content that they share. On OneView, we actually have a Social Media planner, it's like a calendar, so for each of our partners, I really try to encourage clients to think ahead and think about anything going on that they want to be posted about in the coming weeks. And we can suggest posts or we can schedule those out for them on the planner.
Ryan Embree:
Yeah. you know, when you put it in calendar form and I've hopped in and seen some of these content calendars that both your team and our product team are sharing with hotels, you know, it's very easy to really plan out months ahead. Like I've said before, these hoteliers know what popular events are coming to town, when their hotels start to get full or when their hotels are a little bit more empty. So we can plan around that, a Social Media campaign, that's going to drive as much business. And if you are driving business, drive it to the right channels, which of course, as we know, is direct bookings with no sort of OTA fee attached to them. So what are some creative ways you've shared with hoteliers about utilizing Social Media influencers?
Jessica Pickering:
Oh yes. First off, influencer marketing is huge right now in other industries and I really think hoteliers could benefit from it as well. For those who may not be familiar, this is basically when you would partner with someone with a good following on Social Media who would use their platform to promote your business. These days, most people are inclined to try things if someone they trust suggests it. So by having someone with a decent following, experience your property and post about it from their point of view, it could be a new way to reach more travelers. Think of it as a live review from a guest. I have a client that owns a cute little bed and breakfast and they have a pretty well known restaurant in their area. They like to market their property as being an entire experience in and of itself from check in to check out. So I suggested to him to reach out to local food or travel bloggers and maybe host a media event for them. They could stay a night, have a dining experience, and a one-on-one with the owners where they would explain the history of the place and why it's so unique, all thewhile the bloggers, depending on their niche and their specialties, they could be planning creative photo shoots. They could write blog posts that could be shared on Social Media and websites or they could create videos of their experience. Not only does this help the blogger out, but it would also provide the hotelier with unique content that they can use to their marketing advantage. One thing to keep in mind, if this is something that you would be interested in, is that each influencer will probably have their own set price or conditions for working with brands. So just be aware of that, but I definitely think that this could be a really cool thing for hoteliers to try out.
Ryan Embree:
It really is. And we've got some great information, if you are interested in influencer marketing on our website at travelmediagroup.com, where you can find some tips and tricks on how to leverage influencer marketing, because it is a little bit different than working with a PR company or advertising, or a third party company. Instagram obviously is a place where you can find a lot of influencer marketing. And I absolutely love when I do research on a hotel to go into their Instagram and you'd be surprised there might be some popular influencers that have visited your hotel in the past and hotels just aren't aware of it. So get into your Instagram, whether you have one or not, and see who has stopped by, who has posted about your property, cause you could be surprised there could be an influencer right there that have stayed with you before. Let's talk about social content, because I know that is sometimes people that are working at the property, managing Social Media, they have a difficult time finding the social content for their feeds. Any advice on where to look?
Jessica Pickering:
Yeah, the best place to start is honestly your competitor's Social Media pages. I know that sounds a little sneaky, but it's really important to know what others in your area are doing, especially if they're successful. So don't reinvent the wheel, just create your own wheel and do it better than the guy down the street, basically. My go to place for content is normally Pinterest, just because it is a visual search engine and if you scroll long enough, something is bound to jump out at you and give you an idea. We actually recently helped a client with multiple properties think through three pillars of their Social Media content. 1. Was behind the scenes, so images and posts that would give a potential guestthe ability to picture themselves at the property, enjoying the amenities. 2. was information, for example, reassuring guests by sharing the precautions the property is taking to ensure each guest's safety during these times. And finally storytelling, through testamonials and uplifting stories that inspire potential guests to travel and visit the property. For our Social Media clients, obviously they can also reach out to their CSR reps for help with any content ideas as well.
Ryan Embree:
So behind the scenes, information, and storytelling, all great places to start when looking and searching for content to fill your Social Media feed. And you definitely want a healthy mix of all three of those. If you keep advertising and marketing your property, just saying book now here's the rate. That's not going to keep and gain people's interest. So definitely want to spice it up with your content. Look at it through the eyes of a follower yourself, start following other businesses, maybe those competitors around you and see which hotels are doing a good job of keeping interest. Speaking of keeping interest, without naming any specific properties, maybe share an example of a really successful Social Media post or campaign and some of its results with us.
Jessica Pickering:
So when the pandemic first hit and everything was locked down and, you know, nobody really knew what was going on, but only essential workers were the ones that were allowed to go out. I suggested to one of my clients in New York city to post about any special rates that they were running for healthcare workers, since those were really the people that were going out and having to travel during that time. So I got with our Social Media team and they were able to create a post and they boosted it, about their special healthcare rate. And in like two days, it had over 400 reactions on Facebook, ton of comments and shares, once I saw the success of the post, I gave her a call and she said she actually saw a huge spike in occupancy because of it, and it was for healthcare workers. So I was really excited to see that for her and we continue to promote posts like that and they continue to perform really well and their occupancy was definitely affected in a positive way.
Ryan Embree:
We love to hear stories like that, share stories like that all the time. You know, the biggest question that has been kind of clouding the Social Media scene over the past decade is ROI, measuring ROI. Why is it worth getting on Social Media and having an active campaign or strategy? And it's stories like this that are a testament to that. So it's very, very important when you see a post that is performing well on Facebook, Instagram, Pinterest, do some research about what impact that might have on occupancy around that time. And you'll start to see examples exactly what Jessica is talking about. Social Media, the ROI is real, it's important, it's critical, and now in a time where travelers are researching and hotels need occupancy, this is the place where it's critical for hoteliers to take advantage of here. So, Jessica, I want to thank you for being on the episode with us, as we do with every episode, just wanted to see if there's any final thoughts about Social Media and just about today's episode?
Jessica Pickering:
Sure, yeah, so the digital age is here and it's only gonna keep advancing. And as I mentioned before, it's never been easier to promote your business, so if you haven't done so already take advantage of this opportunity and get on Social Media. Don't let it intimidate you. The CSR team and everyone here at Travel Media Group are here for you if you need us.
Ryan Embree:
Awesome. Love it. Thank you, Jessica so much for being on the Suite Spot.
Jessica Pickering:
Yeah, thank you for having me.
Ryan Embree:
Of course and, you know, if you are interested in learning a little bit more about our Social Media solutions, whether you are that Social Media newbie, as Jessica pointed out, or you're an experienced Social Media expert, just looking to shake things up a bit, we would be more than happy to consult with you, take a look at your strategy, get a campaign rolling for you. You can always reach out to us at (407) 984-7455 or visit our website at travelmediagroup.com. We have tons of resources and education to help you put together that successful Social Media strategy. So I want to thank Jessica, I want to thank you the listeners for joining me today, and we will talk to you next time on the Suite Spot. To join our loyalty program be sure to subscribe and give us a five star rating on iTunes. Suite Spot is produced by Travel Media Group, our editor is Anne Sandoval with cover art by Bary Gordon. I'm your host, Ryan Embree and we hope you enjoyed your stay.
Hotel Marketing Resources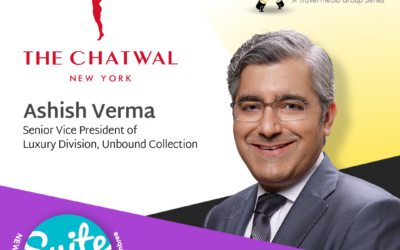 Join Suite Spot host and TMG Director of Marketing, Ryan Embree as he talks with the Senior Vice President, Luxury Division, The Unbound Collection by Hyatt, Ashish Verma in our new TMG Spotlight series to give listeners a lavish perspective on hospitality and how the...