62 – Capturing Leisure Travel This Winter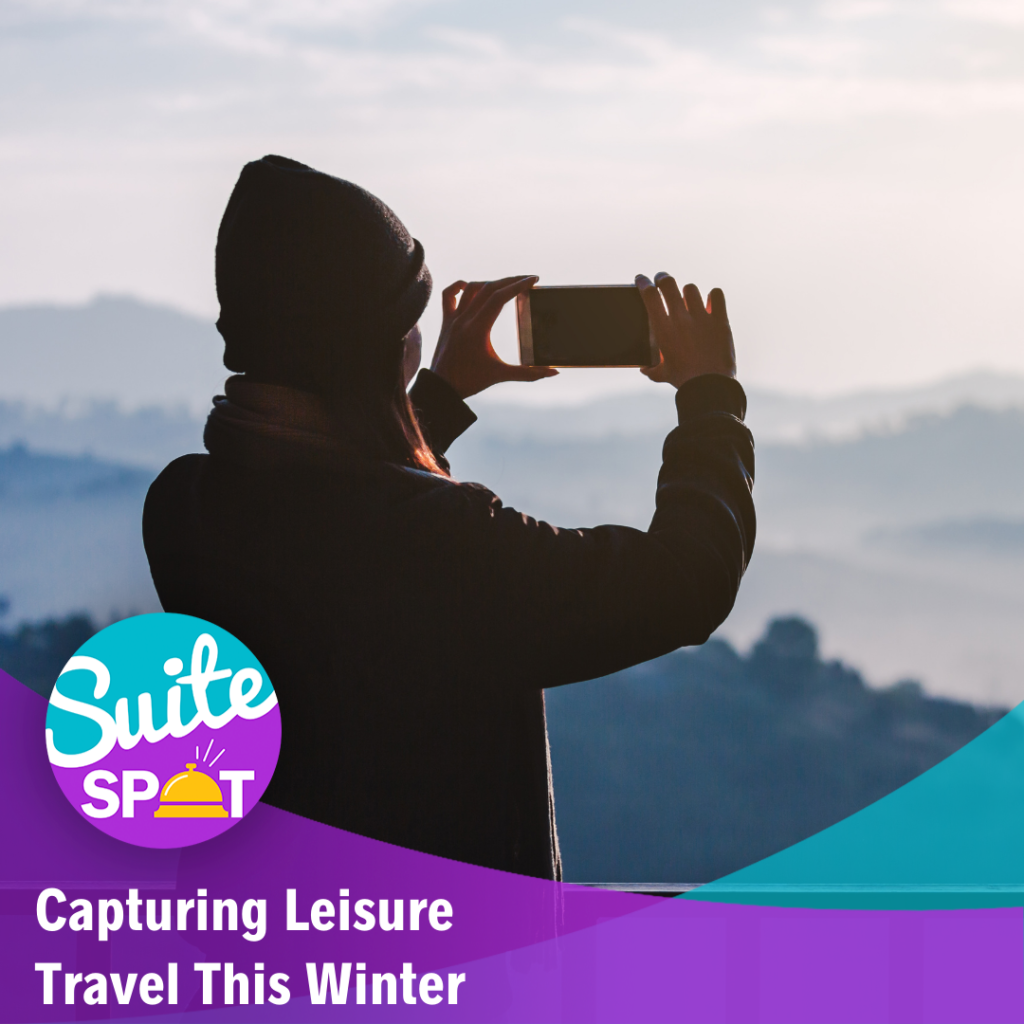 In this episode of the Suite Spot, host Ryan Embree helps hoteliers prepare for the upcoming 2020 winter season and shares his thoughts on what to expect. Ryan takes a look at two major factors impacting travelers' booking decisions this winter: the weather and area-specific COVID-19 restrictions. He walks through multiple examples of social posts and marketing strategies that properties can implement to give them the best opportunity to attract and capture leisure travelers. This episode is an excellent blueprint for hoteliers looking for a place to start when creating a winter marketing strategy for their property.
If you are looking to learn more information about how Travel Media Group can help your hotel increase winter occupancy or want to submit a question for future episodes, call or text 407-984-7455.
Episode Transcript
Our podcast is produced as an audio resource. Transcripts are generated using speech recognition software and human editing and may contain errors. Before republishing quotes, we ask that you reference the audio.
Ryan Embree:
Welcome to Suite Spot where hoteliers check in and we check out what's trending in hotel marketing. I'm your host, Ryan Embree. Hello everyone, welcome to another episode of the Suite Spot, this is your host Ryan Embree. Welcome to episode number 62. We are getting to that time of year, the winter season, typically a slower season. We've done many episodes in the past talking about how occupancy slows this time of year. We have the holidays, which gives us a nice little bump, but what can we expect this year? You know, it's a bunch of question marks that we've seen since the resurgence of COVID-19. There's a bunch of question marks. So what's this winter season going to bring for our industry? And is it something that we're going to be looking forward to? And are there things that we can do on our end, on the operations and the sales and marketing side, to help maybe put some more heads and beds and help that occupancy grow during this, again typical, slower time of year.
Ryan Embree:
So that is what this episode is all about. Very excited to share this with you, actually goes hand in hand with our educational webinars, which we do every month at Travel Media Group. If you haven't checked those out, I encourage you to do so on our YouTube page. This webinar was titled, "There's No Place Like Hotels for the Holidays: Targeting Leisure Travelers this Winter." So that's what we're going to be talking about in today's episode is attracting and capturing those leisure travelers during the winter season. And I want to start by really kind of having you envision a grid, a grid split into four distinct quadrants and where your property is really located on this grid is really going to be based off of two key factors. The first is weather, now for most of the country, when I say winter, that means cold weather. It drives people indoors and typically again, slows our occupancy numbers, but there's also places in the country that stay relatively warm where cold travelers travel to and flock to this time of year. So that's where our headquarters are in Orlando, Florida. Now the next major factor is new and it's 2020 driven, but it has an enormous impact on guests as they're considering whether to book and go on vacation this winter, and that's going to be the level of COVID restrictions in your area. So again, in some parts of the country, there are still some highly restrictive requirements put in by local cities and regions. But in other locations, restrictions have really begun to ease and loosen as time has passed.
Ryan Embree:
So what we're going to do today is we're going to travel from quadrant for quadrant, whether you're warm weather, cold weather, you have high restrictions or low restrictions, and we're going to come up and create a custom marketing and advertising plan specifically geared around social media and what you can do to kind of leverage those factors in order to impact bookings for your property.
Ryan Embree:
So let's start for those properties out there that have low restrictions, low COVID restrictions and warm weather. So this could be somewhere like in the Southeast, right, Florida, very low restrictions and lots of warm weather during the winter season. The first thing that we're going to have the opportunity to do using our marketing and advertising is outdoor activities. So we've got beaches, nature trails, hiking, state parks, national parks. People in the winter time, that's why they come down to warmer places. They want to get out of that cold and they want to get out and enjoy the mild winter weather. So you definitely want to be marketing those outdoor activities, but with the low restrictions for your area, you also have the opportunity to post about indoor activities, dining and shopping. You might have travelers that are coming from another part of the country that have some very high restrictions. So they might not have the opportunity to do the shopping or going out to eat like they could in your market. So keep that in mind when you're posting, not just outdoor activities because of the great warm weather, but also the indoor activities because of the low restrictions. Now, low restrictions and warm weather also is a really great combination for events. So for places like Florida and in the Southeast, we actually have a lot of events that have either been rescheduled or are being planned as we speak. So check with your local CVBs, get on some RSS feeds, and figure out where those events are taking place and start marketing those on your social media. That could be a huge revenue driver and occupancy driver for your property. Make sure you're doing it early, but also make sure you're posting any regulations and restrictions that might have to deal with the event. And lastly, local attractions. You know, we have the theme parks open out here in Florida. Museums, bowling alleys are starting to open, so attractions in your area that were the main drivers of getting people to your property before COVID, these places might be open, might be an opportunity for partnerships with them, reaching out to those businesses and creating special packages to see if there's anything, maybe you guys can have a mutually beneficial partnership there.
Ryan Embree:
Now let's stick with the warm weather, but let's move to, if you have some higher COVID-19 restrictions in your area. So think of this as more of your Southwest, maybe California like. That seems to enjoy perfect weather all year, but right now are a little bit more stricter when it comes to what people can do in the area. The first thing that you want to do is again, take advantage of that warm weather, find outdoor social distanced activities in your area. So that could be again, national parks, horseback riding, hiking trails, any of these things that are in the outdoors, but again are able to do social distance. You also want to go ahead and start posting about what I call the "new normal" hotel experience. So what we're trying to do is set expectations for our travelers prior to their arrival. So if we've implemented all these great protocols, maybe we put some capital investments in new cleaning products or maybe the way that our lobby is set up or check-in is handled with a plexiglass screen there. The worst thing that you can do is have your traveler come into your hotel and have an experience that they didn't expect and what that leads to is dissatisfied customers and ultimately negative reviews. So you want to be posting about what your hotel experience looks like with these restrictions in place, so if you're doing social distancing, like I said, if you've made some modifications to your breakfast or maybe to your check-in make sure that you are highlighting and showcasing that on places like your website and social media. And lastly, amenities and features. So with travelers, not necessarily being able to move around freely, like they would with low restrictions, they might be spending more and more time at the hotel. So make sure that you're advertising those amenities that are featured. If you do have any sort of rules that you've implemented, like for example, we've heard a lot of having an occupancy max in the fitness center, make sure that those are clearly stated on those posts, but travelers in this area that might not be as free to move around outside of the hotel are going to be spending more time inside of the hotel. So make sure you're focusing on that.
Ryan Embree:
Now let's drop the temperature a little bit and move to the quadrant that has those high COVID restrictions, but very winter like weather. So a great example of this could probably be in the Northeast, right? New York city. Now travelers again are going to want to stay indoors, to avoid cold weather. And they're not really going to have the same freedom as other places in the country when it comes to doing attractions or maybe dining. So what we're going to want to focus on, not so much outside of the hotel, but inside of the hotel. You think travelers that came to your property prior to COVID let's pick New York city, they are going to have a completely new experience at your hotel than they did previously. The reason that they would travel might be for a specific reason. It's not to go see the sites. It's probably something like business, it's for a specific purpose. So if you can start identifying those trends, it will really help you when it comes to attracting occupancy. So with travelers staying more on the inside of the hotel than outside, this is where we really want to focus on guests rooms, right? This is where a majority of the guest's time is going to be spent. So we really want to focus our posts and our marketing on the guest rooms and really highlight any features or amenities that they can use while on property. And again, another thing we want to focus on is that new normal hotel experience. So if you have implemented those protocols – a great example that I saw the other day that we posted for one of our hotel partners was they were implementing a 72 hour break between guests. That is something awesome to put on social media and market to your travelers. They could be travelers that are feeling very anxious about traveling to a place like New York City or in the Northeast. So having that peace of mind of knowing that no one was in the room for a full 72 hours before you stay there, that could be a difference maker and eventually tilt the scale into your favor versus a competitor.
Ryan Embree:
So let's move to the fourth and final quadrant, which is cold weather, but also very low COVID restrictions. So think of this as more of your upper Midwest, your Great Plains, your North Dakota, South Dakota. Obviously very, very cold in that region, but because of the low restrictions that might open the opportunity for more indoor local activities, again, dining, shopping. Travelers aren't going to want to be necessarily outside if it's freezing cold. So let's find them some things to do, if they travel to your area. Hotel amenities and features like an indoor pool, this could be great for a family looking to travel for the holiday season and stay warm. They see that awesome, beautiful post of your indoor heated pool. That's a differentiator between maybe you or the hotel next door. And then also you want to take advantage of the cold weather attractions, right? So if there's ice skating, sledding, skiing, snowboarding travelers might be coming there to get the winter experience. We know that travel goes both ways. Maybe some travelers from Florida want to get a white Christmas, so they come up to the Dakotas, let's have some options for them to do. So definitely think about those posts as well.
Ryan Embree:
And lastly, we're going to talk about universal posts that work around the winter season. So any restrictions that are happening and any weather, whether you're warm or cold. So holiday posts, packages, and specials. This is a great time of year to really try to get some extra value by putting maybe some deals out there for travelers to take advantage during the holidays, we know the different ways that every single region might be handling COVID restrictions, but one thing is consistent, everyone's going to be celebrating these holidays in one way or another. So make sure that you're focusing on holiday posts. They are historically for us, some of the most engaged posts out there and just a time to really be thankful for your guests. Don't overlook that opportunity. You know, obviously this has been a tough year for a lot of hotels and people in general. So be sure to really appreciate your guests because they will appreciate you back, so I definitely encourage that. The next kind of universal post that really works for any type of hotel during this time of year cleanliness and safety, right? We've talked about this before, we're eight months, almost nine months into this pandemic and travelers are still prioritizing, rightly so, their safety above all else. So the more the merrier, as you would say, talk about the protocols, the safety protocols implemented at the property, discuss them on your hotel website, your social media, also refer to them in your review response, and your travelers will recognize and appreciate these things. Again, if we're setting the right expectation up front, they're going to appreciate it more throughout their journey and experience at the property. And lastly, call to action posts. This is something – I heard this phrase the other day and I absolutely loved it – inspiration into invitation. And that's where we're at right now. We have spent the beginning of this pandemic where it might have not been appropriate to necessarily be marketing and trying to sell our properties. So what we did with our hotel partners is we helped inspire their guests. Inspire their guests to travel in the future, inspire them to hope for vacations coming soon, and inspired confidence in that that hotel could keep their guests safe when they were ready to come back. Now we turn that inspiration into invitation, or we invite them back to the property. We have these call to action posts and we really start leveraging all this traction that we got at the beginning of the pandemic on social media and other communication channels and we transition that and turn that into a revenue driver for our business, for the winter season of 2020.
Ryan Embree:
Now we talked about a lot today. I hope that quadrants was very, very clear, but just know that you could be in one quadrant right now. You could be in a place like Florida that has low restrictions, but we really don't know what's going to happen moving forward. So you could come into those high restrictions. So keep that in mind, always be checking and always be putting on your social media relevant information. Your travelers are going to appreciate that. So again, if you haven't checked us out on YouTube with our educational webinars, we speak exactly to this. Give some real life social media examples. If you're looking to drive more occupancy this winter, that's where we come in at Travel Media Group. We help with social media marketing, helping you curate and create social media posts that are going to drive you business for this year. We help you engage with your travelers through review response and we help improve the health of your online reputation. So when travelers are finding you online, you are the one chosen for that particular booking. So if you are interested in learning more about it, you can always go through our website at travelmediagroup.com or you can reach out to us directly (407) 984-7455. I hope you enjoyed this episode today, it'll be interesting to see what this winter brings, but I hope the best for you and your hotel. Thanks again, and we'll talk to you next time on the Suite Spot. To join our loyalty program be sure to subscribe and give us a five-star rating on iTunes. Suite Spot is produced by Travel Media Group. Our editor is Anne Sandoval, with cover art by Bary Gordon. I'm your host, Ryan Embree, and we hope you enjoyed your stay.
Hotel Marketing Resources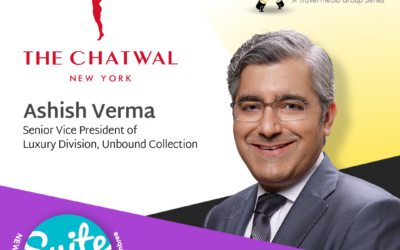 Join Suite Spot host and TMG Director of Marketing, Ryan Embree as he talks with the Senior Vice President, Luxury Division, The Unbound Collection by Hyatt, Ashish Verma in our new TMG Spotlight series to give listeners a lavish perspective on hospitality and how the...