63 – Top 5 Sentiment Tags in 2020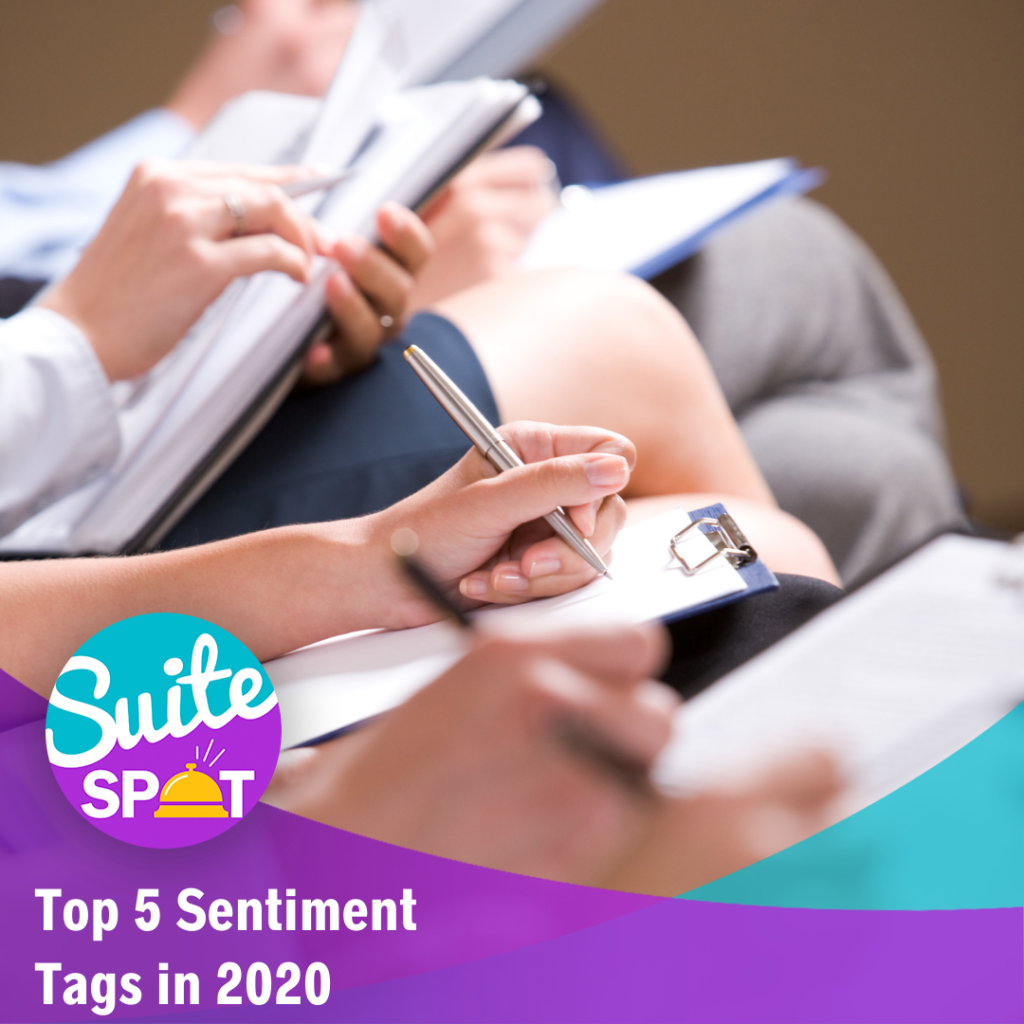 In this special edition of the Suite Spot, our review response team at Travel Media Group analyzes and identifies the Top 5 sentiment tags of 2020. Host Ryan Embree is joined by Product Director, Patrick O'Brien to discuss COVID-19's impact on traveler reviews and each of the most popular sentiment tags. Patrick also shares some best practices on how to respond to online reviews when these tags are mentioned and ways to get creative and provide a unique hotel experience for guests during this time.
If you are interested in learning more about Travel Media Group's Respond & Resolve™ program, you can reach us by calling or texting us at 407-984-7455 or email us at info@travelmediagroup.com.
Episode Transcript
Our podcast is produced as an audio resource. Transcripts are generated using speech recognition software and human editing and may contain errors. Before republishing quotes, we ask that you reference the audio.
Ryan Embree:
Welcome to Suite Spot where hoteliers check-in and we check out what's trending in hotel marketing. I'm your host, Ryan Embree. Hello everyone, welcome to another episode of the Suite Spot. This is your host Ryan Embree, we have a very special episode for you today, been looking forward to this episode for a very long time. It's actually one of the most popular episodes that we've done since we've started the Suite Spot and with me today is our special guest, Product Director at Travel Media Group, Patrick O'Brien. Patrick, welcome back to the Suite Spot.
Patrick O'Brien:
Thank you very much for having me glad to be here.
Ryan Embree:
Yeah and we're excited today because Patrick and I, what we're doing, is that we are going to look at the top five sentiment tags of 2020. So it's been an absolutely crazy year: COVID-19, election year, all these significant things going on in our industry, yet customers still leaving reviews. And at Travel Media Group, obviously we have our Respond and Resolve solution, which responds to reviews – but we don't necessarily just respond. Patrick, your team actually goes in and provides insights to hoteliers. Before we get started, could you explain just a little bit behind what this sentiment analysis is and how your team actually pulls that out of the guest feedback?
Patrick O'Brien:
So, you know, with every review that comes in our team is obviously reading the review in advance so that we can respond to it, but we're actually going through and looking at various elements within the review and we score those based on, you know, positive, negative and neutral sentiment. And where it's a little bit different, sometimes I think there's some AI engines out there that do it and sometimes they basically do it based off of the star rating of the review, and I think that's fast and efficient. However, what it misses is the ability to really identify when maybe negative sentiment is left within the positive review or there are positive attributes to a negative review. And having, you know, human interaction within there, we're able to sort of elicit those meanings a bit more accurately in the review so that we can really understand, you know, not every positive review is, you know, all roses and not every negative review is all bad. So we can start to dissect when things are maybe not good with a specific experience, what elements were things that the hotel could market on capitalize on, and you know, what elements do they need to work better at improving? So we really go in and each review is hand scored by someone on our team.
Ryan Embree:
And it's fascinating to take a look at all of that data, all that sentiment and analytics, put together like something we're going to do today – but just to put in perspective Patrick, how many reviews is your team responding to? Let's just talk about reviews first.
Patrick O'Brien:
Sure yeah. So, you know, this year, the number of responses has varied significantly due to COVID-19. You know, we've had a very active storm season, a contentious election year, and everything else that 2020 has brought to the table. I think at the beginning of the year, things were definitely on target and then right as, you know, the typical spring break surge would be coming in, you know, the country went to shut down and although shelter in place kind of began around March 13th, we still saw an influx of reviews in the beginning of April, having a lot to do with people, kind of finishing those last minute or trying to squeeze those last minute trips in and then also having to do with people canceling and rebooking. However, in May that number dropped significantly. We saw about an 87.5% loss in review flow for the month of May. And we actually, you know, responded to less than 9,000 reviews for the month. That's obviously starting to pick up now as we are, you know, moving forward. You know, I've always said that review response is vital to the success of a business, but now more than ever, because review viewed flow has slowed down, so your negative responses are sitting in front of guests for a much longer period of time. And, you know, we've also started to see sentiment scores trending downwards, as well as, overall review scores trending downward a bit as well. So this year we looked at around 380,000 reviews with over 910,000 sentiment tags identified. So while we're not necessarily responding to 25,000 reviews a month and those numbers that we were doing before, we are still staying very busy, trying to ensure that our customers have the ability to capture as much of the limited demand as possible and really set them up for success. So each of the review responses we can no longer really just thank people or apologize for a negative experience. We really have to get more prescriptive and use a review response as an opportunity to let future guests know as well about changes in policies and changes in services that the guests could expect. So it's definitely become a bit more of, you know, like a mini little public relations opportunity each time a review comes in.
Ryan Embree:
Definitely and one of the most interesting things that we've noticed on this side, doing the marketing and advertising, online review response for hotels is, you know, you really can start to see review flow coincide with occupancy. You know, we saw that, you mentioned 87.5% loss of review flow, at the peak of when this pandemic was really going on and had really slowed occupancy. But now we're starting to see the trends of review flow, come up and travel start to return. So they really go hand in hand, which I think speaks volumes to the importance of really how much reputation and online reviews have instilled in a every day look into a hotel and their success and how they're performing. So it is something super, super interesting, that's kind of been kind of a side note that we've seen as a result of this COVID-19 pandemic. So with almost a million sentiment tags that you and your team have done this year, absolutely incredible. You and your team have done some incredible work and we have narrowed that, we've looked at the data, and we've narrowed that down to the top five sentiment tags of this year. So let's go ahead and jump in and what we're going to do today is we're going to give you the sentiment tag and then talk about how Patrick and his team would approach a review with this type of sentiment in it, and then what you, the hotelier, the listener can do from an operation standpoint. So whether it's positive or negative, how you can either fix or market or advertise this type of sentiment. So let's jump right in with tag number one, I will let you take it away, Patrick.
Patrick O'Brien:
So the first tag that we looked at was our highest performing tag, and that was front desk staff. And last year we actually measured front desk staff simply as service, but this year we decided to get more specific and look specifically at the guest interaction with your front desk team and not kind of lump it in with the service overall at the hotel. So even though it is a newer tag, again, it was our most recognized area of sentiment appearing in approximately 48.5% of our review sample. In this segment, we really start to see guests interaction with the front desk team involved with the greeting upon arrival and the check-in/checkout process, and even now really with conflict resolution as the pandemic has gone on, we are seeing higher trends towards how the front desk is explaining new services and policies. You know, maybe amenity changes and, again, that's sort of this ever evolving process because, you know, we've kind of gone into restrictions and then loosening of restrictions and then more restrictions. So if a guest is booking any time in advance that may have changed since they booked and when they're staying and you know, the front desk team really is the frontline of being able to handle that. And so a growing trend in guest comments really surrounds how the front desk is being tasked with handling hotel mandates, which may or may not follow state guidelines, certainly been a hot topic of discussion in reviews and some guests think that the front desk teams are not keeping them safe while other guests are convinced that the front desk is maybe superseding their authority. So we certainly approach these areas with extreme care. You know, I believe it's always important to use this area as an opportunity to reinforce the measures that your hotel has put in place to keep guests and team members safe. And while the interaction may have been heated, a good response, will let future guests – and hopefully that guest that left the review – know exactly what to expect and what they should have expected in terms of safety and let them know whatever your policy is, that it is designed to ensure that every guest that is coming to the property can enjoy their stay and feel comfortable while you're hosting them. So this really becomes – when people are talking about the front desk staff and sometimes it's in praise and sometimes, you know, it's upset – really using that to reinforce the new guidelines and the new policies and experience that your hotel has in place.
Ryan Embree:
Yeah, definitely. And I think it's so interesting that this particular sentiment tag is so prevalent within online reviews. You know, one of the things that we've talked about and that the industry has been seeing and really discussing is how can we integrate technology into the customer experience. So a lot of hotels have been talking about, you know, contactless check-in and things of that nature. Yet one of the most popular sentiment tags out there is your front desk staff. So that's super, super interesting to hear. And my second point is one of the unfortunate consequences of this pandemic for hoteliers have been impacts on their staff, right? So they've had to furlough, this is still a critical, critical piece to the hotel experience, the experience that guests are having when they come into your lobby and come to the front desk to check in, check out, and resolve any issues. So make sure that you are training, emphasizing that you have your employees in a good headspace when they might be doing extra hours, double shifts, because this is something that customers and guests are paying big attention to and are mentioning it for a majority, almost half of the time on their online reviews.
Patrick O'Brien:
Definitely, you know, again, the front desk staff is your frontline and just as much as every guest and every one of us are dealing with our own personal issues regarding the pandemic, they are as well, yet they are also being tasked with being this positive face and this helpful interaction to a guest experience. And so it's definitely a different role that the front desk hasn't necessarily had to perform in years past to the level that they're being required to do it now. And, you know, as you mentioned, they're probably working with a reduced staff and so working longer hours, you know, being asked to wear more hats at the hotel, just so that the hotel can operate efficiently. So definitely, definitely a critical path for you as a hotel owner into a positive guest experience.
Ryan Embree:
Definitely. So let's go ahead and move on to tag number two in 2020 – I could have definitely foreseen this, but I'll let you introduce tag number two.
Patrick O'Brien:
Sure, so cleanliness now, again, there's probably no real surprise that this is on the list this year, but it is more important than ever. Guests are more aware of missed cleanliness opportunities and they, along with future guests, will correlate cleanliness issues with opportunities to get sick. So this is another area we take great care in responding to. We've worked with our hotel partners to really understand what their protocols are for cleaning and disinfecting their hotel property in the rooms. So, you know, some hotels are kind of using the stay safe guidelines produced by the AHLA, while others are following more brand specific guidelines. One of the big trends that we're noticing in this area is that guests, specifically,those that are staying maybe for longer periods, are potentially upset that they are not getting regular cleaning service for their rooms. Many of the negative complaints that we see in this regard are guests thinking that the hotel is really just doing this as a cost savings measure. So it is always important to reframe these complaints as safety enhancements. The interesting thing to note regarding cleanliness is that while it still remains a top trending tag in our sample, it was the second highest tag. The overall score or guest sentiment has gone down almost four tenths of a point, since the start of the pandemic. This is slightly alarming because now more than ever, hotels are spending more money. They're spending more time to ensure cleanliness and safety, and that's not translating in the guest experience. So it's really interesting to see that we're going through all of these extra hoops to create a safe experience, to create a clean and comfortable environment, yet we're not quite hitting the guest expectations in those regards.
Ryan Embree:
Let me ask you this, Patrick, you mentioned some of the brands cleaning initiatives and safety initiatives that they've implemented since the beginning of the pandemic, which has been absolutely critical and vital from a PR standpoint and hopefully the hoteliers are taking this to heart and implementing some of these safety protocols at the property level. I'm curious you and your team work across all brands, including independents. How do you keep that straight? How do you keep one cleaning initiative for a Marriott property versus a Wyndham property? And how does that get translated to your team?
Patrick O'Brien:
So pulling the curtain back here a little bit in our process, we have a detailed notes section. So every time we are answering a review for a hotel, our writers have the ability to quickly dive into specific policies like that and understand – okay, they are going with their brand's policy, this is what the brand's policy is. So that when people may say, if they leave more of a general comment, like, "Oh, it wasn't clean." We can say, "Here are the steps that we are doing per the brand guidelines." If they mentioned something that's in there, then we can also definitely start talking to that and start working with the hotel to kind of look into – we're saying this is what the standard is, but the guests are saying they didn't see that. So where is the miscommunication happening? But we really try to act as an additional team member at the hotel and – we're not on property every day, we're not seeing what's happening day to day, but not only does our team work to ensure that all of those notes and that messaging is up to date, we also have our client support team and they're talking to our hotel partners every month. So it becomes a unique opportunity to be able to tweak that messaging and make sure that as things are changing, we're able to do that. In addition, our hotel partners have the ability to approve and edit all of our responses, as well as leave feedback. So in maybe the few instances where we're not directly on point or on messaging, the hotel partner can come back in and just say, "Hey, you know, maybe this has changed, or this is what we're doing, or this is what happened during this instance, and we have now since taken steps XYZ to resolve that." We then can take that feedback, not only update the response before it is posted, but then we go in and we update our account notes so that every writer can see that moving forward.
Ryan Embree:
And the program essentially evolves with the hotel – exactly what you said, an extension of your team at the property. If you're a listener right now,or a hotelier, what Patrick just explained to you are key differentiators between our Respond and Resolve program and other response programs out there. If you do not have a way to get notes to whoever's responding to your review, to actually have those reviews include brand standards or the voice of your hotel, or the ability to edit or change that response, you are at risk. This is not the time, right now, during a global pandemic to really put your hotel's voice in the hands of someone that isn't versatile and cannot change on the fly. COVID-19 and what's happened in 2020 has really been a testament to what you and your team have done over here at Travel Media Group, Patrick, and the ability to adapt when situations like this happen at the hotel level. So that is a key differentiator between our Respond and Resolve program and other programs out there. Let's go ahead and move to tag number three.
Patrick O'Brien:
The third tag that I've really found interesting, specifically as this year has progressed, is room amenities. This is also another newer tag that we implemented, a while back really to cover the whole room and the attitude about what the room, and not just the hotel, had to offer. This tag has also seen, obviously, it's share of fluctuation, but it started the year actually as our 10th most identified tag. Now, it finished in October as our 3rd identified tag, and it has been on a steady rise really, since we saw that decline in review flow in May. We've seen it by far have the biggest spike of any tag month to month from September to October, and that's throughout the whole year, it kind of had the biggest shift up during that time. And the reasoning behind this, is it really is indicating a shift in the travel experience. Previously, you had leisure travelers and business travelers, and while both sectors kind of wanted and expected a clean and comfortable room, they were most likely going to be more concerned with the property amenities, because they didn't travel to the location to sit in their room. However, in some areas, you know, there've been nightlife restrictions, the surrounding area entertainment is minimal at best. So while a guest is traveling, they're now spending a lot more time in their room. And because of this, what is available to them between those four walls is even more important. Again, from our standpoint, our process here is twofold: we're going to use this as an opportunity to either address those concerns head on or use it to reinforce why our property is better than a potential competitor, because we offer these additional amenities. But this is really to where the analytics really become important to the hotel, so that you can really understand once that guest is no longer in front of you or in front of your front desk staff, what is the experience at your hotel? And you know, what are they happy with, what are they not happy with? And can really guide some business decisions that you can make as a hotel or a business owner on areas to become more competitive and to offer a better product and service to your customers.
Ryan Embree:
Yeah, I anticipate this trend becoming more and more popular and see that popularity in reviews increasing because of some of the restrictions now being put into place in these areas. You know, I said this the other day on a webinar when everything is the same outside, it's all gonna come down to what's inside your hotel. So when travelers – it's kind of crazy to say this maybe a year ago – but today travelers are maybe looking less at the location, maybe it's near an event center or something like that. They're less looking at location, less looking at price, and they might be looking at what you said, what's between those four walls. This is where a majority of their time is going to be spent. So if you have some unique amenities out there that travelers really enjoy, this is the time to be marketing and advertising that on your website, your social channels. But then again, if you're seeing a constant stream of negative feedback about what you've included in your room – changes need to be made there, right? Because this is a trend that's going to continue to increase in popularity and it could have impacts on your overall reputation. And that's really what this episode is about, is talking and showcasing what are those highly popular subjects that travelers are going to notice and talk about online and how can you sway your online health and reputation to increase that rating rather than decrease?
Patrick O'Brien:
Definitely, you know, and I think here, you sort of talked about potentially trending low and changes that need to be made, and I think for a hotel to kind of interact with room amenities, it really is important about listening and paying attention to the data that you have available. A lot of items can make up room amenities and as you get down, you can break it down more specifically and prescriptively, but just because you're scoring low or lower than you want to, you don't necessarily need to go in and invest in a full remodel of your room. It means you need to study what people are saying and the data that you have available and understand what aspects of the room are not as inviting as they should be and which items are the most important. This is where, you know, your focus really should be and it's a real possibility that as vaccines become available and life gets back to normal, people will not spend as much time in their rooms, but we are just starting the winter months. So you need to create an environment that is comfortable and relaxing. You know, people are now traveling out of necessity or a desire just to get away for a moment and your room should be able to provide that. Another area that you should pay attention to I think, is what room amenities work and what room amenities no longer work. Many hotels have removed items like coffee makers to help ensure guest safety, which is great, but people get upset about that. And, you know, are there opportunities to replace that with something else and possibly something better? Could you partner with a local coffee shop to provide a free cup of coffee? You're now promoting local businesses, helping the local business environment, you're providing a safe alternative, and, you know, hopefully if it's a cool, funky local coffee shop, you're providing an additional local experience to make up for the ones that they are missing. You know, they're no longer able to get out as much and explore the local area. And that's one of those things that could really set you apart from another property because people are traveling, but they're not getting those local experiences and that's what makes traveling amazing and what makes traveling so great. So doing little things like that, that could really open up sort of those local experience will be unique and,you know, that's just one example, but this again is an area that you can get really creative. You know, another example may be looking at starting to integrate some smart devices, in room entertainment devices, which can be fairly low cost investment, but again, really set your hotel apart. You know, I think even as things start to hopefully get back to normal and loosen up as we move into 2021, investments made now and in this area, I think are going to go really long way in, you know, just sort of separating your property from the pack and separating your property from the options available in your market.
Ryan Embree:
Yeah, absolutely. And I think that we're going to be in this for a while longer. It's going to take some time to adjust back to that "normal." So those investments are going to be put in place for a long time and I love that creative idea of partnering with your coffee shop, but it also goes back to that number one tag that we talked about the front desk staff, if that's not being communicated, that coffee machines are being removed from your room for your safety and we're partnering with this coffee shop across the street. If that's not communicated, that's a missed opportunity. Your travelers come in, they get upset, they don't see coffee in the morning and then all of a sudden you have a negative review. So these all play hand in hand together. So, let's move on to tag number four.
Patrick O'Brien:
So the next tag that we kind of identified was sleep quality, and this was one that I find really interesting because, you know, it's the age old motto for a hotel that it's an industry where we want to put heads in beds. And the idea behind getting a good night's sleep is so important. And you would think now more than ever, that that was very important, but out of all of our tags, this is actually seen the flattest curve in terms of mentions, as the year has progressed and the least amount of fluctuation in, you know, mentions based on review flow. However, with that being said, it has still emerged in about 20.2% of the reviews that we sampled. So we'd still see similar complaints about beds not being comfortable. We're still using kind of our same approach with that, when a guest may say the bed's too soft or it's too firm, we tend to approach this issue on the basis of preference. The truth of the matter is some people like hard mattresses, some people like soft, and some are in between. We've even seen hotels in the past who would literally switch out mattresses based on a customer's preference. However, obviously not practical in all situations. So we try not to ever indicate that there was necessarily something wrong in these situations, but rather we apologize that the mattress wasn't to the guests preference. This will help to minimize the impact of this issue because it's a matter of preference versus really a matter of fact. Another area that has been emerging in reviews around sleep quality is noise level from other guests. And, you know, this has always potentially been a little bit of an issue. I feel like we're starting to see it occur even more, as you know, again, you've got some of those guests who are traveling out of necessity and may be less likely to want to travel outside of their rooms and, you know, really just want to stay put. And then, you've got those other guests that are traveling because, you know, they just want to get away and they're letting loose a little bit. And the unfortunate reality of this complaint is these two guest types, usually don't mesh very well. This becomes a little bit more challenging and it goes back again to the front desk staff and training the front desk staff to potentially set guidelines, you know, and let people know, maybe, you know, I've seen hotels that have, that have had quiet hours and kind of set those expectations up, but also to realize that should some guests be getting louder to work with them, to quell that back a little bit for the comfort and the safety of other guests. The last thing you want right now in COVID is two different groups getting out and yelling at each other and being upset with each other. So, you know, I think though, most people aren't necessarily going to hold the hotel accountable for someone not getting a good night's sleep due to a noisy neighbor, but if your front desk did not try to assist in that matter and try to alleviate that situation appropriately, this becomes a little bit more of a difficult issue to overcome and an opportunity that if it's identified in a review that you really want to work with your front desk, again, to feel empowered, to be able to resolve those issues on the property, because that's not what you want every guest who's potentially going to stay at your place to see is, "Oh, well you know, this kind of looks like it's a party hotel and right now I'm not comfortable with a party." So, you know, you want to make sure that you're able to kind of get around those as best as you can.
Ryan Embree:
Yeah, sleep quality is one of those things that I feel like the first three tags we talked about with front desk staff, cleanliness, and room amenities, those have had such a change in the hotel experience, but you're right. This is the foundation of someone's hotel stay, how they're experiencing sleep quality. And it is going to be fascinating to see – I think one of the things that we have to learn as guests and consumers, it's maybe been eight or nine months since we traveled last and we kind of forget sometimes when you walk into a hotel, what that sleep quality is like or what that noise could sound like between neighbors. So it's definitely going to be interesting to see with people not traveling for maybe the most time that they have that – for people that have missed travel for the most time that they have in their life, it might be a little bit of a learning curve to get back in there. Anyways, let's go ahead and move to tag number five.
Patrick O'Brien:
Perfect. So the fifth area that we kind of looked at was breakfast, and this isn't our fifth most mentioned tag, and it just appeared in about 19% of all reviews in our sample. Like sleep quality, it also appeared to be fairly flat in the last six months and not heavily impacted by review flow. However, again, we did start to see an upward trend starting in October. We, as a team, we're starting to field a lot of reviews that are mostly regarding people's disappointment in the removal of free breakfast in the morning, you know, and if that has been potentially replaced with like a grab and go option. Again, there are many people who would convince themselves that this was done simply as a cost savings measure. When we get these complaints, we typically try to reassure the guest that we still want them to be able to enjoy a great start to their day, but we also always want to put our guests and our team members safety first. And that the reason that this amenity has currently changed is with that in mind. This also really kind of requires a little additional coordination between our team and the hotel owners, because this amenity has seen a lot of fluctuation in the service offerings over the past several months. So you definitely need to stay on top of that and as we mentioned before, we do this through coordination with our analysts, as well as our client support team and utilizing those notes and just making sure that as things change, we are on top of that. And sometimes it could even be that the hotel hasn't necessarily notified us, but as we are working on the property, we start to see, you know, updates on the hotel's website or on the OTAs, you know, indicating that, so then we'll reach out to the hotel to kind of verify what's going on. And I've always said from the beginning, that there's only one reason that a guest leaves a bad review and that is just simply because their expectations weren't met. Once again, this comes down to ensuring that the guests know when they are booking, what they can expect in regards to the breakfast options. So you need to be making sure that you're coordinating that messaging between your review response, on your website, on all of your OTAs, and vendor partners. You also need to make sure that your front desk team again, is highlighting that as part of the check-in process. And don't take it as, as a negative, like, you know, I'm really sorry that we had to get rid of our breakfast option. It can be more along the line of, you know, due to really being thoughtful and considerate of your safety, as well as all of our team members, we've introduced a really exciting new feature with our grab n go breakfast. And this is what that is going to consist of and be able to sell that as a positive versus starting that conversation off as, "You know I'm really sorry that this has gone away." And again, this becomes that other opportunity where you as a hotelier can get really creative, simple little ideas, you know, could you do something where one grab and go breakfast every morning there's a golden ticket that has some type of prize? Are you able to supply rather than maybe just using here's a little to go Kellogg's Frosted Flakes cup and some milk, again, could you work with local businesses and provide those unique options? So again, you're not only supporting local businesses who will in turn support you back, but you're also giving that guest a little bit more of that local flare and that local experience that they're missing. And I think that that is one thing that we've seen with the pandemic is people have just started having to get okay with not being able to have those unique experiences. And so I think the more that you're able to get in there, and do that, and to offer that, and provide that to your guests, the more they're not only going to appreciate their experience and their stay with you, the more they're going to come back and they're going to come back directly with you and you're going to set yourself apart from the other competition in the area. So again, there's a lot of ways that you can get creative with this. 100%, if you've had to change, it don't necessarily apologize for that, look at it as a positive thing. And I think that goes with any service and amenity changes that have had to happen as a result of COVID, really just kind of talking about the positive aspects around that and ultimately as a team, when we are responding to reviews for hotels, that's the approach that we take. And we really just want to make sure that if this guest – their expectations weren't met because maybe the information hadn't been updated on the website yet – that future guests at least understand what they're potentially walking into, so that they can be comfortable with that decision and then that becomes a non-factor in kind of the post-stay experience.
Ryan Embree:
And that's the power of review response for our hoteliers, a conversation at the front desk, with this disgruntled guest about their breakfasts and expectations not being made or exceeded. That's a different conversation, one-on-one at the front desk than it is on a public online forum where you're trying to influence other travelers that might not have those expectations. They're just looking for a place that provides breakfast and if this traveler in front of you was expecting a hot breakfast, buffet style, that's just not the case anymore. So those are two different types of conversations. So as a hotelier, you could be amazing at the front desk with problem solving and talking down a very disgruntled traveler upset with their experience, but it's not the same as an online review response and that's why we have these professionals that respond to – you heard it here – almost a quarter of a million reviews just this year. So it's absolutely incredible what our team at Travel Media Group and your team Patrick has done in this sense. As we close up, I think a couple interesting points here – and this just speaks to that how different 2020 was – a couple of things that I didn't notice: Location, I know that was on the list last year, pricing, and value. Those were also some key sentiment tags that we didn't see on this list. So again, you really have to, as a hotelier, if you're listening to this, take a look at your whole hotel experience and what's most important to guests right now in order to give them the best experience. So before we close out any final thoughts, Patrick?
Patrick O'Brien:
I think that, you know, and as we've talked about, review response is vital because reviews are not moving in and out. And so you don't have the luxury of saying, "Oh, I got one bad review, but I got 30 great ones so it doesn't really matter." Those reviews are going to sit there longer and people aren't going back to see who you were in 2019, that doesn't matter anymore. It's who you are now and review response does give you the ability to set context around all of those interactions and those experiences. And it can become a very easy way to update expectations in real time. And, you know, and I think that we're starting to see maybe a new wave coming on. And so things may restrict a little bit again, but we are definitely starting to see things open up a little bit, and I am very, very optimistic for 2021 and things starting to rebound. You know, I always think that when things are the most difficult is when you have opportunities to shine, use this opportunity to get creative, work with other local business partners to make your property more successful. Most travelers are coming from local distances – you know, within driving distance – so the more that you can kind of engage and interact with that community, the more successful you can be and just, you know, again, get creative, find ways to stand out, look at the data that's going on at your hotel, so you can really understand what guests feel about your property, so that, you know, you know, where there's training opportunities and where there's marketing opportunities. And, you know, we've talked about that a lot in the past, but it is more critical now than ever to really just be optimistic and to be creative. Doing those things and really taking an engaging part in these aspects of your business are going to pay off huge dividends moving forward into 2021.
Ryan Embree:
Absolutely. Love it, love the insight, love the advice. Thank you so much for being on the Suite Spot today, for pulling all of this data. This is definitely very, very interesting sentiment that we're going to continue to track at Travel Media Group and share with you. If you are interested in partnering with Travel Media Group and our Review Response team and all the great things that Patrick and his team are doing, please feel free to reach out to us (407) 984-7455 or learn a little bit more about us at travelmediagroup.com. Want to thank Patrick for being on the show with me today and thank you all for listening to the Suite Spot. We'll talk to you next time. To join our loyalty program. Be sure to subscribe and give us a five-star rating on iTunes. Suite Spot is produced by Travel Media Group, our editor is Anne Sandoval with cover art by Bary Gordon. I'm your host, Ryan Embree, and we hope you enjoyed your stay.
Hotel Marketing Resources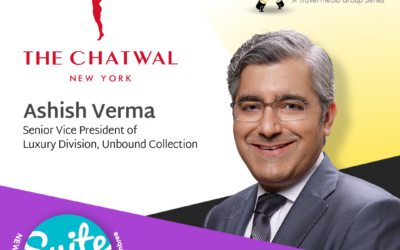 Join Suite Spot host and TMG Director of Marketing, Ryan Embree as he talks with the Senior Vice President, Luxury Division, The Unbound Collection by Hyatt, Ashish Verma in our new TMG Spotlight series to give listeners a lavish perspective on hospitality and how the...