71 – Why Post-Stay Guest Surveys Are Essential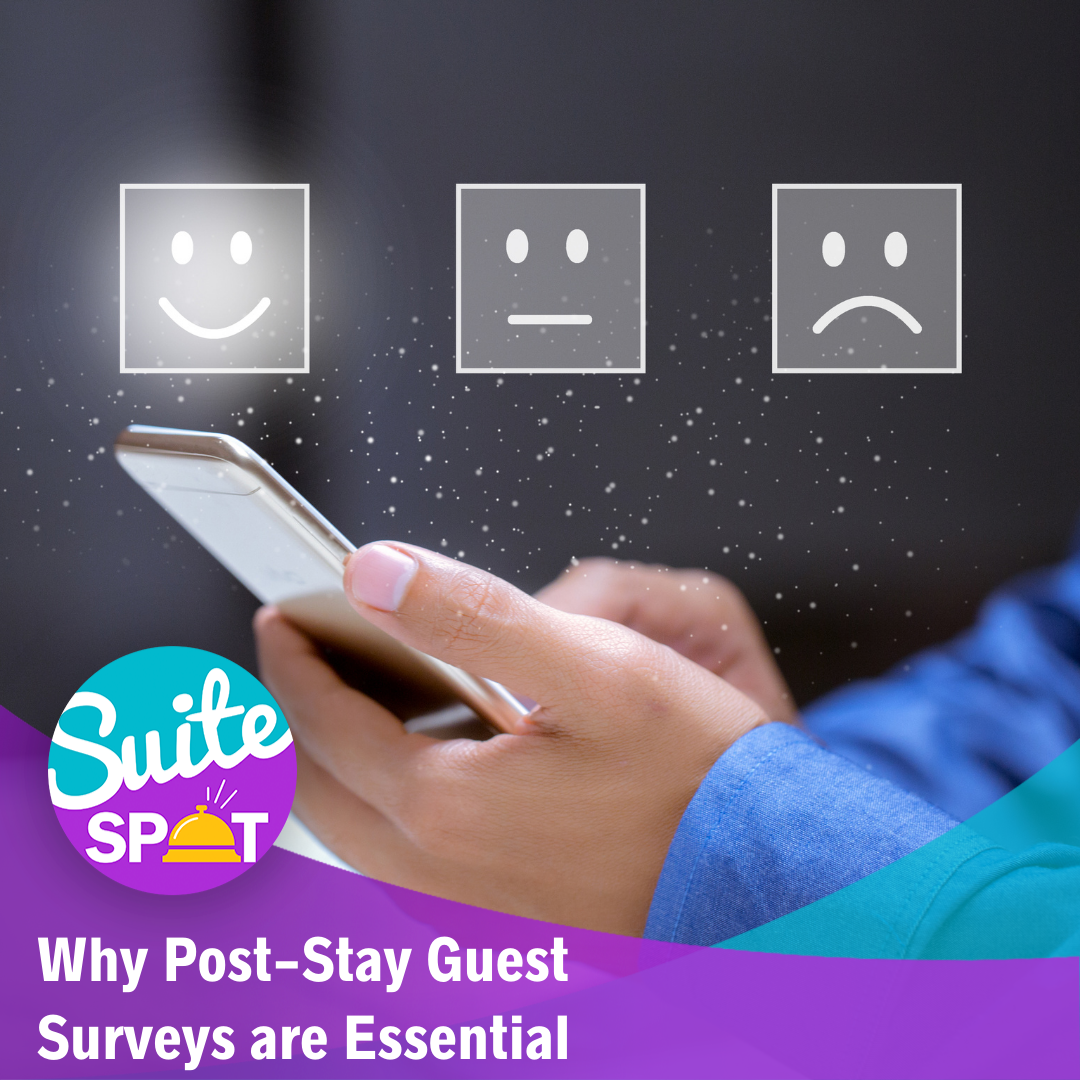 In this episode of the Suite Spot, we explore the importance of post-stay surveys for hotels. Host Ryan Embree is joined by Product Director and head of Travel Media Group's reputation solutions, Patrick O'Brien, to discuss why the feedback uncovered in these surveys is critical to a hotel's success.
Patrick and Ryan start the episode by explaining the difference between guest reviews and guest surveys. They walk through each question included in Travel Media Group's post-stay survey and what insights the property can gain from the guest's feedback. Finally, Patrick shares some creative ideas for other questions that our partners have included in their hotels' post-stay surveys.
If you are interested in learning more about Travel Media Group's post-stay survey solution, you can reach us by calling or texting us at 407-984-7455 or email us at info@travelmediagroup.com
Episode Transcript
Our podcast is produced as an audio resource. Transcripts are generated using speech recognition software and human editing and may contain errors. Before republishing quotes, we ask that you reference the audio.
Ryan Embree:
Welcome to Suite Spot where hoteliers check in and we check out what's trending in hotel marketing. I'm your host, Ryan Embree. Hello everyone, and welcome to the Suite Spot. This is your host Ryan Embree. We've got a jam packed episode for you today. I am very excited about it. I'm very excited about our guest. He is our Product Director at Travel Media Group and head of our reputation solutions, Patrick O'Brien. Patrick, welcome back to the Suite Spot.
Patrick O'Brien:
Well, thank you very much for having me.
Ryan Embree:
And this episode is going to be all about guest surveys – why they're critical and essential to your hotel's success, how we can leverage our guest's responses to these surveys, and we're even going to include some of the questions from our very own Travel Media Group post-stay survey that we provide for our hotel partners. So let's go ahead and get started Patrick. We know that guest surveys is a major part of Travel Media Group's reputation management solution, I want to start today's episode, because when I say guest surveys, there's a pretty distinct difference there between a guest survey and a guest review. Can you first explain that? And then we'll get into the guest surveys a little bit.
Patrick O'Brien:
Sure, so Ryan, a guest review really will be any feedback left publicly online on sites like Google, TripAdvisor, Booking.com, Expedia, Hotels.com, etc, so while some could argue that not all public feedback is really fair or even sometimes legitimate, it is typically one of the most used resources that prospective travelers will turn to before making a booking decision, so it really kind of impacts the prospective traveler view of your hotel. And while the hotel can typically take part in that conversation via review responses, they don't have any influence necessarily on whether or not that conversation and feedback takes place. Surveys, on the other hand are typically feedback solicited directly from a hotel's guests, with the goal to provide the hotel insights into what is working and what is not, but really keeping that conversation one-to-one and offline. So you really can think of, you know, the online reviews being that tool that prospective guests are using to look at your hotel, and the online surveys, really being a tool kept internally to help the hotel understand what's going on at their business, but just because the surveys are kept offline, it doesn't mean that someone who fills out a survey can't then go back and leave a review as well. So that can be really good, if the feedback in the survey was positive, it may not be quite as good if the feedback was negative.
Ryan Embree:
Yeah, I feel like the hotel industry has gone through this love-hate relationship with any type of guest feedback, whether it be reviews that are posted publicly that influence traveler's booking decisions or surveys, which are just one-to-one internal conversations, but both are giving hoteliers kind of a blueprint on how to improve your business and what things are working, what things people like and what keeps guests coming back. It's interesting to note what you said about surveys being more of a one-to-one and offline conversation. When you're writing a review online and publicly, you might say things that you wouldn't say directly to someone because you know that other travelers are listening. Versus a survey, they know that they might be only directly speaking to the property. Think of it as a conversation that you have at the front desk, when you're talking to someone, they're not talking to you as if the entire lobby's listening to you, they're talking to you trying to give you genuine feedback on how they felt about their stay and really not trying to influence anyone else's booking decision publicly, but really just trying to give you some tips and pointers on what they really loved about their stay and what they didn't like so much. So why are surveys an important part of a hotel's reputation strategy?
Patrick O'Brien:
You know, again, as I mentioned, you know, it certainly doesn't really negate a guest's ability to leave a public review, but, you know, as you were saying, it's that one-to-one conversation. There is this sense that I'm speaking directly to someone and that person's going to speak directly back to me. Whereas, you know, an online review, you're just, you're out there, you're letting people know sometimes there is this feeling of anonymity to that review, so you're not going to provide the same level of insight as you would with a survey. So, with an internal survey, depending on how you follow up with that guest one-to-one feedback, could drastically alter the tone of any potential public feedback that they leave. If you don't respond or you don't resolve their concerns, it could make them more passionate about letting other people know about their experience. However, if you use a survey as a tool to work with that guest and really kind of start a conversation, they may turn around and say, "You know what? I had this type of experience at the property, but this is what they did to help resolve that." And this little interaction here can drastically alter the tone and actually be a positive for the hotel. People leave negative reviews because their expectations weren't met. However, if someone is hesitant to book at your hotel, and you know, they've got some reasons behind that, they're thinking, "Oh, you know, this may be a problem at this hotel." They've got an objection, they can see reading that review where the person indicated this is what happened, and this is how they resolved it. They can now see a path to resolution, should that concern arise during their stay. And this ultimately allows them and this review to minimize the impact of that objection. And now you're one step closer to booking. In addition, you know, surveys are really important because you don't know what you don't know, and surveys can bring to light any issues that make it easy for your business to address those issues. It can also allow you to put analytics and insight behind that feedback to see if this issue is more of an outlier, if it's a growing concern that needs to be dealt with quickly, and in this conversation, we're kind of thinking of surveys as, you know, all this negative feedback, but it can also really point out all the things that are working for your property. And by doing that, you start to understand what areas people are really drawn to with your property. So you can start using that in your marketing efforts, your social media efforts, and again, just make it easier for someone who is a prospective guest to cross that threshold and make that booking.
Ryan Embree:
Yeah, we're always looking for trends and patterns out there when it comes to our guest's feedback. And honestly, 2020 has taught us a lot about our guests, and travelers, and their sentiment. Before 2020, we had a record number of reviews online, and then all of a sudden our review flow really started to slow and that's concerning to a hotelier that used that data and sentiment from guests to say, how do I improve? How do I make changes? Are the changes that I'm making in accordance to COVID-19, are they working? I really feel like 2020 was a big year of appreciation for getting this feedback. And whether you're getting it from a survey, in a review, this is where you're getting those data points, this is where you're getting that information. And secondly, I love to look at the relationship between a survey and a review. And I'm so glad you mentioned it on this episode because you know, there are those times where having a survey given to a traveler before they're going to a review, they could have a very polarizing experience if they explain themselves and I'll give an example, you know, one of the things we always see is the famous, they took an additional, a hundred dollars from me, or they overcharged me and we all know that that's that incidental deposit at the front desk. If we were to send a survey out to that guest right after they checked out, they could have a very negative experience, again, saying, "You overcharged me." That could be one star just with some really negative feedback, but if then if you proactively reach out to them and resolve that issue, like you were saying, Patrick and explained to them, you know, "No, you should be receiving this back within the next couple of days." Then all of a sudden they could go out to a public forum and that rating completely changes. So it's so interesting to see the relationship there, because the way that post-surveys can work is almost getting a feel for a guest of how they would be prone to write a review if given the opportunity. So what we're going to do today, I thought this would be a good exercise having you on Patrick, is we're going to talk through some of the post-stay survey questions that we include in our post-stay surveys and insights that hoteliers can learn from those survey responses. So I want to start with one of the survey questions that we provide to guests for our hotel partners is please rate the location of the property. So what insights can a hotel you're learned from this survey question and why was it important for your team to include this question about location?
Patrick O'Brien:
So this is ultimately a really tricky question and one that people are like, "I don't get it. Like, what am I understanding from this?" Because at the end of the day, if people are rating your location as negative, or they don't like it, there's not a lot you can do about that. You can't just pick up your hotel and say, "Okay, we're going to move it down the block a little bit to a better location." But it can lead to some very interesting insights, really, I think, into your marketing efforts. As I mentioned before, the reason that people leave bad reviews is because their expectations weren't met and so sometimes things about – when you're talking about the location of your property in proximity to things that people may want to do in the area, there may be some miscommunication or misperception as to really what that looks like. We worked with a hotel, here locally, that identified itself as an airport property. They felt that this designation would really kind of ingrain them to the business traveler, and to family-leisure travelers, who were coming to go to Disney, and Universal, and the theme parks. The rationale for calling themselves an airport hotel was that they were right off the interstate, so it made it very easy to get to the airport. However, you know, they were technically about 30 minutes away from the airport and even longer during rush hour as there's construction going on. So most guests typically see an airport hotel and they think that it's within a mile or two from the hotel, not 25 miles. And this hotel was even further away from the parks. So they didn't really understand why they were getting so heavily impacted in negative reviews and this question helped to bring to light that they could still really go after the business and family-leisure segment, but they needed to address that marketing language in order to set correct expectations for potential guests. So what they needed to do was start talking about other things that they were close by, but saying, you know, their location makes it very convenient to get to the airport and to the theme parks, because they're located right off the interstate. That really is one of the good insights that you can gain from that. There may also be things within the location just as how the property looks like right outside, so there may be some things that you can do in regards to that as well. But really, I think one of the big things is just to make sure that your marketing language directly correlates to how guests are perceiving you specifically around your location.
Ryan Embree:
Yeah, what a great story. I'm sure that team got together at that hotel and was like, "This is perfect." They thought that they were close to the airport or they would attract new travelers if they say they were close to the airport, but it ends up being a negative. So it's about knowing your property, setting those expectations, like you said. One of the things that I learned in 2020 when we talked to hotels is what guests were looking for was completely different from the past, right? When a traveler would come into town, one of the first questions they might come to pre COVID would say, "All right, where's the best place to eat around here. What's the best restaurants, where are the best nightlife around here," and your front desk would give some recommendations there. And that might be a positive way to really promote your location. In 2020 with a lot of the restrictions and those places closed, you know, maybe something like where's the nearest grocery store. I never thought that that would be a big selling point for a hotel, but in 2020, it absolutely was. So keeping in mind, those things, keeping in mind the expectation of the guest and really what's surrounding you. You might have a great idea of how to get places and what's around you, but your guests coming from out of town, they're not going to know your location. So teaching them and setting the proper expectations, extremely important when it comes to guest experience there. So let's move on to the next survey question, which is please rate the friendliness and courtesy of the staff.
Patrick O'Brien:
This is ultimately – this question really kind of gets to and addresses, ultimately what hospitality is about. For your guests are checking into a room, but they want to have a sense that they belong and are appreciated, and your employees are the first line of defense in this department. I think now more than ever, where people have not been traveling or hesitant or nervous, your team members and employees are truly the ones who can let them know that they are safe and make sure that they feel comfortable at all times. And this really can be what sets your hotel apart, are your people. Every hotel is going to have a room, a bed, and a bathroom, a shower – and now granted some are nicer than others, some have some different amenities and features – but the people that create guest experiences and interactions, that is really hard to replicate and match. So this really kind of dials into ultimately what the guest experience should be about and understanding if your team members really are providing that insight and that view of what you want your hotel to be about, your brand to be about.
Ryan Embree:
Yeah absolutely, you were on this podcast, you know, at the end of 2020, and we talked about the number one sentiment tag, that was tagged by your respond and resolve team, and I believe it was the front desk, correct? So this is a huge part of the hotel experience and obviously if a guest doesn't feel like your staff is being courteous – you're right, it takes the hospitality out of the whole experience, and it's a huge issue, because this is one of those things, that we talked about location is the first place, you can't really change where you're located, pick up your hotel and go, but you can change the attitude of your front desk staff and the way they are treating your guests. So, let's talk about the next survey question, which is please rate the cleanliness of your room upon check-in.
Patrick O'Brien:
Yeah, so I think this one, you know, again, that's where the guest is going to be staying, that's where they're going to be checking in, and typically what they're purchasing when they get the hotel room. So this really is a great temperature check to determine whether or not your housekeeping team is performing up to your hotel standards. While it would be great to, you know, have the resources and ability to have a group come in and inspect every room after cleaning and before it is turned over, that's simply not possible. So this insight lets you know, where there are problems and again, with surveys, one of the nice things about it is, you know who that guest is, you can go back and trace what room they stayed in, and then therefore you can trace who turned that room over before they checked in. So you can really dial in real quickly to where there may be some opportunities for training. You can use this to kind of rate your employees and your staff, and this piece of insight will help you also identify any times that there may be gaps between maybe what your property's expectation of cleanliness is and your guest's expectation. And this goes back to the age old adage, that the customer's always right. So you think that the hotel should be this standard of cleanliness and expectation, and the guest is somewhere over here, you can use this insight so that you kind of close that gap and fix that expectation. We had a client that we worked with and they were a cruise port hotel. So, you know, people were coming to stay there because the rates were really good and you know, it allowed them, as either they were going off on the cruise or they were coming back on the cruise, or it was also close to the airport, so as they were coming into town or leaving, it was a great place to stay overnight. However, they were getting killed in online reviews and on surveys with the cleanliness of the room. And a lot of that went down to just how quickly they had to turn rooms over because of everybody coming in at the same time and you know, the level of occupancy there. They used the surveys to really identify the team members who weren't meeting the expectation and probably really just couldn't meet the expectation and also to justify that they needed to hire more people. At the end of the day, what happened is they got rid of some employees, turned over a large portion of their housekeeping team. They hired new people that came in with a different expectation level. All of that went up the negative ratings almost overnight started disappearing and people talking positively about the hotel and where that led to was that hotel being able to charge more now, because the reviews were increasing and they got rid of that thing that was making people question whether or not they should stay at that hotel and ultimately making the hotel more desirable. They already had a great location, they already had really good rates, you know, they had good staff, they just had a cleanliness issue. And when they were able to identify that and fix that, not only were they getting more bookings, but they were able to start charging more as well. So this really can become a way to identify specific issues at your property.
Ryan Embree:
Yeah, what an amazing use case for surveys. I mean, you just walked through a complete, from start to finish, process of the hotel, identifying a problem, finding a solution, fixing the problem, and in the end generating more occupancy and more revenue just by looking, and utilizing, and leveraging these surveys. So it's so critical and you make such a great point when it comes to being able to really – being able to leverage these guest surveys to identify specific guests. On a review, for example, you might have a TripAdvisor review that's left by hotelguest28112, right? You're never going to be able to identify who that was, where they stayed. On a survey, you have a little bit more data, a little bit more information, so you can pinpoint these things, and if you take the time to actually do some work and try to identify these patterns and trends, it's going to pay off dividends and you just gave a great example of how that is so. This next question I love, because I'm sure it sounds very familiar to some of our hoteliers out there that have a specific brand, based on your experience, would you recommend us to your family and friends?
Patrick O'Brien:
Yeah so, you know, beyond an online review or beyond an internal survey, ultimately guests who stay with you are going to talk to other people about their experiences at your property and 99% of the time, you'll never have access to, or really be able to get any actionable insight from these personal conversations. So this question really kind of lets you know, what the tone of those conversations may be and the likelihood that this guest can generate future business through referrals. Hotels spend a lot of money to acquire guests, but they have got a really great tool to reduce those costs in acquiring guests, that is their current guests. So if can create the experience and the stay that is going to get people talking about you and talking positively about you, you're going to create these referrals that will bring in additional business. I think that you can use this insight to really remind you that it is important for you and your team members constantly ask for feedback during a guest's stay, this way you can quickly remedy any concerns and will ultimately lead to a better overall experience, and thus a higher score in the area. Hopefully when you're getting internal surveys, you are following up with those guests. So this type of question too, can kind of give you a little bit of an insight into what the tone of that conversation may be because they could have really hated one aspect of their experience, but they liked everything else and they would recommend you to somebody else, it was just this one part of the experience was bad. So that conversation is not going to be quite as combative as somebody that just really hated their overall experience. So it gives you a little bit of insight into what you may be walking into when you are moving that conversation offline and back direct to that guest.
Ryan Embree:
Ultimately, this is a very important question for hoteliers because it actually can tell you whether someone is going to recommend this property and potentially further your business with revenue. A guest could tell a friend or family member, you know, "Their location, wasn't the greatest, maybe they didn't have the cleanest rooms, but yeah, I would stay there again, or yeah, you should stay there." I mean, those are the types of conversations that we're having every single day with each other and especially now, where you also throw in health and safety into this experience a little bit, it becomes even more critical for you to have that recommendation and for you to have that favor of approval. So ultimately you decide whether this guest is a promoter of your hotel and is going to hopefully continue to grow your revenue for you and be that talking word of mouth. Well, that kind of goes hand in hand with the next and last survey question that we're going to go over today, Patrick : Please rate your experience at the (hotel name)
Patrick O'Brien:
Yeah, and so, like you said, this kind of goes hand in hand in with, would you recommend this to your friends and family. In surveys, you're kind of going for some subjective feedback as well as you want to get analytical insights, and so by providing an actual rating, this really lets you get into analytically, understanding the guest experience. And similar to an online review, you can numerically identify the guest's overall experience, and this can allow you to uncover trends, such as improving overall experience and also help you to stop potential issues before they become too large. As I can see numbers going up and down, I can really start to pinpoint what is my trend. When I'm just looking at overall feedback, yes, I've got a lot of feedback in this area, but if I don't have any quantifiable numbers to it, it becomes a little bit more challenging to understand how much of a potential issue is this really? When, again, I think as I mentioned earlier, is this like an outlier issue or is this a trend that I need to be concerned with or taking advantage of? I also really like to use this score specifically against your online review scores. This way you can really see a full picture of what guests feel about your property. So you can say my online reviews score is here and my internal survey score is here, so like in conjunction, this is really where I'm sitting. And potentially you can start to see if maybe some of these surveys that weren't positive had gone online, what would my outlook publicly look like to potential guests? And so again, it really just goes into the entire guest experience and not one single thing, but you can place that numerical or statistical value to this piece of insight and identify those trends and make those operational improvements for negative trends and make adjustments for positive trends. So this is the core of what you're getting into, is being able to identify what's working and what's not working at your property.
Ryan Embree:
Yeah, I love that exercise of comparing your survey scores to your online public reviews, because essentially this question is what they're getting in an online review, their rating their overall experience on an online review. So it's interesting to have some of these other survey questions kind of in there, maybe you can uncover, "Okay, they clearly didn't like their location – that's why they gave us a one star – but their experience was a four star, and they gave us five stars in everything else." So we've identified that that location was the issue there and that's what prevented it from being a five star experience. And I'm sure you've seen Patrick – I know I have seen my fair share of – you'll be surprised when you get to this question too, because someone will give you maybe some negative marks on some of these other survey questions, but overall they say the experience was maybe a four or five star or vice versa where you're seeing positive answers to some of the other survey questions and then it ends up being a little bit more of a negative. So those kind of create a little bit more question marks and cause for you, the hotelier, to do a little bit more digging and figuring out what are they truly trying to tell me here on this survey? So Patrick, you know, our surveys at Travel Media Group, we kind of went over some of the questions, but overall they're super customizable. What are some other valuable question that you've seen some of our hotel partners include in their guest surveys?
Patrick O'Brien:
So the way that our system is designed you can ask any type of question that you're interested in, and you could remove some of these questions, if they did not suit you, but while some people are really excited by, you know, the data that you can collect via surveys, it is important to know that your guests are busy and really, unless there's something in it for them to complete the survey, then you won't get as much feedback, if you're asking a bunch of questions and you won't be able to really maximize the diversity in your insights. So, I think unless you are planning to take immediate action on each minor detail, I would stay away from asking too many questions, we've been doing this for a long time, we've sort of found that the secret sauce into the number of questions is really about 5 questions. I would definitely say, in sort of an initial post-stay feedback, you probably really don't want to go over 10 questions. Just the conversion rates drop significantly when you're kind of going over those levels. And it is really, really important to get as much feedback as possible because you don't want to be trying to make decisions or understanding what's going on at your property in a vacuum. You want as much insight and feedback as you can get. So again, unless you're going to really focus in on correcting each of these parts of the guest experience, I would really use the survey, the post-stay survey, as kind of a jumping point to start a post-stay conversation with the guest, and then you can get into those more granular and detailed areas. Because in your survey, you may start getting down to, you know, in your bathroom, how's the pressure from the shower head? How was the pressure from the faucet? Was there enough soap? Did you like the soap, that you had shampoo that you had, etc. That may not have been important to their experience at all, but in a conversation, if they start talking about that, you can naturally go down that road and get that information. But there are sometimes specific areas at a hotel, maybe around certain amenities like pool or conference space, etc. that you could certainly ask questions about those areas if you wanted to get feedback on it. Another one that I think is really important and could, and probably should, really be looked at as travel begins to pick up would be whether or not your guests felt safe during their visit, specifically in relation to their health. You know, I think previously pre-COVID, some hotels could kind of slide on cleanliness issues and, you know, kind of justify that maybe with a lower rate. And so there was a trade off, yes, this isn't, you know, the cleanest of properties, but it served its needs, and I got a good rate with it. At this point, especially as people are getting back into travel, they're going to have a different level of expectation, and they're going to be willing to pay a couple more dollars so that they feel safe and comfortable. So this really could be an area within surveys to start exploring with your guests. And ultimately, you know, this is a very sensitive subject, I think, both for the hotel and for the traveler, so it would be better suited in an offline internal survey than trying to work through those issues online in a public forum. So that would be, you know, maybe another area that I would suggest exploring in your surveys. But again, ultimately for me, I think if you're going into too granular of levels, you're not going to get the conversion rate and the feedback that's going to really move the needle for your property. So I really kind of see surveys as the opportunity to really just sort of create the starting point for that conversation.
Ryan Embree:
Yeah, we've seen what happens in the industry when we include too many questions or that attention span of the traveler is just not there. So we want to make sure that we get all that great information that they're willing and able to give us because they're the ones at the end that are staying at our property. They're the ones that are putting their hard earned dollar towards our business. Great point about the safety question, not a survey question that I anticipated us writing, but with COVID-19, that is a great point and I think that just speaks to the truth of just asking yourself what's important to your property, what do you want to find out from your guests, and how can I use this information to better my business? And that's what this all comes down to today. So excellent, we've done a lot today: we've compared reviews to guest surveys, we went through some of the Travel Media Group's post-stay survey questions, and even gave some tips for you, if you want to include some customizable survey questions. As we wrap up today, any final thoughts, Patrick?
Patrick O'Brien:
You know, I think ultimately there are people who have an amazing natural intuition and are great business people, and they make good gut reactions, but it is very difficult to run a business as complex as a hotel on a singular viewpoint and understanding. So there is power and opportunity in mass feedback and insight, and it is more important now than ever before to capture that information and react on that information. But you have to be willing and ready to accept criticism and make change because that's ultimately how we're all going to get better. So with surveys, they really are a vital tool to running your business effectively.
Ryan Embree:
You're right. Can't afford to turn our eyes away from this feedback anymore. The stakes are too high, especially now. And travelers just have way too many decisions and the research that they're doing is more in-depth than ever. So use this data as your leverage. Again, these are the people that are filling our hotel rooms. They're experiencing what the product that you're putting out there. So learn as much as you can about them and it's going to help you in the long run. So Patrick, thank you so much for joining the Suite Spot. A great episode today. If you are a hotelier out there and are interested in partnering with Travel Media Group, learning more about our reputation management solution, and integrating guest surveys into your reputation strategy at your property, please feel free to reach out to us, we work with independent, branded, small hotels, B&Bs, and big resorts. So do not hesitate to reach out to us, we are a resource here for you. You can find us at travelmediagroup.com, we've got plenty of information there about surveys, questions, and reputation management, or reach out to us (407) 984-7455. I'm sure Patrick and his team would love to hear from you and have you a part of the Travel Media Group family. So thank you all for listening and we will talk to you next time on the Suite Spot. To join our loyalty program, be sure to subscribe and give us a five-star rating on iTunes. Suite Spot is produced by Travel Media Group, our editor is Anne Sandoval with cover art by Bary Gordon. I'm your host, Ryan Embree, and we hope you enjoyed your stay.