72 – Positive Signs of Hotel Industry Recovery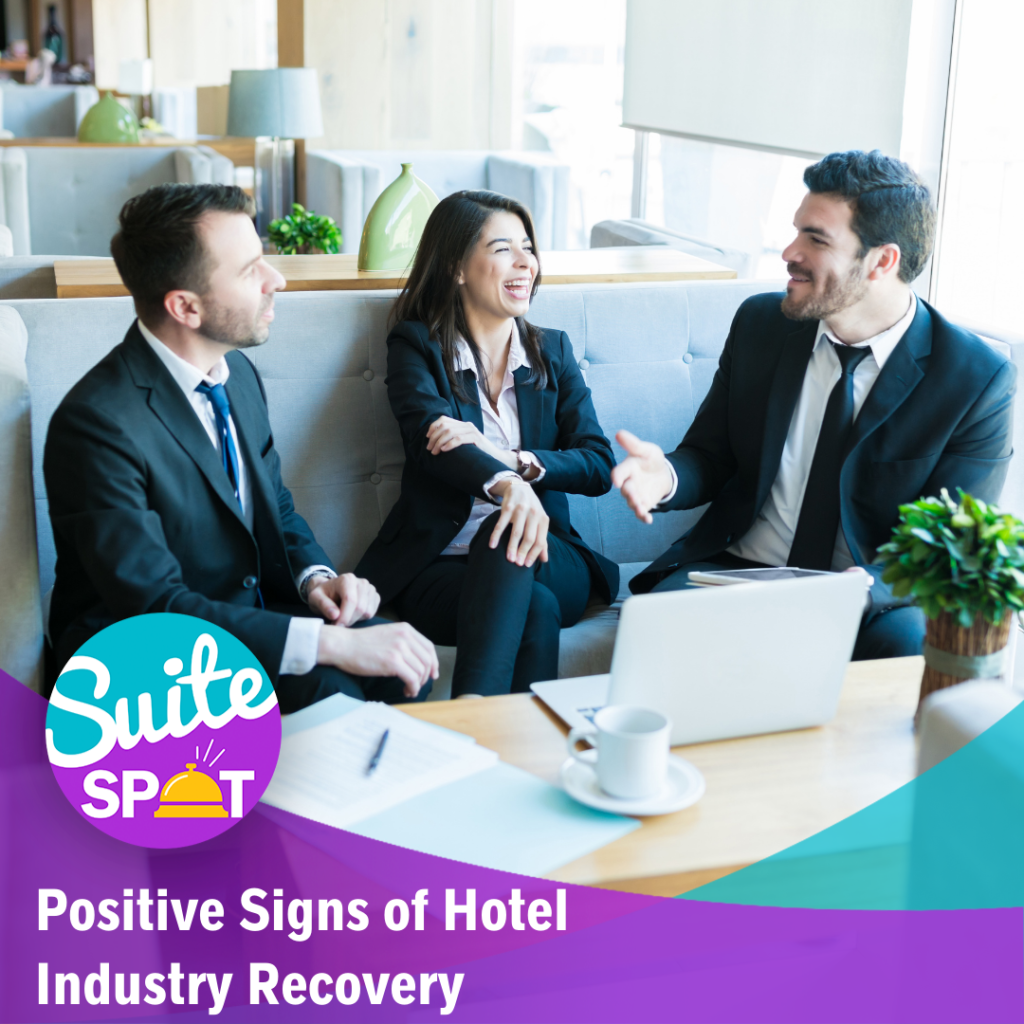 In this episode of the Suite Spot, we share all the exciting, positive signs of recovery in the hotel industry. Brand Ambassador and Host of the Suite Spot Ryan Embree shares factors inside and outside of the hotel industry that all point towards positive signs for travel moving forward.
Ryan examines some travel industry data including occupancy levels, hotel rooms sold, and TSA numbers: all of which have been trending positively for hoteliers. He looks at outside factors that bode well for the hotel industry like vaccine distribution, slowly-lifting COVID restrictions, and overall traveler sentiment. He also looks at some positive internal data collected by Travel Media Group, such as review response numbers and hotelier sentiment. This is a feel-good episode that should get hotels excited about the industry's future as we move into the busy spring and summer months.
If you are looking for digital marketing recommendations for your hotel this upcoming spring and summer season, call or text us at 407-984-7455.
Episode Transcript
Our podcast is produced as an audio resource. Transcripts are generated using speech recognition software and human editing and may contain errors. Before republishing quotes, we ask that you reference the audio.
Ryan Embree:
Welcome to Suite Spot where hoteliers check-in and we check out what's trending in hotel marketing. I'm your host, Ryan Embree. Hello everyone, welcome to another episode of the Suite Spot, this is Ryan Embree, Brand Ambassador at Travel Media Group and host of the Suite Spot. Got a very exciting episode for you today – been looking forward to this episode – what feels like for a very, very long time. As we've done episodes of the Suite Spot, we've always been trying to look for the positives during and following this COVID-19 pandemic, because it has had such an impact on the hospitality, and hotel industry specifically. So what I thought we do today is – we are starting to see now more than just a glimmer of hope – we're starting to see multiple positive signs of recovery within the hotel industry, which I'm super excited about, I'm sure you, the hotel listener, is very excited about today. This episode is going to be circled all around, identifying those positive signs and potentially looking at some factors that might give us kind of a trail map or blueprint of where this recovery is headed and some ways to maybe gain some competitive advantages. But really at the heart of this episode, is just going to be talking about these signs of recovery and really should, hopefully, launch us into the spring and summer of really, really great numbers and just somewhat back to normal, you know, for some hotels, it's been a year since we've seen some of these.
Ryan Embree:
So we're going to start with some outside, industry factors. And the first thing that we look at, when we look at signs of hotel recovery, are the numbers. Now STR does an incredible job – if you haven't checked it out already, please do str.com – they provide some incredible analytics for the hotel and hospitality industry, and they're constantly putting out new information and data. So the most recent data that we saw, was more than 21 million rooms sold. I remember when we had an episode last April in 2020, that mark was only a million. To see that exceed 21 million rooms is a huge, huge indicator that we're gaining momentum, which is what we like to see, including some top 25 markets, including Tampa, which had an occupancy most recently at 81.8% and Phoenix at 77.1%. So those are top 25 markets all at 75% occupied or higher. Tampa obviously benefiting from spring break, but we expect those numbers, with the warmer temperatures, right around the corner to start to increase. Now, looking back at historical data, we are only 83% of occupancy regained from that 2019 benchmark. So although we'd have some great numbers to look at, some encouraging numbers, we're not really there yet as far as full recovery, but we're trending in the right direction. And seeing these numbers over time, almost tells the story that the worst is behind us, and we're going to talk about some of these outside factors. But we don't get to these numbers, you know, 21 million rooms sold, 75% plus occupied for some markets – we don't get to these numbers without consumers and travelers in the right mindset about traveling again.
Ryan Embree:
And that all comes in a matter of safety. That is one thing that I've preached on this podcast, is the difference between this COVID-19 pandemic and maybe other industry crisis, like the great recession of 2008 or even post-September 11th – is price is not the ultimate determining factor for these travelers. There is not a number for some travelers when it is willing to risk their safety and health. So it all comes to making the traveler feel safe. Now the occupancy spike that we're seeing, which is great, is based on that consumer sentiment of, it's safe to travel again. One of the things that we can do to make travelers feel more comfortable is by posting on social media. In fact, the average US adult spent 176 hours scrolling social media for travel inspiration throughout this past year. Now this is according to research commissioned by Motel 6 and conducted by SWNS Media Group online of about 2000 adults. 176 hours of scrolling through social media, so we knew that pent up demand was there, and that's what's driving this occupancy spike, but we know that there's still some travelers out there that might not feel comfortable. In fact, according to an Economy Lodging brand survey, they revealed three in five, so 60% of US adults experience a stronger desire to travel in the past 12 months than a normal year. So this is again, that pent up demand that's out there. Nearly one in four, so 24% of respondents have been scrolling for travel inspiration this past year as an outlet for pent up desire to travel and almost two thirds said it helped them remain happy over the course of the year, knowing that they were going to be traveling after this pandemic. So the pent up demand is there, consumers who might've been working from home, might have not taken that PTO, that paid time off.
Ryan Embree:
So we're seeing leisure travel, really leading the charge in this recovery. Hotel gift certificates, that was one thing that brands were pushing initially during the beginning of the pandemic. Travelers might have this extra PTO, maybe these gift certificates or credits, maybe points that they've accumulated in 2019 and prior, and they're looking for an opportunity to spend that. An interesting fact that I found and theory is MMG Global believes the next six months will see a unique environment where weekend leisure traveler demand is so significant that it pushes leisure demand to weekdays displacing traditional corporate travel. So I think this is so fascinating, because essentially what they're saying is that pent up demand is so great, it's going to start overflowing from your weekends into your weekdays and start replacing that corporate and group travel that we've seen diminished. And it makes sense, because some travelers feel more comfortable in less crowded environments. So if they're looking for a time to maybe use some extra PTO, maybe a Friday or Saturday night at a beach resort during spring break, isn't the ideal vacation time for them. Maybe it's on a Tuesday, midweek where they don't have to fight the crowds and they feel more comfortable. And once they take that initial visit to the property, if you're doing the right things, to keep them safe and make them feel comfortable, they're much more likely to travel again. And that's how we create this kind of snowball effect. So it will be very, very interesting to see if that becomes the case and we see that leisure travelers spill into the weekdays, helping that weekday occupancy, which has been hurt so significantly during this pandemic.
Ryan Embree:
Now, another thing that has been pushing this occupancy spike that we've seen over the last couple months is really factors that are outside of the hotel's control. One of them being, the significant increase in vaccine distribution in the United States. This is something, that obviously, was a game changer for not only the hotel industry, but the world in general. As we continue to see that vaccine ramp up, more vaccines be administered and distributed, I think an interesting thing to watch here is this leisure traveler up to this point has really been fueled by younger travelers: Millennials, gen Z. But when is there a point where the scales start to tip a little bit and we start to see older travelers, tired of being cooped up, fully vaccinated. When do we start to see them come back out and feel comfortable traveling again? So keep this in mind, because I think this is going to be huge for the spring and summer, because you might see those older baby boomers that are fully vaccinated, come back out into the travel world, ready to spend. If you're a Director of Sales out there, GM that handles your marketing, make sure – I know right now we've been targeting a lot of the younger travelers, that Millennial and Gen Z – but make sure we're up with some strategies to target those fully vaccinated boomers that are ready to travel and ready to spend some money on their vacation.
Ryan Embree:
You know another thing that is outside of the hotel's control, is obviously, the amount of cases in your area. If we'd see all of a sudden, a spike in cases, we know that attributes to cancellations, less occupancy, but we also see if there's a decrease in your area and all of a sudden more people are getting vaccinated, then all of a sudden we see a spike. So that is a factor that is going to have a great impact on your occupancy. And also local restrictions. We know different parts of the country are handling this pandemic in complete different ways and they have an impact on occupancy. So keep an eye on those local restrictions, make sure you're letting travelers know when they're updated, because that could be a huge buying sign for a traveler, looking to travel in your area, whether things are opening up and if things are staying relatively closed, we've shared some content, blogs, and things on travelmediagroup.com to really help you combat that as well, to see maybe if there's some other interesting ways to drive traffic to the property. One of the most interesting ideas that I heard was, actually the work from home, setting up a rate for a traveler to come to the property, to work from home, maybe a local traveler. What about schooling from a hotel? You know, I thought this was a really creative plan implemented by a hotel right now. We know there could be multiple parents working from home, as well as have a child or multiple children doing their schoolwork in the same area. So in order to make, maybe a change of scenery for that child, or just to give some space between the parents and the children, why not have them do some schooling from the hotel room and have a quiet space that they can work from.
Ryan Embree:
Now that we've kind of reviewed some factors outside of the hotel's control, let's look at some factors within the hotel's control. Now, we've done a couple Suite Spot episodes on this, but we know that making travelers feel comfortable, really stems from what other travelers are experiencing at your hotel today. So the reviews that you're getting from guests that are staying recently at the property, social media is a great place to create a space to make travelers feel comfortable. In fact, in a traveler survey, 45% of travelers said seeing requirements to wear a mask in public areas gave them encouragement about booking with the property. Knowing about the enhanced cleanliness service that was about 38% of travelers said that that would encourage and make them feel safer when staying at a hotel in 2021. And capacity limitations was 37%, so even though we're seeing local restrictions come down, I think it's very important that this pandemic in the traveler's eyes is not over and they want to see that expressed through the messaging that you're putting out there to travelers.
Ryan Embree:
You know, one thing that we also will look at is how are vacation home rentals sites like Airbnb and VRBO, which are both recording right now a record number of bookings since the beginning of the pandemic. So it will be interesting to see where travelers feel most comfortable, where they feel safe. Is it in an individual home like an Airbnb – where they're not sure when the last guest was, what sort of cleaning protocols have been put in place – or is it a branded hotel where there's strict protocols that have been publicly and widely known out there? So it will be very interesting, as travelers start to come back, can hotels do a good enough job to make the impression on travelers, that hotels right now are safer and do a better job of sanitizing and cleaning, then maybe home vacation rental sites, like Airbnb?
Ryan Embree:
You know, another factor that we look at to see comfort level, is also TSA numbers. According to the Associated Press, TSA has now screened more than 1 million people at airports across the United States marking, at the time of this episode, that's the 20th straight day that that's happened. What this tells me is that not only travelers are wanting and willing to travel, but now they're feeling more comfortable traveling by plane, which I think is a great positive sign for recovery. What have we seen up to this point really occupy our hotel rooms, road trips and local stationers. Travelers didn't feel comfortable getting on a plane and feared that they might get sick, or they might be stuck at a destination, outside within that maybe three to four hour car trip. These TSA numbers are really, really important to monitor if you're a hotel out there, because this is going to call for some adaptation of our marketing strategy, maybe we've been doing some ad spend or been doing some staycation packages, why not maybe look at historical data? Where have people been traveling domestically over the entire US and maybe start expanding that, see if we can get some traction there, because we know more and more people are starting to travel by plane now.
Ryan Embree:
Another thing within our industry, I think we should keep an eye on, and I think bodes well for industry recovery, is that flexibility is starting to trend towards normality. And what I mean by that is recently Delta airlines announcing the ending of blocking middle seats. I think we'll continue to see that as more and more people start to travel via plane. We see more vaccinations. I've heard rumblings that hotel brands are thinking about changing their policies surrounding cancellations. So a guest, for example, can't just on a whim, cancel a booking that might be tomorrow night or next week. They're going to start to implement some of those cancellation policies again. And I think they're doing this for a reason. I think they're seeing that travelers are starting to feel comfortable, and this is going to help hotels start being able to forecast more accurately and see less volatility in your occupancy. We talked about how one bad review can cause a slew of cancellations and right now the power is in the customer's hands, because they have the ability to cancel with no penalty. So it will be interesting to see if brands start moving back towards that and offering incentives for travelers to book with a non-refundable booking.
Ryan Embree:
So we've kind of looked at some outside factors, some industry numbers, but I thought it also be important – you know, we work with so many hotels, that we can actually provide some insight into what we're seeing internally at Travel Media Group. And all of these signs, again, are positive pointing towards hotel recovery. One of our most popular solutions, as you've heard me talk about on the Suite Spot is Respond and Resolve™, responding to hotel's reviews. We respond, over the course of a year, to hundreds of thousands of reviews. We've seen review flow just over the last three months, really pick up. In January, our Respond and Resolve™ team responded to 6,600 reviews that increased in February 2021 to 7,000, and now in March, we've responded to over 11,000 reviews. So we're seeing that increase in review flow, which obviously translates to more and more travelers coming to the properties and leaving feedback on online sites. So keep that in mind, because you're going to start to see an increase in review flow. So make sure you have a plan to be responding to that review flow as well, keeping an eye on it. You know, we've talked about comfort level. That's going to be one of the main places where travelers are looking, when it comes to deciding whether to book or not are those reviews, so with more of them coming in, that's going to put more opinions out there and could either work in your favor or work against you when it comes to bookings. Now that 11,000 mark in March 2021 is a far cry from what we were seeing in February 2019, prior to the pandemic, which was 13,000, almost 14,000 reviews. So just like the occupancy numbers that we saw, it's a good sign, but we still have a ways away until we're back to pre pandemic levels.
Ryan Embree:
You know, another thing that I wanted to mention, we talked a lot about traveler sentiment and consumer sentiment, but also hotelier sentiment. Recently in March, we conducted a one-on-one workshop called Spring Forward Occupancy, where I met with hoteliers across the United States and went one-on-one with them, to show them how they could increase their occupancy during this time moving into the spring and summer period. Now these conversations were completely different sentiment than what I was talking about last year in 2020, when we were conducting a Virtual Trade Show. Hoteliers, I'm hearing, they're hungry for market share, one of the biggest gaps that I was seeing when I was having these consultations with these hoteliers was their ability to get recent reviews. So although we've noticed on the TMG side, we've been responding to more reviews, the time gap between their reviews was substantial, and we know how quickly information online can become outdated. So making sure you're getting recent reviews right now is incredibly important and critical to a hotelier's success and gaining occupancy. You know, I talked about hoteliers at this workshop, about marketing campaigns on social media platforms like LinkedIn, you see right now hotels should be setting the foundation for the return of groups and corporate travel, just like this time last year, in April 2020 hoteliers were setting the foundation for the return of leisure travel. And we saw that, through the pent up demand and those statistics that I shared earlier, the amount of scrolling that travelers were doing planning, researching, hoping, and dreaming of travel. The same is going to be true here with that corporate and group travel, it's going to return. So it's going to be the hotels that are doing the groundwork now for that group in corporate travel that are going to see the biggest returns and dividends as they start to reappear in the travel world. So although we're seeing a huge increase of leisure, we're always looking to be one step ahead of the game, and that next place that we're going to see the return of is groups and corporate travel.
Ryan Embree:
Lastly, on our side, at Travel Media Group is we have just seen such an uptick and enthusiasm for hoteliers reaching out to us for digital marketing recommendations. You know, one of the things that I find is as things start to ramp up, it's going to be interesting, because we're talking to hoteliers that have had to do some major changes in their staffing due to the pandemic, but as occupancy starts to get back to "normal levels", those delegating tasks as properties begin to fill, are going to be harder if you don't have the proper staff in place. And a lot of people are looking for areas and help with daily tasks that maybe were delegated to staff that isn't there anymore. They don't have the resources for that position anymore. So a lot of hoteliers are reaching out to us more than we've ever seen during the pandemic. So I'm so excited to see what this spring and summer will hold in store, these are all positive signs of hotel industry recovery. I hope to do another one of these episodes in the coming months with some even better numbers for you. But if you are seeing that increase in occupancy, or maybe you're not seeing as much growth as you'd like to see, please feel free to reach out to us. Like I said, hoteliers across the country are reaching out to us, looking for recommendations and strategies. That is what we are here for. That's what we've been here for, before the pandemic, during, and now after, as we move to post pandemic life, you can reach out to us at 407 984 7455 or find some great information on our website at travelmediagroup.com. What a great episode today, super excited to see what the spring and summer holds in store. Hopefully we can see some more positive signs of hotel recovery. Thank you for listening to the Suite Spot and we'll talk to you next time. To join our loyalty program, be sure to subscribe and give us a five-star rating on iTunes. Suite Spot is produced by Travel Media Group. Our editor is Anne Sandoval, with cover art by Bary Gordon. I'm your host, Ryan Embree, and we hope you enjoyed your stay.
Hotel Marketing Resources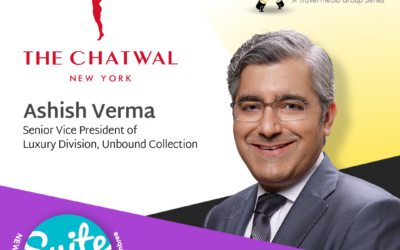 Join Suite Spot host and TMG Director of Marketing, Ryan Embree as he talks with the Senior Vice President, Luxury Division, The Unbound Collection by Hyatt, Ashish Verma in our new TMG Spotlight series to give listeners a lavish perspective on hospitality and how the...