79 – Top 5 Summer Social Media Ideas For Hotels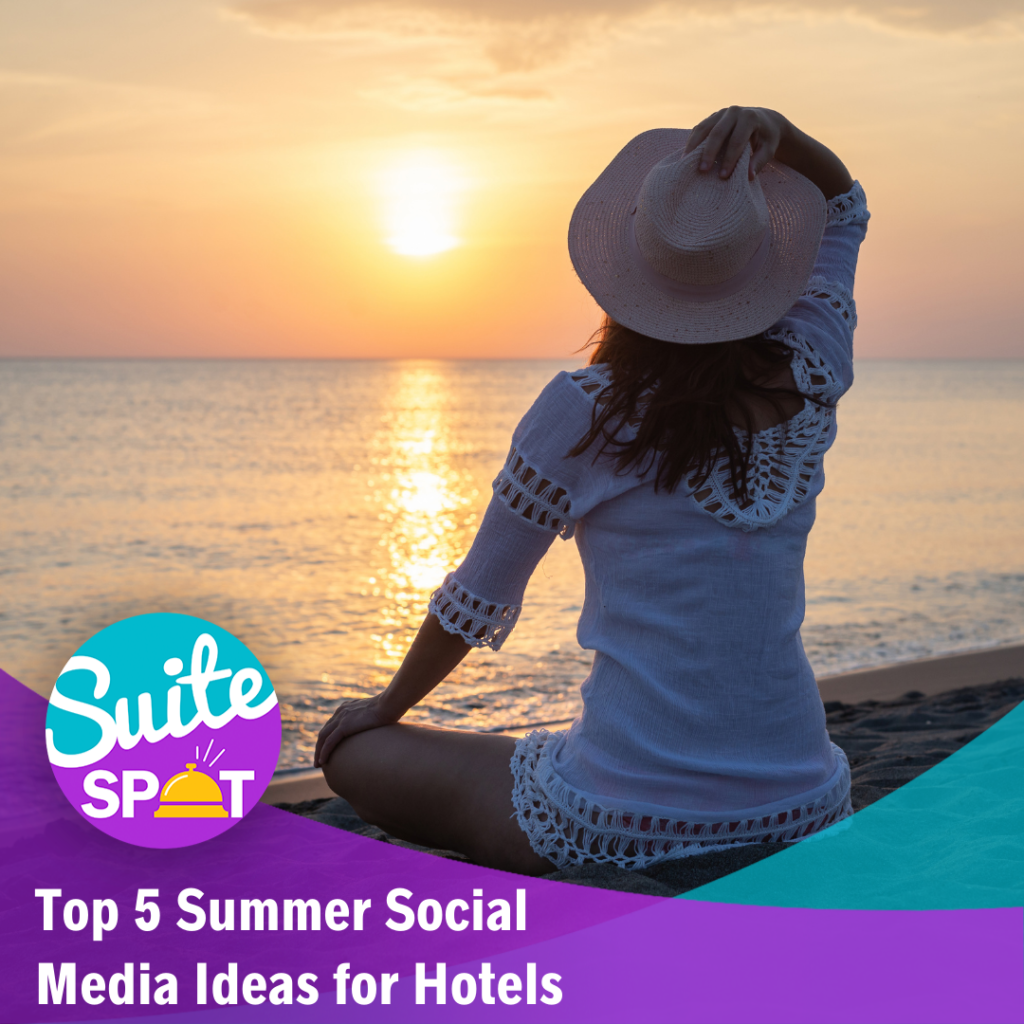 In this episode of the Suite Spot, host Ryan Embree partners up with Content Manager Marissa Kinzel to count down their Top 5 summer social media ideas for hotels.
Ryan and Marissa discuss the type of social content that travelers are looking for – especially during the summer – and what impact these posts can have on guest conversion. They talk about how this summer is different from years' past and how highlighting these differences using social media can instill confidence in travelers searching for a place to stay. This episode is a great blueprint on how to heat up your hotel's social profiles this summer.
If you're looking to learn more information about how to get the most out of your hotel's social strategy all year round or want to submit a question for future episodes, call or text 407-984-7455.
Episode Transcript
Our podcast is produced as an audio resource. Transcripts are generated using speech recognition software and human editing and may contain errors. Before republishing quotes, we ask that you reference the audio.
Ryan Embree:
Welcome to Suite Spot where hoteliers check in and we check out what's trending in hotel marketing, I'm your host, Ryan Embree. Hello and welcome everyone, this is your host, Ryan Embree, welcoming you to the Suite Spot for another episode today, episode number 79. I can't believe it, we have done 79 of these podcast episodes. Thank you, first off, to everyone, all the hoteliers that are listening out there for all the support, we absolutely love doing this and sharing ideas, and we've got a great episode for you today. We are right in the thick of summer, one of the hottest times, no pun intended, for hotels when it comes to occupancy, we are in recovery mode from the COVID-19 pandemic. So today we are going to be talking about the top five summer social media ideas for hotels. And with me today, I brought in some backup who is becoming a very familiar voice here on the Suite Spot, that is the Content Manager at Travel Media Group, Marissa Kinzel. Marissa, welcome back to the Suite Spot.
Marissa Kinzel:
Thank you again for having me Ryan, happy to be back.
Ryan Embree:
Yes, and today we are going to talk about how to make the most of social media during this busy summer season. We're going to make it easier for you, the listener to follow along, we're going to go through the top five. Now, these aren't necessarily in order, but they are some of the best tips and best practices that we have at Travel Media Group that we tell our hotel partners and implement in our social media strategies and solutions for our hotel partners. So Marissa let's get started with number one. The number one summer social media idea we have for hotels is to be posting about your room and room types. Now, I know this doesn't sound like a groundbreaking idea, but you'd be surprised on how many social profiles that we come across for hotels, where we have to scroll almost an entire month before we actually even see what a room looks like at the property. We know from having our website solutions and providing vanity websites for hotels, rooms is one of the most visited page on a property's website. They want to know where they're staying. We want to provide them with a lot of information on rooms. So Marissa, how can we take advantage of posting about our rooms on social media in the summer?
Marissa Kinzel:
So the best way to start when it comes to highlighting your rooms and your room types, so you're going to want to highlight the versatility of your rooms and include features that are really good for summer travelers. So you want to talk about if you've got refrigerators available, whether to borrow or they're already isn the rooms, have you got awesome bathrooms that help you clean off after a long fun day at the beach, and even something as simple as talking about your amazing AC to help people beat the heat. That can be something that is informative and great for travelers to know. And it's also a good opportunity to share past guest reviews on social media, depending on your current review flow, you might have some really great recent ones to kind of make look really pretty and sneak in, that will be really irreplaceable testimonials for travelers who are browsing social media for a good place to stay.
Ryan Embree:
Yeah, I love the idea of promoting something as simple as your AC. I mean, we know how hot it gets in parts of the country, especially in the Northwest right now, that would be a huge opportunity for hoteliers to capitalize on. People are just looking for a cold place to cool down, rather. Summer, also typically means family vacations, so be mindful of the room types that you're sharing during the summer season. In the fall and winter time, where you might see more business travel, maybe you do share that king size room, but during the summer, if you know, families are going to be traveling, maybe share the double queen size rooms, so families can have a good idea of the type of room they will be staying in at the property. And again, at the end of the day, this is all about having the traveler starting to imagine themselves at the property. So the more information that you can give them about your room, the more likely they're going to feel comfortable in booking with you. So let's get going with our second social media idea for hotels in the summer property features and amenities. And of course, when we're talking about summer, it's all about pools, pools, pools.
Marissa Kinzel:
It sure is. I know that personally, no matter what age I was, whether I was a kid, even now, I just love kicking back at the pool. And I think that this is the kind of opportunity for hoteliers to really take advantage of experience marketing, to encourage guests to come to your property. So experience marketing is basically what it sounds like, it is making your whole marketing strategy into advertising a specific experience at your hotel. And so for your pool, you're going to want to ask yourself questions like, what makes your hotel's pool unique? Does it include an outdoor bar, like an outdoor Tiki bar or something? Does it have a hot tub? Does it have a really cool waterfall? Is there a projector out by your pool that helps you do movie nights? Just think of all these different ways to incorporate your property's amenities and your pool into your storytelling online. And then it'll be pretty much a gateway to draw people in.
Ryan Embree:
Yes, the pool is one of the most Instagrammable places on your property. If you go to your location on Instagram, more than likely, you're going to find a lot of pictures of your guests at the pool. So set up a spot near the pool and a summer hashtag that guests can use when they visit your property's pool, that'll help encourage, like you said, drawing people in and getting them excited about the amenities and features for your property. Another thing that you can do is think about adding to your food and beverage menu just for the season and sharing it on social media, maybe something to keep your guests cool during the summer, like an ice cream sundae or frozen beverage. We saw a lot of people during the pandemic posting videos about how to make specific beverages at the property. So potentially showing a video of how to make a mocktail or a cocktail out at your hotel's pool while answering questions to any potential guests. And then obviously using that Instagram Live and Facebook Live feature to highlight all of the properties and amenities. You can answer those questions and start to get travelers familiar with the property when they potentially come to visit. Okay, so let's get rolling with our third summer social media idea for hotels and that's really talking about your local stories and area. This is going to be a huge opportunity as we see more and more people approach the front desk, feel more comfortable coming to the front desk and asking our team members about what there is to do in the area, having a summer list of things to do: parks, water parks, hiking trails, local outdoor restaurants and bars. These can all be included in this kind of summer area sheet that you can either print out and give to your guests or front desk could just use it as a reference to share with your travelers. Now, I do caution you be sure to cater to both the cautious traveler that might still be wary of COVID-19 and might not feel comfortable doing things like dining indoors or going to crowded local spots. So maybe have some outdoor areas where they can socially distance and they might feel a little bit more comfortable, but you also want some options for the more adventurous traveler looking to take advantage of everything that your area has to offer.
Marissa Kinzel:
Yeah, other posts that work really well for both the cautious traveler and the adventurous traveler is just something simple, like sharing fun facts or interesting stories about your location. These types of posts really help to boost engagement and they help break up the constant call to actions that you're sharing in between. Users online are exposed to tens of thousands of marketing advertisements and materials in one sitting of their time on social media. So users don't want to feel overwhelmed by a more pushy voice constantly telling them to: buy something, book a stay, stay with them, because we're exposed to so much of that already. So, you know, there is value in sharing the fun stuff once in a while too, because it helps travelers feel like they're getting to know you and your hotel.
Ryan Embree:
Absolutely and they're going to be more willing to share that to potentially onto their feed as well, so very smart advice there. Local stories are so important to include in your social media posts, especially during the summer. These leisure travelers are looking for things to do. They're traveling to your area for a reason, where a business traveler could just be coming to town for a conference and work, leisure travelers are looking for things to do so make sure you're giving them options using your Facebook, Twitter, Instagram, and LinkedIn feeds. Okay, let's take a look at the fourth summer social media idea for hotels and that is events. In 2021, events are coming back, keep a close eye on events in your area and market them using your hotel's social media channels. This was something that the hotel industry missed significantly in 2020. So we want to make sure that we're promoting any sort of events, both small and big when they are in our area.
Marissa Kinzel:
Yeah, and it's important to keep in mind that some smaller local events may be the ones that creep back first. So keeping connections within your community, help you keep up with everything that's going on. I think that that community aspect is going to be really, really critical for hotels that want to get ahead as we continue to move through recovery. Also for a lot of people, summer is about awesome food. So things like food truck events may be great to advertise your hotel such as saying like, "Sample all the great food at these trucks and then come spend the rest of your weekend with us." Just a great opportunity to plug yourself into being a part of this event. And if you have the space for it, you can even invite local food trucks to park and host kind of like a micro event of your own.
Ryan Embree:
Yes, I love that idea of hosting these kind of micro events that you're talking about, can pay significant dividends and almost give the business a personality, something more than just four walls and a bed, which is something we're trying to promote and market for each and every one of our hotels. One of the coolest micro events I see is when hotels use that poolside projector that you are talking about and just do a simple dive-in movie at the property for any of the children and guests that are saying at the property, it can be super memorable and they make for some really cool social media posts. Now events necessarily don't need to be off the property, as well, weddings were one of the biggest segments impacted by the pandemic in 2020. So with permission, obviously, share social media posts, congratulating the new bride andgroom of any weddings or wedding blocks that might be staying with you at the property. It's these types of posts that typically get a lot of engagement online. And I would also suggest to hoteliers out there that are listening to this and are very serious about implementing a social strategy is really take the time to go back and check your feed in summer 2019, it has been a very, very long time, and we could have forgotten some of the smaller local events that are put on and could identify some hidden occupancy drivers there. And then the summer also, we don't have too many, but Independence Day, a huge holiday post. We definitely want to put that on our social feeds, even, you know, events that might not necessarily be official events like: Paid Time Off Day, Ice Cream Sundae days, you know, always promoting those, those seem to get a lot of engagement from followers as well. So let's move on to our fifth and final summer social media idea for hotels, and that is sharing hotel policies, but also setting the right hotel experience expectations. So Marissa talk to us a little bit about this because this might not have been on our list maybe in 2019 or before.
Marissa Kinzel:
Yeah, I don't think it really would have been. I think that this sort of idea for a social media post was definitely brought into the spotlight by COVID-19 and dealing with the pandemic as a whole. But I think it has become increasingly more important and it will remain important. It's one of those things, no matter how many people we talk to here on the Suite Spot and how many industry leaders post their thoughts online, we see this constant thread that knowing everything about a hotel's policies and having the right expectations set from the get-go is something that travelers expect more than they ever have. And they will continue to expect it at that level for as long as they continue to travel. So a great way to incorporate this into your summer social media planning is by sharing behind the scenes photos of staff, if applicable, that demonstrate your cleaning procedures to help guests feel safe. We know people did this during the pandemic and I think it will continue to help after as well. If you did this during the height of lockdown, just do it again. There are hesitant travelers still that we discussed that may be a little more cautious when coming to any property and they will feel so much more confident booking with you. And besides who doesn't love seeing how clean your hotel is. So that's one idea, and if your area is also still one that has a few more COVID restrictions, you may be able to share travel tips with your followers and potential guests on social media, like what to bring to the property and what they can expect when they arrive to your local area.
Ryan Embree:
Yeah absolutely, we know those restrictions are constantly changing and they're different for in every region, city, and state. You could have travelers now that are getting more comfortable traveling across state lines and potentially hopefully down the line international travel, but travelers want to know what they're getting into. They want to know if they're traveling to their city and what's open and what they can expect. I think it's so interesting that you brought up just, you know, sharing a picture of the cleaning procedures done at the property. Back in 2019, if you posted something like that, it would be maybe appreciated by your guests, but it wouldn't make the impact that it does today. We have seen for the last year, just the importance of people cleaning, washing our hands on a daily basis, so subconsciously when we see a post like this, it gives us peace of mind, a sense of comfort and confidence when we book with the property. Although things have dramatically improved since last summer, the truth is, is this still might not be a "normal" summer vacation for travelers. And if that's the case, you need to share what aspects of your hotel experience have changed. Are there any sort of mask requirements in public areas? Are there restrictions on how many people use an amenity or even the elevator for the property? Have the capacity of your food and beverage outlets changed or can people now do takeout or delivery from your on site restaurant and not just on site dining? All of this might be a change from years past. So make sure your guest is aware, because unexpected surprises typically results in a negative guest experience. We've had multiple people on this podcast come on and tell you the number one reason that hotels are seeing negative reviews right now is because expectations were not met. So make sure that you do not fall victim to your traveler expectations not being met. Social media is an absolute great way to set those expectations up. And, you know, even though we've gone through the five today, I think there is an all of the above category where, you mentioned it before, implementing call to action. Now we don't necessarily want to be throwing deals and specials in our travelers and followers face like a used car salesman, but we do want to create channels and highways to direct booking sites where a traveler can book commission free with the property. So as we wrap up today's episode, I will go ahead and thank you, Marissa, but also get any sort of final thoughts you have on this summer and social media ideas.
Marissa Kinzel:
Of course, it's been a very interesting summer watching different areas of the United States, here where we are, open up to more local and domestic travel. And I think that we are going to continue to see this upward trend throughout this recovery period of the pandemic. Things are going to continue to get better, I feel. And I think that that is what makes things like a digital marketing plan and a digital marketing strategy so much more important for a hotel. As things continue to improve, you don't want to lag behind, especially not on social media, where it is really the early bird gets the worm. When travelers are looking those first posts, maybe some of the only posts that they see from different hotels, and you kind of want to do whatever you can to make sure that those posts are yours. So being really on top of what you want to do, what you plan to do, can really help you hit the ground running, as we continue to come out of the pandemic.
Ryan Embree:
Great point, and here at Travel Media Group, we facilitate and help hotels not only in your summer, but every season of the year, help make sure that your social media strategy stays polished, customized, and very strategic in targeting the guests and travelers that you want to see come through your lobby doors. So Marissa again, thank you, we will have you on very soon again on the Suite Spot. Thank you all for listening to today's episode. If you are interested in learning a little bit more about Travel Media Group's social media solutions, feel free to reach out to us. You can visit our website at travelmediagroup.com or reach out to us 407-984-7455. Thanks for stopping by and we will talk to you next time on the Suite Spot. To join our loyalty program, be sure to subscribe and give us a five-star rating on iTunes. Suite Spot is produced by Travel Media Group. Our editor is Marissa Kinzel, with cover art by Bary Gordon. I'm your host, Ryan Embree, and we hope you enjoyed your stay.
Hotel Marketing Resources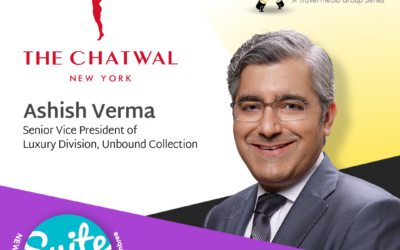 Join Suite Spot host and TMG Director of Marketing, Ryan Embree as he talks with the Senior Vice President, Luxury Division, The Unbound Collection by Hyatt, Ashish Verma in our new TMG Spotlight series to give listeners a lavish perspective on hospitality and how the...