80 – How To Market Your New Hotel Renovations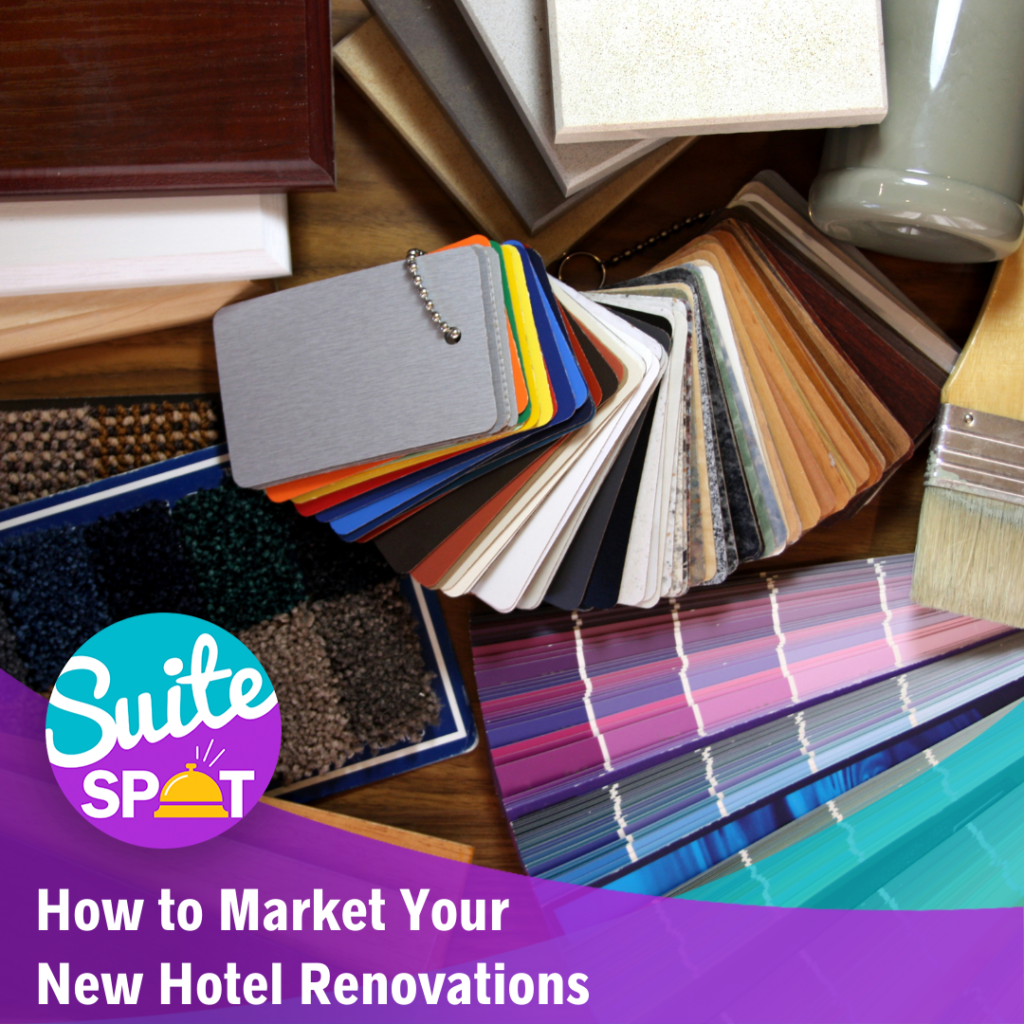 In this episode of the Suite Spot, host Ryan Embree is joined by Travel Media Group's Content Manager, Marissa Kinzel, to discuss how to market a hotel property's new renovations and updates.
With some hotels seeing 2020 as an opportunity to make updates and changes to their property, this episode is a great roadmap for how to advertise them to travelers online. Marissa and Ryan brainstorm ideas for how to communicate important messaging about your new renovations on channels like social media and online reputation sites. They demonstrate how you can use review response as a renovation marketing tool and how to leverage guest sentiment in your hotel's online reviews to make the most of your updates.
To learn more about how Travel Media Group's digital marketing solutions can help promote your hotel's renovations online or to submit a question or topic for future episodes, call or text 407-984-7455.
Episode Transcript
Our podcast is produced as an audio resource. Transcripts are generated using speech recognition software and human editing and may contain errors. Before republishing quotes, we ask that you reference the audio.
Ryan Embree:
Welcome to Suite Spot where hoteliers check in and we check out what's trending in hotel marketing. I'm your host, Ryan Embree. Hello everyone and welcome to another episode of the Suite Spot. This is your host, as always, Ryan Embree. And with me today, a very familiar voice, she has been on the Suite Spot so much we should almost call her a co-host at this point, but I will welcome in Marissa Kinzel, Content Manager at Travel Media Group. Marissa, welcome back to the Suite Spot, once again.
Marissa Kinzel:
Thank you so much again for having me.
Ryan Embree:
We got a very exciting episode and topic for you all. We're going to be talking about how to market your hotel's renovations. You know, as bad as last year was for the hotel industry as a whole, some properties took 2020 as an opportunity to do some much needed renovations and updates to the property. Less travelers, meant less disruption for guests onsite, and hopefully that means quicker date of completions, of these updates. But finishing those renovations is only half the battle and it's time to promote and market your new hotel updates and renovation to travelers. And that's where this episode comes in. So today we're going to walk through some different ways and channels that you can use to leverage your hotel's renovations online. Let's go ahead and get started Marissa with social media. One of the first things hotels need to do once renovations are complete is to update their online listings. Typically, hoteliers are quick to update places like their website and OTA booking sites because this is where travelers are making those booking and purchasing decisions, but they neglect to do so on social media: Facebook, Instagram. You know, I've done a handful of consultations when looking at a hote's Facebook photos and heard the common phrase of, "Wait a second, that's not what my room, what my lobby, what my pool looks like." You know, it reminds me of a story that a hotelier told me once, really a metaphor when it comes to renovations, and it really is like purchasing a brand new car, but keeping that car in the garage so that no one can see it. That's what doing renovations and not updating your sites like social media is doing. You've had this huge capital investment, all this time and money and effort spent, all this headaches into renovations. And yet you're not sharing it with travelers that are probably most excited to see what you've done with the property. And another great place on social media to consider updating is your profile picture. It doesn't have to be your permanent profile picture, but maybe a temporary one or the header where you can highlight and showcase these new renovations. You know, again, it's important that after such a big capital and time investment, this renovation really needs to be the center of traveler's attention for a period of time. But at the same time, don't leave it on for too long. It's not a new renovation when you redid your rooms, let's say back in 2017. So make sure that the renovations that you're highlighting and showcasing are very recent, brand new and your travelers will be excited about them.
Marissa Kinzel:
I agree. I think that taking the opportunity to share updates about your renovations, right as soon as they happen, really close to the beginning, right when they're finished is the best way to go, because that way you will get the most excitement, both from your staff and the energy in your posts. And it will just radiate into the guest's minds. And I think another great idea to help with this is sharing before and after photos, travelers will love to see how far you've come. So if you share a unique story too, that happened during the renovation, you can do that as well. But the before and after picture, I think would be a really great thing so that travelers can see exactly where you've come from and where you're at, and that can get them even more excited for where you're going or other possibilities around the hotel. And to continue thinking about unique stories, maybe you were expanding part of your outdoor seating and you had to carefully relocate some wild animals like turtles. This happens in Florida sometimes, so it can be a sort of like cute heartwarming story that is above all else, very memorable for your guests. And so they'll always be thinking of you whenever they're considering where to stay.
Ryan Embree:
Yeah we know how big sometimes these projects are and the intricate details of each and every one of these renovations and updates that you do at your hotel, but your guests might not necessarily know what all was involved in that. So I love that idea of maybe there's a story within that project that could be shared to let your travelers know this was a huge undertaking. And we did it all for the benefit of you, the guest, the traveler. You know, and there's other ways to create this kind of excitement and hype around your renovation, just to rapid fire a couple: using a hashtag around your renovation, sharing an Instagram LIVE discussing the details of the project and the added benefits for your guests. You could reach out to micro influencers, we've talked about that on this podcast and get others excited about updates and renovations. You could thank your vendors using social media that helped you build this. They will be proud to share their work and share it with their audience, just expanding that awareness and reach of those updates. You could even go as far as posting your own press release online, so when travelers are doing research for the property, they might come across an article talking about the work that you've just recently completed at the property. Invite local businesses to the property to see the new space, even think about hosting a local business association meeting. Those are the type of events where a lot of pictures are taken, so your updates could potentially be shown, just by pictures and videos that were taken at that type of event.
Marissa Kinzel:
Yeah, think that having all of that proof of renovation will kind of permeate throughout the audience of the business and then they'll know what hotel it was, and then it'll get even more eyes on your property. And you don't have to rush to do this sort of thing all at once either, Ryan listed a bunch of ideas and I think that if you take the time to talk about your renovations right now, right as they're done, and then again, in a couple of weeks, it'll help kind of scoop in all of those travelers that may not have seen your initial posts or your initial live video, or had the chance to schedule that meeting or event right away. And so you can kind of continue to get people on board with thinking about and discussing your renovations for a few weeks, maybe even a month or so after they were done, because they took you a very long time to do, so you need to take ample time to make sure your marketing is done in such a way that it reaches as many people as possible.
Ryan Embree:
Your new renovations are only going to have that "new" tag for so long. So you're right, Marissa, you have to take advantage. It's very critical in that first three to six months after renovations, to make sure that you're getting your messages communicated out to as many outlets and channels and as many travelers as possible. And another way of doing that is simply inviting the guests to come to the property, to check out the new renovations. Your hotel lobby could have completely changed and it could have a completely different guest experience feel or hotel experience feel, create social packages centered around your renovations. You know, maybe a post that says, "Be one of the first to stay in our newly renovated rooms" or "Check out our summer package, including passes to our brand new resort style pool." People love being the first to experience something. It's also got that new shiny and clean feel to them. So again, take advantage of this time because it's only new for so long. Now another place, other than social media that you can start highlighting these changes is on your website. Marissa, talk to us a little bit about how to market your new renovations on your hotel's vanity website.
Marissa Kinzel:
Yeah, I think your hotel's vanity website is an excellent place to get that renovation information front and center, because this is where you're going to want to be directing a lot of guests after capturing their attention initially on a different channel. So you're going to want to have the changes visible right away on your front page or make them easy to find or easy to direct guests to see. So you can think about it like a pop-up or you can think about it like a banner at the top of your webpage that says "new" that will attract attention to get your guests, your potential guests, to click on those updates, and view more information about them. Because at the end of the day, your website is all about creating a funnel to book. And so you want to direct their attention through your website and always have a clear booking path for them to take no matter where they are on your website. And so from your renovations you can direct them back so that they can come check them out.
Ryan Embree:
Another thing that hoteliers might want to think about, especially after new renovations, is investing in a professional photo shoot or video shoot, you know, get creative, use the new technology that's out there. There's 360 degree cameras, virtual tours, and even drone videos. More and more travelers are getting used to this type of content on a hotel's website. They really won't know the extent and scope of your renovations unless they see something like this. And this type of content can not only live on your website, but also on your social media and other channels that you're reaching out to guests. So investing in a professional video or photo shoot can pay some real dividends. So the last place we're going to talk about marketing your hotel renovation is a specialty of ours at Travel Media Group, and that's through online reviews and review response. You know, I mentioned it before, the first six months after a renovation, they're so critical. Excitement and traveler interests, they're at a peak, and it could result in a number of five-star reviews. And if those five star reviews are generated in a short period of time, it can have some real impacts on your reputation ranking on sites and heavy revenue implications.
Marissa Kinzel:
When a guest brings up a feature of your property that you have updated, you're able to bring up those changes in the review response, you can do it for positive or negative reviews, depending on how careful you are with your phrasing.
Ryan Embree:
Yes, review response has now transformed into this way to market your hotel, especially when responding to positive reviews. I love that idea. You know, another one is to also encourage your front desk to ask for feedback at both the beginning and end of your stay in relation to the renovations. Something like, "You know, we've recently renovated our rooms and are asking guests that have stayed in these rooms their opinions of what they think." Then if the feedback is positive, you have the opportunity then to ask them to share it on public facing reviews like TripAdvisor and Google. And then once that feedback's online, you can use sentiment analysis to gauge how travelers are actually feeling about the new renovations. In our experience with tagging online feedback for hotels, sometimes we've found that new renovations can have some negative sentiment associated with them right off the bat. And hotels might have to make changes in order to optimize them. For example, let's say we keep hearing on reviews that the newly renovated breakfast area is way too crowded. If they keep hearing this sort of feedback, they can make changes like potentially adding times where certain travelers can come down to experience breakfast or have a reservation system. This way all that time and capital investment is being utilized to the fullest and having a positive impact on your reputation. Another thing that we've identified is maybe some places that the hotel didn't even know was an added benefit from the effects of their renovations. An example of this could be with a room renovation, if we start to uncover a pattern and trend of travelers, really liking the space and the bathrooms in the newly renovated room, if that wasn't something that you've considered before, this could be a new way to market and advertise your renovations on places like your website and social media, talking about your spacious, new renovated bathrooms. You know, this type of sentiment can also give you hints into what might be next in terms of maybe your next renovation or capital investment moving forward.
Marissa Kinzel:
I'd like to also speak to our Respond and Resolve™ program too, just a little bit and mention that, you know, our sentiment analysis really is, I find, very robust and I think it's very intuitive. And our tagging system is so specific that you can really get a good look ahead of what guests are really saying. You can really wrap your hands around what they're feeling about any particular part of your property that you could really be thinking about. And when you're able to get into the OneView™ dashboard and you can click in positive and negative sentiment for each thing, you can see every review written about that particular tag. And I think that is what gives you this really in depth insight. And I think that it's something that is super valuable, especially when it comes to renovations.
Ryan Embree:
We've talked about it before, at length on this podcast about the importance of not only listening to your traveler online, but taking all that sentiment and data collected through all of your public facing reviews and turning it into actionable changes and items at the property. And that's exactly what our Respond and Resolve™ team does here at Travel Media Group, we collect and organize all that data for you. So as we wrap up today about talking about marketing and advertising those new renovations, Marissa, I'll go ahead and let you end the episode with any final thoughts.
Marissa Kinzel:
Of course, renovations are this really exciting time for hotels because you're opening up so many new opportunities. So it's crucial for hoteliers to capitalize on these first few months, post-renovation with your powerful social media messaging, clear website updates, and consistent reminders in appropriate review responses and sentiment analysis helps out with that a lot. So the more interest that you can garner with potential guests, the higher chance you have of increasing booking conversions and overall, raising occupancy at your hotel.
Ryan Embree:
Yes, renovations is such an exciting and sometimes scary time for hoteliers, but it's all about marketing and advertising those updates and changes to the property. At Travel Media Group, we help our hotel partners market and advertise everything new about their property and, you're right, Marissa, help increase booking conversion and raise that occupancy level at the hotel. Marissa, I do want to thank you for joining me on the Suite Spot today. If you are interested in learning more about our digital marketing solutions for hotels, you can reach out to us at (407) 984 7455 or always visit our website at travelmediagroup.com, Marissa, and the rest of the marketing team has some incredible blog content and white papers surrounding renovations and updates for hotels to give you some more educational resources there. Thank you all for listening and we will talk to you next time on the Suite Spot. To join our loyalty program, be sure to subscribe and give us a five-star rating on iTunes. Suite Spot is produced by Travel Media Group. Our editor is Marissa Kinzel, with cover art by Bary Gordon. I'm your host, Ryan Embree, and we hope you enjoyed your stay.
Hotel Marketing Resources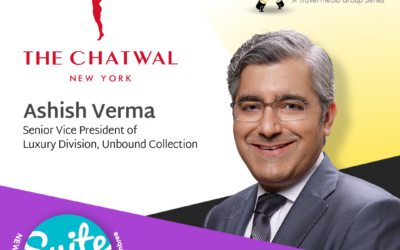 Join Suite Spot host and TMG Director of Marketing, Ryan Embree as he talks with the Senior Vice President, Luxury Division, The Unbound Collection by Hyatt, Ashish Verma in our new TMG Spotlight series to give listeners a lavish perspective on hospitality and how the...