95 – How to Attract Weddings to Your Hotel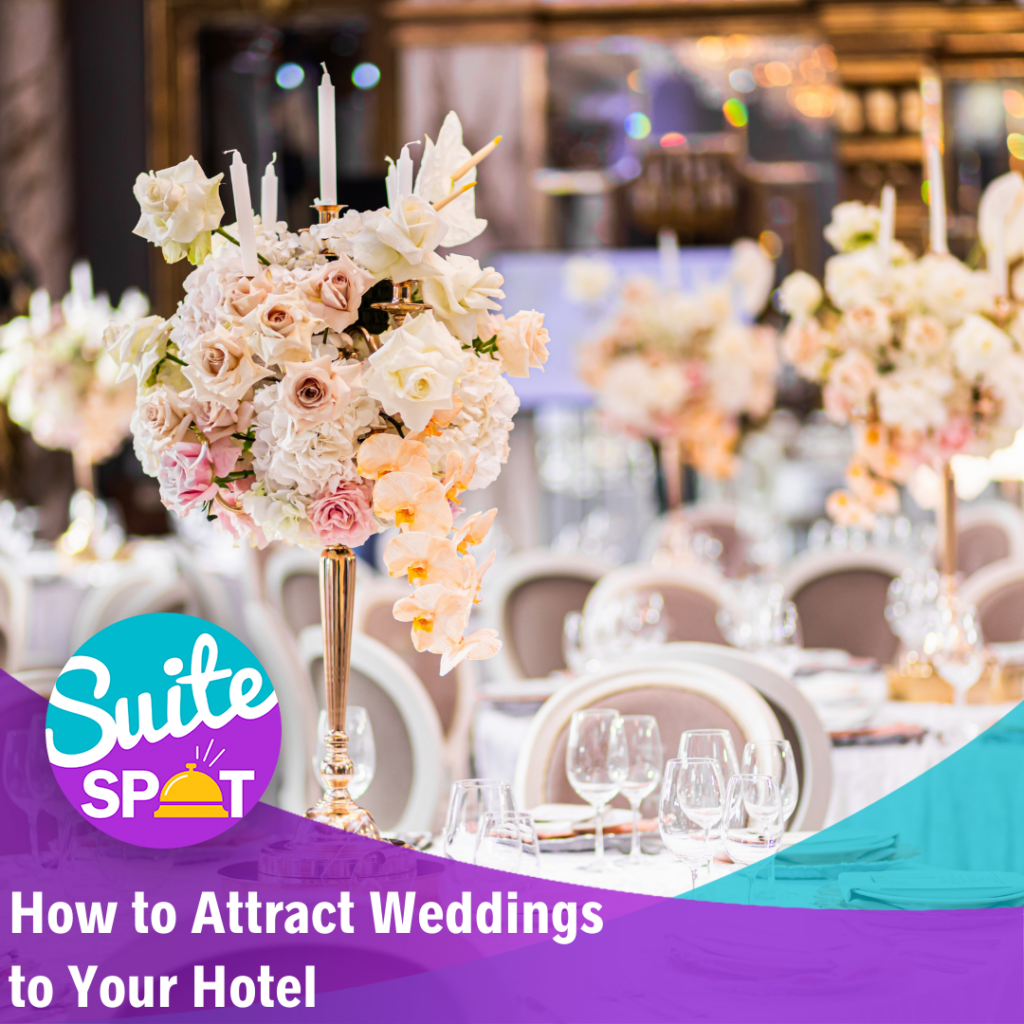 After years of postponing, couples are eager to tie the knot and the demand for weddings is skyrocketing. Host Ryan Embree discusses how hotels can position themselves to capture market share and secure bookings from both engaged couples and wedding guests. Listen now!
Episode Transcript

Our podcast is produced as an audio resource. Transcripts are generated using speech recognition software and human editing and may contain errors. Before republishing quotes, we ask that you reference the audio.
Ryan Embree:
Welcome to Suite Spot where hoteliers check in and we check out what's trending in hotel marketing. I'm your host, Ryan Embree.
Ryan Embree:
Hello, everyone. Welcome to another episode of the Suite Spot. This is your host Ryan Embree, and we've got a great episode for you today. For a subject matter that hoteliers have really been missing out on the past two years, and I'm sure guests and travelers have as well. And that's weddings. The pandemic obviously had a huge impact on group business and that included weddings. We saw a lot of couples postpone their weddings to later in the year or later down the line. And it's having a huge impact on occupancy. But now as we see ourselves getting further and further through this pandemic and see that kind of light at the end of the tunnel, we see more and more people now reaching out. And those couples that postponed, they're ready to get married and we're seeing those guests now feel more and more comfortable coming and staying at our hotel.
Ryan Embree:
So that's what this episode is all about: how to attract more weddings to your hotel and how to leverage your digital marketing and doing it. So before we get started in this episode, a couple quick stats on what we're seeing with weddings. So this is according to the Knot, "wedding venues near me," search terms are up 200% since the thick of the pandemic and there are forecasted to be 2.6 million weddings in 2022. I am sure the hoteliers listening to this are very, very happy to hear that news and those statistics. And that means a lot of occupancy opportunity. But again, these guests, these brides, these grooms, when they decide to potentially make a wedding block or even pick your hotel as their wedding venue, they're going to be doing more research than ever. They're gonna be doing their due diligence, especially when the stakes are this high, when it's your wedding day, you know, you think about it.
Ryan Embree:
So, so what we're gonna do is we're gonna kind of break this episode up into two unique sections. The first would be to how to actually use digital marketing to attract the happy couple, right? The brides and grooms that are looking to potentially either again, pick your hotel as the wedding venue itself if you have location and venue space for them, or even if they're looking for a wedding block, but there's also the other side to it, of our wedding guests and what guests that might not have traveled over the past two years are gonna be looking for in order to make them feel comfortable. Because as we'll talk about later, if, if they do not feel comfortable, there is no wedding block discount that's going to make them stay at your hotel versus picking a competitor. No discount offered there that, again, is gonna give you the upper hand.
Ryan Embree:
So we're gonna talk about those two ways and we're gonna kind of break it down into what our digital marketing expertise here at Travel Media Group is: social media, reputation management, and responding to reviews. So we'll start with reputation management when it comes to attracting brides and grooms, and the best way that we can do that is through word of mouth. Through case studies, testimonials from past couples that maybe have used our hotel as a wedding venue and are very, very happy with the experience that they received. The more recent, obviously, the better, right? A bride and groom that had a wedding experience in 2018 might not be relevant today in 2022. So you'll definitely want to try to pick a story or create a story and tell a story that's more recent and is going to really resonate with that bride and groom today.
Ryan Embree:
You know, you can search through your public reviews online. Obviously, a case study or testimonial, you'll need some sort of permission in order to use that quote or tell that story. But with public reviews, their expressions and opinions are already out there publicly. So using your reputation data and online reviews, if you come across any of those good reviews, you can go ahead and use those. One thing that engaged couples will look for when looking for a hotel for their guests to stay in is how you're treating your guests today, right? Your service says a lot about how the happy couple will be treated once they come on property and how their guests are going be treated. So keep that in mind, because you're not just impacting those individual travelers, but a huge occupancy block, like a wedding block, they're gonna be looking at your reviews to see, again, how you're treating your customers every day to see if this is the type of service that they want when they're staying for their special moment. Connect them with vendors, or have a preferred list that you can provide.
Ryan Embree:
You wanna create as much value for this engaged couple as possible. So if you are prepared on your end, we know how stressful it can be to plan a wedding and, and big events like this. So if you already have a preferred list of vendors that you work with or you know, to make lives a little bit easier, that's gonna go a long way in separating yourself from the competition, and similarly connect with local businesses and vendors that might be able to refer you, right? So you create kind of a partnership there with those vendors, but I will put kind of a disclaimer there, don't just put anyone on this preferred list, actually do your research, do your due diligence and make sure they're reputable because that reputation can come back and be connected to you. When we talk about responding to reviews, you know, we can look through review data and find some really cool patterns and trends that we could use to leverage new wedding business for our hotel.
Ryan Embree:
And what I mean by that is looking through review sentiment data that our review response team professionally goes in and hand tags review sentiment from your online feedback and see what data might be important to wedding parties, such as location, event space, parking, food and beverage, onsite amenities. If you start to notice patterns and trends that could be important to a bridal party, you can use that to leverage bookings over your competition. Or if you're noticing something that looks to be a negative trend that could have an impact on your wedding parties that are staying with you, make sure that those are fixed and addressed before they become a bigger issue and, you know, impact the experience and kind of give a negative reputation snowball effect going there. So, and then another tip that you can do is when you're responding to reviews, if you notice that a review came from a wedding experience, so whether it be the wedding guest, whether it be the bride, the groom, the parents of the happy couple, respond to them using keywords and terms that, first, will help you with your search optimization for the property when it comes to weddings, but also being able to speak directly to that wedding, that makes a connection there.
Ryan Embree:
And when future bride and groom or wedding planners are reading those reviews, you'll notice that they really connected to that event and, and really could make that all the more special when you do that. So make sure you're responding to those reviews when they come in and, and actually bringing up the event itself. So social media is huge, we know, right? This is a huge opportunity to talk to wedding planners, to talk to future brides and grooms, engaged couples about the type of experience that they can expect when they're on property. So again, social partnerships, social contests, with nearby venues and preferred partners, potentially giving an engaged couple an opportunity to come out to the property prior to the wedding. What would it feel like if you booked with us? Come experience our great service so that we can give you kind of a glimpse of what you can expect when you're on property.
Ryan Embree:
If we can already start walking them through the process of, this is what I envision for my day, this will really help us put ourselves in the best position to win that block and win that booking. Highlighting the happy couple on social media, obviously there's gonna be some permissions that are gonna need to be granted, but you think about it. Think of how much engagement, likes, and shares you're gonna get if you share a picture of the happy couple at their wedding, right? Everyone that was staying on property 100 percent will be sure to at least like that photo and potentially gain some followers from that and expand our hotel's audience. Hashtags are huge as well. So if you are gonna be highlighting the happy couple ask if you could incorporate their hashtag, or if they have a hashtag that they'd like to incorporate. Again, that's just gonna further your reach, expand your audience there.
Ryan Embree:
Another great idea is to create social posts that answer frequently asked questions about weddings at your property pertaining to things like maybe shuttles to wedding venues nearby or to the airport. So marketing and advertising the fact that your hotel, for weddings on site, will do welcome bags and answer any sort of pricing questions there, again, that could already start people down the process and really start setting expectations for what that big day could mean for being at your property. Another place that you really want to explore if you haven't already is Pinterest, right? So bride and groom are always looking for inspiration for their big day, they're looking for creative ideas on what they can do and how they can make it their own. Pinterest, according to Pinterest, Pinterest, 60% of their users are women. So brides could be looking for venues.
Ryan Embree:
They could be looking for ideas of layouts for their venue and could gain some inspiration if you're starting to upload pictures of your property, rooms, amenities, venues, empty, and decorated events. And then obviously we wanted to link that right back to our website or give them a contact information to potentially create a highway there of connection for booking. So, you know, another great idea is also to provide checklists, right? I mentioned this before, we know how stressful it is to plan an entire wedding. So why not download a checklist, create a checklist branded to your hotel, you know, talking about the steps that you need in order to book a hotel block or what that hotel experience checklist could look like. These resources and insights could be huge for a bride or groom on their special day, looking to get some more information and become more efficient. So downloadable branded checklists on social media, absolute great idea. We also wanna use our social media channels and platforms in different ways, right?
Ryan Embree:
Instagram, for example, this is best, best used to share high quality photos and videos of your venue space. It's a very positive place. So we really wanna put our best foot forward out there when it comes to the social content that we're sharing. Twitter should really more focus on those quick bites. And though, answers to FAQs, local guidelines or cancellation policies, you know, we know during the pandemic, how much that's fluctuated things have seemed to calm down, but if there are any sort of local restrictions, Twitter is a great way to share those kind of updates. Facebook, you can share pictures, announcements, updates, and even join wedding themed groups and share that advice of your expertise. So those checklists that we were talking about just absolutely great ideas for Facebook. And then LinkedIn, your target audience shifts there, right? We really want to be promoting our hotel on LinkedIn to wedding planners.
Ryan Embree:
So make sure your content's attractive to other professionals and gives the impression that wedding planners want to work with your venue. It's easy to do. You've done it before. And those testimonials and case studies that we talked about at the beginning of this episode, that's a great forum to put that there and then, you know, get creative with your social media. Show the honeymoon suite, go live, maybe talking about when someone books a wedding at your venue, walk them through those steps while maybe showing off the honeymoon suite for the happy couple, doing an event on LinkedIn for exclusively for wedding planners. This could be a great opportunity to get a lot of exposure very, very quickly. So get creative there. And then for those that, that really want to commit their digital presence to attracting weddings, create a landing page on your website.
Ryan Embree:
On that landing page, make sure we're utilizing the specific keywords, again, so you appear higher in search results when people are doing research. High quality photos, videos of your hotel's wedding venue, again, both empty and decorated. We don't wanna just give one idea of what a wedding could look like. We also wanna give the opportunity to engaged couples to imagine what their special day would look like at your venue. So again, both decorated and non decorated pictures of the venue, that's super, super important to consider. And then doing things like a drone video, virtual tours for the engaged couples to really get a sense of what your venue offers and what they can expect and what your guests from out of town are going to expect. So speaking of guests, you know, that's the second portion that I wanted to talk about on this episode, because more people are now going to be willing to travel to weddings.
Ryan Embree:
Maybe a couple years ago, or a year ago, we got that wedding invite and we had to really sit down and think whether we are going to attend that or brides and grooms, when they were planning their weddings really took into account how many people they were inviting. Now, some of those fears have subsided and maybe guests and travelers are feeling more confident about traveling to weddings, maybe outside of their state, that they might have said no to in the past. But again, they're going to be doing research very differently, especially those guests that have maybe declined other weddings in the past. So what that means is they're gonna be looking at your reputation harder and, and magnifying your reputation closer than they have before. And that discount, that wedding block discount, again, there's not a price in the world that's gonna be enough to convince them to stay at your hotel if they don't feel safe.
Ryan Embree:
So keeping an eye on your reputation is going to be key to securing more wedding block bookings for your hotel. And then social media is a great place to set expectations for those guests that might not have traveled again for years, maybe when they traveled last in 2018, they remember those giant breakfast buffets. Some hotels have brought that back. Some of them are still easing into it and some transitioned for good. Make sure you show on social media and review responses where your hotel falls in that spectrum. Because the biggest factor that we see with hotels receiving negative reviews from guests is when expectations are not properly set, not that they're not met, they're not properly set. Another thing you want to keep in mind is looking at reviews from wedding guests who've stayed at the property. Notice if they mention location or proximity to the local wedding venues that might be in your area.
Ryan Embree:
So repeating those keywords can help you appear higher in search results when someone searches hotel near so and so wedding venue. So if you're next to a park where a lot of weddings are taking place, if you're repeating that in their review responses and saying, yes, we're in short proximity to this park, your hotel will come up higher on that search when other wedding blocks or guests are doing research and trying to figure out where to stay there. So at the end of the day, we have missed weddings so much in this, in this hotel industry. And we're so happy to see, we know there is a boom on the other side of this as we get into the spring and summer season, and again, I've talked about it on this podcast before, it's going to be the hotels that position themselves right now that are gonna secure the most bookings.
Ryan Embree:
And one of the most critical things that you need to do is make sure that you have a strong digital presence online that is telling a very clear narrative about your reputation, social media story. It's gonna be those hotels that capture those bookings and attract more weddings to their properties. So at Travel Media Group, we are the experts in digital marketing solutions for hotels, reputation management, review response, social media, and vanity websites. So for all of your digital marketing needs, please feel free to reach out to us. If you're interested in learning about how we can help create posts for you to attract more weddings to the property, we've got a great custom social solution that you've heard about on this podcast. Help increase and grow your reputation online so that you can be in the best position to capture more of these weddings when engaged couples are looking to book and pick a venue for their property. I am really excited about this, this upcoming wedding season.
Ryan Embree:
We know there's a lot of engaged couples out there. So if you're interested in learning more about how Travel Media Group can help you attract more weddings to your hotel, reach out to us, go to our website. We've got a lot of information there. We've got a great blog on exactly what we talked about today. Thank you all for listening to this episode of the Suite Spot, and we will talk to you next time.
Ryan Embree:
To join our loyalty program, be sure to subscribe and give us a five star rating on iTunes. Suite Spot is produced by Travel Media Group with cover art by Bary Gordon. I'm your host, Ryan Embree, and we hope you enjoyed your stay.
Hotel Marketing Resources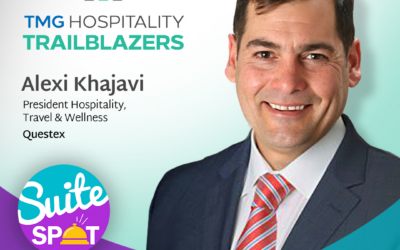 Join Suite Spot podcast host, Ryan Embree as he welcomes the President of Questex, Alexi Khajavi, as an official TMG Hospitality Trailblazer! These two hospitality-focused individuals discuss some incredible travel and tourism subjects in this episode, giving viewers...