98 – Travel Media Group Celebrates 1 Million Guest Reviews Responded To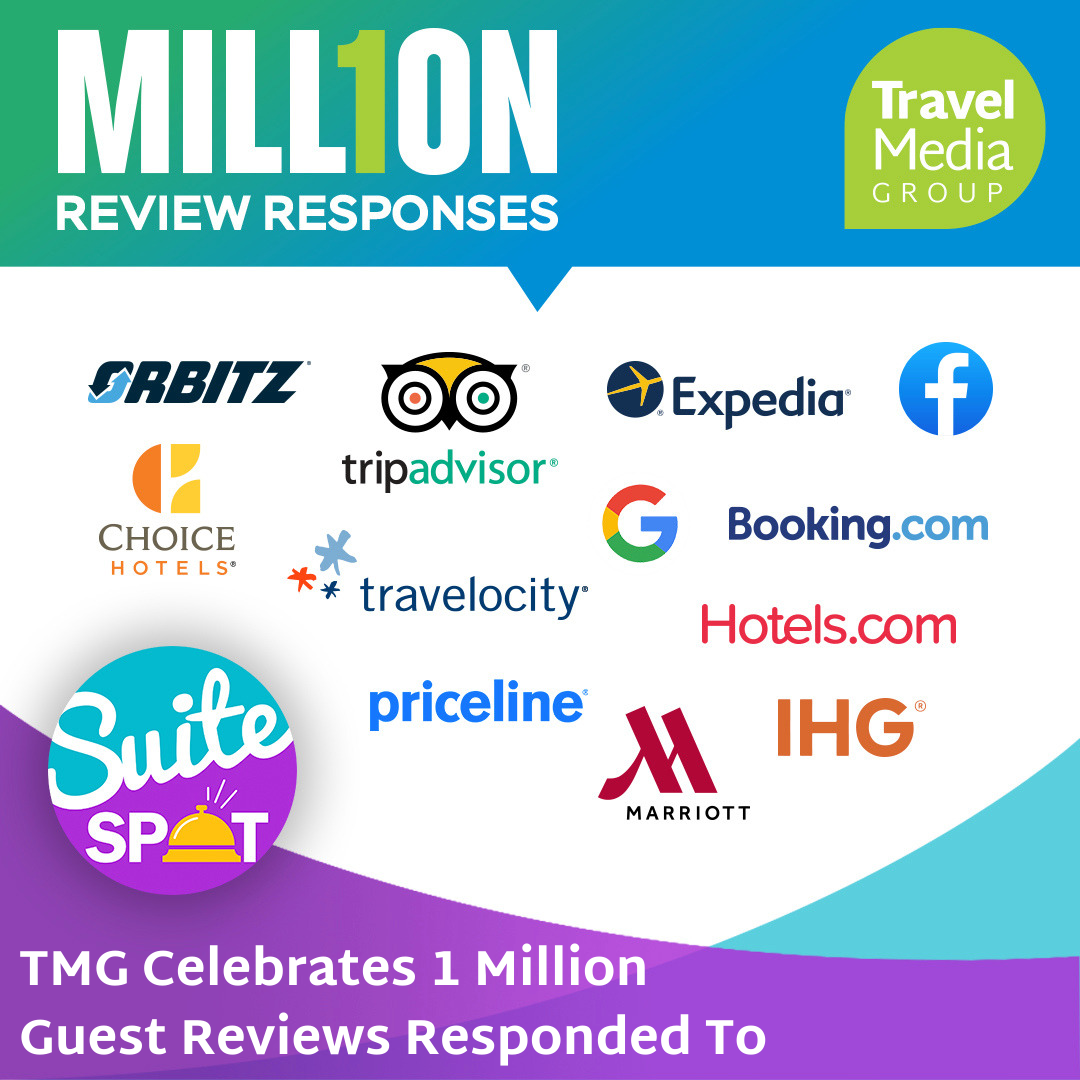 Join host Ryan Embree and our very own Respond & Resolve™ Product Manager, Jackie Avery as they celebrate reaching the 1 million guest reviews responded to milestone! This episode details the journey to 1 million, explains how hoteliers can get involved in the next milestone, gives a little sneak peek at a brand new upcoming Respond & Resolve™ upgrade, and so much more! This episode is jammed-packed with exciting information for hoteliers worldwide.
Episode Transcript

Our podcast is produced as an audio resource. Transcripts are generated using speech recognition software and human editing and may contain errors. Before republishing quotes, we ask that you reference the audio.
Ryan Embree:
Welcome to Suite Spot where hoteliers check in and we check out what's trending in hotel marketing. I'm your host, Ryan Embree. Hello everyone. And welcome to another episode of the Suite Spot. This is your host, Ryan Embree. Thank you all for listening. We've got a very celebratory episode, very excited to share with you. Episode 98, we are counting down to episode 100. So again, thank you all for listening, wherever you're listening from. And today of the 98 episodes that we've done so far, we've got a first time guest. So it is my pleasure to introduce Jackie Avery. She's our product manager for our TMG respond and resolve, which is our review response solution for our hotels. Jackie, welcome to the Suite Spot.
Jackie Avery:
Thank you. Happy to be here.
Ryan Embree:
And I am happy that you are here because we are celebrating some amazing humongous news for you and your team have hit the 1 million mark when it comes to guest reviews responded to online. This is fantastic. Congratulations.
Jackie Avery:
Thank you. Yeah, we're so excited over here. It was a huge milestone. Definitely feeling good about it.
Ryan Embree:
Absolutely. 1 million guest reviews. It's really hard to fathom to think about that. I know we've been keeping people updated on this podcast as we talk about review response and how important it is on the numbers, but now we've hit that incredible milestone. 1 million. Now this is your first time on here. So why don't you go ahead and kind of talk about your role as product manager for this really important solution for hotels?
Jackie Avery:
Of course. So I oversee all of our writers and manager day to day operations. When a new client comes on, I help work with our other departments to ensure a seamless start and a really important part of my job is keeping up to date with industry trends and updates to platforms to ensure that everyone on my team is informed and is up to date as we can be.
Ryan Embree:
And you have to, right. I mean, you, you and your team respond to so many online sites across the industry from OTAs, trip advisor, Google, even some social media as well. You've hit a million, that's a lot, I'm sure you know, you've come across your positive and your negative ones that you respond to. What would you say is your favorite part about responding to reviews?
Jackie Avery:
I love getting to tell the other side of the story, especially when our clients really involved in this situation, they convey what happened to us. And then I get to take that information and present it in a way that their future guests can understand and relate to. And many hoteliers struggle responding to something, especially when they feel frustrated. And I just really enjoy helping 'em with that part.
Ryan Embree:
Absolutely. This is a huge emotional toll and cost that it takes to respond to these reviews, especially if it's a negative one after maybe an eight hour, twelve hour shift that you've done. And someone's essentially calling you out publicly online. So it's not just hard for, for hotels, but anyone to really keep a calm mind when you're responding to these reviews. You've got not just yourself, Jackie, but an entire team of writers, professional writers based right here in Maitland, Florida at travel media group headquarters. So I think we get this question a lot from hoteliers with so many different types of hotels, big and small, brands and independents. How do you ensure that the response matches the hotel's voice if you're not physically on the property, if you're here in Maitland responding to maybe a hotel on the west coast?
Jackie Avery:
Yeah, so we've got an extremely user friendly platform that allows our clients to update notes in real time. So for example, if an elevator goes out, they can share with us that it's broken and ask us to take an apologetic tone and give us an estimated fix date. If they have common complaints, they can detail the situation for us and present us with how they'd like it addressed in reviews going forward. For example, let's say your guests commonly complain about the price of beach chairs, but you know, that these beach chairs are actually a private company. It's not your property. You have no control over it. You can give us that information and, and let us know, you know, take an empathetic approach or actually, you know, we told them about this at check in, please take a matter of fact approach. And then we can use that voice and that information to make sure that we're responding the same way that the hotelier would if they were doing it themselves.
Ryan Embree:
Absolutely. I think that's a great example that you talked about right there, Jackie, of an empathetic versus a matter of fact approach. I don't know if a lot of hoteliers that sit behind the keyboard when they're responding to the reviews, they're just responding to so much that there's an art form to it. It really is a skill. And that's something that you and your team with doing a million guest reviews online have really kind of honed in on that craft and learned that it's really a two way street with our hotel partners when it comes to review response based on the information that they want to convey, not to the, just the guest that has left the review, but future travelers that are also looking and reading these responses. Now, along with these guest responses, hoteliers really can gain a lot of incredible insights and valuable data from the sentiment that your team uncovers in doing a review response. Can you tell us a little bit more about that?
Jackie Avery:
Absolutely. So when our team's responding to reviews, we're not only crafting a response, but also auditing sentiment tags on every single review. We've got all of this data stored in a convenient, easy to use platform so that our clients can deep dive into analytics or quickly pop in and check their top positive and negative tags. So maybe you're considering a remodel and you can see the guests have been unhappy with the bathrooms. You wanna make sure that you're making the right choices. So you go ahead and look and see exactly what people have been complaining about, about the bathroom. Is it the sink? Is it the cabinets? Is it the size or let's say you've made a change to your housekeeping policies. So you can go in and see in the past 30 days, have your cleanliness tags, have they been trending positively or negatively? So our platform compiles all of this and shows it in a really easy to read practical format.
Ryan Embree:
Yeah. It's hard to get that data when you're just responding kind of sparingly to reviews across different platforms, to know, to uncover these patterns and trends. If it's not really organized and collected in a way that's meaningful to the hotelier. Now, one of the things we hear all the time is all right, you're offsite. I can give you notes about my hotel, but I still wanna be involved in this process. And, and we're one of the few review response companies for hotels that actually have a approval process. What type of processes involved with that for respond and resolve in your team?
Jackie Avery:
Yeah. So when it comes to approving responses, our clients have options. They get a notification. As soon as the response is drafted from the email, they can click approve or make edits right there on the spot. Once a property feels confident that we've captured their hotel voice, they can also choose to have their responses auto approved. And even within this, they can customize it further. They could choose to auto approve their four and five star reviews and then still check the one, two and three stars. So kind of, they have choices as they even stay in the program longer. It's not you made your decision and now that's what it is. You know, you could change it after six months or after a year, as you feel comfortable. And especially if you're having staff change on site, if you have someone new come on, they may want different settings and we can make that change quickly. If a hotelier is sent a response and they take no action, then our system is gonna go ahead and approve it after 24 hours to make sure that we are still meeting all of our time goals.
Ryan Embree:
Yeah, that's a, that's a great point. And a lot of our hoteliers maybe even some that are listening right now, once they get to know the feel and the content that our professional writers are actually putting out there and communicating to guests, they quickly switch over to that auto approval because that can also help with the speed of getting the post up there. But you make a great point. The industry has been notorious for turnover, but especially someone that's been responding to your reviews, they come in, they want to get a good feel of the property of the vibe of the voice. This is a great way to do that by getting on these approvals. So that's a great point there. Now, a million reviews responded to does not happen overnight and we've had, and, and really perfected this process and this solution based on feedback from hoteliers, just like yourselves listening for a number of years now. I'm always curious to see, we talk about it all the time, with social media on this podcast about how that's really evolved. How do you feel personally that review response has evolved since, you know, maybe the late 2010s, when we first started this solution?
Jackie Avery:
When we first began review response, it was really the trend in the industry to not view a review as an opportunity to connect or reconnect with the customer, but more as a box that needed to be checked to avoid a brand fee. But now hotels see the importance of making the connection post stay, building the content online about their property and showing potential guests the level of service that they can expect. So there's absolutely been a shift from an obligation and systematic process to an opportunity.
Ryan Embree:
Yeah. It's the hoteliers that are taking advantage of that opportunity right now that are leveraging that it it's giving you another way to communicate, manage guest expectations, which I know is a huge part of review response, because if you're not setting those expectations and things like your responses, then you could fail to meet a guest's expectations when they physically come on property. A million reviews, we've got hundreds of partners across the country, some international partners as well. I'm sure you've heard some feedback. What type of feedback do you get from hoteliers? Because a lot of this solution was built on feedback from our hotel partners.
Jackie Avery:
Yeah. So not to brag, but we definitely get a lot of praise about, you know, things you may not expect. We get a lot of thanks for our patience. So when someone has been really involved in responding to reviews, they sometimes have a hard time letting go and they wanna be very involved providing additional information about every review that comes in. So our team takes the information that they've given us. We edit the original response. And then we also go ahead and update our notes so that we have guidelines that we can use as responses of a similar nature. Come up again. So yes, it can be a bit cumbersome in the beginning, on our end, but we're happy to do that because it's what we've promised, we wanna hear from them. And we want their feedback. It's really helped us kind of update our conversations with clients and to make sure that, you know, we're giving them what they need and they're able to give it back to us in the easiest way possible.
Ryan Embree:
Yeah. And what Jackie just described right there. I would say we, we encourage our hoteliers to do that. An involved partner is, is a good partner in our eyes. So, yeah, if you're listening to this and you are partnering with our respond resolve, and are one of the million online responses that we've responded to and you haven't done anything, like update your notes or reach out to us, feel free to do so because that stuff really helps our writers. That's what sets us apart from some of the other response companies out there and not to put you on the spot, Jackie, but I did wanna kind of ask you that, what do you think this is? This is gonna give you an opportunity to brag here. What do you think sets your review response team and, and respond and resolve apart from other solutions that might be doing review response right now?
Jackie Avery:
I'd have to say our standards they're high and they're not going to be lowered as brand and traveler expectations increase. We do not compromise. Instead we develop innovate and ensure efficiency on our end. All of our departments work together to ensure that we're client centric and we're focused on quality. So clients know that they can depend on us, not only right when they sign up, but as they continue to stay with us and we continue to serve them, they can trust that we are going to be doing everything we can in an ever changing industry.
Ryan Embree:
Yeah. It's a great point. It certainly is ever changing. And I love that what you talked about with the development and in that spirit, I'm not gonna let you off the hook here because, every single time we get a product manager from a solution, we know that you are always working on something to try to optimize, make that solution better. Any maybe hence you can give us for what's coming next with respond and resolve?
Jackie Avery:
Well, we've had a blast celebrating this milestone, but I'd be lying if I didn't admit we're already looking forward because there's definitely some exciting things to come. So as travel's picked up, we've seen an increase in foreign language reviews left for our hotels. So we're creating opportunities for our clients to make the connections that I was talking about earlier with the guest in their native language, which will increase the personalization and just help us make it easier for our hoteliers to have meaningful interactions with their guests.
Ryan Embree:
That's awesome. You're right, as we see the return of the international traveler, we're gonna be getting more and more of these reviews potentially in different languages. So that's so exciting that you guys are already looking towards the future and preparing for that for the next big thing. So, awesome. Well, again, congratulations on this huge, huge milestone for you and your team, Jackie, any final thoughts on today's episode or just review response in general?
Jackie Avery:
I just really wanna thank you for having me on here. And I just, you know, wanna say to everyone, definitely keep your eyes on us. We've got a lot coming and you know, this is just a stepping stone to where we're going.
Ryan Embree:
Absolutely. And if you're a hotelier or hotel group out there listening to this and have never considered review response before, this might be the perfect time to do so. We are right now in the middle of the summer, pick up the phone, give us a call. We'd love to tell you what our review response solution for hotels is doing for other hotel partners across the country and hope that maybe you can be a part of this next million reviews that Jackie and her team respond to. So, Jackie, thank you so much for jumping on the Suite Spot today.
Jackie Avery:
Awesome. Thanks so much for having me, see you next time.
Ryan Embree:
And thank you so much for listening. We'll talk to you next time on the Suite Spot. To join our loyalty program, be sure to subscribe and give us a five star rating on iTunes. Suite Spot is produced by Travel Media Group with cover art by Barry Gordon. I'm your host, Ryan Embree, and we hope you enjoyed your stay.