A Hotelier's Virtual Tour To Responding To Online Reviews [Webinar]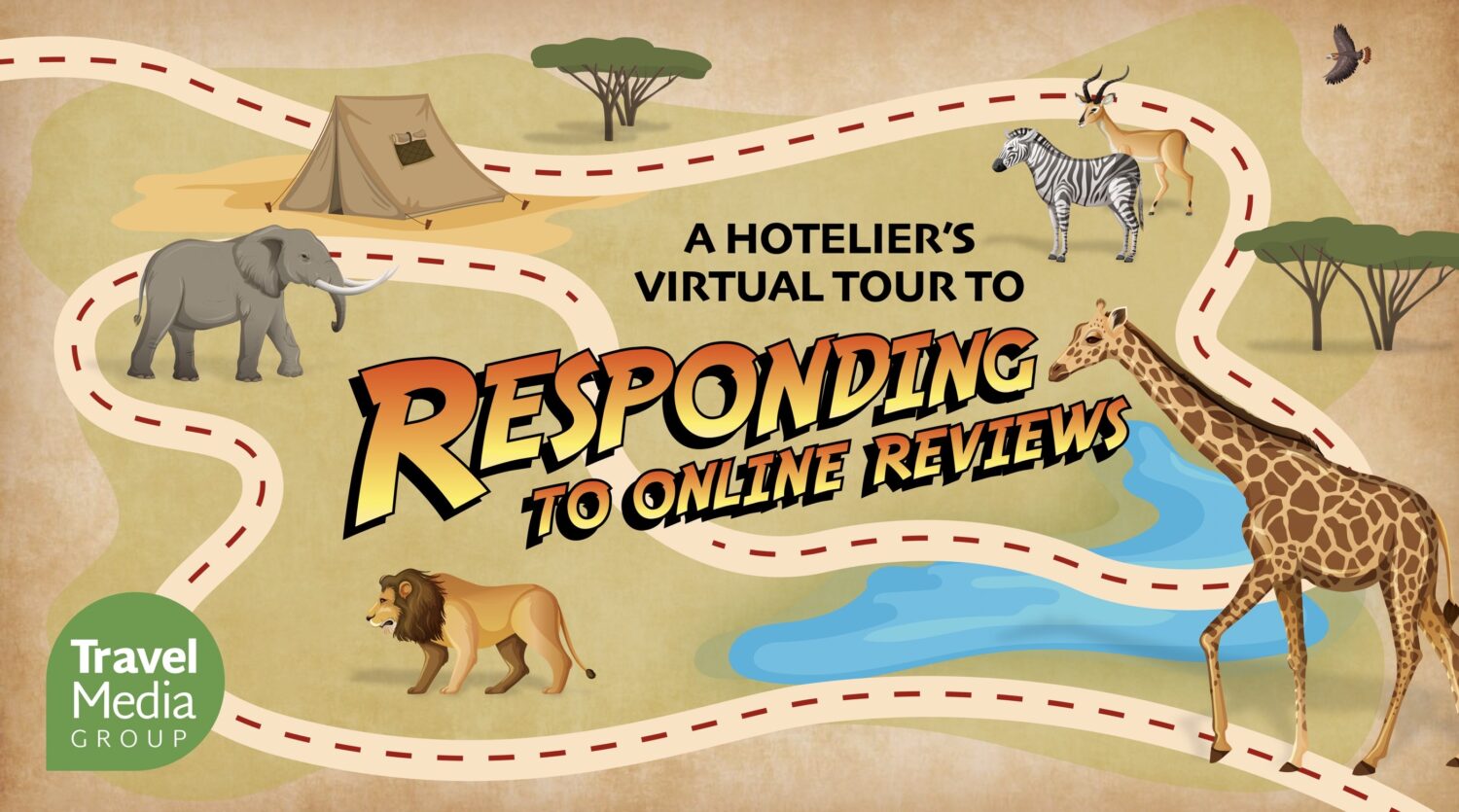 Prepping For our Review Response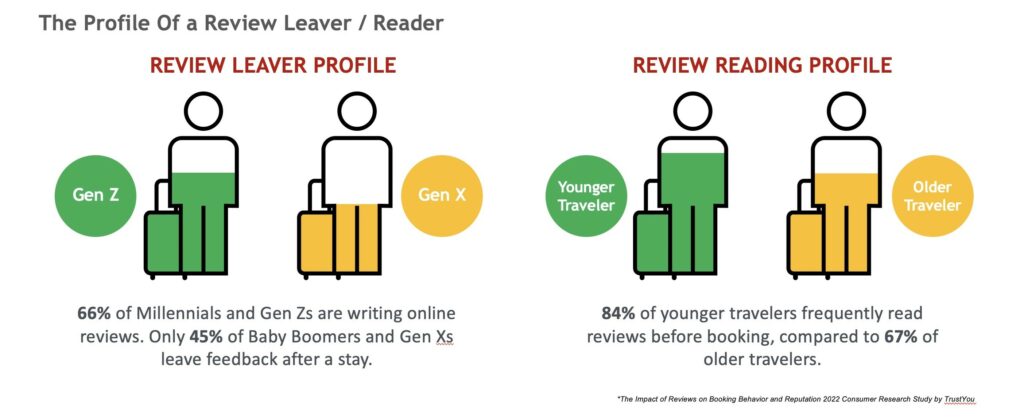 Knowing your audience and who you will be speaking to is critical as you begin prepping to respond to reviews. As shown above, 66% of Millennials and Gen Zs are the demographic that primarily writes online reviews, while only 45% of Baby Boomers and Gen Xs leave feedback after a stay. On the other hand, 84% of younger travelers frequently read reviews before booking, compared to 67% of older travelers. This information is vital because it provides a little background on the types of segments that engage in online guest reviews and to what degree.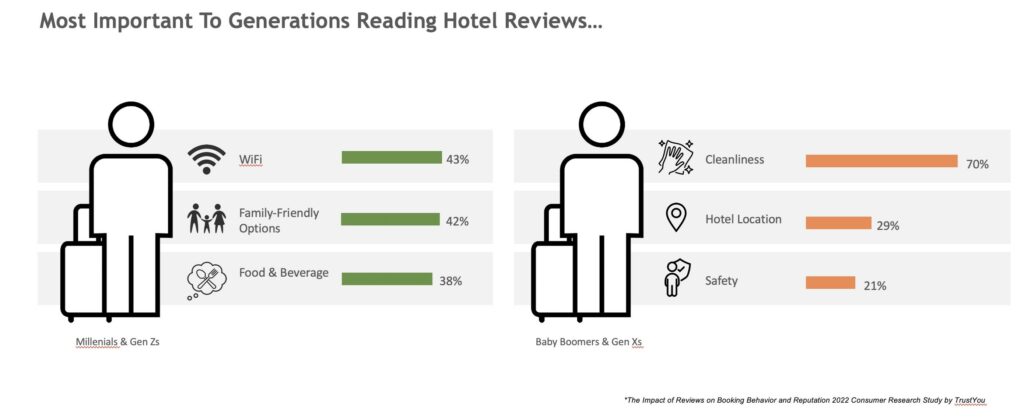 When responding to these guests online, make sure you try to establish their demographic group before writing a response. This is critical because different age groups are interested in different aspects of your hotel. For example, Millennials & Gen Zs tend to focus more on hotel wi-fi, family-friendly options, and food & beverage. Contradictory, Baby Boomers & Gen Xs focus more on hotel cleanliness, location, and safety. The takeaway here is to include these topics in your responses to travelers. Figure out their age group and then provide relevant details and information accordingly. If you know what they are looking for, you can supply the perfect response and increase the chances of them booking at your hotel.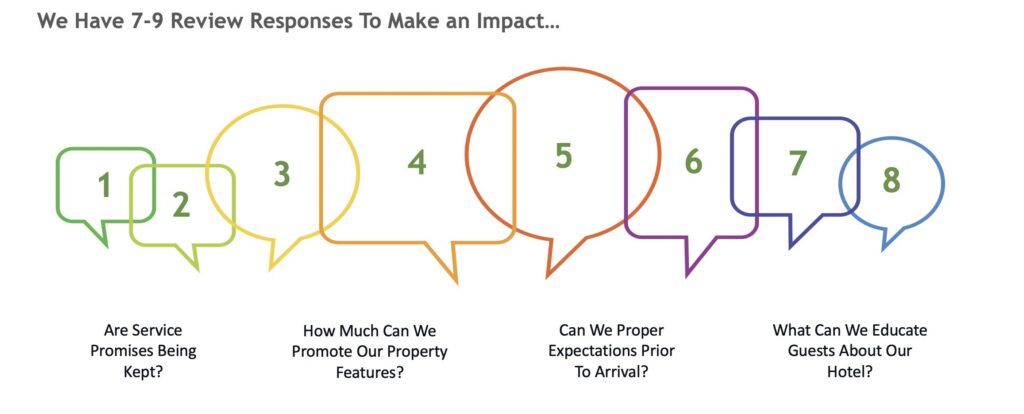 A few questions to keep in mind before you respond to online reviews include:
Are Service Promises Being Kept? 

How Much Can We Promote Our Property Features?

Can We Properly Set Expectations Prior To Arrival?

What Can We Educate Guests About Our Hotel?
These are all fundamental things to consider before you put your hotel name out there because your hotel's reputation is at stake. Guests naturally have high expectations when it comes to spending their money, so you must guarantee timely and quality responses.
The Search For The Perfect Review Response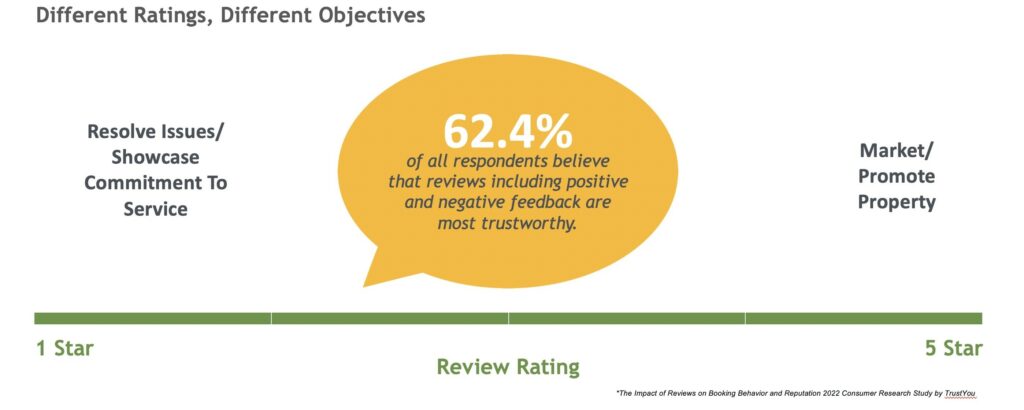 When creating the perfect response, we must consider the type of review posted first. Different reviews have different objectives. For example, if your property receives a 1-star review, then the perfect response would showcase commitment to service. However, if your hotel receives a review that is 5-stars, then this is the ideal opportunity to write a response designed to market/promote the property. It is common practice for hoteliers to live on the extreme sides of the spectrum of 1 or 5 stars, but looking at the data, we see that 3 or 4-star reviews with positive and negative feedback are the most trustworthy. Keep this in mind when choosing what reviews to prioritize. Here is just one ideal example of how to respond to a 1, 3, & 5-star review.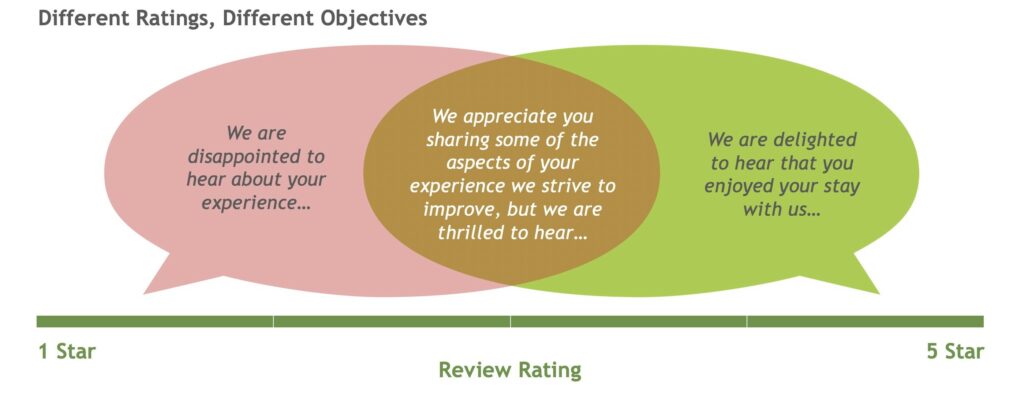 Remember, building and maintaining a healthy line of communication between travelers and your hotels is the primary goal. This communication channel will ultimately lead to higher guest satisfaction and more booking conversions.
Capturing Guest Feedback/Sentiment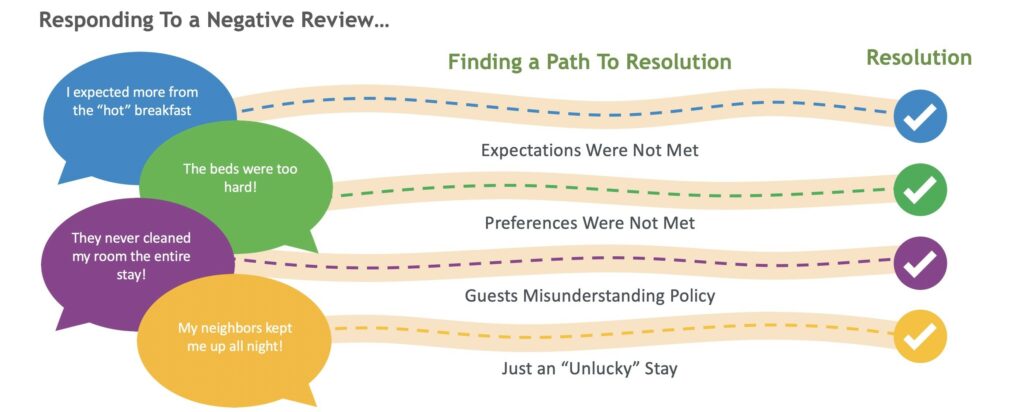 Regarding negative guest feedback, four different types of scenarios result in guest dissatisfaction, including: 
Expectations Were Not Met

Preferences Were Not Met

Guests Misunderstanding Policy

Just an "Unlucky" Stay
Just because expectations were not met does not mean that the guest misunderstood your hotel's policies. Each of these circumstances requires a different approach to resolution and uniquely crafted responses.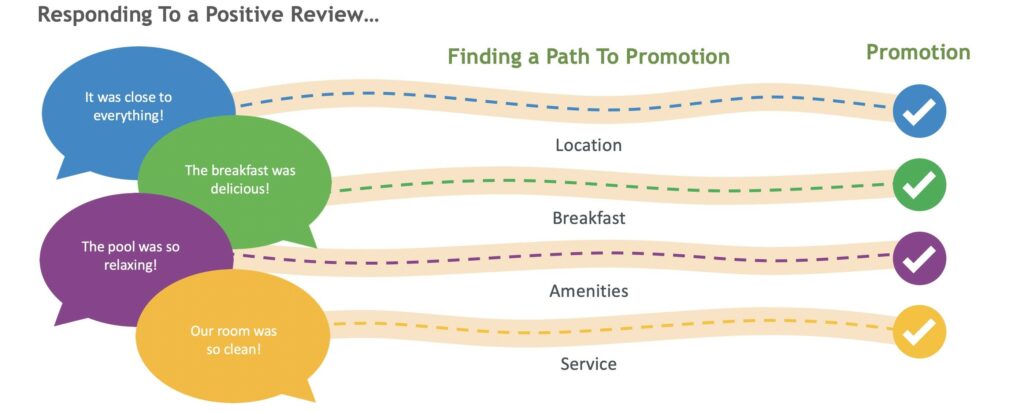 Similarly, positive reviews follow the same guidelines. You want to tailor each of your review responses to the individual guest review and avoid generic or templated replies because travelers can identify when it is disingenuous. Common features that guests regularly give praise to include: 
Location

Breakfast

Amenities

Service
Furthermore, continue to give as many details as possible about each topic. If you think of positive guest reviews as an opportunity to broadcast all the amazing things at your hotel, then you are going about it the right way.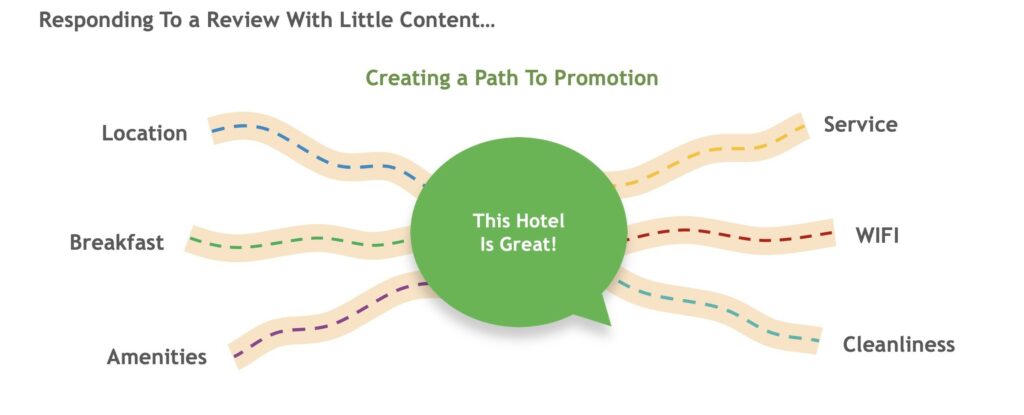 What about if a guest review has little to no content at all? If this is the case, whether the review is positive or negative, pretend like the guest has given you a megaphone to promote your property through your response. Include details highlighting all your hotel offers and what makes it special for travelers. It may seem like a review with a star rating and nothing else is a missed opportunity, but it is the exact opposite.
Avoid Review Response Roadblocks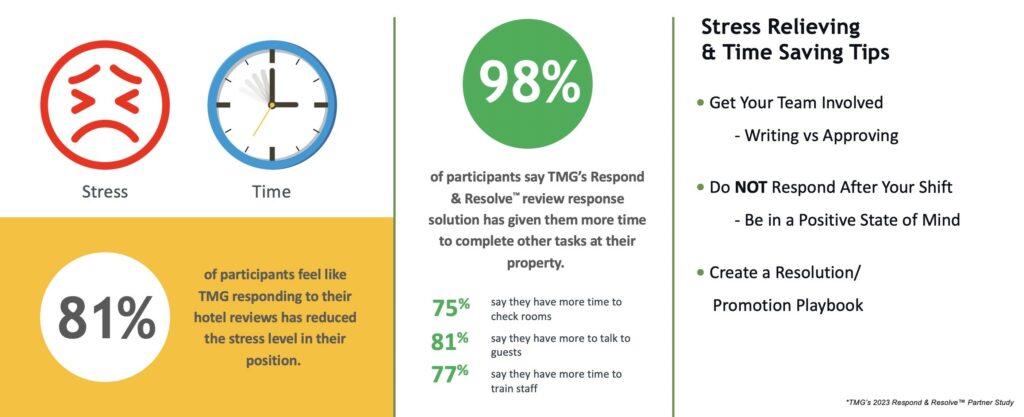 As effective and necessary as responding to online guest reviews may be, it also comes with some significant roadblocks. Stress and time are the most prominent roadblocks hoteliers encounter when engaging in review responses. The statistics above demonstrate just how alleviating TMG's Respond & Resolve™ solution is in successfully giving hoteliers their time back and taking the burden of responding to reviews off their to-do list. Review response enacts a major mental toll on the individuals that draft up the responses, so it is recommended to leave this task in the hands of experts so you can focus on doing things like checking on on-site guests, rooms, and training staff. 
Showcasing Your Response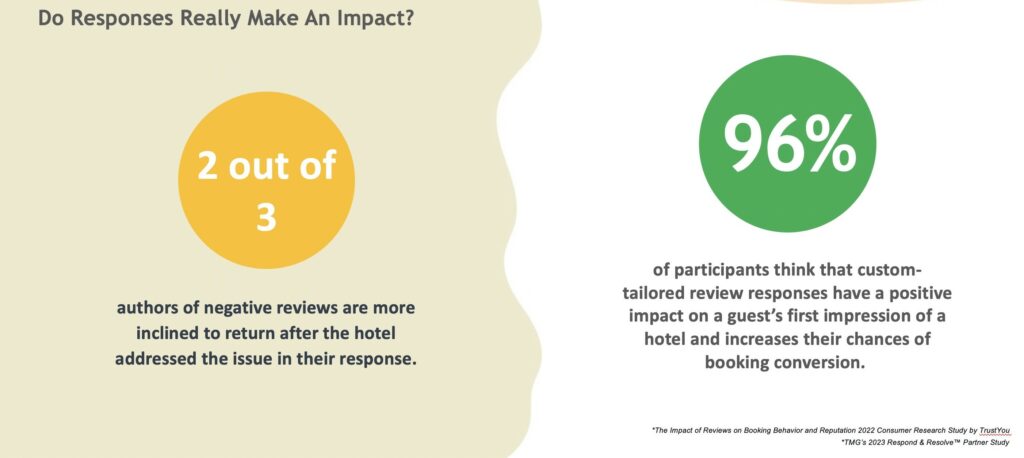 Charter An Expert Review Response Tour Guide
Responding to online guest reviews is becoming more crucial to hotels and their bottom line. Travelers want to know exactly what they can look forward to from your property and that their hard-earned money is being well spent. Review response allows you to communicate directly with your audience and educate them on all there is to know about your property. Responding to reviews takes a substantial amount of time to do correctly, not to mention the mental effects it inflicts on whoever responds. 
Over the past 40 years, Travel Media Group has responded to over 1 million online guest reviews for hotels and hotel management groups. We know precisely what is needed for the perfect review response and have an expert team of writers that respond in less than 48 hours on behalf of your hotel. 
Learn more about our Respond & Resolve digital solution and how to increase your hotel's bookings by contacting us.