Guest Sentiments Exactly: How Reviews Can Improve Your Property
With travelers posting a record number of reviews online, it's sometimes difficult for hoteliers to decipher the big picture. How do guests truly feel about your property? How can you filter through hundreds of traveler reviews and uncover the important feedback that you need to make critical decisions at your property? We will share best practices on how to identify guest sentiment and take action.
Learn where to focus your time and attention when analyzing your hotel's guest reviews. We'll help ensure you are getting the most out of this important data to make the right decisions at your hotel.
Reading Online Reviews: Hoteliers vs. Travelers
Let's start by talking about how today's hotelier is reading their property's reviews online. The funny thing is, is that most hoteliers read online reviews the exact same way travelers read reviews. The first thing we all pay attention to is the score. That is what a review is right? It's a personal rating of a product or in this case an experience at your hotel. The next thing we read is the title. The review title is a short synopsis of what we can expect within the review itself. And finally comes the review content detailing and justifying the score and expanding on the title of the review.
But what if I told you that hoteliers are reading online reviews completely the wrong way. They are reading online reviews totally backward. Hoteliers should not be reading reviews like travelers at all. Travelers read the review score first because they are looking for information to influence their booking decision. Hoteliers should be looking at the review content, not the score. It is the content that is what is ultimately determining the review's overall score. In other words, fix the content, fix the score. And that is exactly what this webinar is all about today. So how do we start identifying problems within our review content to start correcting them and raising our hotel's online reputation scores?
Online Review – Example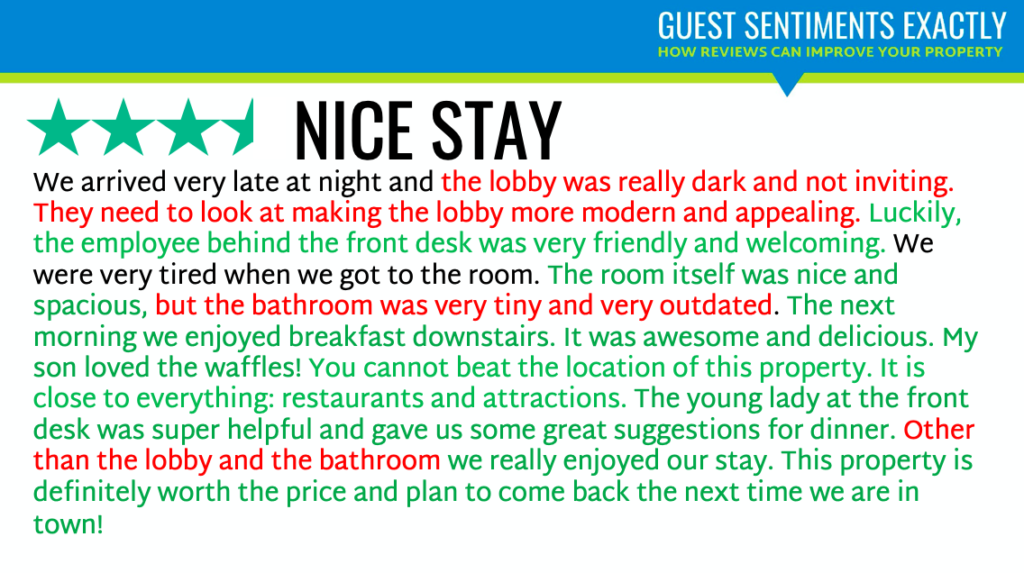 Positive Sentiment
Now we can see that there is a lot of positive content within this review, but based on the 3.5 score we know that there were also some issues that the guest experienced. Let's look at the correlation between identifying and fixing these issues and the impact of overall review rating.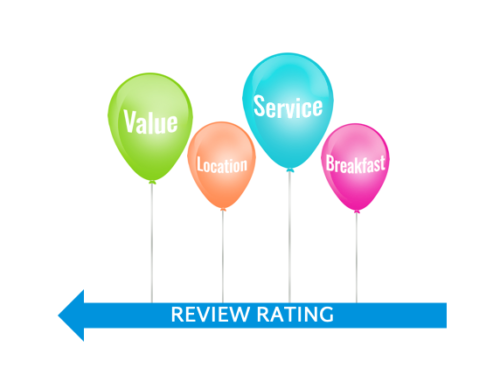 Service
Within this review, we saw multiple mentions of the hotel's superior customer service. Phrases like friendly and welcoming employee, super helpful, and gave great suggestions for dinner are all signals that service played a big part in the positive rating given by the traveler. So we are going to illustrate customer service as a balloon helping lift the traveler's online review rating.
Breakfast
The guest also really loved breakfast, which as we all know is a key component in the hotel industry. Commenting on how their son really enjoyed the awesome and delicious waffles.
Location
Location was also positively mentioned within this review's content. Talking about the hotel's proximity to restaurants and nearby attractions.
Value
Last and most importantly: value. If travelers do not perceive your hotel as a good value, your property could really be in some serious trouble. Luckily, in this review the guest gave the hotelier and other travelers plenty of signs that they perceived their stay as a good value, mentioning that the property was definitely worth the price and that they plan to come back the next time in town.
Negative Sentiment
There were also several negative sentiments expressed within the body of this review. It's negative sentiment that brings down a review's rating like a weight weighing down a bar.
Bathroom
The room's bathroom was also described as tiny and outdated.
Lobby
In this review, the lobby was mentioned several different times throughout the traveler's review in a negative light. Commenting that the lobby was really dark and uninviting. The guest even suggested modernizing the area to make it look more appealing to travelers.
Review Score Rating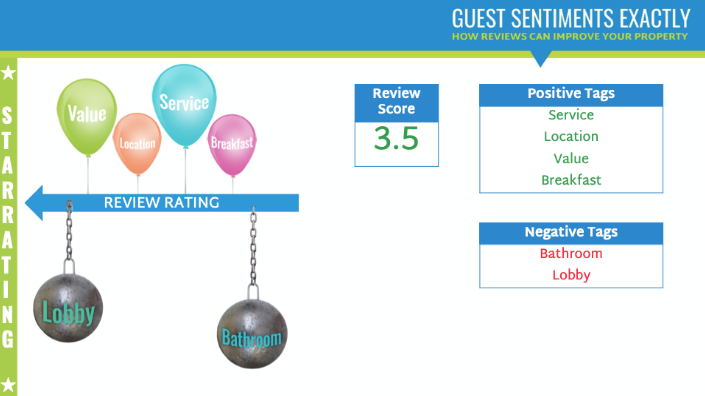 So as we take a look at this image we see that there was clearly enough positive sentiment to make this a perfect 5 star rated stay. The traveler thought the customer service was top-notch, they really enjoyed the convenient location of the property, thought the breakfast was delicious, and felt that the overall experience was a really good value.
However, when we attach the negative sentiments or weights to the review rating we see the overall score pulled down to a 3.5. Remember: fix the content, fix the score.
Overall Reputation Rating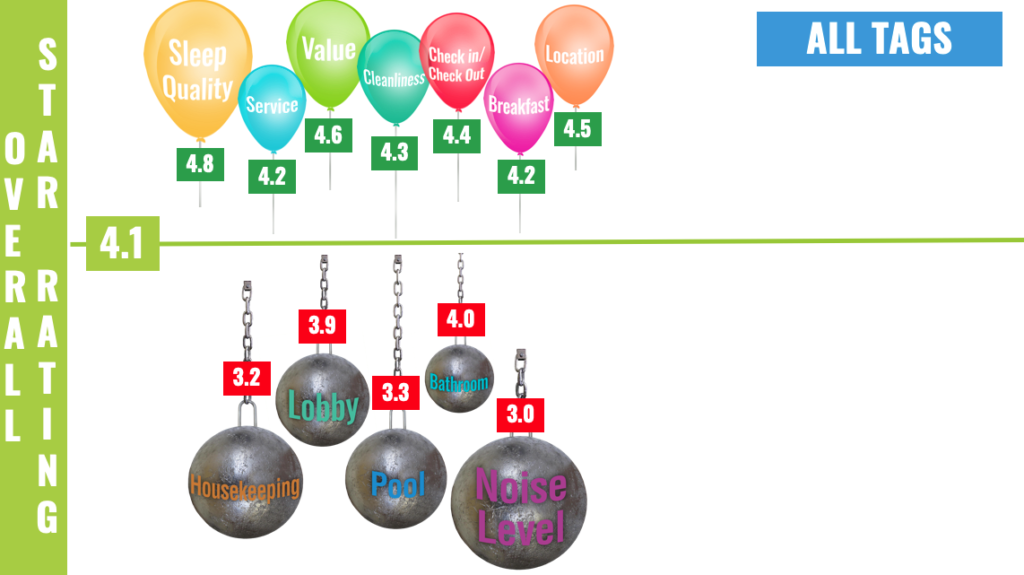 But this was just one single review. There are dozens of online reviews sites with thousands of reviews being posted every day. So how do we dive into guest sentiment for every single review to make meaningful changes at the property that will have major revenue-generating implications?
Let's take a look at a property's overall reputation and star rating. Considering not just the sentiment of one individual, but the sentiment of all guests over the span of all online review sites. The guest sentiment is averaged out and determined whether that tag is helping raise that overall review score, a balloon, or lower it, like a weight. The overall star rating for this hotel is a 4.1 out of 5 stars. Now, most hotels would be happy with this score, but what if we could identify for the hotel a few things, that if fixed, like housekeeping or noise, could increase their score even higher!
Fixing Negative Tags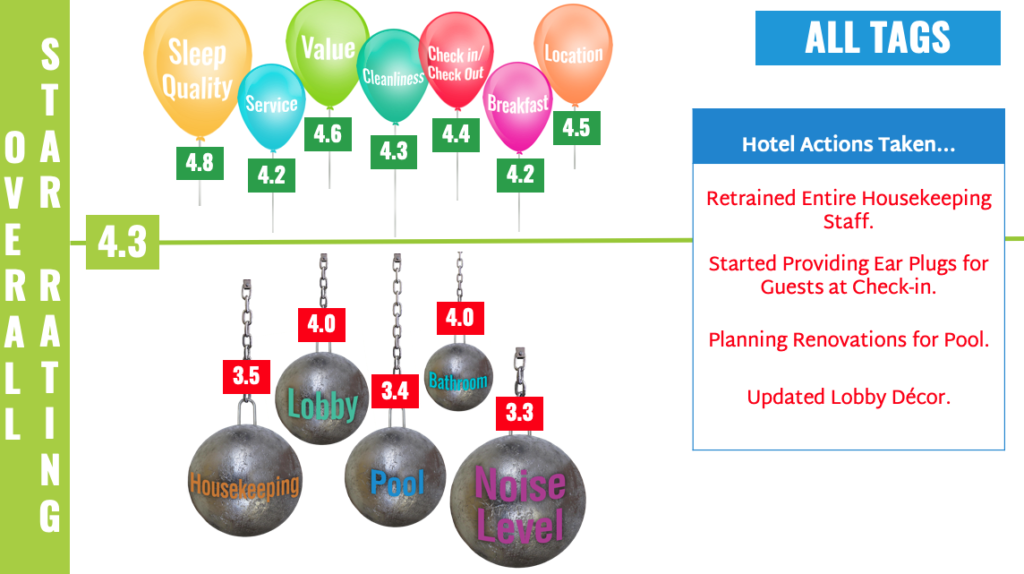 If we were able to identify these "weights" that are weighing down this hotel's overall reputation score, the hotel could implement fixes like retraining the housekeeping staff, providing earplugs at the front desk to help cancel out some of the noise level complaints, put money towards a major capital improvement like renovating the pool area, or doing small investments like updating the lobby decor and lighting. Without having this information and knowing what is truly keeping guests from having a 5-star experience at the property hoteliers are spending their time, energy, and money in the dark, hoping they get lucky fixing something that might not be as big of a factor or weight as they think.
Improving Positive Tags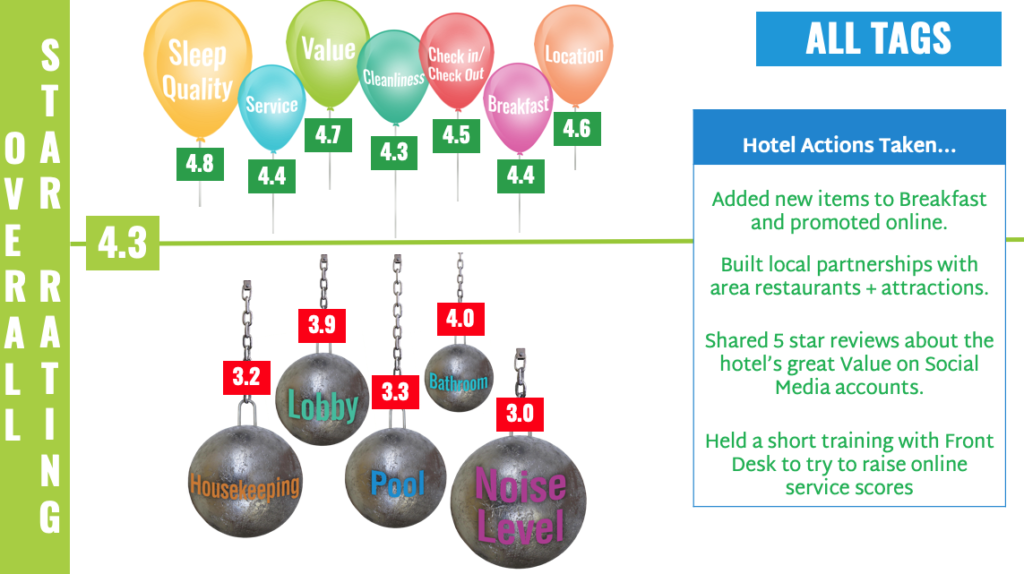 In hospitality, our mission is to provide travelers with a 5-star experience – the highest level of satisfaction at our hotel. So why only focus on what is wrong instead of trying to improve further on what is going right. In other words, fill our balloons even more to help our hotel's reputation raise even higher! For example, we see that Breakfast is barely scoring above our average overall score, if we identify that a hotelier could be proactive and try minor menu changes to improve that tag score higher. The same is true for Service, so instead of doing a major overhaul to staff, why not conduct a small refresher course in an attempt to improve service scores. We see that value is one of our strongest tags for the property. Lean on that by sharing 5-star reviews on social media that comment about the great value the hotel offers. Location is also a strong sentiment for the property, leverage that by building local partnerships with area restaurants or attractions.
By knowing your hotel's strengths you can find creative ways to leverage them and improve your overall reputation score even more. It's a combination of fixing the bad and sharpening the good that you will see your overall review scores improve drastically and that is where Travel Media Group can help.
Sentiment Analysis
With Travel Media Group's sentiment analysis tool, we are able to identify these tags for you and uncover what parts of your hotel are working as balloons and improving your overall online reputation and what parts are acting as weights, hurting your scores and decreasing your chance of booking conversion. Our review response team has more than 45 tags that they identify and score for hoteliers, so that each property has the most accurate and comprehensive reporting in the industry. We show the frequency of each tag, the tag trend over time, and the average tag rating in comparison to the average review score. We can even pinpoint and display specific reviews that mention each tag across all of the different online review sites.
Respond & Resolve
This is all done and included within our Respond and Resolve Solution where we have a 100% review response rate within 48 hours on all major online review sites. So I want you to ask yourself, if I were to give you a list of almost 50 different aspects of your hotel, could you identify which ones are making the biggest impact? Could you tell me with absolute certainty, "If these 5 things were fixed, my hotel's reputation score would raise by this much?" Or could you identify the top 5 aspects of your hotel that guests love the most? Or would it just be a guess? If that is the case, Travel Media Group can help. There is too much data out there today for hoteliers to be guessing on such important and revenue impacting decisions.