42 – Social Media As Content Marketing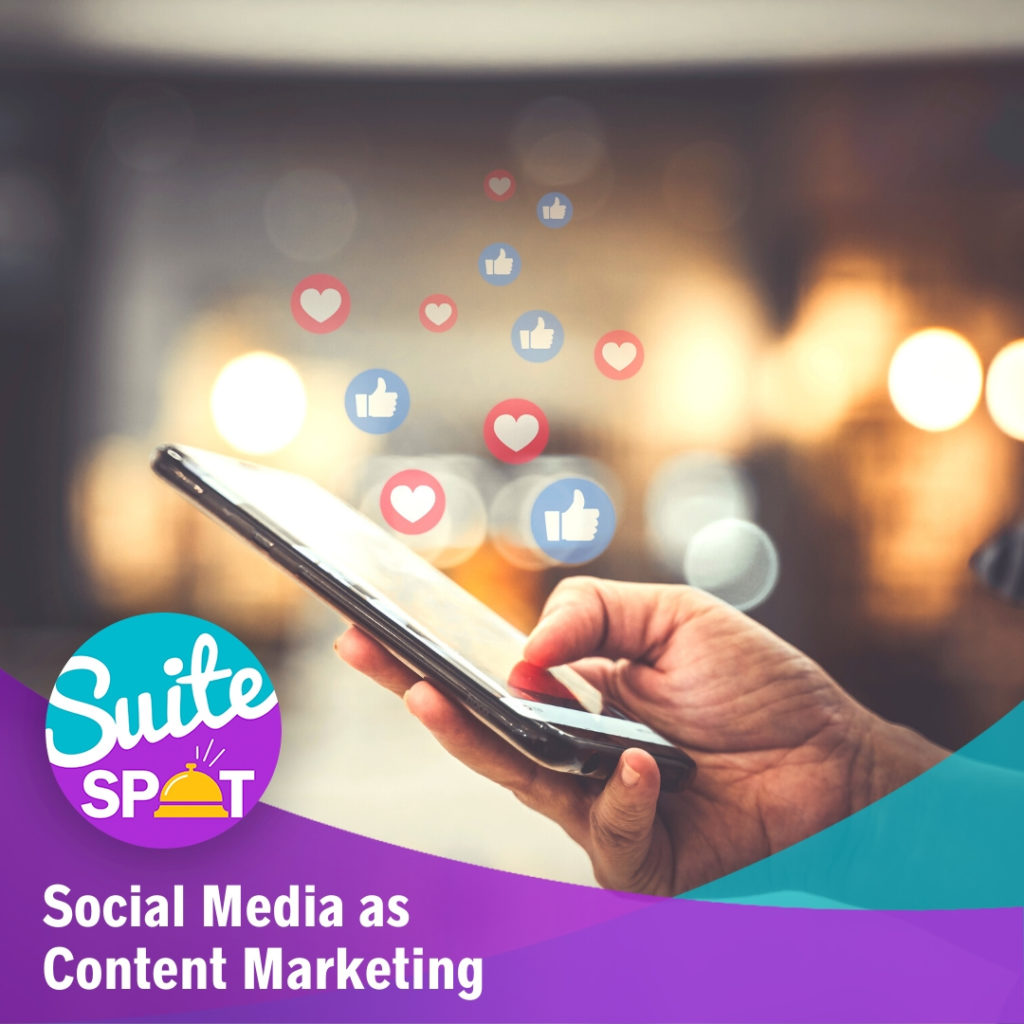 In this episode of the Suite Spot, host Ryan Embree is joined by Vice President of Product and Technology, Jason Lee, to walk through the emergence of content marketing and the importance of strategic social media for the hotel industry. Jason and Ryan discuss social media as "the great connector" and how hoteliers can use occupancy drivers like events in content marketing for their hotels.
Jason gives his advice on how to identify these local occupancy drivers and the best way to leverage them through social media posting. They also discuss how using influencer marketing and social media advertising can strengthen your hotel's overall marketing strategy. This episode is the perfect guide on how to evolve your hotel's social media strategy for the new decade.
To learn more about how we are helping hoteliers optimize their property's social media strategies or to submit a question for future episodes, call or text 407-984-7455.
Episode Transcript
Our podcast is produced as an audio resource. Transcripts are generated using speech recognition software and human editing and may contain errors. Before republishing quotes, we ask that you reference the audio.
Ryan Embree:
Welcome to Suite Spot where hoteliers check in and we check out what's trending in hotel marketing. I'm your host, Ryan Embree. Hello everyone, welcome to another episode of the Suite Spot, this is Ryan Embree, as always, your host. Before we get started on today's episode, I have a very exciting announcement. Thank you all of our listeners for all of your continued support, we have just hit the 10,000 listen mark on our podcast, the Suite Spot, so thank you again for all your continued support out there. We love that you guys are listening and engaging in this type of content. It really means a lot to us. So with that being said, we have another exciting episode with a very familiar voice of the Suite Spot that is Jason Lee, he is our vice president of product development and technology. So I'll go ahead and welcome Jason in this morning, welcome Jason, back to the Suite Spot.
Jason Lee:
Thank you Ryan.
Ryan Embree:
And we are going to have a really exciting discussion today. You can call it a couple things – you can call it content marketing, you can call it the evolution of Social Media – being that it's a new decade, I think this is a great time to kind of talk about, whether we've recognized it or not, Social Media has really turned a corner on what it can be and how hoteliers are leveraging Social Media. So could you just walk us through, I mean, being on the product side, developing a solution like Social Media. How has Social Media for hotels evolved over just the past maybe five years to a decade?
Jason Lee:
You know, I think as new generations come up – new generations of travelers, new generations of users – they've basically grown up with technology. If you are a person under 30 you've grown up with this technology, so this technology has been a part of your childhood, your teenage life, and now going into your adult life, this is no longer, so this is a utility – like Google – like other other types of utilities where I go to find information where I go to see stuff about my friends, where I go to see images, where I go to be entertained. And this is something that is different than something that says like, you know, I guess the thought of I'm wasting my time in this one area or I'm wasting my time, you know, on Facebook or on Instagram. Now it's really more about this is where branding happens, this is where influencing happens, and this is where people are going to see, "Hey is this a credible product?" What are other people saying about this? Or I'm being introduced for the very first time to this by this medium and this medium is trusted because I'm trusting the person that is showing me this through this medium. So Social Media, I has become something that is really, you know, I would say a very viable media outlet. And so when, whenever you have something like that and it's kind of shifted from maybe like a certain age demographic or from a certain set now something that is fully mainstream, I think you have to pay attention to it differently.
Ryan Embree:
Well and I think over the past couple of years we've seen the Social Media platforms just release so many new features, right? I mean you think about when we first started doing Social Media for hotels, what we were doing to create those pages, to optimize those pages maybe took five to seven steps to really optimize a page and then we would start engaging with content and posting. But now, there's just so many intricate details, so many features, we talk about strategic ad spend all the time, we talk about branding – like you were talking about – adding simple things like a "book now" button instead of a call now, Facebook messenger, the types of questions that travelers are asking. So there's just so much involved in that and I think these features are, what this new generation is looking for, is how can I use this more as instead of just what Social Media was kind of created to be, but now it's evolving into this type of tool.
Jason Lee:
Yeah, I mean I think it's as important as a hotel website, it's as important as anything you're doing for branding. But what's interesting, it's funny you say that about about onboarding. What's really become very fascinating is because when Facebook bought Instagram, they kind of kept Instagram a little bit, at arms length from Facebook and there has been a major shift this year or at the end of 2019 going into this year where they're treating Facebook a little differently. So much like a Google business listing there is now on Facebook you have a specific business manager which is different than a Facebook page admin and that business manager now for that page is now the one that is the only one that can connect a business Instagram account to it. So you're, you're starting to see these things kind of come together where Facebook is like, "Yeah, we are connecting or this business is, you know, we're starting this business out and it's going to be controlled by this centralized platform." So very interesting, you know, time I think and I think it's that this year will continue to develop as you've already seen the ads platform come together for both Instagram and Facebook. So it's going to be interesting.
Ryan Embree:
Well I think Facebook is starting to recognize how powerful of a search engine it is and how much consumers are actually using it as a search engine and we're going to talk about that a little later when it comes to this content marketing. But I think maybe a way to start off is just kind of defining content marketing in comparison to Social Media. You like using that that term a little bit more than saying Social Media, you like calling it content marketing.
Jason Lee:
Yeah and I think what you're looking at is Social Media happens on your page, so I think people will comment and do things. The social aspect of that is one thing. You being strategic in creating marketing that is content related is extremely important and it's important to have that distinction. There's a distinction between content marketing and actual ads marketing. So if you're advertising rooms to like a "book rooms now" kind of a scenario, that's different than saying I'm going to put money behind a post that is about something, about my property, about something that's happening in my area. So content marketing is – and the reason why there's an important distinction – is that if you are strategic and you are mindful of the type of content that you are pushing and you're pushing that across your platforms, you're maybe even pushing that in a blog or pushing that on your website. You are now intersecting with the things that drive occupancy in a market and you're starting to like use that – so using the momentum of a concert, or a festival, or a marathon, or a film festival, or something that's happening in your market, something that creates sellout, something that creates, you know, mass occupancy. And now you are using that momentum to drive people to rooms at your property. And you're also using that momentum to expose people to your property, to show people your property for the very first time. And I think that's where you use content marketing to like find all of those things that are happening just about yourself and also about your market. And you start to expose them into your platforms, but you do it in a way that is, you know, obviously beneficial, but you also want to do it in a way that is very marketing minded.
Ryan Embree:
It's the great connector, right? So content marketing, it's almost like what you were talking about with the generation that has grown up with Social Media, with Google, they were also growing up with ads right in their face and they were recognizing, "Okay, this is an ad right here. I'm looking for the content that I'm looking for, that I'm searching for." So if you're able to strategically place that event and somehow have that connector to your property or that amenity, for example, you're not directly advertising your product, you're connecting it to an amenity. That's where it becomes, "Alright I'm not seeing an ad here. This is actually content that I might be interested in." And then it connects you to the hotel. So there is that important way to distinguish the two and I think that's extremely important. So you mentioned some, but what should hoteliers specifically be looking for in their area to capitalize these occupancy drivers that you're talking about?
Jason Lee:
So any hotelier that's listening to the podcast right now can probably think off the top of their head of the dates that they sell out, right? As a former hotelier, I can remember all of the dates of the last hotel I ran where I sold out. I mean maybe not the actual dates, but definitely the event. It's an important time because it's full occupancy compression in a marketplace and it's also the most busy time at your hotel so you gear up for it. But it's also the most exciting time, it's where you get your most rates, it's where you have the most revenue performance. So I think when you start to think about that, you should think about like what are those events and start there. So you start with your big events and then you start to go backwards. You can go backwards into like the sub events and I think the big events where you sell out are great places to expose people to your property. You're probably going to sell out anyway, but it's still this awesome way to create and drive people to to know that "Hey, this is a viable lodging option maybe for the next year or maybe for another time." But then as you start to get into maybe the other types of events that are driving occupancy inside of a marketplace, like a little league tournament, a craft show, or as you get into that stuff, that then where it maybe doesn't sell out the whole place, but it does the whole city, but it does actually create an occupancy blip, then you start to get better share. And that's where it's cool to get in front of that. And those are the people probably that are the most rabid about their event. So looking at your biggest events and then kind of going backwards. And I would source all kinds of stuff, if you have a Convention and Visitor's Bureau, all of them have calendars. So just check out those calendars and look at those types of events. Chamber of Commerce has the same thing if you've got that going on. Another thing that drives occupancy is sports stuff. So every single college, junior college, they all have sports calendars. Looking at all of those different things and getting in there and seeing where that's at, seeing what's happening, what's coming. There's also event centers themselves, so the arenas and stadiums and things like that all have calendars. So those are quick, easy ones. Obviously things like live nation and, you know, for concerts, those are easy to just go in and see what's happening this year in my area.
Ryan Embree:
Yeah, and speaking of calendars, one of the great features of our Social Media solution is that it does come with a content calendar. So, of course, you've got all these calendars out there for events, but what you want to do is you want to strategize and put your own content calendar together, your own Social Media posting content marketing calendar. You can use this year over year, a lot of hoteliers that we've talked to, they've been in their same market, just like Jason said, you know these annual events, start plugging those into your content calendar because timing – and I want to talk about that next – timing is so important. Can you kind of talk about that when we are talking about posting?
Jason Lee:
Yeah, so I think timing is very similar to other types of marketing that you do. So you think about your booking window and that booking window may be different for events, but the booking window itself is an important look, you know. So do I want to schedule a post on the day of the event that may not be as effective as posting something in my actual booking window. So let's say I've got a three week booking window and I've got this small event that's coming up, I definitely want to be at least three weeks out and talking about this event. You know and it also could be something that you look at with the event coordinators themselves. It's easy to reach out and, you know, we hashtag you, you hashtag us, you know, kind of stuff. And it's simple, those are simple little marketing tools, but those are really powerful reverberations that happen from it. But I would definitely say look at the booking window and try to match that. And in bigger events, in the sell out events and stuff, you may even want to give yourself a few months maybe, you know, three, four months in advance.
Ryan Embree:
Yeah and that's a huge tip. I mean in some events that's the case. Honestly, you know, one of the biggest caution tales we tell is, you know, you never want to put a post out there to an event that's sold out or it's not, you know, so that is one of those kind of PR nightmares. You don't want to do that. So you want to make sure that you're giving yourself plenty of time when it comes to these events and we talked about this before, you know, try out different things. There's so much data and analytics, I feel like, you know, I say this every single episode, but there's so much data out there, you know, see what posts are working, what time of the day, when your travelers are looking, when they're booking. These are all important things to know when doing this content marketing. You can start to refine that and really get really granular and figure out when the best time is for that posting.
Jason Lee:
And I think even day of, if you do the right messaging day of, you know, if you're just like, "Welcome, you know, everybody we're so excited to have you at our hotel." And you, you know, you create some cool graphic on there and then they share that out. So these are all people that want to be involved in the excitement of the event and now they're at your property and now they're sharing a post from your property into their, you know, into their audience. And I think, so things like that can be also effective, but you're right, you don't want to be like, if you're sold out you're like, "Hey, room's still available."
Ryan Embree:
Yeah and I love that awareness because again, you know, this is the type of platform that pays dividends. We don't know when it's going to pay that dividend, but it does, we know that eyes are on there. We know that travelers are searching on there.
Jason Lee:
But one of the thing about, about this type of marketing is that I agree, you definitely want to look at the analytics and you definitely wanted to try to capitalize on what is performing the best, but I would also say that even like, even if it's a small amount of performance on different types of posts, different types of posts are really important. So let's say your biggest events get the most eyeballs. So they get the most impressions and that percentage goes way up. So you're like, I get this huge lift from an event. So property feature posting may not give you the same lift, but it does give content to the page that's really important. So content about your property, so about a feature of your property, is extremely important. Even if it's not shared, even if it's not clicked on and engaged. And the reason why that is because people go to those pages a lot of times for confirmation of booking. If they see you're involved in the community, that's awesome, but they also want to see information about the property. So I would make sure that yes, definitely using analytics to get yourself into the best possible position but don't sacrifice the kind of a diversity of posts. I would still try to like get as many different types of posting in there, especially about your hotel. So don't be like it's all about everything else and not about my hotel.
Ryan Embree:
Oh, absolutely. You want – if a traveler comes to your page and all you're posting about are different events they are going to have no – you're almost working as a CVB there. You want to show yourself a little bit and show what you're all about because yes, that that is the great connector of getting it to your page, but then once you're at your page, you want to show them some reasons, they want to show them some value proposition of why they need to be staying at your hotel. You got them to the point that you want them and now you've got to show them, you know, who you are. And that's hopefully we get that person to follow the page. They share some posts and we talk about awareness, which is a huge, huge thing.
Jason Lee:
Well in our content marketing platform, so what we do is we've got three major categories: we have property feature, we've got local event, and local story. Those are our kind of three things that we do. And what I see sometimes is hotels pressing towards the events. So they're like 90% events, right? And then it like , you know, five and five on the other two. And I think you're missing, you know, it can be a mistake. And so they can actually come and talk to our people and set those thresholds. And so you may want to do that if you have more events, but I would also, I always like stress say, "Hey, don't put all your eggs in that one thing."
Ryan Embree:
You make a great point and, you know, and that is one of the great things about working with so many hotels is we know, kind of what type of posts, what mix works, you know, it's different for every single market, but we have Social Media strategists here that this is what they do. You know, they try to identify these patterns. So it's something that you don't feel like you need to take on yourself. I want to switch over to influencer marketing. We know that is huge on Instagram, which we also partner with hotels in doing Instagram marketing. But influencer marketing, talk to me a little bit about how influencer marketing plays into this type of content marketing we're talking.
Jason Lee:
So influencer marketing works just like you would think it would and it's just like anything else, it's like anyone endorsing a product. If you watch commercials or listen to commercials, you know, celebrities endorsing products are like what, you know, what you see a lot of. And it's like, it just helps people to be like, "Oh, okay." But with influencer marketing on Social Media, it's even, it's way more powerful, because you're picking up on a million, 3 million, 10 million people that are following somebody. And so I think that's where it becomes really important to maybe seek out these types of influencers. And so people that are travel influencers, people that are influencers for a specific event, you look at like the big marathons that are running, there's like these celebrities inside of these marathon guys, and these guys don't make a ton of money, they have endorsements and stuff, but they're always looking for opportunities. And that opportunity could be in the form of a free room. So it's like, it could be something very simple to you where it's like, "Hey, we'll comp your room if you mention us, you know, if you mentioned us and give us a little plug, make a little video for us." Those are things that are, that that can explode and be really and something powerful, but also something really cool, cool for your staff, cool for everybody in your organization to be a part of and basically doesn't cost you hardly anything.
Ryan Embree:
Influencer marketing sometimes is just so simple and transactional where it's like, "All right, do I have to, you know, how much am I going to have to pay this person?" And sometimes that's all it takes is just a free room. And they share a post talking about where they're saying, you know, that is, that is a huge opportunity for a hotel that they can capitalize on. That's something that has become more popular here in just the past, you know, five years or so. Do you see any other trends down the pike that you can kind of share any future trends in this content marketing?
Jason Lee:
I think with any kind of marketing especially, you know, as companies look to monetize themselves. You start to see them prioritize people who are paying for content, paying for advertising and so one of the things that we do here is we do put money towards content marketing. And I think that's a really important thing and I think you can use influencers, you can use other types of posts that can create some sort of viral sensation, but let's face it, probably most of the people listening to this have hotels that are, you know, we're just normal hotels. You know, you got 115 room, 120 room hotel, you know, you want to make the most out of Social Media and I think if you want to do that and you're using content marketing, you've got to put some money behind some of these ads or some of these posts, and it makes these posts really powerful. So a post that has content that is already intersecting an occupancy driver, you add money to that – and I'm talking about, you know, $10, $5 to this post – you start to really put that post in front of people and it also changes when that post shows up because it shows up in someone's feed when they're looking at it. So when they're intersecting with their feed, now all of a sudden this post shows up. It's not about, I posted it at three o'clock and it's all going to show everybody something at three o'clock, right? So I think there's something very important in that, that it's important to understand what that is and how much money you can spend there and the kind of impact you can get for a little bit of money. So, you know, so it's different than a Google ad word. Google ads are like fully dominated by, you know, OTAs and brands in the hotel space. In the content marketing side, in Social Media, you can put out content marketing all the time and it can be very effective. So I would say, you know, obviously influencers are great, but let's say I've got a, you know, a Best Western in, you know, Alamogordo, New Mexico, right? I might have stuff going on there where I can snag an influencer, but for the most part, what my day to day looks like is going to be like, how do I capitalize, how do I make the most out of the revenue spread in my market and what is it that I'm doing on Social Media to make that happen? And I think the things you can do that day in and day out effectiveness would be like really engaging content marketing and money behind that. And obviously any kind of event or where you can use an influencer or any kind of thing where that's the case, definitely use it. But for most of us, it's like, you know, you got to go to the gym every day and work out to, you know, build muscles or lose weight. I don't know anything about that, I've heard that somebody told me that. But what you start to see in this case, it's the same thing, it's repetitiveness, it's doing it, it's consistency, it's using the kinds of tools that are available to you to maximize this outlet that guests are definitely interfacing with.
Ryan Embree:
And it's a combination of all of those things that you talk about, because it's the most effective Social Media strategies that don't just rely on ad spend, but they look at occupancy drivers, like content marketing, they're looking for opportunities for influence marketing, you know, to liken it to, you know, your analogy of going to the gym, it's almost like you have to be working out different parts at different times in order to optimize, you know, how you look. So that's the same thing with a Social Media strategy. You can't just hone in on one thing all the time, just to kind of bring it back to where we started the episode. Maybe that was effective at the beginning of the decade, you know, back in the 2010's when Social Media wasn't used like it is today, today it's much more targeted, it's much more strategic and the consumers that are on there, they know what they're looking for and you have to give it to them, in order to see that conversion.
Jason Lee:
It's also reinforcing, you know, what's kind of cool about what content marketing does too, especially on the ad side, is that you – so let's say you went and you did a bunch of research on a hotel. So most of the people probably listening to this that are into like their revenue stream and how people book, they look at like here's all the channels that they went to, they looked at reviews, they looked at, they looked at rates, they went to from OTAs back to my website to TripAdvisor and then into another OTA, right? But so let's say they did a little bit of that research and now they're just sitting on their couch, like thumbing through their feed, right? Boom. They see some content about your property that just shows up there. And they were looking for that best Western Alamogordo, New Mexico, right? They were just, they were just searching for a hotel there and now all of a sudden they see content from your hotel. And it's not an ad, it's not something that's saying book now into this thing. It's more about like, "Hey, I've got this cool property and this is what we do." And I think there is something really cool about that and it's sort of organic. It's paid organic, I guess. So you're like, so now I'm interfacing with this guest and this guest might be like, "Cool, that actually looks like a cool place, I might just book there." Or they may have just even been looking at your hotel, but that's a way, that's one way that this stuff comes together. And I think that that's to your point, the evolution of this really is that it's evolving into a space that is, a space where people are influenced by content, but they're influenced by ads, the same way you're influenced by ads everywhere. So this is a great place because people are being entertained by posts and they're being entertained by content and so if you can create something that entertains and informs and, you know, puts that together, and then you've got this great recipe to start to build occupancy. The other thing I would say too you about this is that what I would think about my entire digital footprint the same way that I look at the physical plant of my hotel. So I have this great structure and I'm looking at circulation pumps, I'm looking at pressure washing sidewalks, I'm making sure that I've got a black and stripe in my parking lot, I'm making sure that things are clean, and I've got good landscape and I pay money for all of that to make sure that my hotel is working right. And if you look at your digital footprint, there's all these little things in the same exact way as a hotel's run, that you have this digital footprint that is influencing people in various ways at various times in the buying process. Then if you don't have those places optimized – and the cool thing is – I think a lot of hotels don't. So if you get, so if you're listening to this, you know, dive into this and start to optimize here. This is where, this is the corners of occupancy that you want, right? This is what gives you the extra 5% to 10% in occupancy in a year that you didn't have a year before and that's where I feel like there's power in all of these things, but content marketing is all the way through everything you do. So the content of your reviews, the content of Social Media, the content on your website, the images, the videos, all of those things that display your hotel needs a look, in the same way that you're looking at your hotel today.
Ryan Embree:
Hoteliers talk about it all the time of saying, "How can I capture more of my market?" New supply is coming in constantly, you know, if you have all of those things working right, and the first step of that is exposure, that digital footprint, you know, the traveler almost the first step that they need to take into your hotel lobby is actually going to see your reputation. That's the first step that they take into your brand, into your business. So very, very cool. I'm sure we can talk about this for a lot longer. You gave a perfect illustration with talking about that Best Western of how that could potentially be the differentiator between your hotel that's active on Social Media and your competition across the road that might not be as active and that be the final differentiator.
Ryan Embree:
Any closing thoughts? Final thoughts? I know we covered a lot today.
Jason Lee:
Well, I mean, look I feel like Travel Media Group does this the best and I feel like we have this really great platform and we have a way to make this really work in a very prescriptive way for you. We build something that you can work with on your own that gives our content creators a ton of information to make the very best and most effective posts for you. That's the Travel Media Group plug, but here's my hotelier plug: do something with this. If you are on the fence of I'm going to optimize my page or maybe you have a page, maybe you're the admin of a page, maybe you haven't made something. Go ahead. Make your pages, get your best images. Maybe get your staff together, maybe at your next front desk meeting or your next staff meeting, talk about how you want to interface here. Maybe make your front desk manager an admin on your accounts and let them do some posting, you know, do some staff profiles. Get yourself out there and start to use this. And I would say try to do it as consistently as possible. Create a marketing plan if you can or make it part of your marketing plan where you post once or twice a week. If you're not going to use somebody like us, but we would love to have you. But don't just like not do it because you think that it's not effective. It is effective. It does influence people. It does work. So that's my final thought: don't be afraid of it, jump in, and do it.
Ryan Embree:
And I'm sure our listeners, you know, if you're associated with any brand or any hotel association, you've been hearing it for years, you know, that very same message of, "You know, how long are you going to be on the sidelines on this because this game is not ending. In fact, it's getting more difficult to be in the game and your consumers are using it more and more each day as a tool to make booking decisions." And if that's the case, wouldn't you want to be on a platform, that in the end, what does it cost to be on Facebook? What does it cost to be on Instagram? It's completely free. So Jason, thank you so much for your insight. As always, love having you on the Suite Spot. If you are interested in learning more about our Social Media solution or have any other questions about content marketing, the exciting things that we're doing leading into 2020, please contact us – (407) 984 7455. I want to thank again all of our hoteliers and listeners out there for all your encouragement and support and we will see you next time on the Suite Spot. To join our loyalty program, be sure to subscribe and give us a five star rating on iTunes. Suite Spot is produced by Travel Media Group, our editor is Anne Sandoval with cover art by Bary Gordon. I'm your host, Ryan Embree and we hope you enjoyed your stay.
Hotel Marketing Resources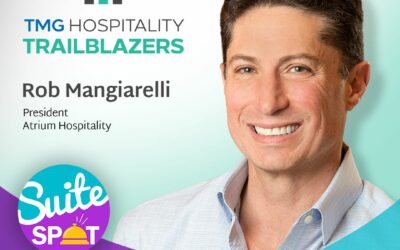 This episode features the one and only President of Atrium Hospitality, Rob Mangiarelli, as he sits down and talks with Suite Spot host, Ryan Embree on all things hospitality. These two experts share incredible knowledge and insights on various topics that give...