52 – Building Traveler Confidence for COVID Recovery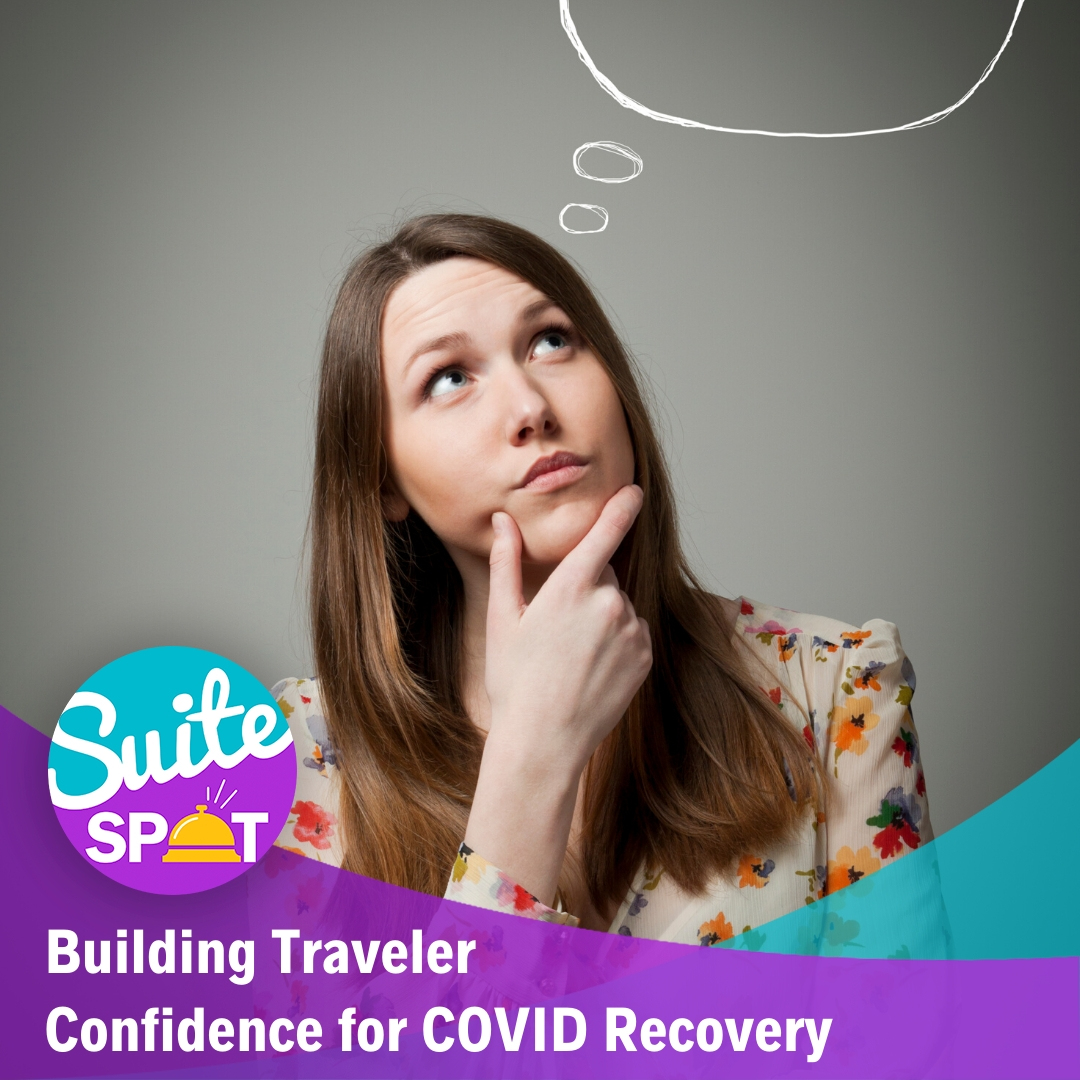 In this episode of the Suite Spot, we turn our attention to COVID-19 hotel industry recovery and what hoteliers can do to build traveler confidence. Host Ryan Embree is joined remotely by Travel Media Group's Director of Marketing, Anne Sandoval, to share best practices for increasing guests' comfort level.
Ryan and Anne start by discussing the evolution of hotel's messaging throughout the pandemic across their digital marketing channels like social media and vanity websites. They talk about the most effective places online to relay the changes that have been implemented at the property to ensure the safety of their guests. Finally, they identify the signals that hoteliers should keep an eye out for online which indicates that travelers are feeling more comfortable and confident in your property.
If you are looking for more creative ideas on how to build traveler confidence post-COVID-19, visit Travel Media Group's COVID-19 hotel marketing resource center online or reach out to us by phone or text at 407-984-7455.
Episode Transcript
Our podcast is produced as an audio resource. Transcripts are generated using speech recognition software and human editing and may contain errors. Before republishing quotes, we ask that you reference the audio.
Ryan Embree:
Welcome to Suite Spot where hoteliers check-in and we check out what's trending in hotel marketing. I'm your host, Ryan Embree. Hello everyone, welcome to another episode of the Suite Spot. This is your host, Ryan Embree. I want to take a quick second to thank all of our listeners for all of your support out there, I can't believe it's been over 50 episodes that we have been providing this information. I hope you're enjoying it out there, with me today is our Marketing Director, Anne Sandoval. Anne, I know you just joined me remotely a couple episodes ago, but here you are again. So thank you again, for being on the Suite Spot.
Anne Sandoval:
Thanks. It's great to be back.
Ryan Embree:
Anne, you know, we're in a completely different place when we were the last time we spoke and I believe things are moving so fast right now during this pandemic, but the good news is we're starting to see signs of recovery. But, as we enter into the next several months, the question is still looming out there for all hoteliers, when will we get to this "new normal" everyone's talking about. Like I said, we're starting to see signs of recovery every single day from occupancy, demand, we see flight numbers are up. So people are starting to emerge from these stay at home orders, all that pent up demand. We've heard the term revenge travel, which I absolutely love. I think there is going to be a huge, huge demand here coming up in the summer. Time, will eventually and organically get us to that new normal, but what we're going to talk about today are some ways to potentially speed up your hotel's recovery. Everyone wants to try to get back to where they were and hopefully even further than we were, by instilling consumer confidence and comfort levels. The only way that travelers are going to feel safe is if you can instill some sort of confidence and comfort that they are going to be safe at your property, when you host them. So last time we did speak Anne, we covered the five characteristics and attributes of crisis management communication. So what messages we were sending out to our customers at a time where it was a lot of uncertainty, right? We were just getting the stay at home orders, states were starting to lock down, we didn't know what the future holds, now that we have somewhat of a clear vision of how we're going to recover. How should a hotel's messaging have evolved since that time?
Anne Sandoval:
That's a really great question and before I talk about the things that have changed, I just quickly would like to touch on a few important things that I think should remain the same and the first is transparency. So while it's essential in those first moments that you're in crisis mode, transparency is going to continue to be important for hotels throughout the pandemic and most likely following it. So today, as we're talking about building traveler confidence, one of the best ways to do that is to be very clear when communicating about your new operations practices. Another important aspect of crisis management to continue with is consistency. So at a time when travelers are constantly checking social media for cues to learn if a business is open or not, it's critical to have recent posts available to communicate that you're operating smoothly. And the other important thing to carry over from early crisis communication is responsiveness. There is nothing that will kill traveler confidence in booking with your property faster than a negative review. So the faster you respond to traveler reviews, as we move into the new normal, the more confidence travelers will have that you're hearing guest's concerns and resolving them quickly. So then I guess the next part of your question is what's changed and hotel messaging will continue to evolve when it comes to tone and content. In those early days of COVID, the focus was on communicating essential information, like if your hotel was open and communicating it in a formal tone, as in this is our official statement about how we clean our hotels. Well, as time goes on, hotels can move from that crisis mode into marketing mode. And we've seen a gradual shift as more states enter this reopening phase, travelers are not only willing to start venturing out, but they're also booking trips for fall and winter. So if you're not communicating with travelers that you're taking reservations, you may be missing out on business. To help build traveler confidence around those reservations you should continue to share updates on housekeeping practices, flexible reservation policies, and other topics that will help reassure your guests.
Ryan Embree:
Timing is absolutely critical during times like this, right? Anne, it might've come off as tone deaf or inappropriate to be posting, maybe a couple of months ago about "book now", marketing our hotel, our amenities, but now is the time – we are in an industry where travelers are booking far, far in advance, and they're looking for opportunities to book. So exactly what you said, sharing posts and messages of what your hotel is doing to proactively ensure guests safety. Now, what are some ways Anne, in the digital marketing world, that a hotel can increase traveler comfort level and confidence during COVID-19.
Anne Sandoval:
So without a doubt, I think the most important digital marketing channels right now are social media, reputation management, and hotel websites. So starting out on social media, I'd recommend at least four posts per week, so that no matter what day someone is viewing your Facebook or Instagram, they can tell that you're actively open and managing your communications. And hoteliers should share posts with a more optimistic tone, like what you were just talking about and include a variety of topics that are helpful to travelers, like sharing information about other local businesses that may be open or offering delivery. And you could also make recommendations for the best places nearby to practice social distancing, such as a park or a walking trail. It's important to share some of those things that we talked about earlier, like flexible booking policies and any specials that you're offering to secure bookings now. But when it comes to reputation management, I really think some hoteliers just forget that responding to reviews isn't just about responding to that one guest, every response to your reviews is just as public as the reviews themselves. So every review website is actually an important communication tool for your hotel. So review responses should be seen as an opportunity to reassure travelers about the precautions that you're taking at the property. And finally, I think this pandemic has really shown hoteliers how helpful it is to have a vanity website where you can make frequent updates and easily control the message about your property. Websites can be used to communicate about your new operating procedures, housekeeping practices, cancellation policies, which amenities are open, and so much more. Many of our clients right now have a dedicated COVID landing page to answer all of the questions a traveler might have. And I think that's something that can really build confidence, if a traveler is already on your website and deciding whether or not to move forward with a booking.
Ryan Embree:
I absolutely agree, Anne. Obviously, we partner with hotels all over the nation with their vanity websites, both franchise and independent hotels, and one of the most creative things that we've seen since the beginning of this pandemic is hotels proactively reaching out to us or consulting with them on a response on their website. Travelers right now, as they're doing their research, as they're debating whether they're going to go out and enter the travel world, once again, they want to see that elephant in the room. They want to see that you're acknowledging that there's an issue that, that COVID-19 is now going to be a part of the experience. Once it's acknowledged, that's when it comes into what steps are you taking and sort of holding their hand and walking them through every little detail is going to give them that confidence and comfort level, helping them book and that's what we're talking about today.
Anne Sandoval:
I totally agree.
Ryan Embree:
Now, recently we have been sharing different types of social media posts to feature during this time. We've started to move into the recovery stage, I think everyone can start to see that uptick of occupancy, you know, industry numbers, again, are starting on upward trends, which is great. Now, how do we adapt our social strategy with traveler comfort level in mind?
Anne Sandoval:
Well, when it comes to traveler comfort level, there are a few questions that I think we have to answer for every traveler. And the number one question is, will I feel safe at your property? So through social media, you can use posts about housekeeping and share positive reviews from guests who have stayed with you during COVID-19 to reassure your guests and potential travelers and help answer that question for them. The second question that I think is weighing on traveler's minds is, how will my stay be different than what I'm used to? Obviously, so much has changed since the last time people were taking vacations and travelers want to know exactly what to expect from their hotel experience. Honestly, I think in general, that's why travelers read so many hotel reviews. They really want to know what to expect, but you can use social media to communicate with them so that you can also be part of that messaging on what their expectations should be. So I recommend sharing photos of the property regularly, and I'm not just talking about the professional photos that you've had, you know, since before the pandemic and for years, I'm talking about recent photos that you can take with your own phone or digital camera, whether it's a picture of social distancing spaces marked in your lobby or a note from housekeeping near a remote control that states that the room has been sanitized. You can give your travelers a more recent tour of your property using social media photos to really help manage their expectations.
Ryan Embree:
I love that idea and you're right, expectations are going to be absolutely vital during this time. Travelers coming into your hotel, post COVID-19, are expecting there experience to be different. So if they walk into your lobby with those pictures on social media, those old pictures in mind, and don't see tables far apart, they don't see people social distancing check-in, they don't see proper PPE being worn by your staff. That's going to get them nervous. So ease those fears. Start taking pictures of the precautions that you're taking and let them know what the differences are, from traveling to your hotel six months ago, to now, maybe that lobby breakfast buffet area has completely changed, or at least it should have. Let them know about this, so when they walk in, they can have that reassurance of saying, "Oh yes, this is what I saw online. I can expect to stand here. I can expect to sit here. They have taken these changes with my safety in mind." Now another part of expectations, it's setting the right expectation rather, is through positive reviews. You mentioned it before, we know that this plays a huge role in consumer confidence and comfort level. Yet, review flow for some hotels have almost come to a complete standstill. According to our data at Travel Media Group, we have seen a significant decrease of review flow in the hotel industry of the partners that we work with. Why, during this time, is it critical to monitor – not only the major online sites, right: TripAdvisor and Google, we hear about those all the time – but all sites and how do we correlate that with the speed to recovery?
Anne Sandoval:
Well, I definitely hear what you're saying. I know a lot of hoteliers are focused only on the big outlets like TripAdvisor and Google, but every review website is important. And we know this because travelers visit all of them and bookings come from all of them. So every review site is an opportunity for a guest to find your hotel and choose you based on what they read there. So with fewer, significantly fewer reviews happening during COVID-19, every individual review matters more than ever. I know at the time of this recording, I believe we're starting to approach 35% occupancy in the US. Your hotel needs to attract every single booking possible in your market at this time and the best way to do that is to get those positive reviews. The questions we were just talking about answering using social media can be answered with a single online review, they are that powerful. And research shows that consumers take these reviews seriously. So at Travel Media Group, we've identified the most important factors on every review website that are making the difference between a traveler booking with your hotel or moving on to the next one. And these critical items are recent review scores, whether or not they have responses, the review flow that you mentioned, or the pace that you receivenew reviews, and your lifetime average reputation score. These four factors are combined to calculate the TMG First Impression Score™, which gives your hotel a score that represents exactly what travelers are seeing about your hotel online right now. So if you're a hotel that's focused on speed to recovery, I'd recommend reaching out to us to see your score along with the scores of your top five competitors.
Ryan Embree:
And this can give you a very clear indication of how competitive you are in real time. Travelers are looking and scrutinizing these reviews more than ever before, yet there's only a limited number of reviews to look at. So there's a minimum amount of data, but a lot of focus that these travelers are taking in. So make sure that your property is not just set up with a five star review on Google and TripAdvisor, but those booking sites like Expedia, Booking.com, Hotels.com, maybe those reviews haven't been on your radar before, but they certainly should be today because if you get a negative review in those spaces and a traveler comes there to potentially make a booking decision, they might be picking your competitor versus you. Let's talk about review response. What type of consumer reaction does a response like, "thank you for your feedback" or other templated responses elicit during this time?
Anne Sandoval:
Honestly, this is probably the worst time in history for you to choose to post a generic response to an online review. Travelers are more discerning than ever and not just about which hotel to choose, but whether to leave the house at all. So by posting a generic response to a review, you're communicating that you aren't listening to your guests and that you don't care about their concerns. You're basically placing a neon sign on your review websites that says don't bother booking with me.
Ryan Embree:
I completely agree with you, with customers, if they don't think that you're prioritizing the guests that just stayed at your property, what would give you any indication that they're going to prioritize you? So I would keep that in mind when you're sitting there, you've had a long eight hour shift, maybe a double because you're working, because there's been limited staff. Make sure you take some time to really prioritize those review responses, because again, they're being looked at and travelers are basing booking decisions on them. One of the things that we would obviously love to see is that spike in occupancy and as we talked about at the beginning, time will do this for us, but this episode is about being proactive. So other than seeing an increase in occupancy, are there any other indicators that show traveler confidence and comfort level in your specific property?
Anne Sandoval:
I definitely think that positive reviews are the most helpful signifier that guests are feeling comfortable at your property. And if you're not getting five star reviews at this time, you should be scrutinizing those four star and below reviews to figure out every single thing that you can be doing at the property right now to ensure the best possible experience for your guests, because right now five star reviews are gold. The other thing that can really project traveler confidence is if they are sharing photos of your property on social media. Right now, a lot of people are hesitant to admit that they're traveling for fear of scrutiny from other people who remain in quarantine. So if travelers are posting great photos of your property and perhaps tagging your hotel on Instagram, you can reach out to them and request permission to share their photos on your social media profiles. These photos are the exact type of social proof you need to show other guests that a good experience is possible at your hotel and it's going to help them feel more confident and comfortable when you share it online.
Ryan Embree:
Yeah look for these indicators, right? Go on your Facebook, go on your social media sites, see how many of those pictures are being shared, liked, engaged with, check your review flow, make sure that you're getting a steady review flow from the guests that are coming into your property. Listen, this is the time to really, really be humble. Travelers are willing to help out businesses. They know how much small businesses like the hotel industry are hurting right now. If you give them the experience worth sharing, they're going to write a review for you. So make sure you're taking advantage of this time now to really start to build up. But I completely agree with you, there's a strong correlation between those two signs that you talked about in an increase in occupancy. So if you're doing the right things, you should be able to see those clues and it should lead you to the path of recovery quicker. Let's kind of switch gears here. You know, during these difficult times, we always want to be extremely careful with our hotel's messaging and the timing of that messaging. As we talked about before, you know, at the beginning of this crisis, we were talking messages of gratitude, really empathetic messages. We weren't really promoting our product or marketing our hotel. Now that we're several months into this, why do you think Anne, now is the time to start asking travelers to book with you?
Anne Sandoval:
Well, as a quick caveat, I don't think that everything you share online should be self promotional and include a booking link right now, but I do think that at least once a week, you should provide a clear and appropriate call to action, to encourage travelers to book with you. If you're not asking for business at all, you might be signaling to your followers that you're not even accepting reservations or that you're not in need of guests. And research shows that travelers actually are booking right now, reservations for the fall and winter holidays are up compared to this time in 2019. Now is a good time to incentivize travelers, to book with you for future dates and make them feel comfortable doing it by providing hassle-free rescheduling options. If your state hasn't reopened, write your post so that they appeal to essential workers who are still in need of places to stay right now. And if your state has entered phase one or even phase two of reopening, you better believe that your competitors are asking for bookings when they can. It's true, not everybody in your state is going to feel comfortable traveling just yet, but there are many who are feeling cabin fever from quarantine and are ready for a staycation or a trip to a drivable destination. So you want to position yourself so that you can be the hotel that those travelers want to visit.
Ryan Embree:
Absolutely and that's really the message that we want to get through to our hoteliers listening to this. We know that there's an appetite out there for travel and you're right, if you're not posting those call to action posts, you know, not only does it make it somewhat seem that you're not accepting reservations or just not in need of those guests, but it's not showing that you're ready. And we talked to a lot of hoteliers that are ready. They have took a lot of time and investment to make these changes, to ensure guest safety. So if you're ready for travelers show that, now is the time to do so because travelers have that appetite and they're ready to book. So very, very exciting. I'm sure you can hear it in my voice. It's been a kind of a long time coming, but we're starting to see those early, early signs of recovery and hope next time that we're together we can talk even some more about the steps that we're taking towards that. Anne, I'll finish this episode out with any final thoughts that you might have about where we are today and the episode.
Anne Sandoval:
Thanks, Ryan. I guess in conclusion to our conversation right now, to me, when it comes to attracting guests post COVID-19, it all comes down to trust. And one of the things that people fear the most is the unknown. So if there are no social posts, no online updates, and no reviews about your hotel during COVID-19, your hotel won't even be considered by the modern traveler. The messages you post on social media, the updates you make to your website, the positive reviews you receive, and the responses you write to them, all contribute to helping travelers feel comfortable booking with your hotel.
Ryan Embree:
Absolutely, completely agree Anne. Love the insights, love the expertise. Thank you so much for being on the Suite Spot. We'd been a resource through this entire pandemic and continue to be to all of those hotels out there that needs us to our listeners, I want to thank you. If you are interested in talking with us and are to looking speed up that recovery, we know travelers are starting to emerge, you want to start getting as much market share as you can right now, we are here to help you with all of your digital marketing needs, social media, reputation management, review response, websites, or even just a consultation on, again, being more competitive online. Feel free to reach out to us, you can visit us at our website travelmediagroup.com or over phone (407) 984-7455. This is your host, Ryan Embree, thank you for listening to the Suite Spot. Hope everyone stays safe and healthy out there and we'll talk to you next time. To join our loyalty program, be sure to subscribe and give us a five star rating on iTunes. Suite Spot is produced by Travel Media Group, our editor is Anne Sandoval with cover art by Bary Gordon. I'm your host, Ryan Embree and we hope you enjoyed your stay.