65 – 2020 In Review With Dana Singer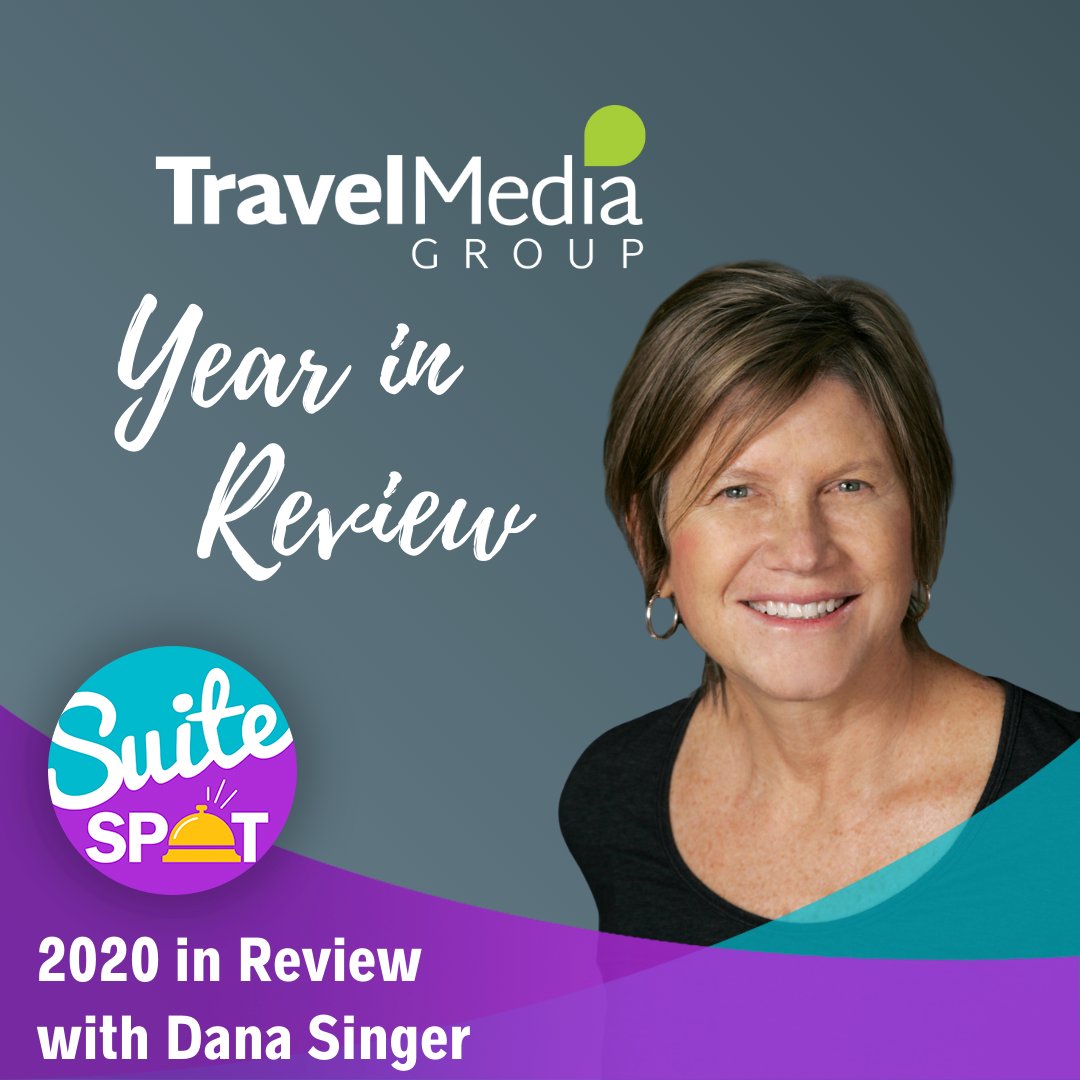 On this year-end edition of the Suite Spot, we welcome Travel Media Group's Vice President and General Manager, Dana Singer to the podcast. Host Ryan Embree reflects with Dana on the events of this crazy 2020 calendar year.
Dana reviews some of the adjustments that Travel Media Group has made in response to the COVID-19 pandemic and its impact on the digital marketing landscape for hotels. Ryan and Dana discuss both accomplishments and products launched in 2020 by the Travel Media Group product development team. Dana also shares what she is most excited about and hopeful for in 2021 as the hotel industry transitions into recovery.
To get more information about partnering with Travel Media Group in 2021 or to submit a question for future episodes, call or text 407-984-7455.
Episode Transcript
Our podcast is produced as an audio resource. Transcripts are generated using speech recognition software and human editing and may contain errors. Before republishing quotes, we ask that you reference the audio.
Ryan Embree:
Welcome to Suite Spot, where hoteliers check in and we check out what's trending in hotel marketing. I'm your host, Ryan Embree. Hello everyone, welcome to another episode of the Suite Spot. Today's episode is number 65 and it is actually the last Suite Spot episode of 2020. Yes, folks, we made it. I want to thank everyone out there for taking the time to support the Suite Spot and listening. It's hard to believe, but we've been doing this now for two years and I'm very, very excited about this episode. We have a very special guest – second time on the Suite Spot with us – Dana Singer Vice President and General Manager of Travel Media Group. Dana, welcome back to the Suite Spot.
Dana Singer:
Thank you, Ryan. It's great to be here.
Ryan Embree:
And we've got a great episode for you today. We actually had you on last time around this time a year ago, just to kind of talk about the history and culture at Travel Media Group, but since that time it's almost felt like a lifetime with 2020, and that's going to be exactly what this episode is today. 2020 has been a very stressful year, especially for our industry, and it's really forced a lot of businesses to kind of change the way that things are "normally" done. I'm curious what adjustments did Travel Media Group make in response to the pandemic, Dana?
Dana Singer:
Yeah, well Ryan, it's certainly an understatement to say that it's been an unprecedented year in the hospitality industry as a whole. And as we look back, as COVID-19 swept the nation earlier in the year, in the spring, it presented both challenges and opportunities for us at Travel Media Group to overcome right alongside our hotel partners. And through continuous innovation and just really an unwavering commitment to providing exceptional results for our clients, we launched several exciting updates throughout the year while also delivering crucial support during the pandemic. When I think about when the first stay at home orders were issued across the United States and hotels began temporary closures or staff reductions, we knew that we had an important role to play in helping our partners manage through these really far reaching impacts and offer our support at the highest level possible. And our dedicated client success team and our product specialists, all worked tirelessly to ensure that we could assist our clients with timely updates to their websites, social media, and review response guidelines. And as part of our COVID-19 response, we hosted a three-part webinar series to help hoteliers identify ways to maximize revenue in the midst of everything that was going on. And our webinars focused on managing communication strategies, optimizing market share, and offsetting group travel loss to ensure that we covered major industry areas that were negatively impacted by the pandemic. And we continued to support our clients in their unique needs throughout the summer, offering advice through our blog, podcast, and additional webinars. And our dedicated product team continued drafting and scheduling social media content and writing expert review responses, just to ensure that all of our clients could put their full focus on the needs of their hotel at the property level.
Ryan Embree:
Absolutely and I think what made this year so challenging for hoteliers to kind of combat this, was it really took away what the foundation of the hotel and hospitality industry is all about, and that's customer service, face-to-face interaction, creating connections with guests. So hotels had to turn to other forms of communication using the digital landscape and digital marketing to reach out and connect with customers during this time. So I'm curious to get your opinion on how COVID-19 has really shaped the digital marketing landscape for hotels?
Dana Singer:
Yeah, well, the digital marketing landscape for hotels has certainly changed, as a result of COVID-19. It has resulted in very much of an increased need for all hotels to effectively manage their online presence at every juncture and the stakes for a hotel relative to what a current or potential guests sees online are just incredibly high, because everybody needs to see current up-to-date information about a property, along with assurances, that they're going to have a safe stay. Today's traveler is more discerning than ever and so hotels and their partners have to be diligent in their procedures throughout the life cycle of COVID and just to be sure that they have accurate information online at all times.
Ryan Embree:
Yeah, this pandemic has really sped up the learning curve for the hotel industry and integration of technology. You know, we see things like keyless entry now really pick up steam. Hoteliers really had to adapt these strategies, that maybe in the past they've been a little bit more hesitant to hold onto, but when your guests and your target market stay at home orders or you're trying to reassure, like you said, that you can provide a safe stay for travelers out there, you know, some of the only ways for our hoteliers to reach their guests was through things like social media, their website updates – as you mentioned – and reputation management and feedback was more important than ever. So that's obviously Travel Media Group's expertise, right? The digital marketing side of things and helping hoteliers, can you talk about how some of the solutions at Travel Media Group that we provide, have helped hoteliers, as they've kind of navigated through this pandemic?
Dana Singer:
Sure, we've been managing through the pandemic side by side with all of our clients and some really positive stories have emerged as a result of our ability to jump in and help. It's all about giving our clients real-time visibility into what guests are saying about their hotels and being in a proactive position to share the latest information about their property and also to quickly respond to questions. And that's where we come in with our solutions. There's been such widespread restructuring around staffing and operating procedures with so many hotels and management companies and our teams at TMG seamlessly fill in those gaps, especially during such a critical time, that we've seen this past year. Our social media management ensures that a hotel is definitely putting their best foot forward at all times with relevant content and real-time engagement. And this is essential for a potential guest as they go through their research in the booking journey. And it enables the hotel to be competitive and to win these important bookings. And our reputation management solutions have the same objective, to enable a hotel to be out in front and to stay out in front through immediate professionally tailored review responses, as well as tools to effectively manage any negative feedback through internal surveys. So everything we do at TMG is focused on providing a simple view of everything that guests and travelers are saying online and then providing professional support to respond to reviews and social media messages.
Ryan Embree:
So critical, like I mentioned before. And with 2020 being such a crazy year, as you mentioned at the beginning, one of the most exciting parts about Travel Media Group and what we've been able to do side-by-side with our hotel partners is we've actually also had quite a bit of innovation during this time and new rollouts and updates that really helped our hoteliers during this very, very difficult time, and will continue to help them as we start to see that recovery journey in 2021. So I did want to kind of talk about some of those accomplishments, can you share a little bit of those with us?
Dana Singer:
Sure, as we were in the throws of the immediate needs to support our hotel partners, we also knew that we needed to stay on pace with our own innovation and product development plans. And I'm really pleased to share that we not only stayed on track, but we did find opportunities to accelerate our pace of innovation, which is really exciting as we move into the new year. We are now even better positioned to add value, to drive increased hotel revenue through the integration of our solutions. And just looking back early in 2020, we unveiled a new metric for our hoteliers to measure and understand how guests feel about their hotels. It's called the 1st Impression Score™ and combining the recency of a review, with its star rating, the hotels review responses, and lifetime score. We're now able to give our hotel partners a far more accurate representation of a guest experience and the First Impression Score™ metric updates in real time. So each time a hotel receives a new review, the score is updated to reflect the current impression perspective that is out there for guests who are looking to make a decision and book when they're in the midst of that research. And this year's events really emphasized how important a regular flow of new reviews is for a hotel's reputation and also the associated accuracy of responses. Our priority is always to ensure that hoteliers can accurately and efficiently diagnose gaps in their guest experience, making the First Impression Score™ so ideal to use. And our TMG OneView™ platform offers a groundbreaking way for hoteliers to view all of their feedback, upcoming social media posts, and more all in one place. And so this year as we started Q4, we launched a comprehensive upgrade to the OneView™ platform and feed, and the rollout included updates to multi-property reporting, sorting capabilities, and general streamlining to maximize efficiency for really all OneView™ users. And an industry leading feature of the updated OneView™ feed is the ability to view real-time content for all of the hotels in a portfolio at one time, making it the ideal tool for regional managers, management groups, and brands. And our update to the platform was guided by ongoing feedback from our multi-property hotel partners. And it feels great to have such a high degree of alignment and to be able to provide such a valuable platform. And finally, our social media solution expanded to include LinkedIn. And with LinkedIn's growing popularity as a platform, especially during COVID-19, we integrated it into our TMG OneView™ platform to support hotels with LinkedIn pages for their properties. We believe this new enhancement will significantly benefit hoteliers and effectively help them capture needed business travel opportunities, much more effectively going forward. So the updated integration and the TMG OneView™ will also enable our social media team to professionally create and share posts to a hotel's LinkedIn business page. From there, a hotel can invite team members to share with their connections building on long lasting relationships and then also invite business travelers to stay connected to their hotel.
Ryan Embree:
Yeah, it's absolutely incredible. The amount of work that the product team at Travel Media Group has been able to do in quite a crazy year of 2020. And if you haven't already, to all of our listeners out there, Dana did a great job of explaining just high-level some of these updates and innovations, but we actually have Suite Spot episodes on every single one of these. So 1st Impression Score™, TMG OneView™ Feed 2.0, and the new exciting addition of LinkedIn, which is really, really going to help with the recovery of group and corporate travel for 2021. So if you haven't already, be sure to find those episodes and listen back. I do want to talk about some further innovation and maybe some adaptability, as many industry events were canceled, you know, Travel Media Group pivoted by kind of introducing our virtual trade show program. Can you share how you think this will benefit clients in 2020 and potentially even beyond?
Dana Singer:
Sure, in addition to all of the extensive support that we provide to our clients, we did launch our first virtual trade show over the summer. And that was really all about providing an additional avenue to connect with hoteliers who needed help balancing marketing as they focused on daily operations. And by offering unique personal conversations, these events enabled us to forge a stronger connection with partners in the industry and based on the early success and feedback from our first few events, we do plan on continuing to host these virtual events regularly throughout 2021.
Ryan Embree:
It's so important. Travel Media Group has been involved in sponsoring and participating in a lot of these annual events, not just years, but for decades. So being able to have those one-on-one conversations and make those connections, especially in a year like this one is super, super vital and critical, and really what hoteliers need to really bounce ideas off one another and figure out ways to become more efficient and just share ideas. I do want to congratulate Travel Media Group and you Dana on another major feat in 2020, where Travel Media Group was ranked in the top 10 digital marketing on Hotel Tech Report. I'd like you to kind of speak to what this ranking means to you and what it says about the relationship between Travel Media Group and its hotel partners.
Dana Singer:
Sure, well, you know, it's always valuable to receive candid feedback from our clients. And in the midst of such an unusual year, this meant more than ever. We're so grateful that hoteliers find our services innovative and easy to use, and that our teams are recognized for consistent responsive client support and having TMG be a part of this Hotel Tech Report in this top category, it's really a reflection of our dedication to the hospitality industry and our unwavering commitment to helping our clients succeed.
Ryan Embree:
Absolutely and very exciting to see. The hotel industry as a whole, we've talked about it throughout this entire year, is a super, super resilient industry. We've gone through challenges before: 9/11, the Great Recession, all of those times have been very, very challenging, but from those times have taught us some very valuable lessons and shown innovation and hoteliers have been able to pivot and adapt. So I'm wondering in these challenging times, what lessons has 2020 taught you about Travel Media Group?
Dana Singer:
I mean as I look back on the year and how we through it all as a business, I'm incredibly proud of our teams, their resilience and unwavering commitment to helping our clients was very special and the importance of resilience, positive outlook, and maintaining a forward focus just can't be understated. And our ability to accomplish everything that we did was definitely fueled by these factors.
Ryan Embree:
And we'll continue to do so leading into next year and years beyond. So here we are at the end of 2020, finally, we always like to end our episodes on a positive note. You know, we've got vaccines now that are out there, TSA just recently announced that they've had the most travelers that they've seen this holiday season, since the beginning of the pandemic, so we're starting to see those positive signs of life. What are you most excited about and what gives you hope about the hotel industry as we transition into 2021?
Dana Singer:
I mean, while this has been the most challenging year for the hospitality industry in recent history, hoteliers remain steadfast amid the fluctuating demand and pivoted really quickly and efficiently as the year progressed. And the leading indicators that you just pointed out certainly do provide a lot of optimism. And while most businesses are still on the recovery path, I'm really proud that Travel Media Group is here and ready to help with expert advice, effective marketing strategies, and dedicated support. I think this year really brought out the best in the hotel industry in so many ways. And I believe that everyone will definitely bounce back even better. So when we look forward to what 2021 has in store for us and remain optimistic in terms of travel and business recovery across the industry, I do feel a lot of optimism and we are definitely better together and really strong as it relates to where hospitality is headed.
Ryan Embree:
I completely agree with you Dana and want to thank you so much for being on this episode. We will definitely have to do it again next year and I'm excited to look back and take a look at all the lessons that we've seen from not only this year, but next, as we go further, further into recovery. So Dana, thank you so much for being on the Suite Spot.
Dana Singer:
Oh thank you for inviting me. It was really great and it was really inspiring to look back and report.
Ryan Embree:
Absolutely and it's super important to do so. I want to thank, again, all of our listeners out there for all the support. We know it's been a very, very difficult year in the hotel industry, but we're excited about the prospects of this new year. If you are interested in learning a little bit more about Travel Media Group, have any questions, or if there's really – just want a one-on-one conversation we are more than willing, as always, to speak with you. You can reach out to us at (407) 984-7455 or learn more about us at travelmediagroup.com. So for Travel Media Group and myself, signing off for this 2020 year, and we will talk to you next time, next year in 2021. Thanks everyone. To join our loyalty program, be sure to subscribe and give us a five-star rating on iTunes. Suite Spot is produced by Travel Media Group, our editor is Anne Sandoval, with cover art by Bary Gordon. I'm your host, Ryan Embree, and we hope you enjoyed your stay.