99 – TMG Virtual Roadshow Summer Travel Trends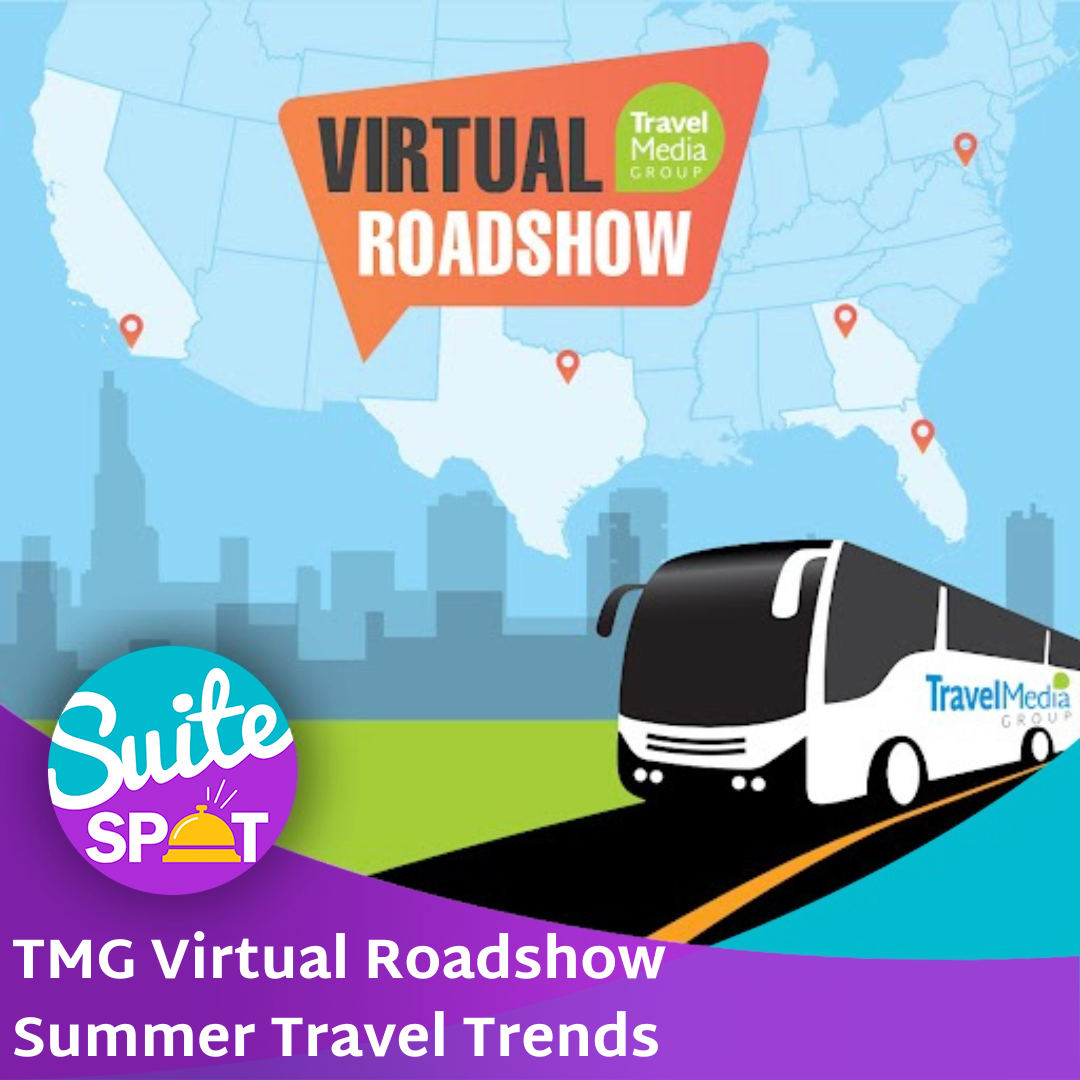 Join host Ryan Embree and TMG's Sales Director, Diane Elderkin, as they look at the summer trends we uncovered on our summer virtual roadshow for the hotel industry. From hotel markets in Orlando, Atlanta, and even Dallas, there are some very astounding discoveries we found that will benefit every market across North America.
Episode Transcript
Our podcast is produced as an audio resource. Transcripts are generated using speech recognition software and human editing and may contain errors. Before republishing quotes, we ask that you reference the audio.
Ryan Embree:
Welcome to Suite Spot where hoteliers check in and we check out what's trending in hotel marketing. I'm your host, Ryan Embree. Hello everyone. And welcome to another episode of the Suite Spot. This is your host Ryan Embree episode 99. We are one episode away from Suite Spot, 100. Thank you so much for listening. We've got a great show for you. Diane Elderkin is with me today. She's the sales director at travel media group. This episode is titled a TMG virtual road show summer travel trend. So just to give a little bit of background, what we've been doing this summer is our very own virtual road show. So we've, we're headed to five different major markets across the us, and we're gonna look at some things to really help hoteliers grow occupancy and maximize revenue during the busiest travel season of the year. So, first we start out with looking at Google search trends. We look at reputation trends and then dive into the specific, sentiment that guests are leaving on those review sites. And then we talk through how we can use some of that information for social media and marketing and advertising our property to those that are searching to stay in our area. So we are about halfway through. As of right now, we visited major markets like Orlando, which is where our headquarters are located just north of Maitland, Florida, Atlanta, Georgia, and Dallas. So we've done three and we're headed out to San Diego virtually as well as Washington DC. So again, we're at this halfway point and up to this point, we really have uncovered some really, really cool trends in patterns that we're seeing, not just in one market, but across all three. We've got Diane on. We're gonna talk through some of these trends and patterns. I think you're a great guest to bring on Diane because you and your team, you're having conversations with these hotels across the country. So you can really give some really cool insights in commentary on what this means for the hotels and the conversations that you're having on a day to day basis. So let's jump right into it. The first piece and pattern that we were seeing in these virtual road shows should be really, really excellent news for hotels. And I labeled this pattern, revenge travel pent up demand, whatever you wanna call it. It is certainly here. Orlando had 165,000 searches for hotels in Orlando per month. That's 49% year over year Atlanta, 110,000, 50% up year over year and Dallas, 90,000 a month. And that's up 82% year over year. So huge, huge numbers when it comes to travelers searching to get into these markets.
Diane Elderkin:
Yeah, it's so crazy to see these, major markets like Orlando, Atlanta, Dallas, start to see these type of numbers because really over the last couple of years, these are the markets that traditionally weren't seeing this, these type of numbers. And, in our experience, what we've been seeing is a lot of the secondary markets get a lot of attention. So a lot of those remote destinations people wanna get a different experience. And so, again, not necessarily these major markets, however, with the summer, you know, we know kids are outta school. People are looking to travel and not only that business travel is starting to come back and companies are starting to send their people out to meet, to network, to hit their numbers that maybe they've lost over the last couple years. And then on top of that, people are, you know, double vaccinated, maybe triple vaccinated. So everyone's confidence level is starting to rise and, and it's really great to see, and, and people are just really ready to get back at it. And it's perfect timing for these hotels in these major markets to take advantage of that and, you know, update what they have to offer.
Ryan Embree:
Yeah. With all this search means a lot of competition, however, right. So they're gonna be doing a lot of research on your hotel's reputation. We know pricing is, is really important. That was a big factor that we're gonna be talking about here in a second. So they want the most bang for their buck as they come back onto the road. They're not afraid to pay for that vacation as we'll find out, but they certainly want the best experience that they can get the best bang for their buck. Now, we did see a couple trends that obviously aligned with all three major markets, but there were also some that kind of were different. And I think those are just as important to look at. One of the things that we saw being in Orlando, that was our very first stop at the road show. And what we found in Atlanta is travelers actually took their time planning a trip to Orlando while Atlanta and DFW were more spontaneous. So the, the way that we kind of revealed those searches were events in Atlanta. This weekend were up 83% year over year. And the searches things to do in Atlanta and Dallas were double that of Orlando. So people were looking more for things to do when they were coming into a market like Atlanta and Dallas, whereas Orlando, they might have been planning this for quite a while, obviously Disney, Universal, Sea World. Those are kind of the major attractions here in this market. So you might be looking at a lot longer kind of booking journey for those people, but they know what they're doing once they get here versus Atlanta and DFW could be a lot more spontaneous. So you might see some more walk-in traffic, maybe some last minute trips over the weekend, whether they're flying in or just doing road trips.
Diane Elderkin:
Yeah. This does not surprise me. I mean, Orlando in general, I mean, Florida, there's so much to do in, in the south and especially Orlando and same with Atlanta and DFW. You, you know, you think about it in 2020, we have two years of lockdown, right? We start to get used to the whole remote working. And so people start to get kind of burned out. And then so people in general are just refueled to explore the United States. And so these major markets are back on the radar, which is exciting for these hotels. So after all this time, if you think about it from a Traveler's perspective, planning and researching is just critical in the Traveler's journey. So my advice in the conversations we have, it's just so for our hotels, it's just very important for them to start to market these major events early in advance on either social media or even their website. If they know what's driving them occupancy, or what's bringing travelers to that area, it's now their time to take advantage of that. And it's really just, what's gonna set themselves apart. So it's just, it's really great to see that people are starting to plan these major trips. You know, they're spending a lot of money, more money than they ever have in the past because of their savings. So a lot of great opportunity for these hotels.
Ryan Embree:
That's a great segue into our next pattern and trend, which is inflation is certainly starting to take its toll. We're seeing an increase in search frequency for free things to do in each of the three market segments that we've traveled to virtually traveled to so far in research. And I anticipate the same for San Diego and Washington DC. When we do those a little bit later, people are looking and trying to find things that do not cost a lot of money right now. One of the most impressive stats we saw was the search free things to do in Fort worth,Texas is up 90%, just over the last three months. So as Diane said, people are taking a lot closer, look at things like their gas prices, their grocery bills. And they're starting to look at their vacation and saying, is this hotel worth $200 a night? Can I get better value with this hotel over here for a little bit less money, but it has a better reputation. And now all of a sudden that, line between a value and being too expensive, that line and margin for error is very, very narrow.
Diane Elderkin:
Yeah. And I, I do wanna say who doesn't love free things, right? Everyone loves that word for some reason. But yes, I, we have seen those search trends happening. And so a lot of our hotels are trying to figure out how can they jump on that, that search term are those trends. So I think it's just, it's also a balance between people wanting to have a really good experience, right, but also saving as much as they can. And what you just mentioned, you know, interest rates are at their all time, high gas prices are higher. So traveling may be more difficult, but I would say that free things to do concept these hotels just need to really partner up with a local community and find those free things to do, you know, encourage people to stay at their hotel when they visit, you know, maybe start to offer, you know, a 10% off discount. If they book direct or package where they get something free, like, I know double treats the cookies, we have water bottles, we do free shuttles. Just anything that would help these travelers save more money, but also get the experience that they're looking for. And you just have to advertise them for people to see them.
Ryan Embree:
Yeah, people are certainly gonna start being a lot more money conscious. So those, social posts will, will go a long way. Giving tips and tricks for when they visit your local area, give them a reason to follow the page. We talk about that all the time with our hotels. If you bring value to their social feed, they will follow you and sometimes even share that, expanding your read. Well, I wanna get back to one of the points we talked about that you brought up about business travel and just the whole idea of people feeling more comfortable. In general, we saw this in one of the search patterns that we researched, which was comfort in staying in downtown regions. So these are obviously major markets, but we also looked at researched some, some searches when it came to the downtown area. So downtown Fort worth hotels, the, search for that was up 80% year over year, and absolute crazy stat hotels in Midtown Atlanta. So they they're kind of downtown region up 400% year over year. So, for me, this signals two things. One, I think 2020 and 2021 was about going remote. Staying away from crowds. People felt uncomfortable and didn't want to be in those crowded areas. And there was no business travel, right? That was part two of this. So I think this new trend of search volume coming up for hotels near downtown could signal to us early signs of the return of the business travel as well as just overall, just traveler sentiment and feeling comfortable of getting back into those places that are so vibrant and what we love about downtown hotels. So I think this is a great signal for these hotels.
Diane Elderkin:
Yeah. And I love to hear those numbers. I mean, 400% year over year in, in Midtown Atlanta is just incredible. And think about it this way. A lot of the fun things to do write these events, these free things to do are typically in these downtown markets. So it's no surprise that they're, we're seeing these large search trends year over year, which is super exciting, but I will say these downtown hotels have a lot of work to do over these last few years. I mean, those major markets are typically the ones that were shut down, you know, completely because of those business travelers. So the time is now, I mean, I will just say it's very, very important for these hotels to start advertising what they have to offer so that when they are searching or they're starting to feel comfortable to go out and take that trip, they need to be the obvious choice. And one big element of comfort and creating confidence for these travelers is to make sure that their online reputation is really good in, in regards to quality, quantity, star rating, you know, review responses in general. I mean, you name it. All of these are impacting how a travelers perceiving them online. And it's, you know, it's showing if they care, but people have high expectations right now for their next big trip. So they need to make sure that they're getting ahead of this now rather than waiting.
Ryan Embree:
Yeah. And I would also caution, you know, hoteliers, listening to this, trying to attract business traveler. This is a completely different business traveler prior to COVID 19. We've heard the term bleisure travel before you might have that business traveler that could maybe come in a few days earlier, stay a few days late and do some remote work. So advertising and marketing to that type of traveler, you know, work from anywhere traveler, it's gonna be important and it's it, they, they have different needs than your typical business traveler. So we saw a lot in this virtual road show, we saw a lot of just incredible stats, just really mind blowing stats. One of them was kind of incredible in a different way, not really a positive statistic at all. That review response is still a huge opportunity. We took a look at review response percentage for these markets and every single market, even in the top 25% had a review response rate of less than 70%. So that means out of ten reviews, only seven have responses to them. Three are going, unresponded on average, just an incredible stat.
Diane Elderkin:
That, that is tough to hear. We hear that all the time. I mean, staffing right now has just been a really difficult challenge for our hotels and our GMs out there. So, you know, they're trying to juggle it all, but at the end of the day, you have to respond to all of your guests. I mean, that's why we're in hospitality. So I will say one thing that is really great about working with hotels and, and these owners across the country is that they really do care about the customer experience. And that's why we are all in hospitality. We're here to serve people. So, I mean, staffing has just been difficult, not just with what happened with COVID, but also people wanting to come back with higher payouts. You know, it's a 24 7 business. So a lot of people are looking for that flexibility just within that, trying to manage the guest feedback. The guest experience has been difficult for these hotels to keep up those expectations. But I will say in turn, this is now impacting future guests because whether or not they book with you, it's all dependent on your online reputation and your reviews because that's based on their, the guest experience, but also too, not responding to those guests, those three guests, you know, if there's negative sentiment in those responses and it they're going unresponded to the only thing that's going through these Traveler's head is okay. If I go stay at this property and I experience the exact same thing, will I be treated the same way? Will I get a response? Will this be result? And so if for, you know, a second, they think that the answer's no, or they're not sure they're gonna move to the next hotel and do the next competitor. So it is truly a ripple effect. These hotels have gotta find out a way to get that review response percentage up. They need to be responding to these guests because they matter. And these future guests that are planning their next trip, we just talk about that. Them being comfortable and seeing the value in the hotel, those review responses will help sell your hotel, more than you'll ever know. So it, it, it needs to get done, but that's, that's crazy. Those are crazy numbers.
Ryan Embree:
It's a scary thought. And one of the reasons why view response is one of our most popular solutions out there, because it, we're getting to a point where hotelers just, can't keep up with the pacer reviews that are coming in, and they're starting to look at review responses and opportunity to outsource and, and really hand it over to experts who, as we've heard on this podcast, before we just hit the million guest review, mark, you know, a team with a lot of experience that really knows that this is a skill rather than just something to do at the end of the day, which, which it could have been maybe five to 10 years ago, but real opportunity loss there. If you're not responding to your reviews, it's, it's super, super critical. So let's go ahead and talk about the next pattern trend. We've talked a lot about reputation up to this point. I actually wanna talk about some guest sentiment that we were seeing. So things that we were seeing inside of these reviews that have been tagged and identified as topics that guests are talking about frequently. Now we have so much data out there with our review response solution that what we did was we kind of slice and dice and looked at the top three positive guest sentiments and top three negative guest sentiments. So I thought what would be really good exercise for us to do today, Diane is kind of look at those positive sentiments, in each one of the markets, and then maybe talk to how we can advertise and market this and leverage this on social media, kind of bridging that gap there, and then we'll get into the negative. So let's start with Orlando where no surprise here. The number one positive guest sentiment was attraction followed closely behind by location. And then breakfast. Breakfast was in all three of these as well as location, by the way, Atlanta location, breakfast and staff and DFW location, breakfast and cleanliness. So staffing cleanliness, two big issues that we've heard about some seeing it as an issue, right? Staffing, shortages, cleanliness, people are very concerned about that. But in Dallas WT worth, that seems to be one of the most positive things talked about how can we leverage this stuff using our social media outlets like LinkedIn, Facebook and Instagram.
Diane Elderkin:
Yeah, sure. You know, this is the fun part, digging into the guest experience and learning more about how you can leverage your strengths, right? That's what people love about these hotels. So, you know, for example, Orlando is all about the attractions, you know, great. There's no surprise there, but in regards to social media, you're right. Facebook, Instagram, you know, Twitter, those are gonna be your markets for more family, more leisure, maybe some last minute, you know, LinkedIn, maybe it's more business and corporate driven, but I think if you're advertising these major attractions things to do in the, in the area or things to do this weekend are super important. And we do recommend that you post up to four to five times per week on these platforms. And if you've got that extra money, put a little bit of ad spend behind those posts just to get you that additional exposure, but key is here. And, and all of this is if you're not on social media and you're not advertising these things, you're going to miss out on that exposure and people seeing it on top of that, if your competitors are doing that now, they could be taking that market share. So social media is, a huge ripple effect massive right now. And I would also use that as a way to sell it in your review responses. You know, as you're responding to positive reviews or even negative reviews, continuously mention that you are conveniently located to major events or you're free shuttle away. So can even have review responses, sell the property in of itself. And I will say too, I know we talked about social media, the breakfast staff, cleanliness, all these major things that people look for when they're booking a trip, the best part is, is market using your website. Also, maybe you've got feature photos of your menu or a popup banner ad that can talk about, you know, a brunch or for social media. Maybe it is just featuring your employee of the month or even recruiting from staffing. There's, there's just so much that you can do with social media, but it's a really great way to get people excited about your property.
Ryan Embree:
Yeah, absolutely. And this is something that you and your team do on an individual property basis, right? So these positive sentiments that we were looking at, really represent the entire area and our patterns and trends, but, you know, we know that every single property is unique. And when we have these, when, when we have these consultations with the hospitality solution advisor in your team, they're gonna dig into your specific reviews and your sentiment and what message that is telling.
Diane Elderkin:
And I, you know, I wanna, I, I do wanna say one more thing, you know, I'm glad you brought up that we work with individual properties because when we are talking about your strengths and, and how you plan to sell your property, we like to just ask owners, you know, what do you want travelers to know about your hotel? What sets you apart from your competitors? And so those answers get you really excited and amped up to sell your property. But if those answers are not clear on the internet, that's where the gap is. So it's just really, really important to update your online presence, make sure you're promoting the things that people are looking for at the end, you know, it's gonna help sell your property.
Ryan Embree:
That's one of my favorite things to do with hoteliers is when I'm talking with them, I ask them one to two things that they exactly how you phrase it, that you want your, your guests to know that makes you unique. And then what, what I challenge you to do. And, and for those that are listening, what I challenge you to do, answer that question, and then go to the first page of your reviews and then go through the first five to seven posts on your social media. And if you're not finding both of those things, then right now, when people are doing research, they're not seeing what's special about your property. It's, it's a very eye-opening exercise that we do with a lot of hotels. And it's, it just puts it in perspective of the, the travelers searching today, right now, what are they finding about your hotel? One of the things we don't want them to find is, negative aspects of your hotel experience. And so let's go into those and see again, we've got a, a couple common themes here between markets, the number one negative guest sentiment in all three of these markets so far has been odor, which makes a lot of sense. Not a lot of people are coming online and maybe talking about how nice something smelled. Typically it's the opposite bathroom was mentioned furniture. I think, you know, those are a little bit tougher, but can give you some clues on maybe how to make some adjustments to either your cleaning policies or if you're gonna do renovations in the future. But the one thing that did come up in all three was price. And we talked about this again, people are getting a lot more picky about your hotel and their experience at your hotel with these high ADRs, these high rates that hotels are really enjoying right now. And, and one or two of these negative reviews come into your feed, talking about how this is not worth the price super expensive can have a big impact on occupancy. So what are, what are some things, takeaways that maybe you share with hotels when you look through their negative sentiment and talk about possible solutions?
Diane Elderkin:
Yeah, no, that, that's a great subject to talk about because these high ADRs are fantastic right now. You know, we're finally making up the money that we lost, but a big question we're coming across is, okay, how long will this last, how can I continue to justify this high ADR? When people may be used to paying 50 to a hundred dollars less, or how can we get them to pay that extra a hundred dollars? So on top of that, we can all probably agree that the guest expectations are completely different from a couple years ago. So within that, of course, negative sentiment and, negative guest experience may actually happen. So it will say whenever you come across this negative sentiment for your property, I mean the best way to improve your guest experience is just dive right into these issues and come up with an action plan. I mean, a lot of the guest feedback is easy to address. You know, for example, the odor issue can be addressed by just putting up more. Maybe it's a no smoking room and somebody was smoking in there. So put more non-smoking signs up or letting them people know that it's the cleaning supplies, you know, as you're starting to sterilize the rooms prior to, or when they're checking in. So communication is just key because if you can communicate all these things early on in the travelers journey or in their buying process, especially since you know that these may be a reoccurring issue over and over, it's just gonna help set the right expectations. They know what to expect, and the same is true with your online reviews. You know, I, the other thing is I hear owners always complaining about that. They don't hear about these issues until they look at their online reviews and that's okay. Maybe people aren't comfortable enough to come to the property and say that these are all the issues. And then they'll go on the internet and put that on there in a review, but to handle that, you need to make sure you respond in a professional manner, letting them know that you're addressing the issue. And then again, you're communicating your side of the story and an objective manner of course, to future guests so that they know what to expect. It's not going to be a surprise. And you know, I do wanna bring one more thing up about the price because it continues to come up in each one of these markets. So if you are having a price issue, if people are complaining about how much you charge per night or the guest experience, wasn't up to their standard, then that comes down due to the value you bring to the, to those travelers. So if they are paying that higher ADR, you need to be able to back that up with their experience. So being more face to face, interacting with them, seeing how you can accommodate their stay is just all gonna be a part of that process.
Ryan Embree:
Yeah. There's tons of ways to kind of elevate that guest experience, but you gotta know really where to focus your time and attention on. Awesome. Well, as we wrap up today, as we always like to do Diane, maybe just a quick 30 seconds on any final thoughts on today's incredible episode.
Diane Elderkin:
Yeah. You know, for me, it's just all about looking ahead and what's a come and also understanding these trends that we see, because for example, we know fall and winter are right around the corner. We also know people rely heavily on reviews to validate their purchasing decision, as well as social media, they're researching where they're gonna stay. So if you know this take advantage of things like this, and it's a timing thing or a staffing thing, start to look at how to outsource. We certainly here can help you all, take a look at your properties online presence. It's not going away. And travelers are gonna continue to tell your story. So we want you to tell your own story, from your perspective, as we know, it's getting more and more competitive out there. So we'd love to talk to any of you feel free to reach out, but, I appreciate being on the podcast.
Ryan Embree:
Absolutely. Diane, thank you so much for being on and, and Diane and her team just have a wealth of knowledge that they do this on a daily basis. They talk to hotels, they give their recommendations on what to do to optimize their digital presence. So, I wanna thank Diane for joining me today. I wanna thank you for listening today. If you are interested in this TMG virtual roadshow, this is a very first one that we've ever done. We are gonna be headed. Like I mentioned before, San Diego, August 16th at 2:00 PM Eastern time. That is our that's our next stop. And then we're gonna finish our summer virtual roadshow in Washington, DC, back on the east coast on August 30th. So keep an eye out for those invites. If you're in those markets, visit our website, you can register for those there. If you are interested in seeing the, some of the recording that we talked about of the markets, Orlando, Atlanta, or DFW, visit us on YouTube. Again, we've got a whole library of just really, really valuable material and expertise on everything, digital marketing in the hotel industry. Thank you so much for joining me on the Suite Spot and we'll talk to you next time. To join our loyalty program, be sure to subscribe and give us a 5-star rating on iTunes. Suite Spot is produced by Travel Media Group, with cover art by Bary Gordon, I'm your host Ryan Embree, and we hope you enjoyed your stay.