The New Social Media Ripple Effect for Hotels and Hotel Groups [Webinar]
Social Media in 2023: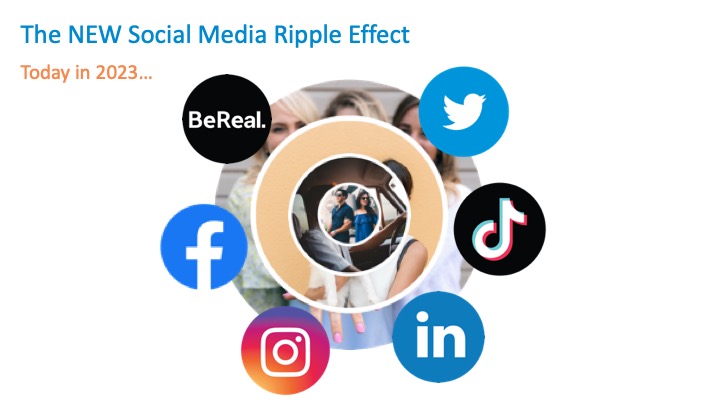 It is no surprise that there are more social media platforms than you can shake a stick at in the current digital age. Platforms like Linkedin, Facebook, Twitter, Instagram, Tiktok, BeReal, etc., the list goes on and on. With an abundance of social media channels at our disposal, it is easier than ever to reach travelers and potential guests. 
Each of your hotel's social media posts creates a ripple effect. Think of your social post as a droplet of water that falls into a body of water and the ripple effect as taking an undecided guest through the traveler's journey to ultimately book at your hotels, provide feedback, and spread positive word of mouth online. Each social media post has an immense influence on travelers, and if taken advantage of correctly, your hotel marketing initiatives will be successful.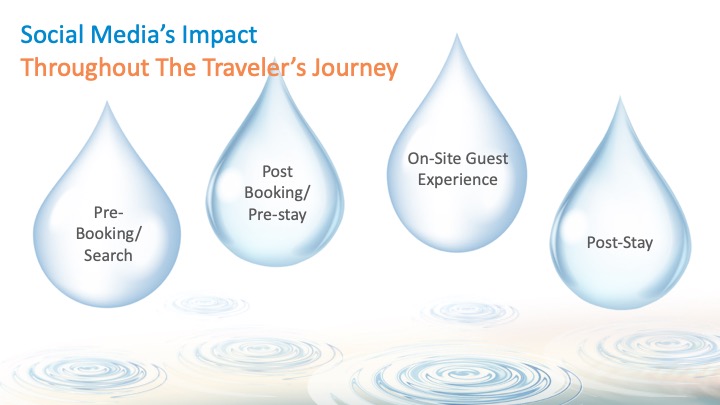 There are four stages in the traveler's journey, including:
Pre-Booking/ Search

Post Booking/ Pre-Stay

On-Site Guest Experience

Post-Stay
Social media plays a significant role in each stage and affects each one differently. 
Pre-Booking/Search: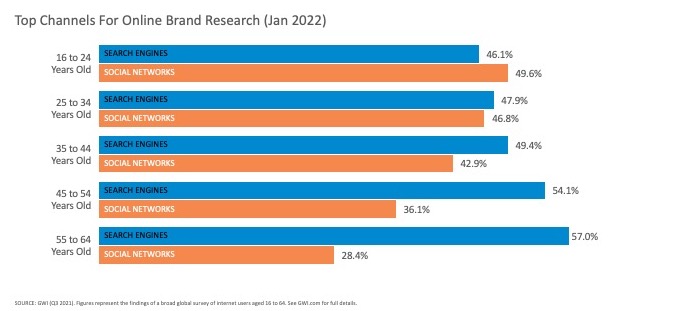 Travelers of different age groups use social networks and search engines in different capacities to find traveling inspiration. Younger demographics use social networks much more than search engines, as shown by the 16 to 24 years old group. However, the 55 to 64 year old demographic uses search engines twice as much as social networks for travel inspiration. 
It is important to remember what audience you are targeting with your social media posts because different generations have different interests.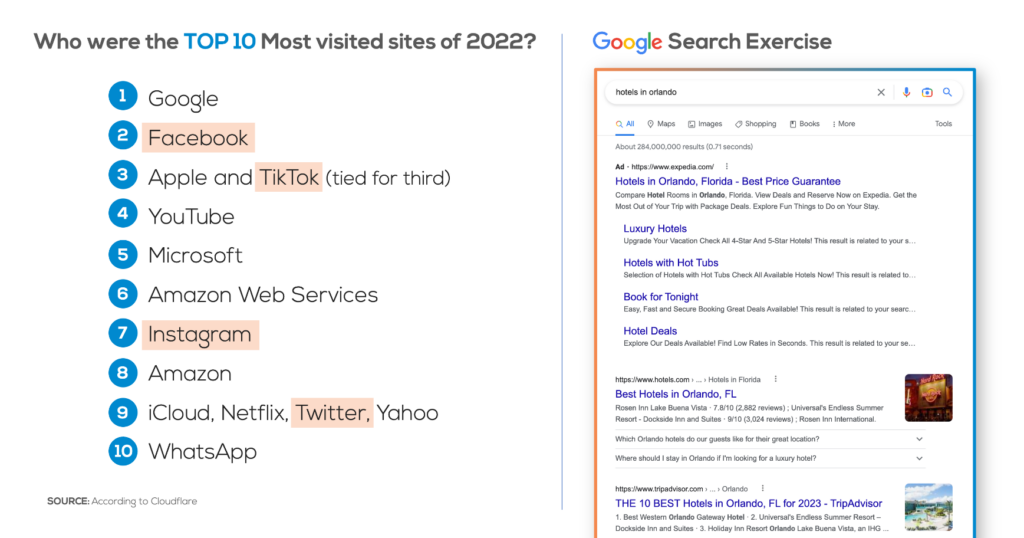 Social media sites were four of the top ten most visited websites of 2022. So as hoteliers, we want to ensure that we are on those platforms. An interesting exercise you can do is look up hotels in your area on Google. You will notice that now, Google no longer has pages but is an endless scroll feed like social media. 
This is important because this change fosters a more mobile-friendly experience and makes it easier for guests to find you through Google. If you go back to 2022, pages on Google were detrimental to any hotels not listed on the first page.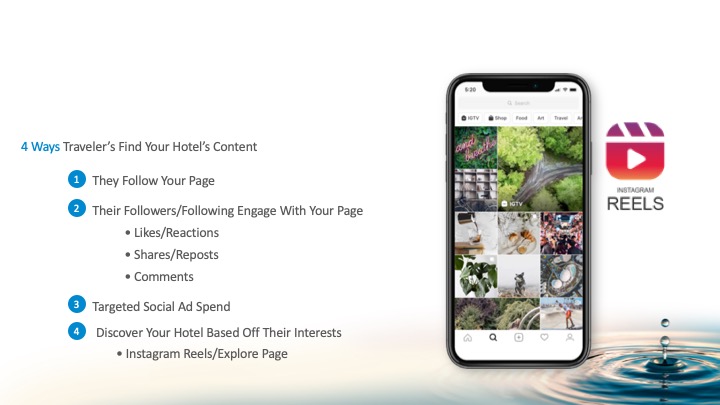 Next, a key question you need to ask yourself is – "How discoverable is my hotel on social media?"
There are four ways travelers find your hotel content, including:
They Follow Your Page

Their Followers/Following Engage With Your Page

Targeted Social Ad Spend

Discover Your Hotel Based Off Their Interests
The main takeaway here is that, as hoteliers, you want to hone in on number 4. A great example of travelers discovering your hotel based on their interests is the Instagram Explore Page. The Explore Page shows travelers content they may not be following or familiar with, and this is the perfect way to get your hotel in front of their eyes. 
Because the Explore Page has a natural and soft approach to displaying content, travelers are more likely to navigate through the images and engage with the posts. Also, having a receptive and curious audience is crucial to acquiring new travelers through social media.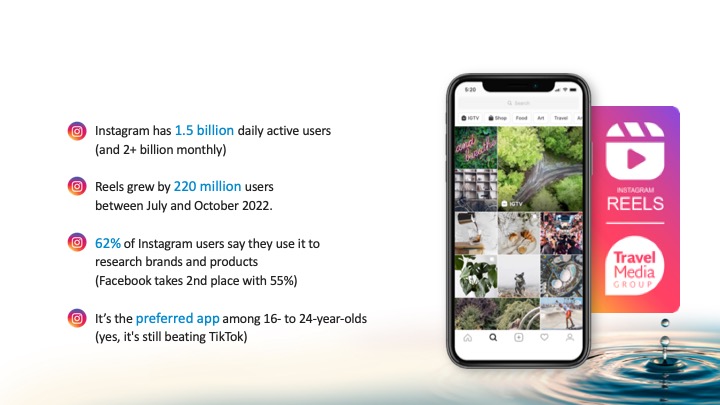 Additionally, Instagram Reels is another fantastic tool for hotelier's social strategy. Looking at the statistics above, it is clear that Reels has an enormous reach and the undeniable ability to put your hotels in the traveler's view. Make sure you take advantage of Instagram Reels, frequently posting throughout the week and creating compelling content. 
Check out our Instagram Reels Blog to learn more about the feature and how you can easily implement it into your hotel's social media strategy.
Post Booking/ Pre-Stay: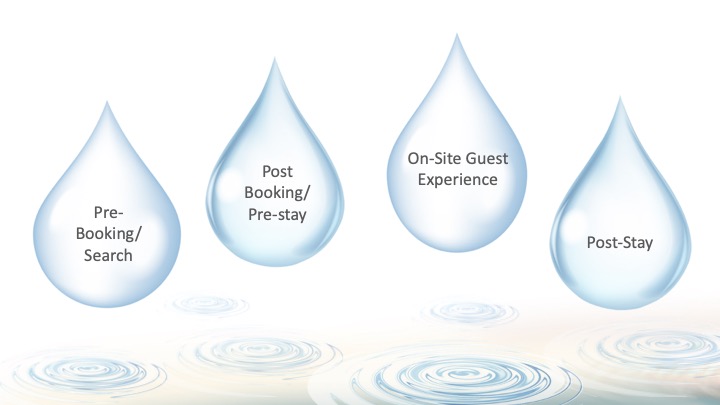 Now we move into the Post Booking/ Pre-Stay stage of the traveler's journey. In this stage, you have already successfully captured a traveler's booking, and you need to set proper guest expectations now.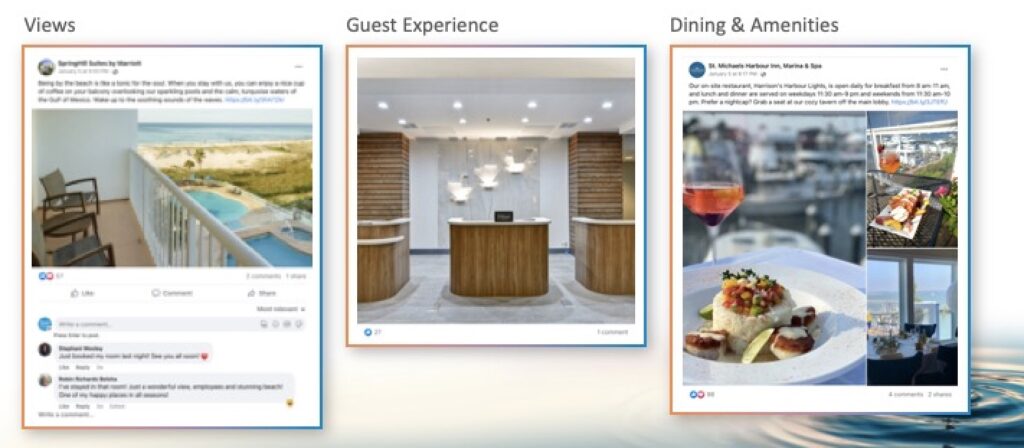 The best way to accomplish this is by being authentic and transparent through social media. Use your hotel's social voice and content to show travelers what their money will get them. Highlight and showcase the unique and eye-catching qualities of your hotel to travelers. It could be the lobby, food, amenities, or stellar views, but you must demonstrate value to guests. The goal is to make guests familiar and comfortable with your properties before they even come through the door. 
Travelers will have accurate information and representation of your hotels through social media that sets appropriate expectations, so they experience guest satisfaction.
On-Site Guest Experience: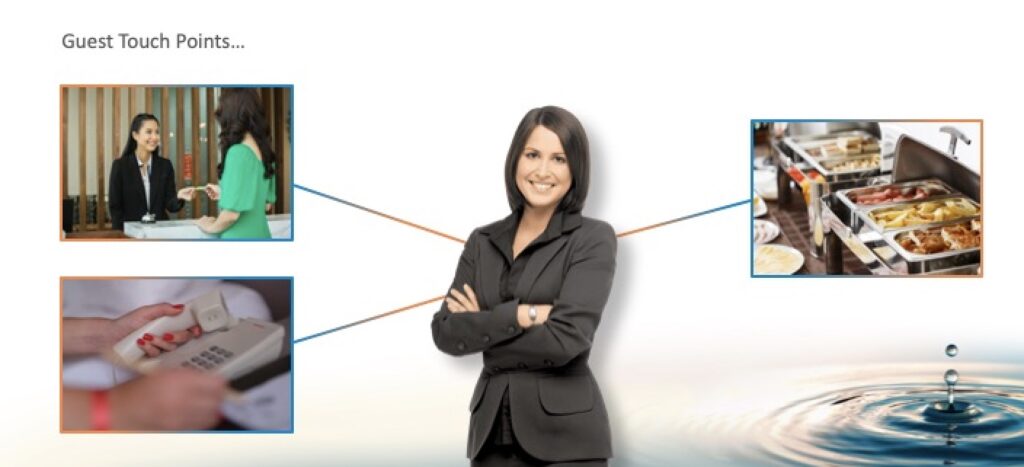 At this point, you have inspired travelers to stay at your property and captured their bookings. Now what? Back in the day, there were more personal guest touchpoints and interactions between property managers and guests. Whether it was front desk check-in, greeting guests at the breakfast bar, or even room service requests.
The on-site guest experience will be more digital than ever in 2023.  There are broken connections between staff and guests, such as mobile check-in, mobile food deliveries, and customer service text chat. 
Hoteliers are losing the ability to connect and establish relationships with guests, completely changing the guest experience. Many travelers are more comfortable behind their phones than they would be talking to hotel staff face-to-face.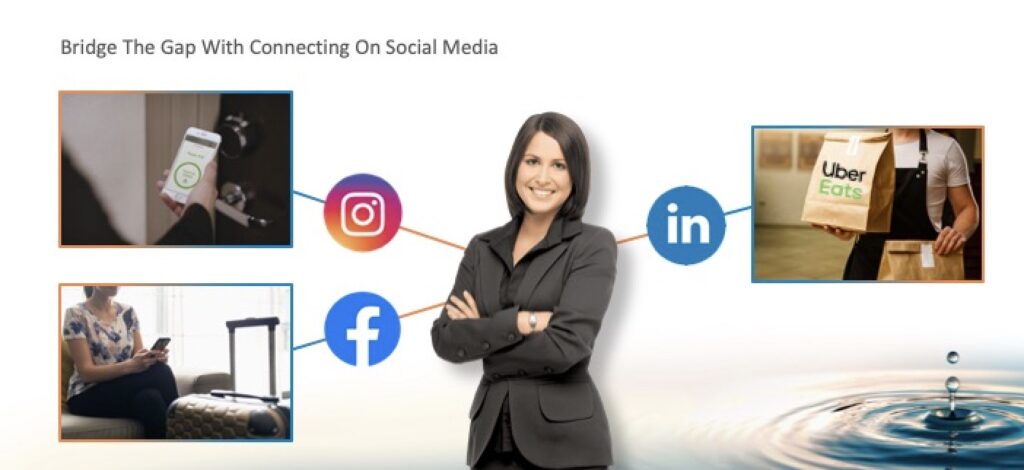 However, social media is fixing those broken connections and bridging the gap between modern guest needs and traditional hospitality practices.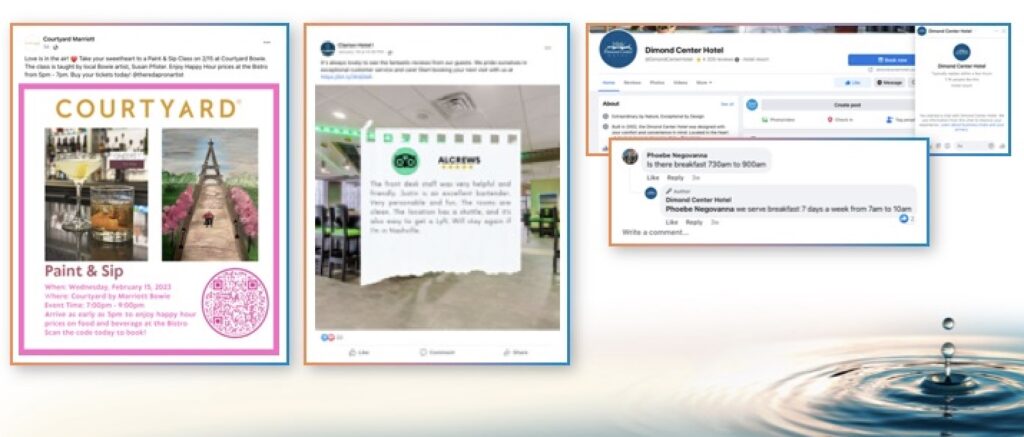 Take a look at these great examples of social media posts from hoteliers. You can reach more audiences and prospective travelers by posting creative, relevant, and engaging content. Don't forget to connect and communicate with guests who have questions or comments by responding to them through direct messages or comment sections. Guests often share similar questions, so responding to one guest can help other potential travelers. Lastly, informative posts like when your hotels serve breakfast or when specific amenities will be renovated provide impeccable value to guests and display authenticity and transparency, as mentioned earlier. 
Post Stay: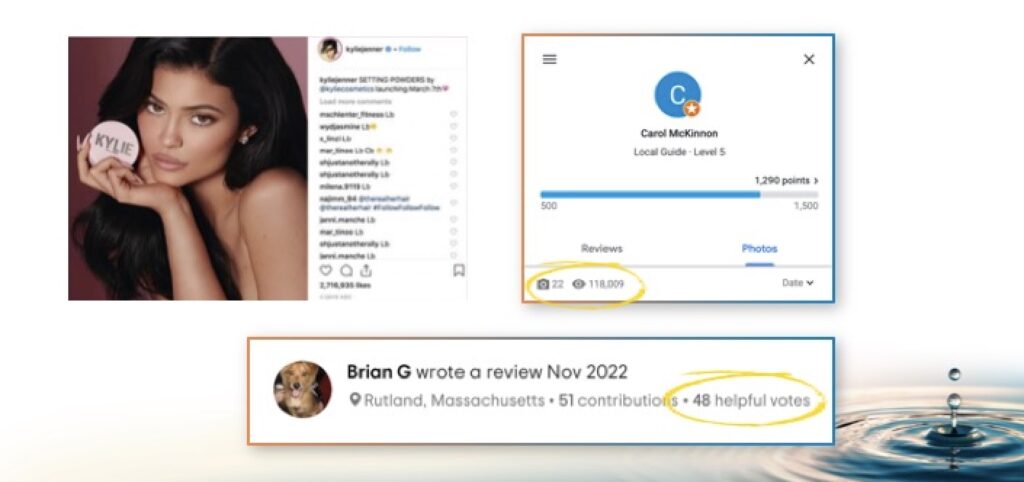 Entering the post stay stage of the traveler's journey is critical. This is where you want to leverage positive testimonials and experiences from previous guests to influence potential travelers and advocate for your hotels. 
These hotel "influencers" do not need to be celebrities or A-list names, but they do need to be credible sources. As shown above, look at online reviews from people who wrote reviews on their stay and have signs of trustworthiness. You can use this positive feedback as marketing collateral for your social media strategies and campaigns.
The TMG Social Media Revenue Ripple Effect: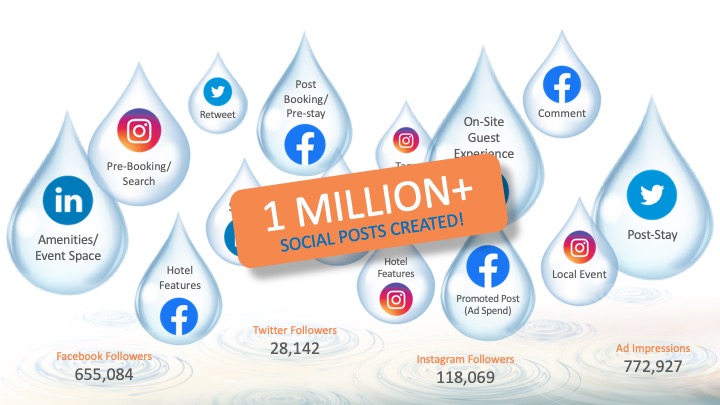 All of this amounts to this social media ripple effect across multiple platforms and different stages of the traveler's journey. Travel Media Group understands this principle and utilizes it for all our hotel partners. With over 1 million social posts created for them, we have increased their social media presence and followers, achieved their social media goals, and maintained their social media voice.
Learn more about our industry-leading Social Media Digital Solution and discover how your hotels can experience the new social media ripple effect.